The Audi RS3 was the marque's first crack at a mega-hatch, highlighting Audi's ambitions to take a slice of the performance hatch pie. Eminently tunable as well as a good secondhand buy, what should you look for if you fancy buying the second generation 8V model?

Guide from Fast Car. Words: Rich Gooding.
The Ur-Quattro's legendary status is assured, but we bet Audi didn't even dare to consider that its all-conquering rally weapon would spawn whole families of all-wheel drive sporting machines. Yet that's exactly what it's done. The 1990s S2 coupé started the ball rolling, the 311bhp Porsche-fettled RS2 (RS = Racing Sport) laying the foundations for the super-swift estate car. The first Audi hot hatchback, the S3 arrived in 1999, and has been followed by mega-powerful saloons, estates, and SUVs. Currently numbering 15 S and RS-badged cars, that sporting lineage has ultimately resulted in the R8 supercar, a very long way from those first snowbank-sliding Ur-Quattros, but a descendant none the less.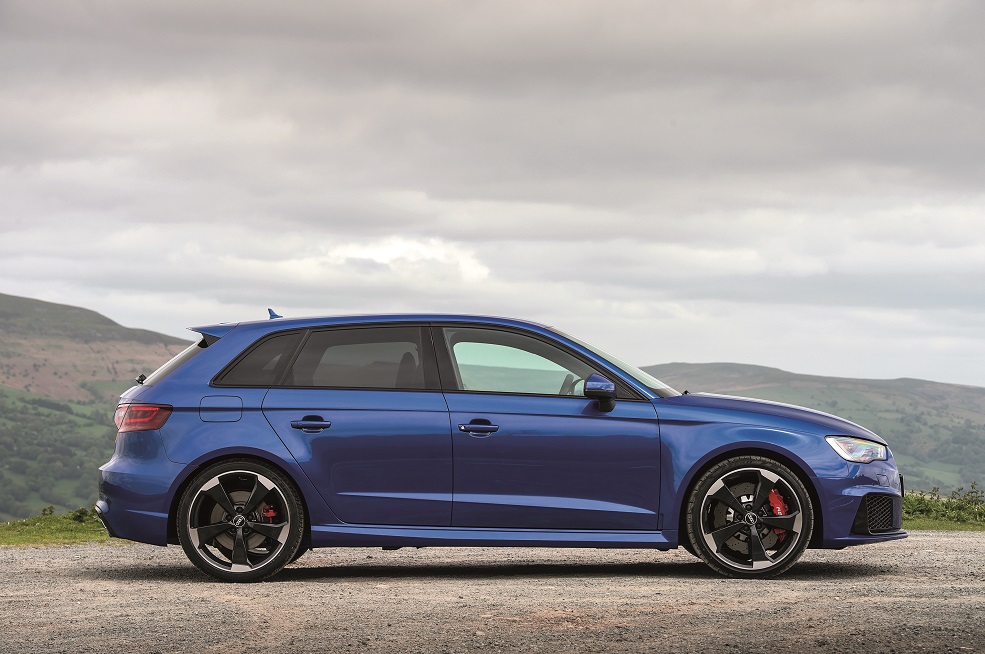 Audi RS3 History
The first RS3 came to the UK in April 2011. Packing a 335bhp turbocharged five-cylinder engine from the TT RS sports coupé, the RS3 turned up the wick on the 261bhp S3 quite considerably. Its 332lb ft of torque saw it scamper to 60mph in just 4.6 seconds – no doubt helped by its standard launch control system – and an S-Tronic double-clutch gearbox and permanent 'quattro' all-wheel drive system (actually a Volkswagen 4Motion-derived Haldex system with Audi fettling) helped it grip the roads like a limpet. Only available as a five-door Sportback, the RS3 '8P' signalled that Audi had serious hot hatch ambitions, building a car with more firepower than the all-wheel drive Golf R. Initially only 500 RS3s were UK-bound, but so popular was it, that another 250 of the £39,930 cars soon followed.
The RS3 '8V' hit the streets in 2015. The ingredients were very similar – a warbly and deliciously sounding five-pot engine, all-wheel drive, Sportback body – but a power bump to 362bhp that eclipsed that of the hardcore Mercedes-Benz A45 AMG. This time, 343lb ft of torque helped 0-62 times tumble to 4.3 seconds before the new pocket rocket romped onto a top speed of 155mph. Owners could ask for the limiter to be removed, liberating a truly Top Trumps-beating 174mph where conditions allowed – in a five-door hatch! Optional weaponry included magnetic dampers and wider 255/30 front rubber. More driving fun was also guaranteed this time around, with the Quattro system dialled to push upto 100% of the engine's torque to the rear wheels.
A wide-reaching update in 2017 heralded the arrival of the handsome £45,250 three-box RS3 Saloon, as well as a hike in power to 394bhp. Now firmly under the Audi Sport umbrella, the updated 8V RS3s gained enhanced tech including a 12.3in fully digital Audi Virtual Cockpit driver's display. Audi Sport Edition versions arrived in 2019, the £50,285 RS3 Sportback and £51,285 RS3 Saloon featuring a black styling pack and gloss anthracite 19in alloy wheels. Inside, carbon inlays and a panoramic glass sunroof signified the special edition.
A brand-new '8Y' version of the RS3 looks set to debut later in 2021. Although it packs the same 394bhp under its more muscular body, torque is now 369lb ft, promising a scorching 0-62mph pace of just 3.8 seconds. The biggest talking point is the new RS Torque Splitter, though, which makes its debut. Distributing drive torque between the rear wheels in a fully variable manner, it's got mega-hatch aficionados and performance Audi fans very hot under the collar. The big question is: will it drift?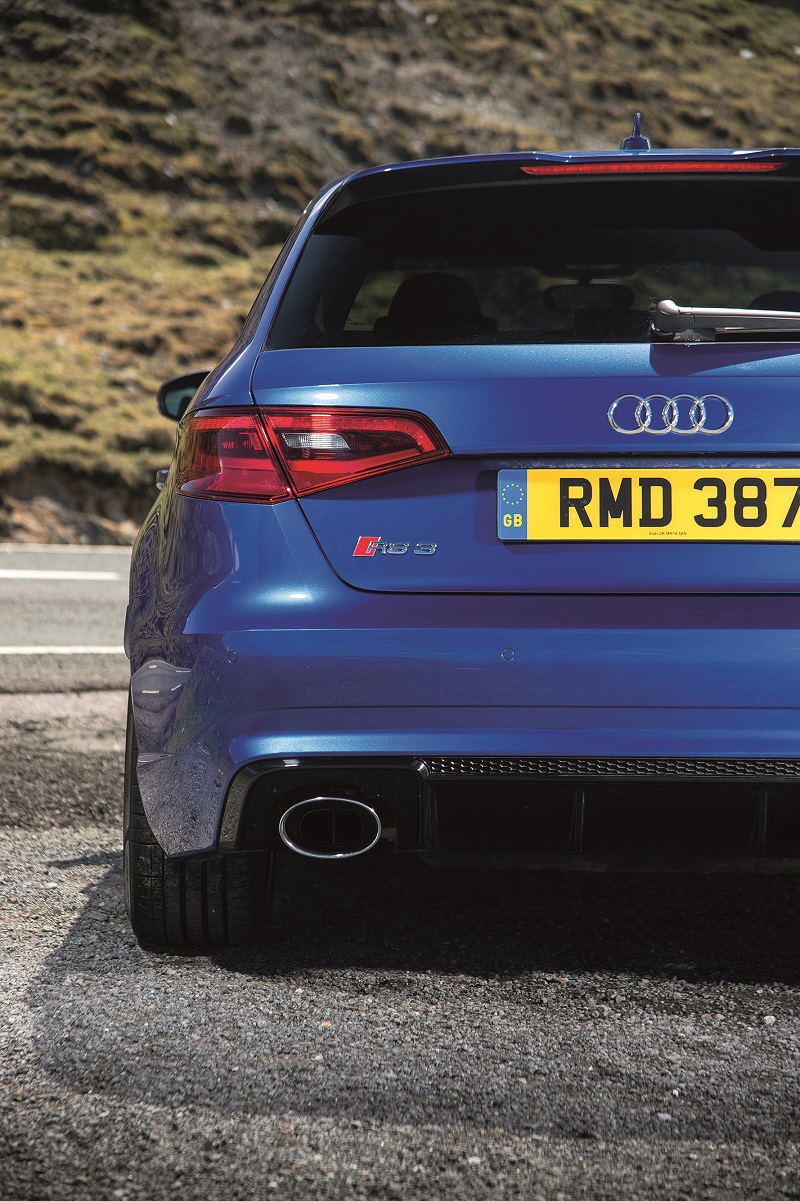 What to look out for on the Audi RS3 8V
Based on sorted Audi and Volkswagen Group mechanicals with a proven pedigree, RS3s offer little to catch out the unwary. As with most used cars, a complete service history is worth its weight in gold. Regular maintenance by a specialist is a must, though, especially when it comes to the Haldex all-wheel drive systems and DQ500 S-Tronic gearboxes. Interiors and body work present no notable issues and the engines can cope with huge power outputs, so there are plenty of reasons to get out there and get yourself an all-wheel drive mega-hatch!
Engine & transmission
The RS3's 2,480cc engine is generally tough and can deal with massive mileages. Winner of the Engine of The Year award for the 2.0-litre-2.5-litre category for a massive eight years running, the 362bhp 'CZGB' unit first appeared in 2015-2017 RS3s, based on the 'CEPA' engine installed in the 2009-2014 '8J' TT RS. These can suffer from a build-up of carbon in the cast aluminium-silicon alloy cylinder head, especially around the valves. The 394bhp 'DAZA' arrived in 2017, but both have an almost unburstable reputation as long as they are regularly serviced and maintained. "Having built a number of customer vehicles now running the TTE700 turbochargers, the 'DAZA' motor in the later 2017-2018 (67-68 plate) cars is an absolute gem of an engine," confirms Brown. "Providing they see regular maintenance, they should last well."
Some cars may have seen an update for the fuel pump module carried out by an Audi retailer, which replaces the lift pump module under the rear seat. If this hasn't been done, constant cutting out at low speeds or when idling, or a refusal to start for around 10 minutes will be the tell-tale signs, along with a low fuel pressure error code.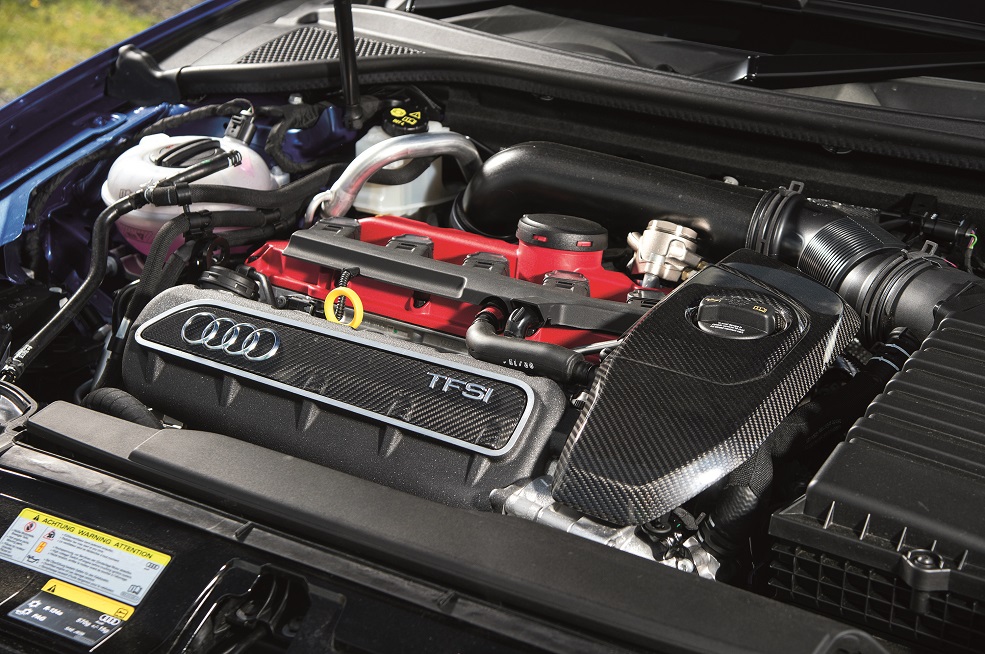 The quattro permanent all-wheel drive system installed on smaller Audis is in fact a Haldex multi-plate clutch arrangement which sends power to the rear wheels. The seven-speed DQ500 dual-clutch gearbox was designed for high performance engine outputs with up to 443lb ft, so it should very easily handle the RS3's gobfuls of torque. Check that all gears engage cleanly, and watch for other common issues that include faulty Haldex clutch system pumps. These give the game away by repeatedly illuminating the traction control light. Leaks around the bevel boxes or drive shafts should be replaced under warranty on later cars.
However, whatever you do, don't skimp on servicing and maintenance as it's a false economy. "The DQ500 gearbox is a good, strong unit; however it does require the S-Tronic oil and filter services to be done routinely," states Brown. "Picking up a car that has had these forgotten or omitted could be costly. However, in general, as long as they've been well serviced and driven with a moderate amount of mechanical sympathy, we don't see many major issues with them. The prop shaft coupling bolts can be a weak spot for people who partake in regular 'launches' – for which we offer an upgraded ARP prop bolt kit."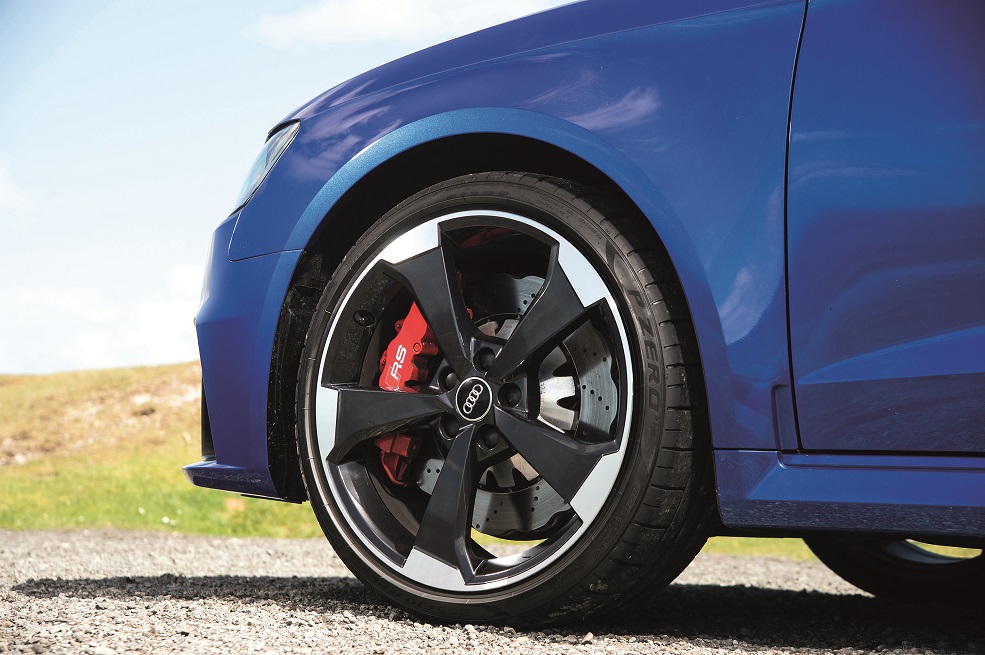 Chassis
The standard suspension is reasonable and not particularly problematic, according to Brown. "Many RS3 owners opt for a thicker rear anti-roll bar to dial out a little bit of the understeer that these cars can see," he says. If you plan to regularly venture on track with your fast Audi, you may choose to consider more comprehensive suspension upgrades. "A complete coilover kit would be a welcome addition for fast road use and beyond," Brown states. If the rear of the car sounds noisy, check that the rear shock absorber mounts have been changed, as early cars were fitted with the incorrect items during the build stages.
"The cars come with a decent set of calipers from the factory," Brown reports. "However they are fitted up front with non-handed discs, which often result in them overheating one side on the front discs when used on the track." This can be sorted by fitting upgraded discs. As with other performance machines, check the alloys for signs of corrosion or damage. The inside edge of the front tyres can wear very badly and is a known fault. Mismatched rubber and tyres from the more budget end of the scale should also raise eyebrows.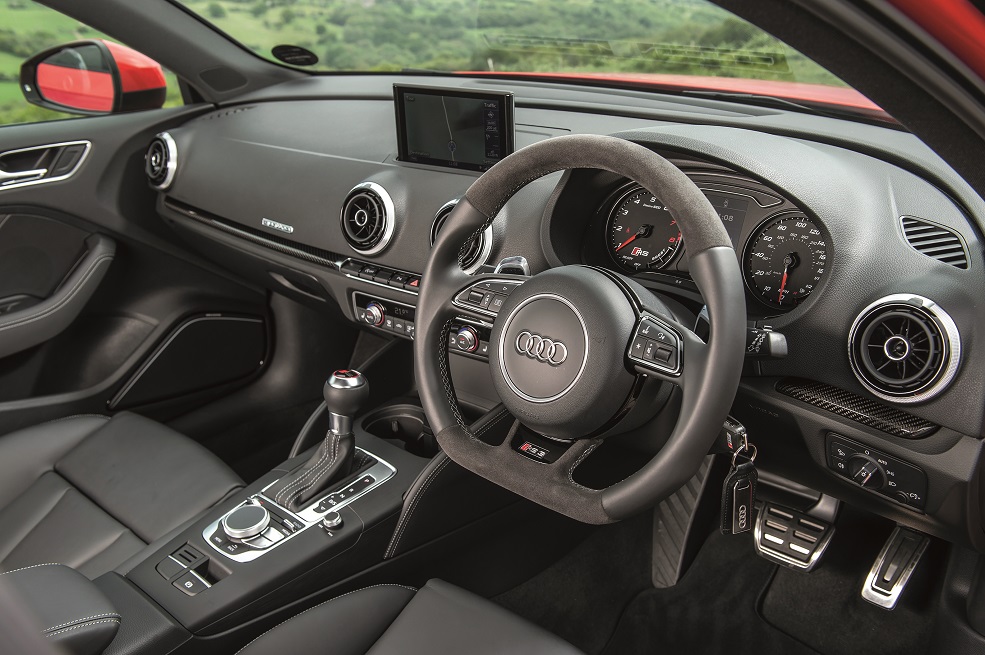 Interior
Being an Audi, the RS3 is built to a very high standard and this is readily confirmed by Brown, who reports no major issues with the interiors of the all-wheel drive hot hatch. "There really is nothing to report. As with most VW/Audi Group cars, they are fairly well put together with very few reports of electrical gremlins or 'fit and finish' issues."
Body
Audis come with a 12-year anti-perforation warranty as standard as well as a three-year paint guarantee and issues are generally few and far between. The flared wheel arches can attract stone chips and, as with any used car, it's sensible to check for any uneven panel gaps as well as obvious inconsistencies in the paintwork, which might point to hidden accident damage. Overall though, the RS3's body seems to invite very few issues. "We're not really in the body work game, but we've not really seen any notable issues on these models that we'd have any cause for concern on," says Al Brown, product and trade manager at Volkswagen and Audi part specialists Awesome GTI Ltd.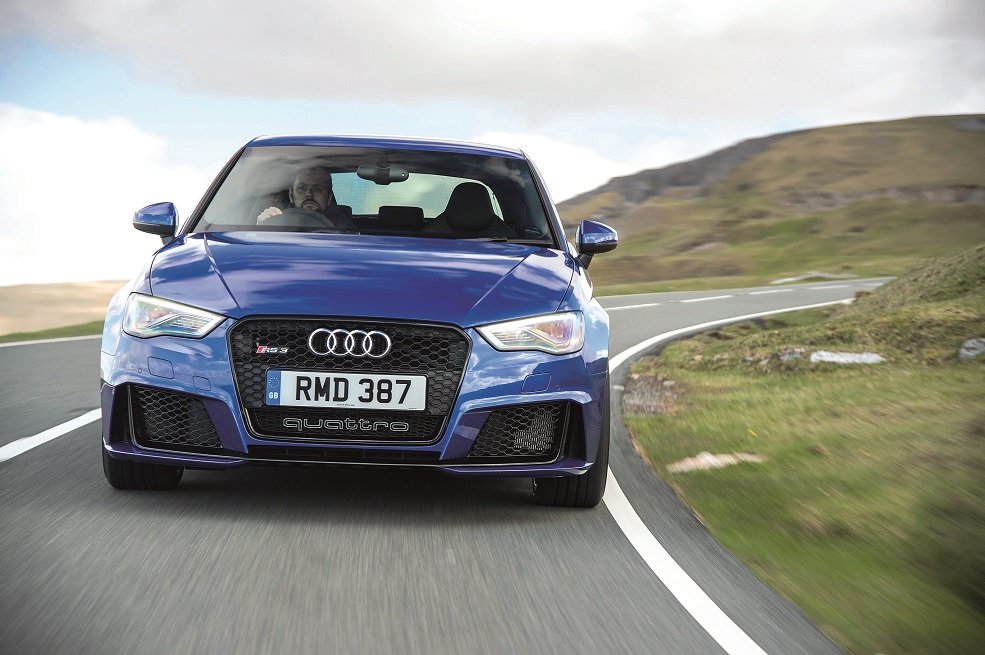 Audi RS3 servicing & maintenance
With any high performance car, regular serving and maintenance not only protects the life of the vehicle, but also ensures it holds its value. A minor service every six months for cars that put on the miles costs around £179 from an Audi or VW specialist such as PSC. An annual service which includes oil and filter changes can cost £260, with a comprehensive 24-month inspection around £375.
Brown points out some specifics that will need their condition to be maintained to be in tip-top order. "The Haldex all-wheel drive system needs regular care. Removal of the Haldex pump and cleaning the pump strainer is necessary as the fifth-generation Haldex system used on these cars does not have a replaceable filter like the earlier generations do. Also keep on top of regular oil changes and the DQ500 S-Tronic gearbox; it's heavily recommended to keep this in order to keep the car in good condition."
If you should find the RS3's stopping-power wanting – and we very much doubt that you will – a complete Tarox front and rear disc upgrade with Ferodo DS Performance pads will cost in the region of £1,834 from a specialist such as Awesome GTI.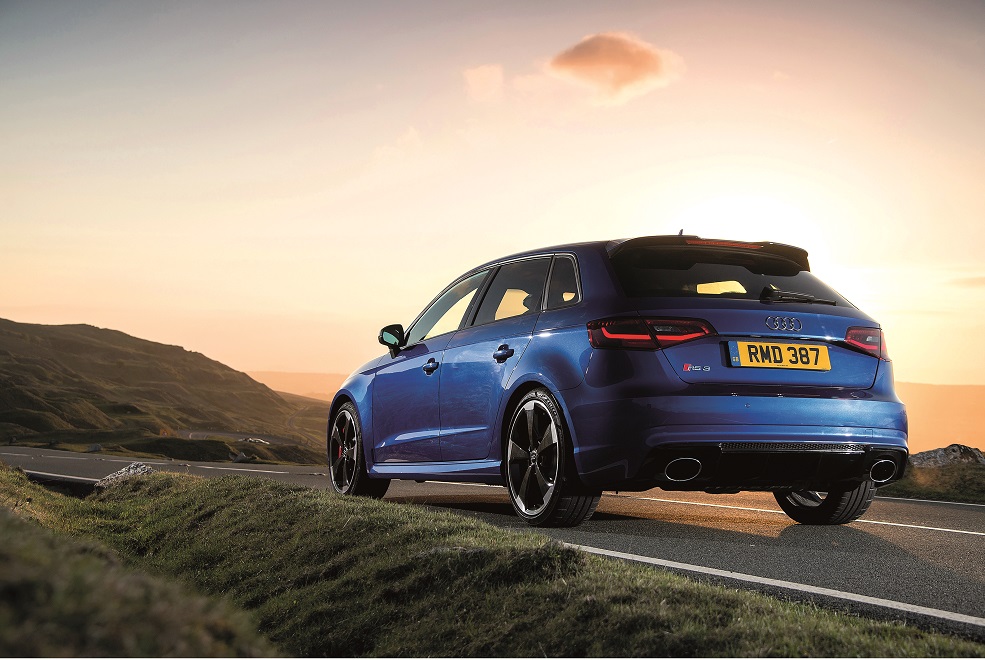 Top Mods
Forge Motorsport turbo inlet pipe
Intercooler upgrade (APR/Forge/Wagner)
Milltek or Scorpion secondary exhaust catalyst deletes
Vagbremtechnic 362mm brake disc set with upgraded pads
034Motorsport rear anti-roll bar
Tech Spec: Audi RS3 8V
Engine: 2,480cc
Max power: 394bhp @ 7,000rpm
Max torque: 354lb ft @ 5,850rpm
Transmission: 7-speed DSG dual-clutch
Max speed: 155mph
0-60mph: 4.1 seconds