We look at the most common problems to blight the second-generation R56 Mini models, and how to cure and prevent them in this buyer's guide.
BMW's relaunch of the Mini brand has to be the perfect example of how to replace a motoring icon. Yet, after five years and 1,000,000 R50 and R53 Minis sold, 2006 was time for the second-generation range. And boy did Mini get it right as today the R56 is on the best used cars you can buy right now.
What stayed the same was the Mini hatch's mixture of retro-inspired looks, keen driving experience and wide selection of personalization. But to address some of the criticisms of the first-generation Mini hatch, quality was improved with a bolder, all-new interior that was less likely to rattle.
Even bigger changes took place under the Mini's clamshell bonnet. A tie-up with Peugeot/Citroen (PSA) saw the Chrysler-supplied petrol and Toyota D-4D diesel replaced with sophisticated and efficient 1.4- and 1.6-liter Prince engines, with the Cooper S and John Cooper Works (JCW) versions now being turbocharged rather than supercharged.  All models had six-speed manual or optional automatic transmissions.
The diesel engine was originally supplied by PSA too, in 1.6-liter form, then later coming from BMW in 1.6 and 2.0-liter forms.
It was developed further, with spin-off models including the quirky R55 Clubman estate, the sporty R58 Coupe and R59 Roadster, and even the commercial Clubvan, based on the R55 Clubman. The R56 hatch was eventually retired in 2013 and replaced by the current F56 hatch.
It is 14 years since the earliest R56 models hit the roads, so let us identify key faults to help keep yours in top condition.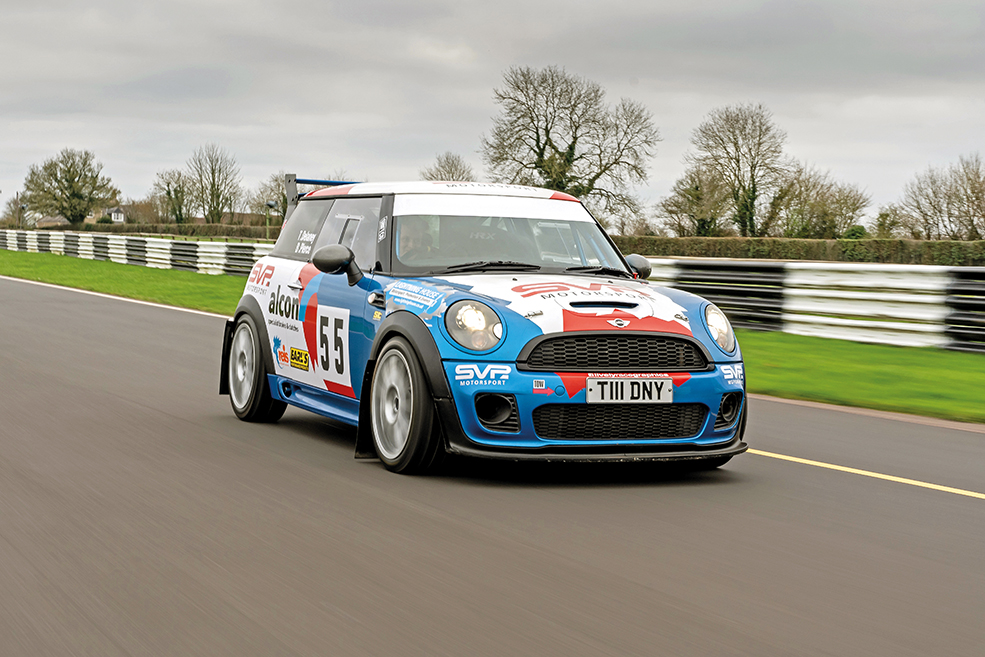 R56 Mini history
In January 2010, Mini made significant changes to the Prince petrol engines, the R56 Mini Cooper received a power hike to 120bhp, while peak torque remained the same at 118lb.ft. The Cooper S shared all these new engine features, but added a twin-scroll turbocharger, direct petrol injection and fully variable valve control. The latter was BMW's proven Valvetronic system, which adjusts valve lift and opening times in direct relationship to the driver's command on the throttle pedal.
The result was 9bhp more peak power at 181bhp while peak torque was 184lb ft, delivered from as low as 1600rpm through to 5000rpm. With the clever overboost function, peak torque jumped to 192lb.ft for short periods.
August 2010 brought significant changes, with the LCI (Life Cycle Impulse) facelift. Redesigned front and rear bumpers, new rear lights with LEDs, fresh colors and alloys arrived, while inside received revised steering wheels and center console, with new controls for the stereo and air-conditioning. There were also improvements to the information and entertainment systems.
R56 Mini model timeline
November 2006 – R56 Cooper (118bhp) and 171bhp Cooper S hatchback models launched in the UK.
November 2007 – Cooper (118bhp), Cooper D diesel (108bhp) and 171bhp Cooper S versions of the quirky Clubman estate launched.
Spring 2008 – Performance range-topper, the John Cooper Works (JCW) launched with 208bhp. JCW adds bespoke sports transmission, suspension and Brembo front brake calipers, with prices starting at £20,995.
March 2009 – Cooper (120bhp), Cooper S (181bhp) and 208bhp John Cooper Works (JCW) second-generation Convertible models launched.
December 2009 – Finally brought a Clubman version of the John Cooper Works (JCW) range-topper. Power is up to 208bhp, with a top speed of 148mph.
April 2011 – The fastest R56 diesel, the Cooper SD, is launched. It's powered by a 2.0-litre turbo engine that comes courtesy of BMW. Key numbers are the 141bhp and 255lb.ft torque, giving an 8.0-second 0-to-60mph acceleration time, yet still returning a combined consumption figure of 65.7mpg. Cooper SD hatch, Clubman Convertible models are available.
April 2012 – R58 Cooper (120bhp), Cooper S (181bhp), 141bhp Cooper SD and 208bhp JCW two-seater Roadster models launched.
February 2013 – One (98bhp), Cooper (120bhp) and 112bhp Cooper D Clubvan models launched. Clubvan is basically a Mini Clubman without the rear seats, plus sealed rear windows.
February 2013 – The most extreme development of the R56 JCW hatch, another GP two-seater is launched after its reveal at Mini United in 2012. Power for the N18 engine is up to 215bhp thanks to an ECU tweak. Acceleration to 62mph now takes 6.3 seconds, just two-tenths faster, and the top speed is the same as the JCW GP at 150mph. Plus it has trick adjustable coilover suspension.
April 2013 – R58 Cooper (120bhp), Cooper S (181bhp), Cooper SD (141bhp) and 208bhp JCW two-seater hard-top Coupe models launched.
US vs UK spec R56 Minis
Apart from U.S. spec front and rear wheel arch lights, there are no other bodywork changes between UK and U.S. Minis. Bigger differences are the choice of Mini models available. Do not expect to find the entry-level One, as only Cooper, Cooper S and John Cooper Works models have ever been available in the U.S.
Diesel is another that the US market didn't get. As a result, there are no One D, Cooper D, or Cooper SD models.
The quirky Clubman estate might have proved popular in U.S., but the Americans were denied the short-lived Clubman-based van, the Clubvan. There are, however, a couple of U.S.-only limited edition R56 models, such as the ultra-rare 'Laurel Sport' and 'Rally Edition' Clubman Cooper S.
Second-generation R56 Mini most common problems and how to cure them
Coking of inlet valves
On second-generation Mini models, the head is likely to coke up, due to build-up of carbon around the valves and intake ports. This is the result of the R56 Mini using direct injection for performance and economy. The only way to solve this is to have an engine decoked, where crushed walnut shell is blasted at the inlet manifold and the tops of the valves. Watch for the engine warning light on the speedo, plus poor acceleration and sluggish performance on the test drive.
Coil Packs
Another failure that should be obvious on the test drive is failing coil pack(s). There are four of these in the Mini's engine that are regulated by the ECU to create a better spark and thus give better combustion and performance. You'll be able to spot when they're failing as the engine will feel down on power and misfire. The coil packs are located under a cover on the top of the engine; a set of four should cost around £100 and are a straightforward DIY job to replace – but, of course, specialists can do this for you too.
High-Pressure Fuel Pump
If you're looking at a Cooper S, you need to check that the high-pressure fuel pump isn't failing. A big giveaway on the test drive is if the engine surges while you're driving. This is usually followed by poor starting and rough running afterwards, with an engine warning light on the dashboard. The only solution is a replacement high-pressure fuel pump, which costs around £600 at a specialist.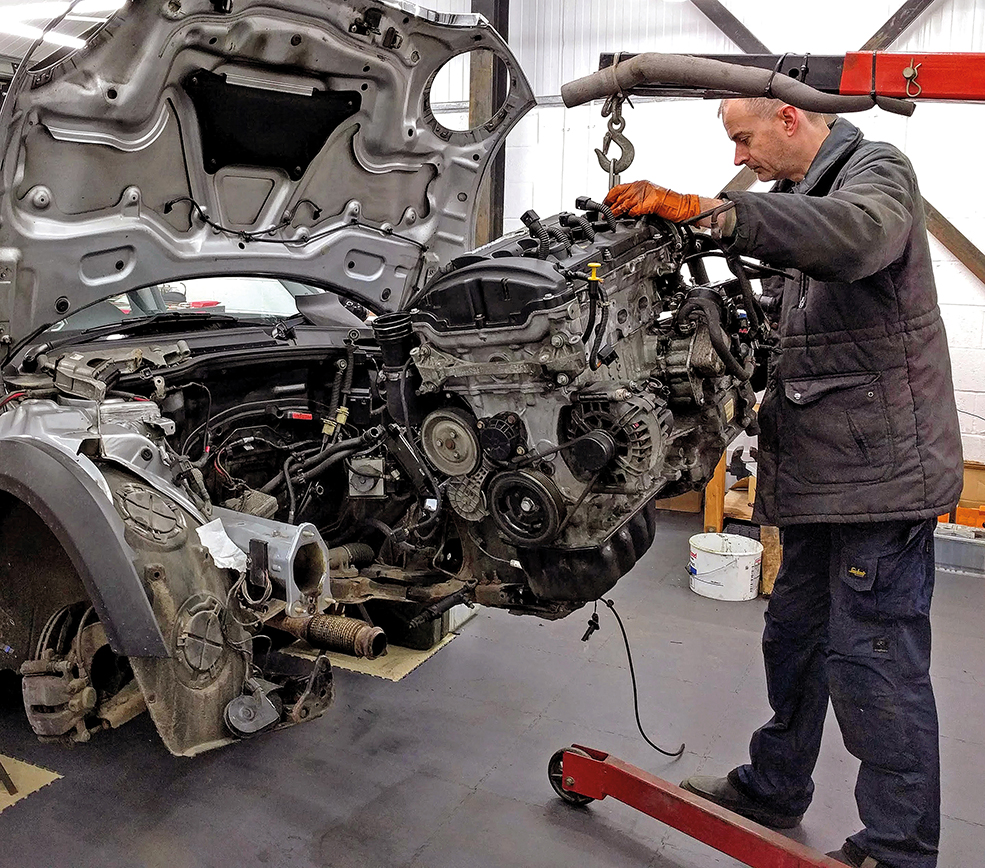 Bypass Valve
It's also worth checking the condition of the bypass valve on the test drive of any Cooper S and JCW. Made of plastic, inside the valve there is a delicate diaphragm that can become pinched or holed. This results in laggy acceleration, which if left will eventually cause the engine to go into limp-home mode, with an engine warning light showing on the dashboard.
R56 Mini Death Rattle
Another more serious fault that affects N14 Cooper S and JCW engines is the well-documented problem with the timing chain and chain tensioner. Called the 'death rattle' thanks to the loud clatter, this is most prominent when started from cold. Most of the affected Mini's should have had this problem rectified by now. If not attended to, they become noisier and will break, destroying the top end of the engine. The only solution involves changing the major timing components, which can be done at a specialist.
Suspension
Front wishbones and rear anti-roll bar links can fail, leading to clonking suspension. You should also check the condition of the bushes and shock absorbers. The shock absorbers themselves are easy enough to replace and are not costly. More recently, check the condition of the trick coilover adjustable shocks on the fastest GPs; the subject of many warranty claims, they are known to fail and knock.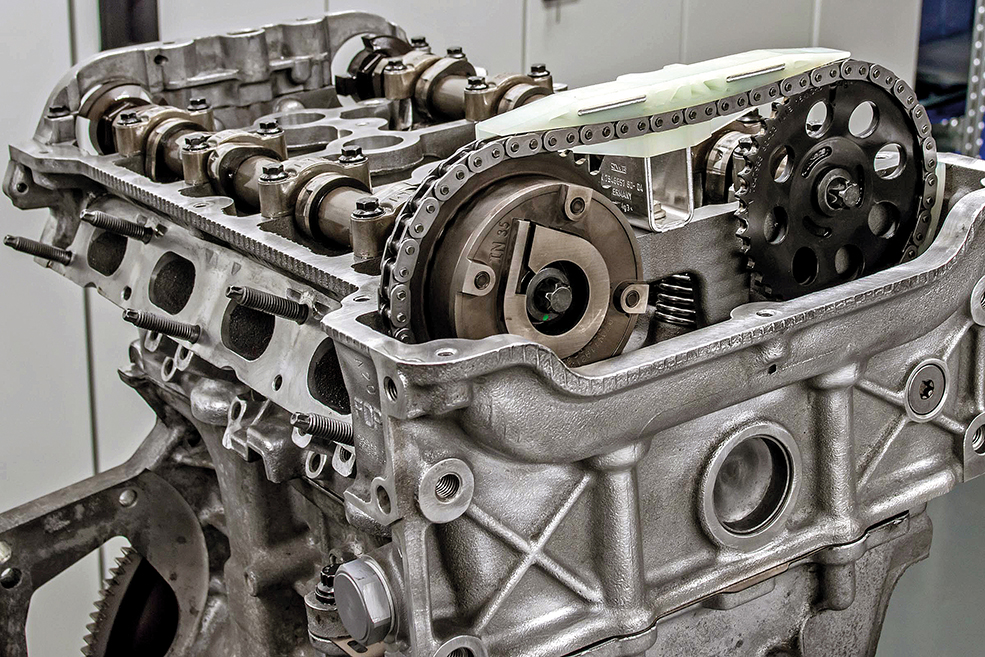 Oil Leaks
Like the first-generation R53 Mini, you must check there's plenty of oil in a second-gen car before starting. The N14 and N18 engines in the Cooper S and JCW, in particular, like a drink – as much as a liter of oil for every 1000 miles. More of an issue with older cars, popular failure points for leaking oil are the rocker cover, crank seals, sump, turbo oil feed, front and rear main bearing seals, solenoids and cylinder heads. Head gasket failure isn't unheard of. The only obvious solution is to have any leaks repaired.
Thermostat Housing
Another common engine problem on second-generation Minis is the thermostat housing, located on the left-hand side of the engine. A common cause of leaks, its plastic construction and close proximity to the exhaust manifold leads to cracks in the housing and leaks. If the leaks aren't obvious, another giveaway is a low coolant level that needs constant top-ups. A genuine thermostat housing costs around $150 / £120, but decent-quality replacements start at around $90 / £70, with labor on top.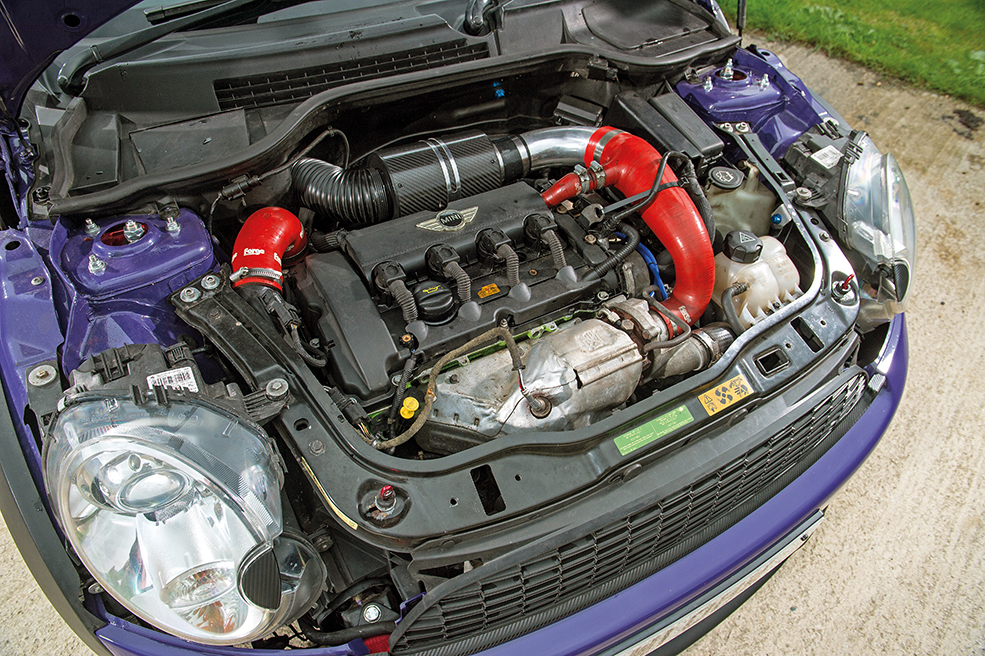 R56 Mini Transmission
The use of stronger German-made Getrag manual transmissions means manual transmission issues are nowhere near as common as with the first-generation cars. But the gearshifts can become sloppy, with the lever not sitting centrally when in neutral. This is the result of a worn cup in the linkage, which we're told is a simple and easy fix. Other than that, clutches can wear out quite quickly. On the test drive, see if it slips when you accelerate in a high gear.
There's also the less popular six-speed automatic transmission manufactured by Aisin, which can suffer from problems with changing gears and downshifts.
Electrics
Improved electrics mean problems with the R56 Mini hatch are rare, but they can arise if the earthing strap fails — check it carefully. Also, look for stereo speakers that don't work, poorly electric window motors, failing central locking, and broken dash MP3 sockets.
Air conditioning is a popular option, so it's rare to find a Mini it's not fitted to. Make sure it's working on the test drive; if it isn't, the evaporator might have failed. This is a costly repair at over £500, with the first sign being white dust blowing through the vents. The tilt/slide sunroof is another popular option, so make sure it slides smoothly as it's easily jammed and repairs could be costly.
On Convertible and Roadster models, check the electric hood goes up and down as it should, as electrical failures can be costly to diagnose and repair.
A start-stop system was fitted to all Mini models from 2007 and this has been known to fail, causing the car to stall at junctions and then not want to restart – or, more seriously, stop working altogether and leaving an error message on the dashboard. This can be costly and difficult to diagnose.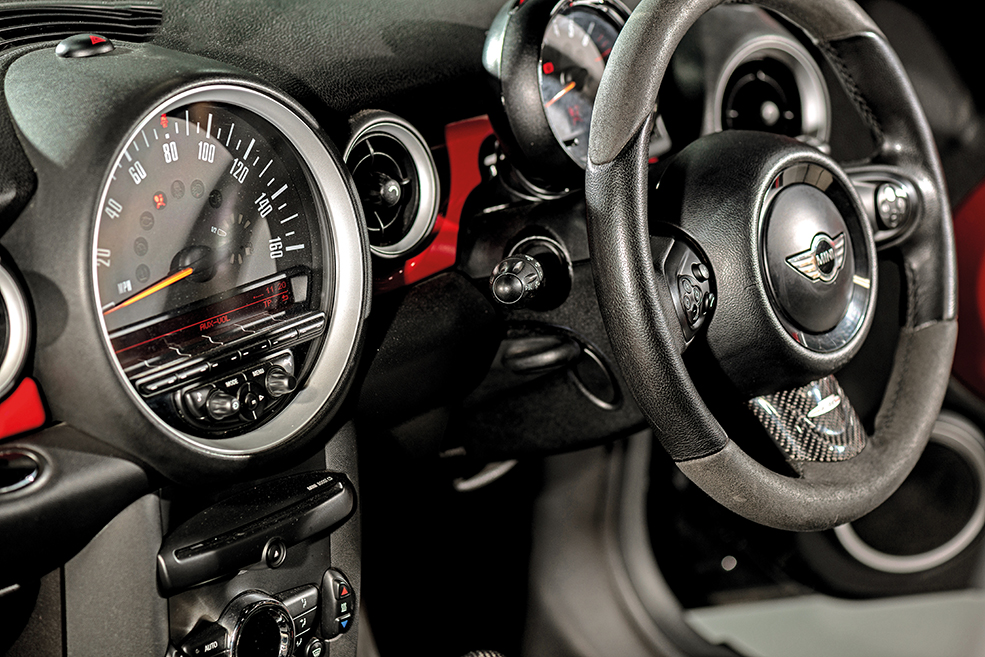 R56 Mini Bodywork, interior and wheels
Unlike the first-generation R53, rust and lacquer peel doesn't appear to have affected the R56 Mini hatch. Any rust issues could be the result of poor paint repairs. But check the front edge of the bonnet and bumper for stone-chip damage. It is also worth checking for parking damage on the doors and rear quarters.
The Clubman, Convertible, Roadster and Coupe have more compromised rear visibility, although the majority have rear parking sensors. Still, look for dents and scratches to the bumpers and bodywork, though.
The windscreen on second-generation models might be smaller thanks to the taller body, but they're still quite upright in design and as such are susceptible to stone chips and cracks.
Inside, the dashboard is more stylish but it also suffers from rattles and squeaks, especially on early cars. Look for wear on the interior trim and seat bolsters. There are plenty of used second-generation Minis on sale, so there's no need to buy one with a tatty interior.
Check for curbing damage on the alloy wheels; Cooper and JCW models have the biggest rims and are more susceptible. Wheel refurbs are affordable at specialists, but the costs soon add up if more than one wheel needs work. Excessive damage could also be a clue to suspension damage.
R56 Mini Prices
$4,000 – $9,000: Earliest 2007 Coopers start at $4,000, but these have high miles, and for a couple of thousand bucks more, the faster Cooper S with a clean title and plenty of extras can be yours. Later base spec Coopers are also here.
$9,000 – $12,000: Here's where you'll find the best spec, lowest mileage Cooper and Cooper S LCI facelift cars with around 80,000 miles. Plus, the earliest John Cooper Works hatches.
$13,000 – $20,000 plus: For this budget, you get into the highest mileage GPs, plus late 2011 to 2013 plate registration Cooper S models with the best specification, some still at Mini dealers.
We spotted one low mileage GP2, with just under 7,000 miles, priced at over $34,000!
£2,000 – £5,000: Earliest 2006 Coopers start at £2,000, for a Cooper S add £1,250 to this, plus lower mileage 2008 and 2009 Ones.
£5,000 – £9,000: Here's where you'll find the lowest mileage 2008 and 2009 cars, plus the earliest John Cooper Works and highest mileage LCI Ones, Coopers and Cooper S's.
£9,000 – £11,000: For this budget, you get the lowest mileage, late 11 to 13 plate registration cars with the best specification.
Words: Martyn Collins. (Martyn was the editor for Modern Mini Magazine and is also author of the book New Mini)