Time on track is probably the most fun you can have in a car. Here are our top 10 affordable track car projects to get you started in the world of track days.
Any car can be a track car. You've just got to drive a car onto a track and bingo, you've already won. Buying a project car or something out of the showroom isn't the hard part. The first stage, really, is to teach yourself to be a track driver. Adjust your methods of driving so that you unlearn the habits you use around town.
Late braking, wide-open throttle, taking racing lines through corners – all the things you wouldn't do on the way to the store. As your skills grow and you start to reach the limits of the car, you can begin to refine and optimize things. Upgrading to some quality track-biased tires, fitting more aggressive brake pads and uprating your suspension is a good start. Maybe going a bit mad and throwing your rear seats in the bin in the name of weight loss will come next. At that point though, it's time to concede that your car's Tesco trip days are over… it's time to build an all-out track-ready titan.
With that in mind. Some cars just aren't as suitable as others out of the box. You have to think about cost, not only of the vehicle, but for modifications as well as replacing the consumables like pads, oil, tires etc. Below, we've put together a list of some of the best affordable track car projects that can help you along the journey.
But, isn't driving on track expensive?
Now, this might sound like an expensive hobby, but it doesn't need to be. Once you've budgeted for the essentials, like a quality helmet and the necessary track day entry fees, the amount you spend on your track car is totally up to you. It needn't cost a fortune, it can be surprisingly inexpensive. In the name of encouraging entry-level track fun, we've pulled together a top-ten of our favorite affordable track-based project cars.
Naturally the concept of 'affordable' is entirely subjective. Some people may have earmarked a couple of grand for their next project. Others will be lucky enough to have $/£5k, maybe even $/£10k. While some (like us) will be picking the lint out of their pockets in search of an extra 50 cents. So we've tried to keep this list sensible. Some of these cars can be found for a couple of thousand if you strike lucky, and none of them will set you back more than $/£10,000 to buy. We've had a little look at the performance potential for each one, so you know what you're getting into too. Have fun choosing, and remember – shiny-side-up, and keep out of the kitty litter. Here's our best affordable track car projects guide.
Best Affordable Track Car Projects
Honda CR-Z
The spiritual successor to the retro CR-X, this little hatchback/coupe was designed with the intention of being the world's first affordable hybrid-engined sports car. Unfortunately, it fell short of the kind of plaudits that Honda envisaged as although it handled well, its engine lacked outright power and it was irredeemably impractical. But hey, if you're buying this car for track use, who cares about a lack of rear seats or minimal boot space? In fact, when it comes to building a track car, less really is more in those departments. And as for the power issue? Well, that's where the aftermarket comes in…
As standard, these cars produce just over 120hp (2013+ models make a bit more, but they're less likely to be in budget) so to give it a bit of extra oomph, we'd suggest starting with freer flowing airways. By that, we mean a new cold air intake, intake manifold, and exhaust.
Upgrade Ideas
One cheap option is to swap the stock manifold out for the one that comes in the GE8-gen Honda Fit – some owners have dyno charts claiming an extra 5hp or so straight out the box with that simple mod. A GE8 camshaft swap (ECU remap required to support) is another known OEM upgrade, as is the throttle body from an 8th-gen Civic (which is 55mm in diameter compared to 50mm stock). As for performance exhausts, there's plenty to choose from, with brands like HKS, J's Racing and 5Zigen all offering performance exhausts for the CR-Z, amongst others. Later down the line, if you fancy pushing 200hp or maybe a little more, you could invest in the Mugen supercharger kit, but that's a very pricey route to take.
Aside from under the hood, other early mods you should consider include the $350 Spoon front anti-roll bar (aka sway bar), which sharpens up the front end significantly. Cusco and Progress can hook you up with an upgraded rear ARB too if you wish. Furthermore, a good set of summer performance tires will make a huge difference in the handling department as well. From there, you're ready to tear up the autocross scene.
Price today: $5000-$18,000 / £3000-£10,000
Top Mods: GE8 Fit manifold, Spoon front ARB, Yokohama Advan Neova AD08 tires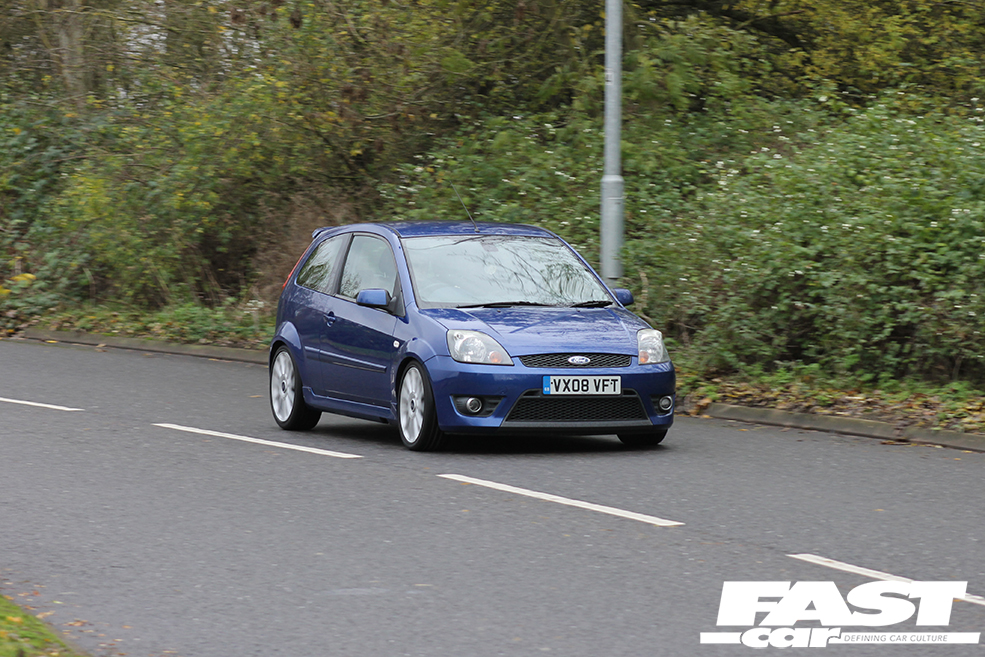 Ford Fiesta ST150 (Mk6)
The Ford Fiesta ST150 has a hell of a lot going for it as a track project. Hence why it's here in our affordable track car projects top 10. We're talking about the Mk6 Fiesta ST here, the one sold between 2003-08. It's often referred to as the ST150 because (you've probably guessed) it has 150bhp. This is courtesy of a 2.0-litre Duratec, a big engine to shove into a little car at the time. It's pretty tuneable too. Check out our Mk6 Fiesta ST tuning guide.
The ST received a fresh bodykit with different bumpers and spoilers. Disc brakes at the rear (lesser models sometimes had drums) also featured, and lower and sportier suspension did the rest. The best part is that you can pick up a tidy example for about £2000. Plus there are plentiful upgraded parts available off the shelf. A set of Newman cams, a Cosworth intake manifold and a bigger throttle body will get you well over 200hp. Throw in a 3J Driveline LSD, a set of KW coilovers and some meatier brakes and you'll be laughing. Quite literally. All the time.
Reserved solely for the European market, Stateside readers who are interested in a Blue Oval alternative to the Fiesta ST might have to do make do with a regular Mk1 Focus as their base if SVTs are out of touch. Sure, the standard Focus hatchback is by no means a performance car, but we challenge you to find any motoring journalist who won't sing its praises for having a great handling chassis. Plus, if you buy a super cheap base car, that means more room in the budget for mods…
Price today: £2000-£7000 (not available in the US).
Top mods: Newman Cams, KW Coilovers, 3J Driveline LSD.
BMW 3 Series (E46)
The E46 makes for an awesome budget track rocket these days. The prices have come way down, and they're still plentiful enough on the used market. Despite the number of them ragged to destruction on the drift scene, it's worth remembering that these aren't just skidders, they make for excellent circuit toys.
Naturally you're not going to find a cheap E46 M3. You may well find that the petrol/manual 325i options (or, if you can track one down, the 330i) are increasingly prone to scene tax. But any E46 is a fun E46. You may be lucky and get one with a big engine, but even a 318i will be a hoot once you've modified it. There are plentiful parts options available, and a huge number of owners groups on various social channels that can help you. Start with some HSD coilovers and we'd recommend OEM shock tower reinforcement plates to prevent 'mushrooming'. The throw in a set of Nankang NS-2R tires, and work up from there.
Price today: $3500-$20,000 / £2000-£15,000.
Top mods: Shock lower reinforcement plates, HSD Coilovers, Nankang NS-2Rs.
Porsche Boxster (986)
How brave are you feeling? Buying a cheap early Boxster is one of those life decisions which could end up being the best choice you ever make. Or the most financially ruinous. The fun part is that there's no way of knowing which way it'll go. Still, it's good to roll the dice sometimes isn't it?
There are a few things you can look out for to help your peace of mind. Most important is a good service history, as the engine's pretty inaccessible. Check for wet floors caused by roof leaks, as the ECU is located under that soggy carpet. Walk away from overheating cars as early ones sometimes had terminally porous engine blocks.
However, if you've bought a good one, you'll find yourself with a fabulous track car right out of the box. It has awesome handling, endless grip, perfect steering, and oodles of potential for upgrades. Suspension mods can be handled in three phases if you want to spread the cost.  First upgrade the anti-roll bars to H&R items. Then whack on some Eibach springs, and finally (when you're ready for maximum attack) swap in some Bilstein B16 coilovers. A lightweight flywheel and Quaife LSD make a massive difference. The combo of K&N induction and Milltek exhaust is a no-brainer.
Price today: $6500-$25,000 / £4000-£20,000
Top mods: H&R anti-roll bars, Milltek exhaust, Quaife LSD, Goodridge braided hoses.
Toyota Celica (Mk7)
The next entry from Japan onto our affordable track car projects list is the Toyota Celica. The Mk7 generation was very few people's favorite Celica. But that's their loss and your gain, because these peachy little coupes start at just a few grand. For that money you're buying a whole lot of performance potential.
The most important thing is to make sure you buy the right one to start with; you see, they all came with 1.8-litre engines, but confusingly there were two different ones sold at the same time. The 1ZZ-FE motor served up 140hp which was perfectly OK, but the 2ZZ-GE is the one you want; co-developed by Yamaha and sporting variable valve timing and two-step variable valve lift control (which is sort of Toyota's version of VTEC), it gives you more revs and 188hp, which is much more like it. How can you tell if you've got the right one? Helpfully, it's written on the engine cover: the 140hp motor is badged VVT-I, while the 188hp one says VVTL-I – that little L makes all the difference. Also, depending on the region you're in, these more powerful cars will carry either the GT-S (North America) or T Sport (UK) trim level moniker.
Upgrade Ideas
The stock brakes are a weakness on this car, so the first mods on your list should be along the lines of Goodridge braided lines, grooved discs and Orange Stuff pads from EBC. Or, if you want to save a bit of cash to spend elsewhere, OEM Avensis brakes will be cheaper, but still bigger and compatible. Next, consider some TEIN or BC Racing coilovers. The 2ZZ-GE engines love being cammed too, Cat Cams can help you with that.
Price today: $4000-$12,000 / £2000-£7000
Top mods: EBC discs/pads/lines, TEIN or BC Racing coilovers, uprated Cams.
Fancy something a little more retro? How about the second-gen Toyota MR2 instead?
Honda Civic Type R (EP3)
The EP3 is one of those cars that you can buy for under a couple of grand, but you probably shouldn't. There's a fair few of them about still, and a lot of them have been thrashed mercilessly, so the sub-two-grand cars are always a bit baggy – cheap to buy, but you'll spend a fortune fixing it up. If you're after a tidy road car for daily use you can budget up to £7k, although good usable ones for track purposes will be between £3-5k. The most important things to check for are a) a good service history and b) a sympathetic owner – because the K20 motor uses a surprising amount of oil, and its sky-high redline and VTEC lunacy encourage drivers to push it hard… if it hasn't had its oil checked and topped up regularly, it'll be eating itself.
Upgrade Ideas
Find a good one and you'll be very happy. These things are simply phenomenal on track! Start with the chassis mods: Hardrace rear camber arms and lower control arms, Eibach front camber bolts, JDM rear anti-roll bar and Eibach Pro Kit springs will get you cornering like a champ. If you've got cash to splurge, an LSD is a strong option (although with your chassis mods and a decent alignment setup, by no means essential). Exhaust upgrades are more for noise than actual power unless you swap the manifold too– Tegiwa can help with a full system, and a carbon-boxed ITG Maxogen induction kit is a great addition. And bear in mind that if you want to map it, you'll need to physically open up the ECU and get a Hondata piggyback chip fitted.
The EP3 Type R was restricted to the Asian and European markets, but if you're based Stateside, keep an eye out for any examples of the Acura RSX Type S that come into budget as these cars share similar underpinnings and powertrains. Alternatively, the regular RSX or Civic Si represent less powerful but more easily attainable options.
Price today: £3500-£10,000 (Not available in the US)
Top mods: JDM anti-roll bar, Hardrace camber arms, ITG Maxogen induction.
Mazda MX-5 Miata (NA)
Amazingly, it's still possible to pick up a solid and MOT'd Mk1 (NA) MX-5 for cheap, despite how much of a cult following its got. Aside from the fact that it's got pop-up headlights, it's got a sweet manual gearshift, a super-playful chassis, and an eager little twin-cam that wants to rev for days. Believe the hype, these cars are fabulous, which is why it placed on our list of the best affordable track car projects.
Look out for rust in the sills and rear arches, and avoid any car that has 'DETUNED' stamped on the V5 (these UKDM-only 1.6s only had 88bhp for some reason), and you shouldn't have anything to worry about. The mechanicals are bombproof, and there are plenty of tuning options whether you go for the 1.6 or the 1.8. A Japspeed short-ram intake is a good start, along with a Racing Beat exhaust.
With the 1.6, a set of Kent Cams 'SportsR' camshafts eliminate the flat-spot at the top of the rev range. It's also worth bearing in mind that while there was never a factory turbo MX-5,these engines were designed with forced induction in mind as they also appeared in the 323 Turbo – so there's a lot of aftermarket turbocharging options. BBR are the experts to talk to there. Whiteline ARBS are well regarded, and if you're getting really serious then Öhlins Road and Track coilovers are the way to go. Goodridge braided brake lines are a must and try some EBC Yellow Stuff pads too.
Price today: $6000-$18,000 / £2000-£12,500
Top mods: Racing Beat exhaust, Whiteline anti-roll bars, Japspeed short-ram induction
Scion tC
Oh Scion, rest in peace. A brand of such potential, never truly realized. Still, while it was here, Toyota's American youth-focused off-shoot did at least give us the tC. To our eyes at least, both the pre-and-post facelift cars look rather good, and their internals make for quite a promising platform too. First-gen tCs were built on the same MC chassis utilized in the Mk7 Celica we spoke about earlier and it was well set up to handle corners with MacPherson struts at the front and double wishbones at the rear. Under the hood, you got a 2.4-liter four-pot that produced 161hp – essentially, a Camry motor. Ok, sure, in stock guise that's hardly gonna blow your socks off, but with the tC it's all about potential.
The recipe was enhanced a little further with the second-gen car, which was built atop a revised chassis and outputted 180hp, topped off nicely with styling that still looks fresh today. If it's bang for buck that you're after though, we'd steer you towards the Mk1 as pictured above. They're generally cheaper, and that budget can be put towards valuable performance mods. Speaking of which, here are some that we'd recommend:
Upgrade Ideas
It would be amiss of us to ignore the TRD supercharger that was offered for these. It elevates the tC to around the 200hp-mark, and although now discontinued, there are plenty of aftermarket alternatives. Plus, although forced induction will cost you a pretty penny, either a supercharger or turbo should still be within budget after buying the base car if you've got our full $10k to spend. If not, no worries, there are cheaper mods you can adopt too. For example, an upgraded 4-2-1 header will make a tangible difference to performance and only cost a few hundred dollars. However, it'll cause an emissions test failure due to cat removal, so while we can't condone using this mod on the street, we can't stop you either. And hey, you're buying this tC as a track car anyway, right?
Handling-wise, stiffer anti-roll bars and new coilovers will be welcome additions when it comes to track driving, as will a good set of summer performance tires.
Price today: $2500-$20,000
Top Mods: Hotchkis anti-roll bar package (front & rear), 4-2-1 header, your choice of forced induction (if within budget).
MINI Cooper S (R53)
Much like the EP3 Civic, the R53 Cooper S is a car that you can very easily pick up for peanuts, but it might not be a great idea. Yes, you can buy one for way under three grand, but buying one that's priced a little higher with a decent history will be less painful in the long run.
These cars are an absolute blast on track even in standard form, and the thing we'd recommend first of all is to downsize the supercharger pulley. There are various percentage options but there's no point mucking about – go for the full-on 17% pulley, combine it with an Airtec top-mount intercooler and your stock 170hp will suddenly rise to around 200hp. Plus, the blower will be wailing like a banshee!
It's not cheap, but the next step for the serious track fan is to swap in a full Eibach chassis makeover. We're talking coilovers, top-mounts, anti-roll bars, the lot. It makes a world of difference, and turns a really good car into a great one. And one of the things R53s are known for is the pops and crackles from the exhaust. This is particularly true of facelift models, which had more of this stuff mapped in from the factory! There's a lot of exhaust options out there, but our extensive research found that the Scorpion system sounds the best – as well as adding a few horses, of course. An LSD makes a huge difference to these cars too: some models had them fitted as factory-standard (like the Checkmate edition, for instance), but otherwise get yourself a Quaife ATB.
Price today: $4500-$10,000 / £2500-£8000
Top mods: 17% pulley, Airtec intercooler, Scorpion exhaust
Audi TT 225 (Mk1)
The Mk1 Audi TT is another of those cars that's so good to drive, it amazes us that they can still be bought so inexpensively, which is exactly why its on our affordable track car projects list. When Audi saw fit to bolt in a quattro system underneath, they created a chuckable coupe that would just grip and grip and grip until the tarmac itself started rucking up like a hallway carpet.
Combine this with the crazy BAM engine (which involved so much more than bolting a big turbo to a 1.8T; it also had upgraded pistons and rods, juicier fueling and bigger intercoolers), and you've got the recipe for something truly special. About half of our budget buys a tidy runner, and the tuning world's your oyster. We'd start with a Milltek cat-back and RamAir induction. Then, combine it with a set of Goodridge braided lines, EBC grooved discs and Red Stuff ceramic pads. Upgrade to a Forge front-mount intercooler, and a Revo Stage2 map will catapult you up to about 275hp. Some Toyo R888Rs will help you deploy this effectively. While a Haldex controller can send more torque to the rear wheels for fruitier handling.
Price today: $5000-$20,000 / £3500-£15,000
Top mods: Milltek exhaust, Forge intercooler, Revo remap, Goodridge braided hoses.
Words by Dan Bevis & James Bowers