People used to joke that the MR2 was a 'baby Ferrari'. But no-one's laughing now, as Jamie Carter's modified Toyota MR2 Mk2 pocket-rocket serves up some serious performance…
Sometimes we choose our project cars carefully; they might represent the realization of a lifetime's yearning, or a desire to revisit an old flame, or a deep-seated need to try something new. But sometimes, just sometimes, our project cars find us. And that's precisely what happened for Jamie Carter with this tin-top modified Toyota MR2 Mk2. He wasn't specifically looking for this type of car to become his next all-consuming obsession, but when he learned that the change in circumstances of a good friend meant that this retro Toyota may require saving, he saw little choice in the matter. He needed to make the car his.
"This car has quite a story behind it," says Jamie. "About fifteen or sixteen years ago, my best friend carefully chose and imported it, as he specifically wanted the tin-top version with low mileage. It sat parked for approximately seven years after he moved to London; he subsequently returned and, after overhearing a conversation about him selling it to 'get it gone', I just couldn't let that happen! I offered to help get the car running and tidy it up. He wasn't interested, and following a chat about his current car at the time requiring some maintenance and modification work, we agreed that I would carry out that work in a trade-off for the MR2. The very next day I recovered the Toyota from his driveway…"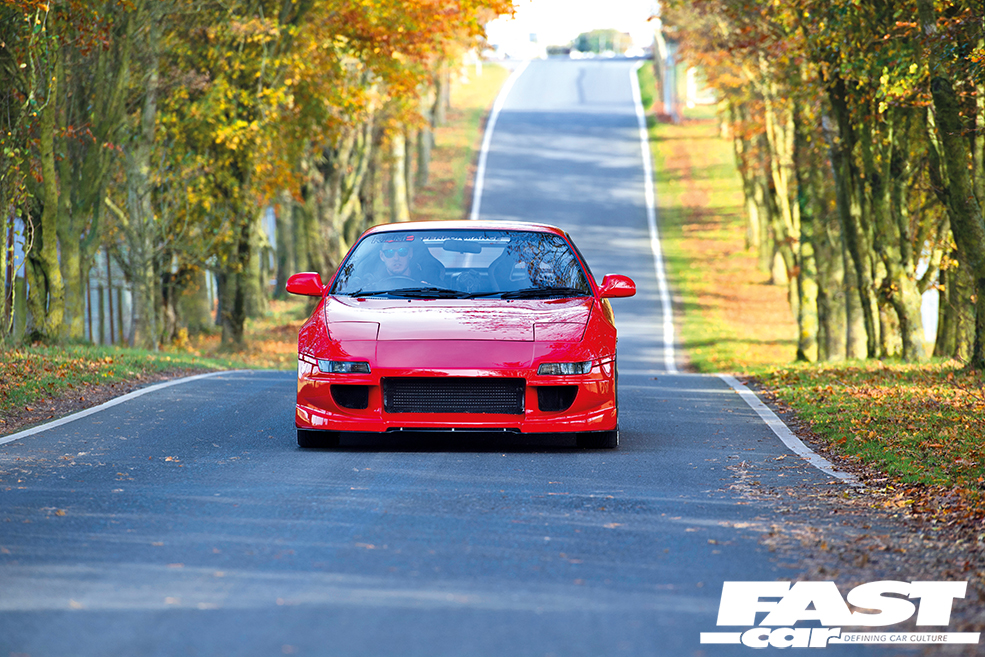 In The Blood
And just like that, Jamie had a new project in his life. Now, it's worth pointing out that this fella had form in this particular arena. Indeed, he's been a petrolhead right from the start; when he was growing up, cars were always the glue that bonded him, his brother and their dad together.
"We were those kids that would spend our time cutting out pictures from magazines and putting them up on the bedroom walls," he says. "Cars have always been a big part of my life." So it was with some sense of inevitability that Jamie would end up working with cars every day, still having plenty of enthusiasm to spend his evenings and weekends spannering on his own projects – it's an ingrained passion. And with a life spent observing automotive evolution and modding trends, he's got a really keen sense of the offbeat, of how to build a car to be a little bit different.
Petrolhead by Trade
"Coming up with ideas that I'm lucky enough to be able to fabricate myself makes all this possible," he explains, very much a man with the skills to pay the bills. "I've worked on a lot of other project builds too, and these have made me lucky enough to be able to modify vehicles within my career. Building and running a business called RPM means that I've now carried out extensive modifications on a variety of cars – including turbo conversions for a Lexus IS200 and a Honda Civic, supercharging a BMW E46, and lots more besides. I've also had involvement in some very different builds such as modifying a Honda Accord diesel estate that our customer uses as a track car… not something you see every day!"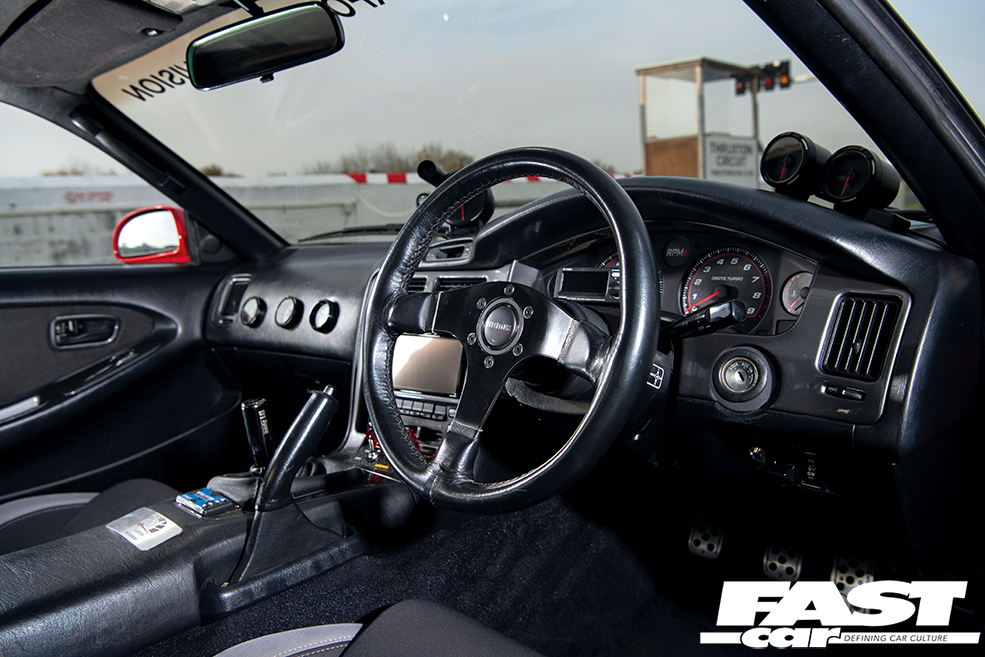 Starting with a Bang
The scene was appropriately set for this MR2 to enter the fray then, and now that he's owned it for around five years, it's reached a really interesting point in its development. Project cars are never finished of course, that's sort of the whole point, but its ready-for-2021 spec sees the Mister-Two combining the sweet spot of aesthetics and mechanicals in fine style.
So let's rewind to that fateful day when Jamie was rescuing it from his buddy's driveway and welcoming the MR2 into his life. "From that day I spent some time deciding on what I was actually going to do with an MR2 Turbo that didn't run and was very pink and green in color," he recalls.
"After several evenings of investigating the running issues, I thought I had finally cracked it. It turned out that I had… but only momentarily. I took the car for a test drive with the biggest smile on my face, until BANG! I blew it up. This quick 'let's get it running and tidy it up' idea quite literally blew up on me! I was so annoyed that I removed the engine that very evening, ready for inspecting the damage. My friend and I to this day still have a giggle about it – I think his words were something along the lines of 'I told you you didn't want it!'"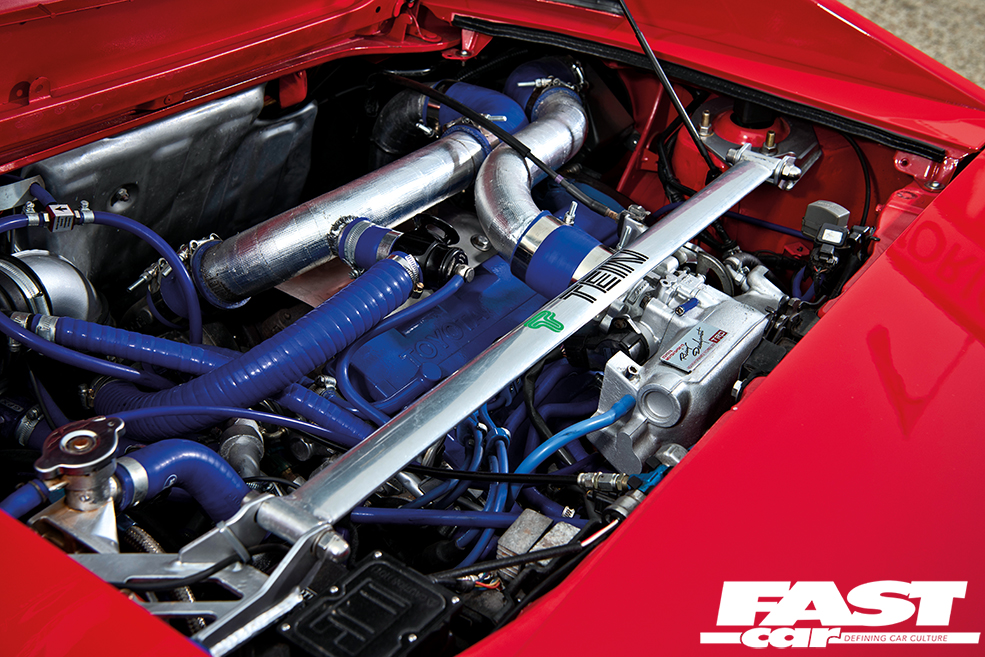 Engine Mods
Life's all about playing the hand you're dealt, and having diagnosed the head gasket as instrumental in the failure, Jamie stripped the engine to remedy that – and, since he was in there, he also decided to upgrade a few things as he went. Might as well, right? Naturally that all escalated, it always does, and by the time he was done with the engine, the car was some way beyond 'quick tidy up' status.
With the 3S-GTE packing Kings Racing bearings, hugely uprated fueling, a CT26 hybrid turbo, bigger intercooler, stainless exhaust and a whole load more, it's rocking to the tune of about 300bhp, which is so much more than factory it's crazy. Inevitably, then, the rest of the car needed building to the same standard. That's just common sense.
Handling and Aero Mods
OK, it's not just common sense, it's also a hell of a lot of fun, and Jamie was keen as mustard to get stuck in. The chassis now runs Tein Flex Z coilovers along with the super-clever EDFC active damping and active GPS kit. Plus, he's also fitted a full Superpro polyurethane suspension kit, front and rear strut braces, and adjustable Superpro front and rear ARB linkages.
To help rein in all the extra thrust, Jamie swapped out the front brakes for brawnier Nissan S14a items, complete with EBC rotors for a Supra, YellowStuff pads and Goodridge braided lines. Interestingly, the Team Dynamics wheels have a staggered diameter, being seventeens on the front and eighteens out back. This visual drama serves to accentuate the thorough work Jamie's put into making sure this MR2 creates a strong aesthetic impact.
With Japanese cars of this era, it's a real tuner arms race to cherry-pick all the coolest aftermarket options to create something unique, and this dude's played a blinder: resplendent in a fresh coat of red, the racy little two-seater wears a Border front bumper, Tom's sideskirts, smoothed Autopista rear bumper, and a TRD rear spoiler with its blade wrapped in carbon vinyl. You may also spot the kouki rear lights, smoked front lights, and custom sideskirt splitters.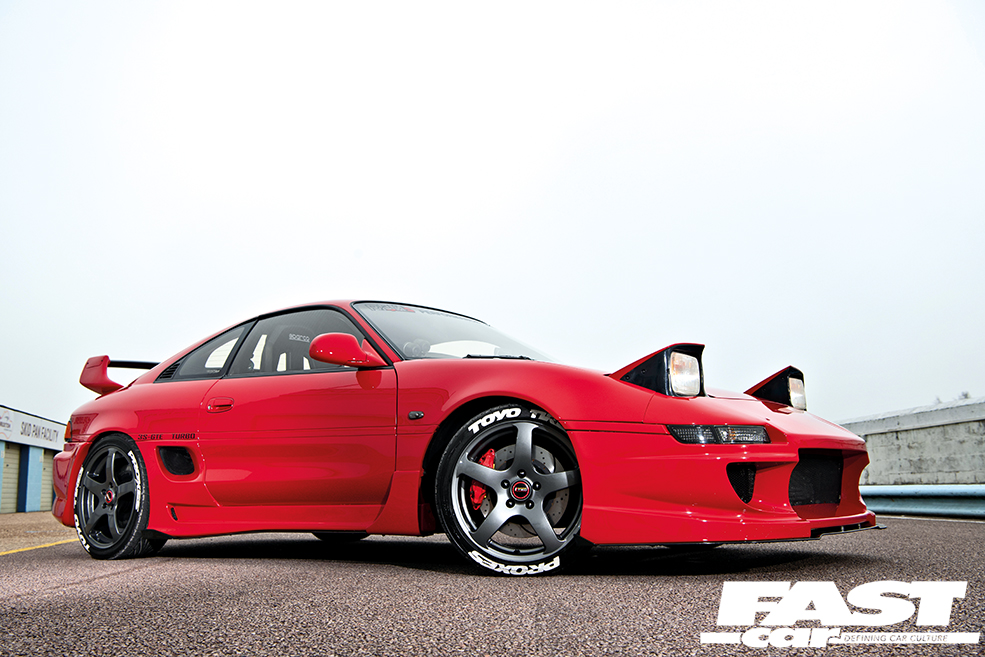 Ongoing Project
"I carried out all of the work on the car myself," says Jamie, "apart from the paintwork, so thanks to Tim Binks at RPM for doing that. The custom fabrications on this car are the type of thing that we at RPM are famous for – the front bumper splitter, the sideskirt splitters, it's the custom fab work I've carried out which gives me the most satisfaction, because I can look at it and know that there isn't another MR2 in the world with the same!
"And yes, there are some things I wish I'd done differently along the way, like the color scheme within the engine bay, that could be a little more neutral. But that's something I can revisit when I look at building a forged engine. This to me is how you improve, how you grow, and how you really get things the way you want them. Modifying cars has no rights or wrongs; people's opinions on the way something looks of course heavily influence it, but if you can execute the job to a high standard you're already winning."
Never a truer word spoken. The aim right from the start was to create a subtle car with underlying attitude, and I think Jamie can say he's achieved that goal. It's just that, as is so often the case, things have gone way beyond anything that he originally intended. It's natural mission creep. I'm not suggesting that cars are sentient, but there must be a reason why this MR2 found Jamie – after all, he's helped it to realize its potential like nobody else could.
Photos: Jason Dodd.
Tech Spec: Modified Toyota MR2 Mk2
Styling:
Rosso Red paint, Border front bumper, Tom's sideskirts, smoothed Autopista rear bumper, TRD rear spoiler (blade wrapped in carbon vinyl), RPM custom front splitter, RPM custom sideskirt splitters, black aluminium mesh grilles, kouki rear lights, smoked front lights, smoked side repeaters, Hella High-tone horns, LED sidelights and number plate lights, aerial delete
Tuning:
3S-GTE 2.0-litre, CT26 hybrid turbo – built by Turbo Dynamics, multi-layer steel head gasket, uprated intercooler with upgraded cooling fan (switched from inside car), upgraded aluminium radiator with twin fan setup, TVIS delete plate, D1 Spec adjustable fuel pressure regulator, RPM custom exhaust manifold heatshield, full stainless exhaust system, Walbro 255 fuel pump, lightweight crank pulley, lightweight Fidanza flywheel, Stage 1 Exedy racing clutch kit, Turbosmart compact BOV (recirc/atmospheric), Turbosmart dual-port manual boost controller (high/low boost settings switchable inside car), Millers Oils 10w/40 Nanodrive Technology, turbo timer, Omex rev limiter and launch control, enlarged throttle body intake, Samco silicone hose set, clear cam cover, Magnecor ignition leads, NGK Iridium Grade 7 spark plugs, Kings Racing engine bearings, RPM custom battery cover, battery voltage monitor, battery isolator switch, dyno setup by Lloyds Specialist Developments – running c.300bhp
Chassis:
17-inch (front) and 18-inch (rear) Team Dynamics 5-spoke wheels – painted by Lepsons in Medium Anthracite, TRD centre caps, Direnza 20mm rear wheel spacers, Toyo T1R tyres with sidewall stickers, Tein Flex Z coilovers, EDFC active damping, EDFC active GPS kit, full Superpro polyurethane suspension kit, front and rear strut braces, adjustable Superpro front and rear ARB linkages, Nissan S14a front calipers, UK-spec Toyota Supra EBC Black Edition front discs, Mazda RX-8 MTech Black Edition rear discs, EBC YellowStuff pads, Goodridge braided lines, DOT5.1 brake fluid
Interior:
Sparco Racing seats, MOMO steering wheel, D1 Spec quick-release steering wheel boss, short-shifter, Sparco aluminium pedals, RPM custom dials (designed and made by Chameleon LED), Defi gauges (boost, oil temp, oil pressure, monster tacho), AEM AFR gauge, 2x aircraft switches and launch button set into carbon panel, custom Bride doorcard infills, RPM build plaque, EDFC controller, D1 Spec gearknob, OMP Black Collection fire extinguisher, interior panels painted Land Rover Bonatti Grey, Pioneer touchscreen headunit, Alpine amp, Pioneer 10-inch sub, Pioneer 13mm door speakers