The Renault Megane RS 250 was the difficult second album follow-up to Renault's first truly sporty Mégane, the RS 225. Packing 247bhp and an optional Cup chassis featuring an LSD, the RS 250 meant business, and with examples now even more affordable than ever, what do you need to keep an eye on if you want one? Sponsored by Adrian Flux.
Guide from Fast Car. Words: Rich Gooding.
Hot Renaults can trace their roots back to the Alpines and Gordinis of the 1960s and 1970s, the 5 Alpine/Gordini of 1976 the first proper 'modern' La Regie hot hatch. Much more serious performance Renault hatches came in the shape of the 5 Turbo, Clio 16V and Williams, with the first official Renault Sport model being the Clio 172 of 2000. Pant-wettingly and excitingly available in Cup specification from 2002, the frippery-deleted Clio set the Renault and wider hot hatch standard of the time, as well as the template for future trés-chaud Regies to come.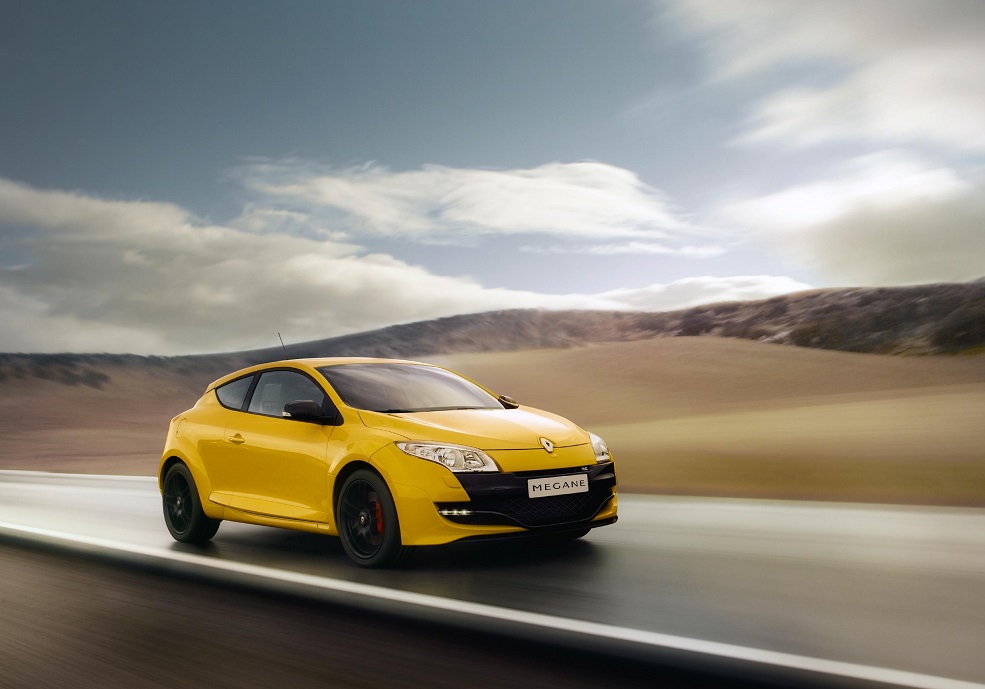 History
The first RS-badged Mégane arrived in 2004, based on the Mégane II. Packing 222bhp with three or five doors, the Renault Sport Mégane 225 (a nod to its 225PS output) sprinted to 60mph in 6.5 seconds, and on to a top speed of 149mph. In 2005, the 225 Cup included the Cup chassis option as standard, adding drilled brake discs with a larger master cylinder and stiffened steering. Lighter by 10kg than the regular 225, it was followed by the 227bhp 230 Renault F1 Team R26 in 2006 – celebrating Renault's 2005 Constructors' and Drivers' Championship Formula 1 titles – and the hardcore R26.R of 2009, which had no rear seats, a polycarbonate tailgate and rear windows, a carbon-fibre bonnet and six-point harnesses.
The third-generation Mégane appeared in 2009, the £21,995 RS 250 hitting the UK in 2010. With power cranked up to 247bhp, the new machine adopted more coupé-like styling, its 18in alloy wheels, front splitter, extended sills and wheel arches, rear diffuser and central exhaust giving a more aggressive air. Inside, aluminum pedals and a Renault Sport steering wheel with thumb grips marked out the newcomer. The 2.0-litre turbocharged four-pot engine also found its way into a more focused – and cheaper – 250 Cup model. A stiffer chassis, more track focused suspension, and a limited-slip differential aided the Cup's sharp-handling agility, but confusingly, buyers could spec the standard 'Sport' model with the Cup chassis.
The limited edition Mégane RS 265 Trophy burst onto the scene in 2011, its increased 261bhp and 266lb ft of torque thanks to a new air intake and higher 2.5 bar turbo pressure. Knocking a tenth of a second off the standard 250's 6.1s 0-60mph time, the Trophy's mechanical mods became standard Mégane RS fare in 2012, when the 250 was killed off. The RS 265 adopted the 250's 'Sport' and 'Cup' chassis specs, an obvious 'Red Design Pack' adding in-yer-face red exterior highlights. Red Bull RB7 and RB8 Editions appeared a little later, again celebrating Renault F1 wins.
A refresh in 2014 added a new front grille, headlights, bonnet and front and rear bumpers. The Renault Megane RS 250 was now only offered in standard 265 spec with an optional Cup chassis. Power was bumped again to 271bhp for the RS 275 Trophy-R, Renault Sport's R26.R-like riposte to the SEAT Leon Cupra 280, which set a new front-wheel drive production car record on the Nürburgring. Changes included an Akrapovič titanium exhaust, Öhlins dampers with Allevard composite coil springs and 19in Speedline Turini wheels wrapped in Michelin Pilot Sport Cup 2 tyres. All Mégane RS III models ended production in 2017, to make way for the new Megane RS based on the fourth-generation model.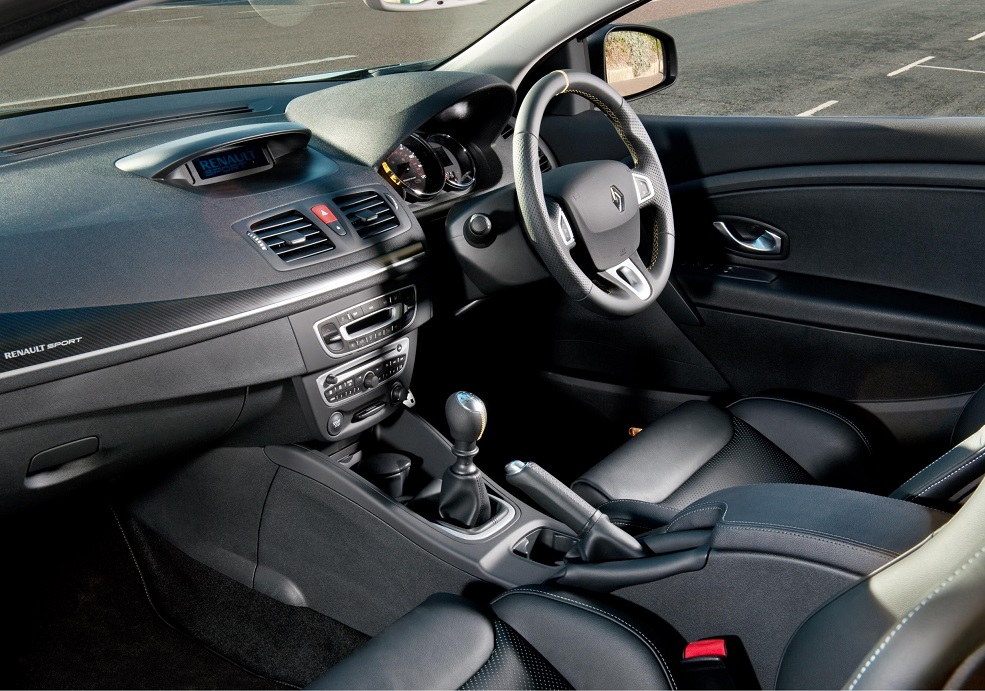 Renault Megane RS 250: What to look out for
The Mégane RS 250 is a robust French hot hatch, with an almost unburstable engine and mechanicals. Make sure that engine is serviced regularly, though, as issues can soon multiply. Perhaps surprisingly, the interiors hold well for a French car, and switchgear and trim tend not to suffer from misuse. Remaps and exhaust upgrades can easily liberate upwards of 300bhp, so there are plenty of reasons to go and grab a fanciful slice of French hot hatch action!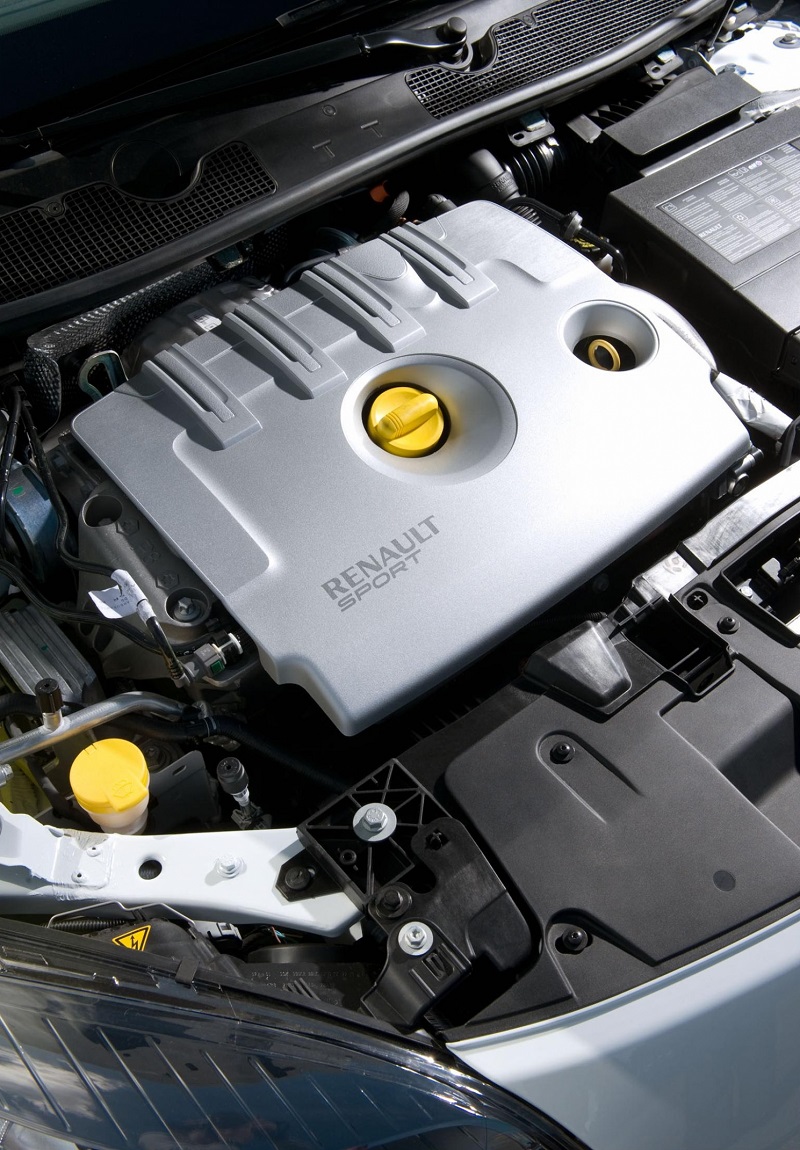 Engine & Transmission
The Mégane RS's 1,998cc turbocharged four-cylinder 'F4Rt' engine is tough. "These units are pretty bulletproof as long as they are serviced regularly, and the auxiliary belts and cambelts are done on age or mileage," says White. But if you don't look after them, the problems can easily build up. "Some cars are now suffering piston-ring land failure for various reasons: failing injectors, bad remaps, pressure cast pistons from factory vs those cast in previous generations," White reports. "Too much boost or bad remaps on stock engines can cause bent conrods, noticed with a rough idle or flashing EML."
However, Nick Benton, director of Renault Sport parts specialist Pure Motorsport says don't rule out remaps – and an exhaust upgrade – just make sure that they're done properly. "Up to 300bhp is achievable on a stock car. A 3in downpipe upgrade gets the turbo spooling much faster, reducing lag and giving excellent throttle response. Stock cars are very quiet and a full 3in exhaust system gives a sporting edge. A remap is necessary to suit the exhaust and really wakes it up from stock. Good 250s normally run circa 260/265bhp stock, but ensure any remap is done by a reputable specialist and tested on a rolling road."
Other issues include thermostat failures. "These are extremely common," says White, "and are a cheap part, but one that's not exactly a five-minute fit."
Diff and main shaft bearings are also common failures, the main shaft issue noticeable by a loud whine in sixth gear. "The upper gearbox mount stud can also snap, but it is easily changed to a high-tensile M10 bolt or can be drilled out to M12," White says. Benton reckons an upgraded limited-slip diff gives the RS an aggressive edge on track. "The plate-type Gripper diff will aid traction on corner exit, improve turn-in and generally make the Mégane so much faster on track days or in competition."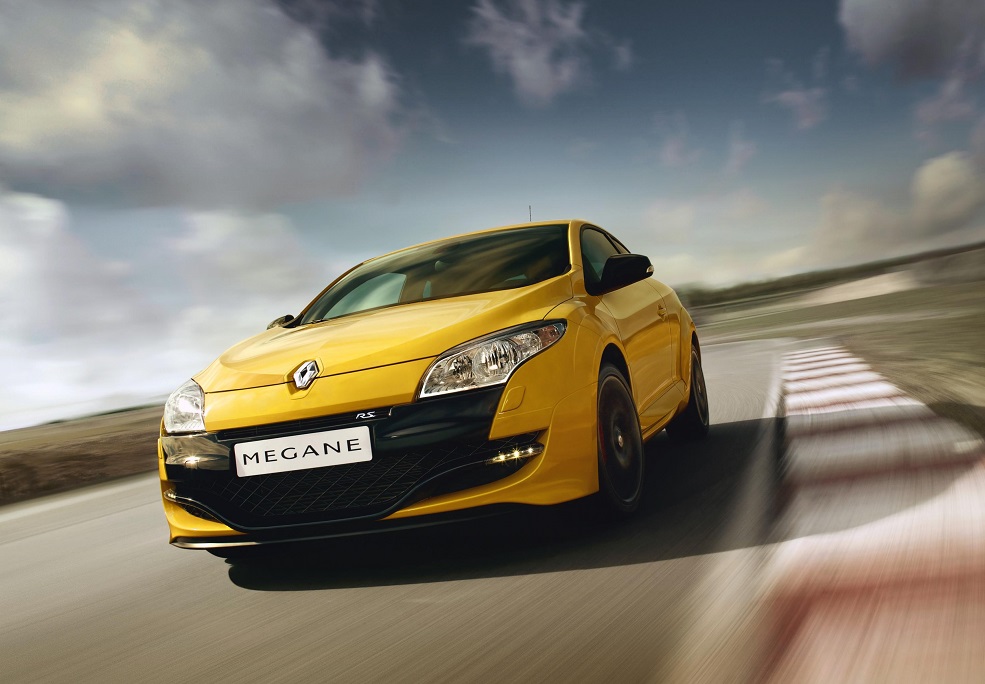 Chassis
The key to the Mégane RS's sharp handling and little torque steer is, according to White, their sophisticated twin axis steering system. But, however good it is, it doesn't mean it's without fault. "The swivel hub bearings can wear out causing horrible noises while dry steering," says White. "The wishbone bushes also wear causing a knocking or for the car to pull on/off power. And look for pink-coloured and overheated discs, which can indicate sticking or seized rear calipers." Top mounts can also split and anti-roll bars should be looked at for wear.
"The stock suspension in standard or Cup chassis set-up is great for our British roads but even the Cup setup is too soft and high for anything other than normal road use," says Benton, who recommends slight lowering with a good set of upgraded dampers or, for those more serious drivers, quality coilovers for track use. "Bilstein B12 kits (£740 from Pure Motorsport) are great for road use, Bilstein B14s are great for road/trackday, and the Bilstein Clubsport kit is awesome for more serious track day or competition use. Accurate four-wheel alignment is also a must, and rear camber and toe can be adjusted by using bolt-in shims behind the stub axle." Don't skimp on tyres either.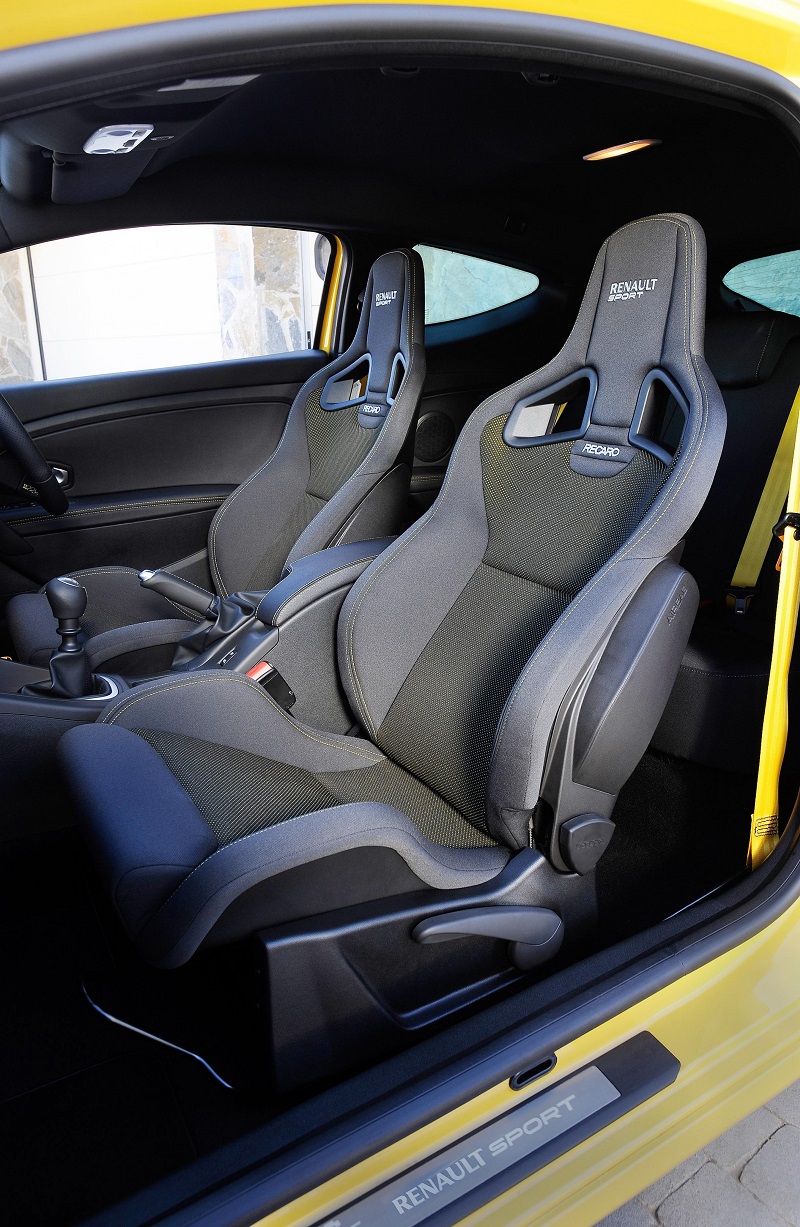 Interior & Electrics
Renaults – and Renault Sports – of years gone by haven't enjoyed the plushest of cabins, but the RS 250 is surprisingly robust. "Switchgear has an unusually positive and quality feel, and stands up to 100,000 miles without issues, unlike some earlier Renault Sport cars," White says. "Steering wheels are a step up from the usual Renault quality, too, don't fall apart, and are great to hold, if a touch large."
When it comes to seats, White reports that the standard pews are often a better bet than the fancier upgraded chairs. "Seat bolster wear is common on the Recaro front seat upgrade, be it the leather in the Lux-packed cars or the fabric on the cloth chairs. Standard seat options don't suffer half as badly, but expect these cars to be £1,000 cheaper to reflect the value of those Recaros!"
Electrical issues aren't commonplace either. "Beware of ABS warning lights which can be an ABS module full of water and is a costly repair," says White. "Auxiliary water pumps, or at least their plug, can cause issues, but it is easily rectified." A minor point, White also reports, is the cornering xenon lights on pre-facelift 250 cars are "amazing" for road use, but admits there are less weighty options.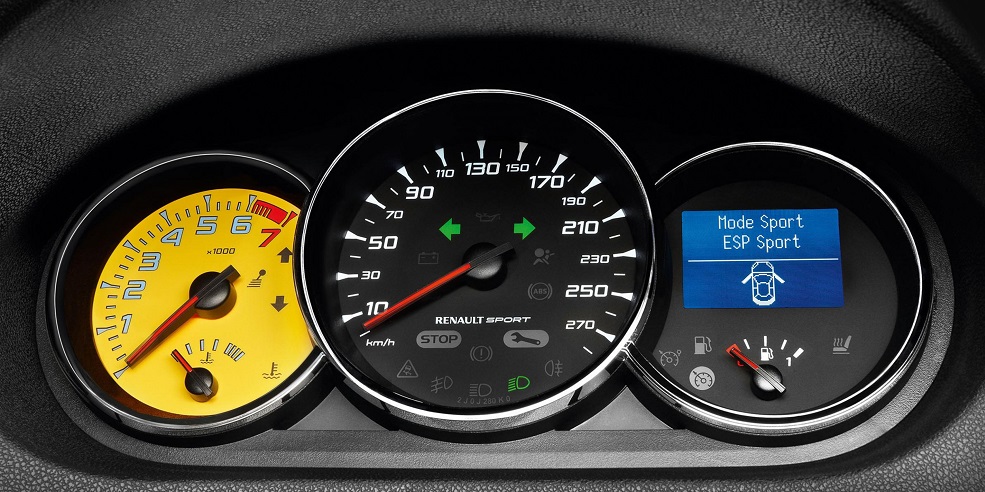 Bodywork & Trim
As with any used fast hatch purchase, look for any uneven panel gaps and any imperfections in the paintwork that may point to hidden accident damage. As a rule, the RS Mégane 250's body tends to survive well. "The front bumper/splitter is commonly split/holed by stones," says Alex White, director of Renault Sport specialist AW Motorworks. "Check the plastic wheel arch liners are fitted securely, too, as crash damaged cars often have these poorly refitted. It's also extremely common for the door check straps to click and fail. They are not mega expensive to buy from Renault, but door card removal is required to change them."
Servicing & Maintenance
As with any high performance machine, it's essential to regularly service and maintain it. The Mégane RS 250 has 12,000-mile service intervals, with a typical inspection costing around £250, but White warns about skimping. "Pollen filters are often overlooked as the clutch pedal needs to be partially removed, but it's definitely worthwhile doing on any recently purchased Mégane, despite the service history."
Most cars that have covered 80-100,000 miles will need a clutch, and they have a dual mass flywheel which is recommended to replace while the gearbox is out. "Single mass flywheel conversions can cause the gearbox to rattle due to the vibrations being transmitted from the engine into the gearbox," White says. He also reports that it's best to save the single mass flywheel conversions for motorsport use only, but that different gear oils can improve noise.
Mégane 250 cambelts need changing every six years or 72,500 miles. Budget for around £500 for the cambelt and auxiliary pump kits, water pump and the coolant. "VVT dephasers are optional," says White, "although these are much more reliable than on Clio 172/182s!"
The hot Mégane's stoppers shouldn't leave you feeling short-changed, but if they do, Benton recommends that even a good-quality pad upgrade can help. "The stock setup can struggle with the 1,300kg weight. The standard Brembo four-pot front calipers give a firm pedal but on road cars a Ferodo racing pad upgrade can make a big difference – but ensure you fit a pad with a good bite from cold!" For trackday and competition cars, he reports that a swap to a bigger disc, like the Performance Friction 348mm two-piece disc and rotor, is worthwhile: "These retain the stock Brembo caliper but with a good weight saving and extra rotor size over the stock 340mm discs."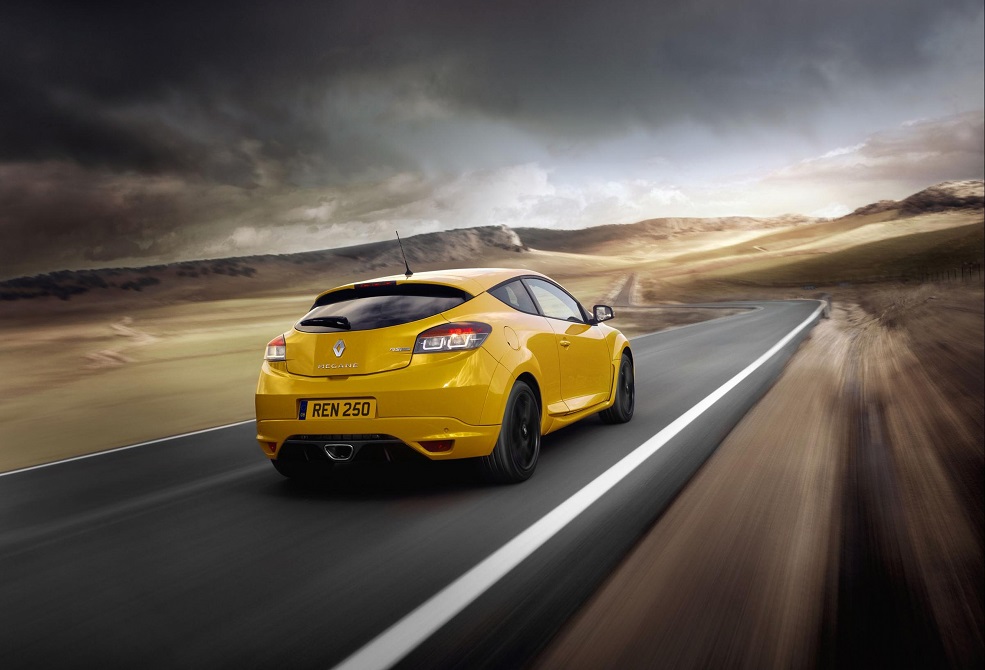 Conclusion
While it's far from residing in banger terrority, a clean Mégane RS 250 can be bagged for less than £7,000, which makes it a very good chunk of performance car for the money. Pampered cars can be twice that, but get a good and well-looked after cheaper model, add a few choice mods, and you'll have a fantastic value and very capable flying Frenchie. Fantastique!
Renault Megane RS 250 insurance quote
Car: 2011 Renault Megane RS 250
Value: £9000
Driver and info: 28-year-old male, with a full NCB, living in the TN14 post code, with a clean license. The car is parked on the drive each night and has light modifications including wheels, suspension, exhaust and air filter.
Quote: £400 including insurance premium tax / £300 excess / Comprehensive cover / 8000 miles per annum
Renault Megane RS 250 Top Mods
Bilstein B12 (road)/B14 (road/track)/Clubsport (track) coilover suspension kit upgrade
Cooling upgrade
3in exhaust system downpipe and 300bhp remap
Performance Friction 348mm two-piece disc and rotor upgrade with Ferodo racing pads
Gripper limited-slip differential
Tech Spec: Renault Megane RS 250
Engine: 1,998cc
Max power: 247bhp @ 5,500rpm
Max torque:251lb ft @ 3,000rpm
Transmission: 6-speed manual
Max speed : 155mph
0-60mph: 6.1 seconds