We pick out our top 10 hot hatches from across the years picking 5 retro pocket rockets and 5 modern masters.
The shape of the motoring industry is always evolving, in a very literal sense. Back in the eighties, for example, family cars were three-box saloons, unless you had a big dog or needed a third row of foldaway seats, in which case you got an estate. The MPV evolved through the nineties, and this transmogrified into the SUV in the twenty-first century, something that we see everywhere these days. Affections for small roadsters have ebbed and flowed, their heyday arriving in the sixties and being reprised in the nineties. Fashion dictates these developments as much as need or desire, but there's one genre of car that's been consistently popular from the 1970s right up until the present day: the hot hatch.
There's always been a lot of debate around what was the first true hot hatch – enthusiasts will often claim that it all began with the VW Golf GTI or the Peugeot 205 GTI, although we must also give special mention to the Simca 1100TI, the Autobianchi A112 Abarth and the Vauxhall Chevette HS. Whichever way it went down, the format captured the public's imagination: small, nimble, agile and affordable cars that were at once practical and excellent fun to drive. These pocket rockets have always been here to raise a smile. So, we're going to celebrate our top ten hot hatches, split into two distinct groups – five retro classics from the golden age of hot hatch modding, and five new-wave models from the modern era. Each one offers a wide variety of tuning potential, and each one is guaranteed to tickle your pickle in entertaining ways…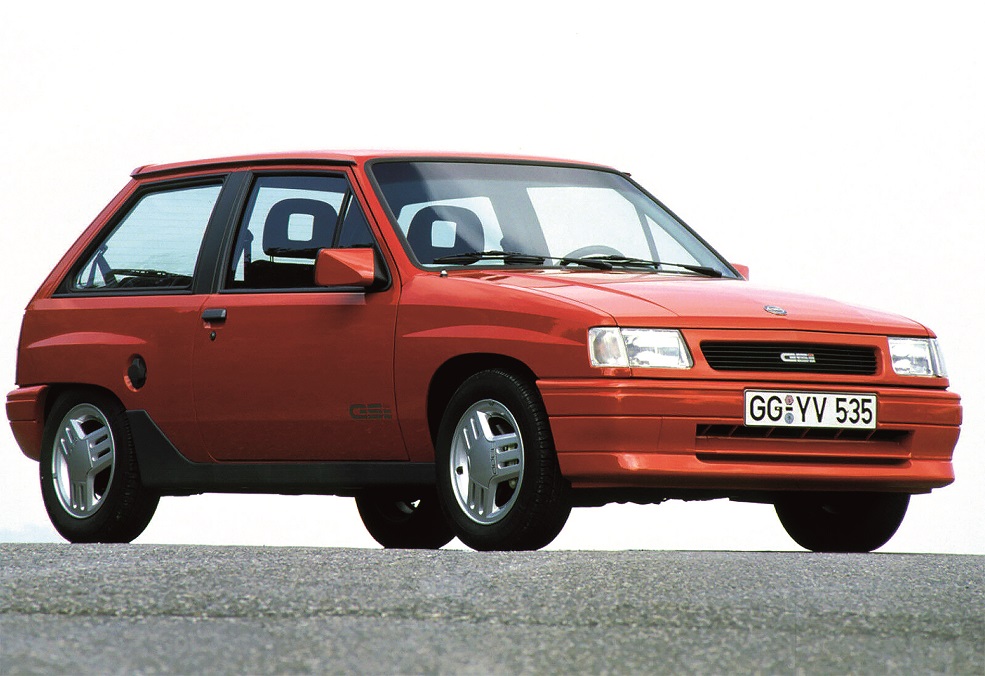 Vauxhall Nova GSI
The Nova has become a bit of a cult hero these days, and of course it was a major player in the cruise era; for people who grew up in the time of Britpop and New Labour, the Nova was the car to have, and that enthusiasm is coming full circle now that there aren't many left.
A number of performance variants were offered; the 1.3-litre SR (which later morphed into the 1.4 SR) was a perky little thing, and the homologation-model Sport served up all the rally mischief you could ask for with its racy stripes and twin carbs. But it was the GTE that was the poster boy for hot hatch hooliganism: shoehorning in a 1.6-litre motor with multipoint fuel injection bestowed a hundred horsepower on the GTE, which was enough to make the featherweight hatchback a proper riot. When the Nova was facelifted in 1990, with new headlights, bumpers, grille and interior, the GTE evolved into the GSi, and as long as you could twist the insurance man's arm it was game on for mods. Back then, bigger was better with the Nova, and a generation of modders bolted on the biggest wheels they could find (nineteens went on with a squeeze) along with Kingdom bumpers and massive wings. Today opinion is divided on whether it's better to go back to OEM or save a period bodykit; either way, Novas walk tall on the scene today just like they did twenty years ago.
Price today: £8,000
Top mods: The tried-and-tested method for Novas of yore was to drop in a redtop XE, and that's still a strong idea today. Dbilas is a good place to go to discuss throttle bodies and turbo conversions. Courtenay Sport were the go-to in period and, while the Nova/Corsa A is no longer listed as a model on their site, they'll still have a wealth of knowledge to draw upon. When it comes to wheels, you can't go wrong with a set of Compomotive MO5s, and you'll be wanting to shove some big brakes behind there too – a 318mm Tarox 6-pot kit will get under there if you're running seventeens.
Top contacts: Dbilas, Courtenay Sport, Tarox, Compomotive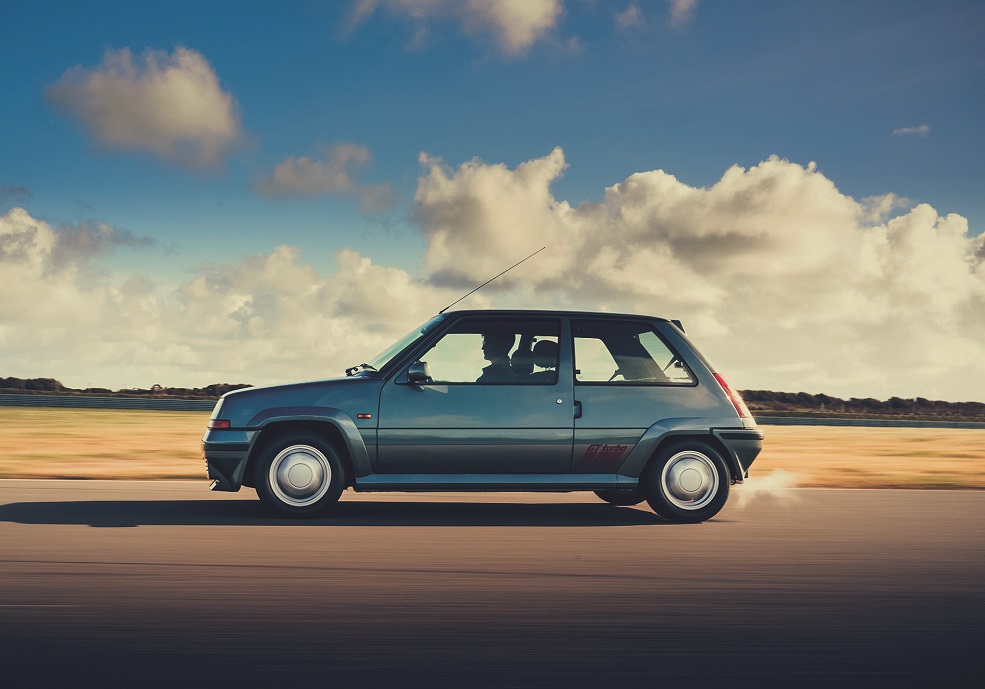 Renault 5 GT Turbo
Turbocharging was one of the most exciting cultural concepts of the 1980s. While road cars had been available with turbos for a decade or so, it was the hot hatches of the eighties that really forced the term into the common lexicon; it got to the stage where you could by all sorts of random consumer goods with 'turbo' branding – aftershave, biros, razors, you name it.
Perhaps the most exciting turbocharged hot hatch was the Renault 5 GT Turbo, largely because it thrillingly combined old and new ideas: it was as lightweight and basic as a 205 GTI, but super-cutting-edge thanks to that turbo. And yet there was no modern fuel-injection here – that little snail blew through a carburettor.
The tuning mags of the late-'90s and early '00s were full of GT Turbos, not least because of Jamie Shaw at Carisma's ever-more-mental creations. (And, of course, Ali G – he helped things a lot.) The model did earn an unfair reputation for unreliability, mainly thanks to people's enthusiasm for turning the boost up to see what would happen. You can probably guess what would result – it would be noticeably faster, briefly, and then it would explode. But ham-fisted tuning aside, these were awesome little cars, and they've got proper motorsport DNA too.
Price today: £10,000
Top mods: Well, how far do you want to go?! In-your-face bodykits were always the GTT style – massive wide-mouth bumpers, vast oval centre-exit exhausts, oversize rear wings, as much fibreglass as you could handle. Nowadays, however, we reckon the path to success is a bit of subtle Euro-style OEM+. The factory bodykit is awesome, so gut the innards as much as you can to squeeze the fattest possible wheels in there – the Ronal Turbo is a popular choice. Ever seen a 5 GT on air? Us neither, so have a word with Car Audio Security about a custom Air Lift setup. And while you're there, why not pack it out with an old-school audio install? GT Turbos were always filled with subs in the cruise era…
Top contacts: Ronal Wheels, Car Audio Security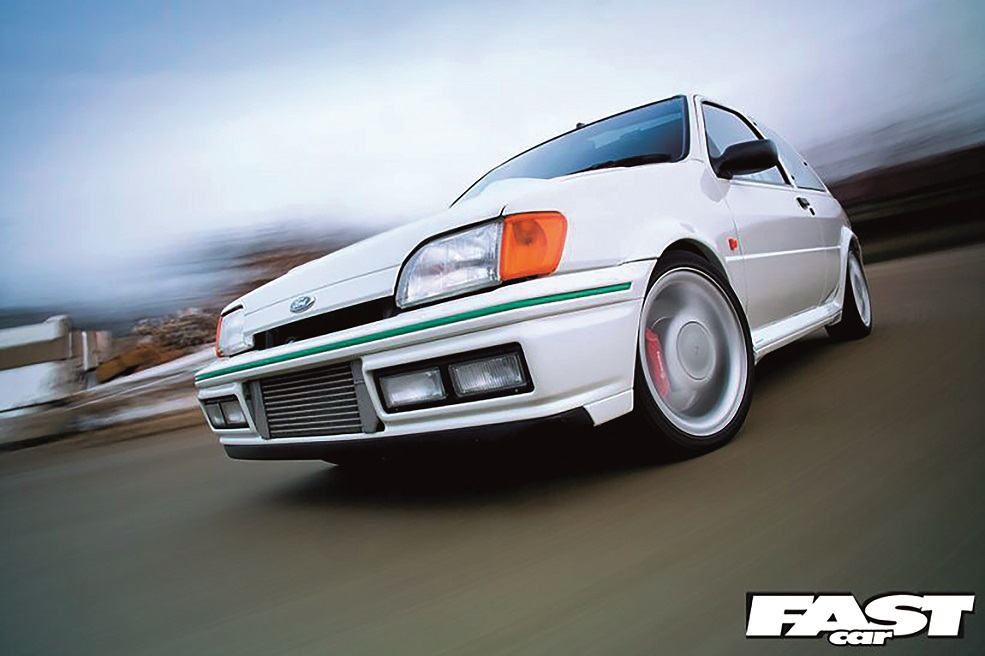 Ford Fiesta RS Turbo
The Fiesta RS Turbo was way, way more than simply an XR2i with an Escort RST motor. Ford pledged to make the FRST a proper drivers' car, and the SVE division worked hard to provide; the engine block, crank and compression ratio were carried over from the Escort, but the Fiesta's engine enjoyed a lot of further development. The principal difference is the use of the smaller Garrett G2 turbo (Ford would tell you that it spooled up faster for more eager acceleration; a cynic might suggest that the bigger turbo from the Escort simply wouldn't fit in the Fiesta's engine bay…), and the cylinder head from the XR2i's fuel-injected CVH was also swapped across. Ford's proprietary EEC-IV engine management system was drafted in, complete with the map sensor, wastegate solenoid valve and boost control module from the Sierra Sapphire RS Cosworth. What resulted from all of this was a whole bunch of exciting numbers – 133bhp, 135lb ft of torque from as low down as 2,400rpm with a nice flat curve, and a genuinely achievable 130mph. The interior sported Recaro seats and a leather steering wheel, while the outside featured attractive body addenda and extra lamps. It also had beefier ARBs, a quicker steering rack, and – best of all – three-spoke alloys. Is there a car more quintessentially 1990s than this?
Price today: £10,000
Top mods: ZVH conversions used to be all the go, but nowadays you're probably better off just dropping in a Zetec… although what we'd really like to see is an FRST running an EcoBoost! Doing things properly will see the car on Koni suspension and some white Speedline Turinis, while Airtec can help you out with radiator and intercooler upgrades.
Top contacts: Burton Power, Speedline, Koni, Airtec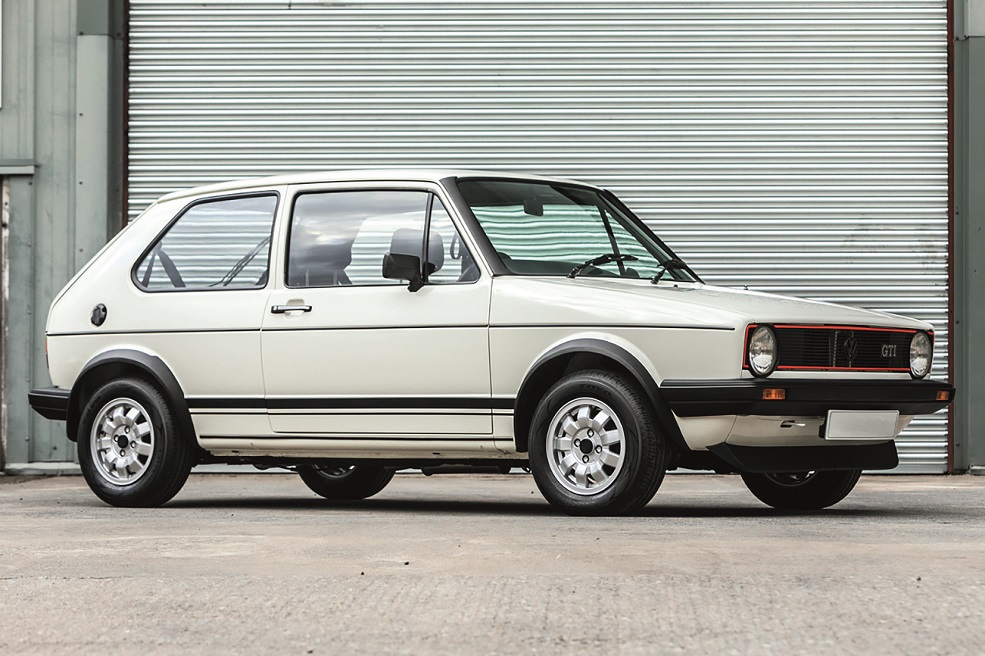 VW Golf GTI Mk1
The Volkswagen Golf is such a ubiquitous entity that it's become a part of the furniture of modern living, like a Billy bookcase or a branch of Starbucks. It's just one of those things that's everywhere. But 1974 was a very different place to the world of today, and the launch of the Golf was a staggering departure from what people thought they knew about the Volkswagen brand; replacing the air-cooled, rear-engined, rear wheel-drive Beetle with a crisply angular hatchback that featured a front-mounted, water-cooled engine and front wheel-drive was a frankly astounding manoeuvre. And when the GTI concept was announced at the 1975 Frankfurt Motor Show, all bets were off. This was a new era of performance city cars.
Brilliantly, the secret 'Sport Golf' started as a skunkworks project among the engineers; presenting it to top brass in 1975, the idea was met with widespread approval and the Golf GTI came to market for 1976: fatter wheels, bigger brakes, aero add-ons, a close-ratio gearbox and a peppery engine made it an instant classic. In the early-eighties the engine got bigger and the power increased, and the legend was assured. Golf GTIs are still massive sellers today, and this little pocket rocket is the magnificent genesis.
Price today: £10,000
Top mods: Pretty much everything has been done to these cars over the years. (Remember the twin-engine Dubsport creations?!) And today we suspect motorsport-chic may be the way forward. KW coilovers, Cobra seats, custom rollcage… and hey, why not throw a 1.8T in there?
Top contacts: Deutsche Doktors, KW, Cobra, Custom Cages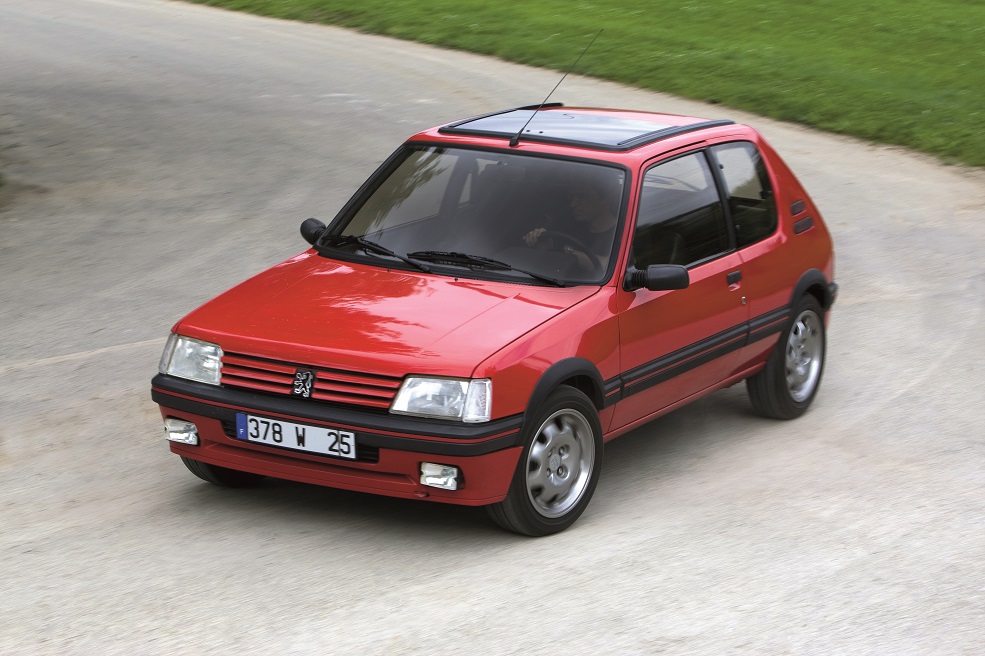 Peugeot 205 GTI
For a lot of people, this is the ultimate hot hatch – and if recent auction prices are anything to go by, the market would agree. Indeed, these things have got sufficiently pricy that they'll be out of reach for a lot of people (it doesn't seem that long ago that you could get an MOT'd runner for under a grand, but that'd never happen now), so if you've always fancied it and you've got the cash to spend, now's probably the time.
Initially sold as a 1.6, a brawnier 1.9 followed; some prefer the 1.6's shorter gearing, others favour the 1.9 for its 130bhp grunt, but they all offer surprisingly rapid acceleration thanks to wafer-thin, uber-lightweight construction, and limpet-like handling that got better the faster you went. And back in the day it was all about tweaked 205s; if you got yourself a wide-arch Dimma kit and had those 8-hole Speedlines converted to wide split-rims, you were the cock of the walk. The enthusiasm for modifying offered a bit of a dilemma for GTI fans, because this was such a delicately balanced and scalpel-sharp creation that adding bodykits and other extra weight could cock up the power-to-weight ratio, wider wheels and more aggressive rubber might mess with the sweet handling characteristics, and fiddling with the suspension could do more harm than good. But fear not, because there's still a strong aftermarket of experts who can steer you right here, taking the hot hatch daddy and making it even better. Just don't listen to those pipe-and-slippers types in the auction houses, these aren't cars to be wrapped up in cotton wool. They were designed to be grabbed by the scruff of the neck, and that's just as true today.
Price today: £6,000
Top mods: The classic power mod was the Mi16 swap – taking the 16v version of the engine from a 405 SRi or Citroën BX 16v to throw in a couple of dozen more horsepower. The stock 8v motor also responds really well to a set of throttle bodies – Jenvey are your guys for that one. Gaz offers a superb coilover kit for the GTI, and a 2.5in Piper system is your classic exhaust upgrade. Marque experts Pug1Off are the people you want to talk to, they know these cars inside out.
Top contacts: Jenvey, Gaz Shocks, Pug1Off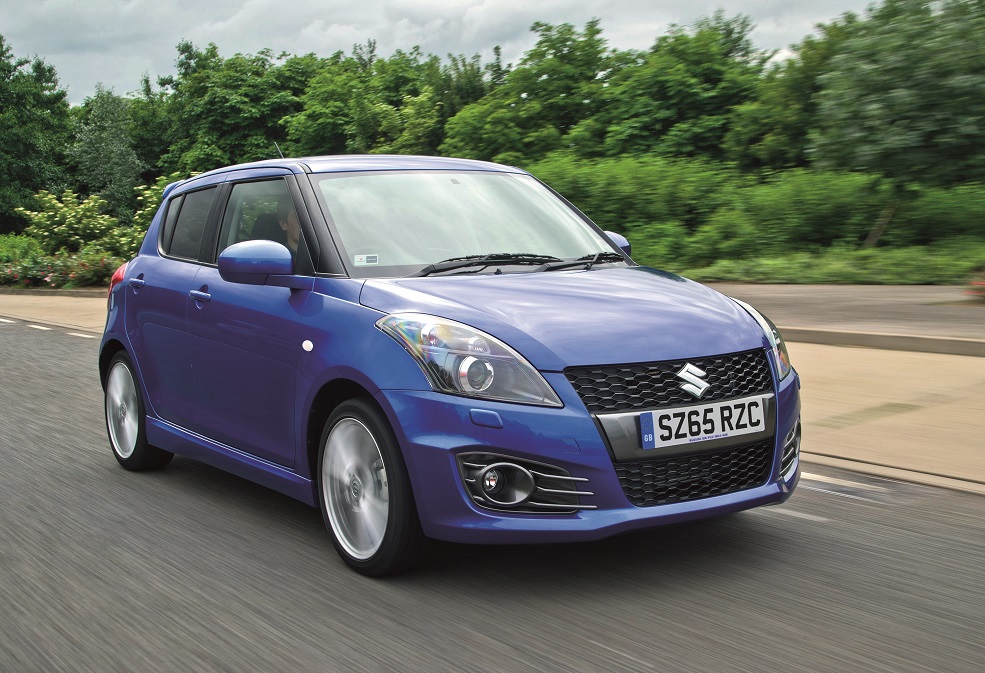 Suzuki Swift Sport
We're talking about the third-generation Suzuki Swift here, built from 2010-17. The model at launch offered 130bhp from its buzzy four-pot, revised slightly to 136bhp from 2012 onward; a few minor cosmetic upgrades were brought in across the range in 2013, including L-shaped DRLs in the foglamp housings, and in 2014 the Sport got a 6.1in infotainment touchscreen as standard – so it's a model that kept evolving throughout its lifespan.
European-spec Swifts were actually built in Hungary rather than Japan, and the Sport version received the M16A 1.6-litre twin-cam 16v motor – peak power arrives at a heady 6,800rpm, accompanied by a frantic soundtrack that belies the modest power available. You have the option of 6-speed manual or 7-speed auto with paddle-shift, and spec includes lightweight 17in alloys, HID lights, a Sport bodykit with fresh spoilers, leather seats and lowered suspension. There's a whole lot to enjoy here, it's surprising these cars aren't more popular. After all, they're affordable, buckets of fun, and there's plenty of modding potential.
Price today: £7,500
Top mods: One of the best ways to improve the Swift Sport is to get it stiffer and closer to the ground – a set of BC Racing coilovers is just the job to achieve this. You can find a bit of extra sparkle from the M16A motor by dropping in a set of fast road cams from Toda, and Ultra Racing anti-roll bars are a great addition to the Swift chassis, and very cost-effective too – talk to Tegiwa.
Top contacts: BC Racing, Toda, Tegiwa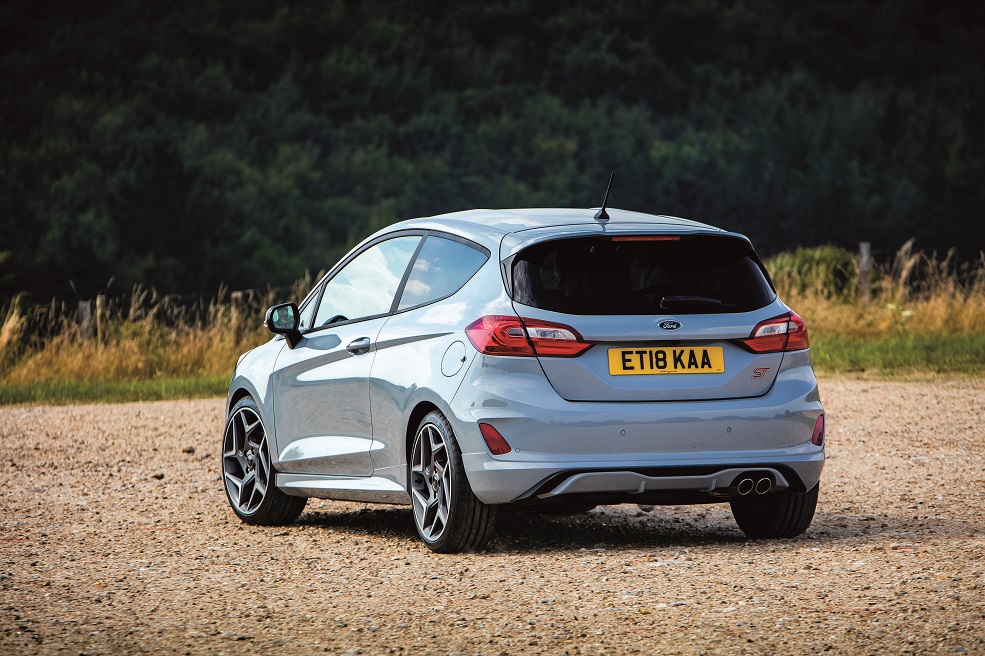 Ford Fiesta ST (Mk8)
Commonly heralded throughout the motoring press as the best hot hatch of the modern age, Ford's dazzling Mk7 Fiesta ST was excellent at everything. It was addictively quick, the handling was divine, the interior was pretty nice with lots of decent equipment, the boot was surprisingly big, and it was really quite affordable. No wonder it won pretty much every award going throughout its entire production run. So how could Ford top that, when the Mk8 ST arrived in 2018? They certainly rocked the boat with the purists, dropping in a dinky three-cylinder EcoBoost motor (with cylinder deactivation tech, so on light throttle it runs as a parallel twin like a crap old 1960s Fiat). But as it turned out, that engine is an absolute riot – revvier than a turbo ought to be, and endlessly tuneable. In fact the whole car is pretty bloody spectacular; you get pretty alloys and a tasteful bodykit, and ticking the 'Performance Pack' box nets you a Quaife LSD and launch control too. Tasty. And early used examples are starting to dip down toward £15k…
Price today: £18,995 (new)
Top mods: It may be a fresh kid on the scene, but the Ford aftermarket saw it coming and there's a colossal amount of off-the-shelf gear for the Mk8. PumaSpeed are the boys leading the charge, offering a full suite of performance upgrades including a MAXDout Stage 1R remap to unleash some more poke, a set of bespoke lowering springs to sort the stance and a quality billet alloy short shifter to make gearchanges lightning fast. There's also induction and exhaust options, styling kits – you name it, they've got it!
Top contacts: PumaSpeed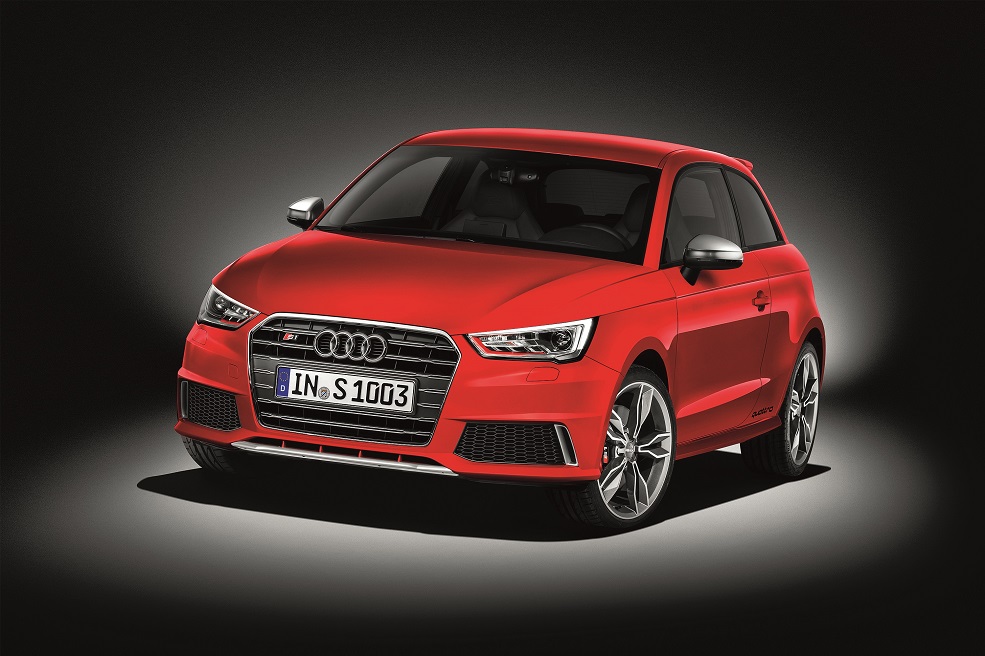 Audi S1
If you want a clear representation of just how far forward the hot hatch game has come in recent years, just check out the Audi S1. This is the smallest model in the Audi range, and the S sub-brand is the lesser of the two in-house tuning variants (with RS wearing the fancier trousers; to an old-school aficionado, let's say that Audi's S is to RS what XR was to RS for Ford, if that makes sense), and yet the figures would have made our jaws drop to the floor a couple of decades back. In this compact little missile you'll find a 2.0-litre TFSI motor kicking out a lairy 228bhp, funnelled through a Haldex quattro system for supreme grip and cornering balletics to complement the ballistics. 0-62mph is dealt with in 5.8-seconds, with the top speed having to be physically restrained at 155mph. We may be spoiled for horsepower in the 2020s, but in the real world the S1 serves up all the power you could desire in most road-driven situations. Of course, we all know that more-is-more is a solid way to live and any modern Audi can offer enormous tuning potential – so yes, obviously there are many tuning options available to turn this brilliant little hot hatch into a genuine giant-slayer. With the 8X-generation having gone out of production in 2018, you can now pick these things up for surprisingly decent prices too.
Price today: £17,000
Top mods: Job one is a Revo remap – a simple Stage 1 map on an otherwise stock car is enough to get you up to 310-320bhp, and you can't argue with that for £599. KW Variant 3 coilovers will give you the winning combination of stance and handling, and they're on the shelf at Awesome GTI. And if you want to emulate the vibe of the iconic A1 Clubsport Quattro (and why wouldn't you?) you'll be needing some white motorsport-themed wheels. The Rotiform LAS-R is a popular choice with good reason.
Top contacts: Revo, Awesome GTI, Wheelbase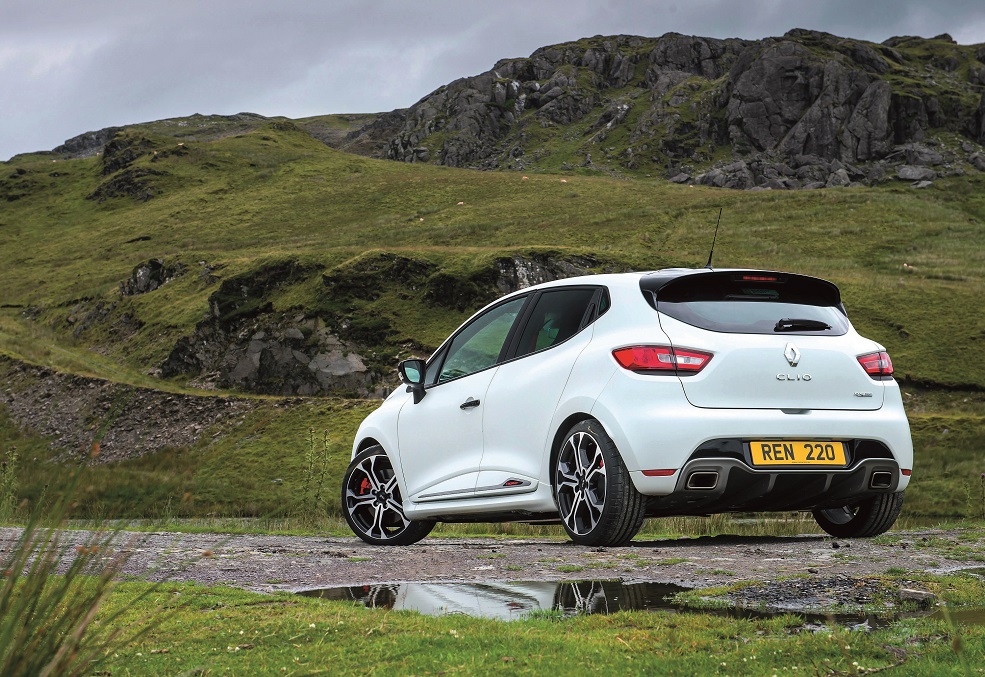 Renaultsport Clio IV 200
Renaultsport Clios have gone hand in hand with the modding scene from day one; the arrival of the Clio 172 in 1999 built on the success of the old-school Clio 16v and Williams and pushed the idea into the new millennium. The 182 has long been a favourite of ours, particularly in Cup spec, and there's a lot to love about the 197. The one we're looking at here, however, is the controversial one – because we think it's high time for a reappraisal. When the Renaultsport 200 version of the Clio IV launched at the 2012 Paris motor show, enthusiasts were up in arms. Why? Because there was no manual gearbox option here, just a 6-speed EDC dual-clutch job. For many buyers, this was a step too far.
Don't let that put you off though, as it's actually a belter of a machine. The 1.6-litre DIG-T Nissan motor still provided 197bhp like its predecessor, but peak power now arrived at 6,000rpm (as opposed to 7,250rpm for the old car) with all the torque available from just 1,750rpm. You get the RS differential (which actually works on the brakes rather than the diff), decent seats, and a lot of equipment. Opt for the Trophy spec and you get an extra 20bhp too!
Price today: £10,000
Top mods: No-one knows hot Clios like Pure Motorsport, and that's who you ought to speak to about beefing up the brakes; a Brembo brake kit is what you want with vice-like four-pot calipers and uprated standard size discs. As well as that you should improve breathing with an ITG induction kit and an Airtec intercooler and boost pipes. For the suspension, Bilstein B14 coilovers are a popular choice for both road and track use.  But if in doubt, speak to Pure Motorsport who can advise you of the best route to a rapid Renault.
Top contacts: Pure Motorsport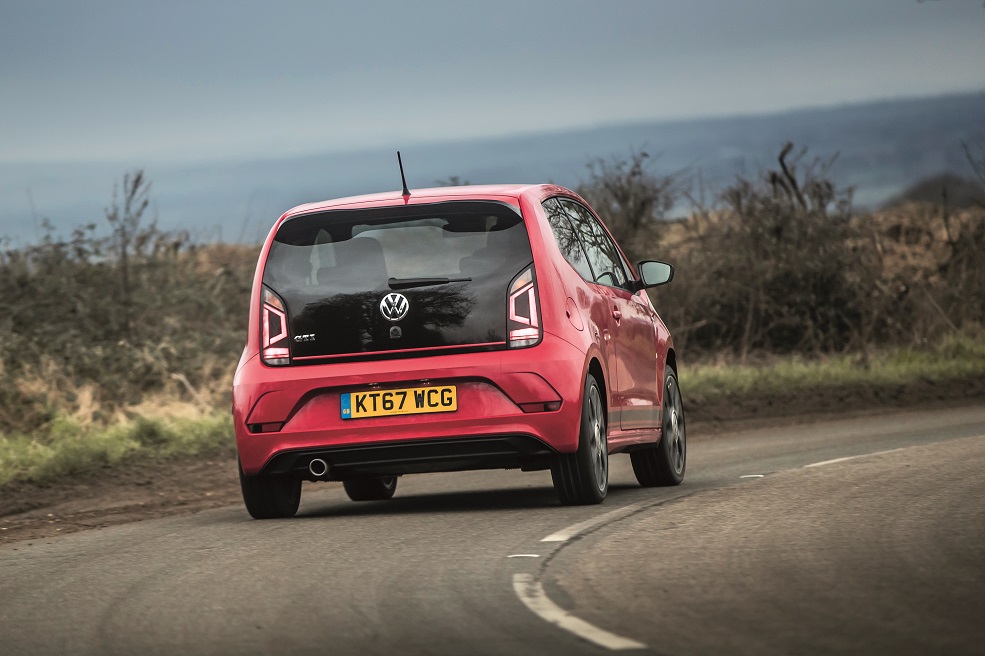 VW UP GTI
Stick with us here, but there's a strong case to be made for believing the Up GTI to be the true spiritual successor to the Mk1 Golf GTI. On paper, they stack up surprisingly closely: they both boast a 0-62mph time of 8.8s, the Up's 113bhp plays the Golf's 110bhp, the Up only weighs 995kg (which is a decent percentage gain over the Golf's 850kg, but remember that the Up has airbags and crumple zones and all that modern stuff). The proof of the pudding is, of course, in the eating, and the Up really does drive like a classic Golf too. It's brisk and feisty, pulling strongly in-gear so that it's always ready to play as long as you keep it on the boil, and the chassis serves up oodles of grip so you can carry surprising speed through the corners. Add in an enticing package of standard kit and it makes for a thoroughly attractive proposition – the GTI came with chunkily-bolstered tartan seats, flat-bottom steering wheel, 17in wheels, and the full aesthetic package that makes it look like a modern Golf GTI has been shrunk in a hot wash. Furthermore, there's a huge aftermarket for these cars, and they're getting cheaper to buy by the day – we've seen early examples sneaking below £10k in the classifieds. Seriously, what's not to like?
Price today: £16,140 (new)
Top mods: As with any VAG product, the first move is to plug it into a computer and muck about with its ones and zeroes: a Forge remap takes stock power to 130bhp, representing a 15% increase without having to physically change a thing. A Scorpion exhaust system will add a few horses, remove a few kilos, and make the throttle more responsive. And you'd be surprised the difference a set of quality lowering springs can make to this chassis – the Eibach Pro-Kit is around £150, lowers the car by 20mm, and gives the handling a much sharper edge.