Justin Wellbelove's Peugeot 205 Dimma is a bootlicious exercise in retro excess and we love it!
Feature taken from Retro Cars. Words: Dan Bevis. Photos: Chris Frosin
The Peugeot 205 GTI requires little introduction. Commonly found near the top of those ubiquitous 'best driver's car' lists, it combines light weight and ample power with puppy-dog eagerness and utterly sublime handling. If you've driven one, you'll be familiar with the delightful coalescence of a peachy gearshift, a set of lipstick-red carpets, an incongruous sense of airy spaciousness and a Spaceballs-at-ludicrous-speed approach to acceleration, as you cock a rear wheel around every corner.
And the Peugeot 205 Dimma GTI? That was, in many ways, the Holy Grail of French hot hatch excess. Taking the diminutive proportions of the 205 and pumping them up to altogether more muscular girth – as was the style at the time (it was the 1990s, flashy bodykits were a given) – it was no thrown-together chop job; Dimma built over 250 widebody GTIs at their workshop, taking great care over the broadened arches, the beefed-up bumpers, the custom wheels that turned the standard 15-inch Speedlines into 16-inch split-rims. It was a GTI for people who felt that the standard model was a little… insubstantial.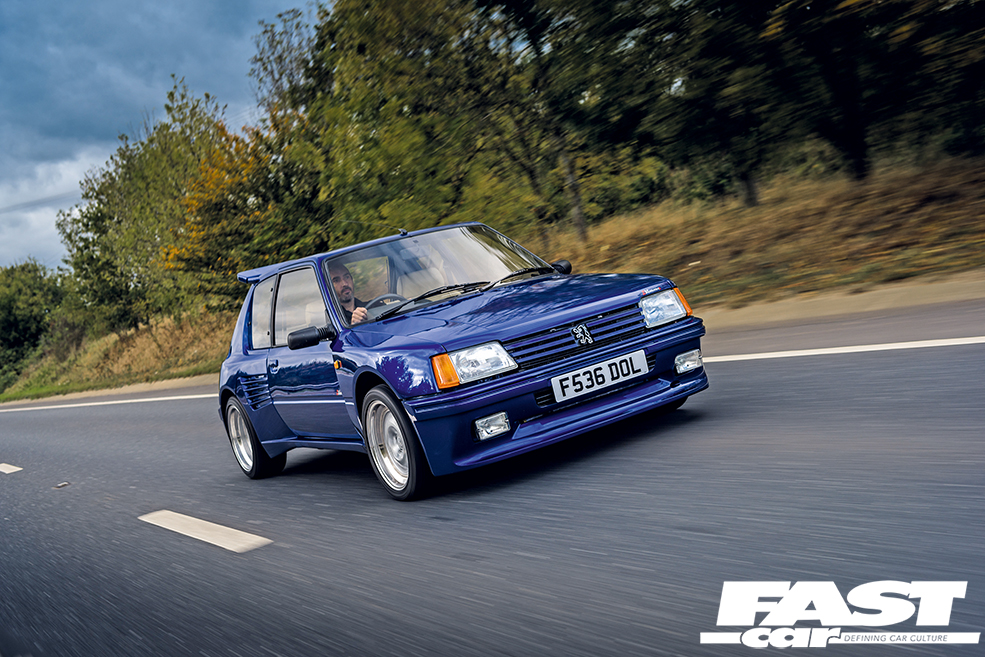 Back then, this was a car that ticked a sizable box for the more extrovert hot hatch enthusiast. Today? It's slotted into Justin Wellbelove's lifestyle rather neatly, filling a pocket-rocket void left in his garage after he graduated from Peugeots to the tuner cars of the East.
"My car history all started with my first Peugeot 205 GTI when I was 18," he explains. "That was 21 years ago, and I've since had four more 205s in different modified states, then moved up to a 306 GTI-6 which was a full on Max Power special with big wheels, big bodykit, big stereo – the joys of being young! I moved onto the beautiful 406 Coupe which I went through three of, before the Japanese itch came; I purchased a DC2 Integra Type R – still probably one of the best cars I have owned – but then parenthood hit and I needed more doors. What better excuse to get an Evo?! I moved on to an Evo VIII MR, although the running costs were high so I switched to a DC5 Integra. But I never really gelled with it, it was just sitting in the garage not getting used, so I sold it."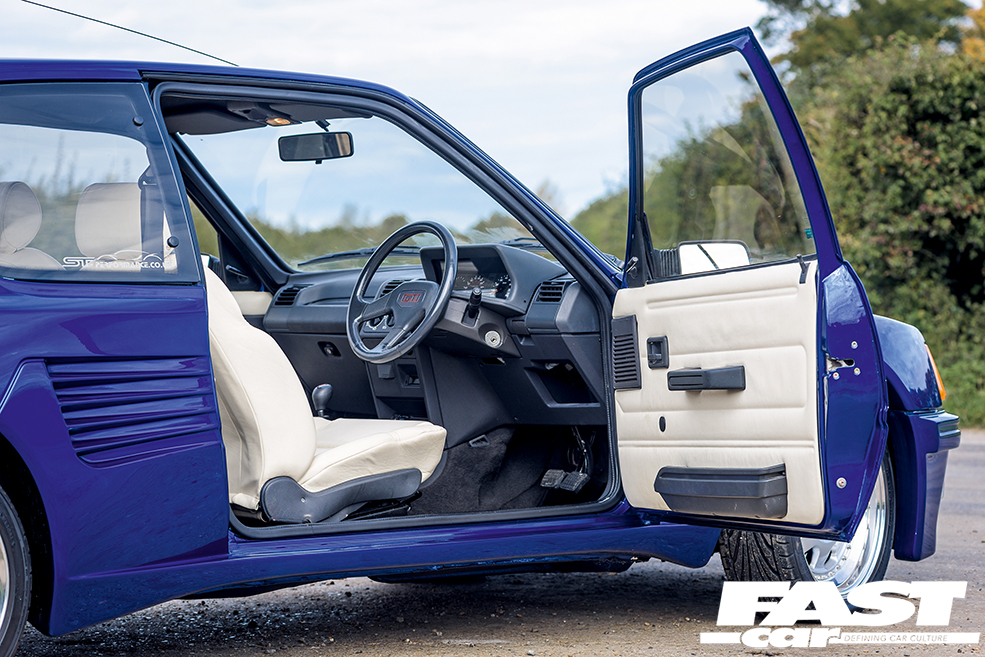 Are you keeping up with all this? Great. Because the story's about to come full circle: Justin was all set to get himself another Evo, having enjoyed the last one so much, but the spectre of those running costs were still hovering above him, and his decision-making synapses started to fuse down a more retro path. What about restoring a cool car instead? That's something he'd never tried before, could be fun. And why not take it properly old-school with another 205 GTI?
"I started looking at standard cars that needed plenty of work, as my plan was always a full nut-and-bolt restoration," he reasons. "So I started viewing a few cars, and some ticked my boxes… then one night looking through forums I found a genuine, original Peugeot 205 Dimma for sale for reasonable money. It seemed to have very good documented history across the web, which had shown it had gone through some restoration work a few years previously, and it looked good in the pictures." Job done, then? Well, there was the small hurdle of Justin being in Norfolk and the car sitting in the Scottish highlands – that threw up a logistical barrier, as a road trip was planned with some mates that then got cancelled due to work commitments; Justin didn't want to let the Dimma slip through his fingers though, so he bravely agreed to buy it sight unseen and have it delivered to his house.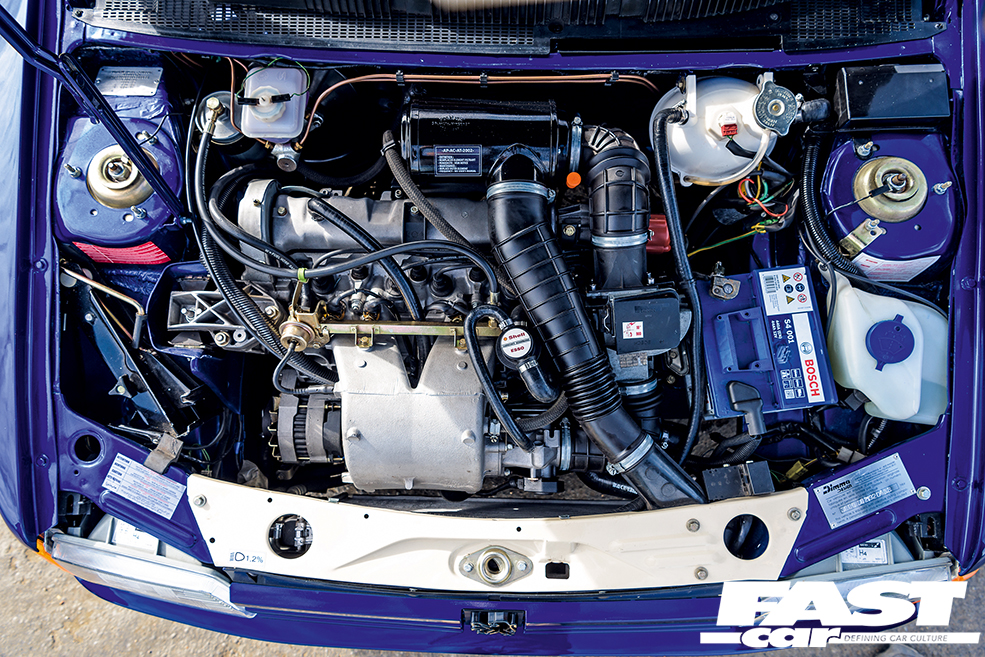 What arrived, a few long-seeming weeks later, was a widebody 205 that looked pretty brilliant. The operative word there of course, being 'looked'!
"Within a few hours of it arriving I had it all stripped down to assess what needed doing, and it rapidly became quite a long list," Justin laughs. "The rusty front end was mainly made of filler and fibreglass, the inner wings were shot, as was the headlight panel, and the Dimma kit itself was sporting years of knockabout neglect." And once the kit was off? Yep, new sills were required under there, the quarter panels were knackered, the bootlid was scrap, and the floorpan and boot floor were distinctly colander-like. Well, he did say he wanted a restoration project…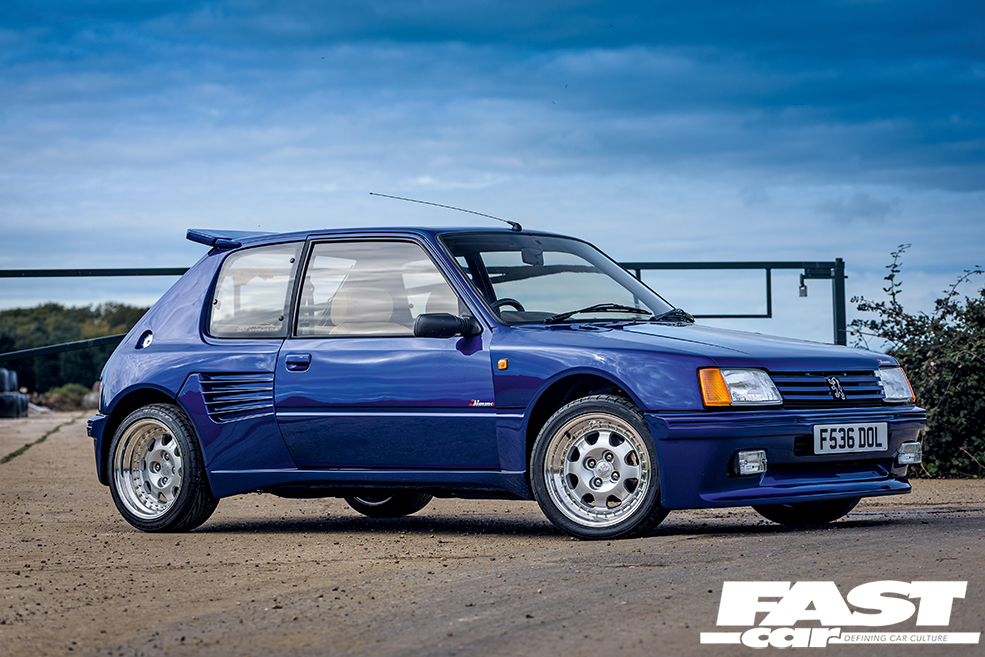 "I don't know what I was thinking," he grimaces. "I couldn't even weld, let alone do metalwork! But I'd made my decision, so I took a few welding lessons from my dad and made a start. The front was removed, and I fitted new inner and outer front wings and a new headlight panel. This all went a lot better than I thought! I then turned my attention to the boot floor and got that repaired; next up were the sills and floorpan. A local scrapyard had a low-mileage 205 with a mint floor, so I decided to swap the complete floor to keep it neat. The work had slowed a bit by this point, however, as I was working offshore a lot and I was finding less and less time for the project. But it was at this point that the project took a major turn."
While offshore, Justin rather improbably found himself being offered the chance to purchase a brand new, unregistered 205 shell. How unlikely is that?! Such things make hen's teeth appear startlingly abundant, so naturally he jumped at the chance. "Well, it was actually a tricky decision," he clarifies. "Having put so much work into my shell already, I wasn't sure about just abandoning it to use a whole new one instead. But I contacted the DVLA to ask about the legality of using this unregistered shell, and they talked me through it all and gave me the green light to go ahead, so that helped me to make up my mind. The perfect new body would certainly give me a better base to work from!"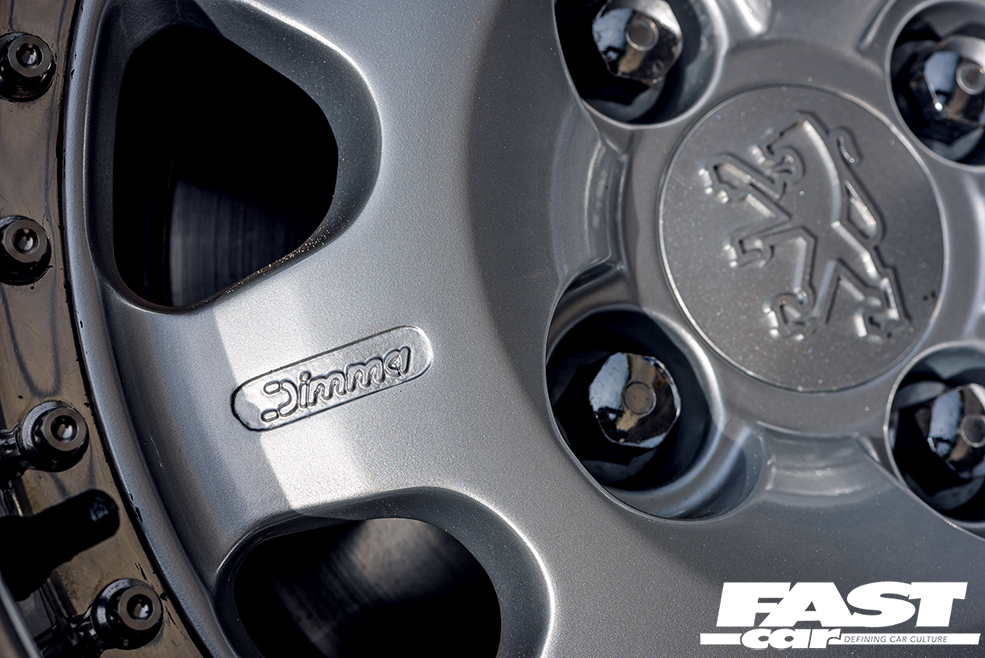 Returning home from his extended period working away, Justin scurried down to Southampton to enjoy the surreal weirdness of picking up an unused 205 shell still bearing its factory barcodes. Once this glistening hulk was manhandled back east, he found himself with what was effectively a colossal Airfix kit – but before he could assemble it, he first had to ensure that all the parts were tip-top. The drivetrain was next in the crosshairs, so the original GTI engine and gearbox were stripped down and sent off to be vapour-blasted, while every single nut, bolt and bracket throughout the car was despatched to be electroplated. Various other bits and bobs went off to the powdercoaters, and the 3-piece split-rims returned home to Dimma to be refurbished.
Steady progress was being made, although fate does have a habit of jamming a spanner in the works, and at this point Justin fell seriously ill and ended up spending many months in and out of hospital.
"At that time, the doom set in," he remembers. "I felt like I'd never get the car finished, I even talked about selling it on. By this point the body was at ST Performance in Retford, as they're approved by Dimma to carry out the fitting and restoration, although they were aware of my health issues and were under instruction not to treat the car as a priority!"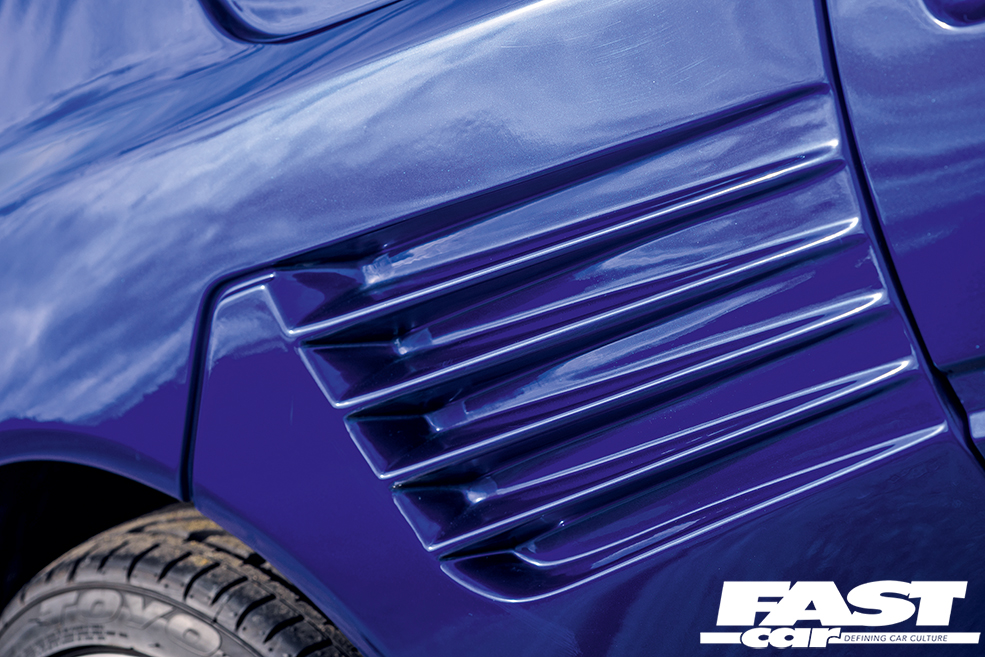 The dark clouds have a habit of drifting away, however, and as Justin's health gradually improved, and after months of convalescence, his thoughts turned again to how to get the Dimma shipshape. He started to rebuild the engine and gearbox, and then a serendipitous phone call from the bodyshop informed him that the shell was ready, which really gave a push to get the whole thing bolted back together.
"I was over the moon with ST Performance's work, it looked fantastic," he enthuses. "So I could finally start the reassembly – it started to feel like I could see the finish line! At this point it was time to sort the interior, so I sent that off to a local company who did a brilliant job retrimming it in leather; once that was in, the puzzle was complete and the car was off for its MOT. Back on the road for the first time in four years!"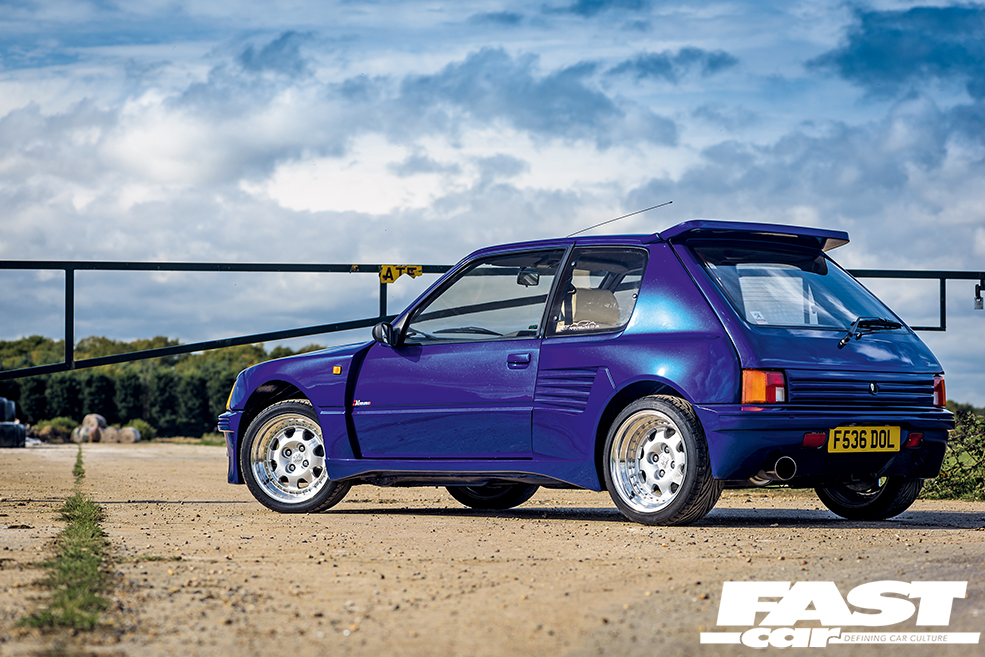 The flawless finished product is testament to Justin's fastidiousness as well as the quality of the companies he chose to work with, and the car acts as a sort of autobiographical scrapbook of his overall motoring history; it's a 205, to represent those cars that started it all off for him all those years ago, it's painted in Mitsubishi Ruri Blue Pearl, as a nod to his years in the JDM scene, and it's a handcrafted widebody special to demonstrate just how far his tastes and skillset have evolved. This isn't just a bootylicious Peugeot then, but a physical manifestation of one man's automotive desires. It's been a weird and often difficult journey, but Justin's been fabulously rewarded at the finish line.
Tech Spec: Peugeot 205 Dimma
Tuning:
Fully rebuilt 1.9-litre GTI engine, rebuilt 5-speed transmission
Chassis:
16-inch Dimma 3-piece split-rims, 205/40 Toyo tyres, Gaz front coilovers, Gaz rear shocks with rebuilt torsion beam, refurbished brake calipers with new discs and pads
Exterior:
Genuine Dimma bodykit, Mitsubishi Ruri Blue Pearl paint
Interior:
Stock interior retrimmed in cream leather with embroidered Dimma logos