Hunkered down and ready to pounce for the horizon, this modified EF Civic has the energy of Joe Wicks and Mr Motivator combined…
Feature first appeared in Fast Car Japanese. Words: Joe Partridge. Photos: Larry Chen
If there's one modifying trend that defines the modern age, it's the premium restomod. A lot of people like the idea of retro looks with modern performance, and you'll no doubt have spotted a growing fondness for high-end cars that have been reimagined this way – Singer 911s, Eagle E-Types, Alfaholics GTAs, the fusion of the old and the new has never before been achieved with such sumptuous attention to detail. And these aren't just engine swaps, it's more of a lifestyle swap: those fancy modernised classics, they're not selling for eye-watering prices because they've just had new powerplants grafted in – they represent a brand-new, 21st-century version of a classic car. Old-school looks with modern power, fuel economy, brakes, acceleration, suspension, seats, electrics, comfort and reliability. And in much the same vein, what we're looking at here is a modified EF Civic that's been reimagined for astonishing horsepower and handling prowess that plants it firmly in the 2020s.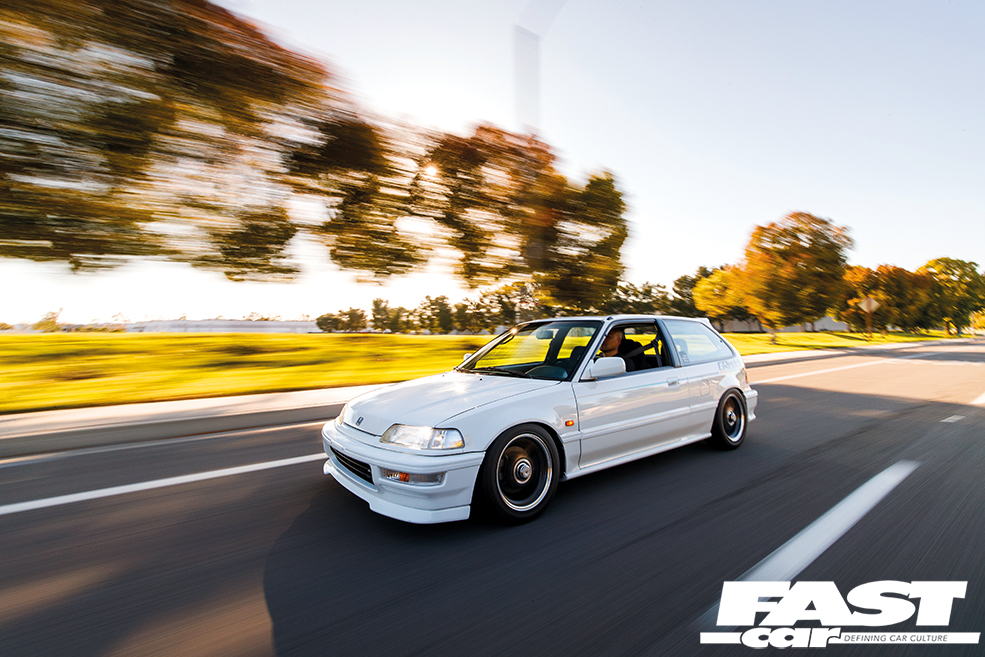 At this point, we may require a little history lesson. For those readers who were around and paying attention through the 1980s and '90s, the fourth-generation Civic will be very familiar as they used to be everywhere. Nowadays, however, they're pretty rare; with no Type R halo model (all of that came a decade later) and most cars sold in disposable shopper spec, there simply aren't many left. Launched in 1987, the EF Civic represented a massive step-change in technology and sophistication over its predecessor. Boasting double-wishbone front suspension and an independent multi-link rear, it had a more aerodynamic approach to body styling, a much larger glasshouse, and the engine options variously offered all manner of initialisms to set pulses racing in the late-1980s – DOHC, VTEC, it was all very exciting. Fourth-gen hatchbacks in particular are becoming revered in Honda tuning circles, as their advanced chassis layouts are complemented by extremely light kerb weight, making them a hot ticket for motorsport preparation and fast road hijinks. They made great race cars in period, and the top-of-the-range SiR model boasted an impressive 158bhp. This, perhaps, is a hot hatch that deserves to be remembered by more people.
One person who recalls the sporting EFs all too clearly is Kenji Sumino, President of GReddy Performance Products Inc. in California. The company's North American base was established in Irvine in the early 1990s, right in the sweet spot when these Civics were hot tuning property, and it's long been a desire of Kenji's to build something that can emulate those halcyon days, with a modern twist. The car you see here is the realisation of that dream.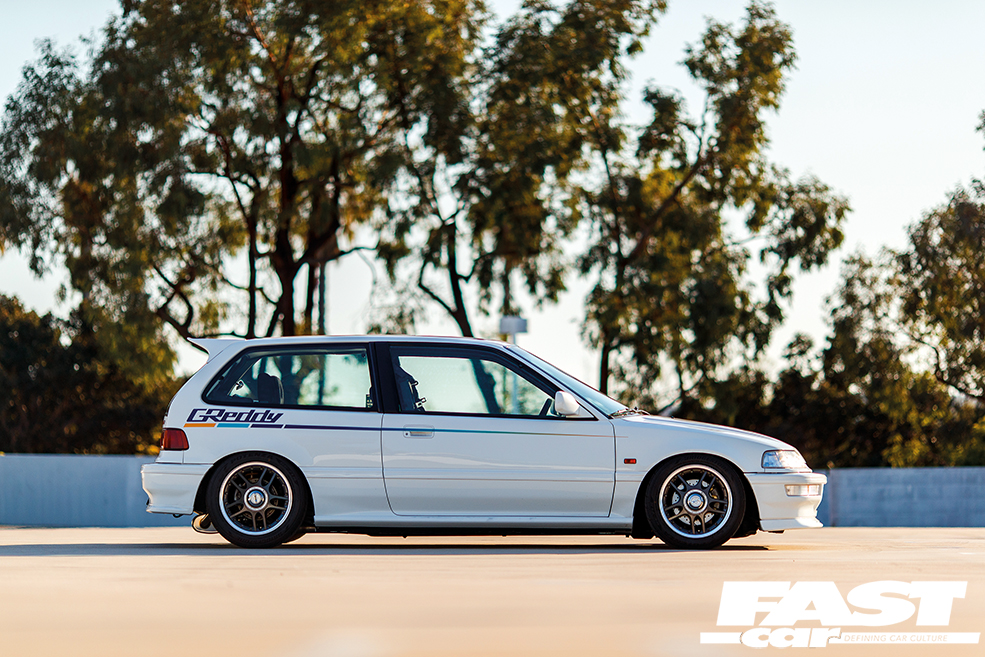 Having hunted high and low for the right project base, a straight and honest EF was sourced and hauled back to GReddy base, whereupon the decision was arrived at that while it was extremely tidy and didn't need much work to get it up to scratch, there was no point messing about. If this was to be a true-blue high-end restomod, it needed to be better than new. So the car was stripped down to a bare shell, the body perfected and finessed, and the whole thing lovingly refinished in crisp Championship White – the colour of JDM winners. As the reassembly was taking place, Kenji and the crew took the opportunity to upgrade the front end to JDM EF3/9 spec with the updated bonnet, bumper and headlights. All the hardware is new throughout – every nut and bolt, every pipe, every bracket and fixing – to bring it all up to a way-better-than-new standard. And with all of that achieved… well, a modern engine swap was inevitable, wasn't it?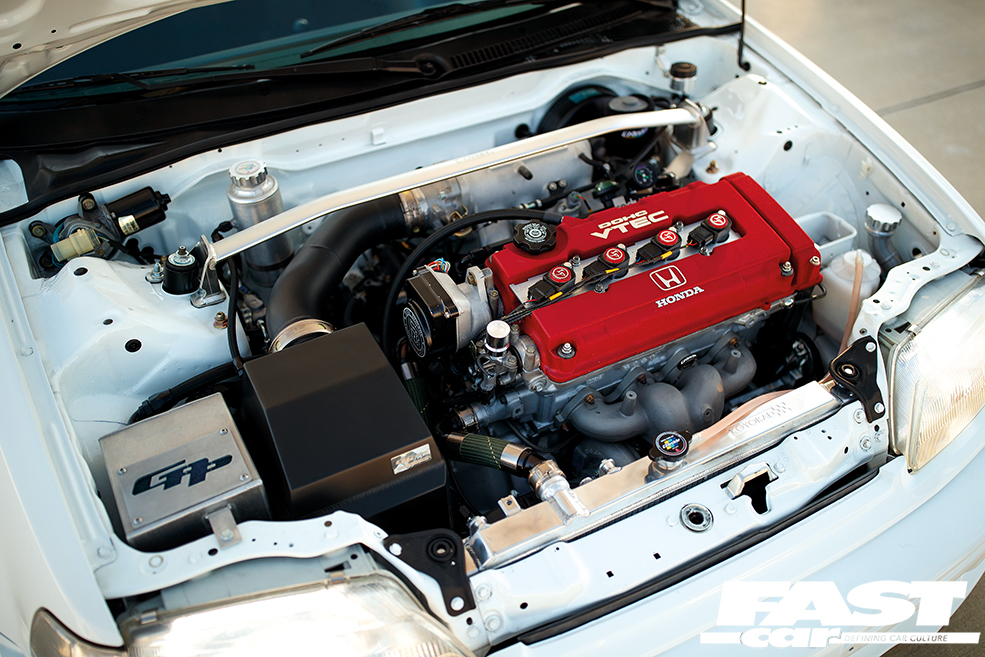 It's not too modern though. Just a generational update to the platform. Because the motor Kenji chose to swap in is the B18C1 – the 1.8-litre DOHC VTEC unit as found in the USDM Acura Integra GS-R. In stock form this motor serves up an eager 178bhp with the VTEC kicking in nice and low at 4,400rpm – but don't go thinking this is anywhere near stock form. No, the GReddy boys and girls have gone a bit crazy with it. Handing the twin-cam tearaway over to the experienced hands at DSPORT, it's had a full race-spec rebuild, the block stuffed with Darton sleeves, JE pistons and Carrillo rods while the head sports Supertech valves, springs and retainers. Why sleeve the engine? Because they were shooting for massive numbers, that's why. In fact, this built motor has been put together with the express aim of being capable of doling out 1,000bhp, before being detuned via a smaller turbo in order to ensure that it's always on the top of its performance game without risk of explosions. Lurking down in the bay is a new-wave GReddy T518Z turbo, something usually reserved for use on the GT86/BRZ platform, and it's sitting on a properly old-school retro GReddy cast exhaust manifold. A Hondata S300 ECU knocks it all into shape, working with Ignition Projects coils on a coil pack retrofit kit, and a custom military-spec Rywire harness keeps everything safe and logical. Perhaps the most intriguing part of the engine build is the bespoke water-to-air intercooler system, which has the water that runs through the intercooler being chilled by the air-conditioning system; even more brilliantly, this clever setup has been disguised to resemble a factory airbox. A truly ingenious piece of lateral thinking, and further proof (as if it were needed) that GReddy is an outfit that does things properly.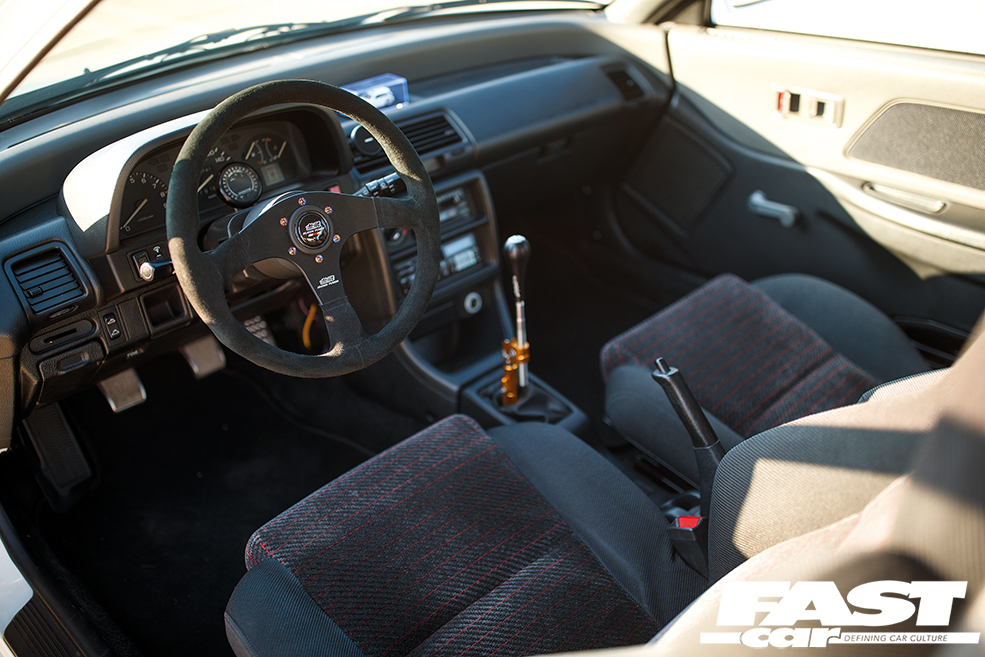 In order to effectively deploy all of this colossal thrust, the B18C1 is mated to its native GS-R transmission with a twin-plate clutch and OS Giken LSD. Driveshaft Shop axles and a Karcept hub upgrade kit join the brakes from an Integra Type R at either end, the 4×114.3 PCD allowing Kenji to fit the brand-new set of obscure SSR Neo EX-C wheels he'd found for the modified EF Civic. The rest of the chassis is pretty race car too, featuring KW V3 coilovers, ST Suspension anti-roll bars, PCI control arms, Innovative Mounts traction bar, and an ASR rear subframe brace… but the fun part is that, in spite of all of this ludicrous power and track-ready poise, Kenji was keen to keep the streetable hatch looking relatively normal. That super-clean exterior is largely stock, aside from the aforementioned JDM nose job, a Purplespeed front lip spoiler and a sprinkling of cool GReddy graphics. And the interior is properly road-car too: peer through the windows and you'll see Civic Si seats in the front, and an SiR rear bench behind. No buckets and harnesses, no overblown cage, just a period-perfect throwback to the peak era of EF Civic tuning. This spectacular Honda restomod has turned the EF platform into the superstar its 1980s and '90s fans always dreamed it would be, using a few modern twists along with bucketfuls of retro charm. This is exactly how a restomod should be. Forget your Eagle E-Types and your Singer 911s – give us an old hatchback with insane horsepower and an athletic stance, and we'll race you to the horizon.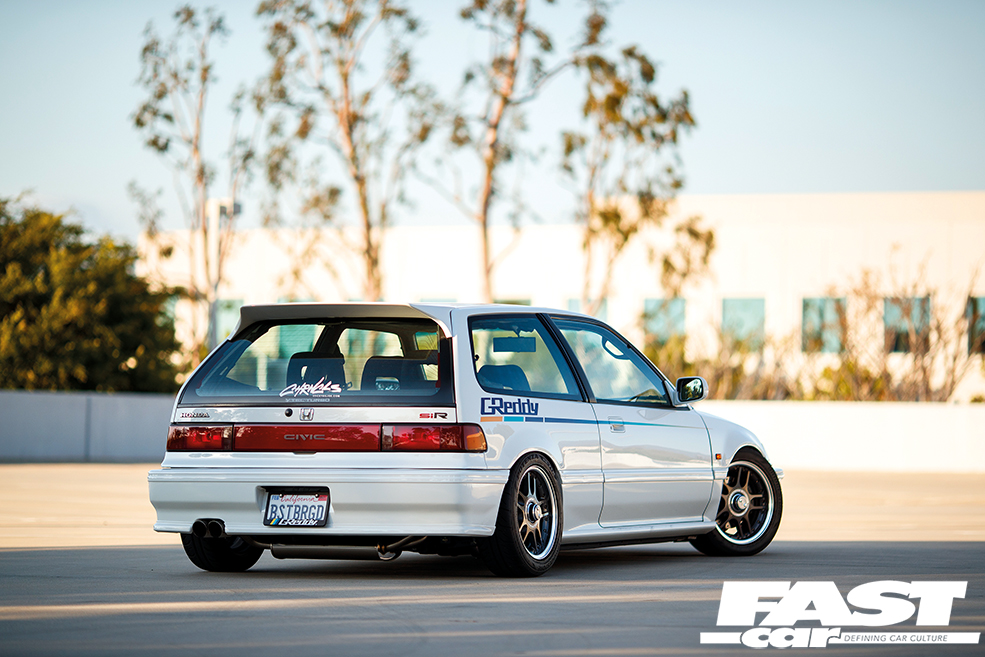 Tech Spec: Modified EF Civic
Styling:
Full bare-shell nut-and-bolt resto, JDM EF3/9 front end conversion (bonnet, bumper, headlights), Purplespeed front lip spoiler,
GReddy graphics
Tuning:
B18C1 (from USDM Integra GS-R) – fully built by DSPORT, Darton sleeves, JE pistons, Carrillo rods, Supertech valves, springs and retainers, Hasport engine mount kit, Rywire engine harness kit, GReddy T518Z turbo, cast GReddy manifold, custom water-to-air intercooler system, Blox intake manifold, Koyo radiator, XRP Performance plumbing throughout, Hondata S300 ECU with coil pack retrofit kit, Ignition Projects coils, GS-R transmission with OS Giken LSD and twin-plate clutch, Karcept hub upgrade kit, Driveshaft Shop axles (RSX spec)
Chassis:
15-inch SSR Neo EX-C wheels, Bridgestone Potenza tyres, KW V3 coilovers, ST Suspension anti-roll bars, PCI control arms, Innovative Mounts traction bar, ASR rear subframe brace, JDM Integra Type R front and rear brakes, Winmax brake pads, FastBrakes.com discs, Stoptech brake lines
Interior:
JDM-spec interior, Civic Si front seats, Civic SiR rear bench, Innovate Motorsport air/fuel gauge, Mugen Power suede wheel, BattleCraft Teardrop shifter