Strange and dream-like things happen in Finland. Tony Hakku had always dreamed of owning an R32 GT-R but, those desires stretched further than simply buying and enjoying a bone-stock Skyline. Here is his stunning modified Nissan Skyline GT-R R32.
One of the Nissan Skyline GT-R's most notable features is that its power goes to all four wheels. That's where the legend sprang from; how it managed to dominate every race series it entered before being banned because it was just too good.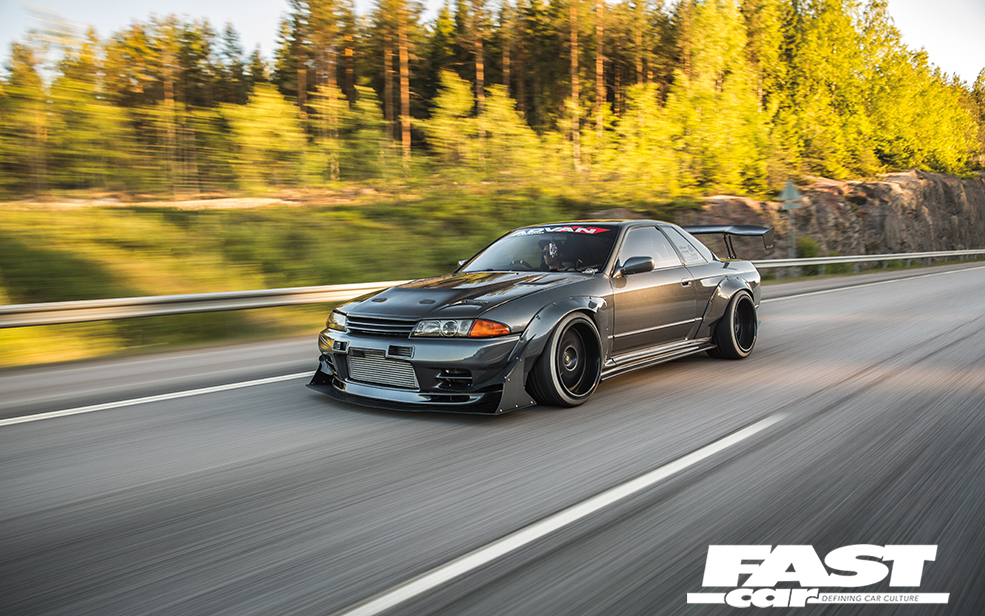 That's where this outlandish modified Nissan Skyline R32 GT-R differs from the norm. It has a switchable drivetrain, allowing it to run rear-wheel-drive on demand. That's why you can see it pulling huge burnouts in our photos. Now, for some of you this may raise further questions; if you want a RWD R32, why not just get a GTS-T? That's two-wheel-drive from the factory, right? But this rather misses the point. If you want a GT-R, you want a GT-R, with all the details and heritage that go with it. The RB26DETT motor, the badge, the provenance, the bloody lot!
For Finland's Tony Hakku, it had to be a Skyline GT-R or nothing. In essence, the project's been all about downsizing. The number of driven wheels, the number of turbos and the weight of the shell; so it's interesting that much of it has also been about upscaling too. Certainly when it comes to the width, the footprint and the power, all that's been vastly increased.
We'd better hit the rewind button and see just where all of this came from.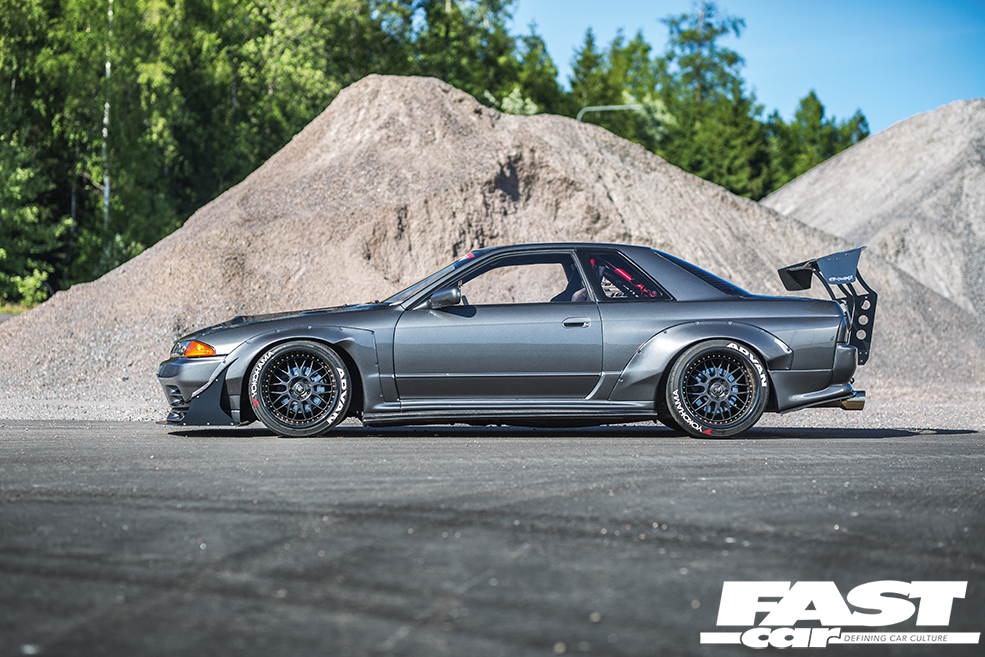 A taste of Skyline GT-R life
"My car hobby started early in life, with mostly Hondas coming under the knife, although there was room for American cars and a couple of VWs too", Tony explains. "These rides were nice, but nothing compared to my childhood dream of an R32 GT-R. When the time was right, I suddenly noticed that I was already chatting online with the owner of a modified grey R32. Before long, I was on my way to Kärkölä to test drive the Skyline."
The car that confronted him upon arrival was a bit of a mixed bag. The 3-spoke Super Advan GT-R wheels and mismatched paint weren't really tickling his pickle; but his eyes lit up when looking under the hood. The single-turbo conversion dominates the bay, the seller assuring Tony it was good for 650bhp at the wheels. A quick blast up the road was all he needed to be scurrying to the bank to extract the cash. Quite simply, he had to buy this car.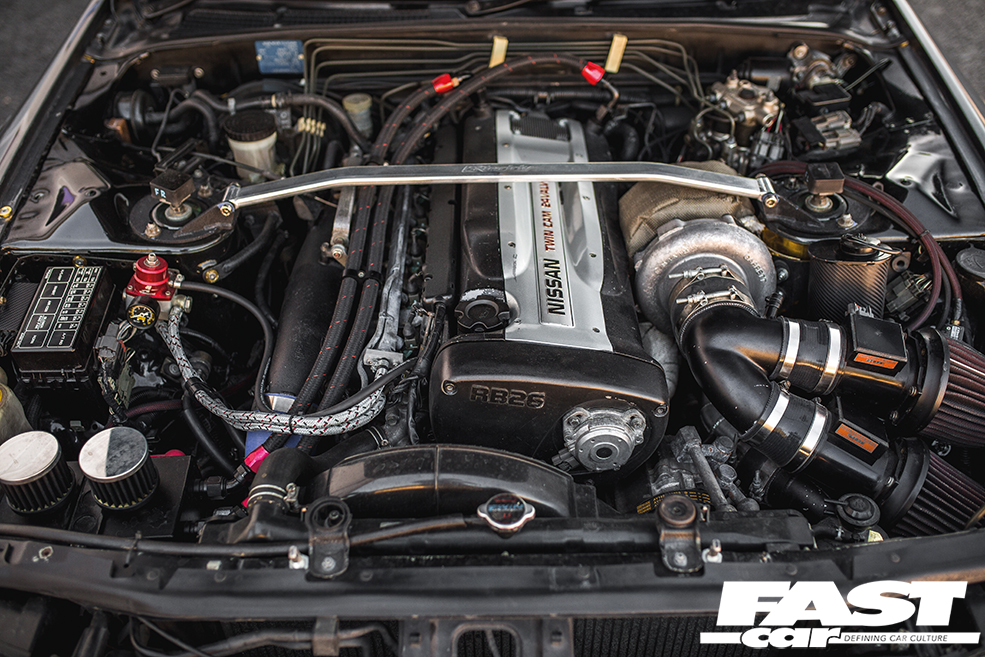 Modifying the exterior of the Nissan Skyline GT-R R32
"I cruised around in it for a couple of weeks, but then it was time to start properly building the car," Tony grins. "While I was planning what kind of wheels I wanted, I noticed the bad rolling work on the rear arches, and found out that there was also some rust. At this point ideas started flowing in my head. It was then that I got the idea to build a Rocket Bunny R32, since I'd never seen it done over here before.
The rust would be chopped off in the process of making larger arches, but there was one big issue; there were no arch flare kits available for this car at the time. I decided to go with Nissan S13 items, with the thought that if they didn't fit, I could sell them on." So having ordered the kit he returned to the wheel shopping. He soon decided on the staggered WORK VS-XX rims you see here. Bought second-hand, they required a bit of restoration. Tony sourced a fresh set of lips while the centres went off to the powdercoaters for a spot of satin black.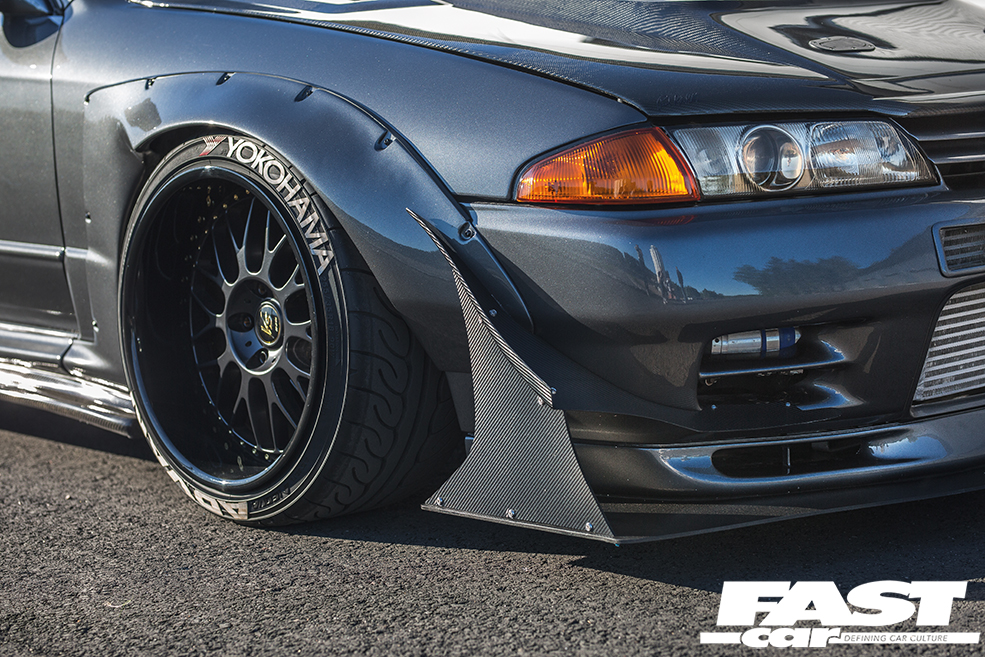 "The arch flare kit finally arrived, and when I started to fit them to the sides I found that they wouldn't fit at all on the GT-R's curvy body," he recalls. "But I wouldn't give up on them just yet! By cutting and shaping the parts they slowly started finding their place on the car. For the final touch I had to gather some courage to cut into the GT-R's original metal. I agonised over it for a month, whether I should do it or not, but after I started I didn't regret it a bit!"
Rocket Bunny Pandemonium
After all of Tony's chopping it was pretty much just the faces of the original Rocket Bunny kit left, with everything behind being his own custom fabrication. All of the fibreglassing was a nerve-wracking process as the wheel lips still hadn't arrived. A lot of the width was based on estimates. Thankfully it all came good when the WORK wheels were bolted together and fitted in place.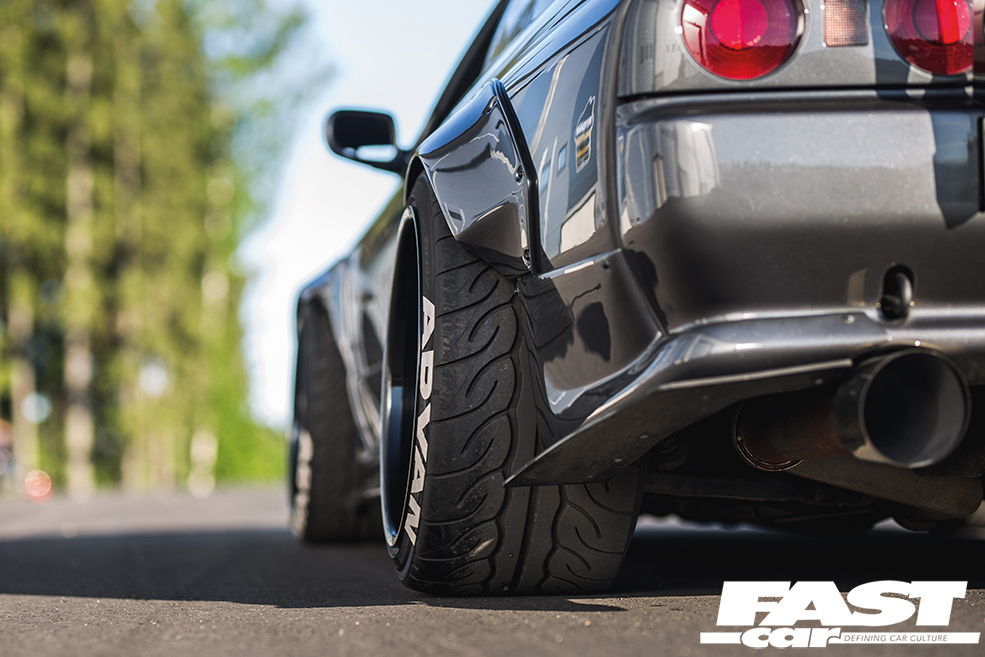 Somewhat annoyingly, while all of this was going on, Rocket Bunny announced its new Pandem kit for the R32. This didn't really help with the motivation issues Tony was experiencing from having put so much work in. He called to enquire about prices, but the Pandem was way out of his budget. As a result, he decided to finish what he'd started. What the hell, at least it'd be unique. He certainly did this one the hard way!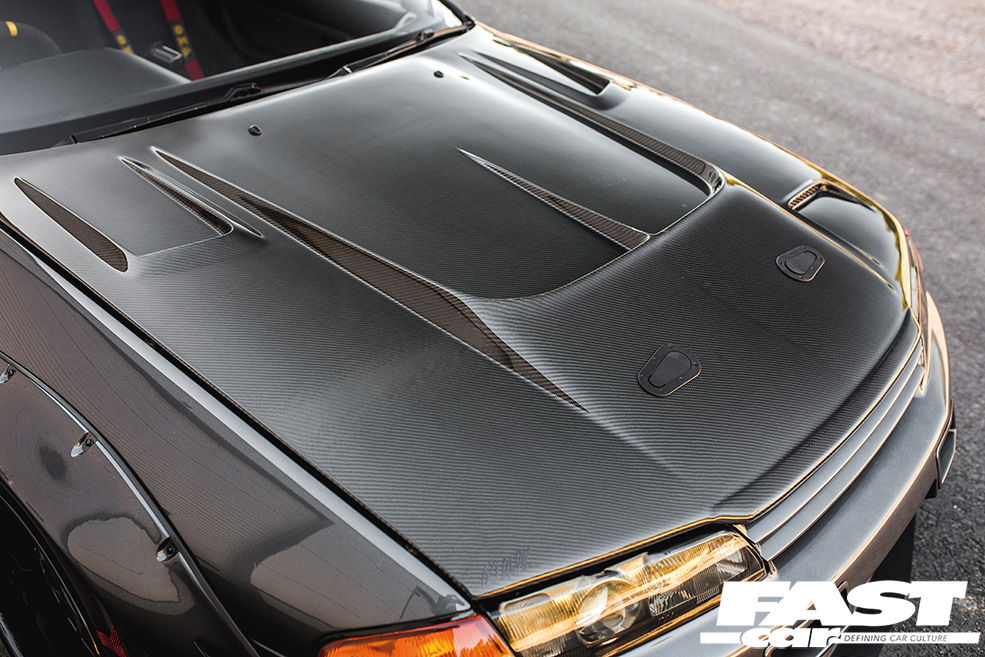 Efforts began anew on the arches. The hood was swapped for a carbon fibre item, and before long things were starting to look ready for paint.
"Summer was about to start, and an invitation dropped in the mailbox for Fitted Fest that was going to take place in August," says Tony. "The modified Nissan Skyline R32 GT-R was taken to WTP-Coating in Pornainen for a paint job. The colour was already decided when I bought the car. After a few days we went to pick up the car and then it was time for the reassembly. When the GT-R was in one piece, it was time for the show. That day couldn't have ended better because the car was awarded a trophy on its very first display! It made up for all the hours spent in the garage."
Testing the modified Nissan Skyline GT-R R32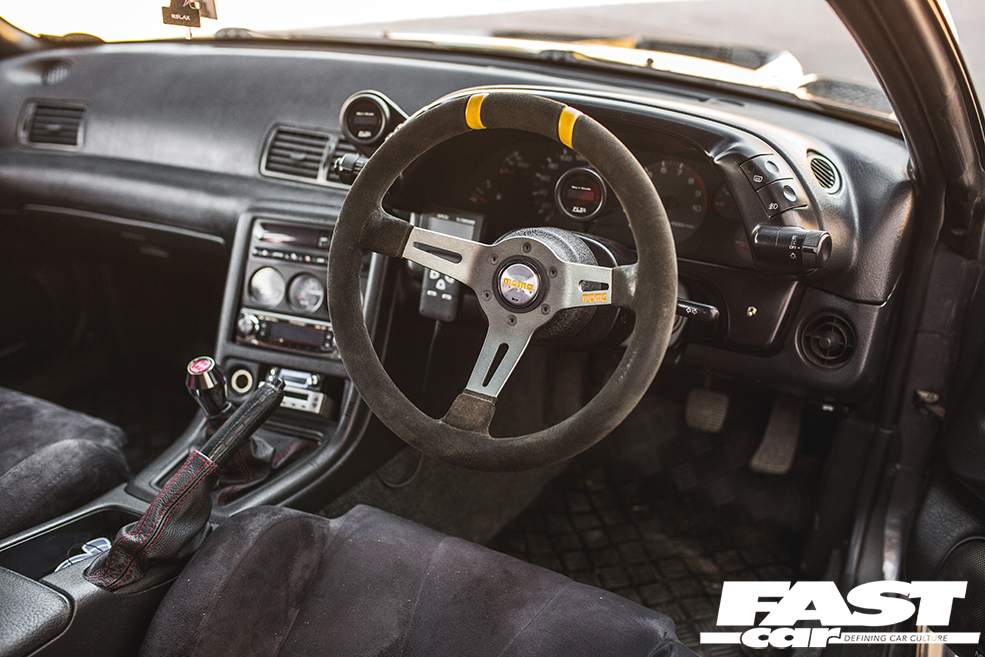 Naturally, as with many builds of this scope of ambition, such plaudits are just the beginning. Almost immediately, Tony sourced a Cusco roll cage which got powdercoated in cherry red. Following the end of show season, Tony was itching to do something about the rear spoiler. The stock item just looked weird with the fat arches, it needed something bigger. As a result, Tony went all-in and fabricated some chassis mounts for a colossal carbon GT wing.
He drew up plans to start making some bespoke carbon splitters. He also added a set of NISMO carbon sideskirts from an R33 GT-R and a non-spoiler carbon trunk. By this point the R32 was pretty much unrecognizable from the GT-R he'd bought; some say 'ruined', which is all just more fuel to Tony's fire as he relentlessly strives for perfection and uniqueness.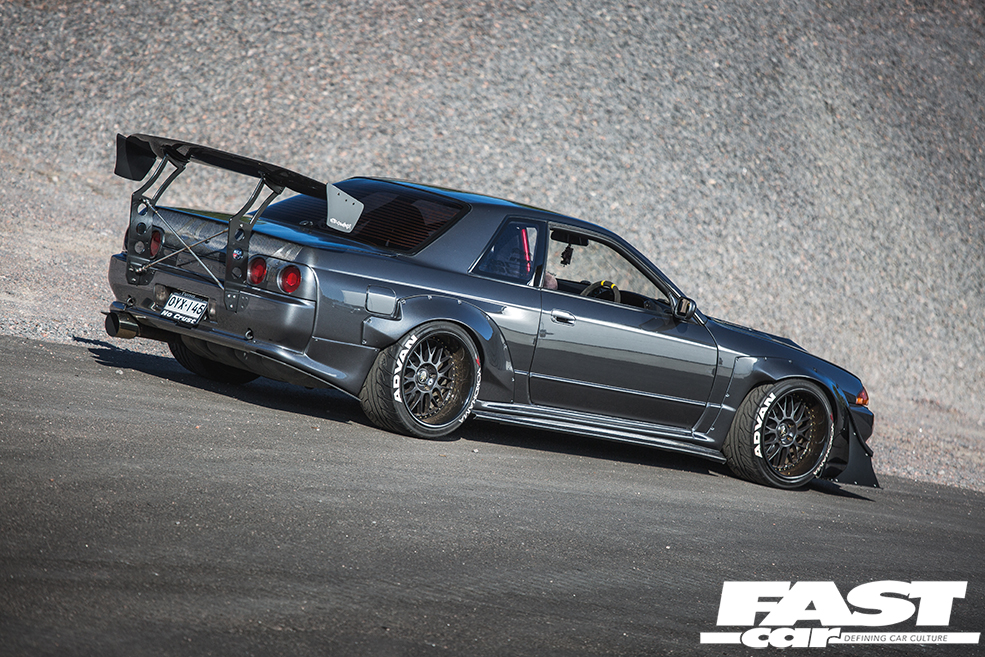 "I was filling my calendar with events that I wanted to go to," he enthuses. "I even dared to take the modified Nissan Skyline R32 GT-R to the track, where I beat the car without mercy. From that event I went home with a Top 5 trophy. At a different event I tried out how speeding a quarter-mile felt; the first quarter-mile of my life got timed at 12.160s. On the second try I blew up my gearbox!
After that unfortunate breakdown I quickly found an R33 transmission and got the car running again. At this point I was already wishing for a reason to take the engine out and start working on that, now I'm satisfied with the looks. I'm not going to get rid of the car, not ever, so this story will not end here. The next mod in my mind is to make it run on ethanol."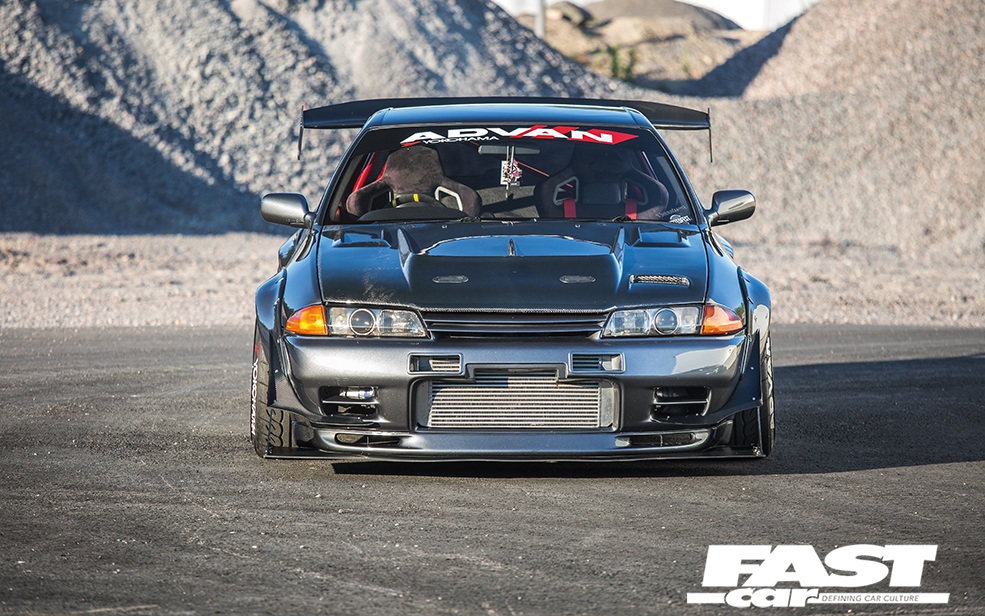 Childhood dream achieved
While this modified Nissan Skyline R32 GT-R has had its very nature altered with switchable 4WD and RWD, that's just one part of the story. The hot RB26 was running big numbers when Tony bought it. With a desirable roll-call of upgrades it's more than ready for the next phase of power.
The unique body is a labor of love, representing infinitely more effort and reward than simply buying an off-the-shelf arch kit. And as a fulfilment of a childhood dream? Well, just imagine the excitement if Tony's young self could have known what was coming.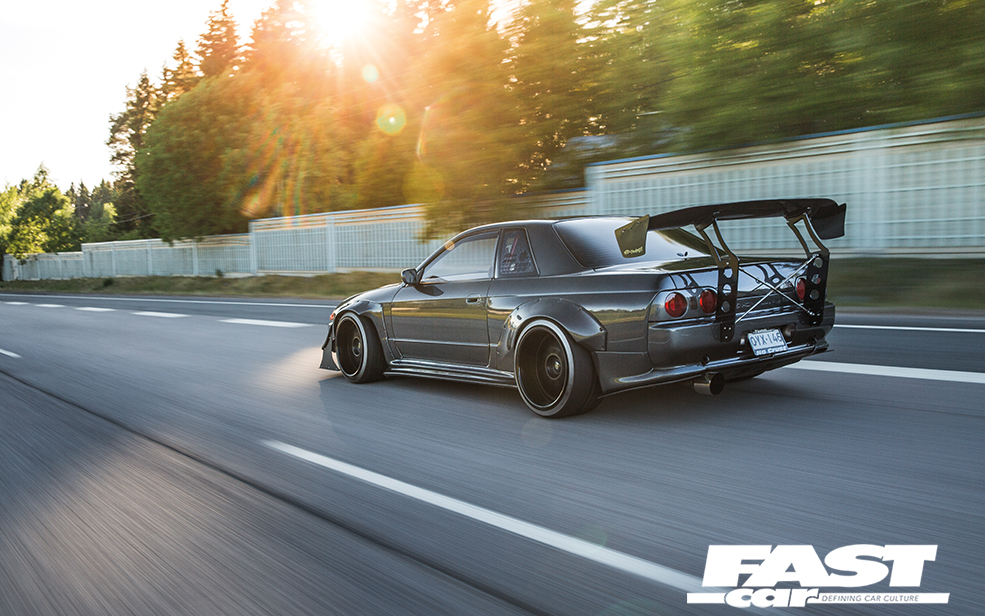 Feature taken from Banzai magazine 2019. Photos: Jape Tiitinen.
Tuned R32 Skyline GT-R images
Tech Spec: Modified Nissan Skyline R32 GT-R
Engine:
RB26DETT 2.6-litre straight-six; single-turbo conversion with Garrett GT4082S turbo; 600x300x100 intercooler; GReddy/Trust top-mount manifold; HKS-style 50mm wastegate; GReddy Profec B Spec II boost control; GReddy MAF Y-pipe; A'PEXi race air filter; twin Z32 MAFs; straight-through 3.5-inch exhaust system; Sard 720cc injectors; Aeromotive fuel pressure regulator; Walbro fuel pump; A'PEXi Power FC; R33 GT-R transmission; ATS triple-plate clutch.
Chassis:
11×18-inch (front) and 12×18-inch (rear) WORK VS-XX wheels – powdercoated satin black with gloss black lips; 255/35 (f) and 295/30 (r) Yokohama Advan Neova tyres; 30mm (f) and 40mm (r) spacers; Tein fully-adjustable coilovers with EDFC controller and BC Racing 14k springs; Cusco brake cylinder bracket; pillow tension rods; front and rear suspension support kit.
Interior:
Cusco/Martelius rollcage; NISMO short-shift; Alcantara seats; OMP 4-point harnesses; Momo suede steering wheel; Trust gearknob; Motamec battery tray; PLX DM6 touchscreen multi-gauge; PLX SM-AFR wideband; PLX SM boost module.
Exterior:
Custom Rocket Bunny widebody kit; Seibon carbon fibre bonnet; carbon boot; NISMO R34 sideskirts; N1 bumper vents; custom chassis-mount carbon GT wing; custom canards and splitters; full repaint in OEM colour.
Thanks:
"Thanks to WTP-Coating; Kaarinan TR-työstö; Uudenmaan Sooda; Martelius; Markku Vesalainen; Jani Niskanen; and my father and family for understanding my passion."