American blood, British heart, Japanese muscle – the Ford Probe is completely alien to most traditional Ford fans. But as Dean Flowers' modified Ford Probe proves, we need to have a bit of a rethink…
Feature taken from Fast Ford magazine. Words: Dan Bevis. Photos: Ade Brannan
Well, here it is: a Ford Probe in Fast Ford magazine. Did you ever think you'd see the day? Possibly not, but in fact this moment has been a long time coming. The Probe may have had an unfortunate reputation in period – particularly at the hands of the loathsome Steve Coogan character Gareth Cheeseman – and the initial plan to market it as the fourth-generation Mustang in the States was met with widespread anger by marque aficionados: with front-wheel-drive, Japanese engineering and the absence of a V8, there's really nothing Mustang about it.
But a lot of water has passed under the bridge since the 1990s, and it's high time the Probe underwent a re-evaluation. Indeed, the more you consider the nature of it, the cooler it seems – and when modified to the fastidious standards of Dean Flowers' example, you can see why it's rightfully earned a place in these pages. This modified Ford Probe is, in short, sublime.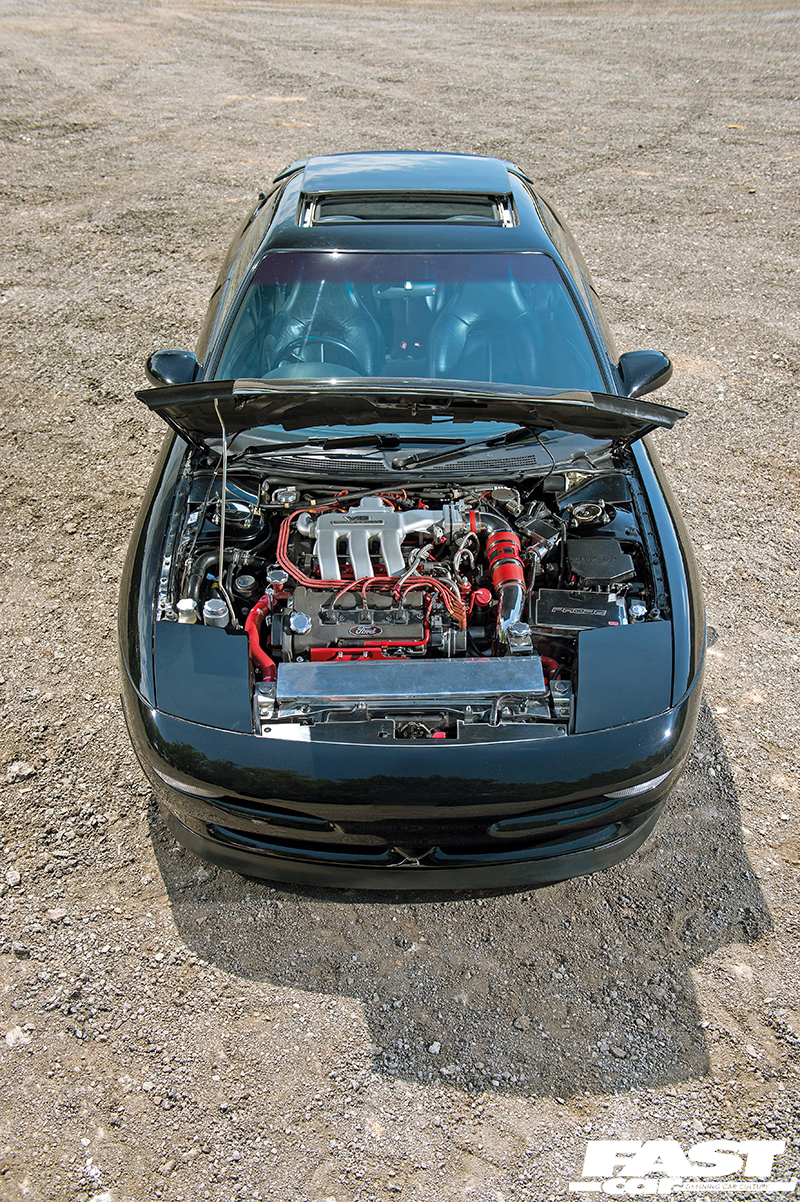 "I have no idea why these cars failed to attract sales and were so unpopular," Dean muses. "The name probably didn't help! And I guess they were very expensive new – not too far off Escort Cosworth money, I believe. They're pretty rare now, with fewer than 400 24-valves on the road."
It's certainly an unusual model, with these second-gen Ford Probes being around 60% Mazda and 40% Ford – Mazda took care of the engine, transmission and chassis (it's essentially an MX-6 underneath), while Ford did the interior and body. The perfect fusion for the Ford fan who's watched a lot of Fast & Furious movies, perhaps? It's definitely an interesting addition to Dean's motoring history; he's had over a hundred cars over the years, all modified, and among the near-endless list he reels off we count 14 BMWs, 7 Mercs, a bunch of VWs and Audis, and – most relevant to our interests – oodles of Fords, including various XR2s, XR2is and XR3is. Most significantly, Dean clearly has a penchant for V6-engined Fords; he's had a Capri 2.8i, Mondeo Ghia V6, even a Granada Dorchester stretch limo with a 2.9… along with quite a few Probes.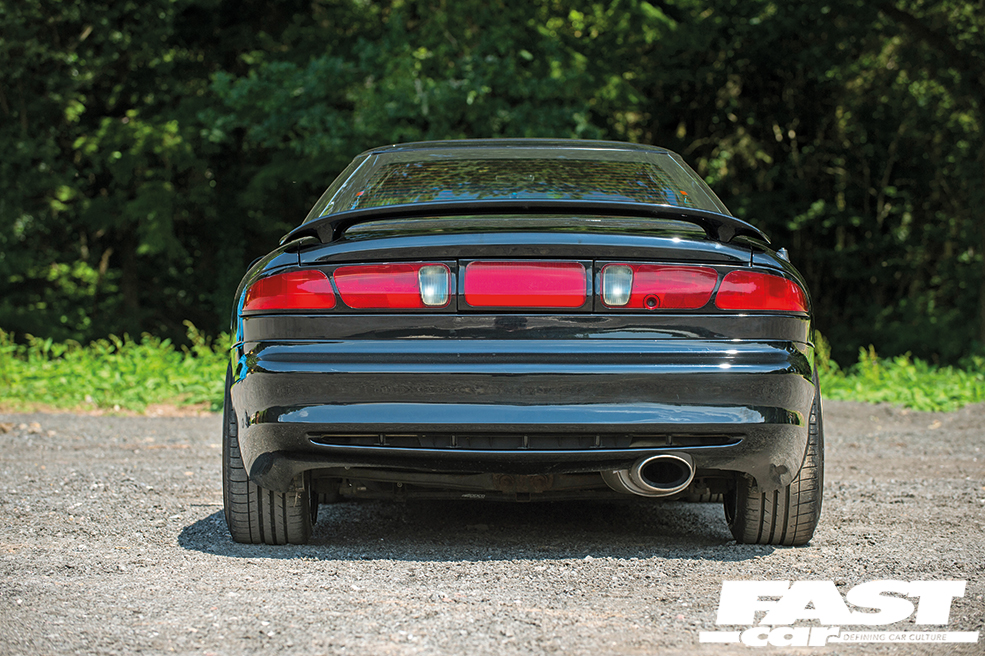 So how did he come to be so interested in this relatively obscure model? Sure, its fans are pretty vocal about its merits, but it's not your classic go-to fast Ford, is it? "When I was about 15 or 16 my father bought a black 24v Probe," Dean explains. "The car was probably only three or four years old at the time. And when I was 19 I bought the car off him and did a few mods to it, lowering it and fitting 18s… but I blew the engine up at Ford Fair about a year later on the Silverstone track! So I changed the engine to a Japanese-spec KL-ZE from an import MX-6 – the UK engine being the KL-DE. That dyno'd at 196bhp at the wheels on more than one occasion, and was a very fun car with good usable power on the road."
You can see why the enthusiasm is so ingrained then, and why Dean's keen to espouse the merits of this hidden gem. Having been a member of the UK's first Probe club, the FPOC, from a young age, he kept the black Probe until he was 21 before moving onto the world of trouble that is the Mazda RX-7. Many cars and moons passed, until eight years later Dean spotted his old Probe for sale; it had been off the road for a while but he bought it back as a fixer-upper, acquiring a bunch of parts including the wheels and USDM rear bumper you see here. But that car is not this car… no, the one you're looking at here was at the time owned by a club member by the name of Brian O'Keefe, a mechanical engineer who'd heavily modified the car with all manner of custom parts, although by late-2017 he'd started to lose interest in the project; it changed hands a couple of times, and then Dean found himself buying it for a decent price. It just seemed too good an opportunity to pass up – his original Probe still needed lots of work whereas this one was already complete, as well as being more powerful, having lower mileage, and wearing much nicer paint.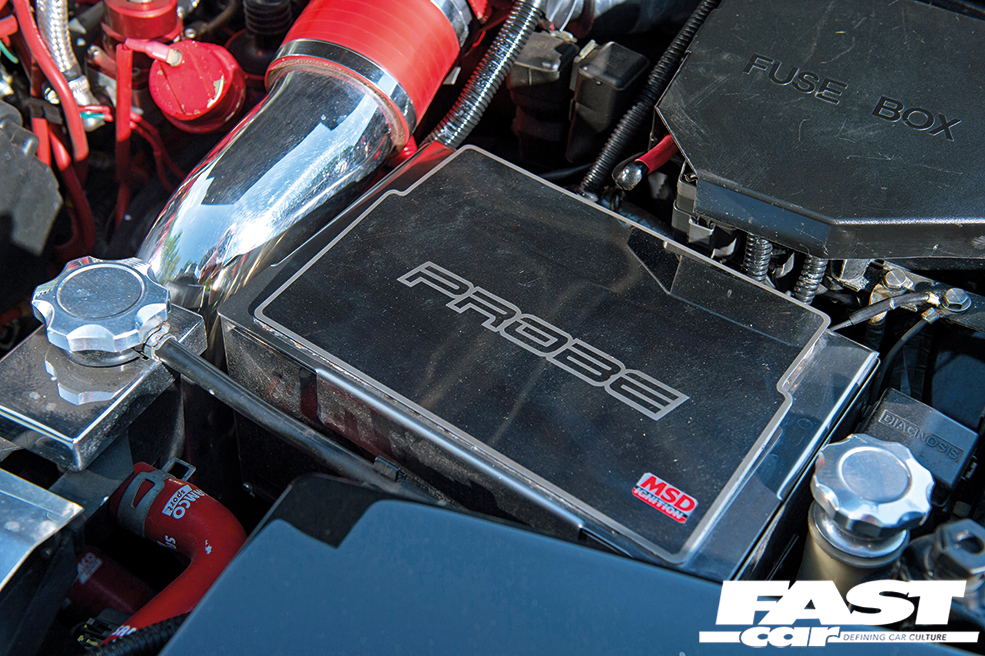 "I was in Thailand working at the time, so I arranged to collect it from Southend on my way home to Wales without even viewing it. I flew into Heathrow, caught the train to Southend, and drove the car home with my suitcase in the back.
"The Probe had many modifications, but was a little too stuck in the '90s for my taste," he continues. "It had blue lights, a vented carbon bonnet, 18in TSW Monzas, lots of red and blue detailing under the bonnet, stickers, blue floor mats, but I could see past this when I bought it and knew there was a clean, low mileage car underneath. I managed to sell almost everything I removed from the car for good money, so I actually got almost half my initial purchase price for it back!"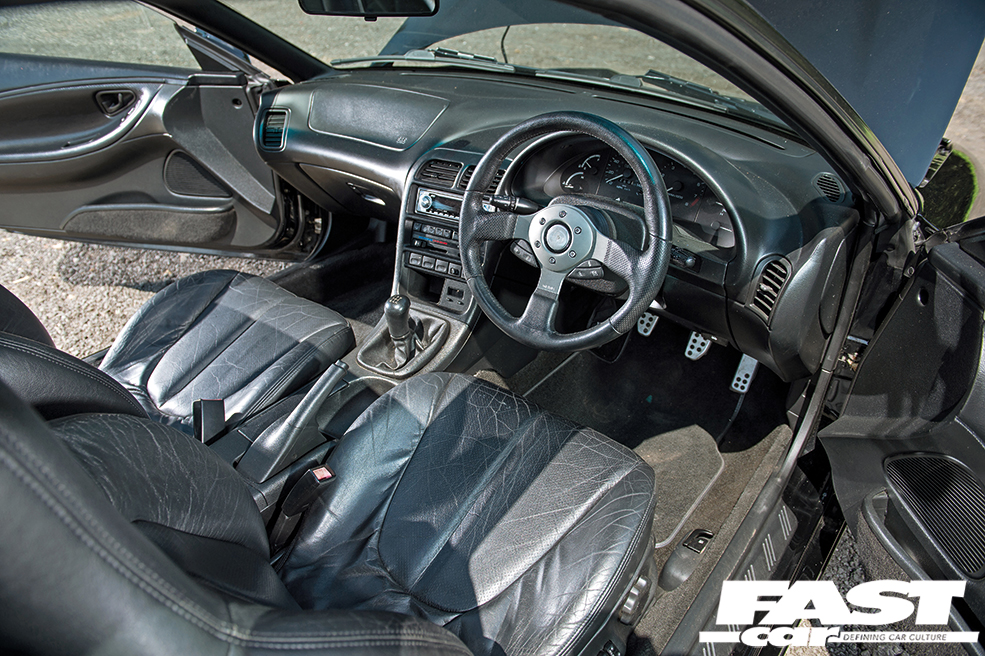 The car came with two full-to-bursting lever arch files of history, containing every single receipt right down to little things like wiper blades, as well as engineering diagrams for every custom modification carried out by the fastidious former owner. "People in the owners' club thought I was mental for changing a very well-known car in the community," Dean laughs. "However, I think a lot of them forgave me once they saw the finished item. To me it always felt like I was driving somebody else's car until I changed it up." Among the changes carried out in Dean's tenure are the full black leather interior swap including dash, headlining and carpets, staggered Eta Beta wheels, Mustang splitter, stock replacement bonnet and front end repaint, flushed front bumper, USDM rear bumper, smoothed tail, USDM taillights (the number plate lives where the removable red rectangle in the middle is), removal of all the '90s-style blue stuff, and a full detail and paint correction. "Some of these aftermarket parts I stole off my original car," he explains, "and I also bought a black donor car for the interior and bonnet."
All of this complements the unique engine, in situ when Dean purchased the car. The UK-spec KL-DE has been treated to the cams, pistons and port-matched inlet manifold from the JDM-spec Mazda KL-ZE, along with ported and polished heads, custom fuelling, bespoke exhaust, one-off throttle body and MSD ignition, which raises the power from its stock 165bhp to an impressive (and dyno-proven) 226bhp. More than enough to give it the go to match the show provided by those impeccably-finished Knight Rider-meets-GTO curves.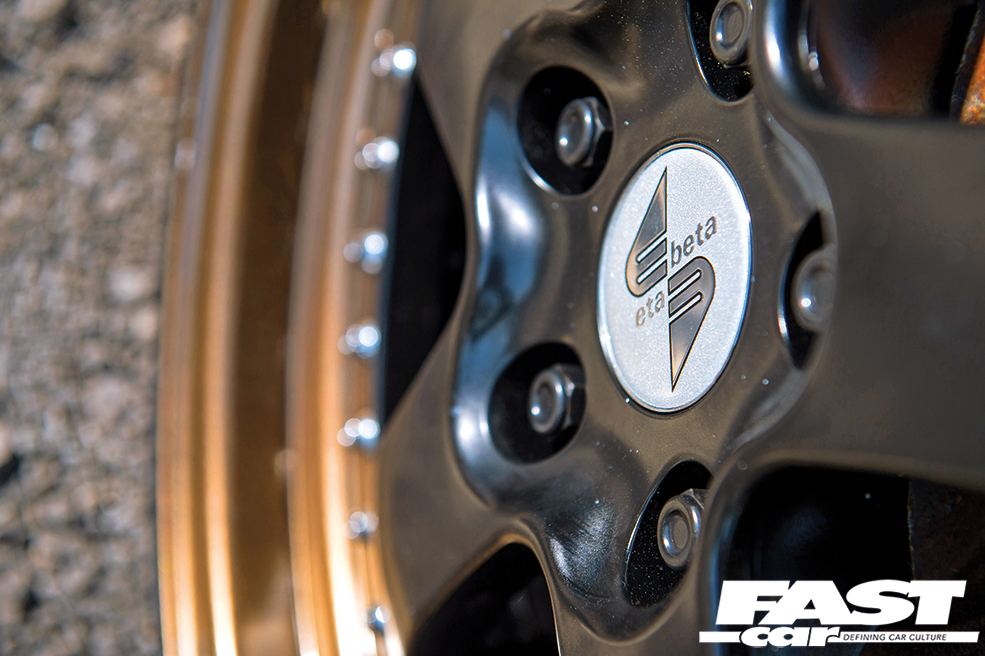 "Earlier this year I decided I needed to downsize the amount of vehicles I had, and business was doing well so thought it was time for my dream car; I always wanted a black-on-black 1964 Lincoln Continental, so at least three cars needed to go," he says. And we can't begrudge him that – after all, Lincoln is the luxury arm of the Ford Motor Company in the US, so perhaps Probe-to-Continental is a natural evolution? "This Probe was lined up as one of the ones to go, and I was very surprised that of the three cars I advertised, this was the first one to sell. It went for full asking price too, very quickly – the price was £3,500 which is a lot of car for the money, but also a lot more than any Probe has sold for in many years. Maybe this is a sign of the times, and people are ready to accept this Japanese-based Ford with American styling?"
We'd agree that this is almost certainly the case. These weird little global-mashup Fords have been left to languish in the shadows for too long; they may have been overlooked or even sneered at in the nineties, but the hardcore owners remained faithful and now, as numbers dwindle, people are recognising the Probe for the little sweetheart it really is. "I've taken the car to mostly non-Ford shows like Gravity and the Players Classic, and the response has been great – with some people finding it hard to admit to themselves that they actually think it's cool!" laughs Dean. And that pretty much sums it up, doesn't it? We've been sidelining these cars for too long. As this sleek 24v proves, Probes can be made to look stunning, with reliable performance to match. It's not a Mustang, it's not a Capri revival, it just is what it is – a Probe. And we like Probes. There, we said it.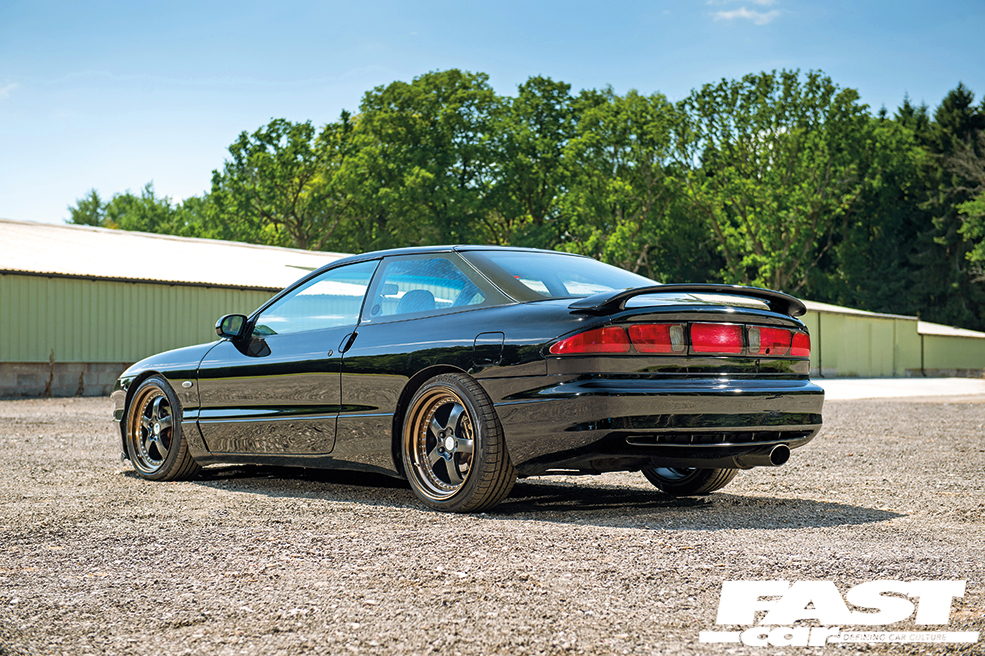 Tech Spec: Modified Ford Probe
Engine:
KL-DE 2.5-litre 24v V6, ported and polished heads, Aeromotive fuel pressure regulator, custom-made twin fuel rails, 68mm throttle body (custom-machined from 60mm), port-matched KL-ZE inlet manifold (from JDM import Mazda MX-6), KL-ZE cams and pistons (from JDM import Mazda MX-6), oil breather and polished catch can, Hotshot cold air intake with custom tubing, Hotshot ceramic-coated 6-branch manifold, high-flow catalytic converter, custom stainless steel exhaust system, lightened flywheel, Magnecor KV85 leads, MSD ignition system with external coil conversion, battery relocated to boot, MSD window switches (used to control switching points of VRIS), anodised rocker covers, custom oil cap, water caps, radiator shroud and stainless cover plates, Samco hoses
Power:
226bhp
Transmission:
5-speed manual, Stage 2 clutch
Suspension:
Tokico 5-way shocks with 40mm Aktiv springs, Addco 20mm rear anti-roll bar
Brakes:
Raffi big brake kit, Goodridge braided lines
Wheels & Tyres:
8×18" (front) and 9×18" (rear) Eta Beta Avior – with bronze lips and black centres, refinished by Dan Taylor at Wheel Unique
Exterior:
Smoothed USDM rear bumper, USDM rear lights, wing mirrors and headlight covers, OEM rear spoiler, smoked side repeaters, Mustang front splitter, rubstrips removed, rolled rear arches, rear wiper arm and washer jet removed and smoothed
Interior:
Full black leather interior swap (including dash, headlining and carpets), custom-made short-throw gearstick, Momo steering wheel with stock cruise control modified to fit