Now that Ford has pulled the plug on the Mondeo, the 2002-to-2007 ST220 reigns supreme as the best, the fastest and the final fast Ford family saloon. Here's how to buy a car that combines V6 grunt with perfect poise, luxury equipment and rapidly increasing rarity. Sponsored by Adrian Flux.

Guide from Fast Ford. Words: Dan Williamson

Why you want a Ford Mondeo ST220
Ford will never again build a machine like this: normally-aspirated V6 petrol power and sublime handling in a big, family-car package.
If you're looking for practicality, the ST220 takes some beating – the saloon and hatchback have massive boots, and the estate's load space is truly cavernous.
Anyone in the know appreciates the ST220 as a genuine driver's car with a fabulous chassis – and as they're becoming rare, their value should rise higher than the running costs.
Why you don't want a Mondeo ST220…
Mondeo Man infamy still lingers from the autocracy of Tony Blair, and it's unlikely the ST220 will ever recover from an undeserved image of mundanity.
Running costs can be extortionate for the performance on offer, with low-20s to the gallon being common, and jaw-dropping road tax for late-model ST220s.
Still lingering in banger territory means many ST220s are poorly serviced, riddled with niggles, badly modified and in the process of rotting away. Extra stickers don't make a cure.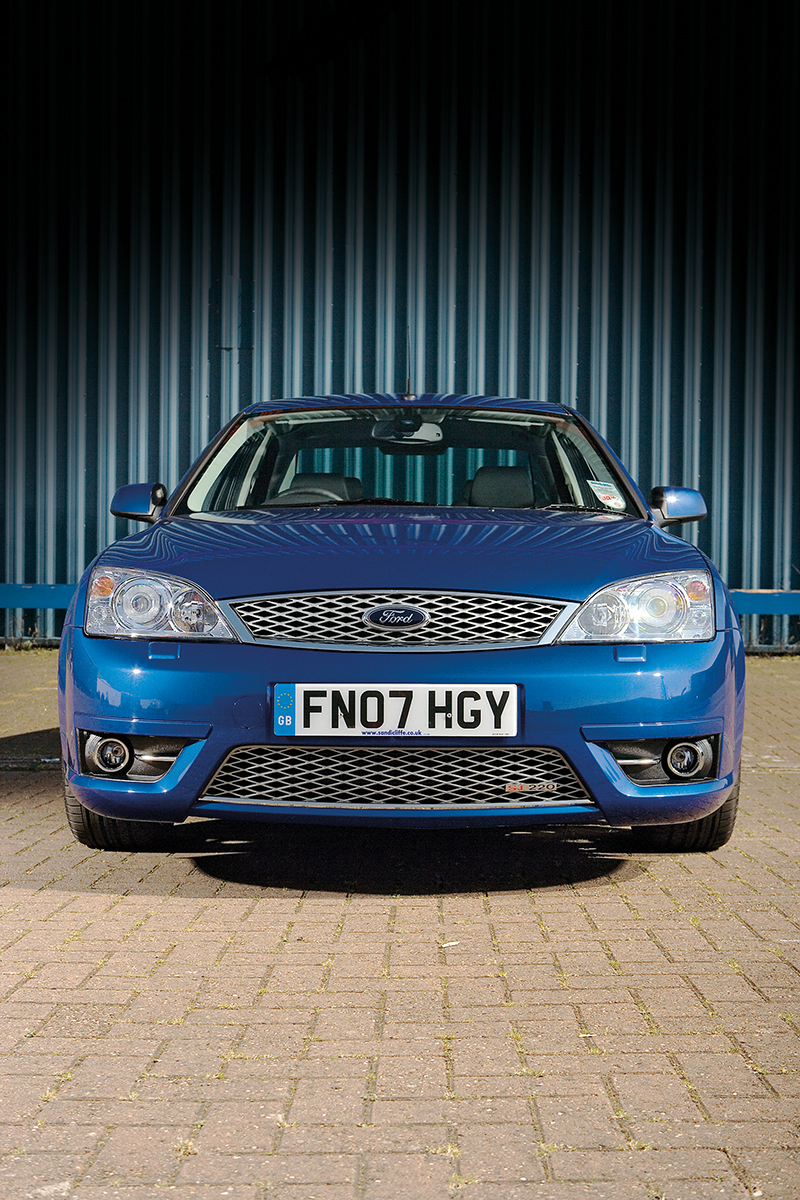 What to look out for on the Ford Mondeo ST220
Identity
Check the VIN number on the V5 logbook matches the sticker on the driver's-side B-pillar, numbers stamped into the bulkhead (behind the plenum chamber) and VIN visible through the windscreen on the nearside. If possible, plug a code reader into the OBD port and confirm the chassis number is identical.
As always, an identity report is vital to ensure your ST220 isn't recorded as stolen or written off, or subject to outstanding finance.
ST220s aren't really faked, but it's worth checking the spec tallies with the year: original ST220s (until June 2003) were fitted with a five-cog MTX75 gearbox, whereas facelifted versions had a six-speed MMT6; six-speed cars also feature the updated fascia layout rather than piano-black trim. Post-2003 ST220s have a remappable ECU and standard cruise control (rare on early cars).
Remember that all ST220s are expensive to run, but cars registered after March 2006 are in a higher road tax bracket, costing significantly more each year.
As always, if you see a Mondeo with cloth trim, single exhaust pipe, noisy engine, and unrefined ride/handling, it's an ST TDCi. There's no such thing as a Ford Mondeo ST220 diesel.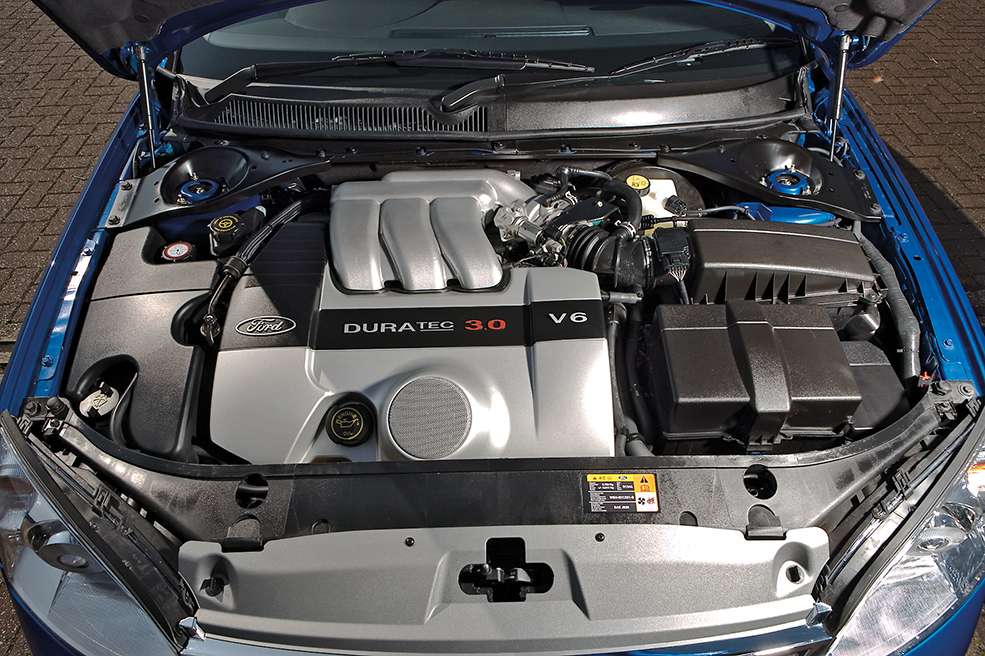 Engine & Transmission
All-alloy American-built Duratec-ST is well-made but complex and crammed a little too snugly into the Mondeo's engine bay. Terminal failure has killed many ST220s.
Servicing is due at 12,500 miles but the V6 Duratec runs on timing chains, which last the life of the engine; if you hear a chain rattling, it often signals the end of the engine's life.
Listen for knocking noises – which if they're from the bottom end simply aren't worth the risk. Ticking could come from camshaft bearing caps or belt tensioners (relatively minor fixes) but big issues may be lurking.
Exhaust smoke is a major warning sign, with white pointing to head gasket and/or cylinder head problems, or blue suggesting a worn-out engine. Head gasket failure often results in misfires, so don't trust a seller claiming their ST220 just needs a coil pack or spark plugs (albeit the rear three are tricky to change).
The airflow meter, throttle position sensor, perished vacuum hoses, fuel system or ECU may also be to blame for misfires, rough idling, poor performance and high fuel consumption; a full diagnosis is crucial but won't necessarily identify the cause. It could get costly.
Oil leaks are similarly awkward to solve. Most ST220s have gunge around the front exhaust manifold – usually dripped from the filler neck when being topped up – but grubby timing chain covers and sump need further investigation.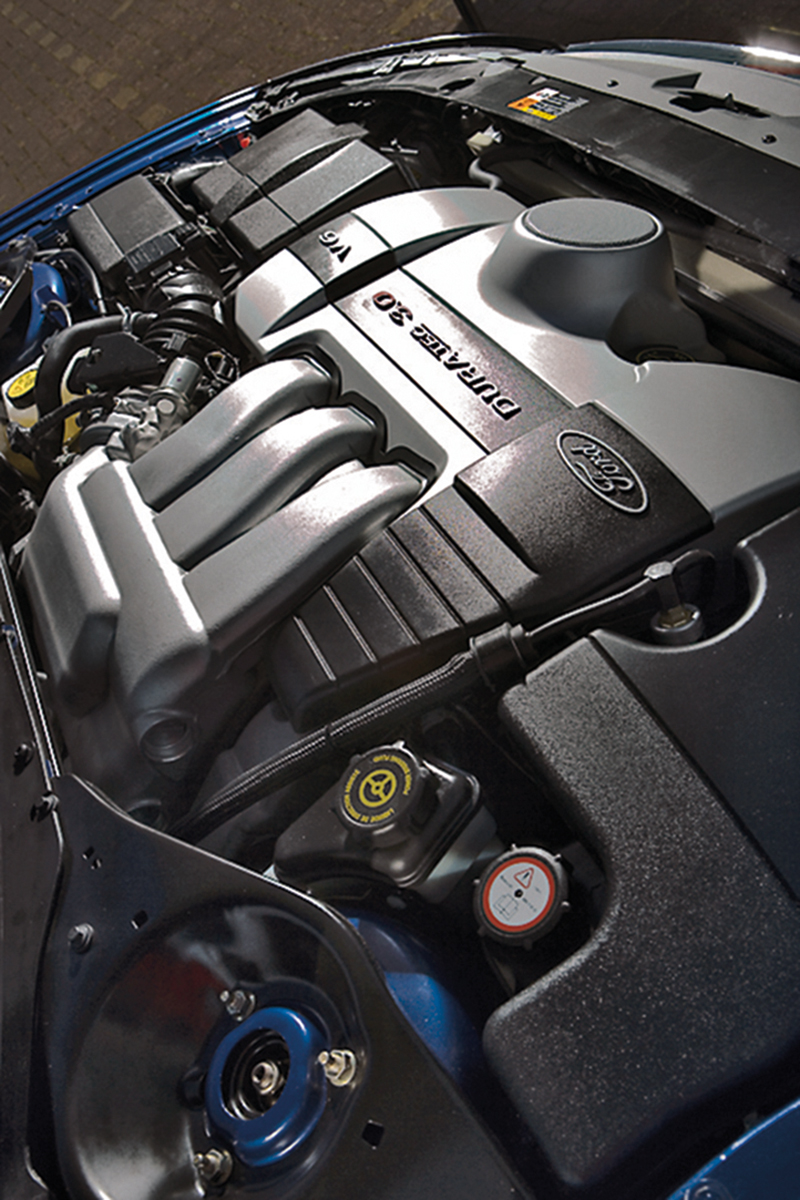 Fuel pump failure is common at around 100,000 miles, which means dropping the tank to replace it; bodgers cut a hole in the floor instead, confirmed by looking beneath the back seat.
Coolant leaks can be catastrophic, so check the condition of the hoses for splits or holes. The V6 is tight under the bonnet, causing pipes and wires to chafe. Inspect the loom around the battery, bulkhead and alternator, which can cause chaos with the smart-charging system. The alternator is especially prone to failure thanks to its proximity to the rear exhaust manifold/cat. Early signs of impending shut-down are the battery light glowing on the dashboard, followed by the air conditioning and stereo ceasing to work.
Examine the cooling fans too, which are prone to seizing. Check them by ensuring they run when the air conditioning is switched on.
Two types of gearbox were available with the Ford Mondeo ST220: until June 2003 it was Ford's MTX75 five-speed manual, after which it was the Getrag MMT6 Durashift six-speed. The earlier car had a slicker gearshift, dual airbox intakes and quicker acceleration; the six-speed boasted better economy, higher top speed, improved ECU and a facelifted fascia.
Both 'boxes are strong, and neither should cause trouble, but the clutch is a different matter, usually requiring replacement before 100,000 miles. On the rest drive, check for slip by leaving it in fourth and ensuing the road speed increases with the engine revs; ensure all the gears engage without baulking.
Beware of vibrations felt through the clutch pedal, warning of DMF (dual mass flywheel) failure. The ST220's DMF isn't as prone to failing as the diesel-powered Mondeo's, but it will wear out eventually, meaning an expensive repair.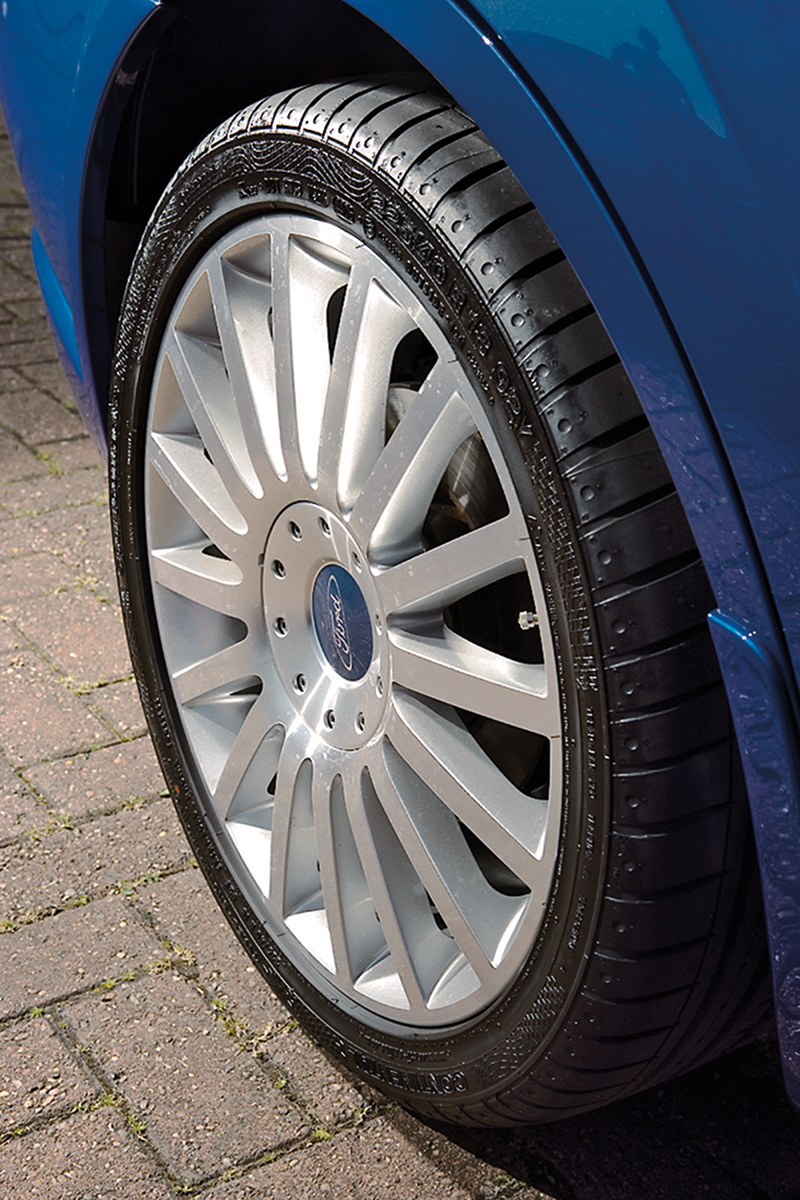 Chassis
Even a tired Ford Mondeo ST220 should feel fine behind the wheel, but if it doesn't feel precise, there's something wrong.
ST220 front suspension is based on the Jaguar X-Type 3.0; vague handling could be caused by a dry steering column bush, worn anti-roll bar bushes (which are inherently weak) or poor wheel alignment – Mondeos are particularly sensitive – resulting in excessive wear to the 225/40R18 rubber.
ST220 rear suspension is shared with the regular Mondeo, so saloons and hatchbacks munch through subframe bushes, leading to clonking and sloppiness at the rear; polyurethane replacements are advisable.
ST220 estates have the Jaguar X-Type setup, which doesn't eat bushes but needs the rear arms checking for distortion from careless jacking.
Wheel bearings are a common problem – listen for rumbling – while front wishbones, ball joints and suspension links may be worn; use X-Type replacements. Rear wheel bearings are standard Mondeo parts.
Wheels themselves are often tatty, with lacquer peeling away from the stock diamond-cut finish and corrosion taking hold. Refurbishment is a pro job, but repainting or powder-coating is a simple cure.
Don't be surprised to feel juddering from the front brakes – it will need new discs and pads, which are cheap-and-cheerful stock Mk3 300mm vented fronts and 280mm solid rears. Many ST220s have thankfully been upgraded to Focus ST225 front 320mm discs, callipers and carriers, which make a massive improvement.
ST220 rear brakes exhibit common Mondeo complaints of seized callipers, particularly on pre-2004 models. Jack up the back to see if the wheels spin freely with and without the handbrake engaged; the cause is likely to be the handbrake mechanism on the calliper, although stretched cables and sticking pistons are sometimes to blame. Replacement callipers are cheap.
ABS sensors sometimes fail, causing the warning light to glow on the dashboard. They're inexpensive and easy to replace.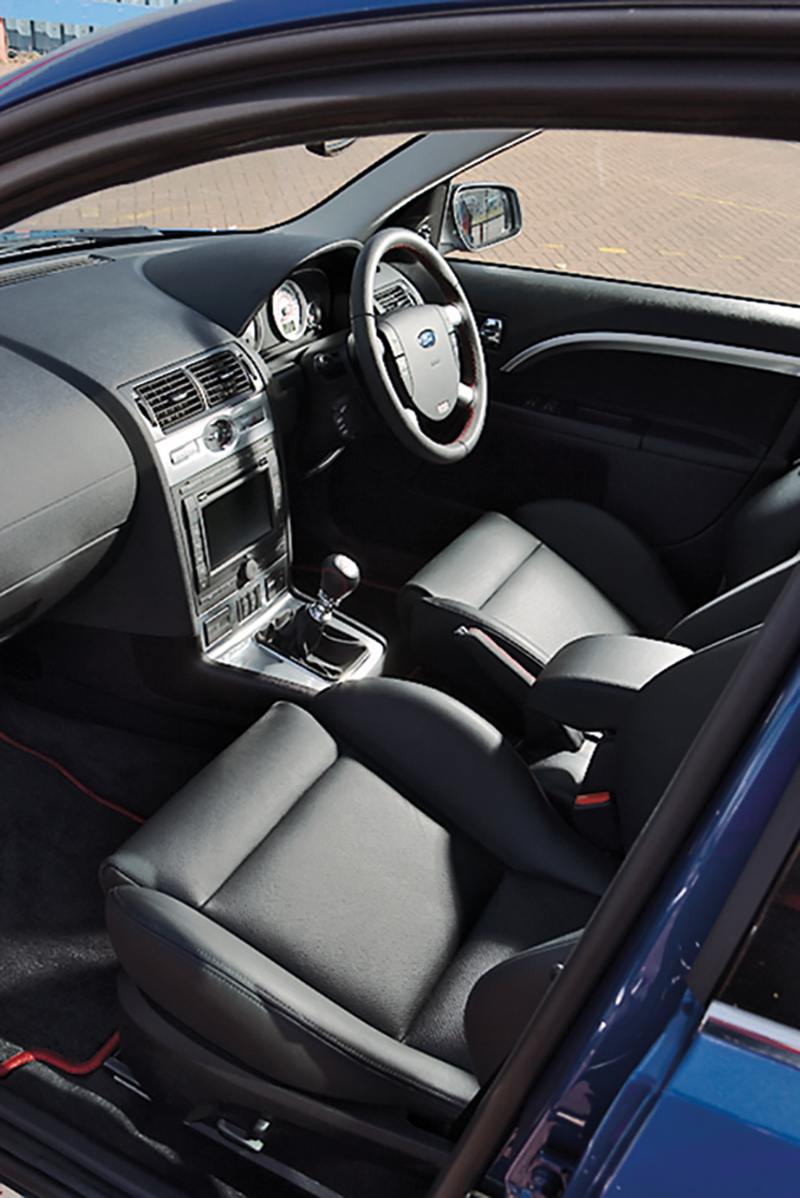 Interior
Mondeo cabins wear pretty well, but their age means many have rattly trim and squeaky plastic. Wind noise from the rear window seals is very common.
Leather upholstery was standard, and very durable – but expect to see wear on the driver's seat bolster. It can by dyed very easily by a DIYer. Black has tended to be the most popular shade, but Infra Red leather has become sought-after.
Early ST220s had a piano-black fascia, replaced in June 2003 by an updated dashboard; such facelifted cars were equipped with a six-speed gearbox and more standard kit, including auto wipers and lights, cruise control, multi-position electric seat adjustment and variable-position seat heaters. Desirable options also became available, including sat nav and Bluetooth.
ST220s gained red stitching on the leather from 2005, and alcantara seat inserts were offered at extra cost. Expect to pay more cash for this cabin.
Spend less if the interior is badly scuffed, especially if there's an IRS logo on the speedometer – a telltale sign of the ST220 being an ex-cop car.
ST220s had loads of electrical goodies, so make sure they all work; heated seat pads are fiddly to fix, heated windscreens exhibit dodgy elements (costly to replace), six-disc head units become problematic, and central locking motors break – but are fortunately the same as other Mk3 Mondeos.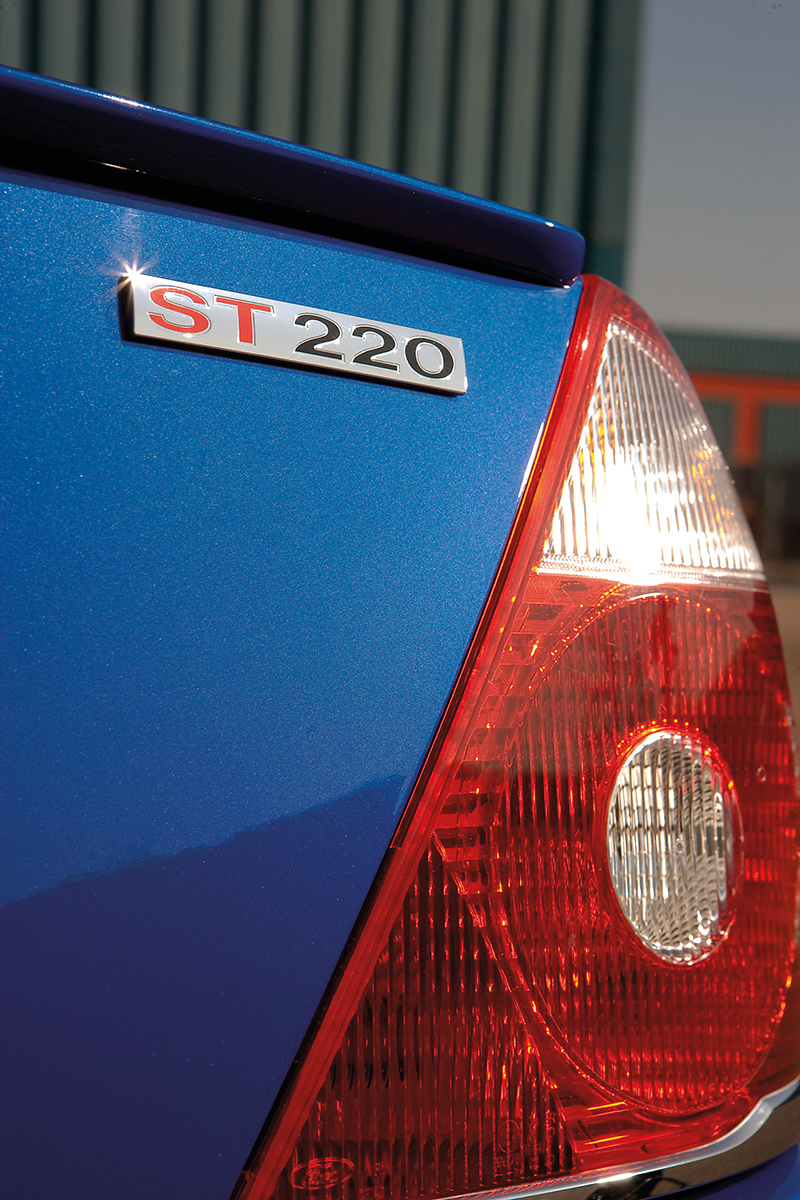 Exterior
Rust is the enemy. Even when relatively new, many ST220s were repaired and repainted under warranty due to bodywork corrosion.
Pre-2005 Mondeos suffer most around the door bottoms where the flanges trap moisture. Wheelarches also suffer, as do sills behind the side skirts. Inspect the bonnet edges, inner wings (inside and out), tailgate, beneath the fuel cap, around the windscreen and back lights.
Rear bumpers tend to sag on saloons and hatchbacks, but they're easily fixed with new foam supports to replace those that are missing or broken.
Choice of bodystyle is personal preference, and makes little difference to price. Saloons are a tad stiffer, estates are immensely practical (and traditionally most expensive), and hatchbacks sit in the middle as being more common.
Colour used to affect values, but today it's preferable to buy on condition instead of spec. Still, Performance Blue remains popular, and some owners prefer the post-2005 chrome trim. Look out for desirable options such as xenon headlamps and (rare) electric sunroof.
Reversing sensors were also available, but tend to play up or need regular cleaning; headlamp washer jets suffer the same fate. Washer covers go missing, but non-genuine replacements cost pennies to buy, if not to paint the proper colour.
Look out for white ST220s, which were usually purchased by police forces (among other colours, especially silver). Rare yes, but these Mondeos led very hard lives, and ex-police cars generally have plenty of damaged bodywork, scratches and filler.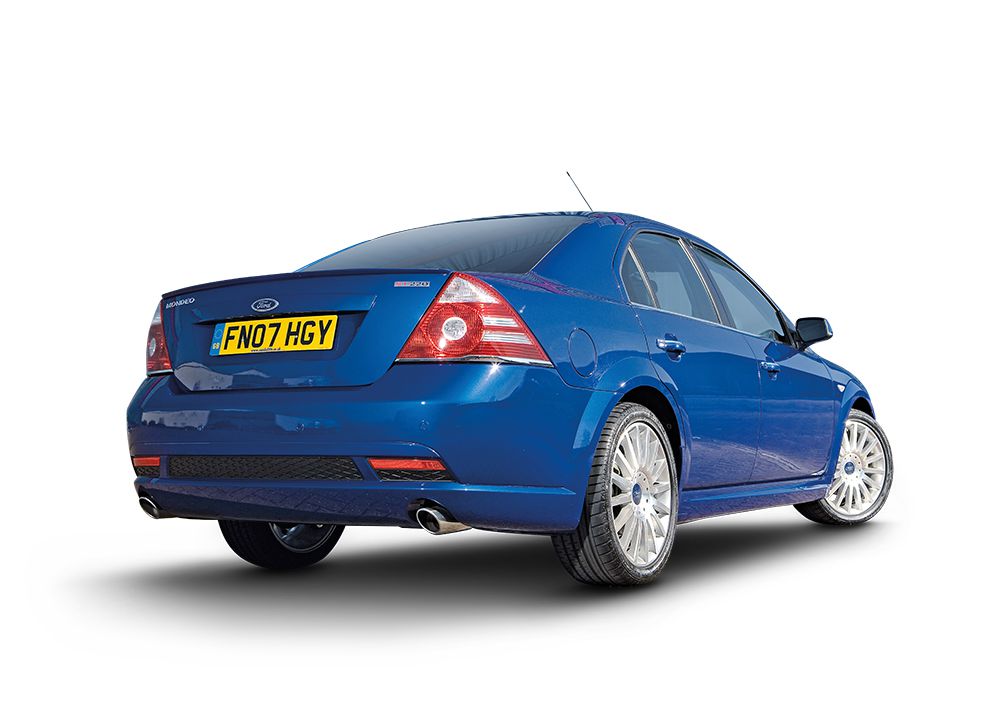 Ford Mondeo ST220 insurance quote from Adrian Flux
Car: Ford Mondeo ST220
Value: £3500
Driver and info: 28-year-old male, with a full NCB, living in the TN14 post code, with a clean licence. The car is parked on the drive each night and has light modifications including wheels, suspension, exhaust and air filter.
Quote: £300 including insurance premium tax / £250 excess / Comprehensive cover

Tech Spec: Ford Mondeo ST220
Engine:
2967cc 24-valve V6 DOHC Duratec-ST (MEBA) with alloy cylinder block and heads, 10:1 compression ratio, chain drive, multi-point fuel injection system, Black-Oak ECU (revised in June 2003), twin stainless exhausts
Transmission:
Front-wheel drive with MTX75 five-speed manual gearbox or (from June 2003) Getrag MMT6 Durashift six-speed manual gearbox, 240mm clutch and dual-mass flywheel
Suspension:
Front: MacPherson struts, uprated dampers, 15mm lowered coil springs, anti-roll bar; rear: Quadralink independent suspension with anti-roll bar and 15mm lowered coil springs (saloon/hatchback) or independent short-long arm with anti-roll bar and lowered coil springs (estate)
Brakes:
Front: 300mm ventilated discs; rear: 280mm solid discs; ABS with Emergency Brake Assist (EBA) and Electronic Stability Programme (ESP)
Wheels & tyres:
7.5x18in 16-spoke alloys and 225/40R18 tyres
Exterior:
Mondeo four-door saloon, five-door hatchback or five-door estate with bodywork extensions including honeycomb grilles, flared front wheelarches, sports front and rear bumpers, side skirts and rear spoiler, body-coloured door handles and tailgate/boot lid handle. Facelift in June 2003 including rear lights (saloon and hatch), rain-sensing wipers, automatic headlamps and puddle lights, plus (from June 2005) chrome grille surround, revised side skirts, rear lights and chrome door handles. Metallic paint in Ink Blue, State Blue, Infra Red, Machine Silver, Magnum Grey, Panther Black, Stardust Silver, Sea Grey, Performance Blue (at extra cost) or non-metallic Diamond White (police). Optional rear parking sensors, rear privacy glass, xenon headlamps, electric sunroof, Technology Pack (xenon headlights and privacy glass)
Interior:
Recaro heated front seats in Ebony Black, Infra Red, Graphite or Light Flint leather with matching rear seat (leather with alcantara inserts available from mid-August 2005), leather-rimmed steering wheel, gearknob and handbrake handle (with red stitching from 2005), climate control, six-disc CD head unit. Facelift in June 2003 including revised fascia and standard cruise control. Optional heated rear seat, stereo upgrades including DVD, sat nav, Bluetooth and rear-seat audio, Family Pack (dog guard and rear-seat audio system)