With strong performance, a trick AWD system and the practicality of a five-door hatchback, the Ford Focus RS Mk3 makes for a brilliant hot-hatch. Here's our buyer's guide.
Guide from Fast Ford.
Whether you're addicted to the growl of a boosted five-pot Focus or dedicated to an old-school Cossie, it's impossible to ignore the Ford Focus RS Mk3 – and the possibility of putting one in your garage.
Not just because it's the best hot hatch ever to wear a Blue Oval. But simply because it's a phenomenal car.
Indeed, you don't even need to be a fast Ford fan to appreciate the RS Mk3's exceptional handling, its ability to hit 60mph in less than five seconds, or its 165mph top speed. And with prices for early cars at a reasonable level, the Mk3 RS is finally accessible to everyday enthusiasts – with 500bhp only a credit card away.
The Ford Focus RS Mk3 was launched to the UK on 18 January 2016 (production began at Saarlouis, Germany on 14 January). Offered only as a five-door hatch, the oily bits made up for any misgivings: a 345bhp 2.3-litre turbocharged EcoBoost engine feeding a state-of-the-art electronic all-wheel-drive system, massive Brembo brakes, computer-controlled suspension and driving modes.
Okay, the bodywork lacked wild wings, and the cabin was sedate except for Recaro seats, but at least there was an aggressive front bumper and choice of 19in alloy wheels.
A 500-run of RS Editions was announced in September 2017 – all Nitrous Blue with Quaife LSD, black roof and carbon-fibre trim – followed by a Red Edition in December: 300 in Race Red with LSD, black roof and carbon goodies. A final RS Heritage edition of April 2018 saw just 50 examples in Deep Orange with Mountune FPM375 upgrade, after which RS production ended.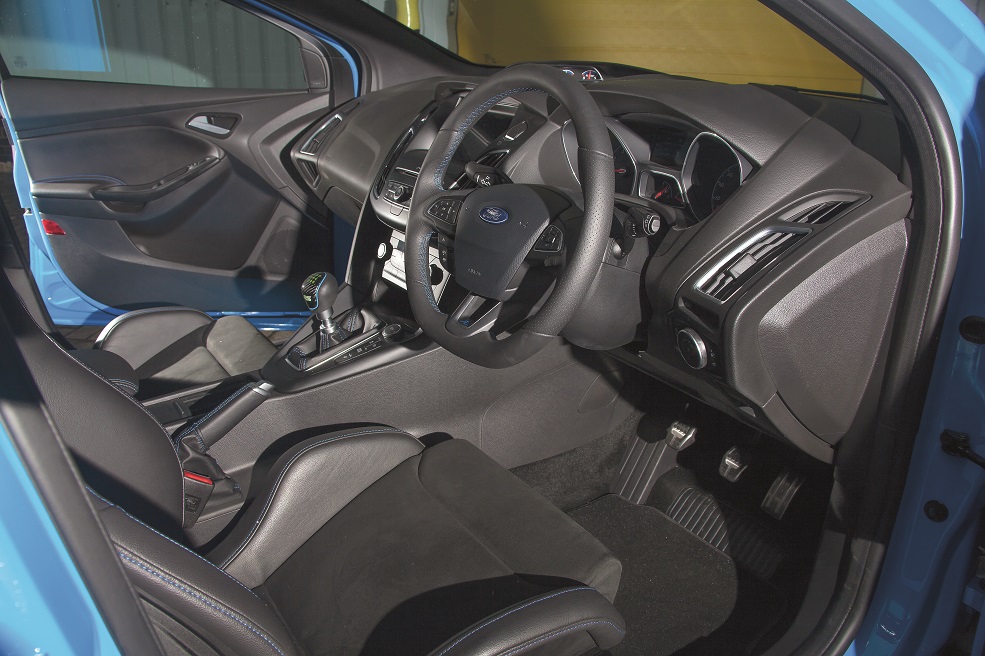 What to look our for on the Ford Focus RS Mk3 when buying one
You've heard the EcoBoom horror stories, and they can be true. So before handing over any cash, ensure the Ford recall has been completed – and you'll need to see evidence. Also check the gasket has a raised rivet on a big lug beneath the inlet manifold.
Run away, of course, from any symptoms of head-gasket failure, such as misfires, white clouds from the exhaust, or coolant loss after a long test-drive. Rough running could also be caused by a broken piston skirt, especially from a cold start; a rebuild will be required.
The MMT6 gearbox is tough, but it won't last forever in a big-power car, particularly if it's been abused; synchromesh failure is common on second and third cogs, so listen for crunching. Beware of clutch failure: check for slipping, look for leaks from the master cylinder and feel for a sticking pedal.
Drift Mode naturally attracts self-appointed driving gods, so check carefully for signs of accident damage; creased inner wings, mismatched panels and dodgy paintwork are obvious, but inspect the roof above the rear doors, which is prone to denting when the bodyshell flexes.
Don't be surprised to find leaks in the boot, and ensure the rear wheelarches aren't beginning to bubble where they meet the bumper.
Oh, and don't buy an RS without a thorough history check: many were purchased on finance, and plenty have been nicked. Beware!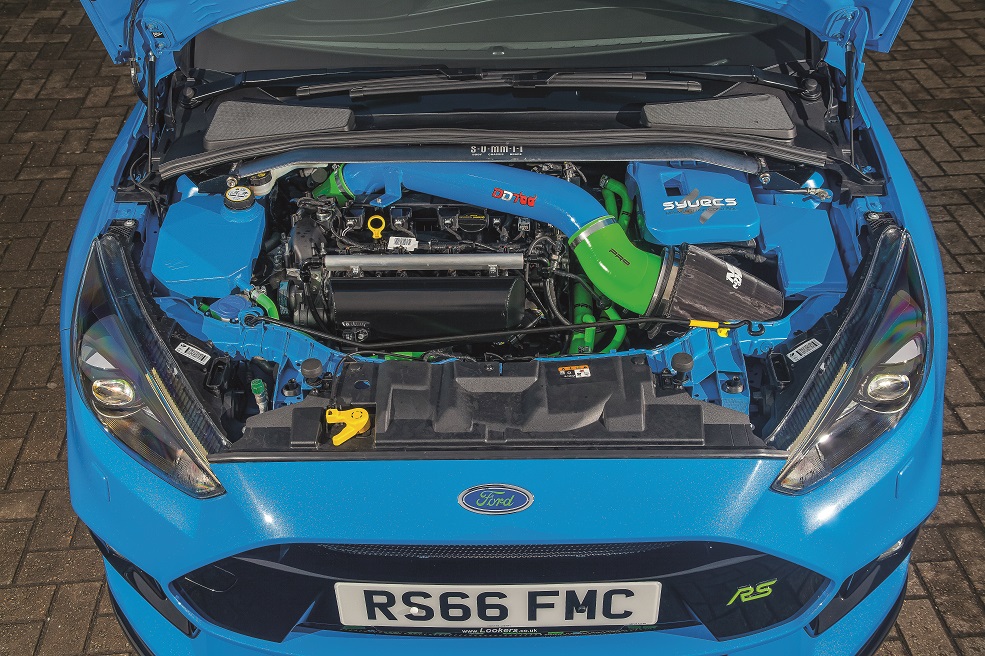 What is it like to own?
It may be the newest RS money can buy, but don't think the five-year-old Mk3 RS is problem-free. Thankfully, the biggest fear Mk3 owners faced in the car's infancy should be well and truly sorted by now: the infamous head gasket saga, when all cars built before 6 July 2017 required testing and either the head gasket replacing, or potentially an entirely new engine – covered by Ford's warranty.
Once completed, it shouldn't cause any issues, but if you're not the original owner, check the work was done. If not, get it done ASAP; Ford's recall work stopped in 2019, so if it needs replacing it'll cost you big bucks.
The 2.3-litre EcoBoost also has a tendency to leak. The oil feed pipe is a common culprit (needing two new copper washers) but owners have reported leaks from all over the engine – not serious, but annoying nevertheless.
Common complaints include the fancy Recaro Sportster CS shell seats sitting too high; many taller buyers had no choice but to stick to the basic Recaros, but seat lowering kits are now available (at £700).
Some owners complain of the car randomly pulling to one side at speed; turning off the Pull Drift Compensation system (around £50) may cure the problem, while swapping the Pilot Sport tyres for other premium-brand rubber also does the trick.
The RS ride is notoriously harsh and crashy, but lowering springs improve ride comfort, as well as the stance.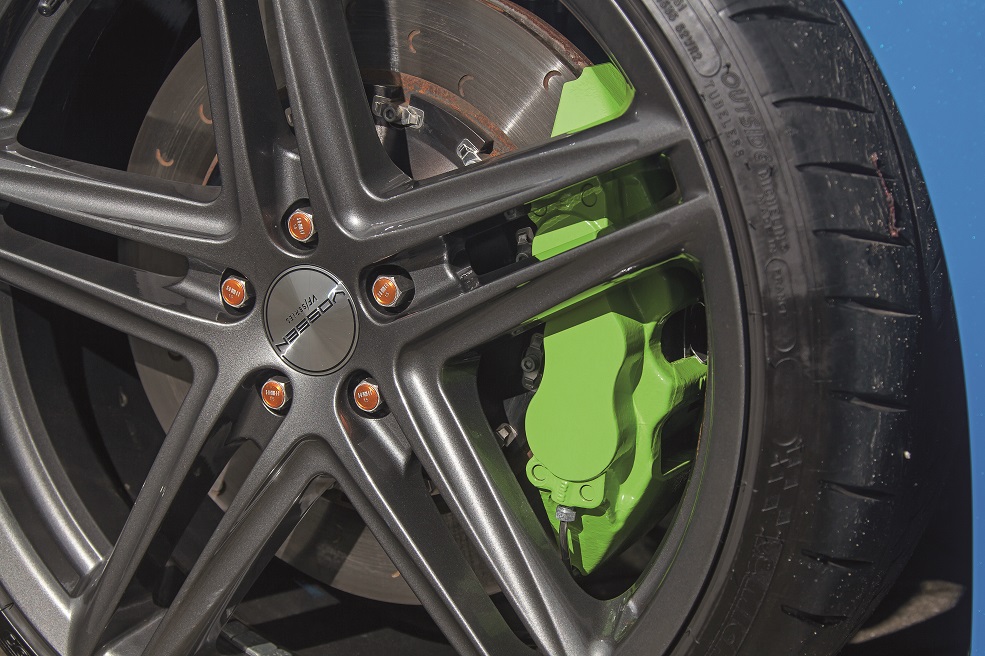 Modifying tips for Focus RS Mk3
Sad but true: a standard Mk3 RS can feel flat and underwhelming, given the media hype surrounding its launch. But a Stage 1 remap wakes things up, and Moutune's MP375 doesn't even affect Ford's warranty.
The next level requires hardware upgrades, such as intake, exhaust (particularly sports cat or de-cat downpipe), and a bigger intercooler. With suitable software, power increases to around 400bhp. This is on the limits of the stock bottom end; for anything more powerful it's advised to fit forged pistons and conrods. The good news is there are selection of big-turbo kits coming to the market, taking power above 500bhp.
The standard ride is harsh and crashy, but fitting good-quality lowering springs help to improve ride quality, as well as reducing ride height. The fancy DDC Variant 3 coilovers from KW are even better, on both road and track, but cost £2500.
An ATB makes a huge difference, and it's easy to see why Ford added one to Edition models as standard, whereas the brakes are great as they are – some performance pads and lines are advised for track use, though.
Styling additions are in abundance, with everything from splitters, bonnet vents and an array of carbon fibre upgrades all available to allow you to add some aggression to the Mk3 RS's conservative styling.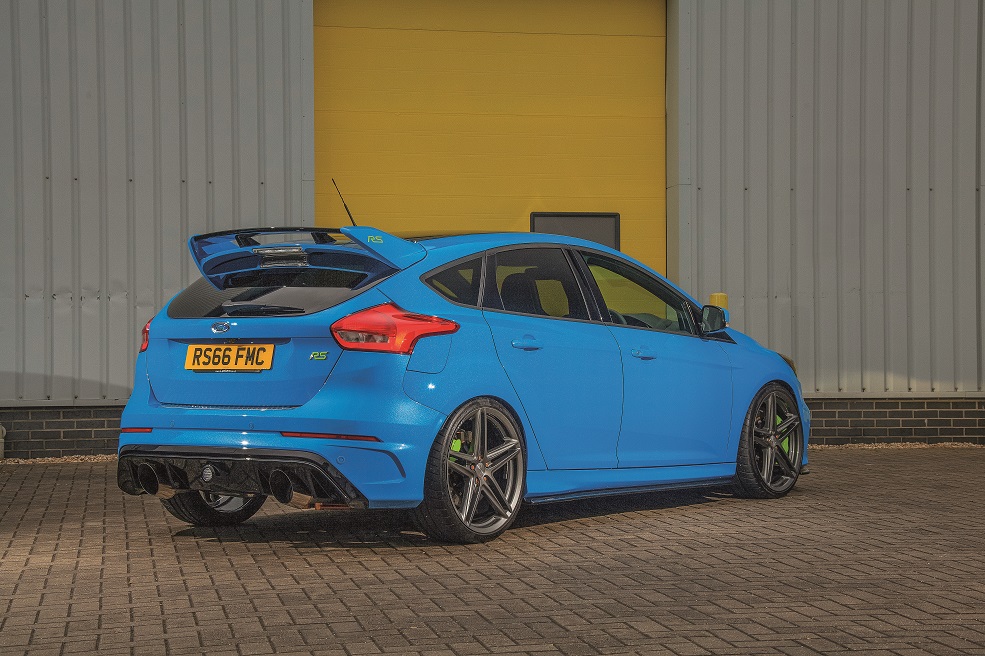 Tech Specs: Ford Focus RS Mk3
Made: 2016 to 2018
Number built: 7430 UK sales
Price when new: £31,385
Power: 345bhp @ 6000rpm
Torque: 325lb.ft @ 2000-4500rpm
Top speed: 165mph
0-62mph: 4.7 seconds (Edition: 4.5 seconds)
Engine:
2261cc turbocharged four-cylinder 16-valve DOHC EcoBoost with alloy block and head, 9.4:1 compression ratio, cast iron crankshaft, twin-independent variable cam timing (Ti-VCT), timing chain drive, Honeywell twin-scroll turbocharger, high-pressure direct fuel injection, redesigned intake, Bosch MEDG17-14 engine management, large-bore exhaust system with twin-exit tailpipes
Transmission:
Four-wheel drive with Getrag Ford Durashift MMT6 six-speed manual gearbox, electronically-controlled AWD system incorporating Twinster rear drive unit, and Dynamic Torque Vectoring
Suspension:
Front: MacPherson struts, uprated coil springs (33 per cent stiffer) and anti-roll bar, electronic shock absorbers with two modes (normal/track 40 per cent firmer), revised knuckles, uprated bushes; rear: independent control blade multi-link system, reinforced subframe and connecting rods, electronic dampers, uprated coil springs (38 per cent stiffer) and anti-roll bar, electronic stability Control  (ESC), torque vectoring control (TVC), traction control, recalibrated variable-ratio electronic power-assisted steering with quick rack
Brakes:
Front: 350mm ventilated discs with Brembo four-piston monoblock callipers; rear: 302mm discs; ABS with 20 per cent smaller module. Optional blue-painted callipers. Optional Active City Stop
Wheels & Tyres:
8x19in Ronal 20-spoke alloys and 235/35×19 Michelin Pilot Super Sport tyres or optional 8x19in Dicastal ten-spoke forged alloys with 235/35×19 Michelin Pilot Sport Cup 2 tyres
Exterior:
Focus five-door hatchback with RS bodykit including front bumper with fog lights, grille, side skirts, rear bumper and rear spoiler, plus xenon headlights, adaptive front lighting, rain-sensitive windscreen wipers, heated windscreen. Optional electric sunroof, door edge protectors, and Luxury Pack comprising privacy glass, rear parking sensors and power-folding door mirrors. Available in Frozen White, Stealth Grey, Nitrous Blue, Shadow Black or Magnetic, plus Red Edition in Race Red
Interior:
Recaro front seats in Charcoal Black/Salerno partial leather in Charcoal Black or Charcoal Black/Salerno partial leather in Nitrous Blue (standard with Nitrous Blue bodywork), sculptured rear bench, RS instrument cluster, gearshift light, flat-bottomed RS steering wheel, dual-zone climate control, Power Start button, auto-dimming rear-view mirror, leather RS gearknob, RS scuff plates, alloy pedals, SYNC2 with 8in touchscreen and nine Sony speakers until August 2016/SYNC3 with 8in touchscreen from August 2016. Optional Recaro shell seats (Dinamica Micro Fibre in Ebony/Salerno leather in Charcoal Black), heated steering wheel, heated (standard) seats, Active City Stop, SYNC2/SYNC3 navigation system with ten premium Sony speakers, subwoofer and rear-view camera. Optional Luxury Pack comprising cruise control, rear parking sensors and KeyFree system