Cliff Clayson has taken the legendary FD, sprinkled a pinch of insanity, a touch of passion and built his version of the ultimate tuned FD RX-7.
Feature taken from Banzai magazine. Words and Photos: Troy Barker
It's fair to say that Cliff Clayson has a passion for both rotary engines and the art of drifting. So, it's something of a no-brainer to combine to two, right? True, there may be easier options to build, and arguably more reliable cars for the sport itself (insert stereotypical 'rotaries like to lunch themselves' joke here), but that didn't stop this guy achieving the clear vision that was set out in his mind. He wanted to take an FD RX-7 and make it the ultimate drift weapon, so with a pinch of insanity and a ton of passion, that's exactly what he did. And here it is for all to see.
It all started for Cliff when he was 16-years old. A good friend of his put him in touch with a crash repairer that had a RX-4 coupe for sale. It wasn't in the best of shape, it had a smashed front end, but it seemed solid underneath. So Cliff handed over 2-grand (this is prior to them being worth a small fortune) and proceeded straight to his grandma's house with a chain block in an attempt to straighten out the front end with the assistance of a lightpole. "I threw on a new bonnet on that I picked up from the wreckers, poured some coolant in the radiator and turned the key – it fired right up. The 13B brapped so hard I instantly fell in love."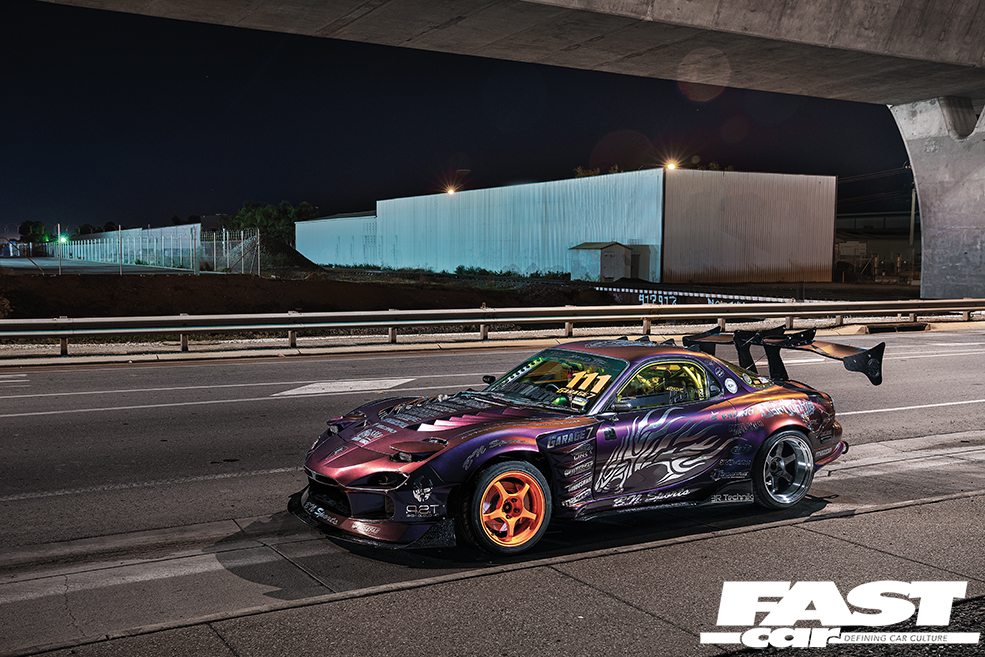 Since then Cliff has owned a stack of RX's but it was his previous FC RX-7 that got him started with drifting. It started as a street car and ended up being a full blown track star which he competed all over Australia with. But Cliff always had his heart set on an FD RX-7 as his ultimate competition car. So, in 2009, he purchased a rolling shell and put the plan into motion.
The first stage was planning the project with the help of Revs Performance Rotary, where together they outlined a basic build in stages. The first was to take the car to Walker Chassis where a full strut-to-strut cage was installed. Next in-line was an Origin Stylish widebody conversion and a coat of Mazda Royal Blue, inspired by the Japanese team 'Drift Magician'. Finally came the engine build, which consisted of a 13B bridgeport running a single Garrett GT3582B and an Albins dogbox. This was the setup from 2014 until 2018 which received a good beating and destroyed many tyres in the process.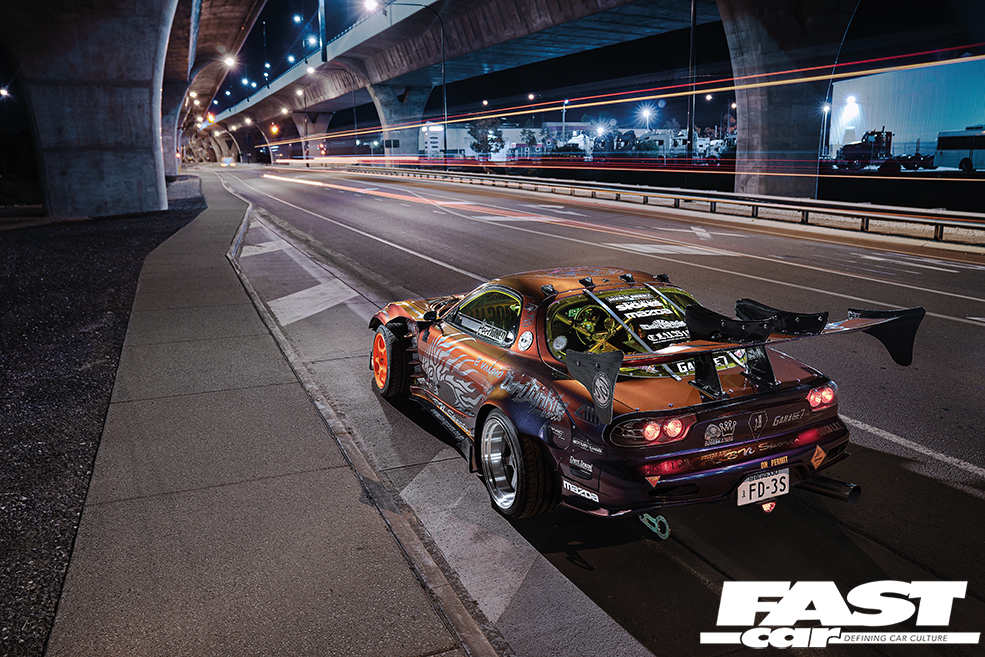 Everything ramped up last year though, chiefly due to Cliff's sponsor, Dorijunkie, getting in contact about the BN Sports BLS kit that had just been unveiled at the Toyko Auto Salon. "After seeing this kit, I knew I needed it on my car. The aggressive styling suits not just my taste, but my driving style too!" That said, the kit turned out to be so extreme that they knew it was going to be tough to find a colour to set it off. Still, with the help of Scott's Custom Tint and Vinyl, they found a new Avery Dennison vinyl called Roaring Thunder. This colour-shifting hue matches the over-the-top styling of the kit perfectly. To make the sponsor logos stand out too, they went for a chrome finish to match the lips on the huge TE37V wheels. They also fitted some yellow acrylic windows – a rather striking look to say the least.
While the kit was on order, Cliff decided that the driveline and suspension was due an upgrade too. Revs Performance and Extreme Rotaries helped transform the engine and installed a TTi 6 speed sequential gearbox. Garage7 crammed in a new Borgwarner 8374EFR turbo, a new engine management system (a Link Thunder G4+) was ordered, and the car was completely rewired to suit.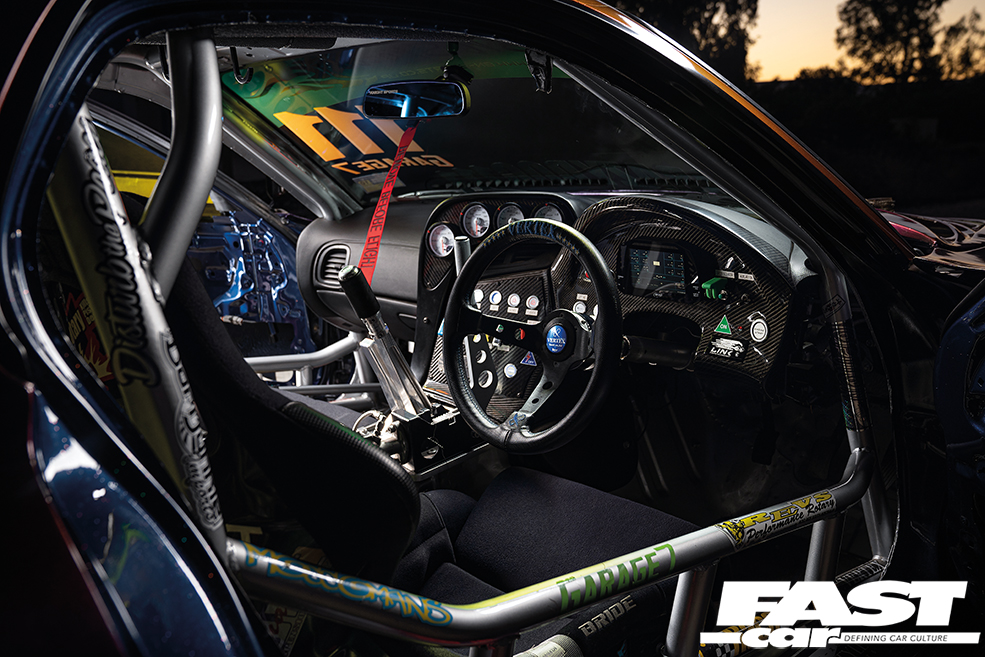 Behind that monstrous engine sits a billet twin plate clutch to help transfer the power though the sequential box. This spins a custom single-piece tail shaft into the Cusco MZ two-way LSD. The standard diff housing is strengthened by a laser-cut brace, which holds the front and the rear together to prevent the crown wheel and pinion "cracking apart like an egg". This overall setup resulted in a 520whp – weapons-grade by anyone's standards!
So there's plenty of power now, but Cliff still needed the right parts to help put it down on the track."We sourced a WiseFab steering kit which is well known for having extreme lock – up to 80 degrees of steering angle in fact. This was then coupled with a set of Wisteria DG5 coilovers which are purpose built for drifting." Some Project Mu slotted 313mm discs, coupled with Lexus LS400 4 pot calipers, help slow things down when required. And some forged Volk 11.5×18-inch TE37V's sit in the rear arches, with 9×17-inch forged Tech Corp wheels up front. "The whole setup is super responsive and creates a huge amount of mechanical grip and steering lock. All perfect for what I need." Cliff says.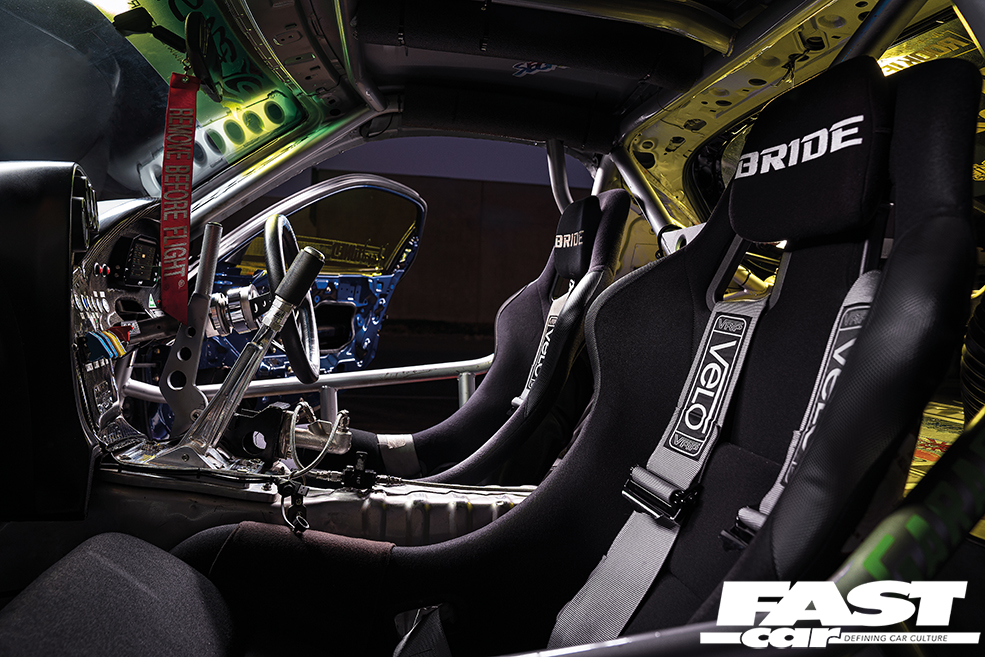 The cockpit is just as bright as the rest of the car with the interior being a blend of OEM Mazda and pure racecar. The standard FD dash has been retained and blended with a host of Angry Panda carbon fibre fascia and bezel panels. The compact AIM Strata dash, with its LCD display, shows all of the data from the Link ECU, and under all this sits an Autosport pedal kit with brake bias and remote reservoirs in the engine bay. The billet gear stick is made by Surefab in New Zealand and the bucket seats and harnesses are from Vello.
From start to finish it's been a long build and Cliff assures us that this is the final version. "The car has taken me well over 10-years to put together and there has been a steep learning curve to determine what parts worked and what didn't. Thankfully having some incredible sponsors on board has made the journey so much better and the parts knowledge and expertise has been invaluable in the process. I'm glad the journey has gone this way as I have learnt so much about the car from the development process."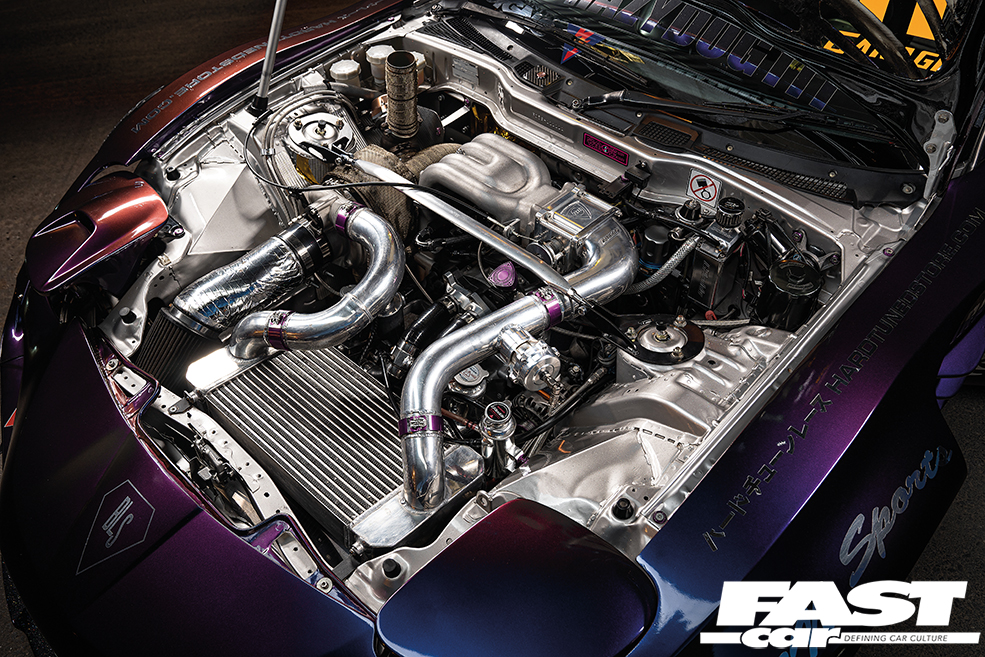 The first big event with the recent upgrades was World Time Attack. With the help of Dorijunkie, BN Sports and Valino Tyres Cliff was able to bring over the famous Japanese driver 'Drift Samurai'. "We had so much fun at the event! World Time Attack is the premier annual motorsport event in Australia and it brings the largest gathering of international drift celebrities. It was an incredible experience, the trip of a lifetime."
Cliff's passion and eccentric tastes have shown through in the final form of his build. From the insane kit to the crazy colour scheme, every aspect of this car screams 'look at me' and, nowadays at least, that's never easy in the competitive drift scene. But then again, this is so much more than a bonkers drift car. This is Cliff's very own version of the ultimate tuned FD RX-7. And, we're pretty sure that it's ours too!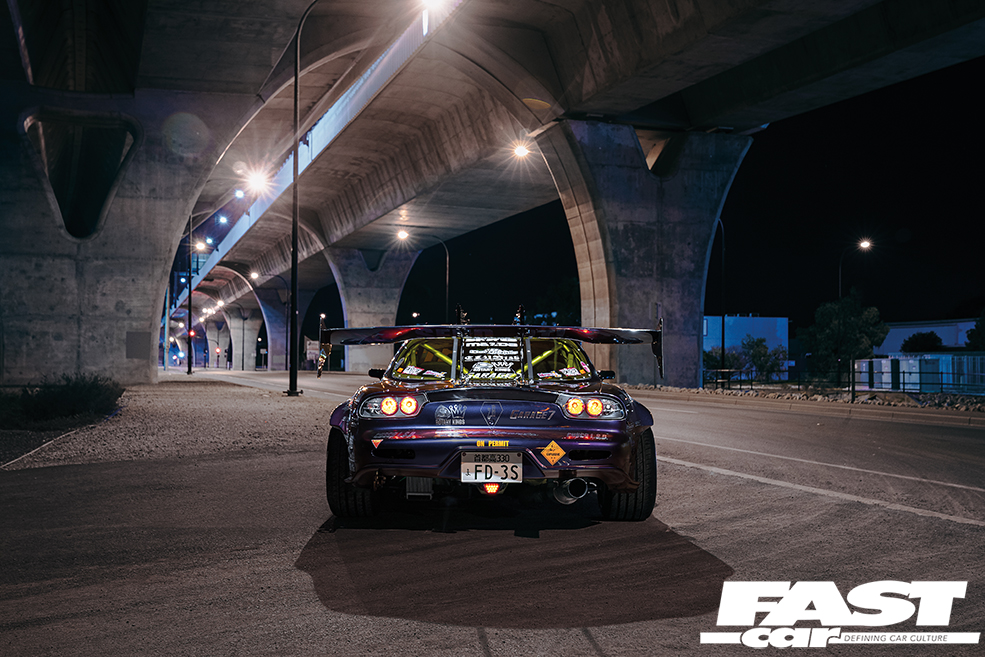 Tech Spec: Tuned FD RX-7
Engine:
REVS Performance Rotary spec engine –  CNC cut extend port with Semi Peripheral Port Rotor housings, 12mm Stud kit, slotted rotors, CNC'd Baths & CNC Lightened Rotors, 3mm seals, modified oil galleries, isotropic coated crank, balanced & blueprinted rotating assembly all by Xtreme Rotaries, PTS unbreakable Racing apex seals, South Coast Rotaries corner seals, Borgwarner 9280 EFR Turbo with 1.45 S/S Rear Housing V- band Garage7 spec 4-inch exhaust straight through, custom braided turbo oil feed lines, Garage7 spec custom tuned, match ported exhaust manifold with knife edged internals, Turbosmart Power-Gate 60mm external wastegate with braided lines, Garage 7 Bosch E-Throttle with Nicon Rotary billet adaptor, CX Racing USA Semi-PP Lower intake manifold flowed out & match ported, Revs spec S6 match ported upper inlet manifold, REVS spec modified oil injection (I Pre-mix AT Racing castor oil with my E85 100:1 ratio), 6x Injector Dynamics primary injectors & secondary injectors 1700cc, twin Carter in tank fuel pumps with Twin Bosch 044 to engine, Injector Dynamics F750 fuel injection filter, Turbosmart FPR 2000 fuel pressure regulator, Hypertune V-Mount intercooler with N-flow Koyo radiator (REDLINE water wetter added to the coolant), Mezire Billet water pump, custom Intercooler piping with wiggins quick release clamps, Acrylic diffuser plate between the intercooler and radiator, CX Racing USA twin oil cooler setup with 11-inch thermo fans, Autocraft solid engine mounts, GReddy radiator pressure bottle, GReddy racing energy 1.3bar radiator cap, LINK Thunder ECU with Racepak smart wire kit, BOSCH ignition LS7 Truck coil modules x4, 10mm silicon HP leads, NGK Racing spark plugs, GReddy Oil catch can, Xtreme Rotaries Side mount alternator kit, K&N Super Power air filter, Direct Clutches billet twin plate clutch, Quartermaster Hydraulic push pull kit, TTi Industries 6 speed sequential dog box, Vulcan modified solid gearbox mounts, Cusco Type MZ mechanical 2-way LSD, Samberg custom diff – cradle brace, Knight Sports gear set
Power:
600hp (at the wheels)
Chassis:
9×17-inch Tech Corp wheels with 245/35×17 Valino Pergea 08R tyres (front), 11.5×18 Volk TE37V forged alloy rims with, 265/35×18 Valino Pergea 08R tyres (rear), DG5 coilovers with Swift springs front & rear, WiseFab extra-lock kit, Cusco front strut brace, Racing Beat front lower chassis brace and front & rear sway bars, Super*Now sway bar mount, Whiteline double rose jointed sway bar links, Autocraft rear toe arms, Megan Racing MRS-MZ rear cower control arms, Super*Now rear cradle pineapples, Project Mu slotted 313mm discs (front) with Lexus LS400 4 Piston monoblock calipers, EBC reds (front) Project Mu (rear) brake pads, Goodridge steel brake lines
Exterior:
BN Sport BLS Luxury Sports 9 piece body kit, 130mm wide over fenders front and rear, BN Sports Vented BLS bonnet with front filter vent, rear heat vents, front splitter and side step diffusers and BN Sport Swan neck GT wing (plus duck tail wing for competition), Avery Dennison Supreme 'Rolling thunder' Wrap, Sard roof diffusers, acrylic side & rear windows, Garage7 CrystalTail lights with LED globes, custom front and rear bash bars with jacking points
Interior:
Velo custom bucket seat with OMP seat rails (driver & passenger), Vertexdeep dish steering wheel, VELO 6 point harnesses, UK Made pedal box with bias valve kit with remote reservoirs, Odyssey GENII dry cell battery (mounted in S/S battery box under dash, Do-Luck gauge pod, DEFI gauges, AiM Strada stack dash, Angry Panda carbon fibre dash set with facia, carbon passenger foot well bucket, acrylic clear foot well pates, Walker Chassis 6 point roll cage, AM ladder bar and roof bars, Surefab billet shifter, MS systems gearknob, Autosport hydraulic hand brake, dual fire extinguishers,  Astra TRW power steering pump, Armtech hybrid battery isolator, all interior removed, all sound deadener removed, air con and heater removed