If ever there was ever a car to remind you that the bare necessities in life can often be the most rewarding, then the Lotus Exige Cup 430 is that car.
The Lotus Exige has seen quite the transformation from its beginnings some 20 years ago. Starting life as a more focused, faster version of the already brilliant Lotus Elise, it has transformed into a model with its own identity, completely separate from the Elise and sitting just below the range-topping Evora GT410.
That statement became all the more apparent when the Exige ditched the 1.8-litre four-pot engine in favour of a beefier, 3.5-litre supercharged V6, pushing power to over 300bhp. Now weight did increase over the Elise, topping the scales at around the 1100-1200kg mark, depending on which model you chose.
Now, then, this Lotus Exige Cup 430 is the ultimate iteration of the Exige, both in performance and price. In fact, this Exige is the quickest production car that Lotus has benchmarked around its own test track at Hethel.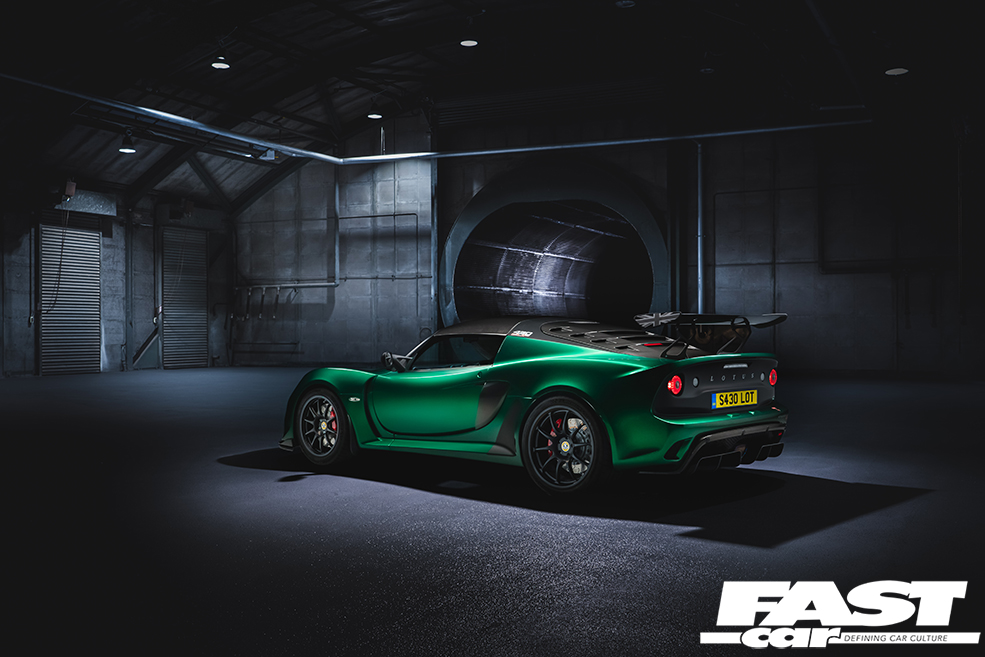 It's fairly obvious to see why. As the name suggests, peak power now sits at 430bhp and has a kerbweight of 1100kg… 0-62mph takes 3.7 seconds, mainly due to limited grip off of the line and the traditional six-speed manual setup, thank goodness. Top speed? 180mph.
Forgetting about those facts and figures for a second, just take a look at it. It's obvious from the off that this is a serious machine. That splitter sits low, kissing the ground pretty much wherever you drive, the diffuser has deep, sharp fins to help direct airflow, that wing would sit right at home in a Fast and Furious movie and those 17 inch alloys at the front and 18 at the rear look superb, offering a thick sidewall for better traction on those Michelin Cup 2 tyres. They are staggered, as mentioned, the fronts only offering 215 width tread, while the rear offers a colossal 285 wide section. It's clear to see from standing at the front, out edges of the car and your eye line follows the edges towards the wide rear hips that accommodate those rear wheels.
You could spend half a day studying its angles and aerodynamic features, it's a mightily impressive car to stare at, which means wherever you drive, you'll have people staring at you. Finished in this metallic green alongside black wheels helps you stand out from the crowd even further, not like you needed it…
Lotus Exige Cup 430 drive
Enough of the boring stuff. The Lotus Exige Cup 430 reminds you that less is more, and those famous words by Colin Chapman ring true, again. Its combination of strong power and light weight makes it cover ground ferociously fast.
Once you've clambered over the tub that takes up almost half of a regular door entry, slid down into the seat and strapped yourself in, you immediately feel like you're in a car that won't want to do a daily commute, let alone a quick trip to the shop.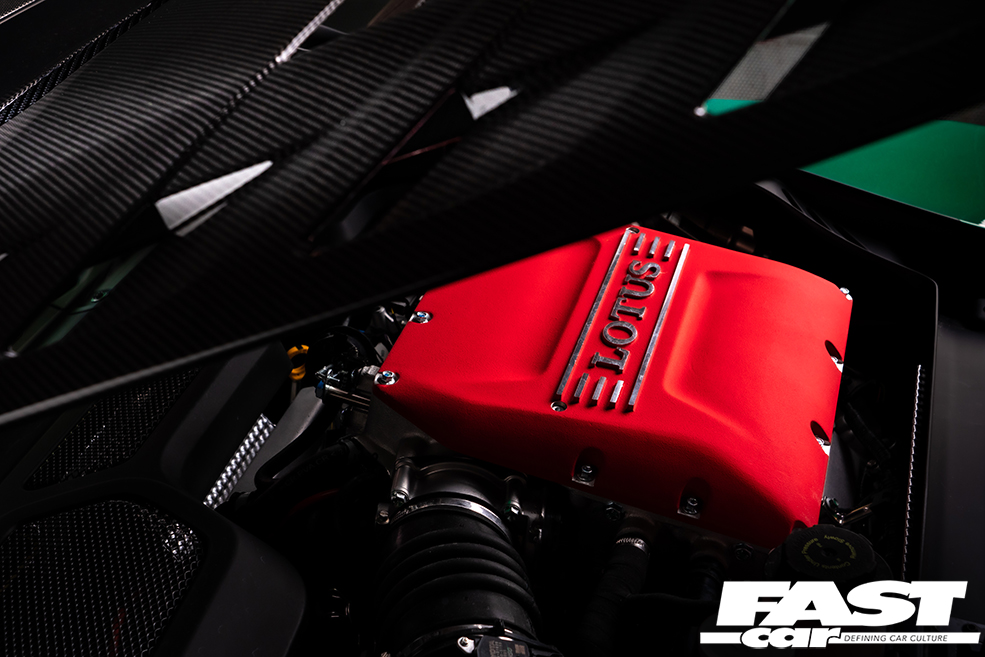 Fire it up for the first time and you're greeted with a deep groan from the titanium exhaust. Here, things do quieten down a notch; from factory, the exhaust valves are set to closed, without any option to open them up at low revs. That's a smart move if I'm honest, which isn't something I'd usually say. It makes day-to-day driving a far easier task as you don't end up with your ears ringing by the time you arrive at your destination. But, drive past 4500rpm and the valves open, and boy are you rewarded. The Lotus V6, originally taken from a Toyota Camry, has to be the best sounding car on the market (have a listen here) at the moment, which is only intensified by that titanium exhaust. It's purposeful, shouty, high-pitched towards the top end, and ultimately has every single strand of hair on your body standing to attention.
As we all know, Lotuses aren't built for straight line performance, but you'd be mistaken for thinking they can't cover ground over a straight line at a ridiculous rate of knots. For me, second and third is all the gearing you need on most roads, third will take you up to over 80mph without a sweat, and second will give you whiplash if you aren't ready.
But, the corners are where things get decisively mind-blowing. Chuck the front end into a corner and it will bite, and bite, and bite. It seems that no matter what speed you're doing, you will be able to make the corner, which is testament to this Ohlins suspension setup. Body roll isn't a term that Lotus understands, it stays firmly planted even flowing through a tight switchback section of road. The ride is stiff, but at the same time, surprisingly compliant. You do feel the bumps, but it's not back-breaking and offers an OK level of comfort over distance, despite having carbon fibre bucket seats. I travelled non-stop for three hours and didn't feel the need to jump out and stretch the legs.
Interestingly, Lotus doesn't offer a limited-slip differential on the Exige; simply put, their engineers don't feel that the additional weight offset against the increased performance, and I agree. The grip offered from its chassis, aerodynamics and 285-wide rear Cup 2s are enough to keep you pointing in a straight line no matter what you do to upset it. In fact, it could live with 500bhp no problem.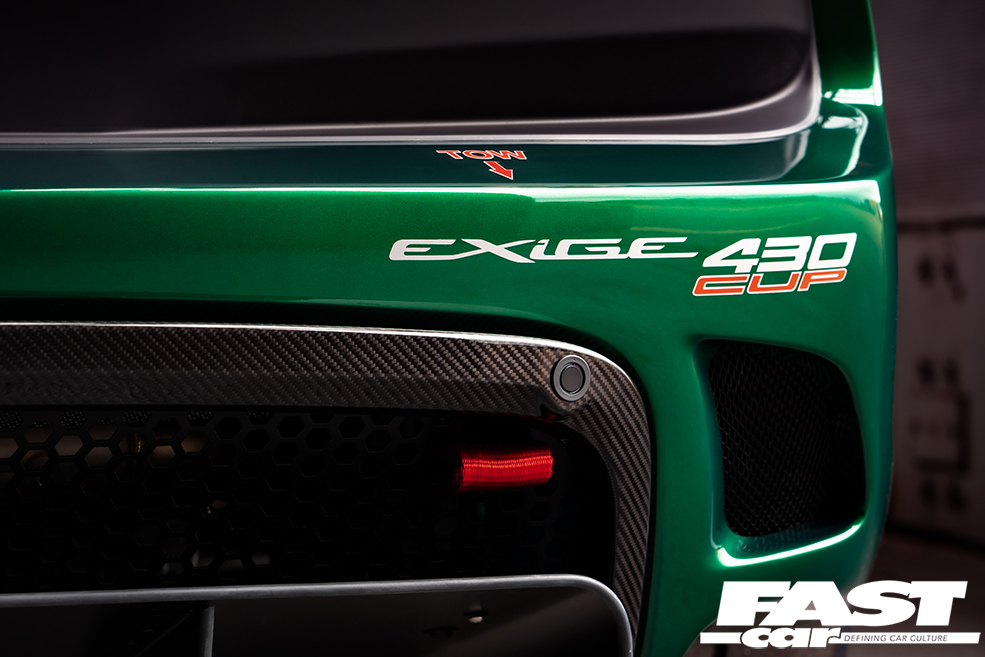 The traction control system features machine learning, whereby it constantly reads and understands slip levels to maintain upmost grip. Some might be disappointed with the addition of said electronics, but they're so unintrusive, without reading the manual, you'd have no idea it existed. Switching to race mode turns off the traction control, but on the road, it's not needed. On the topic of driving modes, there is also a sport mode that offers slightly shaper throttle response and crucially opens the valves on deceleration at lower speeds to give you a nice, deep, but subtle burble that feels far more authentic than any other on the market.
There isn't any power steering here either and it's all the better for it. There is tonnes of feel chucked back through the steering wheel, enough for you to feel tiny undulations in the road that you didn't know existed. It also means that the steering is ultra-responsive and precise and the tiniest of steering inputs is all you need. Speaking of small, the steering wheel itself is tiny, it's like driving a go kart, and that's fantastic!
The manual gearbox is of course welcomed, but sadly isn't as smooth as hoped. The exposed linkage is a nice touch, not only does it save weight again, but it also adds to the overall image that this car portrays, and that is to go fast. First to second felt particularly clunky and at times need a double de-clutch for it to be happy.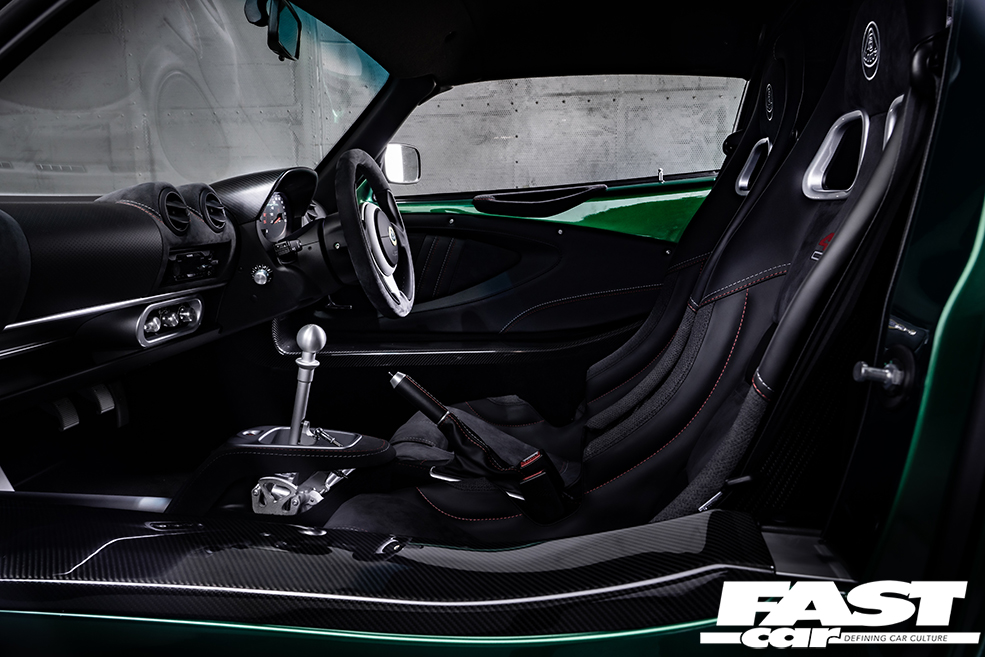 A special mention here goes to the brakes. Wow. Stand on them and you may as well have thrown an anchor out of the back. Those AP Racing front and rear brakes are strong, very strong, and that's heightened by the car's overall low kerbweight. The pedal feel is nice and modular, not feeling bitey at the top end that a lot of modern cars tend to have. In fact, you really do need to step on the pedal when you're pushing on.
The most surprising aspect, however, is just how easy it is to drive. You'd think something that has been honed in on track and pealed right back to the bare bones (you have to option the radio back in!) would be a difficult to car to drive and therefore less enjoyable, but I'd be willing to bet that this performance is accessible to even the most amateur of drivers with little experience.
Verdict
The one thing I haven't mentioned is the price. Yes, this is for all intent and purposes, £100,000. Now some would argue that's a hell of a lot for a car that has next to nothing in terms of creature comforts. But, take a moment and think about the package you're getting. This is a car that could happily live with a Porsche 911 GT3 RS on track, a car that's some £50,000 more. More importantly, you're getting a car that reminds you of what a sports car should be. It should make you feel special, it should make you smile every time you drive it, and it should surprise you with just how bonkers its performance is. Its back-to-basics driving, but in a package that's very much focused on performance.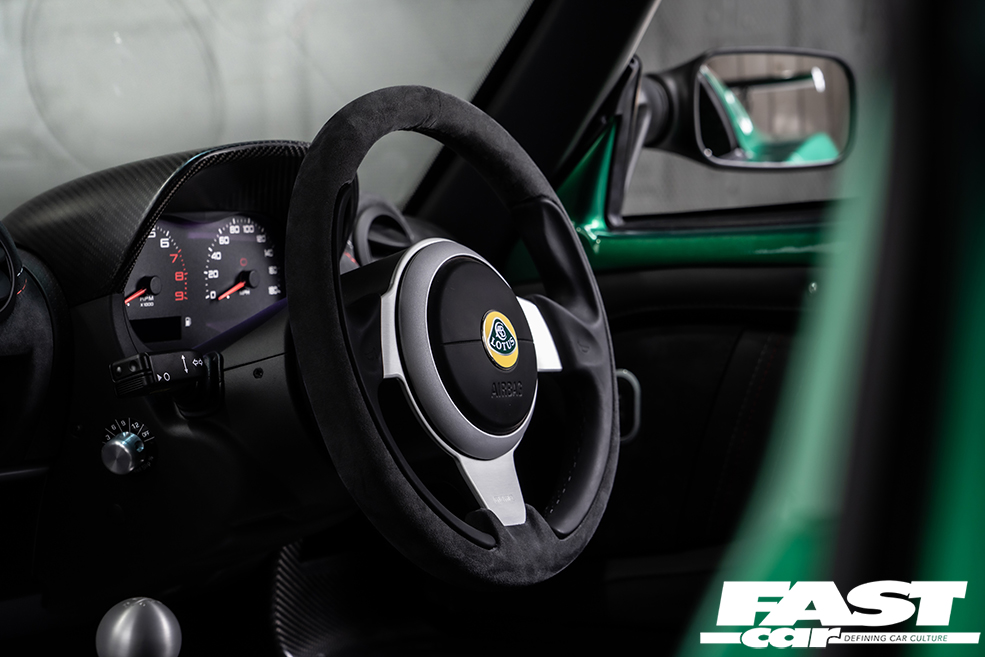 No, it's not as pretty inside as say a Porsche, but what it offers is an experience that the Porsche cannot match, and that's unique. It's a car that will obliterate all on track, and then happily pootle on home. We have to thank Lotus for building driver's cars in an era where the mundane is scarily close. So thank you Lotus.