The Alfa Romeo Stelvio Quadrifoglio was treated to a mid-life update in 2020, we hopped behind the wheel to find out if it's still as brilliant to drive.
The humble fast estate seems to be being replaced by the fast SUV and the Alfa Romeo Stelvio Quadrifoglio is one of the cars doing this. In a world where consumers are buying more crossovers and SUVs than ever before, it makes sense for manufacturers to build more and more models that sit far too high and travel only on highstreets despite having trick off-road systems. You can't blame manufacturers, this is what people are buying, simple as that. At least if you're going to buy an SUV, make it a fast one.
The Stelvio Quadrifoglio not only has one of the longest names for a car on the market, it is also one of the fastest real-world cars you can buy, let me explain. You might be sat there thinking this almost 2 tonne of metal isn't faster than a hot-hatch on a back road, but you'd be very wrong. Still powering the Stelvio is that wonderful 2.9-litre bi-turbo V6 used also in the Giulia Quadrifoglio. Power output remains at 503bhp and 443lb ft of torque, all of which is sent through the same ZF 8-speed automatic transmission and across all four wheels. That means off the line this will do 0-62mph in 3.8 seconds and go on to 176mph, and if you so wish, will lap the Nurburgring in under 8 minutes, yep, that's fast.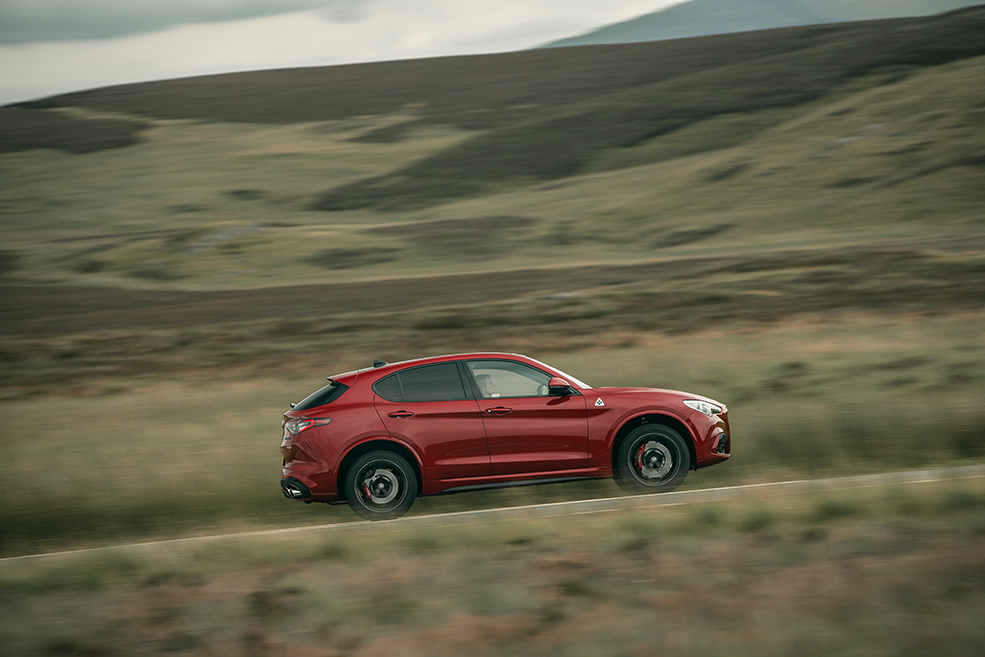 What's new for the 2021 Alfa Romeo Stelvio Quadrifoglio?
Well, not much to be truthful. Alfa Romeo has primarily addressed the previous concerns with interior quality and made a few subtle changes elsewhere. On the outside, you'll notice new smoked rear lenses, which hide full-led lights as standard. All the badging and trim are now also blacked out, rather than the standard chrome, and a new 21-inch wheel is also available.
You can opt for a carbon fibre roof, as well as choose from three new colours that are inspired by models of old, this includes 6C VIlla d'Este (deep metallic red), GT Junior Ocra (yellow), and Montreal Green, well that's green.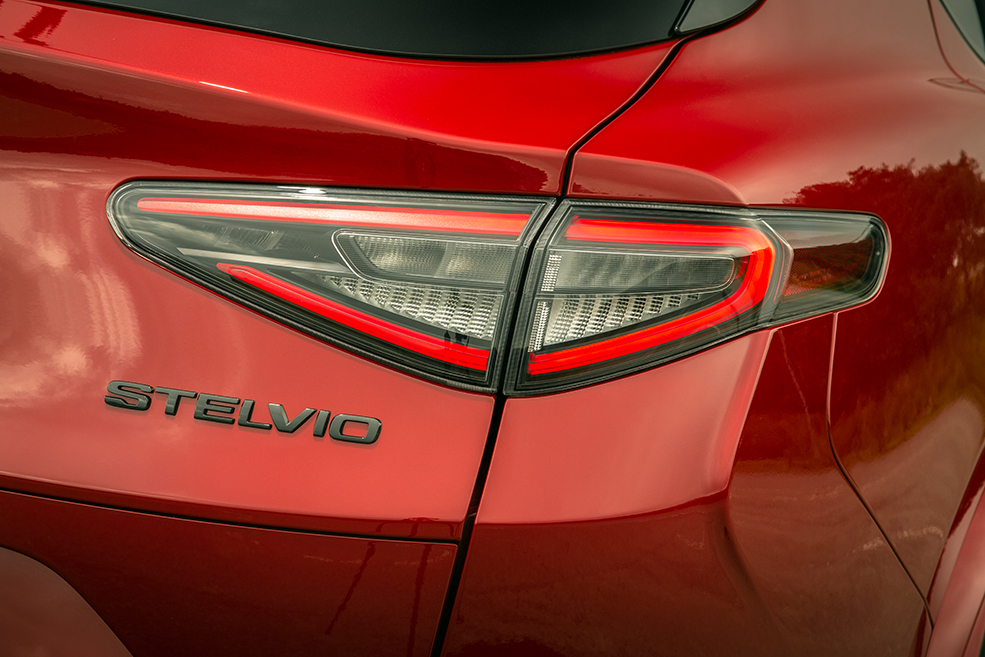 Inside, things get a bit juicy. A dashing of carbon fibre now holds switchgear, and the actual gear selector has been reshaped and finished in leather. Also new is a wireless charging cubby for your smartphone. This helps bring the Stelvio bang up to date.
The infotainment system is refreshed for 2020, too, with Alfa's new 8.8-inch display, which now features touchscreen functionality and Apple CarPlay. The new layout inside the system also includes performance gauges.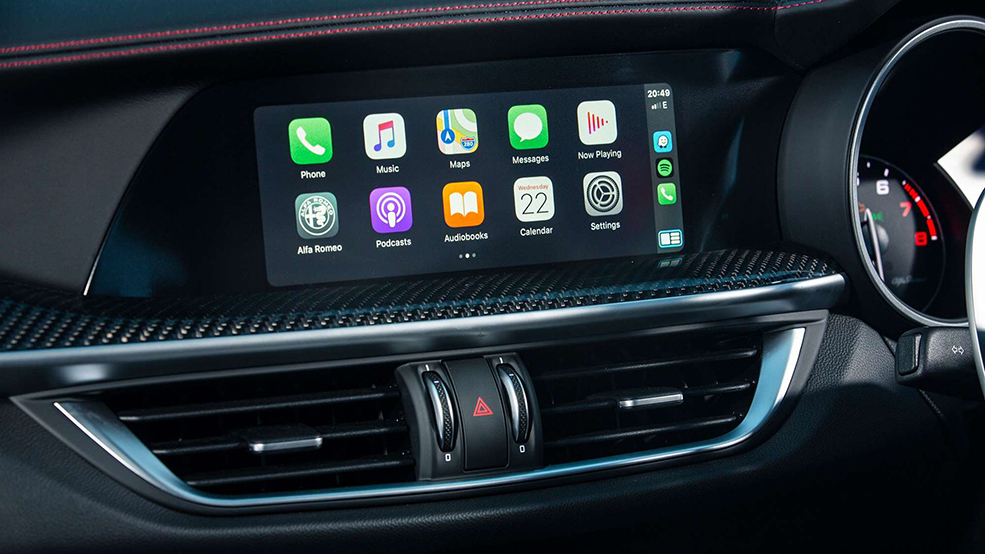 Sadly, the infotainment system still feels a touch clunky and slow to react compared to its rivals, and perhaps feels a generation behind, but what it falls short of in terms of creature comforts, it more than makes up for in its driving appeal. With such big power, four-wheel drive and a hefty amount of weight to shift, you'd be forgiven for thinking tat the Stelvio wold only excel in out dragging mere mortals at the traffic lights. But, the Stelvio's chassis beggars belief, it feels agile, sharp and focused, like a hot-hatch if you will.
The drive
A good point to raise here is that the Stelvio is RWD most of the time. Unlike VAG cars where its Quattro and Haldex systems are predominantly FWD, the Stelvio sends power to the rear until it starts to lose grip, which it then sends power to the front. This is a crucial point to mention because the Stelivo is a lively old sod when the going gets tough. If you throw it into a corner and power out, like you would do in any 4WD car, you expect it to hook up and go. But here, you'll get a squabble from the rear end before you propel on to the next corner. Dare I say it's fun to drive. Is it enough to make you wake up early on a Sunday and go for a drive? Almost. Which leaves you asking whether a fast SUV is all the car you need?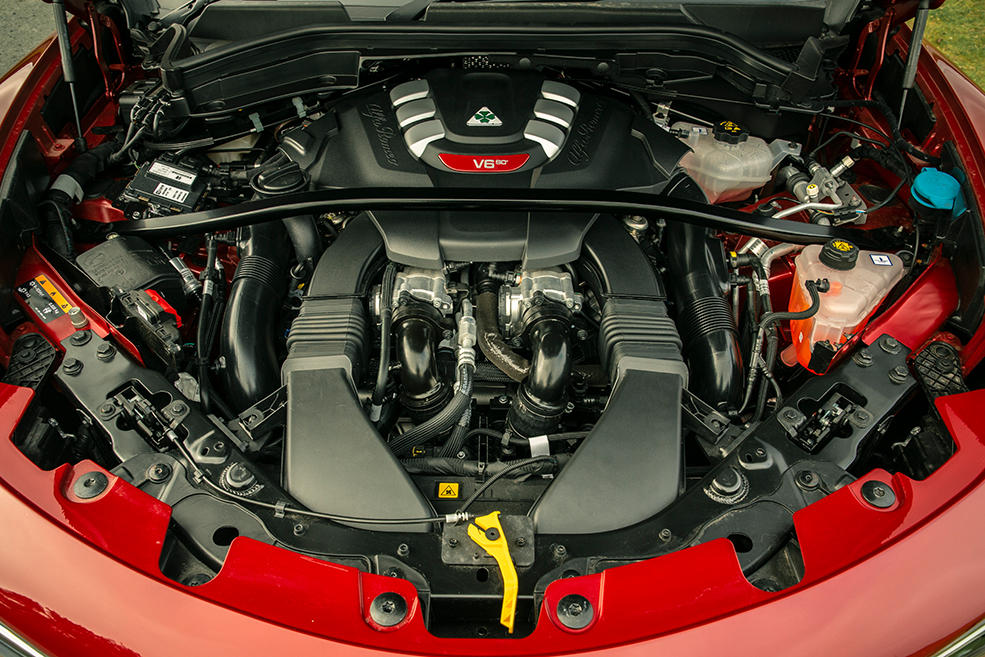 In a word, no, but it's not as black and white as you might think. It's a compelling drive, but there are drawbacks, particularly when you want it to just be an SUV. It's not comfortable, at all really. It never really settles down, even in supposed comfort mode. It leaves you wondering why you ate quite so much over lockdown with the amount of jiggling that's going on…
As mentioned above, electronically-adjustable dampers can be softened and stiffened depending on which drive mode you select inside the cabin. The different drive modes adjust throttle response, steering and damping, with the top mode being Race. I don't know about you, but that feels a touch unnecessary, but I love the fact it exists. In this mode, the exhaust valves are left to fully-open (in other modes the valves open at a set RPM) and you can fully appreciate the beautiful V6 soundtrack. While Race mode does stiffen the dampers to high heaven, you can opt to soften them off slightly, although there is no option for an individual configuration to have the throttle response at its sharpest and the damping at its softest, an option that is available in its rivals. Using Race mode also switches off the traction control, which brings a wide smile to your face on every roundabout exit!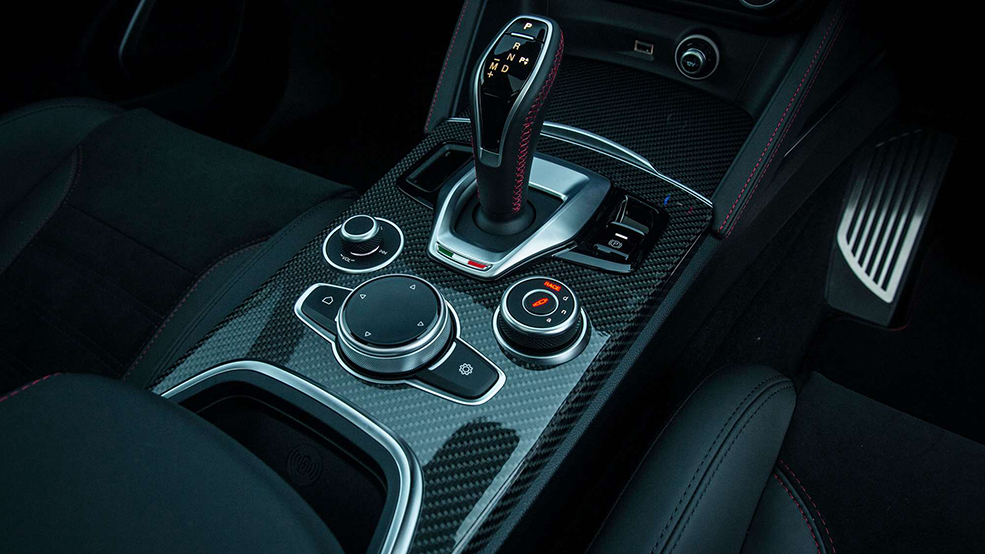 That engine. This is the soul of the car. It feels far more refined than Mercedes' and BMW's offerings by having a beautifully linear power delivery. Things don't fall off a cliff when you hunt towards the redline, instead you keep pulling right until you upshift, it's beautiful. Torque comes in a little later than it does in the BMW and Mercedes V6s, which means you get reduced levels of diesel-like shove. Don't get me wrong, you get a hefty amount of shove from the motor, but the way in which it does so is less violent, which makes for a smoother drive. It's bonkers fast, managing to keep up with Teslas and the likes when it comes to real-world acceleration. And the sound, wow. It's by far the best sounding engine in its class; it starts off deep in tone and slowly transitions to an exotic, typically Italian pitch that leaves you wanting to hit the loud pedal again and again and again. Which might be why I was averaging 18mpg….
Verdict
The updates have helped the Stelvio look sharper and feel more up to date inside, but there are still a few tweaks that I wouldn't mind seeing, mainly relating to the infotainment system, although an individual configuration for the drive modes would be a great addition.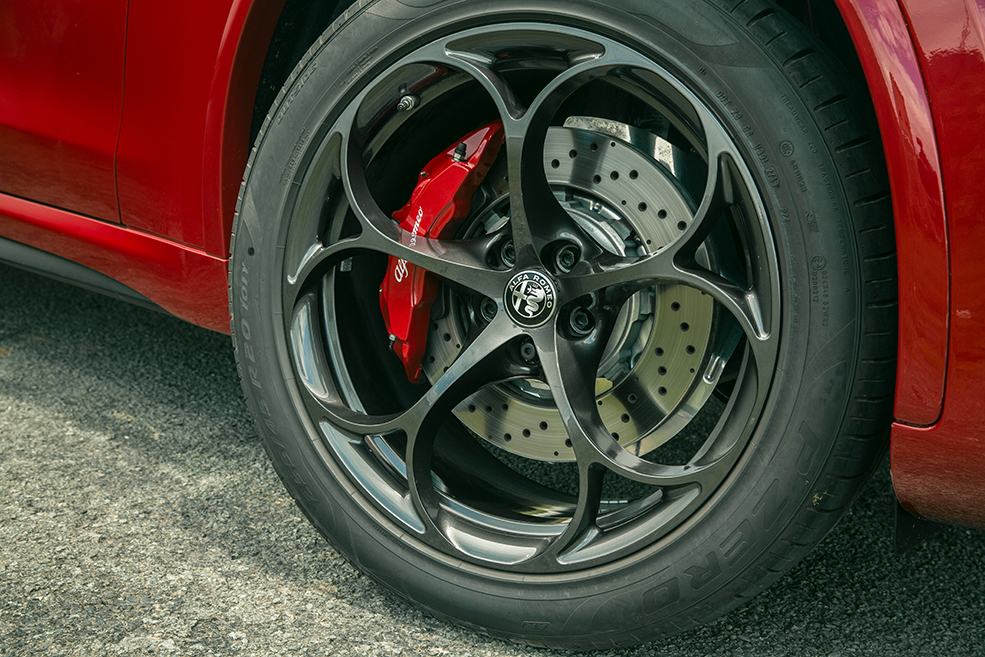 The biggest hinderance for the Stelvio has got to be its sibling, the Giulia, which offers the same thrills, but at around 300kg lighter, and in a more slender, more stylish body.
That being said, if you're in the market for an SUV but still want to hit the back roads on a Sunday morning, the Alfa Romeo Stelvio Quadrifoglio is the car for you. Stylish, fast, spacious and cheaper than rivals, it's a no-brainer. And if you do buy one, get yourself a new exhaust, it's crying out to be heard all of the time without having to use Race mode!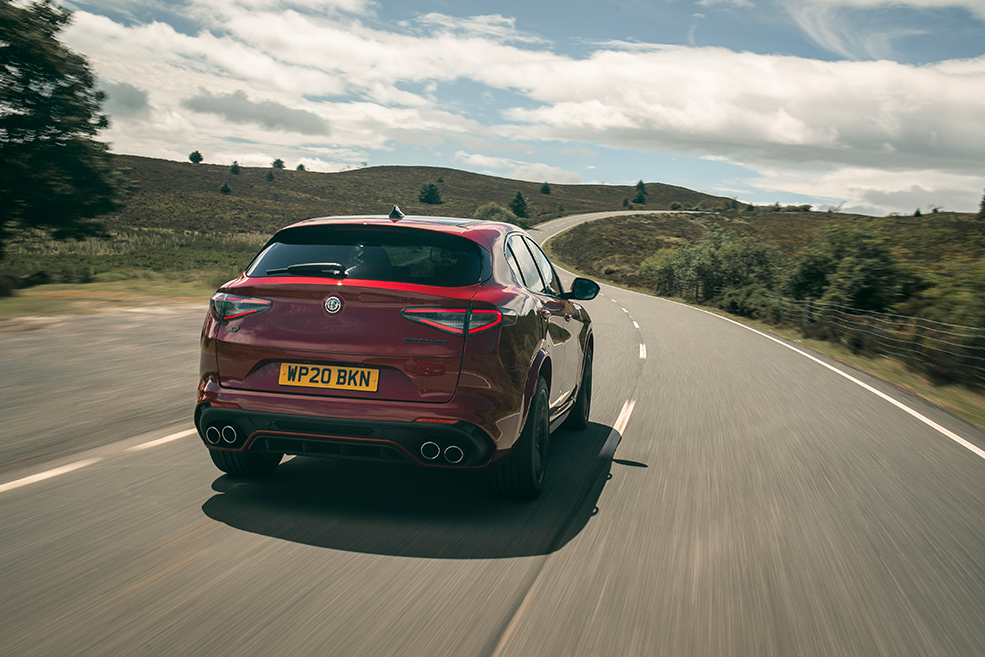 Tech Spec: Alfa Romeo Stelvio Quadrifoglio
Engine: 2891cc V6 Bi-Turbo
Power: 503bhp, 443lb ft of torque
0-62mph: 3.8 seconds
Top Speed: 176mph
Price as tested: £77,955
Transmission: ZF 8-speed automatic, 4WD