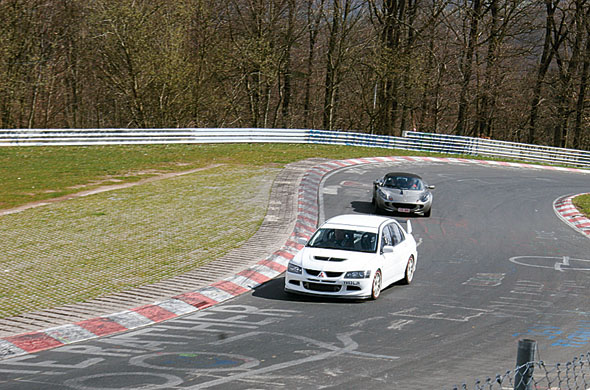 1. Nürburgring, Germany
It's a thirteen mile ring road with no blanket speed limit and all the traffic flowing in one direction, making it a safe-ish environment to put your foot down. The fact that manufacturers and tuners use the 'Ring to prove their performance speaks volumes, but for the rest of us it essentially provides a challenging circuit that's about as similar to real road conditions as you can get. It's infamy does mean some push a little to hard – suffering very expensive repair bills not only to their car, but also to the Armco they may damage.
The 'Ring has everything, high speed straights, slow twisty sections, steep up and downhill sections, blind bends, massive cambers, it is like every road and even track condition rolled in to one. The variety of cars, bikes even busses hitting the 'Ring also makes it special, with no two laps ever feeling the same.
WHERE? In and around the village of Nurburg, 43 miles south of Cologne.
WHAT? The Nordschleife section is a one-way, 13 mile public toll road.
WHY? It's a legendary circuit with huge variety, and within road trip distance of the UK too.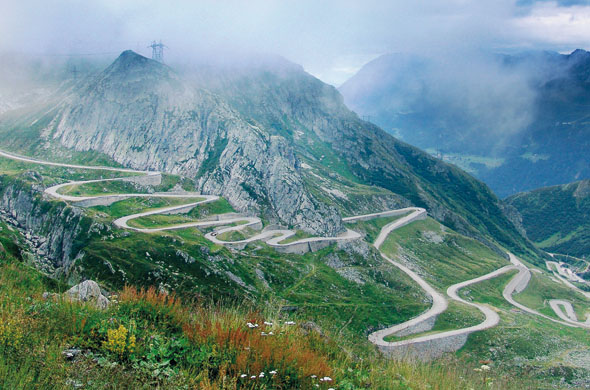 2. Stelvio Pass, Northern Italy
Billed by a certain TV show as "the best driver's road in the world", the Stelvio Pass is certainly something special. Winding up to its 2,757m height, the road snakes perfectly up the mountain, which is also host to a ski resort with one of the most notorious black runs in the Alps. Tight right and left hairpins, both off and on camber, intersected by relatively straight sections and panoramic views make for a drive you need to make before you die.
Speaking of dying, if you plan to give it full beans on the Stelvio you really need to be a competent driver if you want to make it back in one piece. Most corners have a rock wall on one side and a sheer cliff face on the other, so it really isn't the place to practice your cornering abilities, and with the majority of the corners being blind, oncoming traffic is always a risk. The ultimate adrenaline rush.
WHERE? Italian Alps, north of the town of Bormio and south of Stilfs.
WHAT? The highest paved mountain pass in the Eastern Alps and the fourth highest in all of the Alps .
WHY? Miles of hairpin bends on the side of a cliff face, it's living the dream for a rally fan.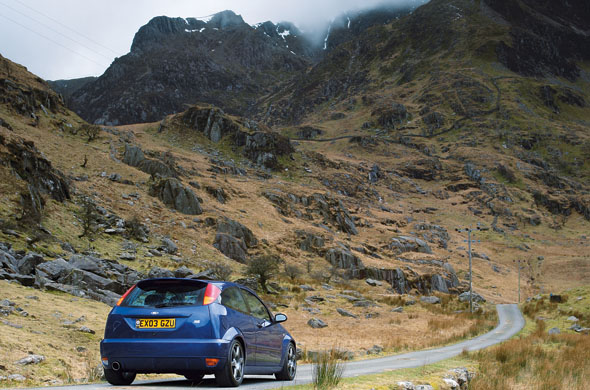 3. Betws-y-Coed triangle, North Wales
The RAC Rally used to pass through this area and the hilly terrain makes it perfect for a spirited drive. With an array of spectacular scenery the Betws-y- Coed triangle offers breath-taking motoring, favoured by many journalists. It's still a public road with speed limits, and the A5 section often has plenty of traffic, meaning police helicopters aren't unusual. Drive with care though and you'll experience one of the best sections of road Britain has to offer.
Compared to most of the UK roads we are used to, the Betws-y-Coed triangle looks like another world, which is a huge draw in itself, with the B-roads being desolate single track roads which are a real challenge to drive quickly. Unsurprisingly it is a favourite for car photography too, so you can have a blast behind the wheel, and then stop and take snaps. Just watch out for other photographers when driving hard!
WHERE? A triangle combining the A5, the B543 towards Denbigh and the B4501 down past Llyn Brenig.
WHAT? A section of public roads that has twists, turns, moorlands and forests.
WHY? One of the best looking roads around, and its within a few hours drive of most of the UK.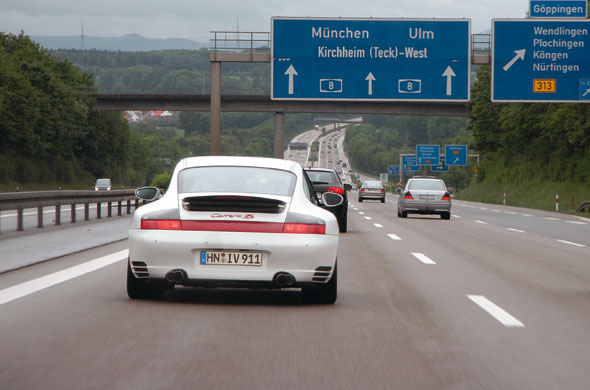 4. Autobahn, Germany
Speed. That's the main reason for hitting the German autobahns. While there are laws against undertaking and sitting in the outside lane unnecessarily, aside from some areas with speed limits that you'd be wise to acknowledge, you have the relative freedom to get your foot down on the majority of the Autobahn. There's an advisory speed limit of 130kph (81mph) in place for the entire network, and while traveling over that is fine in the eyes of the police, some insurance companies may use excessive speeds against drivers involved in accidents.
The thing that most people don't realise though, and is the most vital point to make, is that not ALL of the Autobahn is de-restricted. The busiest areas around junctions in big cities often have at least temporary speed limits due to the volume of traffic, and the police take a dim view of drivers breaking these limits. On the whole though, its pedal to the metal and have some fun!

WHERE? All across Germany.
WHAT? Public freeways that have no blanket speed restrictions.
WHY? One of the only places in the world you can legally max out your car, 200mph+ on public roads!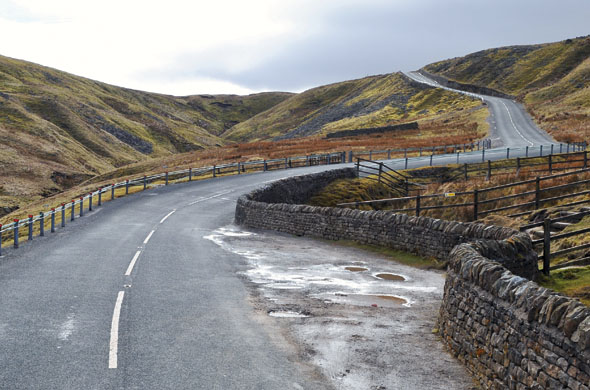 5. Buttertubs Pass, North Yorkshire
Tight, twisty and bumpy, drivers and motorcyclists claim it's the closest thing you'll get to an Alpine pass in the UK. The road runs from Hawes to Thwaite in North Yorkshire and although it's not a massively long section, there's plenty to challenge you. Also, thanks to the twists and turns you don't have to be driving at break neck speed to enjoy the challenge. And with a sheer drop on one side of the road, you certainly don't want to push things too hard!
Although the Buttertubs Pass is relatively short, there are quite a few interconnecting roads nearby that can provide similar amounts of driving fun. And with it being in the hills of Cumbria, you can be assured that no two days will be the same. If you had to pick just one road in the UK to drive, it would have to be this one. You could drive hundreds of miles across Europe and still not find such a fun road.
WHERE? 'C' road that runs from Hawes to Thwaite in North Yorkshire.
WHAT? A high road in the Yorkshire Dales that winds through 20m deep limestone potholes called the Buttertubs.
WHY? Arguably the most challenging road in the UK, when driven hard it is a real adrenaline rush.
And don't forget before you set out…
Make sure your car is in good condition; check the fluids, tyres and brakes. A hairpin bend with a sheer drop to the right is not the ideal place to discover your brakes are shot! If you're going somewhere remote, check the locations of the nearest petrol stations that stock super unleaded, as you don't want to be running out ! Finally, always drive within the limits of the law and your ability.