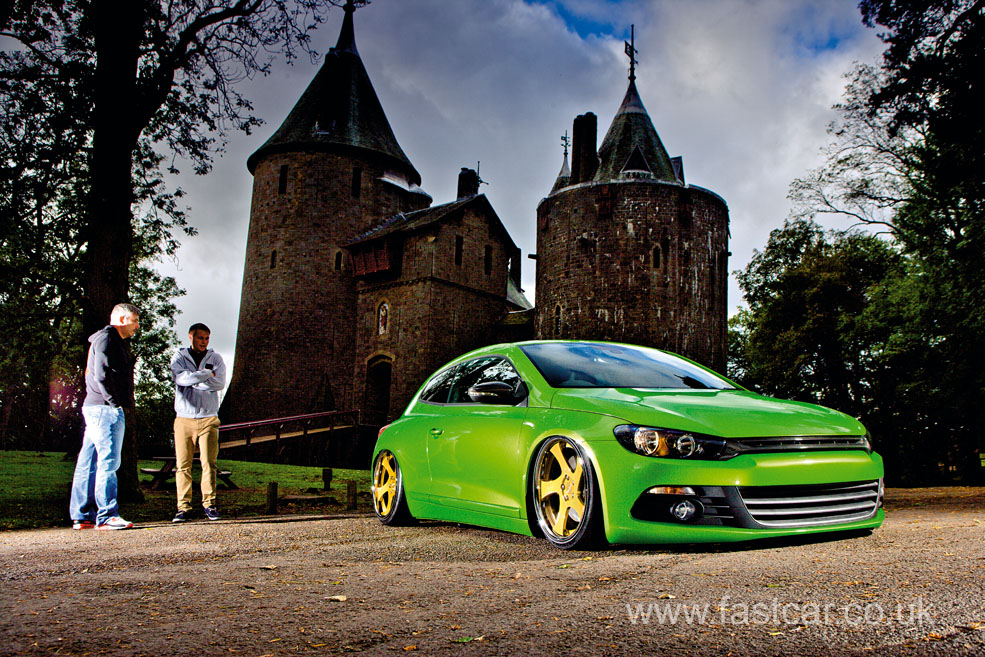 Lee 'Lesta' Morgan's modified Mk.3 VW Scirocco
It's not every day an owner of a 20k car, which sports airride, Rotiform wheels and bits of carbon, says "I'm not in it for the trophies" and you genuinely believe him.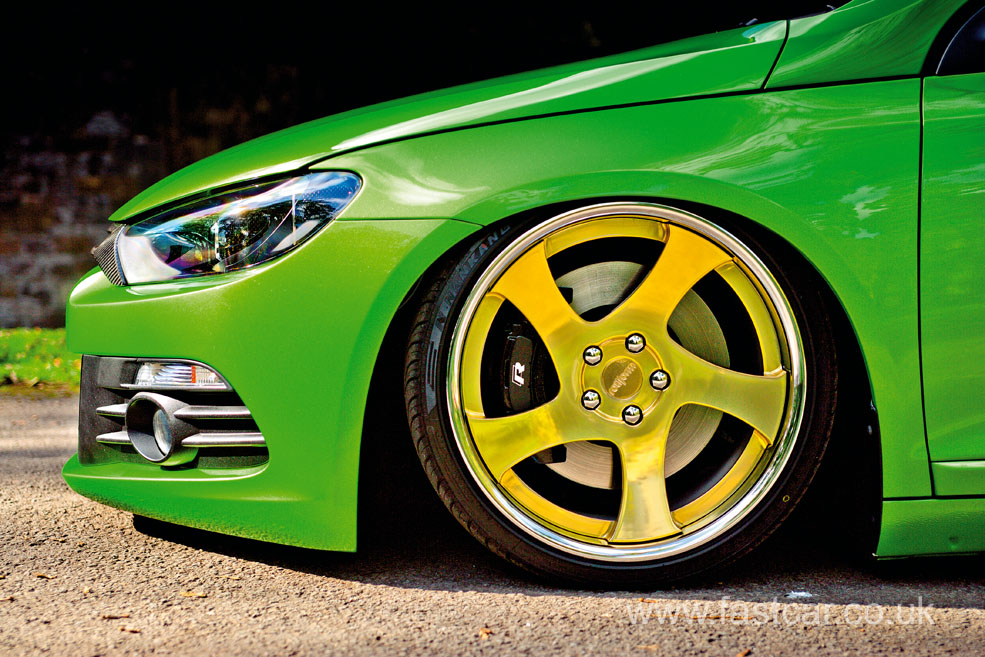 Then again, it's not every day we're shooting one of the newest, nicest modified VWs in the UK outside a castle that's a hell of a lot older than even our own Initial G's nan.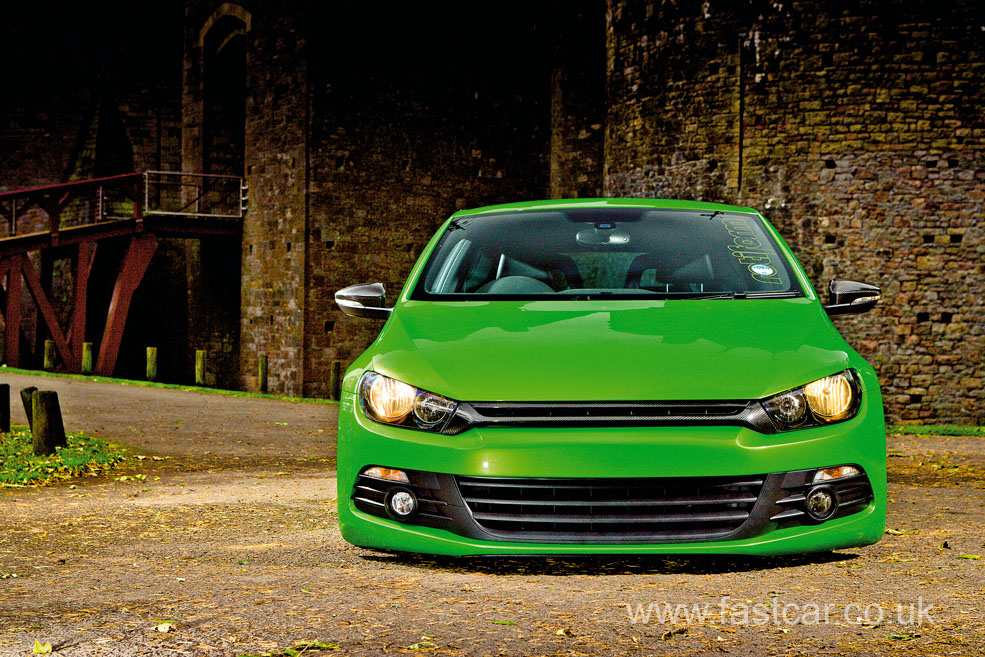 Meet Lee Morgan – Lesta to you and me – who built this jaw-dropping, awe-inspiring Mk.3 Scirocco with the sole purpose of pure practicality.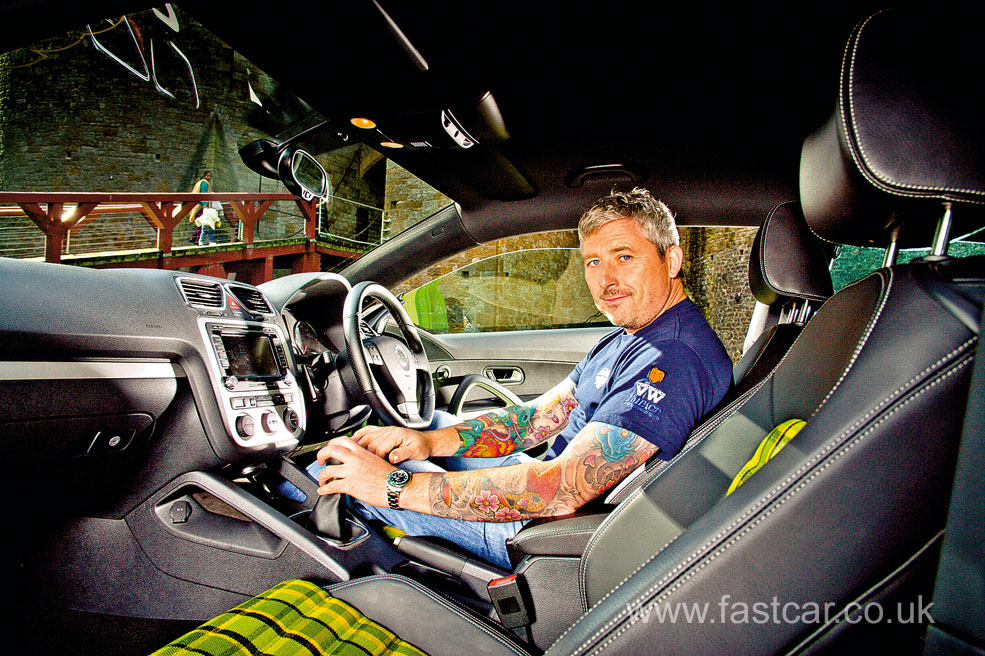 See, despite being part of the ED38 crew, Lesta isn't an in-your-face awards buff, more like a laid-back lad who's in it for the cause before applause.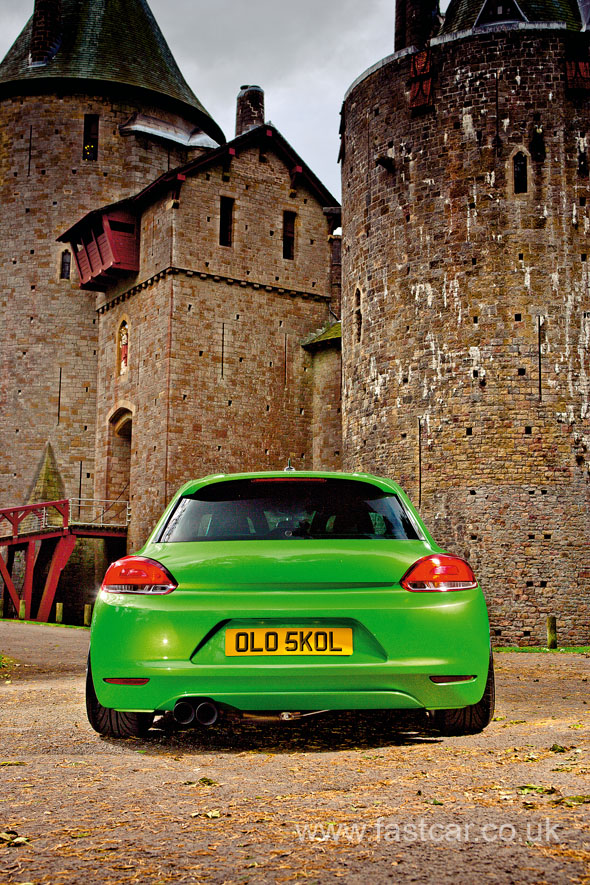 We like Lesta's old school style. Indeed we spy him casually taking in a bit of BBC Radio 2 while rocking up at Castle Coch, in Wales, on the day of the FC shoot. "It's not about trophies anyway," he says. "It's about sharing a common interest with people and having a good time."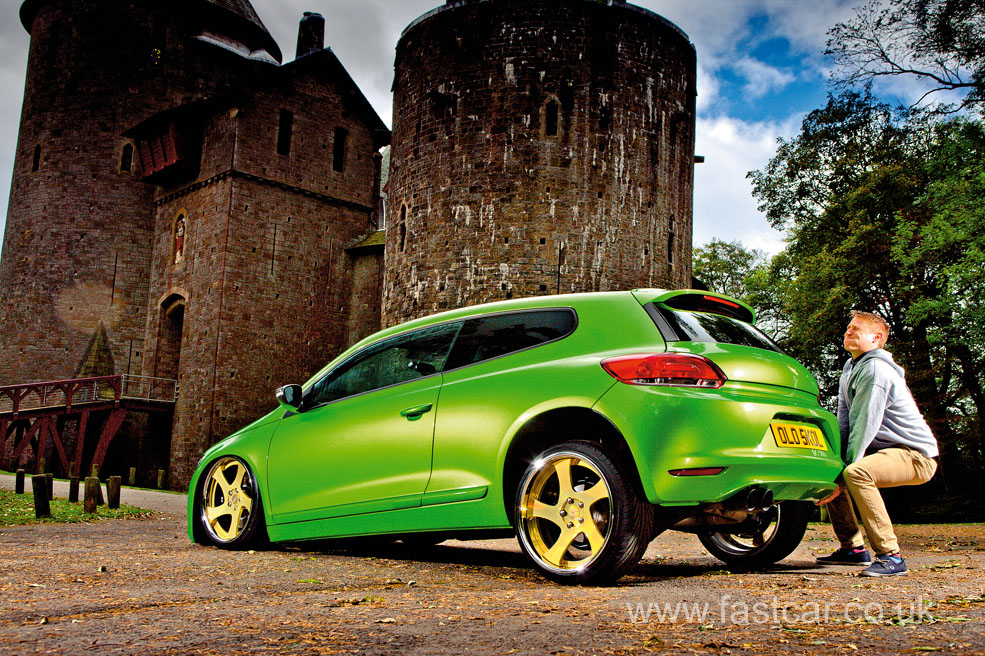 If having a good time means building a car as practical as it is perfect, then you'd be loving life with this 'Rocco right now. The air ride takes care of the potholes and sleeping policemen littering the roads these days, so it's the easiest way round having a car that deserves to be planted to the floor 90 per cent of the time.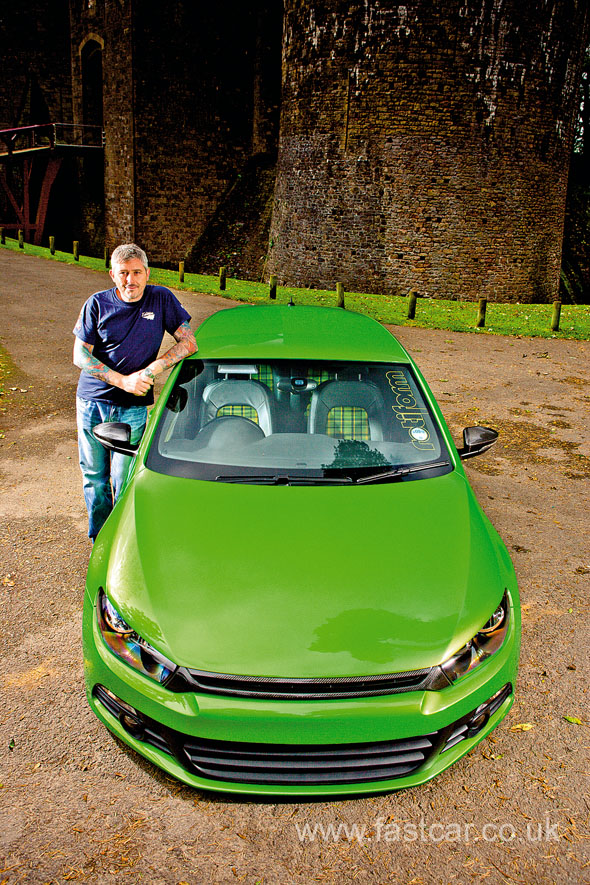 Same with the juicy Rotiform TMBs, where the bolts are hidden on the inside of the wheel, so you don't have the usual split rim ball-ache of going round hundreds of the little buggers when cleaning the dishes. "It's so easy to drive and clean," says Lesta. "You can just enjoy the car without hassle."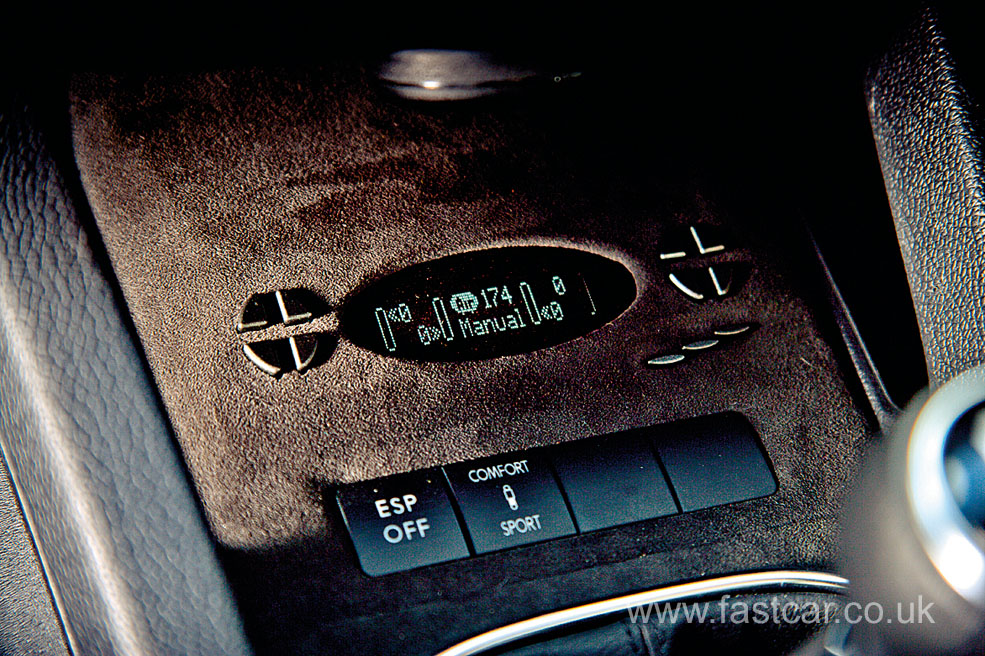 So: practical, plush, perfect… but we know what you're thinking. Why does he have an 'old 5kol' numberplate slapped across the back of one of VW's freshest production cars?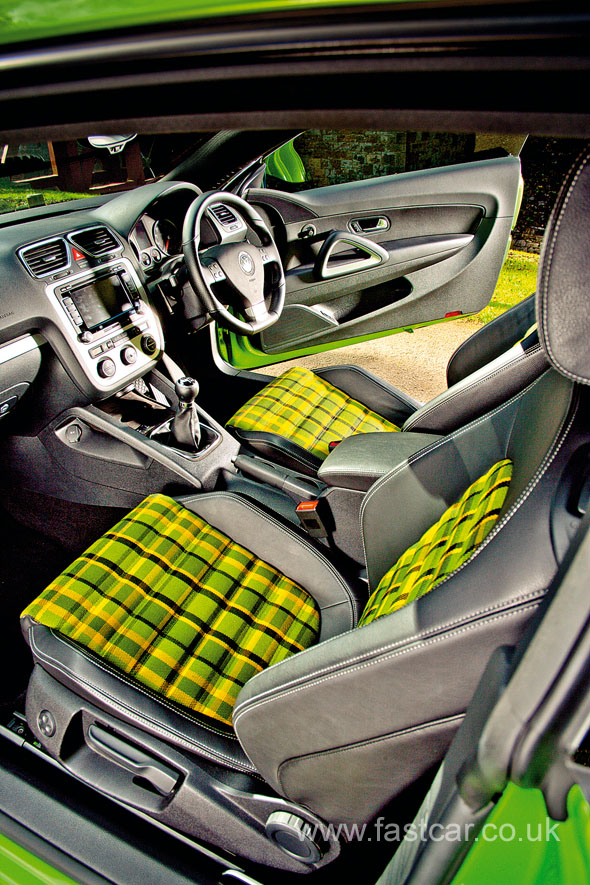 "I've had old VWs since I was 19," says Lesta, who names a car history featuring loads of Mk.1 Golfs and Caddys. "I then got a Mk.5 Golf GTI and loved how you turned the key and everything just worked."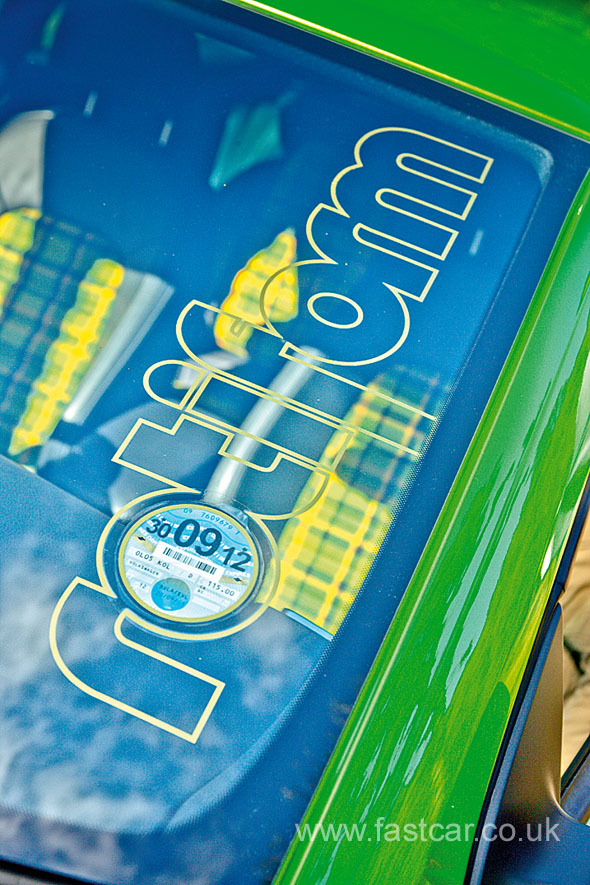 Lesta then hit up the 2009 Worthersee show with the ED38 crew, and after seeing the new Scirocco there in the flesh, knew he'd just seen his next ride. "I'd even planned in my head what I was going to do with it, there and then," says the work-hard, play-harder Welshman.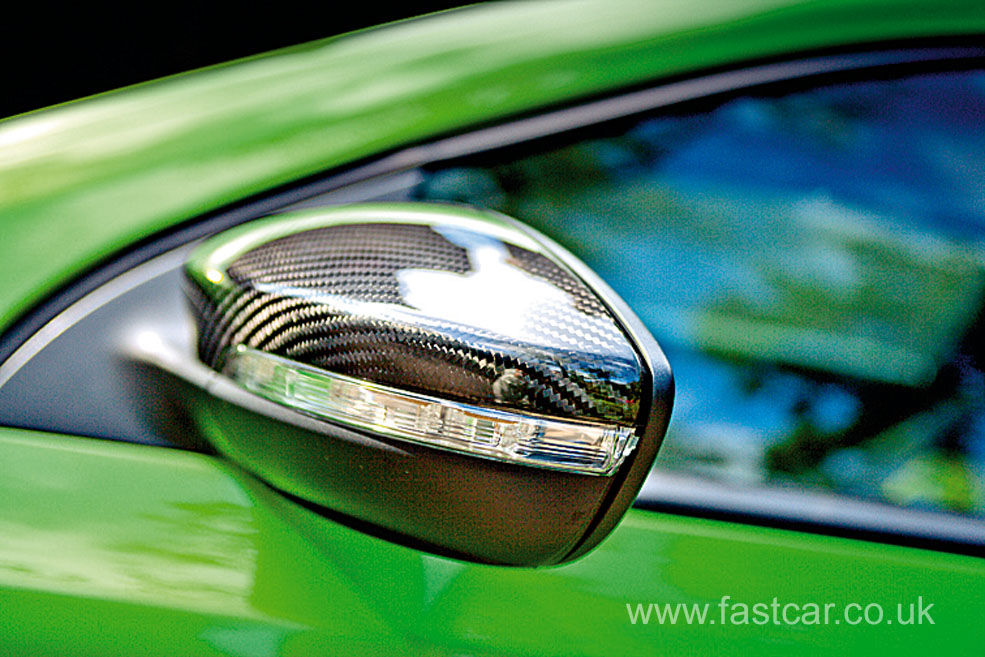 Back in Blighty, the search was stepped up for Lesta's perfect project base, with an added twist. "It had to be Viper Green," says the paramedic, in honour of the original Mk.1 Scirocco shade. After finding a good example with some body smoothing already onside, Lesta quickly swapped the interior for a factory leather trim with original NOS plaid centre inserts from a '78 Scirocco, courtesy of a neat contact from the States. "The seats are exactly what the car is all about," says the Cardiff VW nut. "I wanted it to look factory, with little touches that you have to go and find."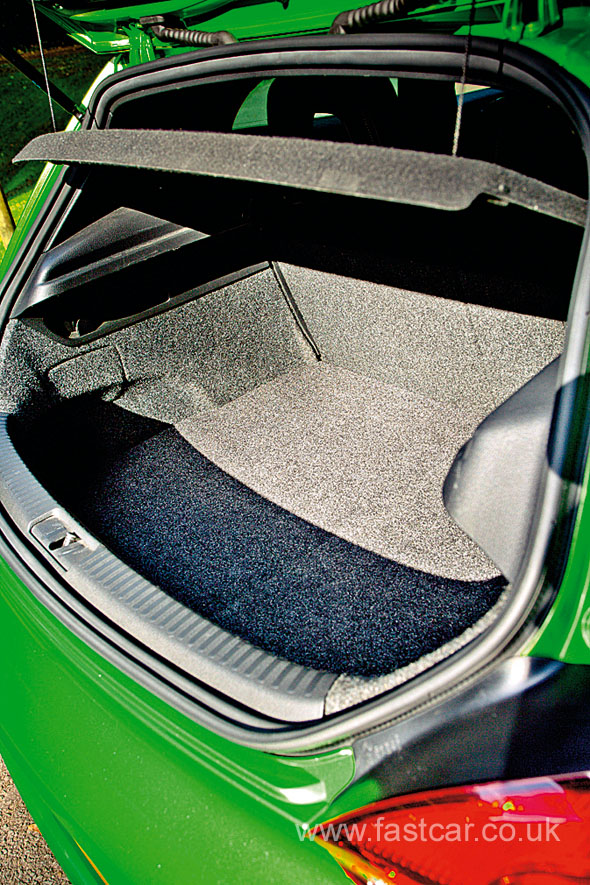 For 2012 Lesta plans a small-scale refresh of the car, where he'll only change the centres of the Rotiforms and keep the rest of his bespoke built wheels under his carbon-clad nu-wave Dub. We wouldn't change much, mind: sexy for show, easy to use on the go… it's practically perfect.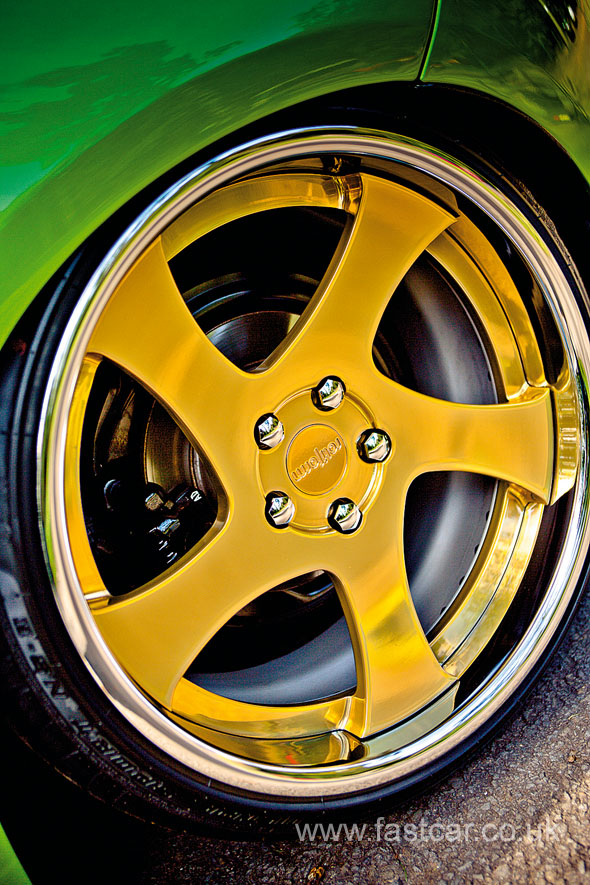 We love Rotiform
We at Fast Car share the opinion of many; that Rotiform are the best thing out of the States since good ol' Pamela Anderson herself, and they're absolutely smashing it on both sides of the pond right now. Founded in humble Westminster, California in 2009, Brian Henderson and co haven't hung around and a set of Rotiforms can now usually be found sitting swish under many show-stopping examples of automotive yumminess. Thoroughly decent, as they don't say over there.
VW SCIROCCO TECH SPEC
STYLING
Smoothed front and rear bumpers; custom front lower grille textured; carbon top grille, mirrors, arch spats and rear window trim; debadged tailgate and bonnet; colour-coded side trim; rear wiper removed.
TUNING
Stock 2.0 GT TDi lump remapped; custom exhaust.
CHASSIS
9×19-inch up front and 10×19-inch rears, Rotiform TMB three-piece split rims with hidden hardwear, chrome-plated dishes and custom gold centres; 225/35×19 and 235/35×19 Nankang tyres; Air Lift air ride suspension set up: Easy Street management; 2×2.5 tanks with 2×480 compressors; Mk.6 Golf R front brakes.
INTERIOR
OEM leather interior with centres re-trimmed using 1978 Scirocco plaid; inner sill kick plates.