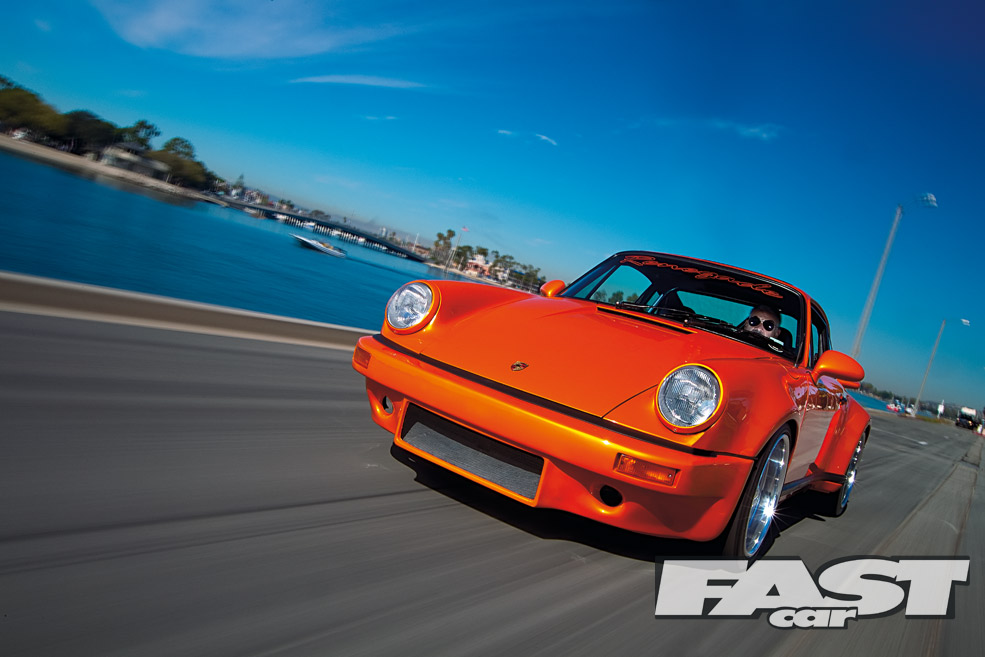 Ken Venegas' modified V8 Porsche 911
We don't all have the cash to run a 911    but if we did we'd find it almost impossible to leave it alone, because nothing is perfect, right? Take Californian Ken Venegas for example. Back in the 80s, Ken swapped a boat for a Porsche 911 and 28 years later that turned out to be a wise move, because the boat is now scrap, but Ken stills owns the 911.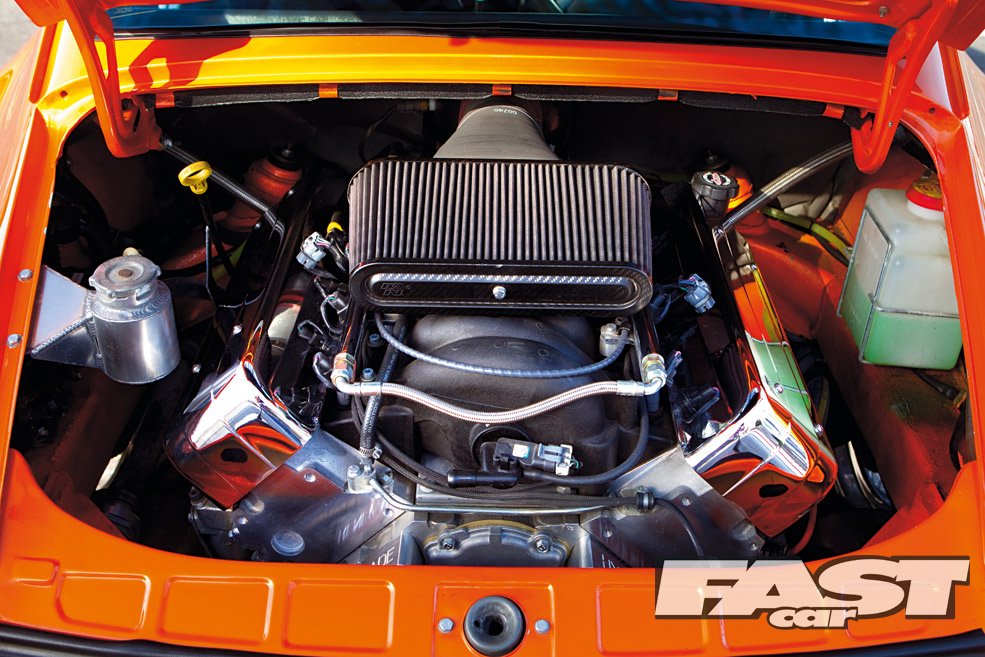 It hasn't all been blissful ownership though. In those years Ken had rebuilt the original 2.7- litre air-cooled engine many times.
The problem was he loved the European styling and charisma of the 911, but also craved that iconic rumble of a Yank V8… Yep, you've already guessed the solution!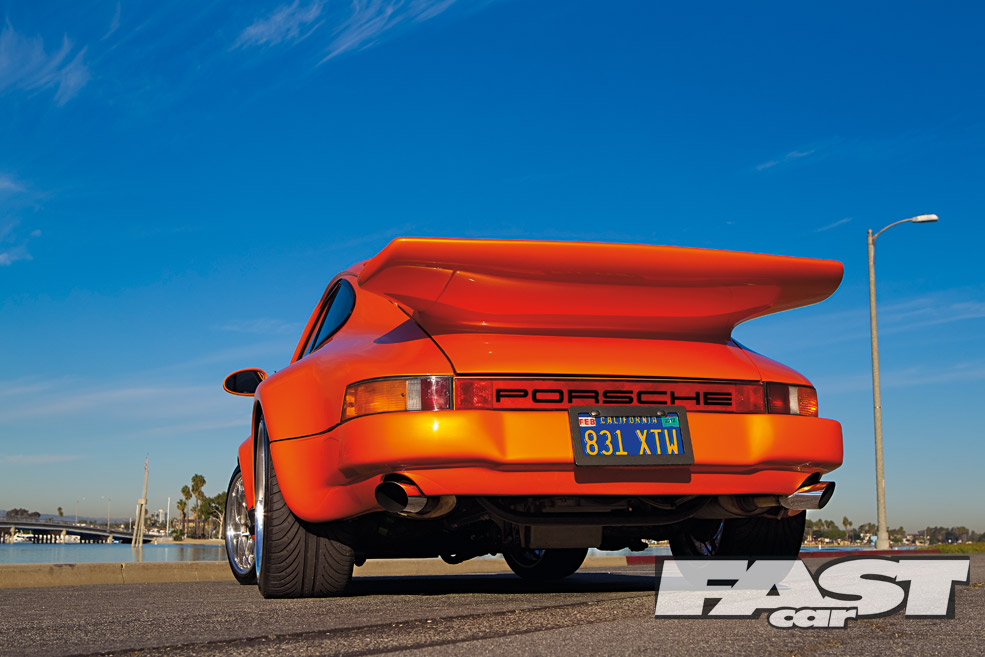 He had a chance meeting in the 80s with the owner of Renegade Hybrids. This bloke had an old Porsche 914 which he'd crammed a V8 engine into. "I was always in awe of it when I heard that V8," said Ken. So with the prospect of rebuilding that bastard flat six again, Ken contacted Renegade Hybrids and asked them to fit a V8 into his old 911.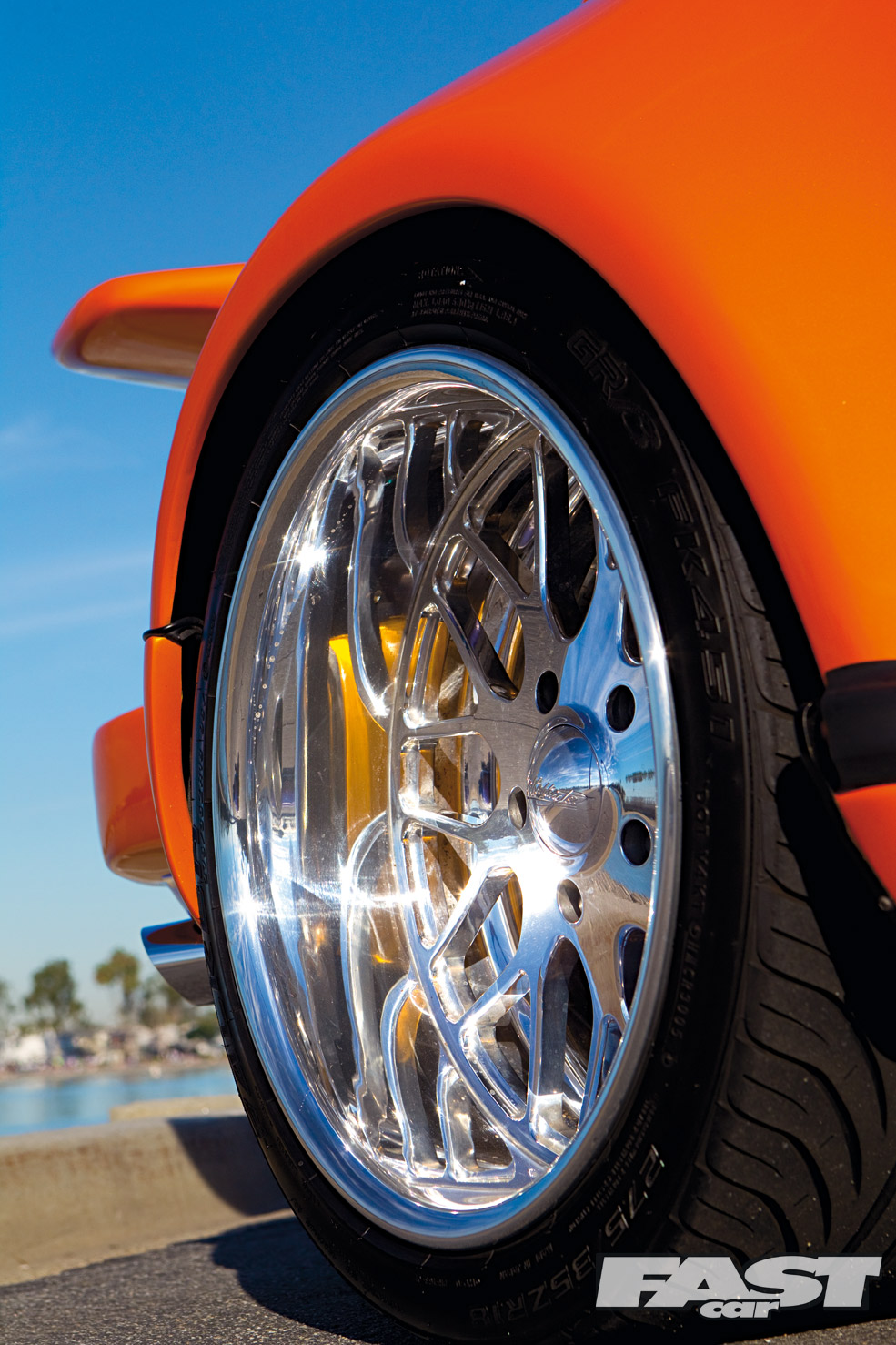 You'd think a giant American V8 slung into a Porsche would be about as much at home as a dog on a trampoline, but surprisingly it's like it grew there. It's a perfect fit and on top of that the V8 has an aluminium block, which means it's almost identical in weight to the old 6-pot Beetle motor.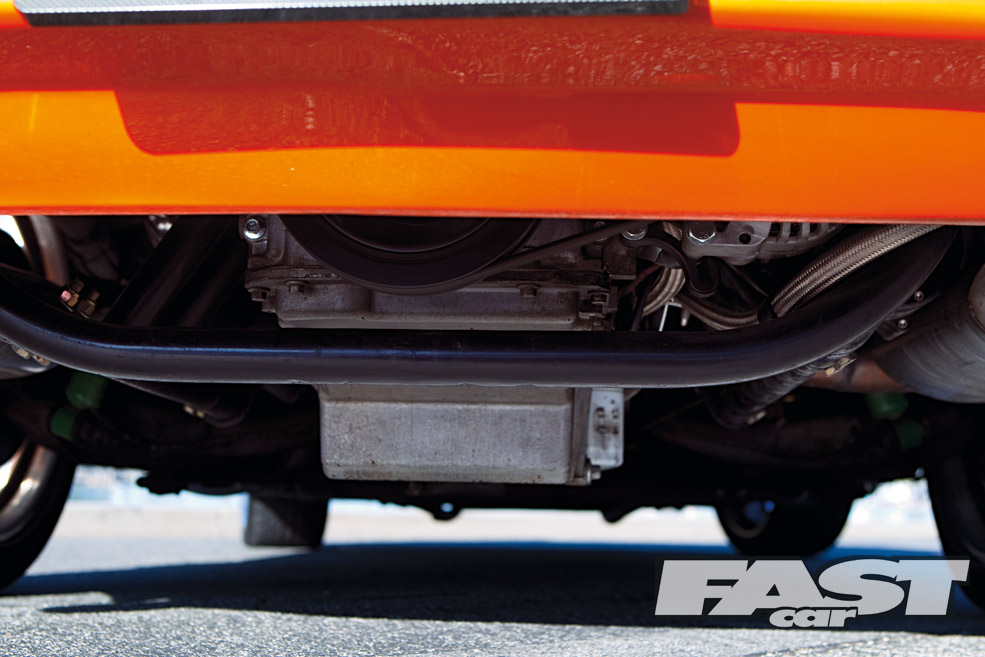 The engine was mated to a strengthened Porsche 915 gearbox via an adaptor plate and custom flywheel. The original car was air cooled, so it meant a radiator had to be fitted up front and a custom- made fuel tank fabricated to allow room for the rad. The front bumper was changed to allow for better cooling. Because of the enormous amount of torque the LS V8 produces, the torsion bars had to be stiffened up. Apart from the roll-cage and a Momo wheel, the interior is pretty much stock. The car was fitted with a 350-cubic- inch Chevy motor from a late model Corvette. "They did an amazing job," said Ken. "It surpassed all expectations."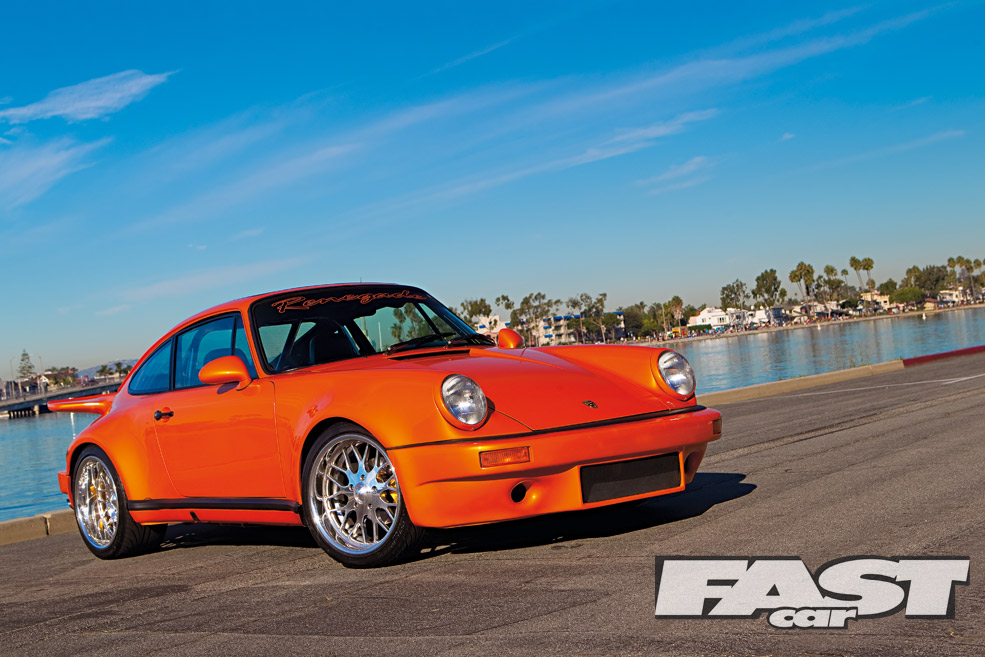 Ken likes to be seen and wanting to be different he opted for the orange pearl paintjob. He also had the legend, Boyd Coddington, custom make him some rims.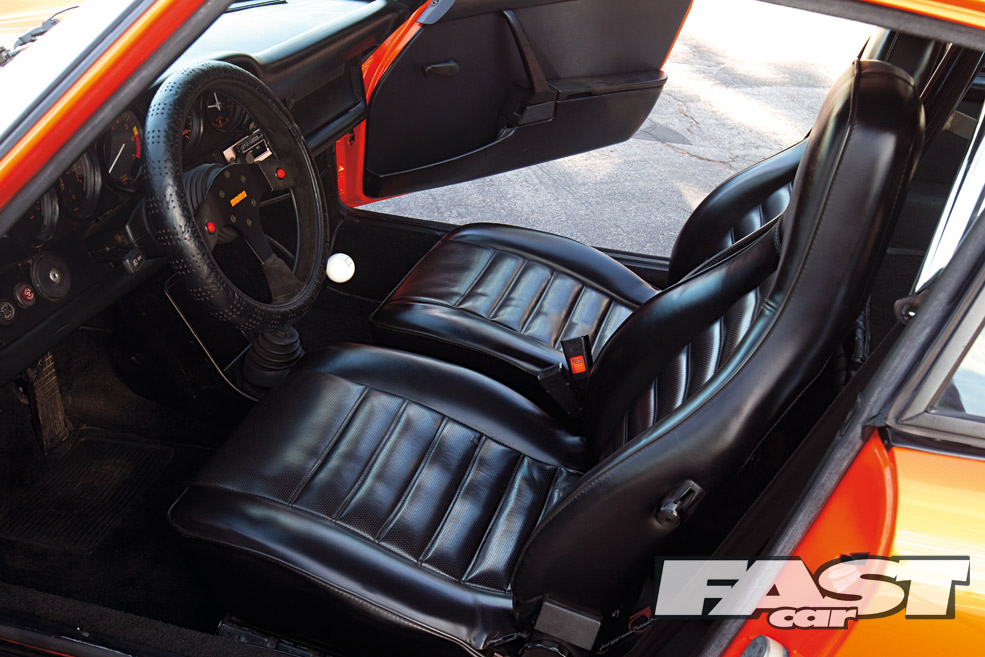 The V8 is a very cheap alternative to the original motor but cost isn't its only advantage – there's also the sound. Let's face it, the old air-cooled 2.7 doesn't sound amazing compared to a Chevy V8. GM have been using LS V8s longer than Initial G has been smoking his pipe. They are plentiful, powerful, reliable and compared to Porsche prices, very cheap.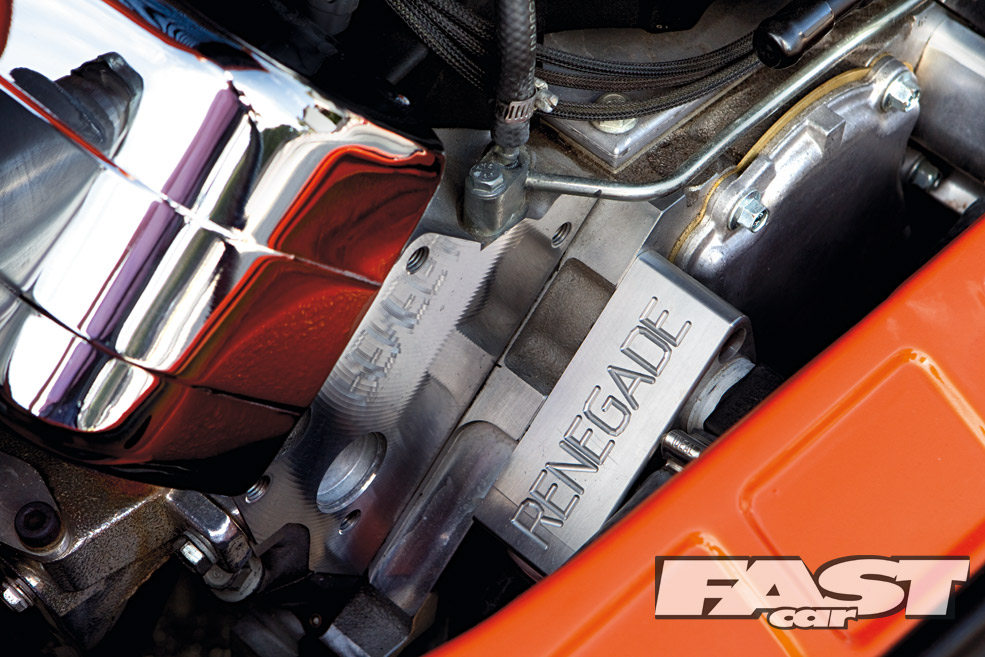 And Ken's now got a 410bhp Porsche and a smile wider than a porn star.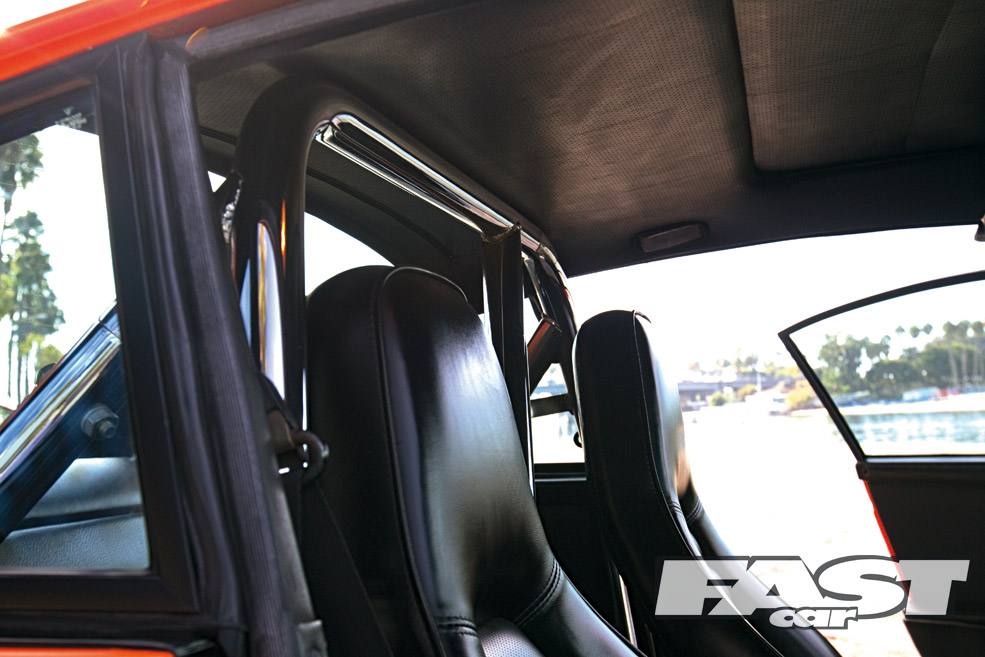 TECH SPEC
Porsche V8 911
TUNING
All aluminium 350-cubic- inch LS1 Chevrolet V8 engine conversion; strengthened Porsche 915 gearbox with taller gears and custom flywheel; fuel cooler; twin oil coolers; electric water pump.
CHASSIS
Thicker anti-roll bar; Boyd Coddington 8×18-inch front and 10×18-inch rear alloys.
STYLING
IROC front bumper; fibreglass rear wing; full respray in House Of Kolor Sunset pearl orange.
INTERIOR
Custom fabricated roll-cage; recalibrated tacho; Momo steering wheel.
AUDIO
Chevy V8