Simon Cottingham's superleggera twin-charged Evo IX is packing a militaristic arsenal within that brutalist carbon profile: not just a massive turbo, but a massive supercharger too…
Feature from Fast Car. Words: Dan Bevis. Photos: Adrian Brannan
There's a certain appropriateness to the way Mitsubishi Lancer Evolution models evolve at the hands of tuners and modifiers. After all, the very nature of natural selection and genetic variation are baked right in to the formula – it says it right there on the bootlid, the car's all about evolution. And this is something the brand has been proudly displaying for over 150 years.
One of the oldest and most diverse manufacturing outfits in Japan, Mitsubishi was founded in 1870 as a shipping firm; the name translates as 'three diamonds', hence the iconic badge. The firm rapidly diversified – shipping requires coal, so company founder Yataro Iwasaki made inroads into the coal-mining business, then set-up an iron mill to provide the requisite raw materials, before starting a marine insurance business. The aim was to cover all angles in-house, and that's a philosophy which has continued throughout Mitsubishi's history: today the company deals in cars, aerospace technology, nuclear energy, home electronics, machine tools, space launch vehicles, financial services, even missiles.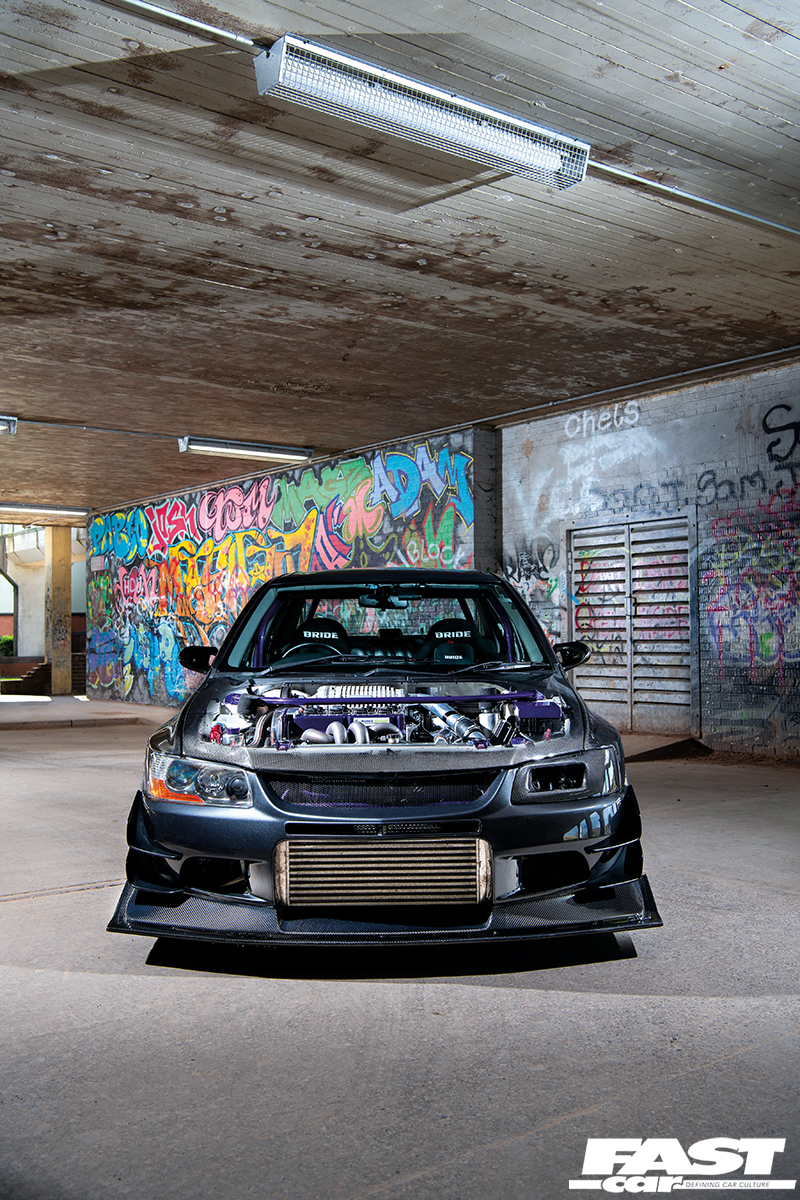 It's the cars we're most interested in, obviously (otherwise you'd be holding a copy of Fast Missile or Fast Television in your hands), and in particular the remarkable Lancer Evolution series. This firebrand hellion spilled out of the WRC and onto the road, selling insane four-door saloons by the bucketload – cars that you could justify as practical to the other half, thanks to having a full complement of doors and a usable boot, but there really wasn't anything sensible about these machines. With engine and chassis tech developed in motorsport, there weren't many ways to get from point-to-point quicker on open ground. On winding B-roads, Ferrari owners wouldn't have any idea which way you went.
The twin-charged Evo IX we have with us today has, it's fair to say, evolved way beyond even the wildest dreams of Mitsubishi's own product developers and engineers – a carbon-clad powerhouse with a truly innovative engine setup designed for colossal and usable power. Built by revered marque specialist Norris Designs for its owner, Simon Cottingham, it's quite possibly the most highly developed and advanced Evo IX in the UK today.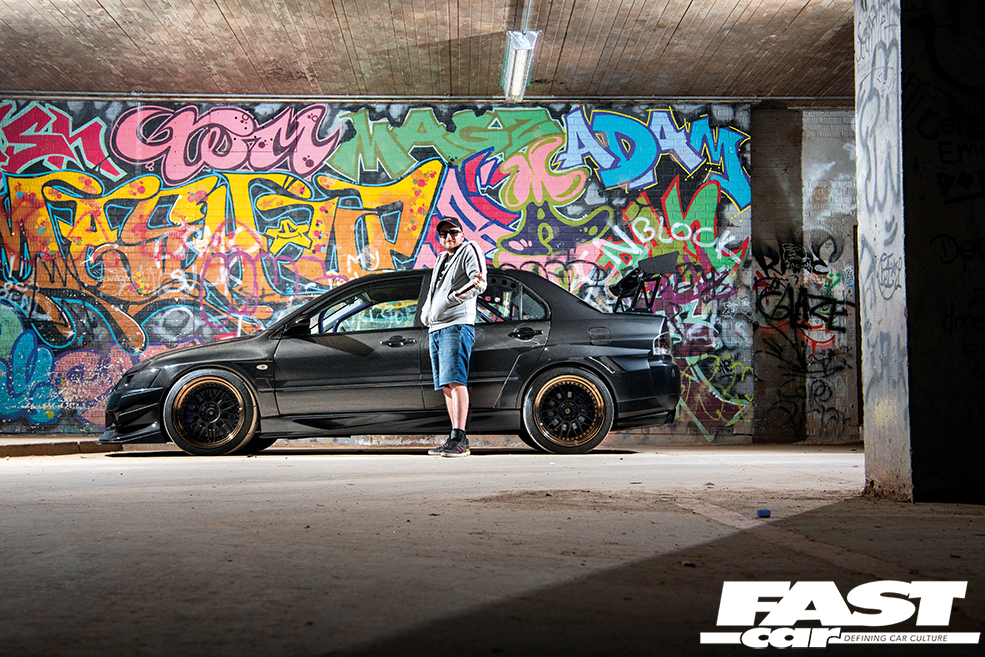 So what is an Evo IX? Well, the Evolution line ran from 1992-2016, and can broadly be lumped into four distinct groups: the Evo, Evo II and III were closely related; so were the IV, V and VI; the VII, VIII and IX were the last of the 'true' Evos, and the Evo X remixed the formula with a different engine (all of the previous generations having run the iconic 4G63 motor). The ninth-generation Evo was available in a variety of spec levels in different markets, all with their own unique figures and features. Ignoring the numerous special-edition variations and all the hopped-up MR- and FQ-branded nutters, the three fundamental specs were RS, GT, and GSR. The RS was the lightweight one, the GSR was the one with the 6-speed 'box and Bilsteins, and the GT was somewhere in between. For truly hardcore enthusiasts – like Simon – the RS is the one to have. "I fell in love with the spec after buying my Evo VI RS," he explains. "The RS variant is totally different to the GSRs and the like, it's so much more pure and focused – and it's very well suited to the amazing roads I have on my doorstep."
Situated in picturesque South Wales, Simon has a wealth of scenic vistas to hustle through in his fully dialled-in street weapons. And since we've presented him as a 'truly hardcore enthusiast', let's lay out some credentials: his back-catalogue of cars started in typically gentle style (as it is for most teenagers) with a Renault 5 followed by a Daewoo Nexia, but things rapidly spiralled as he got a taste for power. Simon has trouble remembering all of the high-performance machines he's owned as there have been so many, but the list includes three Nissan Pulsars, a Toyota MR-2 T-bar, an Audi Quattro, and a Ford Focus that previously featured within these pages… plus a bunch of Lancers including an Evo II RS, Evo VIII GSR and Evo X RS. A strong list, and today his collection makes for equally robust viewing: as well as this astonishing twin-charged Evo IX, he has not one but two shiny new Toyota GR Yarises to play with (both with the Circuit Pack, natch), a new GR Supra, one of only twenty Evo V RS to be built in red, and an Evo VI RS with a full Varis kit and 625bhp.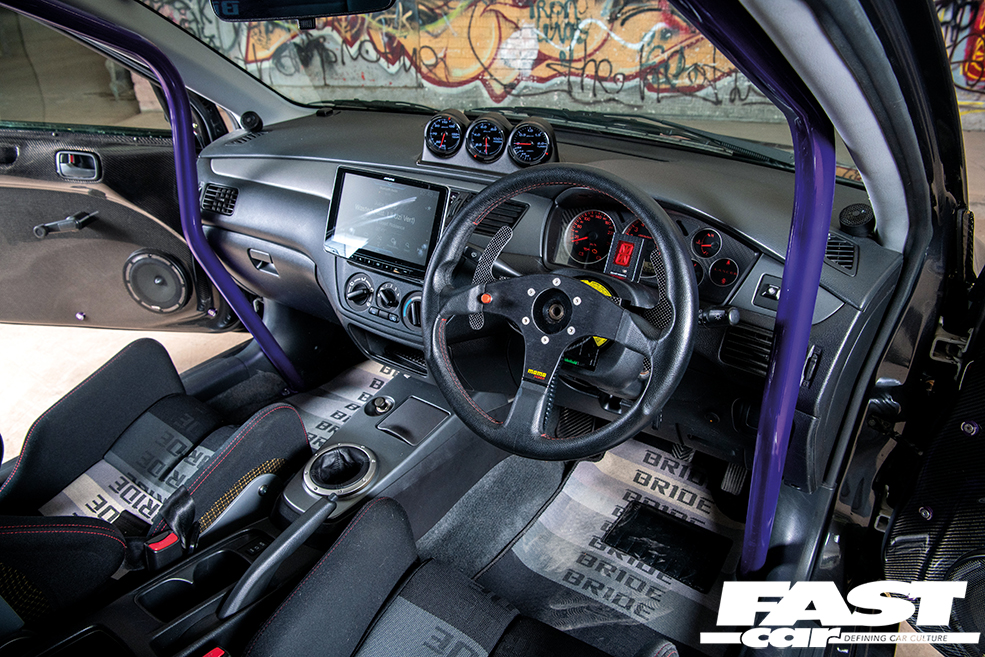 Phew. A man who knows his Japanese onions, then. And what's particularly impressive to note is that when Simon imported this Evo IX RS, it was totally factory-standard. It cost £18,500 back in 2016, which could have turned into a canny investment since this sought-after model is floating around the £40k mark now… but this was never intended to be a speculative purchase. Simon knows when to keep things stock and when to go all-in with the mods, and he had a clear idea in mind with this one: show-winning looks backed up by a serious chassis and some devastating firepower.
"All my cars are set up for fast-road, as I live in the best area in Wales for roads," he says, "and my tuner Simon Norris has made specific handling packages to achieve this." The IX isn't exactly soggy in stock form, but the chassis has been upgraded here with mighty AP Racing brakes along with Öhlins Road & Track coilovers, a full Superpro bush kit, and all manner of bracing and stiffening. This creates the perfect environment for the powerplant which, as you'll have noted if you've glanced over the spec list, is pretty bloody serious.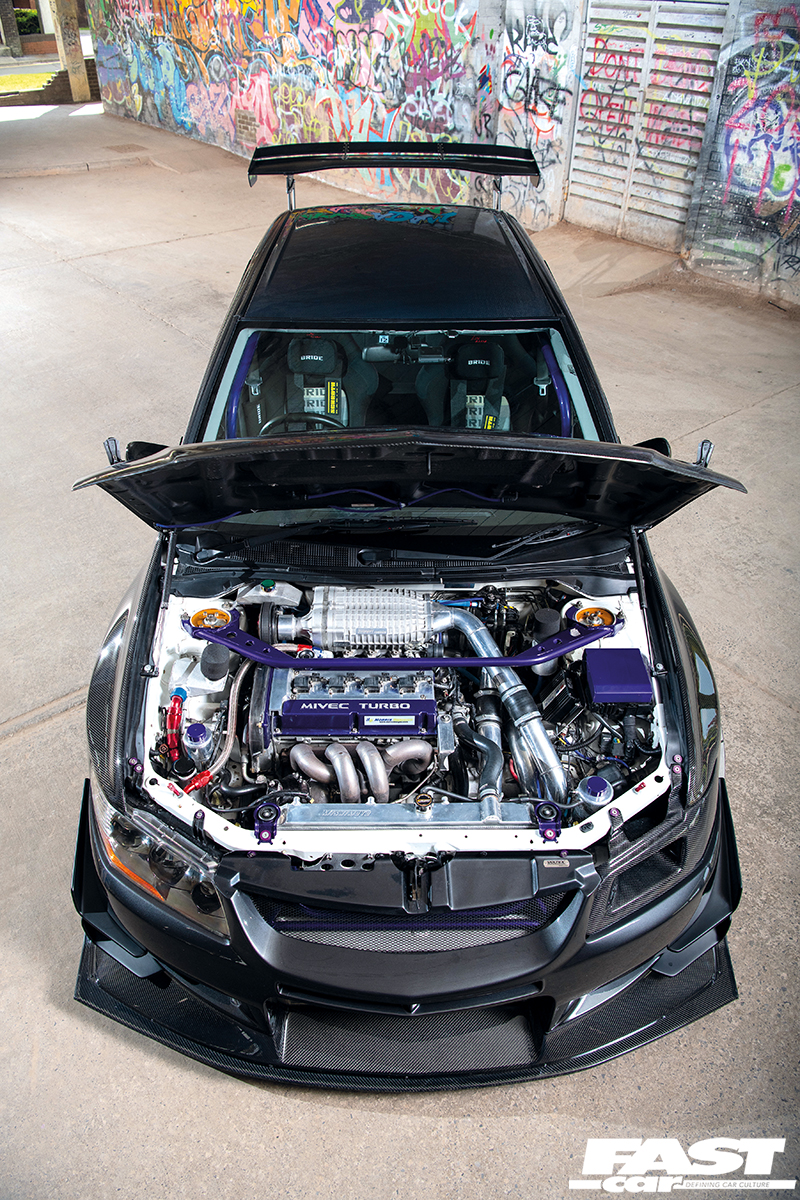 Taking the revered 4G63 as a base, Norris Designs has reimagined the formula and taken it to hysterical new places. Dry-sumped in motorsport style, the belt-and-braces have been taken care of by strengthening the internals and running a Stage 2 cylinder head with wire-rung gasket. The fuelling is massively uprated with ID 1300 injectors, a Magnus regulator and inlet manifold, and high-flow Magnus fuel rail, and the throttle body, oil cooler and intercooler are all usefully enlarged. The real fireworks begin with the supercharger that you see nestling proudly at the top of the bay, working hand-in-hand not with the standard turbo, but with a Norris Designs 8R billet turbocharger and 66mm external wastegate, going into a full 3.5in exhaust system.
Twin-charging is a technology with an interesting history. Lancia was the first manufacturer to pioneer the concept in 1985, on the Group B Delta S4 rally car. (As is the nature of homologation, there was a road-going counterpart, making the Delta S4 Stradale the first twin-charged production road car.) Japanese manufacturers were quick to harness the idea for efficiency as much as performance, with perhaps the most iconic manifestation being the Nissan March Super Turbo of 1988; nowadays the idea is a little more mainstream, with Volvo selling twin-charged T6s and T8s, and the Volkswagen group bolting 1.4-litre twin-charged units into everything from Golfs and Passats to the SEAT Alhambra, Audi A1 and Skoda Fabia. But much of this is for economy – if you want twin-charging for out-and-out power, you need to look to the aftermarket (kits are available from various sources, for example, for the MINI Cooper S, Toyota MR-2 and Subaru Impreza WRX) and, if it's an Evo you're looking at, then Norris Designs are the go-to guys. With the astonishing technology under Simon's bonnet, day-to-day usability and OEM-like reliability fuse with eye-watering power: his 4G63 is now running a colossal 790bhp, with a Link G4 ECU calling the shots and offering anti-lag and launch control. And what's even more impressive is that, with so much obsessive weight-saving going on throughout the car, this Evo IX boasts a power-to-weight ratio of 695bhp-per-tonne.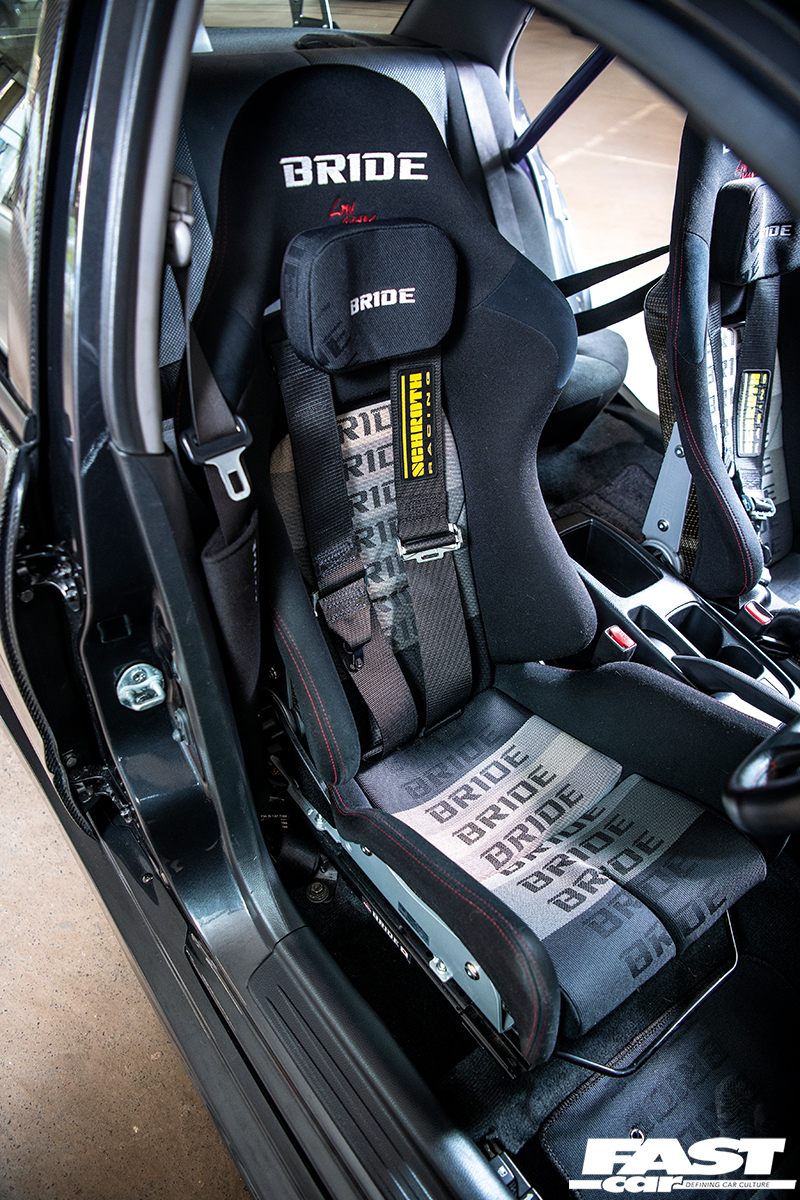 How so? You've probably spotted that there's something of a carbon-fibre theme here. And whereas some people like to fit spurious carbon trim pieces simply for the look, or carbon-dip their stock panels, Simon's carbon upgrades have all been done for function. You see, carbon-fibre-reinforced polymer has a very high tensile strength, low weight, high stiffness, high temperature tolerance, low thermal expansion, and high chemical resistance. The benefits are obvious – parts are simultaneously stronger and lighter, making the car faster and safer. Of course, it's also quite pricey – making CFRP is a fiddly process – which is part of the reason why you often see people running unpainted carbon-fibre bonnets and what-have-you. It's a badge of honour. And it's keenly in evidence here. Simon's Evo sports carbon doors, bonnet, bootlid, front wings and headlight intake all from the craftsmen at Seibon. Further carbon bits came from Rexpeed, including the splitter, diffuser, J-panels, sideskirt extensions, spats, canards, window vents and wing mirrors. All of this works with the brutal majesty of a Voltex Street widebody kit, and topped off by a Varis carbon roof. This thing's so featherweight it near-enough has to be tethered down to stop it floating away. But at the same time, it's a road car in regular use, so the creature comforts haven't been ignored – there's a high-end audio setup in here, and the Bride seats were chosen as much for comfort as function.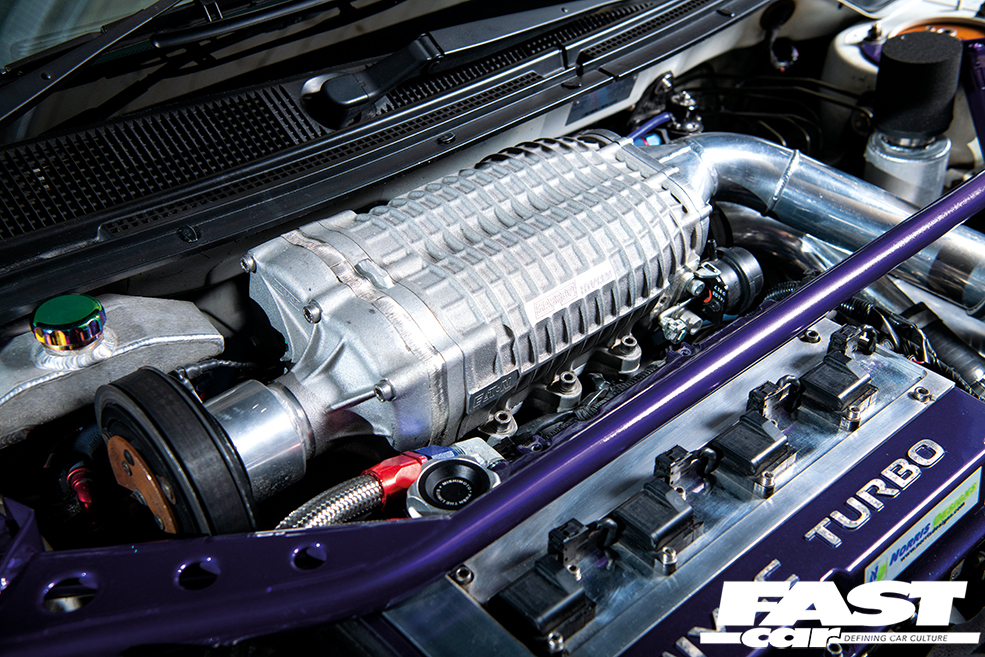 Being such a technological powerhouse, we have to give the last word to the transmission. Because while this is a road car, Simon wanted the gearbox to be something perfectly suited to the twin-charged fury of the motor, and this meant swapping in a Drenth sequential dog 'box, with straight-cut gears and flat-shifting capability. You'll have spied the redundant gearstick hole, and the carbon shift paddles behind the steering wheel – this is an air-shift system, the paddles operating solenoids that actuate a high-pressure air supply to bang in shifts with staggering quickness.
"The car is absolutely spot-on now, and flat-shifting with the air paddles is the best fun ever," Simon grins. "And of course my favourite part is that it's twin-charged, so I have zero lag. A massive supercharger handing over to an equally massive turbo is just sublime." He's not wrong. The way this Evo has evolved is breath-taking. With so many interesting chapters of history behind it, telling stories of pioneering technology, Simon's twin-charged Evo IX is pushing the Mitsubishi spirit into the future with devastating force.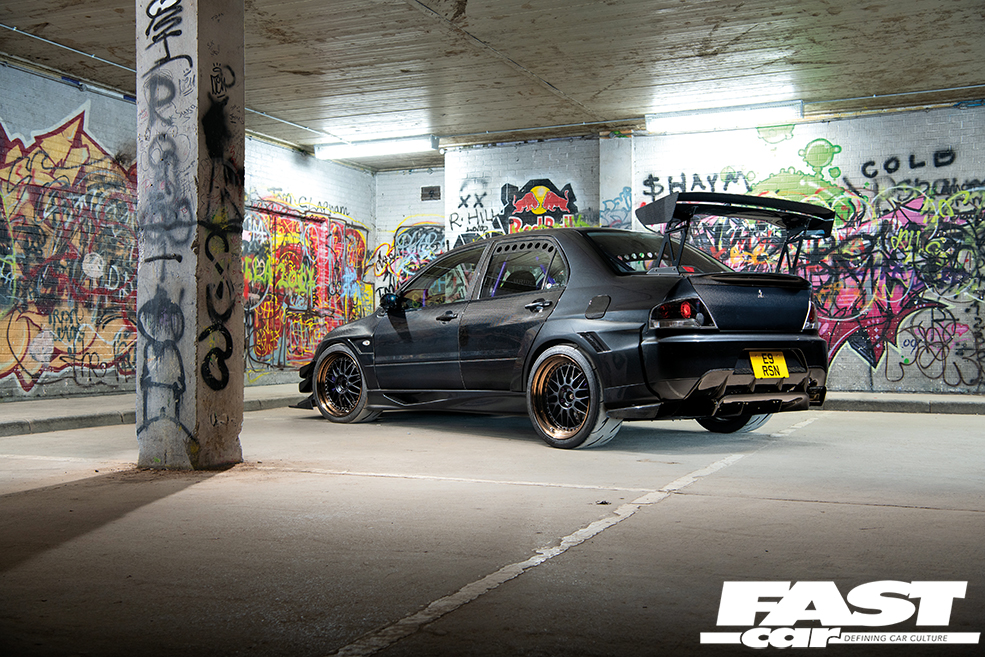 Evil twins
The developers at Norris Designs have been working on twin-charging for some time. The basis of the setup you see here was originally developed in 2010, and they've been refining it ever since. It's a bolt-on system with a bespoke Eaton supercharger which, unlike other twin-charging systems you might have seen, works in a true OEM style: that is to say, rather than running as a full compound at all times, it keeps the supercharger and the turbocharger separate. As is the nature of a blower, it spools up rapidly at lower revs, and as engine speeds increase the clutched mechanism de-couples the supercharger and lets the turbo take over. This essentially means that there's no lag, just relentless thrust: huge torque throughout the rev range, and extremely usable power. What's more, the bolt-on nature means that it works happily with the OEM power steering and air-con, along with pretty much any stock or aftermarket turbo you care to name.
The Version 3 supercharger kit comprises everything required for installation, including a custom inlet manifold, 4-injector fuel rail, all of the pipework for the supercharger and turbo, a rocker cover breather, and all the necessary bolts and belts. A supremely clever offering, and a very hardcore way to magnify and amplify the performance of an Evo.
Tech Spec: Twin-charged Evo IX
Engine:
2.0-litre, 4-cyl, 16v 4G63, Norris Designs Version 3 supercharger, Norris Designs 8R billet turbo, 66mm external wastegate, boost control solenoid and 3-position switch, Norris Designs 3.5in exhaust system, replacement MIVEC solenoid, CAN, lambda and Bosch knock sensors, Norris Designs purple rocker cover, Norris Designs forged long rod 'drop-in' I-beam upgrade, Norris Designs Stage 2 cylinder head and wire-rung head gasket, dry sump kit, tank, lines, breather tank and HD oil cooler, Norris Designs 25-row oil cooler, Iridium HKS spark plugs, Piper MIVEC cams, Norris Designs springs, Norris Designs single pulley, 525l inline fuel pump, ID 1300 injectors, Magnus regulator, Magnus inlet manifold, Magnus fuel rail, hoses and fittings, S90 throttle body, Norris Designs CDI ignition kit, Norris Designs intercooler, Mishimoto black silicone hose kit, air temp sensor and boss oil pressure sensor kit for 3D cut-off, K&N air filter, alloy radiator, Norris Designs breather system with sump return, Zaklee clear cam cover, Link G4 ECU, anti-lag on switch with launch control, always-on battery in boot, Spec R fuse cover, purple Spec R expansion vessel, purple-lid Spec R power steering tank, purple-lid Spec R radiator brackets, purple Rexpeed carbon bonnet dampers, Carbing carbon fibre slam panel
Transmission:
Drenth sequential dog 'box, air paddle setup with carbon paddles, Exedy twin-plate clutch, Motec MDC diff controller, Mitsubishi RS rear diff, Quaife replacement ACD diff
Suspension:
Öhlins Road & Track coilovers, full Superpro bush kit, Cusco anti-roll bar, uprated front drop-links, Norris Designs supercharger under-bonnet strut, Carbing rear strut brace, one-off Cusco power brace, powder-coated purple Momentum rear subframe, roll centre kit
Brakes:
AP Racing 355 front brake kit, Carbotech purple XP12 front pads, standard Brembo rear calipers with uprated discs and pads, uprated hoses
Wheels & Tyres:
18in WORK M1-3P 3-piece wheels with Nankang Sportnex AR-1 tyres, purple WORK open nuts
Exterior:
Seibon OEM-style carbon bonnet, Seibon carbon bootlid, Rexpeed carbon boot lip, Seibon carbon doors, Seibon carbon headlight duct, Seibon carbon front wings, Xtreme Carbon rear diffuser, Rexpeed carbon sideskirt extensions, Rexpeed Varis-style diffuser, Rexpeed carbon J panels, Rexpeed carbon side spats, Rexpeed carbon filler cap, Rexpeed carbon splitter, Rexpeed canards x4, Rexpeed carbon window vents, Rexpeed carbon Ganador wing mirrors, Rexpeed carbon boot badge, Rexpeed carbon number plate bracket, Varis carbon roof, Voltex Street wing, Voltex Street sideskirts, Voltex Street front bumper, Voltex Street under-diffuser, Voltex Street brake ducts, Voltex Street wide-body rear arches, USDM rear lights
Interior:
Bride GIAS 2 carbon-backed seats, Bride seat belt covers and backrests, Bride seat rails, custom harness bar, Schroth 4-point harnesses, Momo Tuner steering wheel, snap-off boss, Defi boost gauge, Defi oil temp gauge, Defi pressure gauge, dash gauge pod, 3-position boost switch, anti-lag on intercooler button, launch control switch, Cusco rollcage, Rexpeed polarised mirror glass, Varis dry carbon gearknob, carbon doorcards, Smart Track tracker, Clifford 650C alarm, Clifford Shock setup, custom Evo boot build with carbon Alpine 9in screen, iPhone compatibility, X-Fire amp X-Fire sub, X-Fire front speakers and tweeters