Welcome to this week's FC Throwback, where we take a look back at some of our favourite previous feature cars. This week it's James Taylor's 1983 VW Rabbit from 2013… This stanced-out, bomber-style, rat-rod Rabbit has plenty of military bits inside and out… and so does the owner.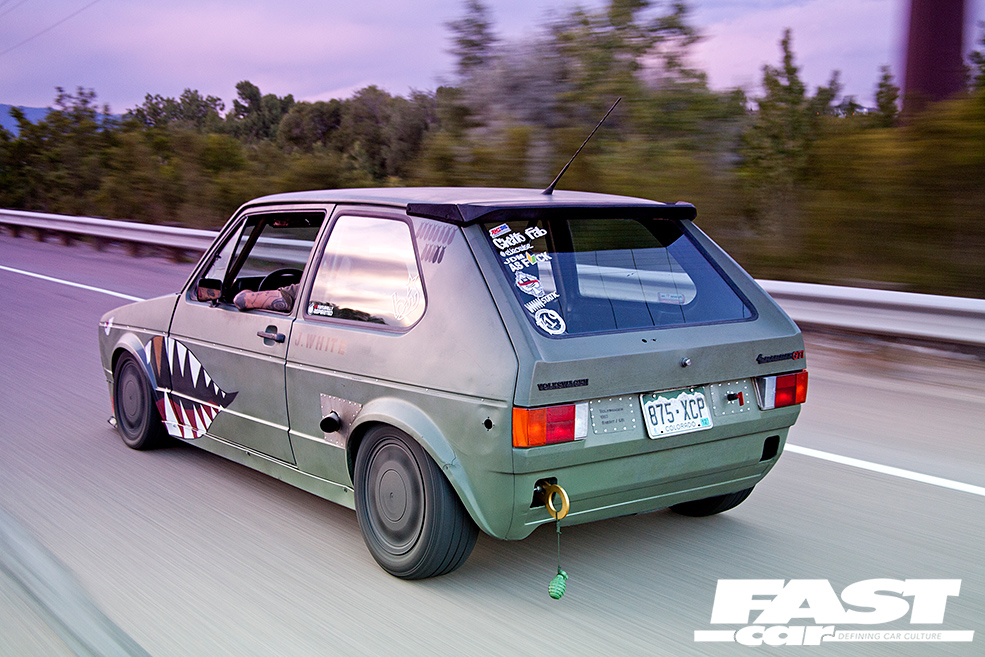 When James White blew the motor in his turbo'd 2006 Jetta, he did what any self-respecting tuner would do. He bought an '83 Rabbit beater to run around in while he rebuilt his main car.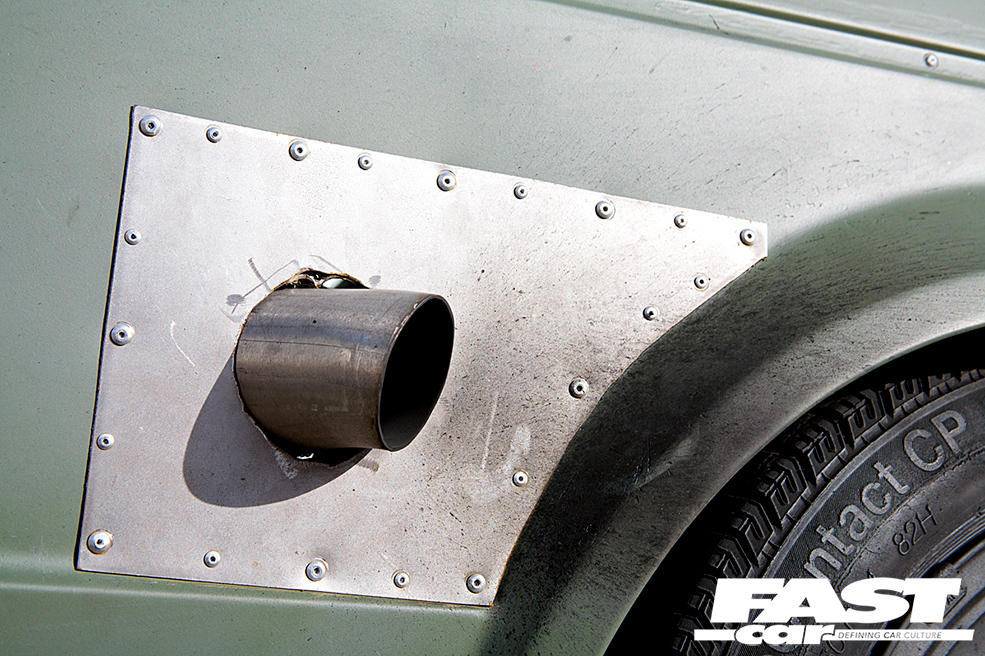 What he didn't plan on doing was acquiring such an affinity for the little pocket rocket. "Something about the Rabbit just made me fall in love," said James. "At first, I just started doing small mods like putting a 1.6L cam in the 1.8 head." He also added an adjustable cam gear, headers and exhaust and deleted everything that wasn't necessary for it to run, freeing up horsepower.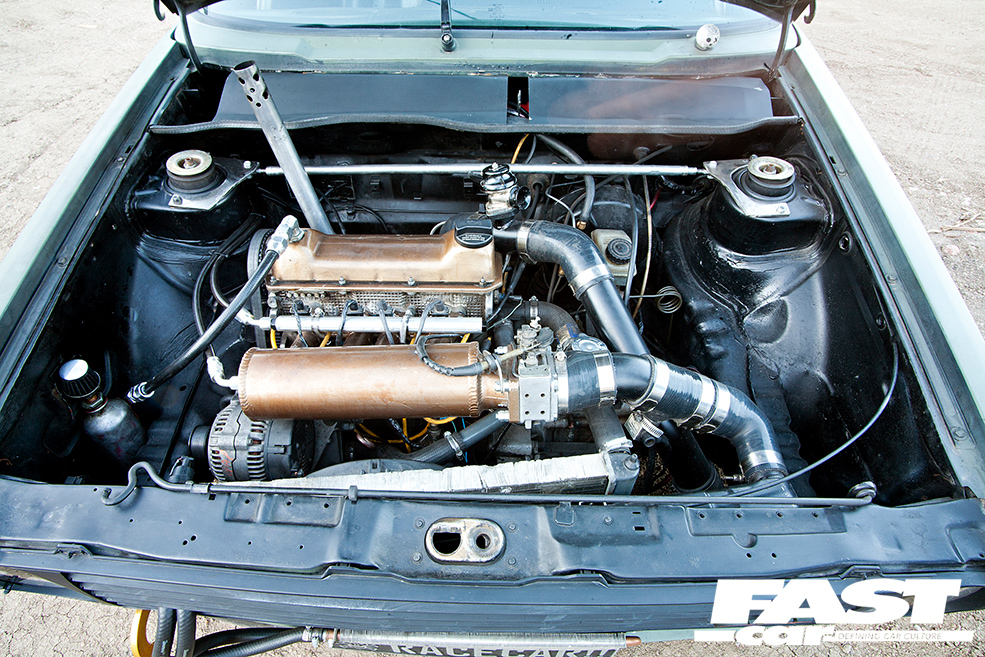 James continues: "Then one day I decided to turbo. So my attention shifted away from the Mk5 Jetta as I proceeded to source parts for the turbo build." Sometimes a mistress is just more intriguing than the wife.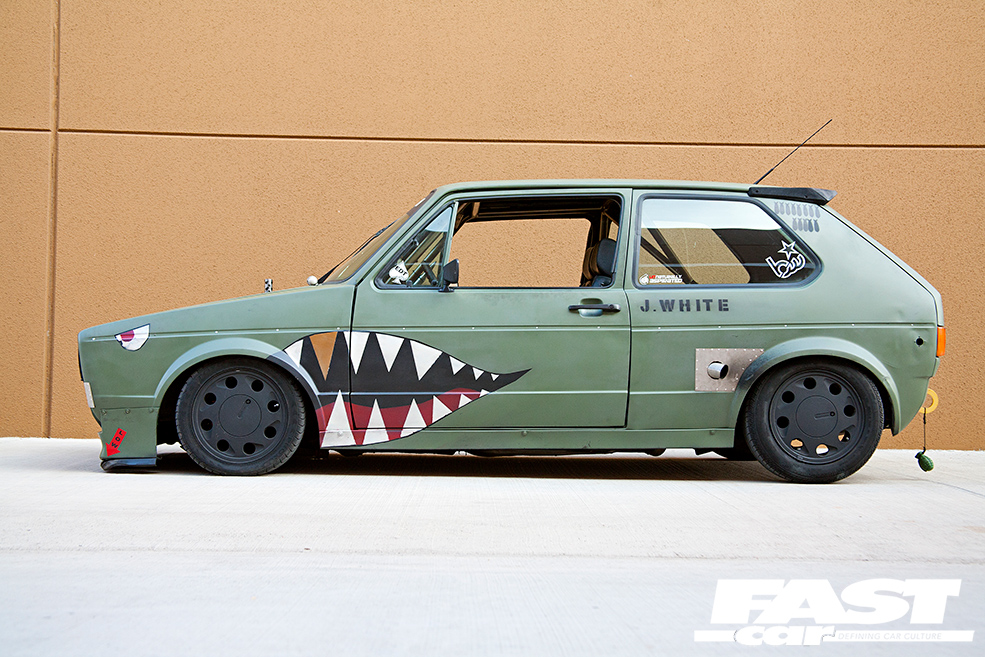 Looking to make his mistress a little more, er, muscular, James started scouring junk yards in search of parts. His first turbo came from a Saab, a 9000 T3. After that blew up he moved to a T3 unit with ported and belled compressor housing. And to keep it in sleeper mode, the turbo is hidden behind the firewall. Of course the machine gun-end blow-off valve suggests something sinister lurks under the hood.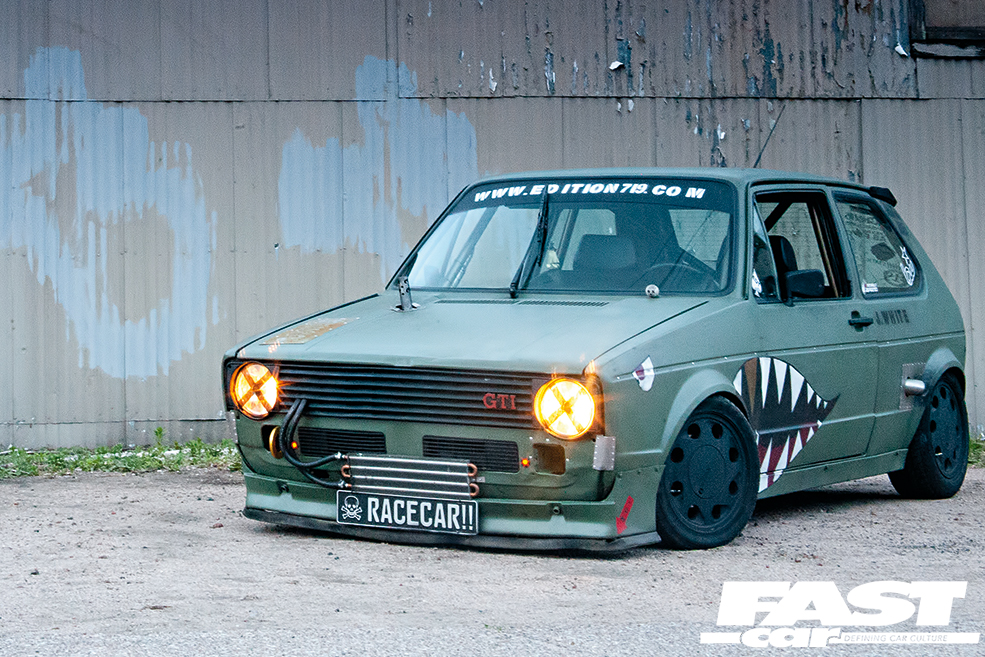 James estimates power to be a little over 200hp with 13lbs of boost. Since the gutted Rabbit weighs only 1,860lbs it has the uncanny ability to put a few big block Corvettes on their asses. And all this power is made with the stock 1.8L bottom end! Non-military issue equipment includes the V-Maxx coilovers and 14×6 Scirroco teardrop rims among other upgrades.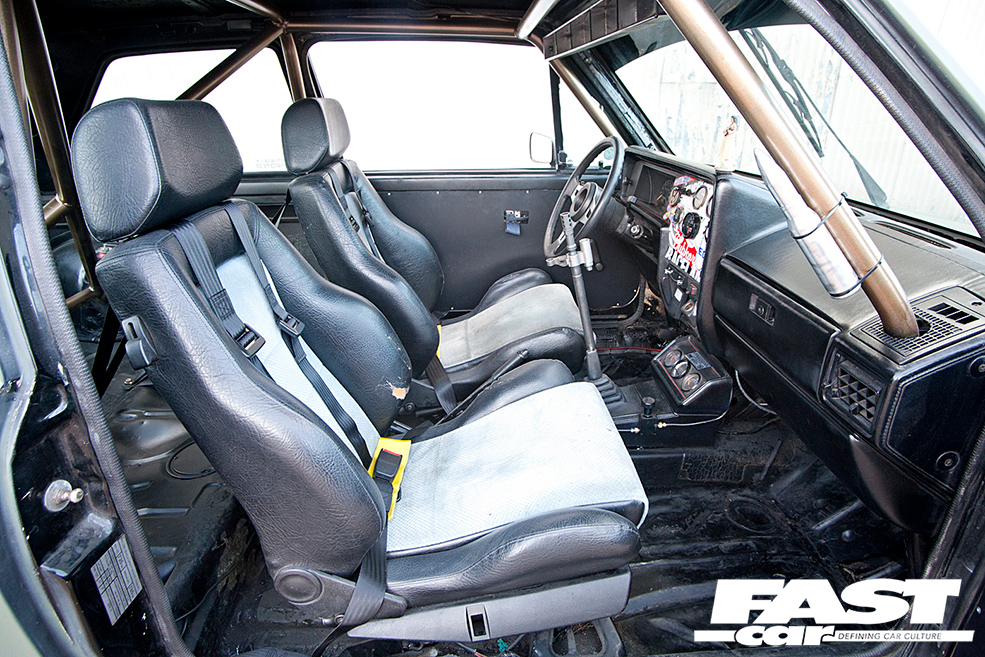 James White and his friends have come through with a menacing military rat that deserves accolades from soldiers and citizens alike. The fact he pulled it all off on a budget and with shrapnel in his leg – sustained in Iraq during his eight years service – makes both he and the car deserving of a full, 21 gun salute.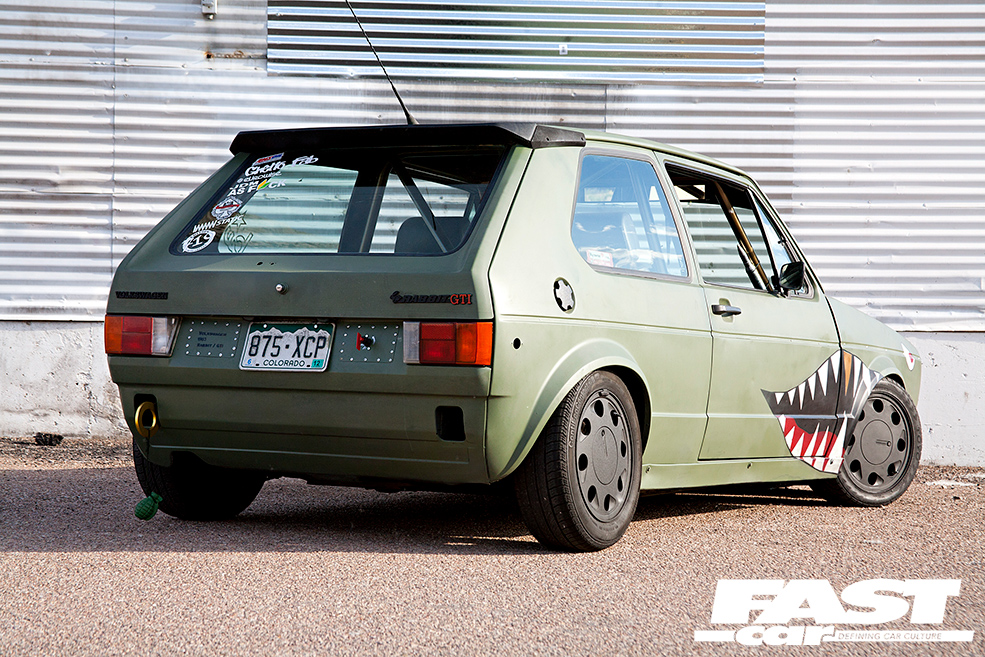 TECH SPEC 1983 VW RABBIT (MK1 GOLF)
Styling
Custom rattle-can paint job, Cabriolet tail light swap, single rounds conversion with H4s, badgeless grille, GTI front lip, anodized gold JDM tow hooks, military jaw decale.
Chassis
V-Maxx coilovers, prothane poly inserts for motor mounts, control arms, 9.4in rotor brake disc up front, Mk3 8.9in Wolfsburg, 6x14in 16v Scirocco teardrops painted in textured black, Toyo Proxes 195/45x14s tyres front with 205/50x14s at the rear.
Interior
Custom 6-point cage, MK2 GTI Recarro seats, 4-point harnesses, all VDO individual gauges, AEM UEGO wideband, Wolfsburg steering wheel, 5-pane wink mirror, custom M249 machine gun barrel shifter.
Tuning
Stock 1.8L JH bottom end, P&Pd ABA head, Techtonics 268 cam, Autotech adjustable cam gear, custom turbo manifold, custom short runner intake manifold, EMUSA .50 Trim T3 Turbo with ported and belled compressor housing @ 13psi, Forge boost controller (mounted in cabin), Godspeed 38mm external wastegate (hood dump), Ford Probe side mount intercooler, Digifant 1 ECU, 26lb injectors, BBM FPR Adapter, BBM fuel rail, silicone intake systems slim line 12-inch fan, ACCEL plug wires, MSD Blaster 2 coil, NGK plugs, custom 2.5in straight piped turbo back exhaust, Clutch Masters FX400 sprung 6 puck clutch, Sachs pressure plate.
Words & photos Isaac Mion