This tuned BMW E30 may appear relatively unassuming, but to the trained eye there are clues that all is not as it seems. No-one. however, will be expecting the self-styled 360i's firepower…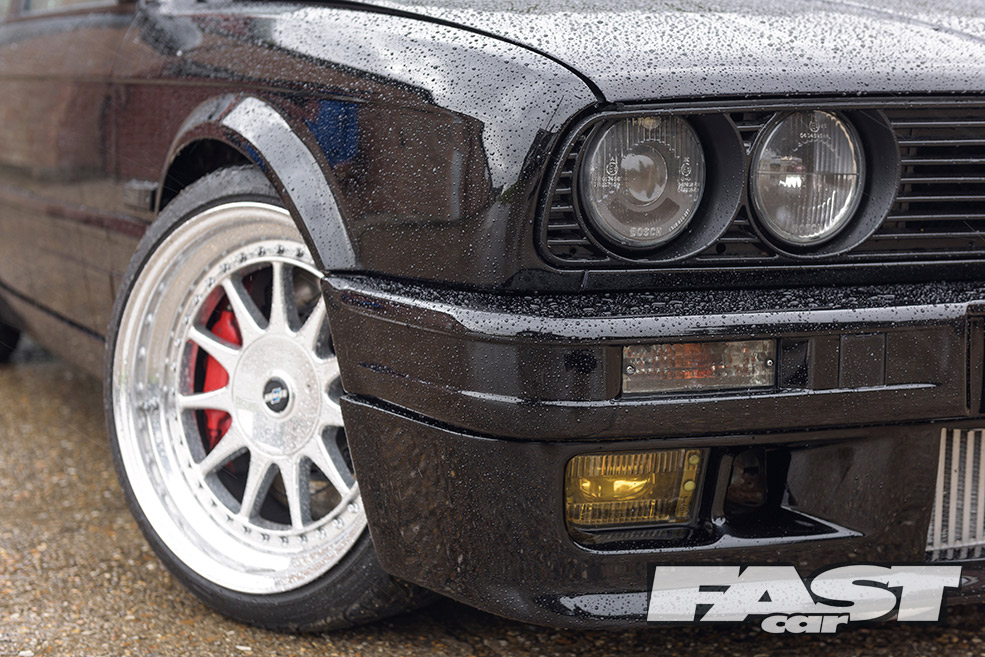 One of the questions I hear most often is 'How did you get that in there?'" grins Ross Bradley, standing proudly beside his gleaming Black Cherry E30, exhaust ticking and pinging after another urgent country lane blast. "And that's exactly the point – you make things fit. They don't just go in there on their own." That very much sums up Ross's outlook on life. The joy of the project is as much in the build as the driving.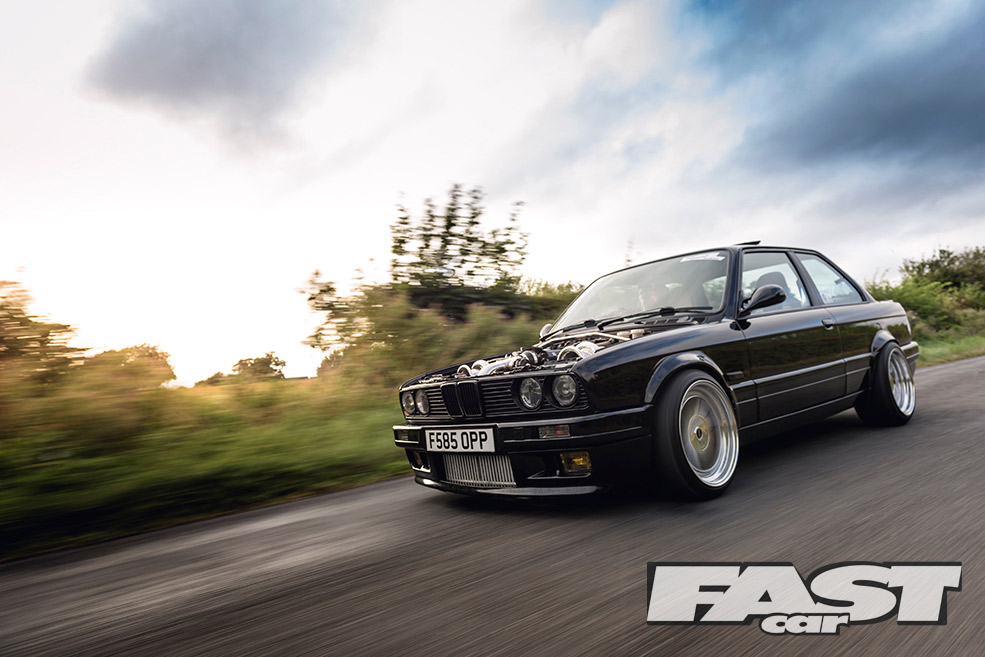 'Built, not bought' is a common phrase on the scene these days. Modifiers who've solely achieved their goals in the confines of a single garage with just a cup of tea and a crackly radio for company are rightly proud to wear their achievements on their sleeve. That's not to sideline the opposing 'bought, not built' crowd, of course – we can't all be experts, and there's a whole flourishing industry set up to serve such purposes. But Ross's history is very much hands-on, and that has informed this creation. He fancied doing stuff. Then he did it. It really is that simple.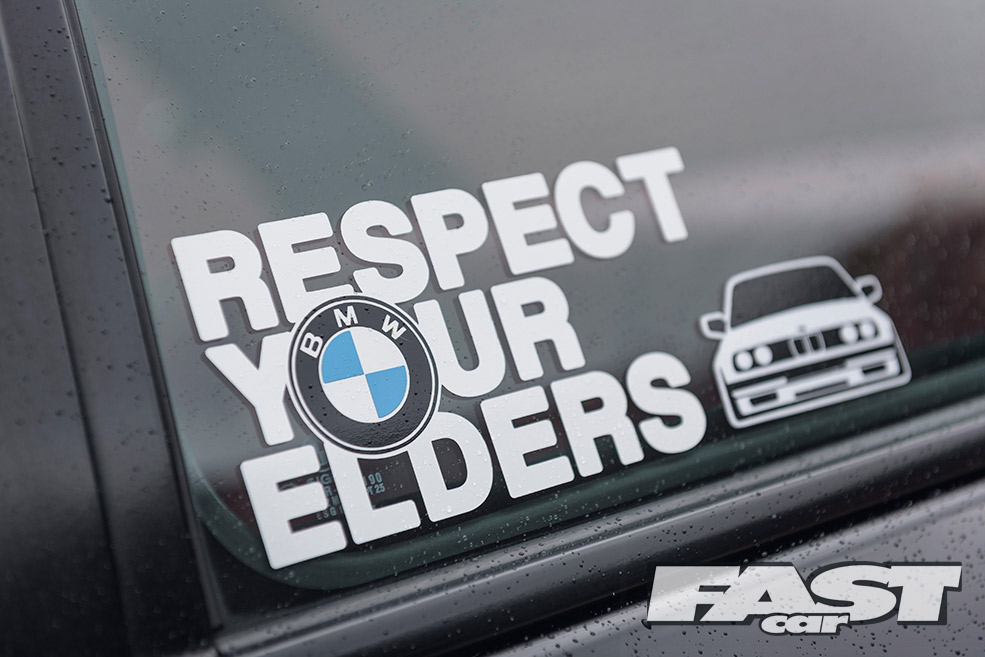 "I've always been toying with cars ever since I was little, being brought up with my dad building Yanks and hot rods," he says. "I remember helping my dad build his Ford Pop when I was about seven years old, always doing what I could. With every car I've owned I've always had to rebuild something, be it the engine or interior for whatever reason, to make it better or make it my own." And this is the case with the E30. The reasons for calling it a '360i' will become apparent in due course. Suffice to say it's very far from being a bone-stock 1980s three-box.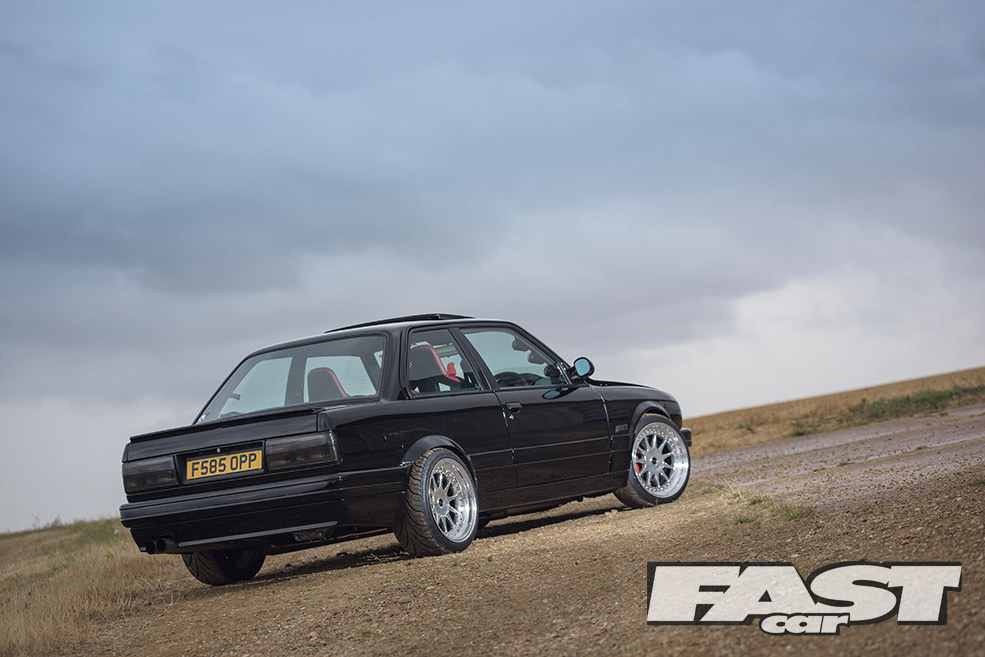 "I always liked the E30," Ross ponders. "I was going to get one for my first car when I started driving, but was talked out of it due to running and repair costs at the time. This was the late '90s, so I went the Ford route and ended up having numerous Escort RS Turbos and so on."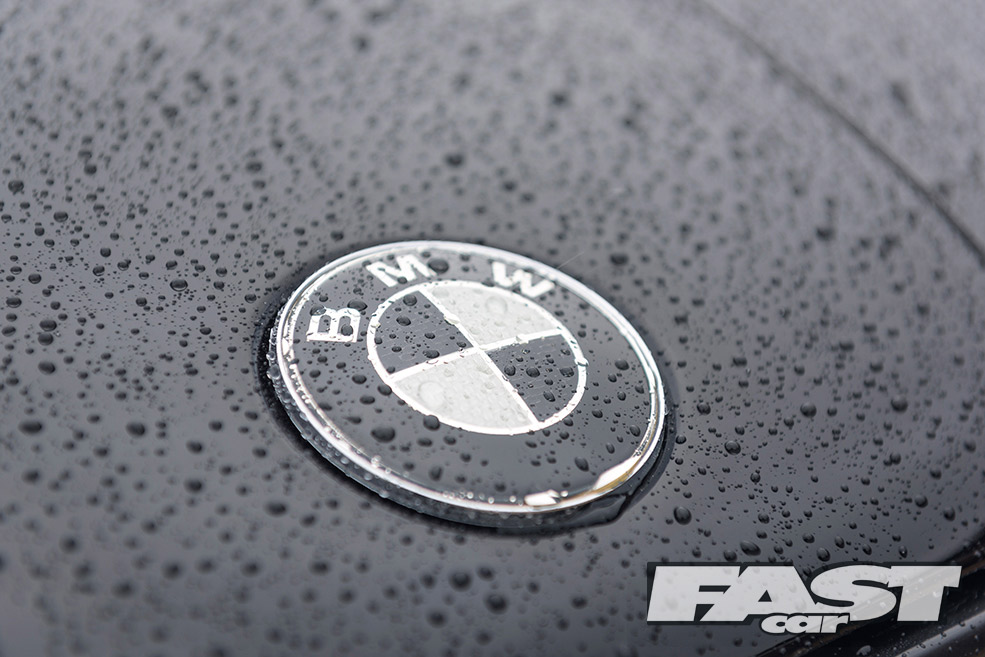 Fast-forward to 2006, however, and we see that starry-eyed yearning of youth starting to come full circle. "I was out working and I saw this car on someone's drive," he recalls. "It had been sat there for about four years – it was a 320i, the body was in pretty good shape, although it had moss growing up the side of it, flat tyres, the usual. I offered the owner some money for it and he took it right away… I bought it for £275."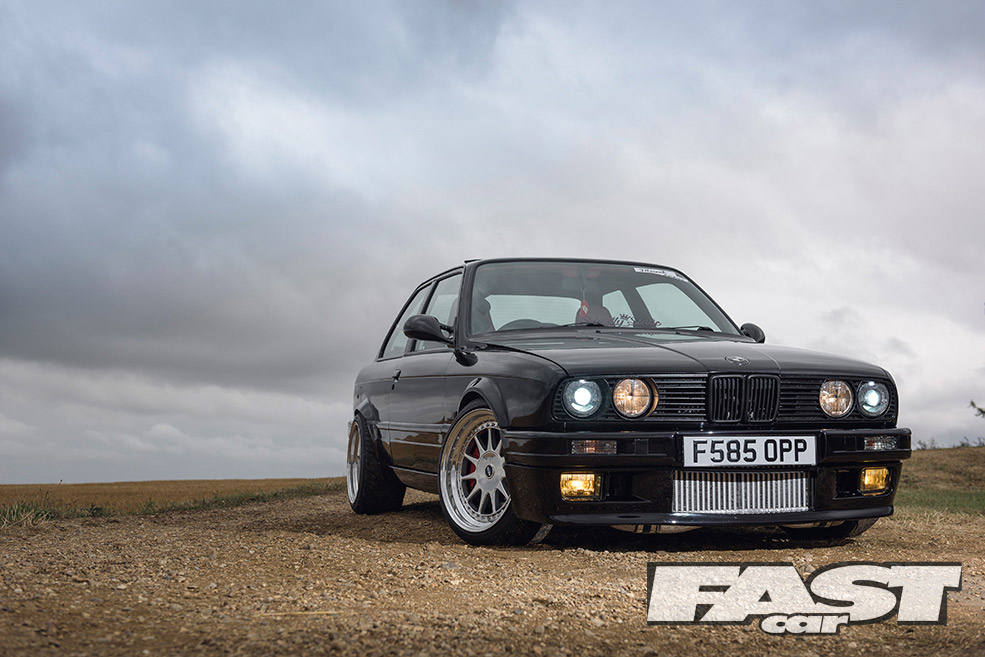 Game on, then. A childhood dream fulfilled and pretty cheaply too. All Ross had to do now was to make it his own. But he wasn't going to rush into anything, he'd been waiting long enough to realise his E30 ambition so there was no need to charge in like a bull in the proverbial porcelain emporium. He used the car as a daily driver for a few years, doing bits and pieces here and there as he saw fit. New wheels, an M-Tech 2 kit, swapping the 2.0-litre motor for a 2.5. But then it all started to get a bit hairy. Suddenly that idea of doing it 'cheaply' wasn't going to cut the mustard any more. It was time to commit, and commit hard.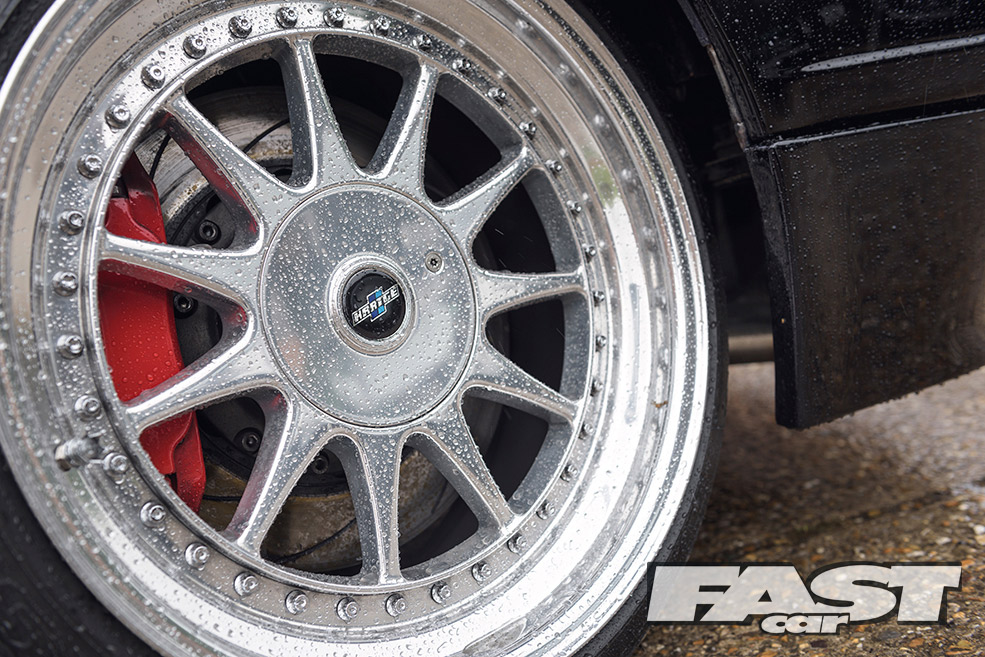 "About four years in I took it off the road and gave it a major overhaul," he says. "New paint, new interior, suspension, wheels, brakes, the works. And I built the engine into a 2.5 turbo." Of course, as your eager magpie eye will have probably spotted, that's not the spec that the car enjoys today. You will no doubt have glanced over to the engine bay shots and spied quite a lot of cylinders in there. So just what the hell happened next?!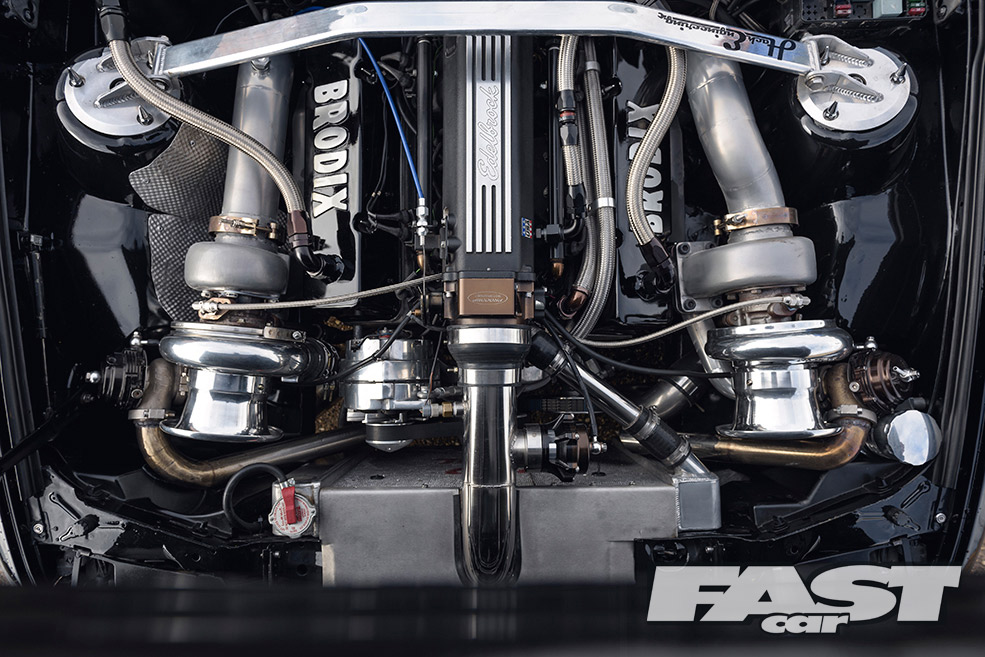 "I used it like that for a few more years, until about four years ago when I again took it off the road and swapped out the motor for the Chevy V8," says Ross, casually, as if that's a perfectly normal thing to do. "It took me a further two years to build it from there; it was always going to be boosted right from the start – and then I had it on the road until, after a few problems last year with a couple of fires due to burst hoses, oil leaks, and turbos eating bearings, I'd had enough of the niggles. So last winter I took it off the road again and had another major overhaul!"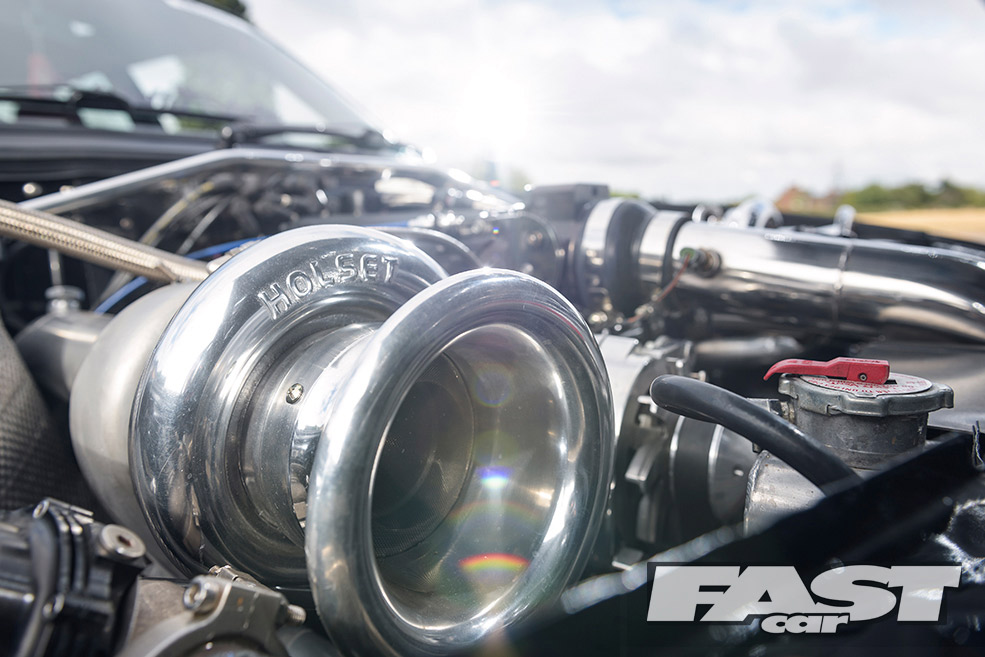 OK. While you catch your breath and try to take in the sheer majesty of the spec list, let's distil it down to the base elements: Ross is running a small-block V8 bored out to 5.8-litres (near as dammit to six litres, hence why he calls the car '360i') with a massively juicy fuelling system, a pair of turbos that originally called an Iveco truck home, the sort of brutal internals more commonly found on drag cars, and a peak power figure somewhere around the 800bhp mark. Given the 1,300kg-odd kerb weight, that gives the car a similar power-to-weight figure to a Bugatti Veyron Super Sport – around 590bhp/tonne. All this from a reliable 3 Series built by one man in his garage.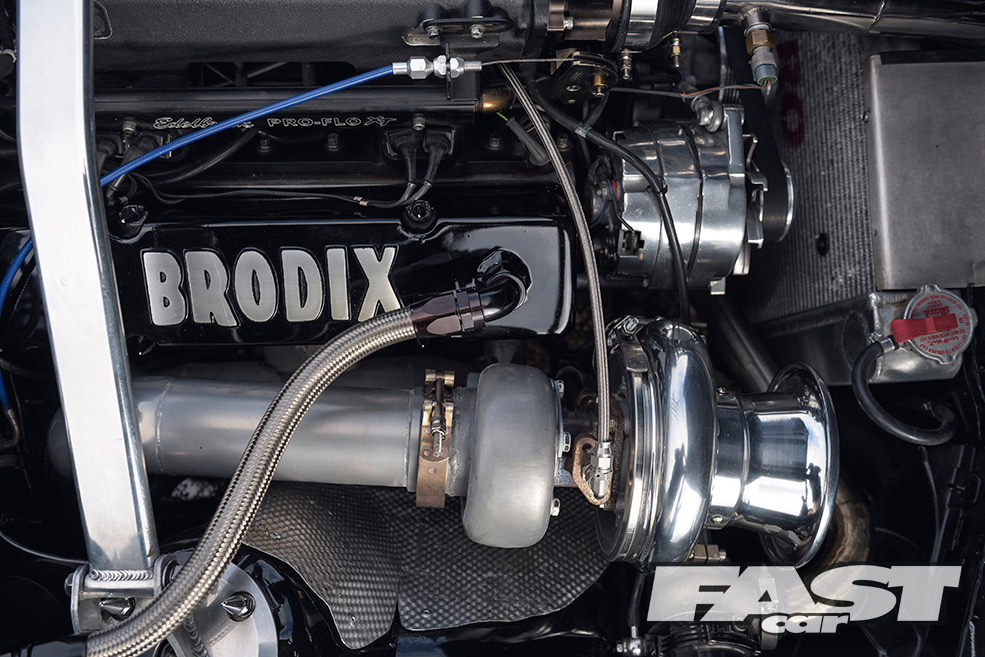 "During the most recent overhaul, I remade the exhaust manifolds and downpipes, and replaced the turbos with a set of Holset HX35s, and then got them ceramic coated," says Ross. "I also sold my old red leather interior and put a new one together, with Recaro CS front seats and an E30 M3 rear bench, all custom- retrimmed by Lawrence at LG Trimming in north London."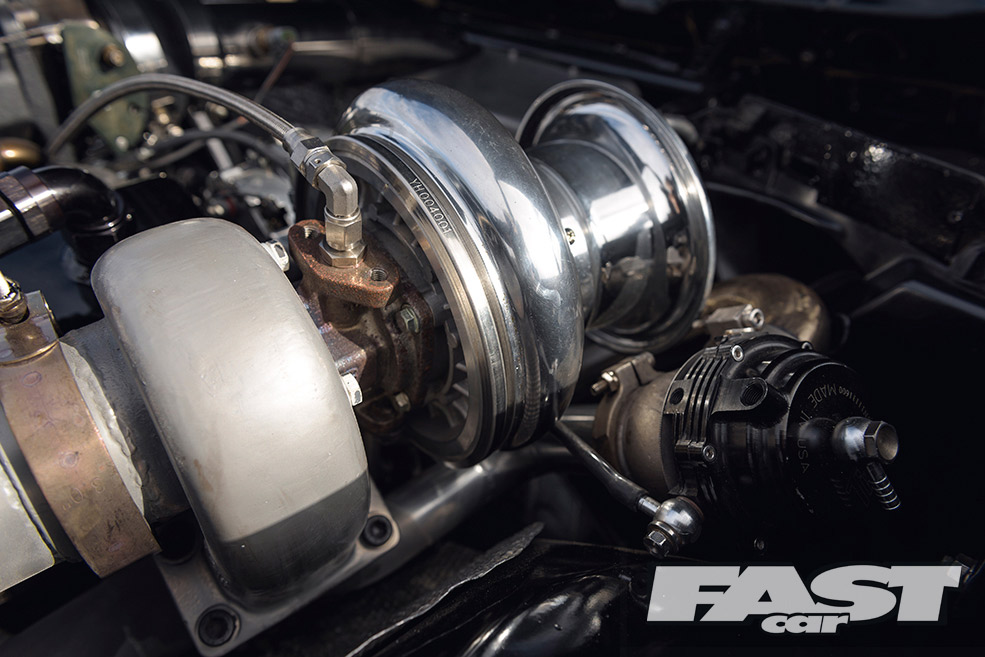 While this car is all-motor on the face of it, the interior is one of our favourite elements. With the astonishing attention to detail going on under the bonnet it'd be easy to turn this E30 into a stripped-out drag monster, jettisoning anything that'd add unsavoury weight. So we love that Ross has brightened up his day-to-day commute with such a flawlessly executed and fashion-forward cabin.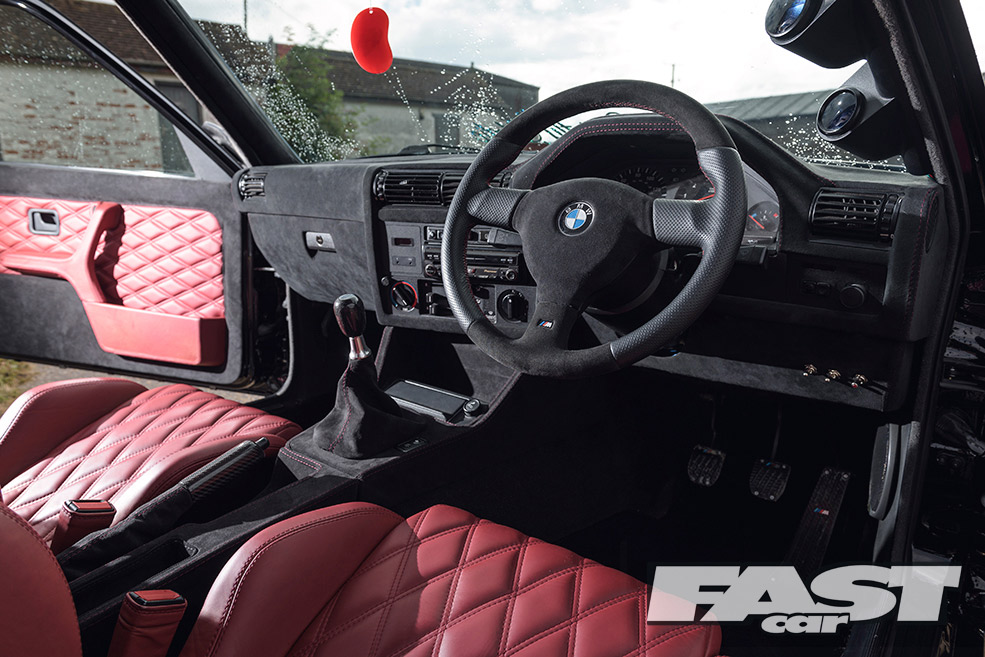 "With the interior sorted, me and my dad stripped the car down and repainted it in Black Cherry Candy, and after refitting with all new BMW window rubbers and so on it's now what you see today… all the work apart from the interior was done by me, everything hand-made in my garage. So anything that I needed to make this work, I had to fabricate, as you couldn't buy it off the shelf – the engine mounts, chopped-out rear end, remade gearbox mounts, you name it."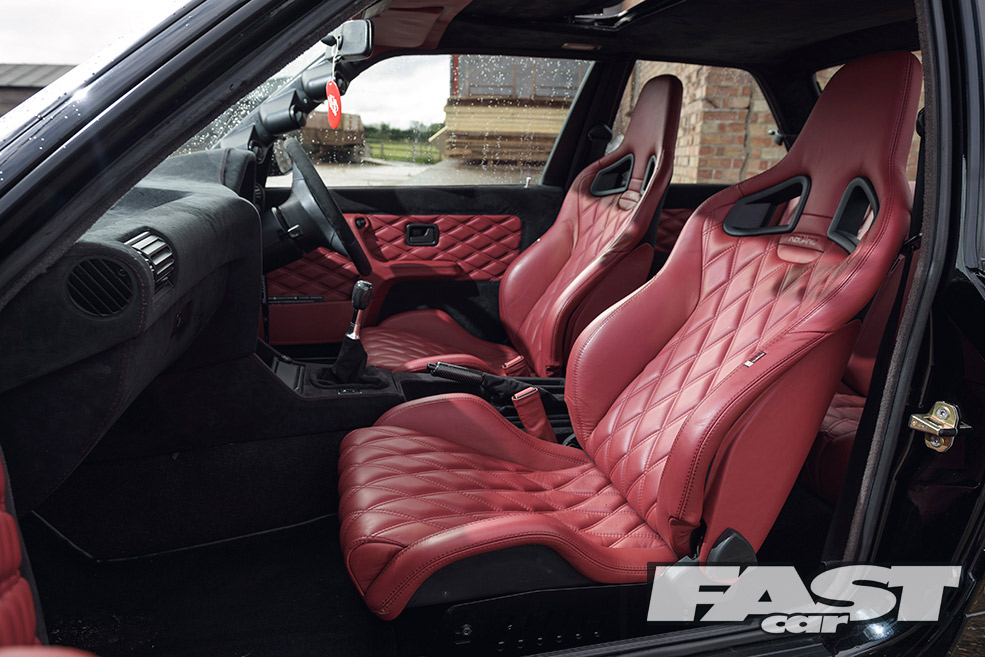 What Ross has created here is arguably the ultimate stealth weapon. Those who aren't in on the secret may find themselves drawn to the car simply because it's so beautifully presented. But there's little to suggest anything's radically altered aside from the subtle clues of the flared arches and front-mount intercooler. Indeed, peering through the window and spying that interior may convince you that it's a mere show-pony. "That's very much not the case," laughs Ross. "I drive it as much as I can." And with Bugatti-shaming power, wouldn't you? It's safe to say this car gets a pretty hard time on a regular basis.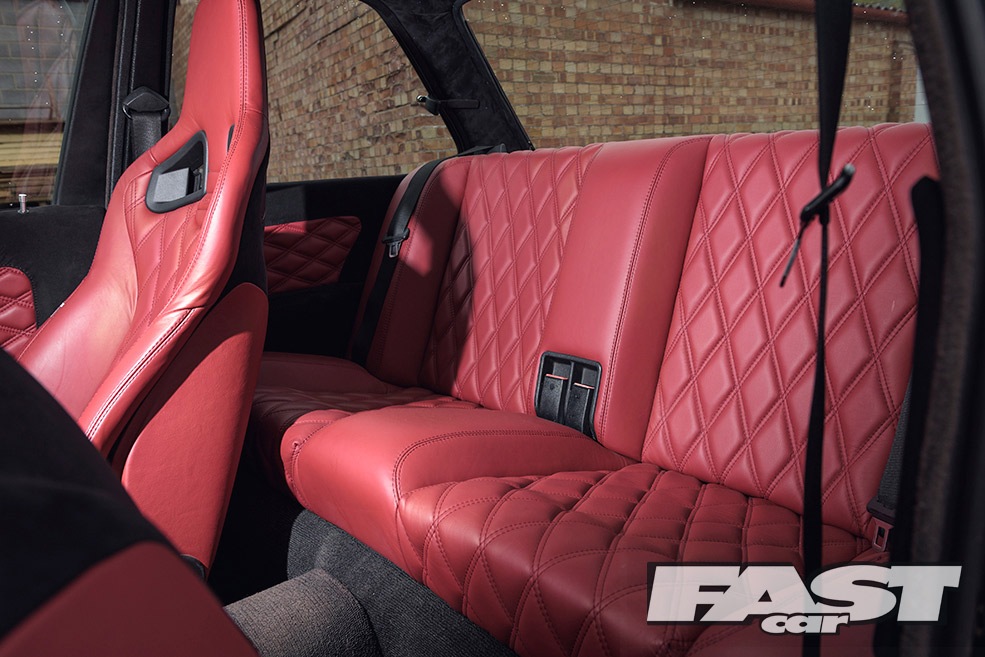 "I just love it," he smiles, with the satisfaction of a job well done. "Most of my friends think I'm mental. But you only live once!"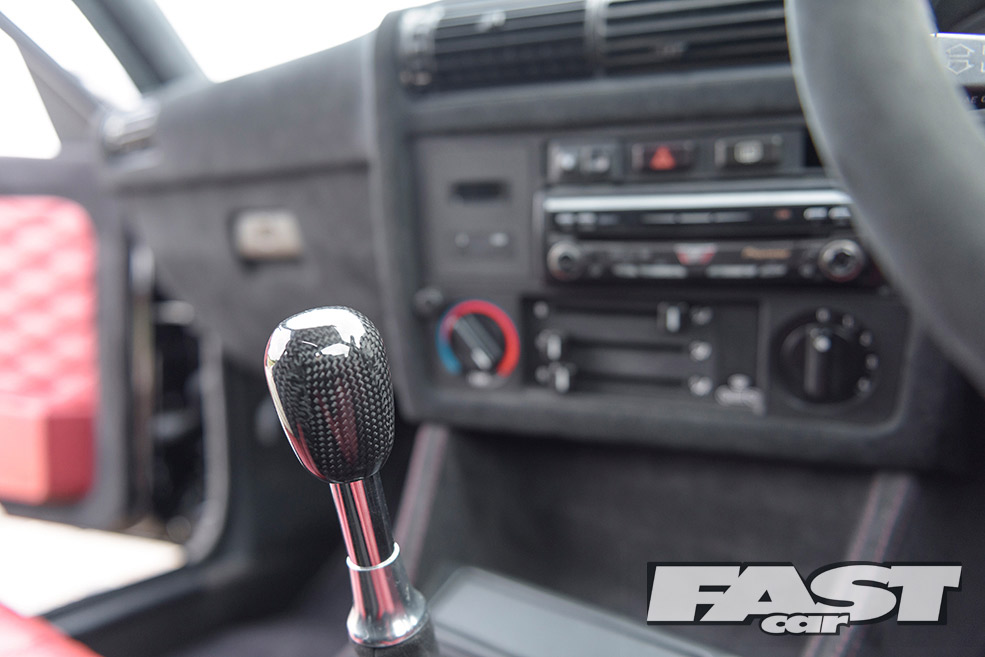 TECH SPEC: BMW E30
STYLING:
Resprayed in Black Cherry Candy; rear arches flared and rewelded; M-Tech 2 BMW Sport body kit; front valance modified for intercooler.
TUNING:
Early Chevrolet small-block V8 rebored 0.030in to 5.8-litre; GM forged crank; ARP main studs; Eagle H-section forged conrods; Clevite big end bearings; Probe oversized forged pistons; Melling high-volume oil pump; ported and polished alloy heads; Manley severe-duty stainless steel swirl-polished oversized valves (2.02in inlet, 1.6in exhaust); Edelbrock valve springs with titanium retainers; Cloyes double roller timing gear and chain; Clevite cam bearings; Comp Cams 256/263-degree blower cam and lifters; Edelbrock magnum chrome moly pushrods; Comp Cams 1.5:1 alloy roller rockers; Brodix rocker covers, ARP hardware (rocker arm studs, intake manifold bolts, sump bolts, timing cover bolts, engine mount bolts, exhaust header bolts, crank pulley bolts, bellhousing bolts); ARP oil pump driveshaft; custom engine mounts; hand-built custom turbo headers and downpipes; twin Holset HX35 turbos with 12cm2 turbines; twin Tial 44mm wastegates; two-stage boost control; handbuilt custom twin 3in turbo-back exhaust with Simons silencer; custom intercooler; Tial 50mm dump valve; Edelbrock Pro-flo inlet and matching fuel rails; Pro Comp 90mm throttle body; 770cc injectors; swirl pot with high-flow in-tank lift pump; twin Bosch 044 engine feed pumps; Torques pressure regulator; March serpentine pulley kit; Pro Cool alloy radiator; Megasquirt ECU; Ford Ka coil packs; fully lightened and balanced flywheel and rotating assembly; Toyota Supra Mk3 R154 gearbox with custom Chevy bellhousing adaptor – rebuilt and uprated with Marlin Crawler thrust washer; billet bearing retainer and selector forks; McLeod hydro clutch release bearing; ARP clutch bolts; Spec R Stage 4+ full-face paddle clutch; alloy fluid reservoir; Cube short shifter; custom propshaft; E28 M5 210mm LSD with 3.07 final drive and M3 Evo twin- ear rear mount; custom rear crossmember; custom driveshafts with UJs; custom gearbox crossmember.
CHASSIS:
9x17in ET25 (front) and 10x17in ET20 (rear) Hartge polished three-piece wheels; 215/40 (f) and 235/40 (r) Federal RSR tyres; custom billet aluminium centre caps; modified front crossmember for engine clearance; reinforced rear beam; E36 M3 front anti-roll bar with custom mounts and rose-jointed droplinks; reinforced rear trailing arms; custom rear strut brace tied into custom rear diff mounting bar; Gaz GHA coilovers; GAZ adjustable front top mounts; stainless steel steering linkage joints and custom linkage; steering rack moved 20mm forwards; alloy power steering reservoir and custom lines; in-car brake servo conversion using Renault Clio servo; VW Sharan brake master cylinder; AP Racing six-pot front callipers and 330mm discs; five-lug conversion using E36 and Z3 hubs; Porsche Brembo six-pot rear callipers; Apec Z3 rear discs.
INTERIOR:
Full custom retrim in Ruby Red nappa leather and black Alcantara; Recaro CS front seats with custom rails; E30 M3 rear bench in nappa leather with quilted design; doorcards in black Alcantara with quilted nappa leather inserts; dash, centre console, glovebox, handbrake, gear gaiter and roof lining in black Alcantara with matching stitching – by Lawrence at LG Trimming in Enfield, London.
THANKS:
Thanks to Shaun at V8 Developments for the wiring and mapping; Dad for helping me paint it; and Lawrence at LG Trimming for the retrim.
Words Dan Bevis Photos Chris Frosin