After 30 years of modifying and racing Fords of all ages, Ali McMillan created his ideal tuned Sierra RS500 Cosworth.
Feature from Fast Ford. Words: Ben Birch. Photos: Ade Brannan.
Maybe times have changed, but the thought of a Cosworth road car equipped with mega horsepower, straight-cut gearbox and rose-jointed suspension doesn't sound quite as jolly as it used to. Sure, the odd blast on a track day would bring a smile to your face,but driving to shows or to a nice pub (remember those?) on a sunny Sunday crammed into a fixed bucket seat with your ears ringing and V-Power vapour burning your nostrils would be a bit… draining.
The tuned Sierra RS500 Cosworth you're looking at here may therefore be the perfect Cosworth road car; a blend of just enough power, just enough stance and just enough original RS500 character remaining to create a truly enjoyable mode of transport.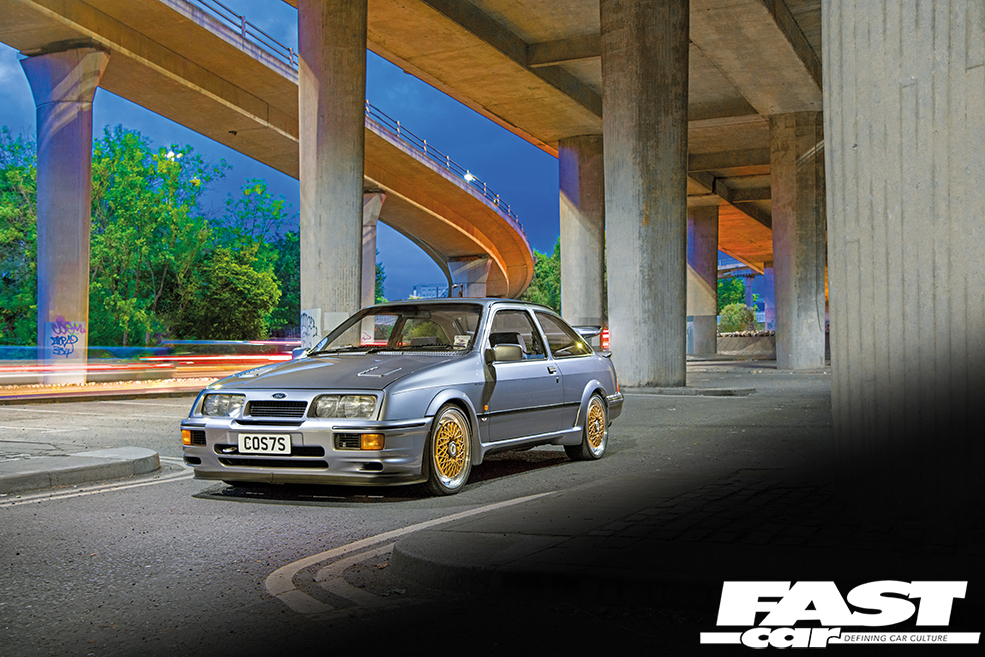 Owner Ali McMillan says, "I used to drive it every day and it was lovely, but then their values kept steadily climbing, so I had to be sensible and put it into semi-retirement. I'd still be using it daily otherwise."
Ali bought the car in 2008, its 'for sale' ad evoking such great memories of his youth that he bought it purely due to nostalgia.
"I worked with a race team back in the early 1990s and they had a Moonstone Blue RS500 for general dogsbody duties. Believe it or not, I used to tear around in it picking up spares for the race cars," he explains.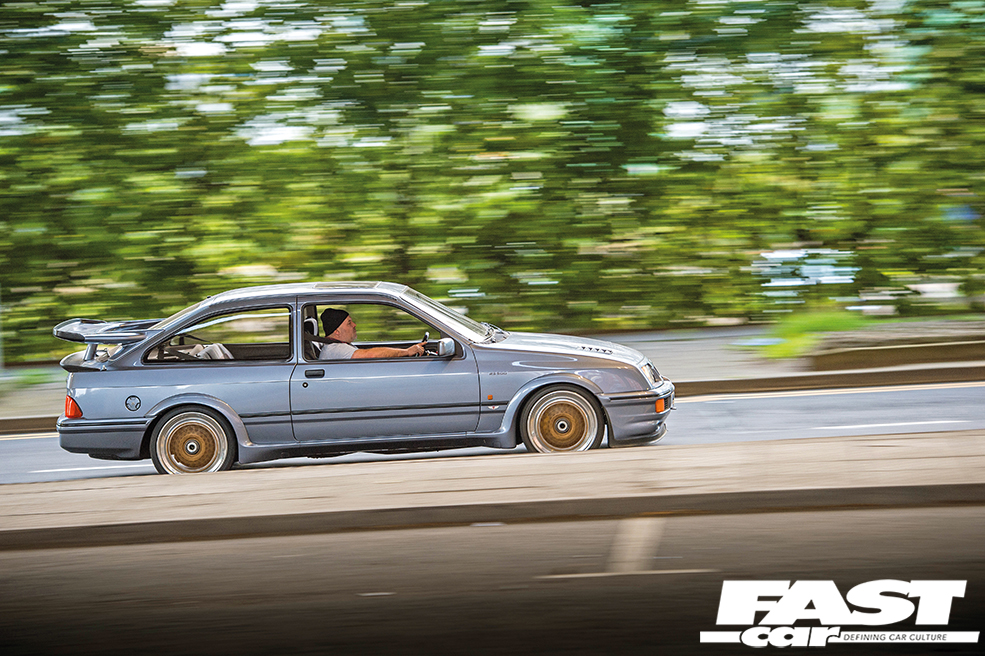 Spec-wise, RS500 number 494 was pretty much the same as it is today, although Ali did have to bring a few areas back up to scratch.
"I've not had any bodywork done, but I did fit new side mouldings and new Tickford badges," he points out. "Also the interior was showing its age, so it had some remedial work on the seats and a new headlining fitted."
His only modification to the otherwise standard cockpit was a period-correct RS steering wheel, which arguably looks better than the standard item. Ali took the same sympathetic recommissioning approach to the engine bay, which he describes as having been 'generally untidy' and 'with horrific multi coloured hoses everywhere'.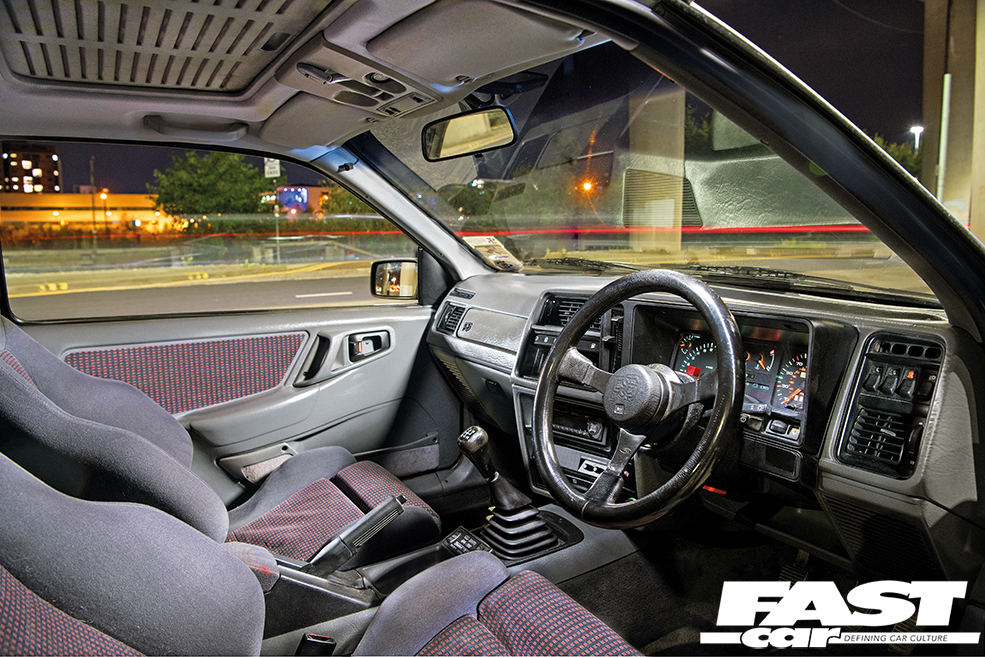 To be fair to the previous owners, the car had been modified many years ago when bright colours, chrome and polished stainless were fashionable. Swapping everything back to more OE-looking tones was an easy job, and it's given Ali the inspiration to go even further in future by putting the engine bay back to an even more factory-look, including removing the strut brace and refitting the cambelt cover.
But Ali's happy with the tuning of the engine, as it had thankfully been executed more sweetly than the aesthetics. He found this out when the YBD made a healthy 315bhp at the wheels on AVA's rolling road.
Ali adds, "I haven't touched the engine, and it's been faultless – I think because it's a very simple, tried-and-tested spec. Actually, it's my favourite spec on a road-going Cosworth."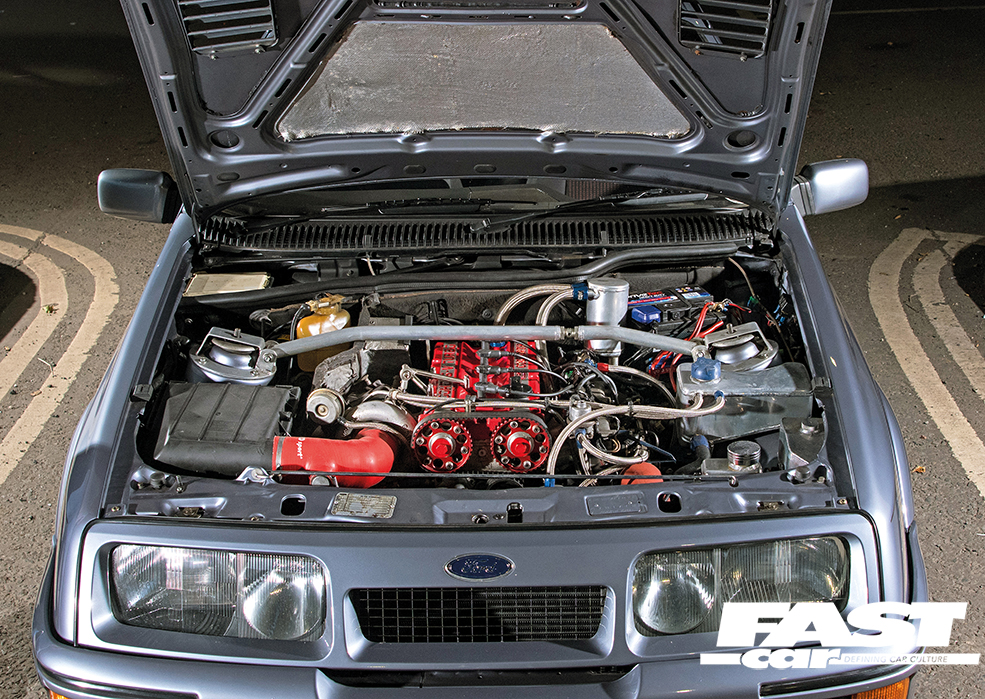 The mods equate to a set of four dark green Bosch 803 injectors, a 3 bar MAP sensor, stainless exhaust system, suitable chip and a set of old-school BD10 cams. Not many people seem to use BD10s these days, but back in the 1990s they always worked well on a Stage 3 setup, and Ali agrees they do the job: "It's plenty fast enough for a road car and drives beautifully."
Solid reliability and daily driveability notwithstanding, other benefits of keeping power levels sensible include being able to keep the standard – and therefore smooth and quiet – original T5 gearbox and viscous 7.5in diff. The factory Ford four-pot front brakes are also well up to the job, albeit Ali has fitted a uprated pads, which result in better bite and brings them from the 1980s to somewhere around the mid-2000s.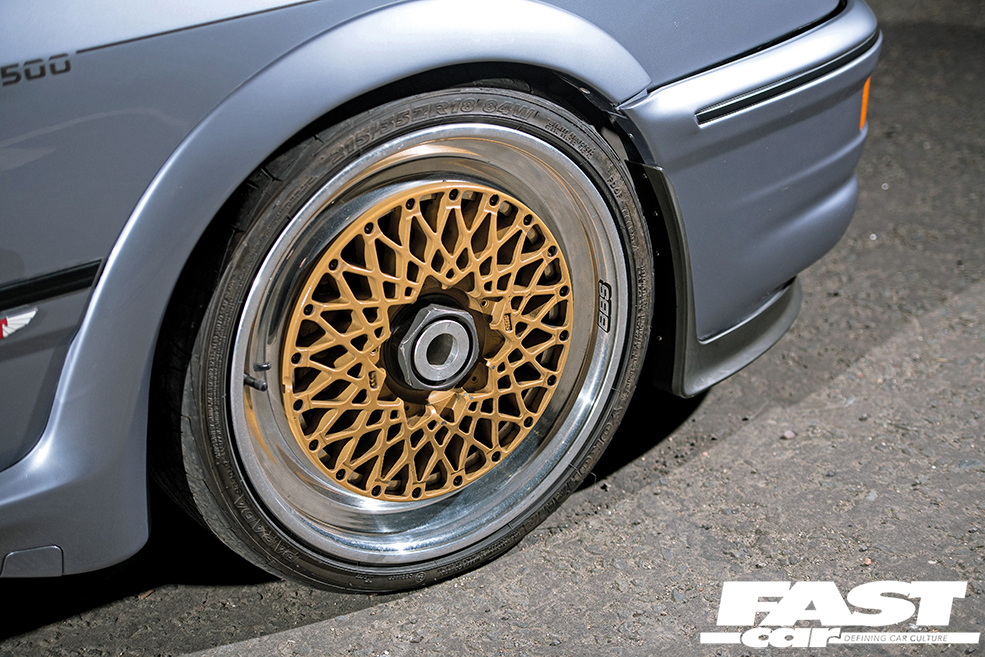 "Modern cars have much better brakes and suspension," says Ali with a shrug, "and Sierras are quite tractor-like compared to modern performance cars. You can feel its age in those areas for sure, but that's part of the experience, it's part of the appeal."
Where no modern performance hatch or saloon can compete with this 30-year-old Ford, though, is in looks and road presence. Even on standard wheels a Moonstone RS500 is simply breathtaking, but when fitted with gold-spoked centre-locks… Pass the Kleenex!
Ali bought the car running 16in Compomotive CXNs, but he knew what he wanted right from the beginning and just had to be patient sourcing them. "I'd always loved BBS touring car centre-lock wheels, but it took me a good three years to find some and fit them to the car," he smiles.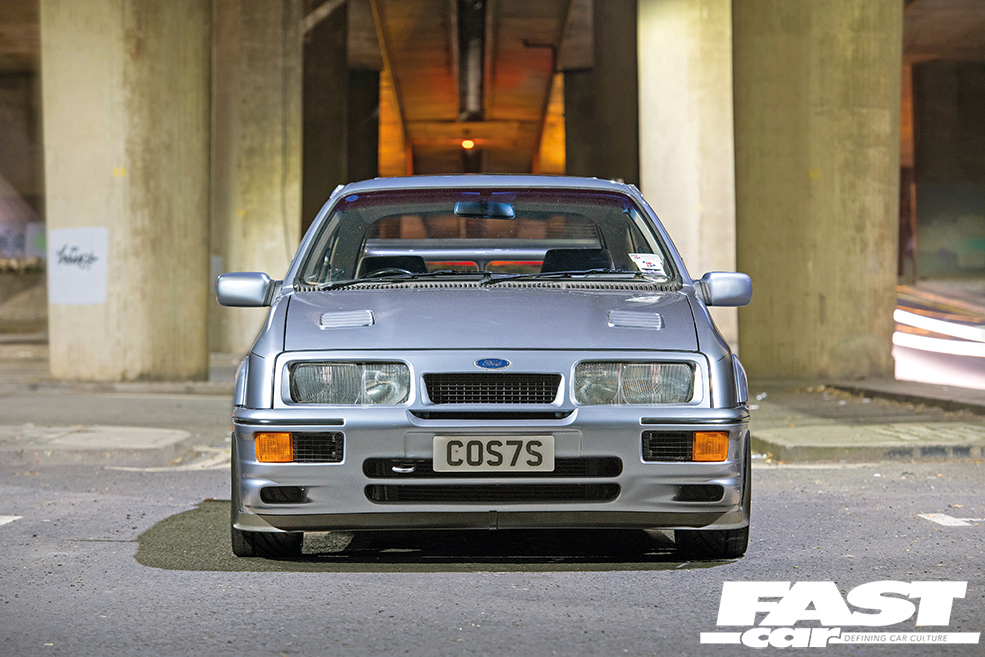 This particular set – including the necessary hub converters – were on another Sierra, but even so, Ali had to carry out a few changes to get them stuffed properly into the arches.
"We machined 10mm off the back faces of the wheels, and they then sat in the arches without any arch trimming or modification," he says. "I also had to fit new springs to drop the front end and get the ride height correct, but other than that it was pretty straightforward."
The overall effect of what is essentially a wheel and spring swap is so much greater than the sum of its parts; is this the ultimate wheel for a three-door Sierra? In gold, and against Moonstone paint, we struggle to think of a more striking combination.
Indeed, Ali is mesmerised by the car: "Of all my toys, this is the one I will never sell," he says. "I've got an Ultima, I race a Primera 4×4 Supertourer, I've had many other RS500s and a Thundersaloon race car, and I'm currently building a big-power Sapphire.
"But even just looking at this RS500 connects me to a great time in my life, and that is absolutely priceless."
In this age of spiralling car values and parts costs, and of dealers-cum-collectors buying up these unicorns for profit alone, to see someone getting such pleasure from owning an RS500 purely because of their love for the car is truly heart-warming.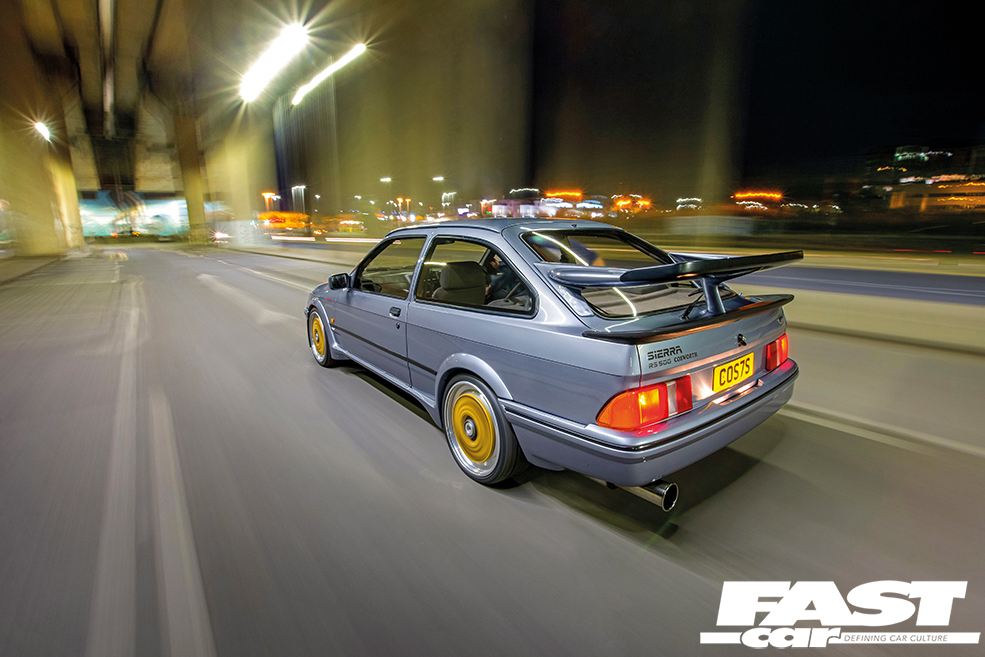 And the best bit is that because he's built it with a 'less is more' approach, Ali has a completely useable and reliable time machine that he can simply get in, turn the key and go for a drive back down memory lane to his halcyon days.
Tech Spec: Tuned Sierra RS500 Cosworth
Engine:
1993cc Cosworth YBD, small core-plug 205 block, T4 turbo, genuine RS500 intercooler and cooling system, eight-injector system (four operational), Bosch 803 injectors, BD10 cams with vernier pulleys, 3 bar MAP sensor, Stage 3 chip, stainless steel exhaust system, stainless header, breather, and PAS fluid tanks, braided hoses
Power:
315bhp at the wheels
Transmission:
Original RS500 BorgWarner T5 five-speed gearbox, 7.5in viscous limited-slip differential
Suspension:
Koni fast road springs and adjustable dampers all round
Brakes:
Front: factory four-pot callipers with original-size discs and uprated pads; rear: original RWD Cosworth callipers with original-size discs and uprated pads
Wheels & tyres:
8x18in BBS centre-lock wheels (adapted to suit this car) with 215/35ZR18 Yokohama tyres
Exterior:
Original RS500 Cosworth (number 494) in Moonstone Blue
Interior:
Original RS500 Cosworth interior, period RS three-spoke steering wheel