It might not be a full-fat M2, but this tuned BMW M240i has spent some serious time in the gym and it's turned into a huge horsepower heavyweight that hits hard – 752hp and 10-second quarter-mile hard…
Feature from Performance BMW issue 255. Words: Elizabeth de Latour. Photos: Chris Frosin
With modern cars seemingly getting bigger and bigger with almost no sign of stopping, it's easy to see the appeal of something a little smaller and more fun, like the 2 Series. It's still big enough to be practical but also small enough to feel light on its feet and fun to drive. Of course, while most of us would love to get our hands on an M2 it costs over £50,000, and while it is an exceptional machine that is also a rather large amount of money to be spending. This is where the M Performance offerings, affectionately dubbed 'M-Lite' models by their fans, come in as they offer serious speed for a lot less money and plenty of tuning potential, as Tom Wrigley's tuned BMW M240i, currently the fastest B58-powered BMW in Europe, goes to show…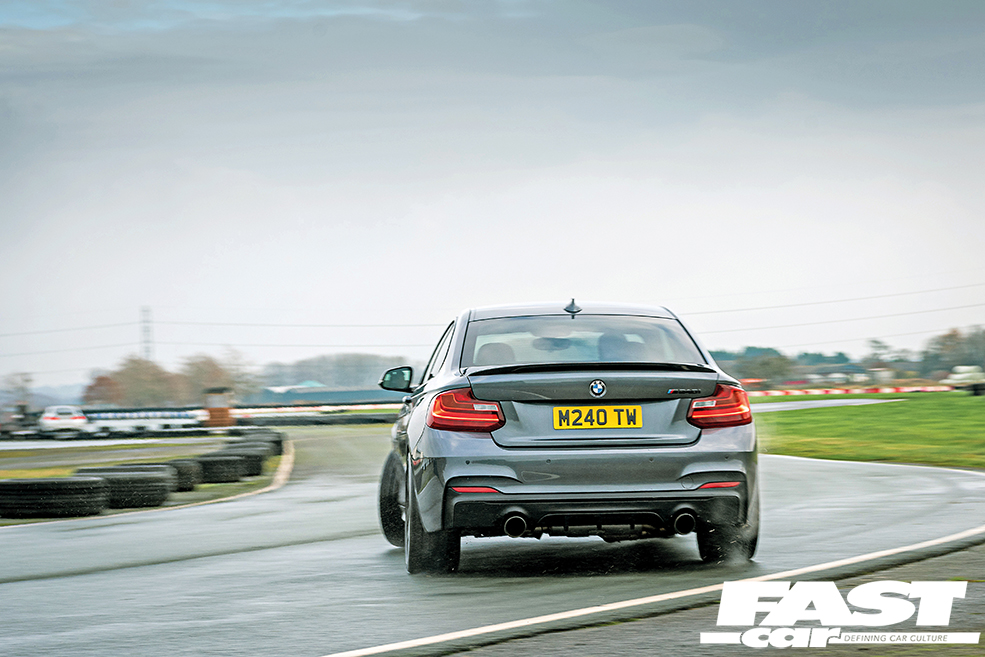 Tom's name will be familiar to regular readers as he appeared in the Our Cars pages with his M4 a while back and, more recently, the fruits of his modding labours appeared on our Summer issue cover in the shape of a customer's 800hp M4 that his company, Tom Wrigley Performance, built. Now he's back but this time it's his own personal beast we're dissecting and what an absolute monster of an M240i this is. But before we get beneath the skin of this build, we need to learn a bit more about the man behind it. "I've been interested in BMWs since a very young age, I always loved watching them in Touring Cars," he says and while Tom is only 26 – which makes the fact that he races in the Porsche Carrera Cup and also runs his own performance company all the more impressive – he's already a seasoned BMW owner. "My first BMW was an M135i – it was the fastest model I could insure," he laughs and that's one hell of a way to make your acquaintance with the brand and both that car and his early years watching BMs racing clearly made an impact as his garage is currently home to an E30 325i Cab, an E36 M3, an F80 M3, an F87 M2 Competition and an F90 M5 Competition, along with the M240i. "I decided to buy the M240i because I love the shape and it has a great engine," says Tom and, going by his track record with BMs in PBMW, it is no surprise that it is so heavily modded. "I've modified every car I've owned extensively and this is definitely one of my favourites. Another great car I built was the E36 M3 Evo with a 3.4-litre stroker kit, it was around 400hp and an absolute screamer!" he grins. So was there a plan when it came to the M240i? "Yes," replies Tom simply, "to make it the world's fastest 2 Series."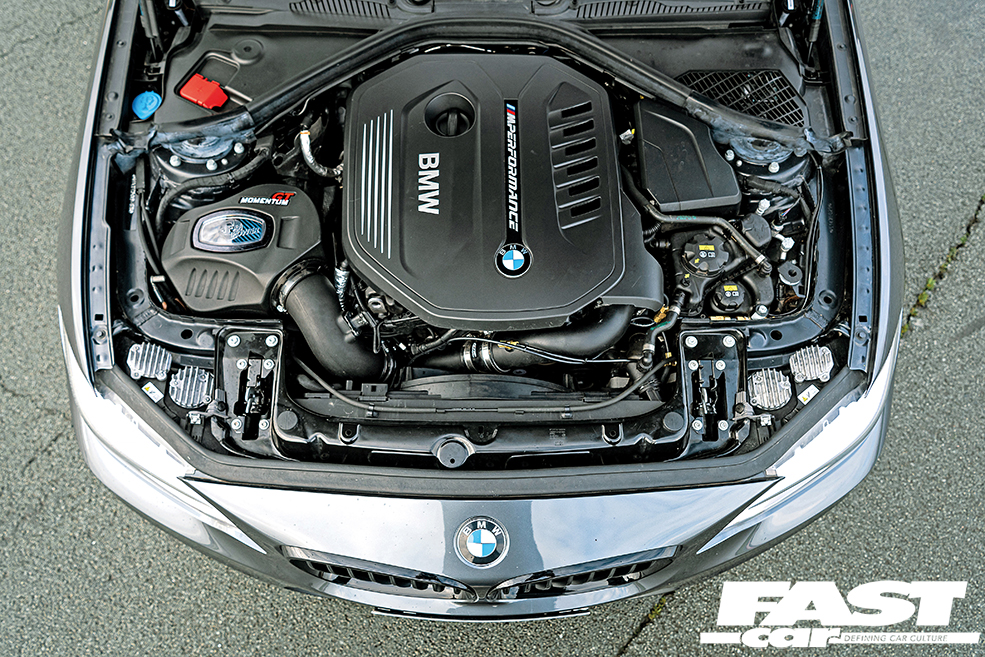 When you set out to create the world's fastest 2 Series your main focus is going to be performance and not only are Tom's cars fast, he doesn't hang about when it comes to modding them either. "Well, I bought the car three days before the first VMAX200 event of the year so everything initially was quite rushed but we managed to get the car running stage 2 plus methanol. We managed to hit 187mph in the standing mile, which made it the fastest 2 Series at the event. That was still on the stock turbo, though, so I'm really looking forward to going back now with the new setup," he grins and what a setup it is. "We are running the stock engine and transmission (for now)," Tom begins, "and we then fitted the Pure 800 hybrid turbo, full BCS turbo-back exhaust, FTP charge pipe kit, AFE intake and Wagner radiators. Initially, we ran this on the stock fuel system but it simply just couldn't keep up so I upgraded the HPFP to the Dorch Engineering Stage 2 HPFP, which gave us all the fuel we needed for running pump petrol. We then wanted to explore ethanol mixes in the fuel – these work with the Dorch also up to around E50, which is where we then introduced the Evolution of Speed port injection. Now we are at what I consider the limit of the stock engine so we haven't pushed it any more, however, once the engine is built we will be upgrading the LPFP and the inlet manifold. We'll be running full E85 mix fuel and we'll see if we can hit around 800whp," he grins and that sounds eminently achievable considering where this awesome lineup of performance upgrades has taken this car so far. This M240i is making 752hp along with 642lb ft of torque and that results in an eye-watering 0-62mph time of 3.2 seconds, a 100-200kph (62-124mph) time of 4.9 seconds and a 10.76-second quarter-mile at 137mph, which are some truly mind-boggling numbers and they make this M240i an absolute animal.
While Tom's efforts under the bonnet are incredibly impressive, with him being a racing driver you would be very surprised if he left things there without attending to the chassis because good as the M240i may be, it does need a bit of help in coping with more than double its factory power output. "Suspension-wise I've actually done quite a lot," he tells us and we are in no way surprised to hear this. "The first job was to fit the awesome MSS spring kit, which takes so much of the unwanted body roll out of the car, along with the H&R ARB kit. I then fitted a full set of SuperPro bushes to the car, which has improved things hugely as the stock rubber bushes were really struggling with the power. Next up was SPL control arms, which enabled me to have full adjustment of the car's geometry and set it up exactly how I want it as I will be using it for track and also quarter-mile and top-speed events. The final part was to fit one of my own AP brake kits, with a 380mm disc and six-pot caliper front setup and 355mm discs and four-pots at the rear," and that's an incredibly thorough and impressive setup that makes this tuned BMW M240i far more than a one-trick power pony. The chassis upgrades endow it with some seriously sharp handling and give Tom plenty of options when it comes to running his ideal setup for any given event, while the monster brakes mean massive stopping power, which is pretty essential with over 750hp on tap, and it gives you an idea of just how thorough and complete Tom's builds are.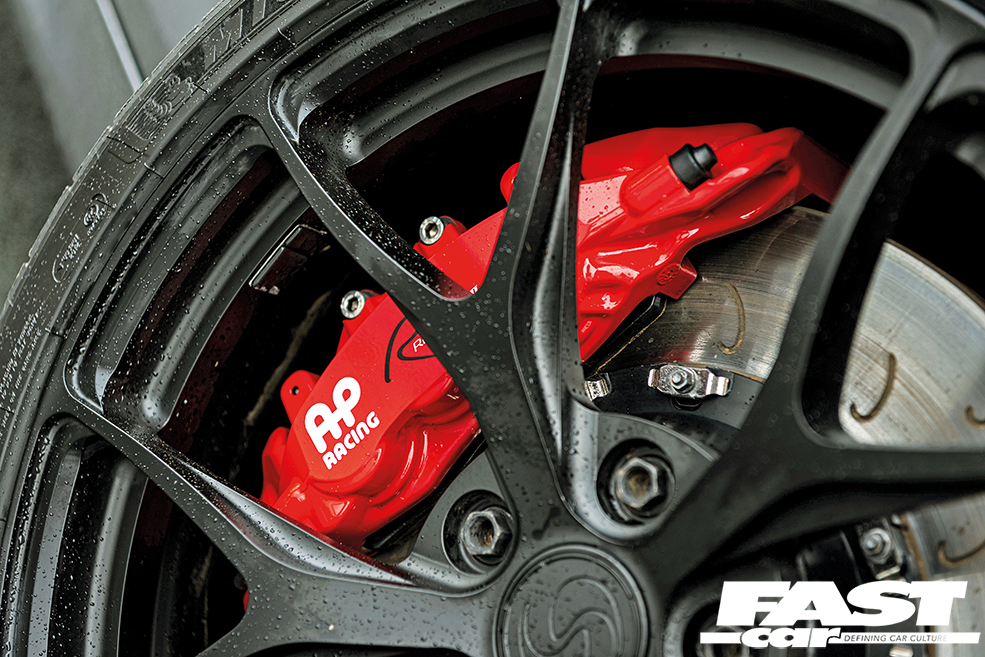 However, while what's under the surface is capable of blowing your mind, you wouldn't know it to look at the car because Tom has chosen to keep the exterior extremely subtle and, to our eyes, that only serves to enhance this car's appeal and it's why choosing an M240i for this build was such a good idea. An M2, with its swollen arches, quad exhausts and bags of presence and attitude is never going to be a true sleeper, whereas a grey narrow-body 2 Series, even one with black wheels and red calipers, just doesn't garner the same sort of attention. Subtle on the outside, serious on the inside – it's perfect in our eyes. That being said the exterior has received a few additions to enhance the car's visual appeal – it's been equipped with carbon mirrors and a carbon rear spoiler, there's the drop served up by those MSS springs and then there are the custom-made Signature forged wheels, SV104 19s finished in matt black, which are both very strong and very light making them perfect for this build. Beyond that, though, there's nothing on the outside to give you any hint of the sort of earth-shattering power level that this unassuming 2 Series is developing.
The interior has also been treated to a few additions but, much as with the exterior, Tom's kept things subtle. Centre stage are those absolutely awesome M Performance Recaro CS seats in Alcantara and they are joined by an M Performance LED steering wheel with matching Alcantara rim, M Performance carbon and Alcantara trim while the finishing touch is the extremely fancy and high-tech Awron digital vent gauge that enables Tom to monitor the engine's vitals. These additions combine to make the interior feel that much more special and focused, and it perfectly suits the ethos of this build, very much being about purpose without excess.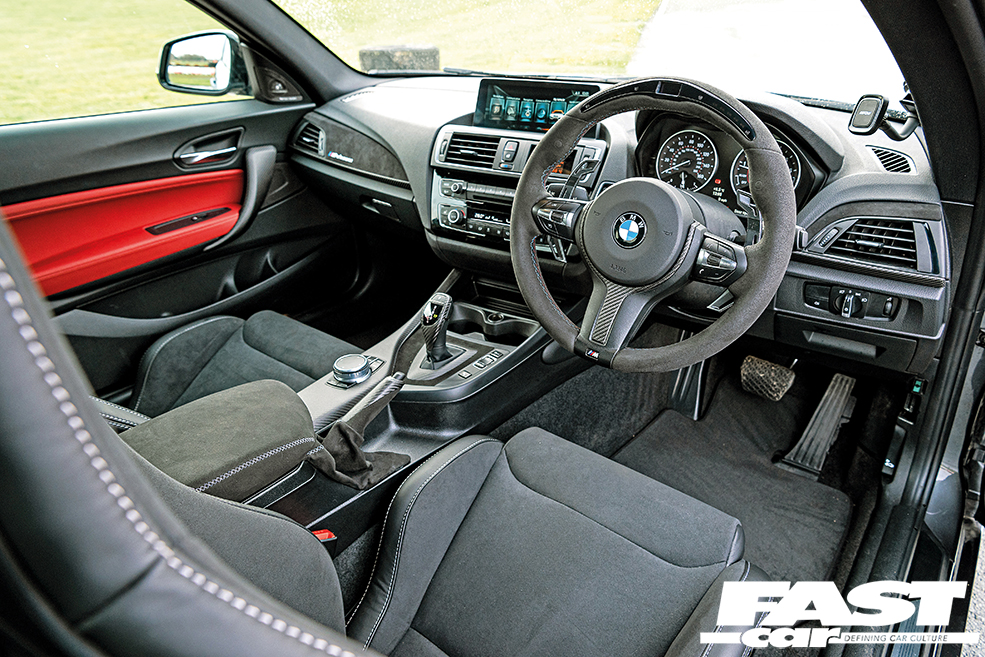 We did say that Tom doesn't hang about when it comes to modding and he's almost as quick as the cars he builds, with this tuned BMW M240i going from stock to Europe's fastest B58-powered machine in a scant six months and while most people would be happy with that we already know that Tom isn't satisfied, although he is very satisfied with the build thus far. "My favourite modification on the car is without a doubt the turbo – it delivers incredible performance," he grins but there's plenty more performance to come. The next step in this tuned BMW M240i build evolution is that push for 800whp with a fully built engine and E85 and considering how unbelievably fast this car already is, this next stage of its development is going to push it to a level of performance surely bordering on the very edge of human comprehension, and we can't wait.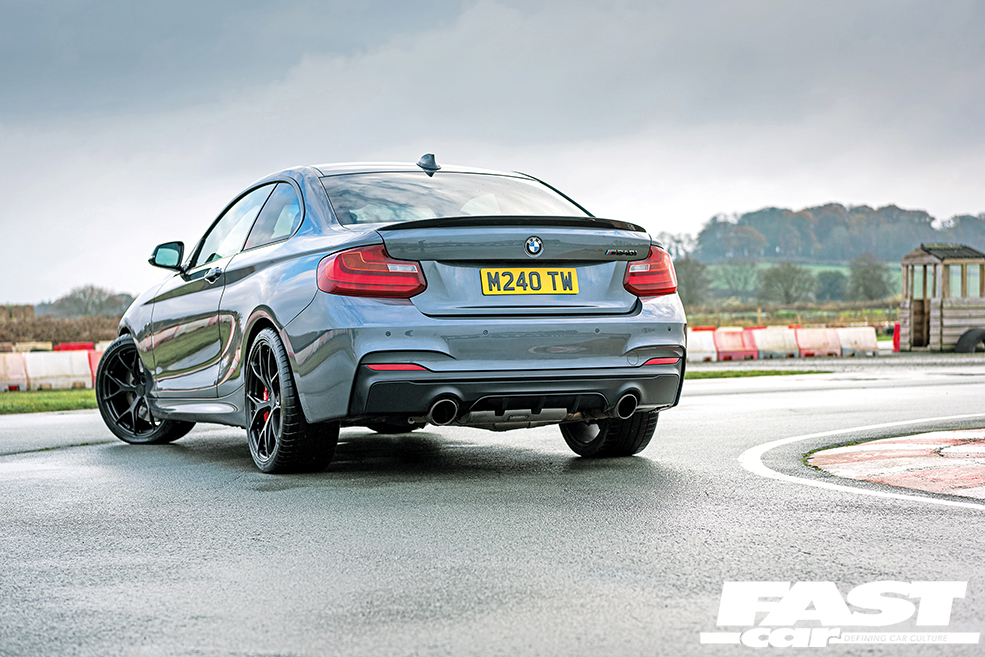 Tech Spec: Tuned BMW M240i
Engine & Transmission:
3.0-litre straight-six B58B30, aFe intake, Pure 800 hybrid turbo, full BCS turbo-back exhaust, FTP charge pipe kit, Evolution of Speed port injection, Torqbyte meth injection, Dorch Engineering HPFP, Wagner radiators, tuned via Boomod3 by Paul Johnson (F80Paul). Eight-speed automatic gearbox, Drexler LSD
Power & Torque:
752hp and 642lb ft
Chassis:
8×19" (front) and 9×19" (rear) Signature Forged SV104 wheels in matt black with 245/35 (front) and 265/35 (rear) Michelin Pilot Sport 4 S tyres, MSS spring kit, H&R anti-roll bars, SuperPro subframe bushes, fully adjustable SPL arms throughout, AP Racing BBK with six-piston calipers and 380mm J-hook discs (front) and four-piston calipers and 355mm J-hook discs (rear)
Exterior:
M Performance carbon mirrors caps and rear spoiler, M Performance rear diffuser
Interior:
M Performance Recaro CS seats in Alcantara, M Performance carbon/Alcantara trims, M Performance LED steering wheel, Awron digital vent gauge