Remember the phrase "it's polite to share"? This tuned Audi S3 Mk1 has embodied that philosophy for life borrowing bits from the wider VAG family in the form of a 550bhp VR6 engine, Porsche 911 wheels and more…
Feature from Performance VW. Words & photos: Jimbo Wallace.
Imagine, if you will, a garage from Lock, Stock and Two Barrels. A dark, dank, bleak looking railway arch that nobody would ever find, unless they knew it was there. Smoke billows out of the doorway, sirens wail not far from the Elephant and Castle roundabout and the general Friday night vibe is one of a slightly oppressive, gritty, urban underworld setting – one where unless you're a local 'face' you could feel quite intimidated. This is the yard of Darren Francis, a VAG engine swap purveyor, head honcho at VW Enterprises and general three plus decade legend amongst London's VW scene.
Why is he so well known? Let's put it this way. The Mk1 Golf that's he's owned for the best part of 25 years is so well known amongst the London VAG fraternity that it's nigh on mythical. One year, on the way to the Worthersee Treffen at the southern tip of Austria, he managed to detonate the bottom end of his big turbo 1.8 20v motor. Roughly 1000miles from home he was towed to his hotel where he contacted the local VW dealer, bought some big end bearings, some new rod bolts, a couple of pistons and a new head gasket before proceeding to rebuild the engine in the hotel car park with a trolley jack, a few spanners, a socket set, a handful of screwdrivers and a couple of handy mates at his disposal. It is a story that is cemented in VW history.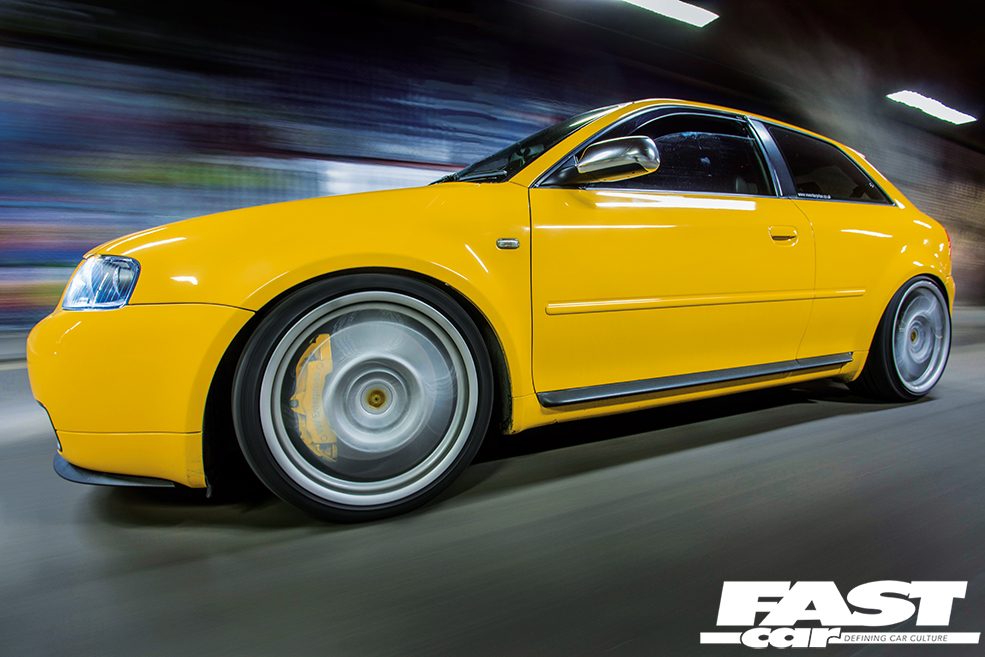 He's also a larger-than-life character who everyone knows. If you've ever been to the Ace Café or the Chelsea cruise, you might even have bumped into him. So, what has that got to do with this 2000 registered Imola Yellow tuned Audi S3 Mk1 that's now making 550hp and 550ft.lbs of torque? Well, over the years he has become a dab hand at inserting engines that don't belong into cars that don't know they need more than double their factory horsepower.
When he's not wiring in oddball VAG lumps into something unsuspecting, he can often be found turbocharging R32 motors with alarming regularity, "Anyone can build a turbocharged 3.2," he says, "but it's getting them to hold together and be reliable that's the tricky part." Purchasing this Audi S3 with a blown engine and turbo around ten years ago it was a bit of a mission even finding one, 'I'd seen many a customer come in with 8L S3s, so I knew I liked them, but it had to be Imola Yellow or Nagaro Blue for me. They were a bit rich for me at the time, so when this popped up on Facebook marketplace with a knackered engine, I borrowed a mate's trailer drove straight up to Glasgow and collected it," mused Mr Francis.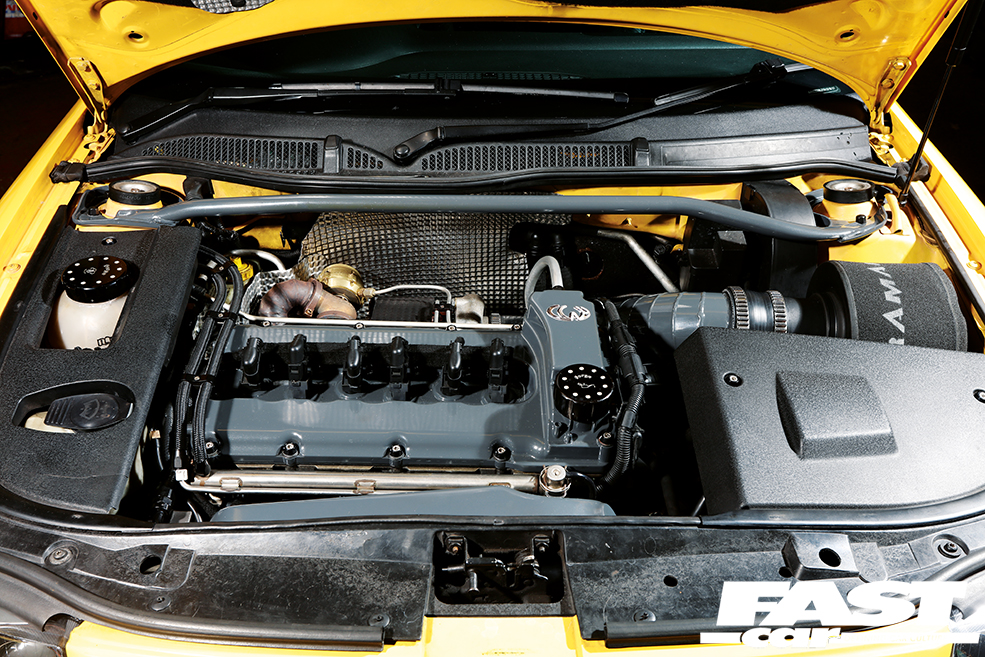 Sitting in the workshop for a few months, Darren devised a plan of attack involving a mate's fully forged 20valve turbo (APY) engine that also came with a hybrid turbo on it. Duly slotted into place he embarked upon a turbo killing mission working his way through no less than three hybrids before finally settling upon an eBay Chinese special for £180 that held on for a couple of years. Alongside ECU mapping guru and his good mate that is Adlai Phillip, the 20vt was knocking out some impressive numbers, but when that eBay turbo let go, he decided the time was right to go large, "We'd been using Eddie's (Adlai's) S3 as a testbed for a turbo R32 swap, so we knew it was mechanically straightforward, but electronically quite complex when it came to adding boost.  As he's a bit of a genius though Eddie worked out a way to retain the factory Bosch ME7.1 ECU and code it to see boost through a larger than factory MAF sensor housing. From that point on I knew exactly what I needed in my S3," Darren mused.  A second hand V6 4motion Golf was soon sourced, the engine sold and the clutch, gearbox, loom, ECU and a few other ancillaries retained for the swap.
Then, one night whilst surfing Facebook Marketplace, Darren spotted a 3.2-litre Mk4 R32 lump (BFH code) for sale. "The Mk4 Golf and Mk1 TT engines have a slightly stronger forged crank compared to the sand cast Mk5 versions, so they take a little bit more abuse." Combined with a Mk5 R32 cylinder head with it's different VVT setup and longer duration exhaust camshaft, there's also a CTS head spacer to drop the compression ratio of the engine down to 9.0:1 from 10.5:1 and allow for that sizable slug of compressed air to enter the combustion chambers without the timing being pulled back, or detonation taking place.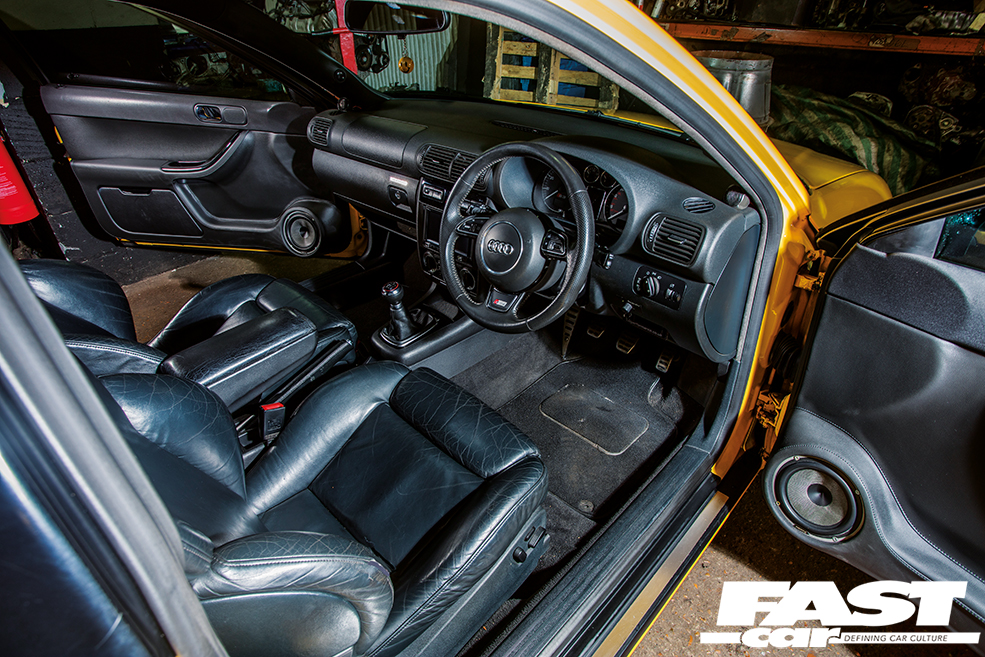 Naturally before it was thrown in the hole, Darren also fitted ARP con rod bolts and new big end bearings after the bores and pistons were given a clean bill of health. "I could have gone fully forged at this point, but unless you're striving for 600+hp the factory bottom end is pretty stout."  A Ramair intake filter now feeds a 4-inch pie cut inlet from SAS Autoworks direct to a Precision 6262 turbo that's bolted to the head via a CTS turbo manifold. "We had to use a bigger 4-inch MAF housing and Eddie recalibrated the tables 100s of times so that the Bosch ECU can calculate the eventual inlet density.  Charge air is chilled thanks to the biggest Wagner intercooler that would squeeze behind the bumper and the inlet charge is piped back into the engine via more 4" pipework and a HGP style short runner inlet manifold.  With 660cc fuel injectors and an uprated Walbro fuel pump everything has been optimised over and over again thanks to Adlai's calibration precision for an effortlessly rapid machine that really puts you in the seat from 3000rpm, "You can easily tickle it along off boost and it feels refined and quite nippy, but once the boost hits all hell breaks loose. It really is an event."  With a solid 20PSI of peak boost arriving by 4500rpm it's now a 550hp and 500ft/lbs rocketship that revs to 7200rpm.  Thanks to the slightly longer ratios of the 2.8 4motion (02m) gearbox, which has been treated to a Gas N Gears rebuild with uprated shift forks, syncromeshs and input shaft inserts, the clutch has also been upgraded to a twin plate paddle offering in an attempt to transfer all of that power and torque via the Haldex clutch pack to the rear diff, "It's certainly not been built as a drag car though, it's more of a cruiser / roll racer if anything. I can tell you it will comfortably go off the standard S3 speedo when in Germany or Mexico," laughs Darren.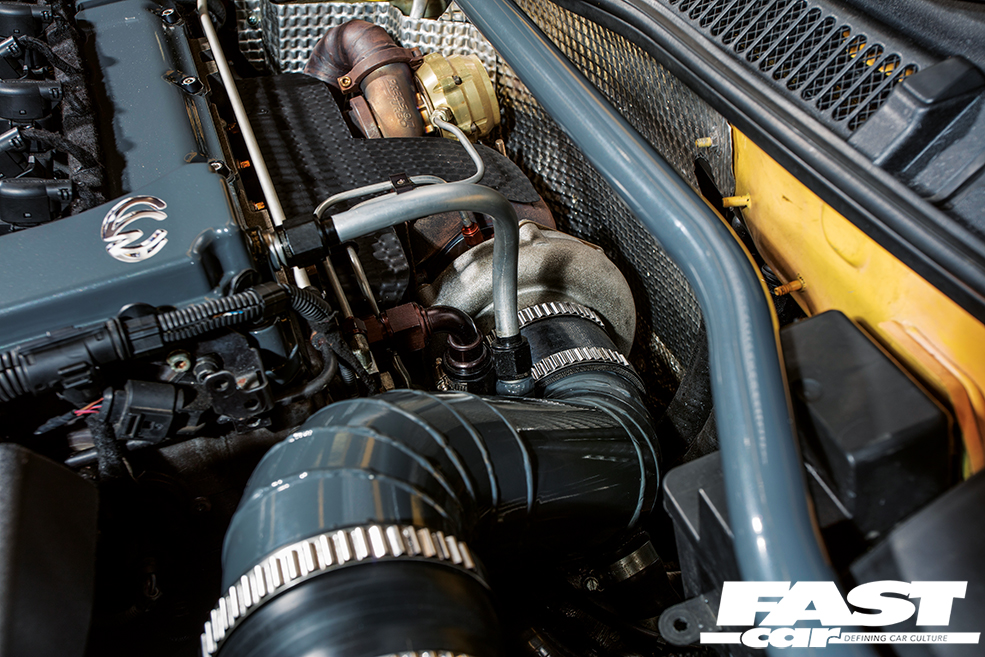 Keeping that lot roof side up is currently handled by a set AP Sport height adjustable coilovers, soon to be replaced with some BC Racing offerings, while 215/35 and 235/35 rubber wraps around a set of genuine 19-inch Porsche 997 lobster claw alloys that match up to the 5×100 hubs courtesy of H&R PCD adapters. It's a stylish looking setup that delivers on all fronts, particularly when it comes to braking. Adding some much-needed woah to the go is reserved for some Brembo 18z (Q7, Cayenne, Touareg) six-piston calipers that wrap around 360mm AP discs thanks to Epytec bracket adapters. "They're a massive step up from the OE brakes and they look pretty cool as well. Only thing is they're really wide, so you have to be careful with wheel choice," says Darren.
Following a slow speed accident at about 5mph the whole car was also treated to a complete respray in that iconic Imola Yellow by nearby painter, "Cowboy" who resides in a another similarly dodgy looking arch garage in Brixton.  "It was about five different shades of yellow prior to the respray and he redid all of the grey inserts and screwed the Leon Cupra R front splitter into place as well." Styling might not be this cars reason for being, but it looks pretty damn immaculate for something registered at the turn of the century.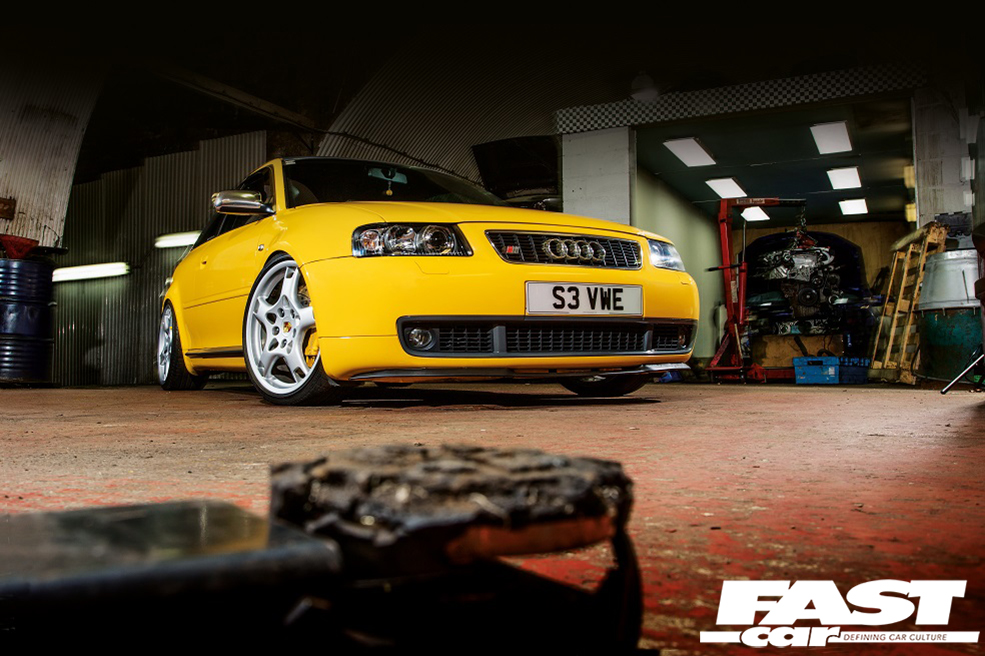 Strapped into the electric leather Recaros gazing at the full colour MFA display the noise that emanates from the SAS Autowerks stainless exhaust is a pure symphony. It's deeply impressive in its tone, smooth yet savage, perfectly bassy with just a hint of the big CC forced induction whistle and onslaught that awaits.
Unlike the ICE setup that is, which is not subtle at all. Never before has a single 12-inch subwoofer sounded so forceful. No doubt that has something to do with it being an Orion HCCA 122 dual 2ohm in an enormous, home-made ported box that's hooked up to a monstrous Hifonics Brutus 2000w RMS amplifier. If anything, it shows that box design is almost as important as the amp and woofer itself, but Darren has also hooked up some Hertz 6.5-inch components both fore and aft to deliver the tinkly bits with equal clarity and volume from a Hifonics four channel.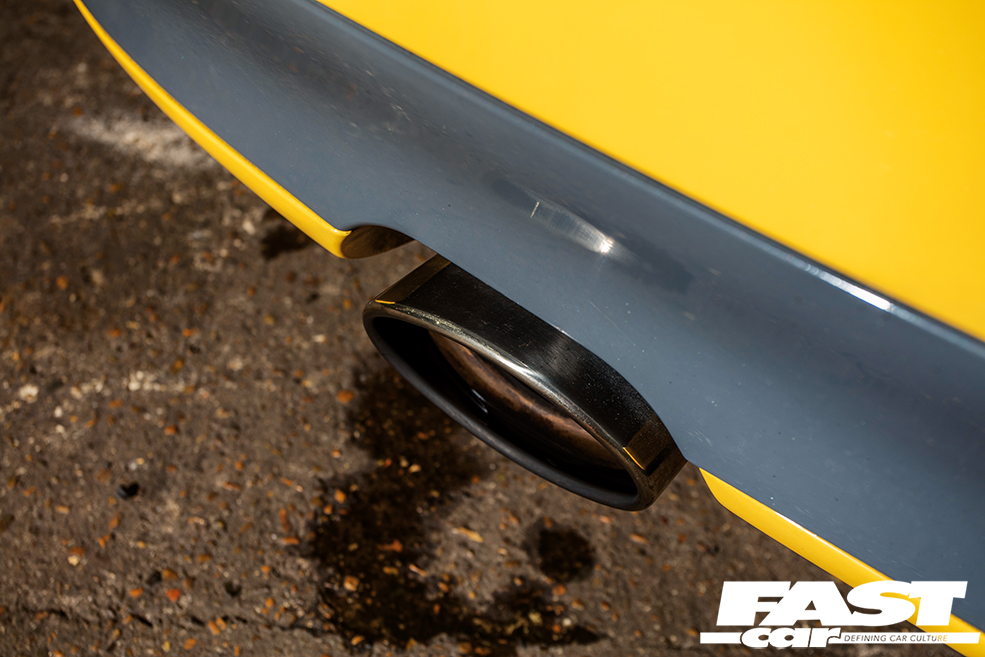 This tuned Audi S3 Mk1 is far from being a one trick pony, it's a refined and opulent space that you could comfortably smash the miles in, yet it also delivers phenomenal performance when your size ten meets the shagpile. Sure, Dazza could always go a step further with the engine, fully forge it and even opt for a slightly bigger precision turbo while reaching for the heady heights of 700+hp, but as it stands, he's really happy with it. In current YouTube performance terms we have no doubt the 100 – 200kph times on Dragy would be epic. "I'm not interested in launching it and killing the Haldex setup or detonating the gearbox though," smirks Darren, "I've had a few memorable tear ups against my mate in his R32 Turbo Bora, but to be honest it really is more of a cruiser with effortless motorway grunt."
He's being falsely modest here though, of course it's quick, it has Lambo power in an early noughties hot hatch chassis – what's not to love about that?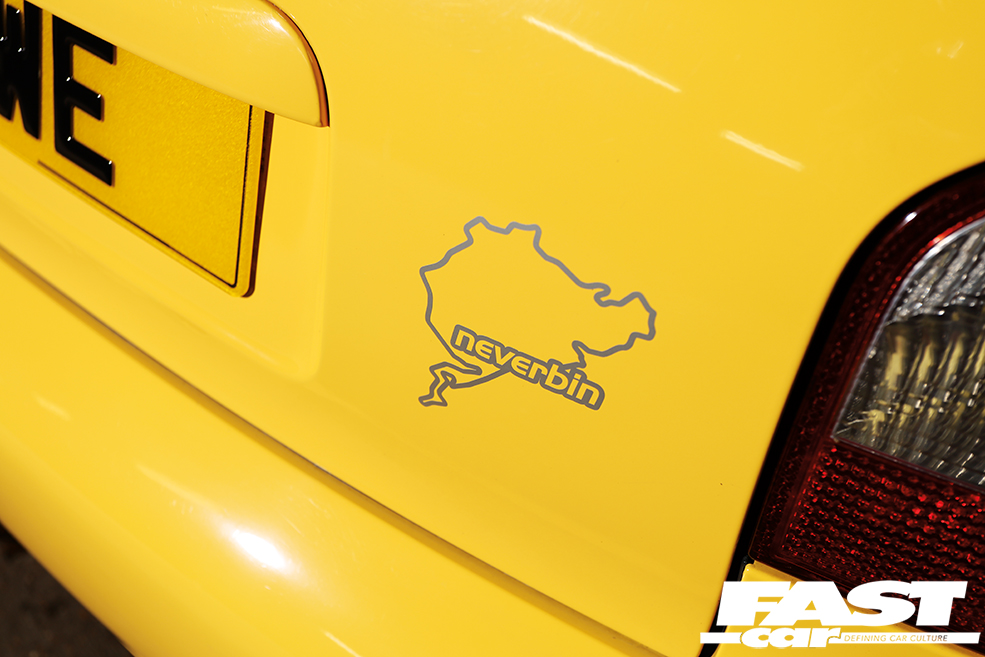 Tech Spec: Tuned Audi S3 Mk1
Engine:
3189cc (84.0 x 95.9 mm) 24v VR6; BFH (Mk4) forged crank and block; Mk5 Golf R32 cylinder head; Ramair foam intake filter; custom SAS 4" intake pipework; bigger 4" MAF housing; Precision 6266 Turbo; CTS turbo manifold; Precision 44mm external wastegate; Wagner Front intercooler; 660cc Bosch injectors; Bosch MED7.1 ECU cracked and calibrated by Toyotec (Adlai Phillip); 2.8-litre wiring loom; painted cam cover; HGP style short runner intake manifold;  ARP rod bolts; ACL big end bearings; Audi engine covers; SAS Autowerks turbo back stainless exhaust system; AN-8 braided black fuel lines; custom welded sump with turbo oil return take off; Forge Motorsport filler caps; Gas N Gears rebuilt and strengthened six speed 02m 2.8 4motion gearbox; Power 550hp and 500ft.lbs of torque. Top speed: 180+mph
Chassis:
8.5×19" and 9.5×19" Porsche 997 Turbo wheels, H&R PCD adapters, 215/35 and 235/35 x 19 Accelera tyres, AP Sportfahrwerke height adjustable coilovers, H&R anti roll bar, Powerflex Poly bushes throughout, Brembo 18z six-piston calipers, Epytec adapter brackets, 360mm AP racing drilled and grooved discs
Exterior:
Fully refinished in Imola yellow; Leon Cupra R front splitter; Nardo Grey inserts and roof; Coverted Bi-Xenon Depo headlamps with Morimoto lamps and ballasts
Interior:
Full heated leather Recaros; Colour MFA with welcome screen animation; TT air controls; R32 pedal covers; custom door cards. Alpine INE-W720D headunit; Hertz 6.5-inch components front and rear; Orion HCCA 122 12-inch subwoofer; Hifonics Brutus BRX2000D Mono and BG1600.4 channel amplifiers