Everything about the BMW E38 7 Series is just so right and finished in Individual Scarab green with a host of retrofitted OEM extras and a supercharged engine under the bonnet, this 740i is peak performance luxury.
Feature from Performance BMW. Words: Elizabeth de Latour. Photos: Mustafa Ahmed.
We don't want to live our lives wearing rose-tinted spectacles, but when it comes to BMs, you can't deny that numerous models from the past feel like they hit peak appeal, and the E38 7 Series is the perfect example of that. While the E23 and E32 were fine beginnings, and the model has evolved to incredible technical heights and has reached the upper echelons of modern luxury motoring with the G12, it's the BMW E38 that has that certain something about it which makes it so appealing. The styling is simple, with those long straight lines, but it just looks so right, there's a sense of elegance, class, and money about it. It's not brash or in-your-face, it looks refined and restrained when compared with the latest model, and it has a sense of subtle presence. It doesn't need to shout about being a 7 Series to get noticed and recognised, it just is, and it does. Its appeal is universal and undeniable, and for Radoslaw Jaworski (@jre38) it's the car that got him into BMWs in the first place.
"I've been interested in BMWs probably since I saw an E38 for the first time when they came out in 1994-1995, and I was young then, so it made a big impression on me," says Radoslaw. "BMWs are special for me because of the way they drive, and the way they make me feel when I start the engine, all the fluid starting to circulate, valves opening, and that sound from the exhaust, everything all together it's like starting a new life," he adds with a grin."My first car was also my first BMW," Radoslaw says with a smile, and it's no surprise to learn what that was; "It was an E38 740i Individual. I got it because I really like the shape and the colour of it, and it had a V8 so for a first car it was something special for me," and he's not wrong about that.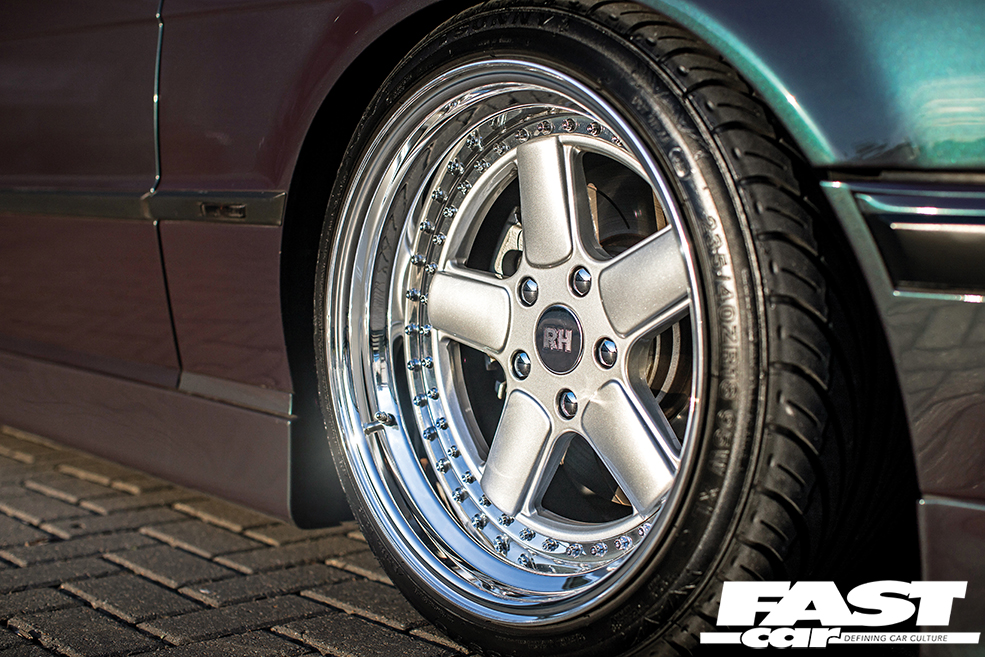 While other cars have come and gone, Radoslaw was never able to forget the E38 and swore he would have another one day. "I promised to myself that I will own an E38 again if conditions will allow me after I lost my first one," he says, and sometimes fate has a funny way of helping you out. "I was just scrolling through the 7 Series ads on Auto Trader one day when suddenly this car appeared, and I knew I had to have it. I called the guy to arrange a viewing for the following day, and when I saw it in person, I knew this was the one. The overall condition was really good. Mechanically it was nearly perfect and cosmetically about eight out of 10, a really solid car," smiles Radoslaw, and he'd just bagged himself a stunner of a 7 Series.
We talked about having presence without having to be overly aggressive and in-your-face, and this BMW E38 740i demonstrates that perfectly. Radoslaw has done an awesome job of enhancing the E38's looks in the subtlest of ways via the Alpina front splitter and the wheels, and it really lets that timeless styling speak for itself. What really sets this car apart, though, is the colour scheme and it's something seriously special. The exterior is finished in Individual Scarab green, and it's an absolutely incredible colour. This iridescent shade flips from green to purple depending on the light, and it's absolutely amazing, incredibly rare, and not only does it suit the Seven perfectly but it also adds an extra dimension to the visual proceedings. The interior is the perfect partner to this multi-faceted paintwork and one of the reasons why Radoslaw bought this car. There's extended leather with purple piping and green carpets, and this is an incredible combo that looks so luxurious and really makes this 7 Series feel even more special.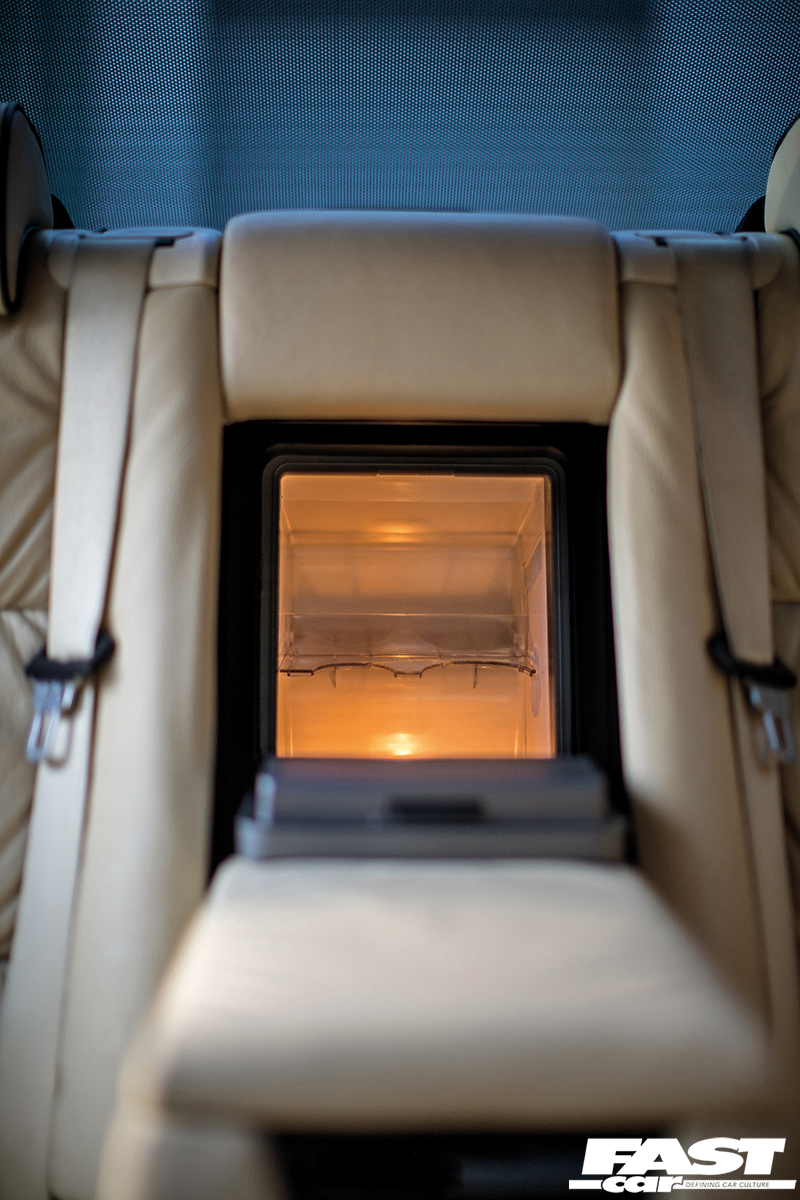 For Radoslaw, this car was never purchased with the plan of turning it into any sort of project; "It was going to be my Sunday toy, and I wanted to keep it as original as possible as I had my modified E46 325i at the time as well," he explains. The temptation to just start adding a few little tweaks here and there proved impossible to resist, however, and before long, this had snowballed into a full-on project. Radoslaw started off with an Eisenmann Race exhaust, because when you've got a V8 then you have to have a proper exhaust to enjoy the soundtrack, but the system has evolved to an impressive degree from there. "I decided that I need more sound so installed an X-pipe, but after nearly a year, I made the decision to get Supersprint manifolds and Supersprint high-flow cats," he explains. This E38 sounds absolutely epic now, with a V8 soundtrack that many a performance car would be jealous of, and it's not surprising that the exhaust is Radoslaw's favourite part of the build. "I love the way it sounds at lower revs with a nice V8 rumble, not too loud, but when I press the accelerator pedal, it sounds so aggressive, but also classy like a high-performance V8," he grins.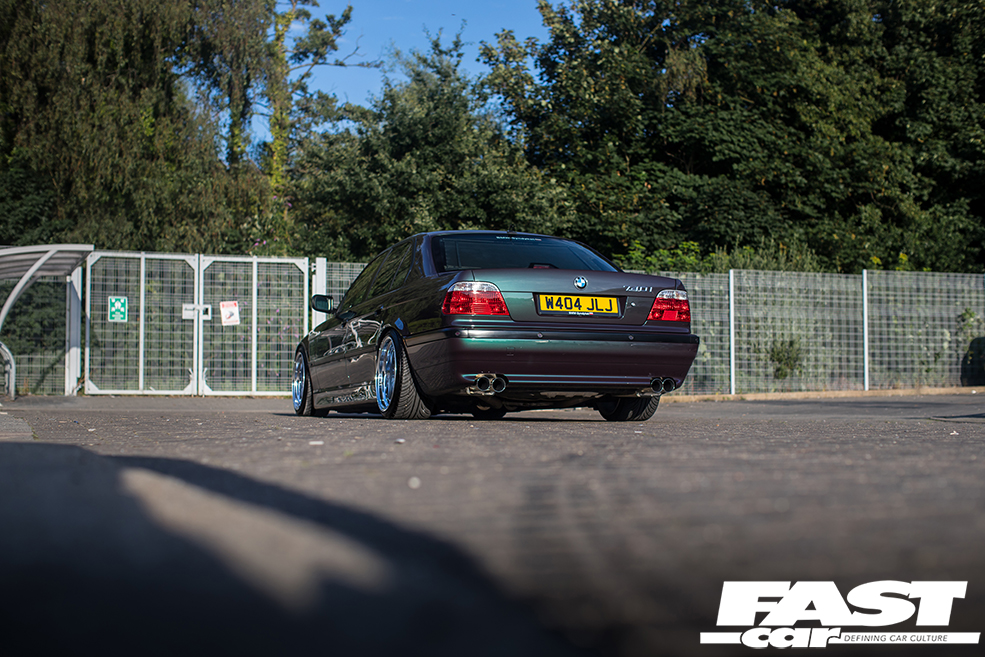 Impressive as that soundtrack is, there's rather more to this 740i than just the noise it makes and that's down to what's lurking under the bonnet. "I made the big decision to install a VF Engineering supercharger kit for a bit of extra power," smiles Radoslaw, and that's a seriously awesome addition that has absolutely transformed this car. The 7 Series is naturally all about refined, comfy cruising, but that doesn't mean you don't want power. While 286 horses were a reasonable amount back in the day, these days it's hot hatch power, so it's only right that a car with the sort of presence and stature as the Seven has the sort of power to match. The VF kit comes with a cold air intake, bigger injectors, plus an ECU tune, and the result is a very healthy 430hp backed up by 406lb ft of torque, numbers that turn this supercharged BMW E38 740i into a low-flying business jet. To aid his Seven when it comes to stopping, he's fitted a set of 750iL two-pot front calipers, and they are combined with grooved discs and braided hoses.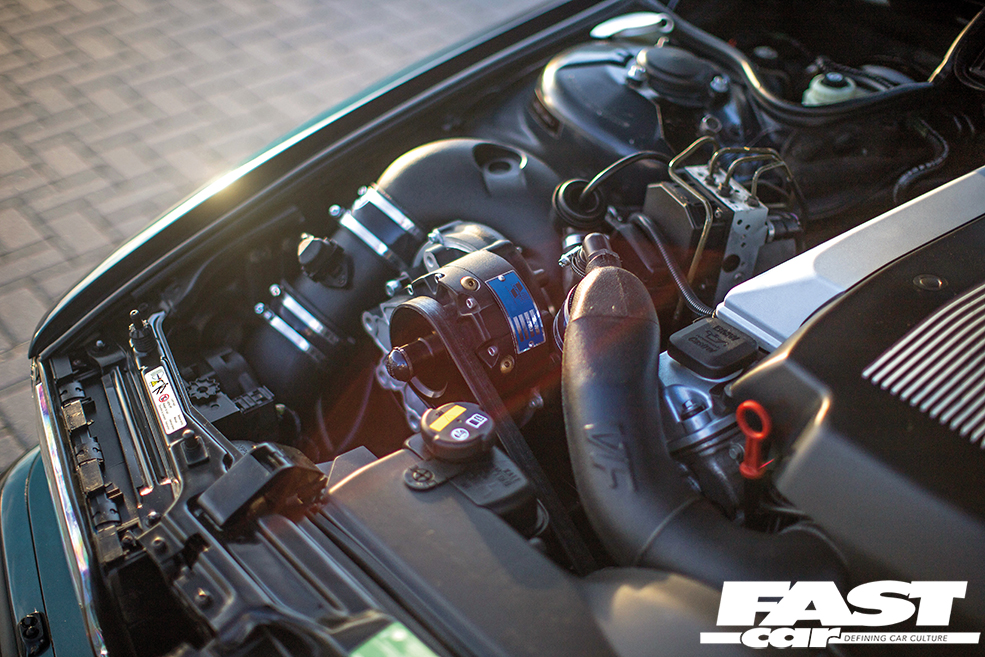 While we've touched on the subtlety of the styling, with just the Alpina spoiler up front plus the quad exhausts at the back, the visuals are given a boost thanks to the combination of wheels and suspension and what a combination this is. The wheels were actually one of the first mods carried out by Radoslaw, and he's done an awesome job with his choice. "I decided to go for something from that era to suit the look of the chassis, something classy and sporty, plus in a three-piece design for the ability to upgrade and change the components including lips," he says, and he went for a set of RH XD RAD splits which look awesome. These 18s measure 9.5"-wide up front and a monster 11" at the rear, and are finished with silver centres and polished stepped lips, and they look so good here. The period style suits the E38's shape perfectly, just like Radoslaw wanted, and the aggressive fitments have them filling out the arches with ease.
The perfect partner for the perfect wheels is the perfect drop, and here it's delivered by a set of BC Racing coilovers. "I chose these because I think they are the best midrange coilovers on the market and give lots of adjustment for the money," he says, and they've got the Seven sitting beautifully, with the arch gap all but gone and it looks so good as a result.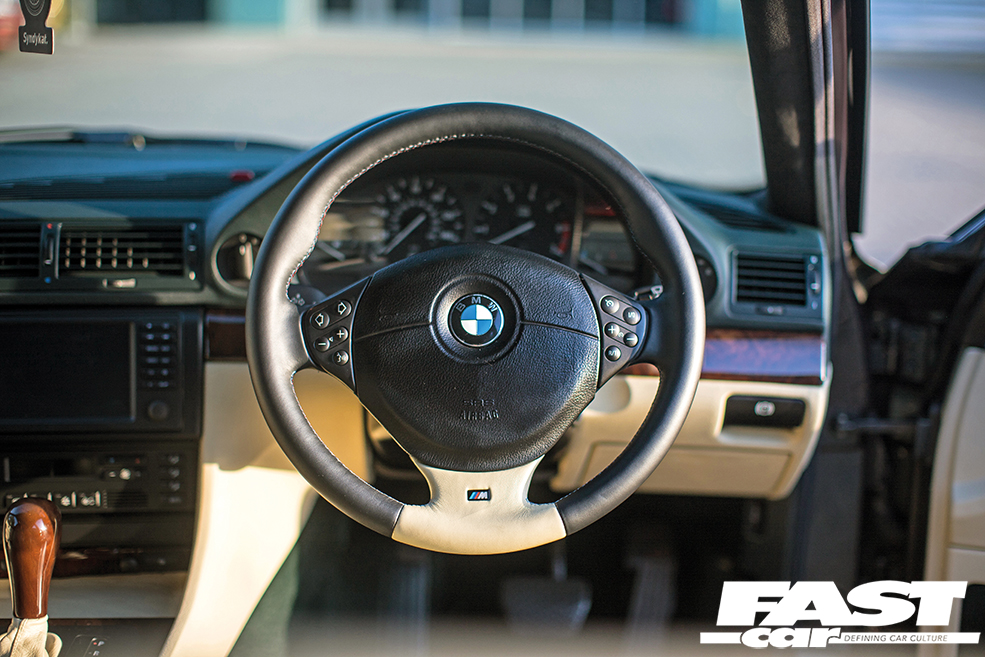 You might think we've covered everything because the interior appears to be stock, but what you won't realise at first glance is that Radoslaw has put in a huge amount of effort retrofitting a whole host of OEM accessories to make his cabin even more opulent. He's added rear folding tables along with front headrests with vanity mirrors, sunblinds, 750i footwell lights (the 740i never came with these), as well as 750i wooden grab handles. There are leather-covered 750i B-pillars, an E65 7 Series rear fridge, C-pillar 'porn lights', Alcantara headlining and rear parcel shelf, the steering wheel has been retrimmed with a two-tone finish, there are custom-made Individual door sill trims, and Radoslaw has even retrofitted the hydraulic boot lid and double-glazing. A huge amount of work and effort has gone into sourcing and fitting all of these components, and we love the dedication to adding all of these OEM goodies, which really enhance the interior and make it even more special.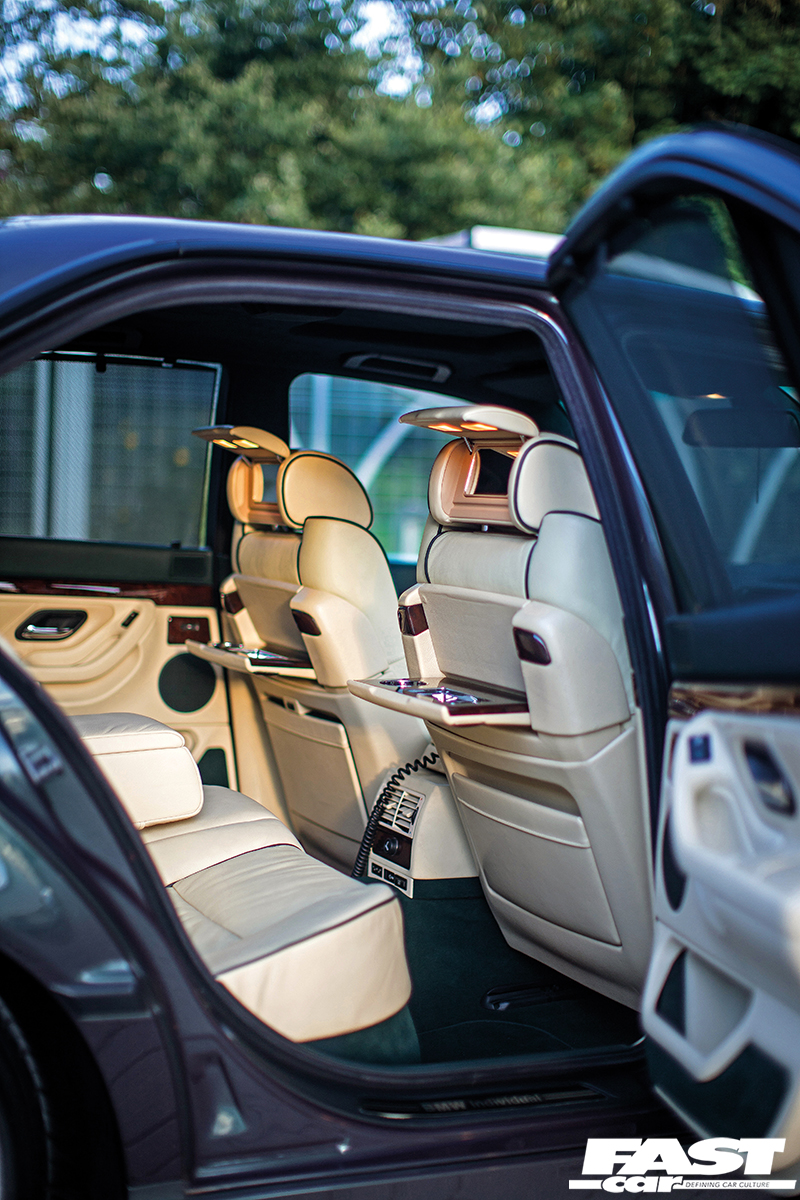 Radoslaw has been working on his supercharged 740i for six years and in that time he's poured an awful lot of love into this E38, and it shows. It's such a fantastic-looking car with a selection of awesome mods, and it really reflects his passion for the retro Seven in a big way. Of course, even with all the work that he's put into it, he's not done just yet. While it's fair to say that he's got the bulk of the mods sorted, Radoslaw does say he's planning to restore the interior as it's a bit tired, and he'd like to get the whole car resprayed in the future. This spectacular supercharged BMW E38 740i is a slice of pure retro luxury, it's about as special as they come, and it deserves all the attention Radoslaw has lavished on it.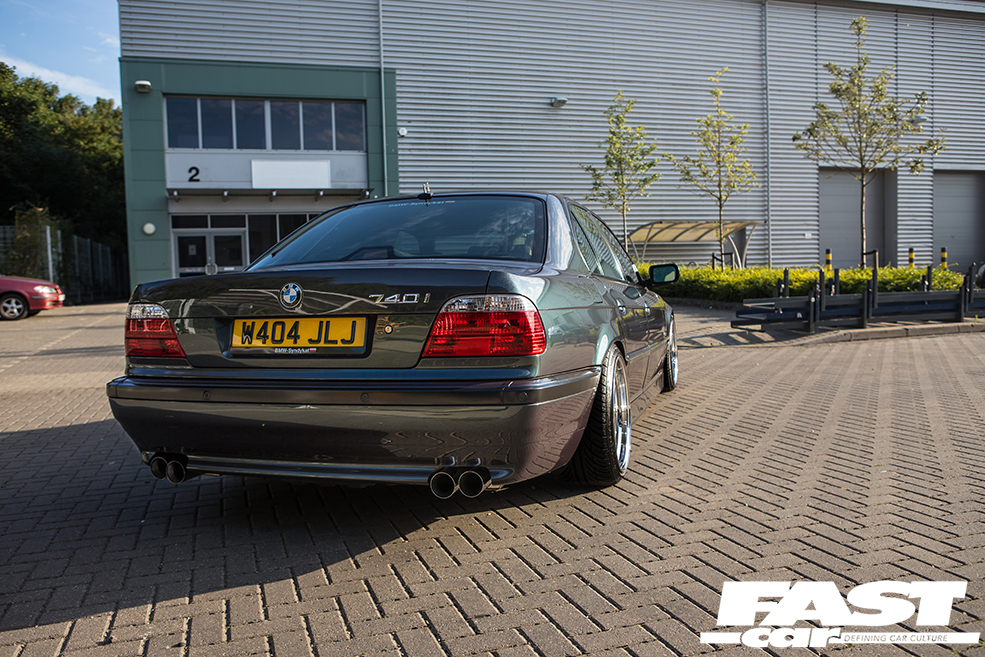 Tech Spec: Supercharged BMW E38 740i
Engine & Transmission:
4.4-litre V8 M62B44TU, VF Engineering supercharger kit, Supersprint exhaust manifolds and high-flow cats, custom X-pipe, Eisenmann Race exhaust. Five-speed automatic gearbox
Power & Torque:
430hp and 406lb ft
Chassis:
9.5×18" (front) and 11×18" (rear) RH XD RAD three-piece wheels with 235/40 (front) and 255/35 (rear) tyres, BC Racing coilovers, 750iL two-piston front calipers, Black Diamond cross-drilled discs, Predator brake pads and braided brake lines
Exterior:
Original Individual Scarab green paint, Alpina front splitter
Interior:
Retrofitted rear tables and headrests with vanity mirrors, sunblinds, double glazing, hydraulic boot, 750iL footwell lighting, C-pillar 'porn lights', 750i leather B-pillars, 750i wooden grab handles, E65 rear fridge, retrimmed steering wheel, Alcantara headlining, pillars and rear shelf, custom-made Individual door sills