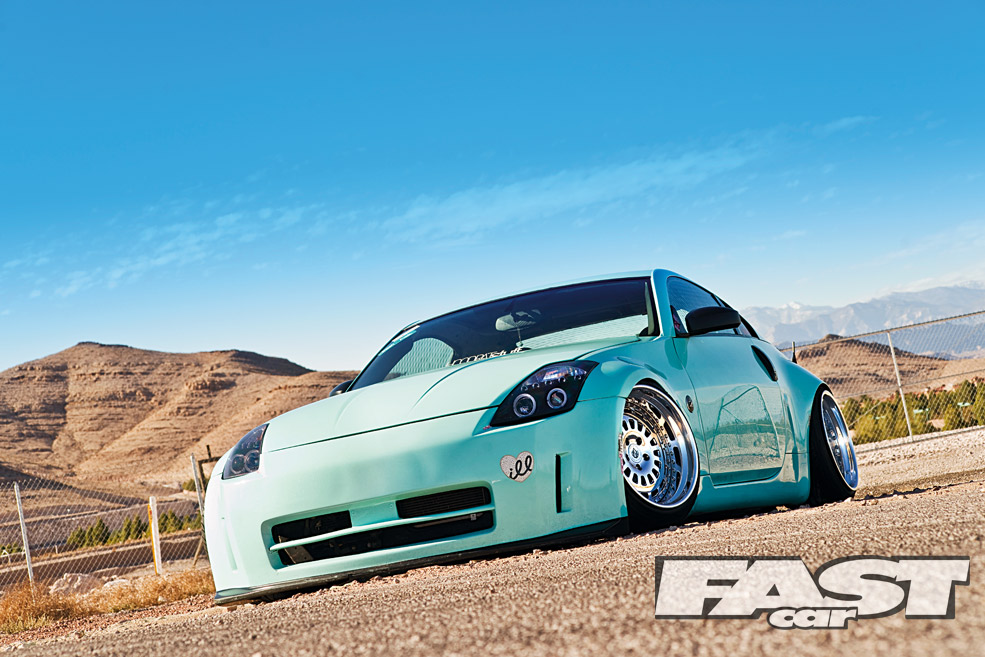 Miguel Zaragoza's Minty Fresh stanced Nissan 350Z
As I sit here on a cold day, gazing out the window at the dark sky and wet roads, it is hard not to envy Miguel Zaragoza. Miguel is the 23-year-old owner of this insane 350Z, which he uses as a daily beater to get around in his hometown of Las Vegas!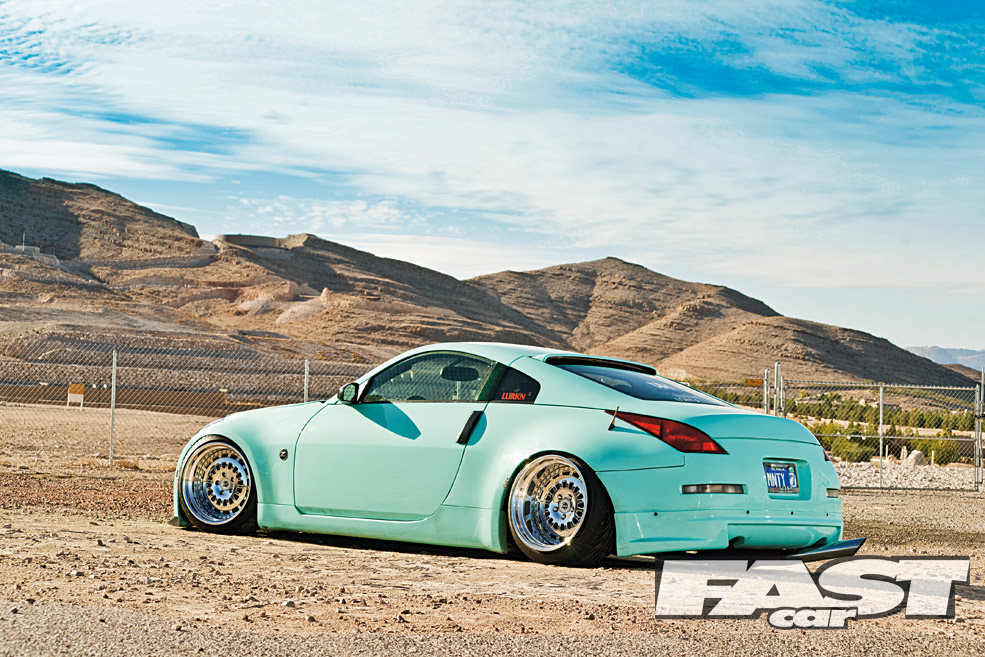 So, instead of logging onto Facebook and writing a status update containing the abbreviation FML, I think it's better to savour the work of a master because this 350Z is one of a handful of cars in 2011 that stopped the FC office in its tracks.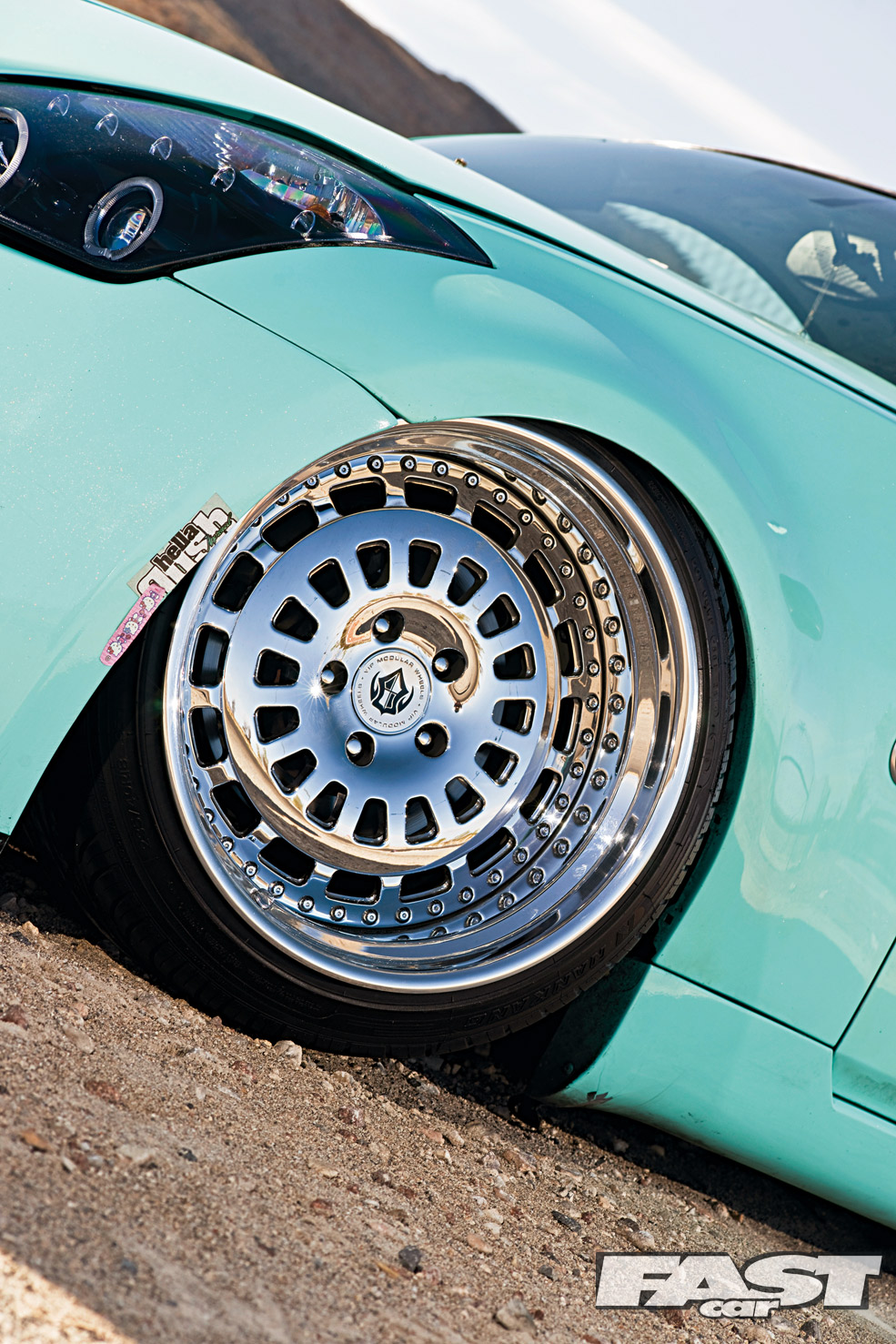 "Call me Brian and feed me some rare diamonds!" I muttered when I first saw this machine on a Lowballer's video that Glenda had uploaded to www.singlekelseydev.local. The vid was cool but we were only interested in one thing – the mint 350Z on pink splits.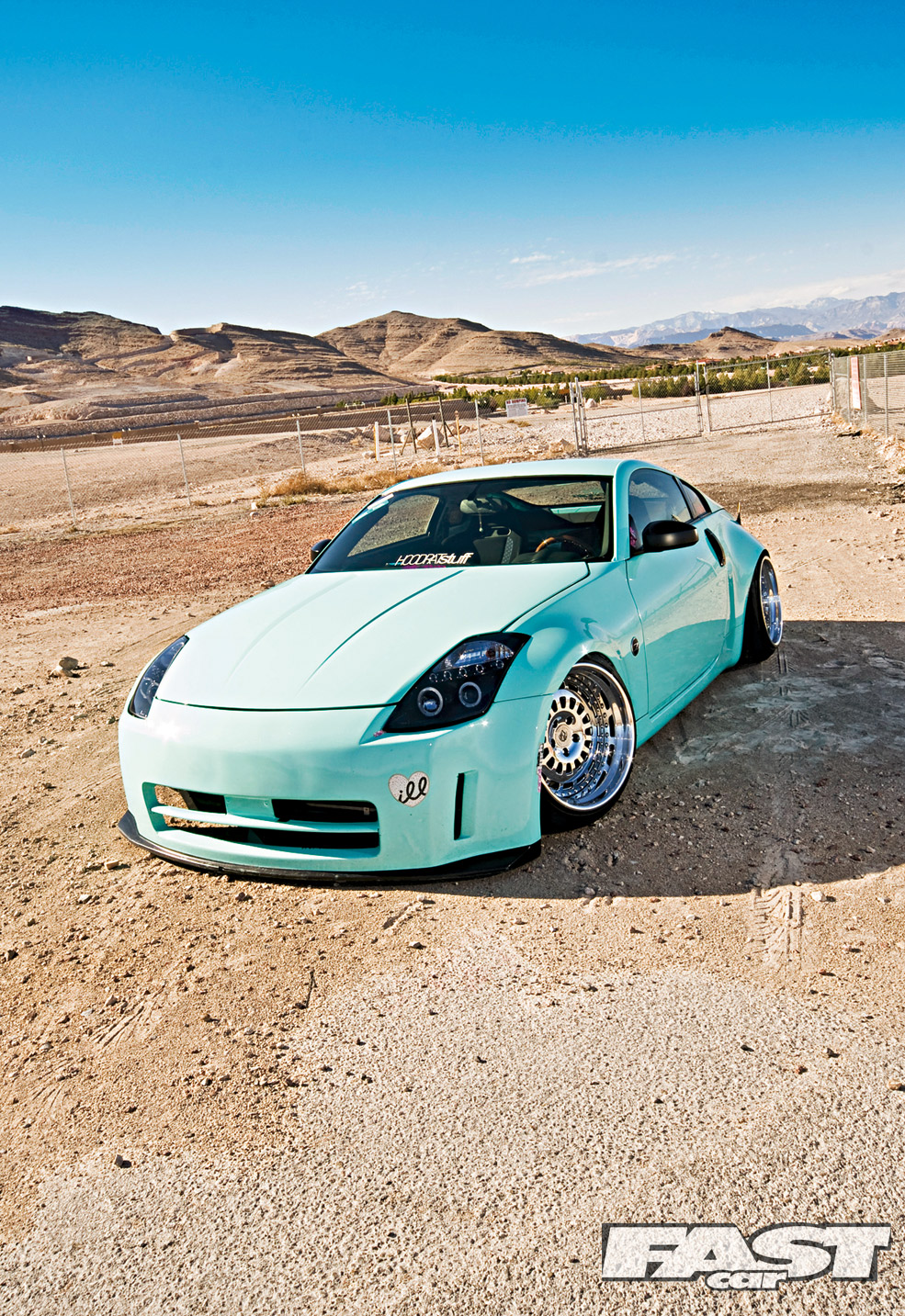 We took a screen grab of the car and emailed it to the guys at Canibeat with the subject line of 'Do you know this 350Z?' It wasn't long before they had a name for us, and we set about hunting down Miguel Zaragoza and his Zee for an FC shoot.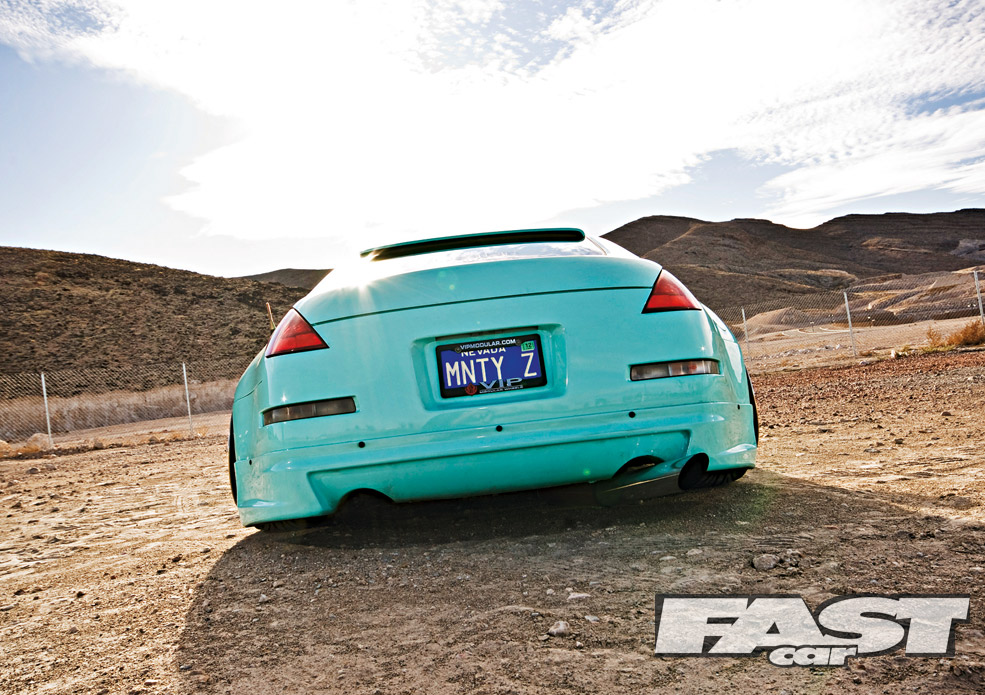 Fast forward a few months and we finally caught up with the pair at SEMA. Miguel had made a few changes to the car, including the pink centres of his wheels, but it was still as epic as ever and here's the proof.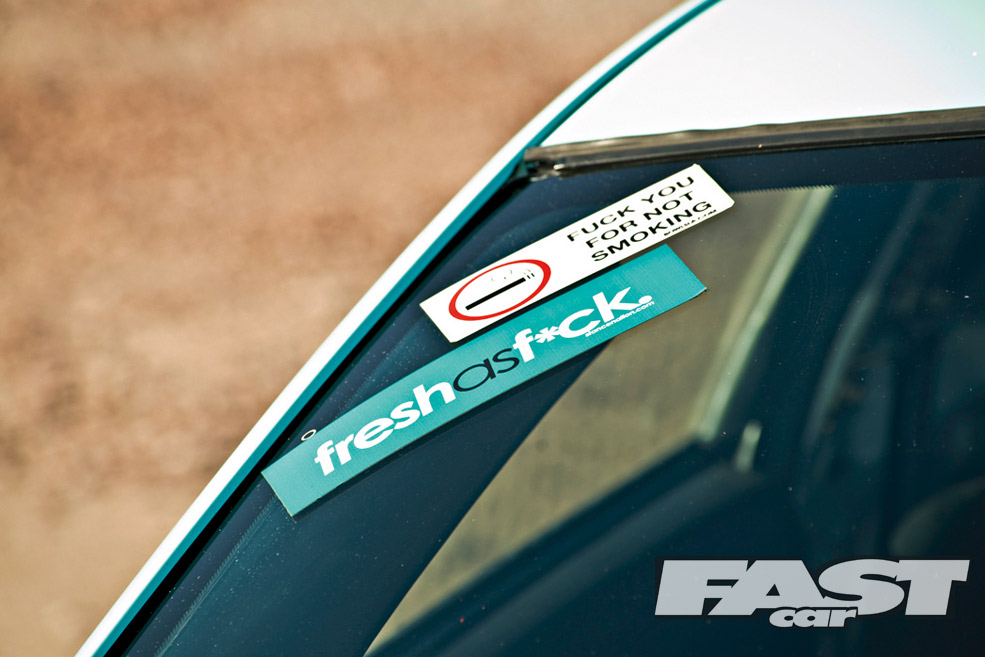 The paint from this car could have come straight out of a mid-90s car styling book, but God–damn it's fresh again today! Surprisingly the hue is inspired by the famous New York jewellers Tiffany & Co. "My car used to be mint green," explains Miguel. "Then one day a lady walked past and said, 'Oh look, it looks like a Tiffany box.' I began to think, actually, what would the car look like painted Tiffany blue?" The rest, as they say, is history.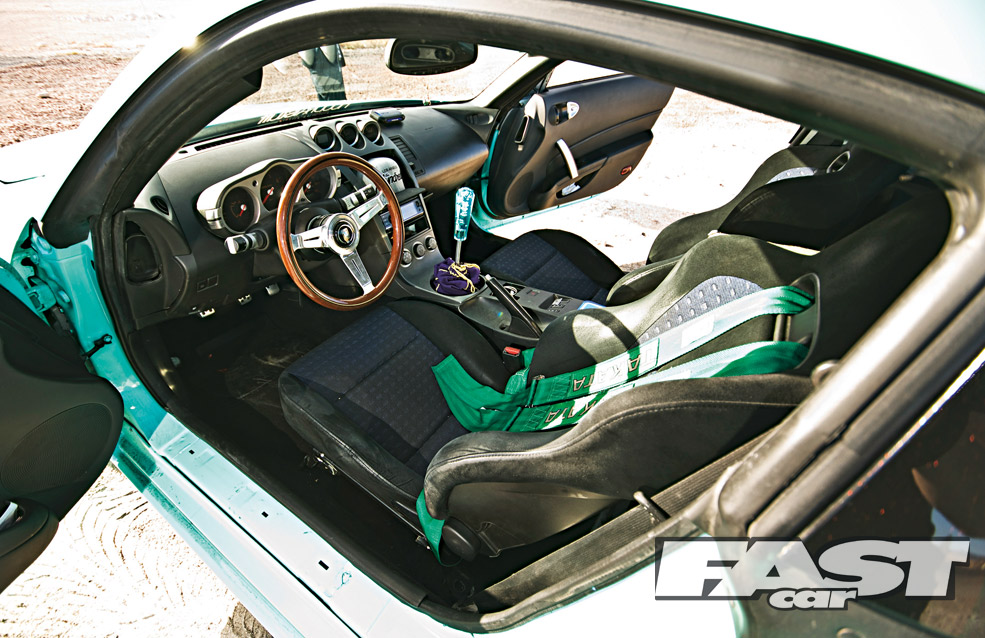 Of course it's not just a colour change that gives this car its insane street presence. The Aerosync front valance, Amuse rear lip and the pulled and rolled arches, that help make way for the crazy wide wheels all do their thing.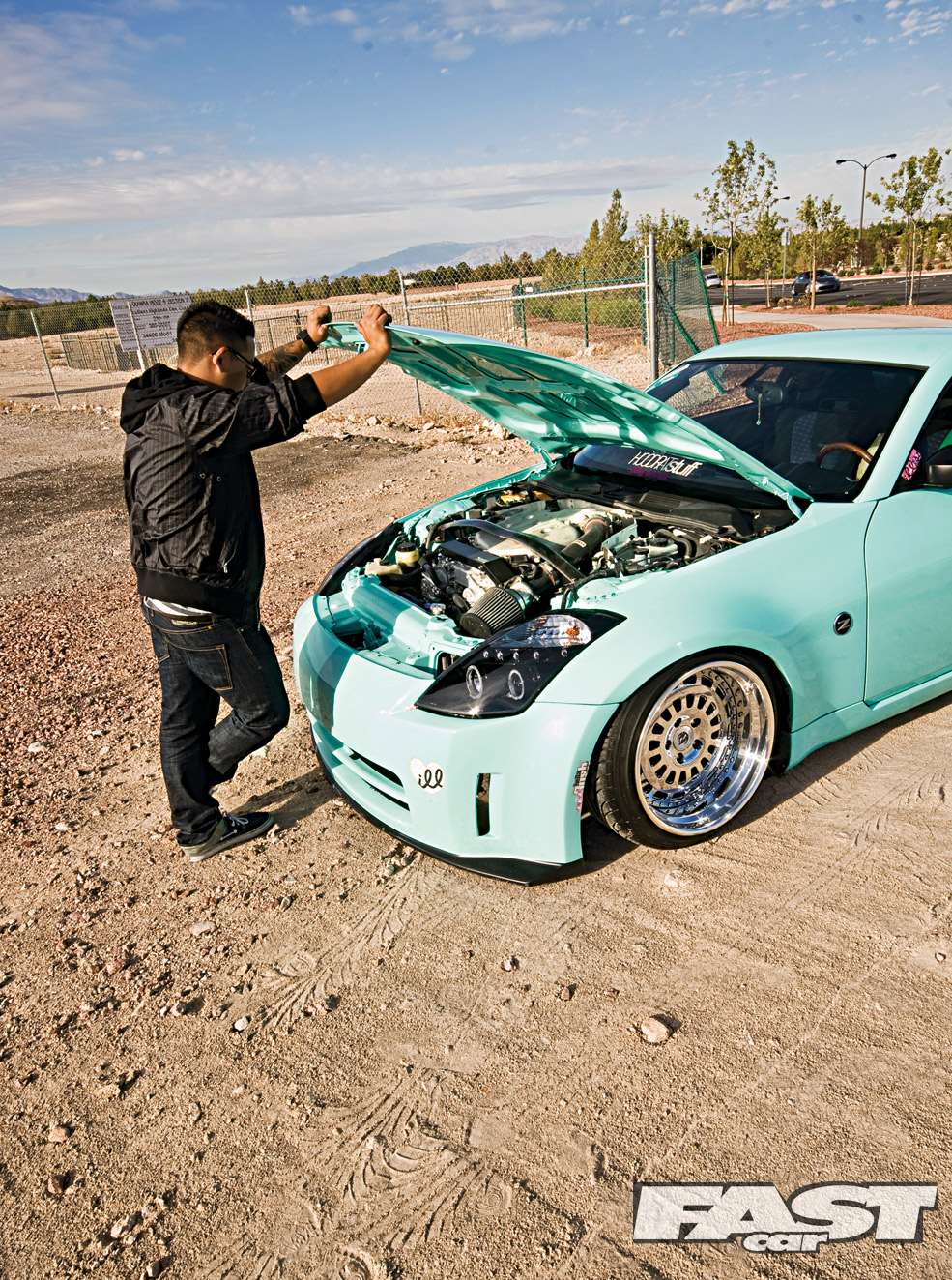 Miguel is proud of the car's engine, like a dad is proud of his son's first fart. His gloating is justified, too, because under that hood is a superior spec 2007 G35 Infinity engine. This VQ35DE lump has a higher rev limit and is known as a RevUp version in the America. With over 300-horses stock Miguel has enhanced the V6 purr by fitting a straight-through exhaust on the car, although you can't see it in these pics.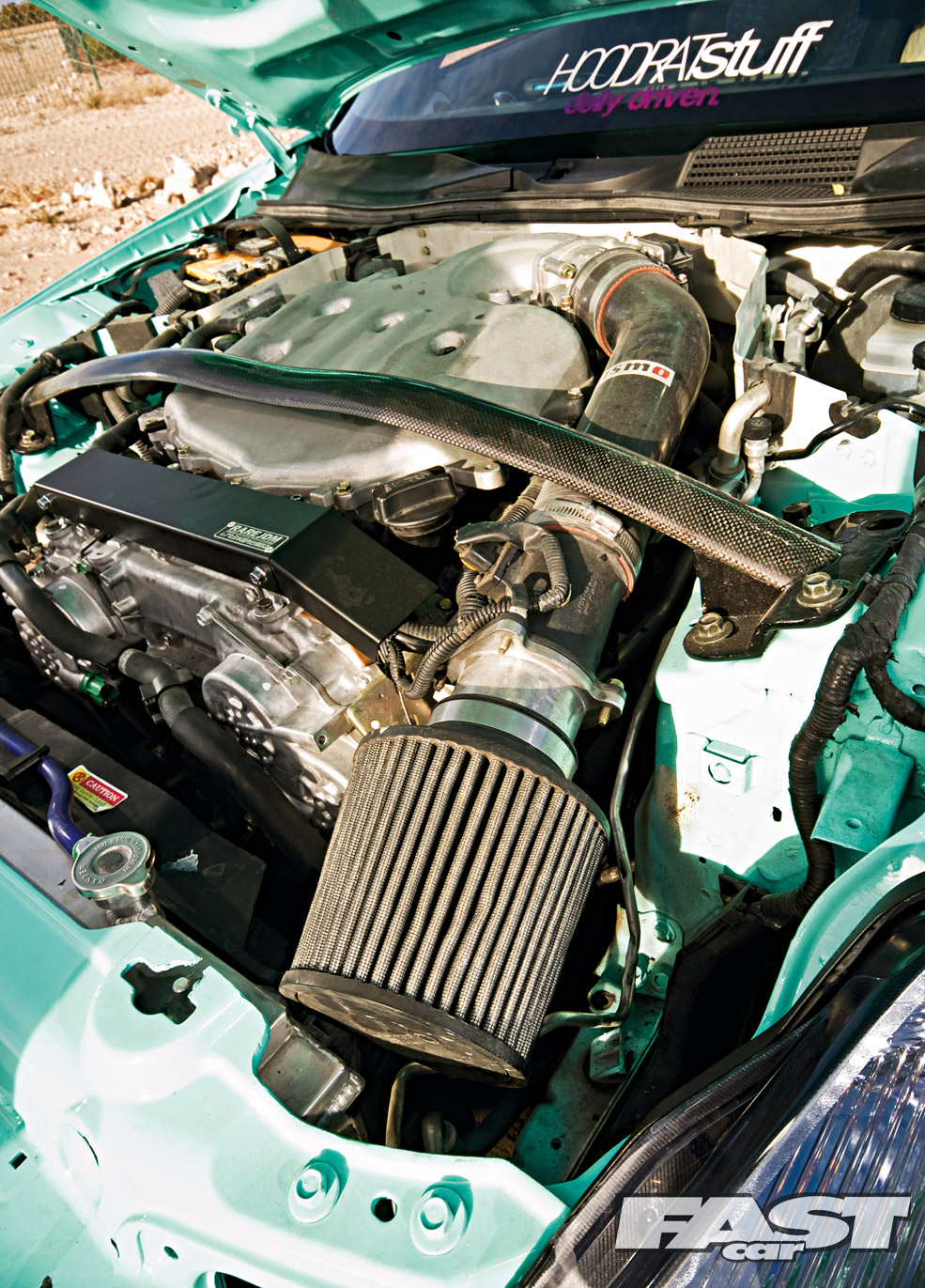 He's also had some Bosozoku-style twin rear pipe extensions made up, which he attaches for shows and for showing off. Apart from that and a Nismo intake, there are some aesthetic touches like the rare JDM engine cover and UK-spec Samco hoses.
The interior is a bit like a Lithuanian prostitute – used and slightly abused but very inviting all the same. When Miguel bought the Zee the interior had been completely stripped for track day use, so he spent most of his time reconstructing the interior before the fun could start.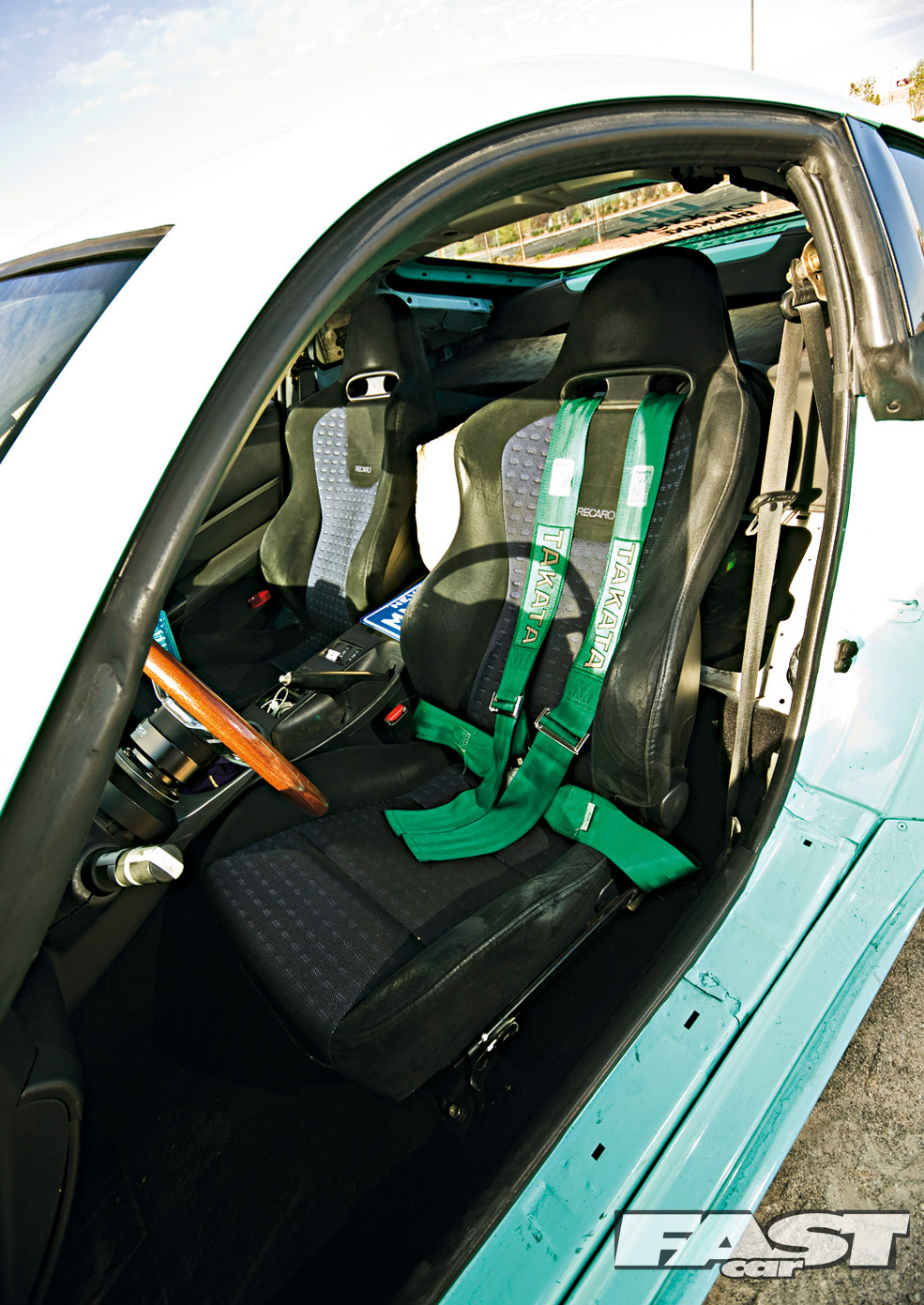 Although the stance suggests otherwise, Miguel's motor isn't a show car – it's his daily driver that he covers 20,000 miles a year in. Having said that, it's still totally scene with that Evo bucket seat and the crazy shifter that hints of Miguel's interest in drifting. He also wouldn't be without his simple audio set-up on the 300-mile commute to Cali for the odd meet.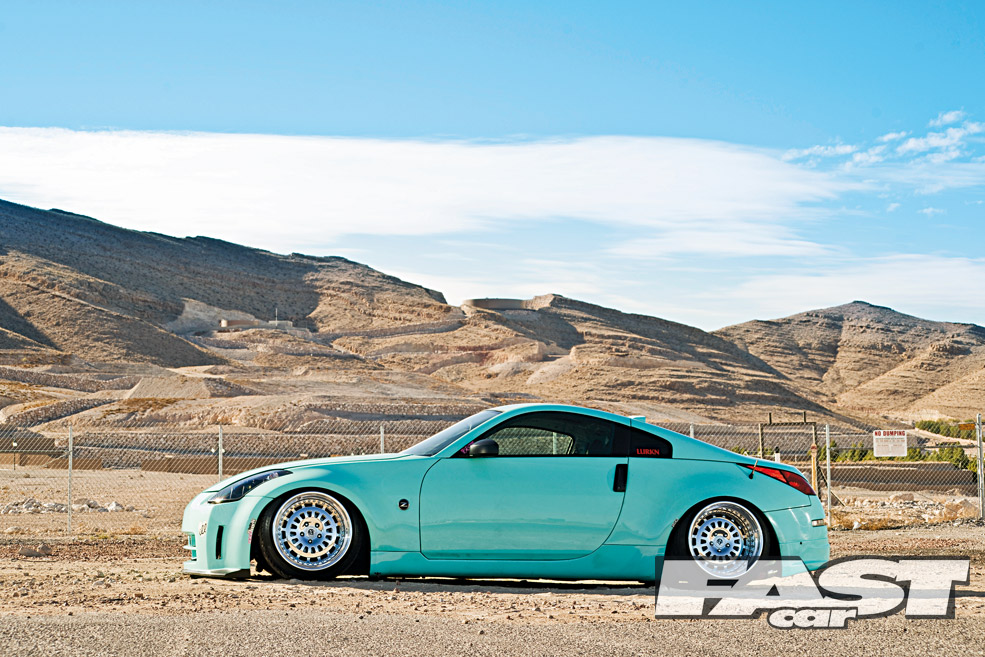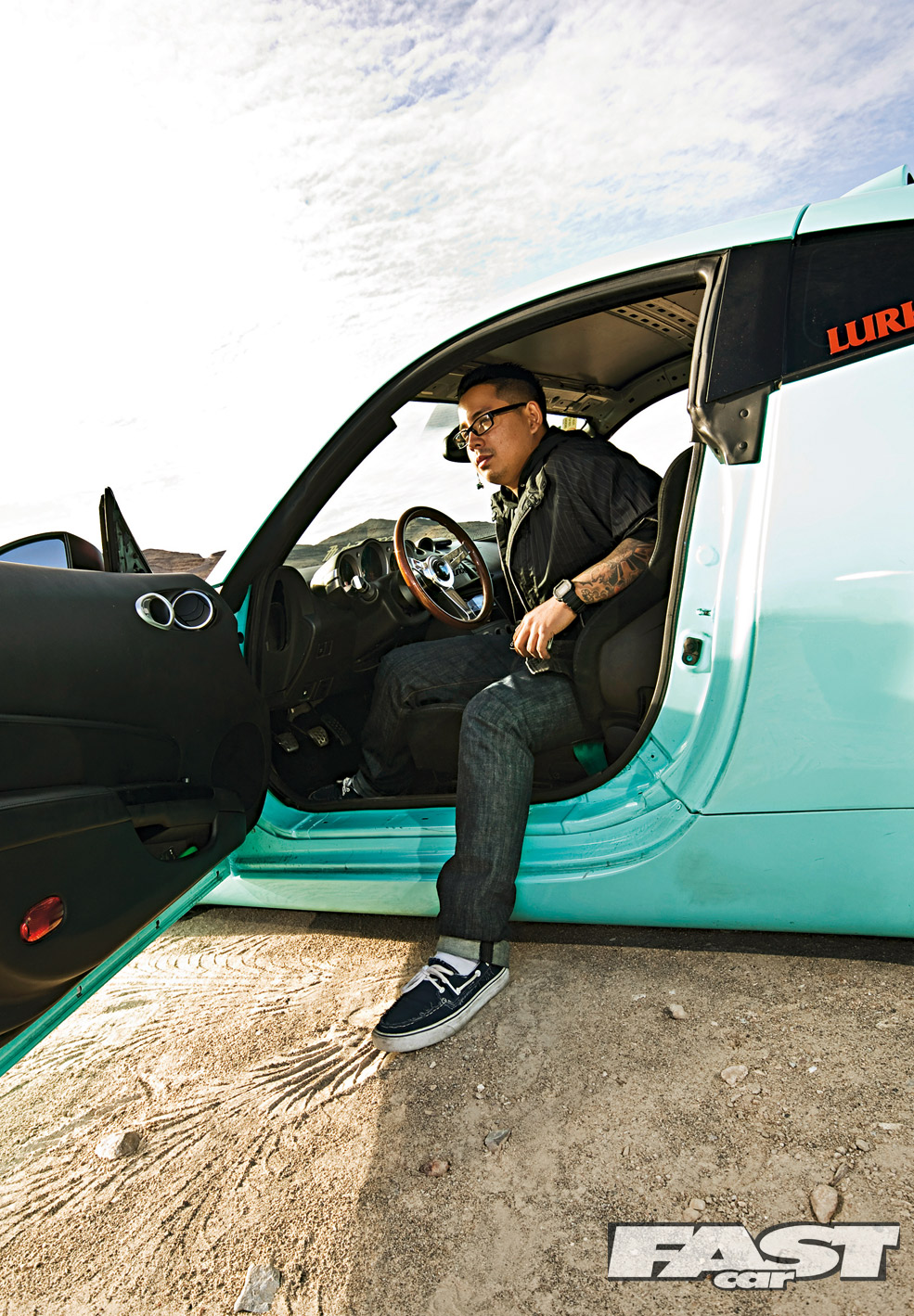 TECH SPEC
Nissan 350Z
STYLING
Fully resprayed in Tiffany blue with maple pearl; pulled and rolled front and rear fenders and quarter panels; Aerosync front bumper; Amuse rear lip; carbon fibre roof spoiler painted Tiffany blue with a maple pearl; Blox short antenna.
TUNING
G35 VQ35DE 07 RevUp engine; Nismo intake; Koyo aluminium radiator; Samco hoses; JDM engine harness cover; straight- through exhaust with cherry bomb resonator.
CHASSIS
BC Racing coil-overs with custom 16k and 28k Swift springs; SPC rear camber plates; carbon fibre front strut bar; VIP Modular VXS-210 wheels, 11×18-inch front and 12×18-inch rear; Nankang NS-II 235/40 and 245/40 tyres.

INTERIOR
Nardi steering wheel; NRG quick-release boss; Evo VIII Recaro seats; JDM Kanjo-style shifter with Crown Royal shift boot; Tiffany & Co. charm hanging on the mirror.
AUDIO
Pioneer deck, sub and amp.