Some would say a stanced Ferrari 348 is sacrilege, we say it's awesome!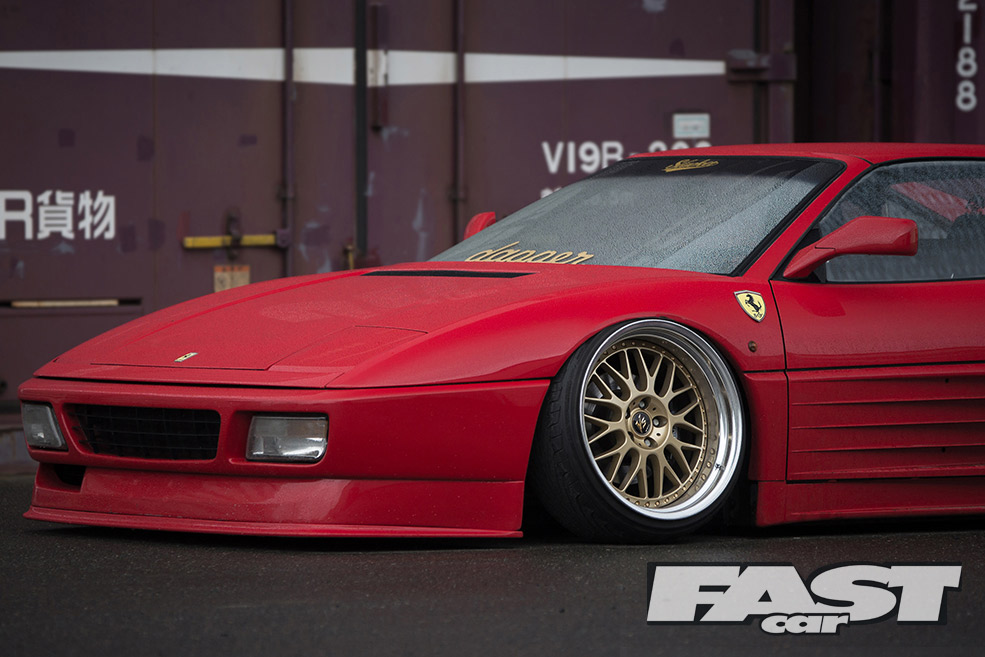 I've always been into the stance scene and love slamming cars down to the ground. I also have a deep love for classic cars and wanted to own an older Ferrari. So when the opportunity showed itself, I took both of my loves and put them together!" These are the words of Ginpei Yamaguchi, the man behind what's sure to be a one of a kind, 1991 Ferrari 348 Targa.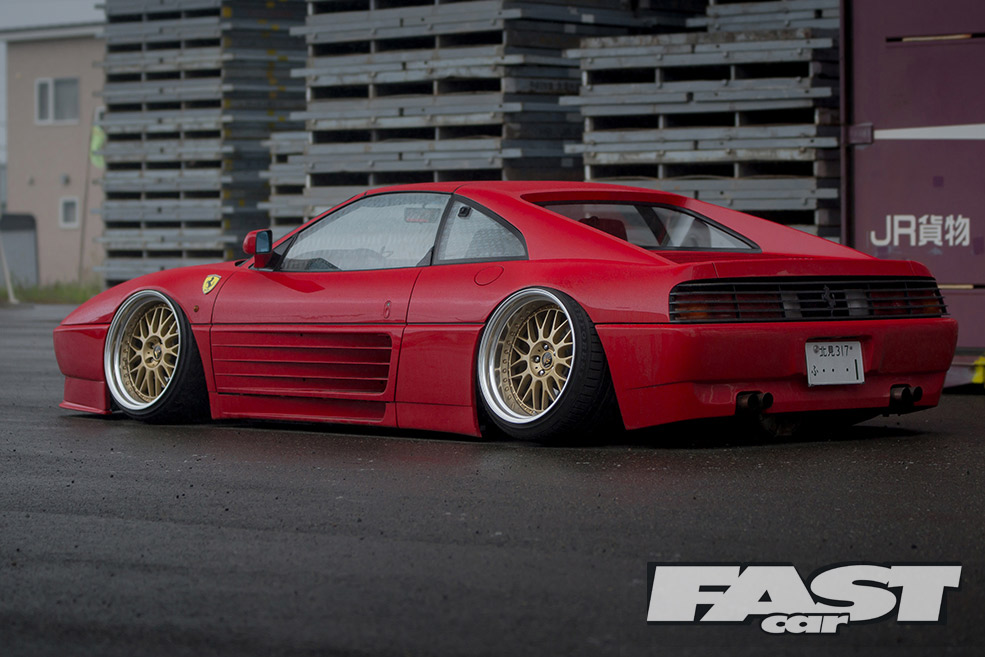 To understand why Ginpei-San would decide to take a Pininfarina-designed stallion and customise it to the point that would give purists nightmares, you first have to know a little about Ginpei-San. The 27-year-old businessman owns a shop in the small city of Kitami, Japan, and has been into the drift and stance scene ever since he could legally drive – perhaps a little before then. As his shop became more successful, he began buying a wide variety of cars to play with and add to his collection. Silvias, JZXs, Supras and other cars he could throw sideways around the tracks and countryside touges.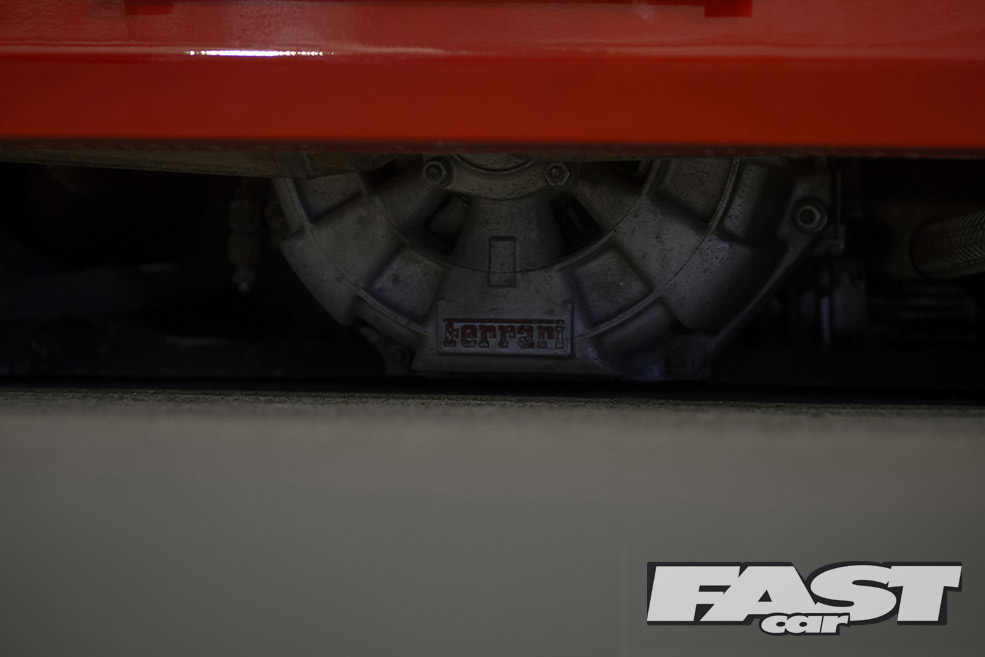 His tastes, however, also include indulging in the more finer, more classier cars, such as first generation Toyota Celicas and a host of air-cooled 911s. Having close to 34 cars now, Ginpei-San has quite the collection and was more than willing to show me a few of them during my stay. However, I was here for one car and one car only. His Ferrari 348.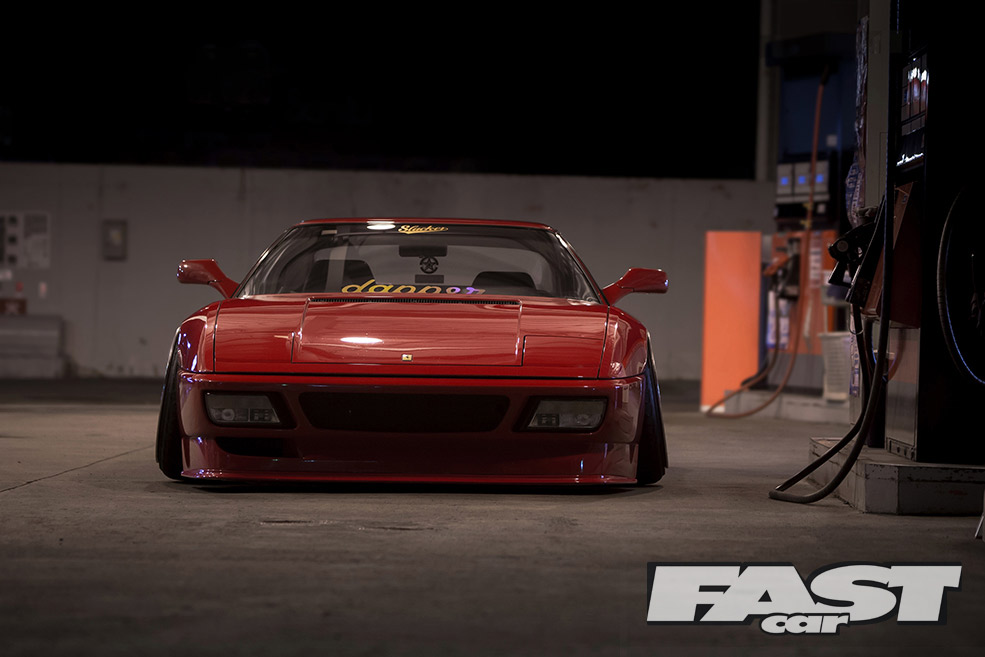 As long as Ginpei-San can remember, he has always loved Ferraris and wanted to add one to his stables. However it had to be an older one. The newer ones, as nice as they are, are full of technology and computer aids to help the driver achieve faster lap times. "It's basically like playing a video game or using a computer," he says. "If I'm driving a car, I want to be driving the car. Not just along for the ride." Thus when the opportunity arose three years ago to purchase this 348, he immediately jumped on it. It wasn't even a few months before Ginpei-San couldn't stand the 348 being stock and began to let the modification bug go wild.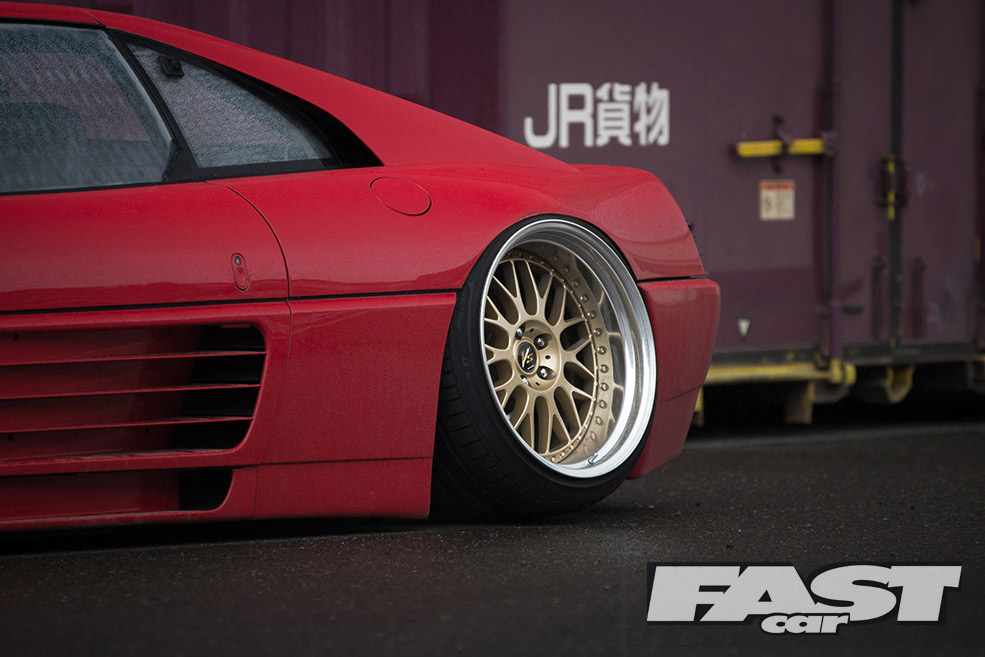 The first thing to go was the stock exhaust system. It was just too quiet. What Ginpei-San had in mind was something a little bit louder… a lot louder. Having his own shop, it was no problem to fabricate a one off custom X pipe system that allows the 3.4 litre V8 to breath and add some noise into the equation. Below 3,000 rpm, the V8 releases a growl that is slightly aggressive but still remains civilised. At 4,000rpm, the V8 stops being civilised and the gates of hell begin to open up.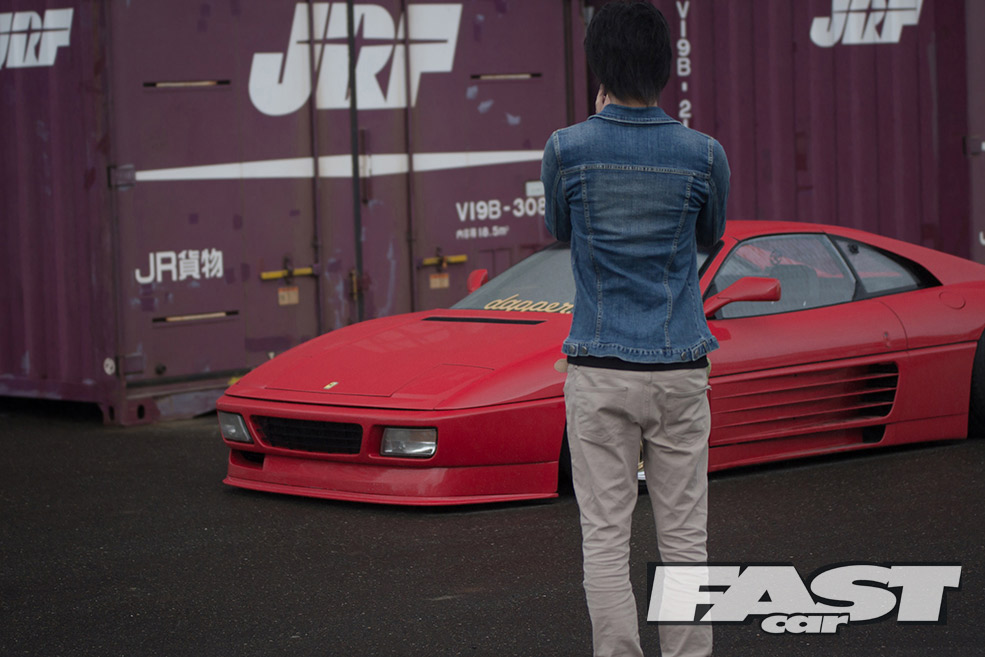 Then from 5,000rpm, all hell breaks loose and assaults you and anyone within range, with ear-piercing F1 sounds. It is so loud that I could hear Ginpei-San approaching from my hotel room on the fifth floor while he was still about a kilometre away. Of course, having a car this loud doesn't make many friends with the neighbours, or the local police. Which is why he also fabricated a silencer system which really does tame the beast that comes screeching out of the quad exhaust tips, but there is only so much you can do. Thus a combination of early shifting and staying below 3,000rpm yields the best results.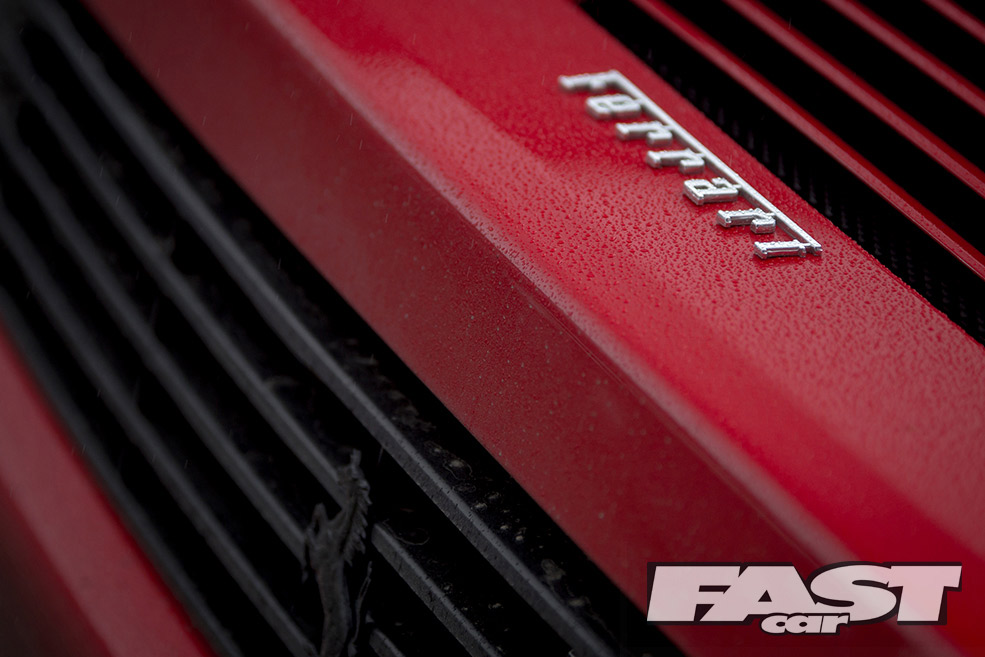 With the exhaust system sorted out, it was time to slam it. Ginpei-San loves the stance scene and the 348's stock ride height just wasn't cutting it. With the aftermarket for the 348 being virtually nonexistent, he decided to just cut the springs – an action he immediately regretted as his relatively comfortable ride turned to garbage. "The car became very unstable and was very painful to drive around in," he says.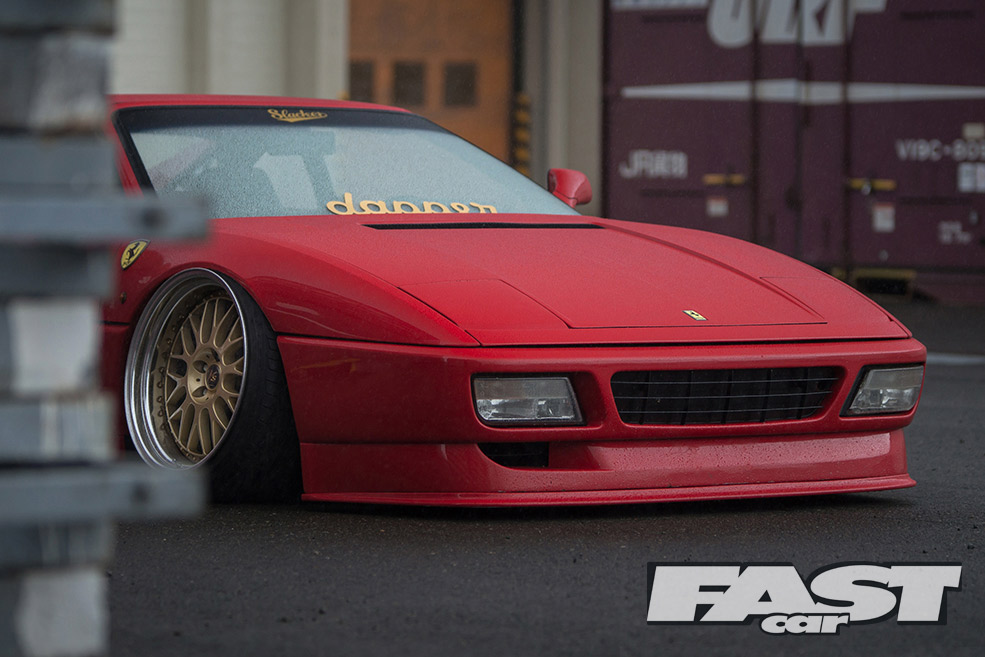 With his old drift JZX laying around, he came up with a brilliant idea. He robbed the suspension system from it and made it work on the Ferrari. Thinking it was only a temporary fix I asked how long he rode around with the old JZX setup in his Ferrari. "For about two years," he laughs. "It was so much better than the cut springs that I didn't mind it. I also wanted to work on a different project for the Ferrari so I left it till last December."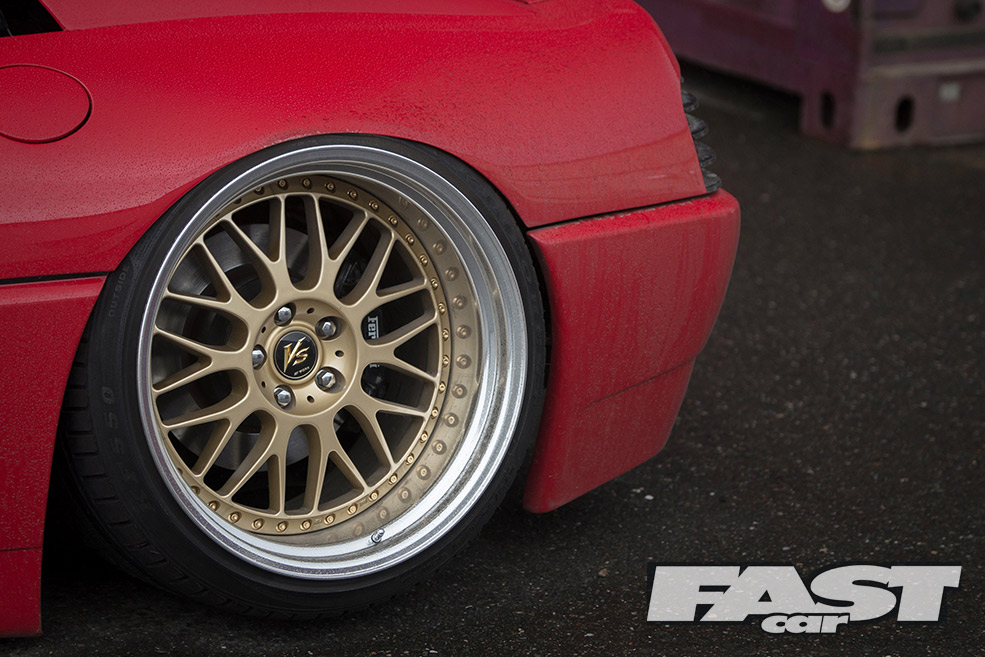 This other project Ginpei-San had in mind was widening the rear fenders to fit his set of 19-inch VS-XX Work Wheels. Around the same time he had the brilliant idea of taking the JZX suspension and putting it in the 348, he also purchased the VS Wheels. These wheels are incredibly popular in the drift scene and Ginpei-San loved running them on his drift cars. He loved them so much that at one point in time, he owned five sets of them! The wheels technically didn't really fit the Ferrari to begin with, so he had them custom made to fit. The 10j in the front fit pretty well, but the 12.5js in the rears were a different story.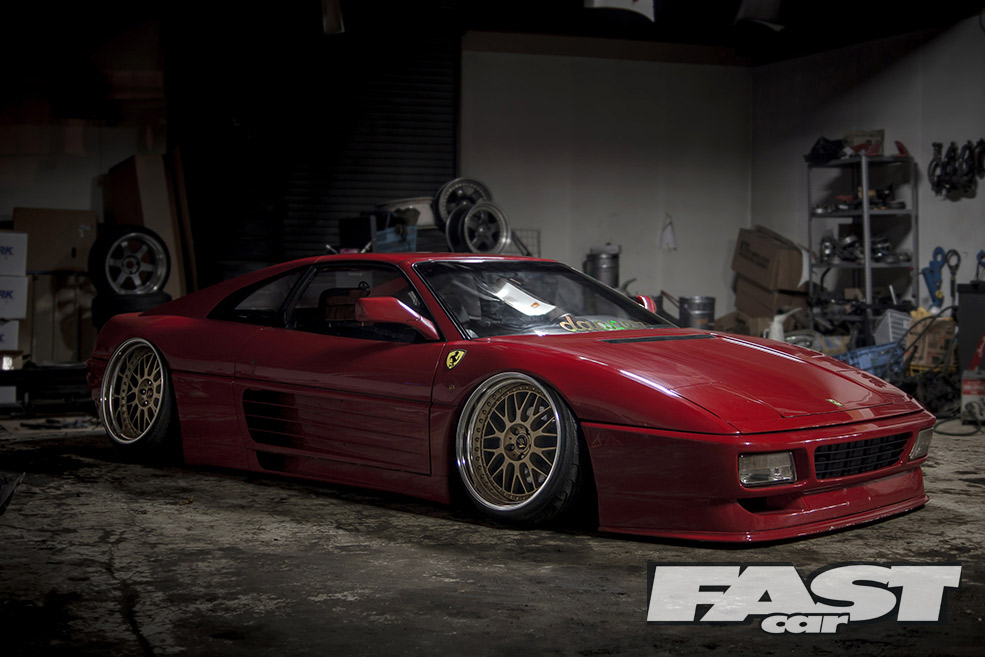 Running such an aggressive fitment, some body work was going to be necessary. Ginpei-San didn't want to ruin the Ferrari's styling and wanted it to look as natural as possible. Therefore, after thinking about it for about a year, he summoned up his courage – along with some funds – and took his 348 to his friends custom shop down the road. And the hacking commenced.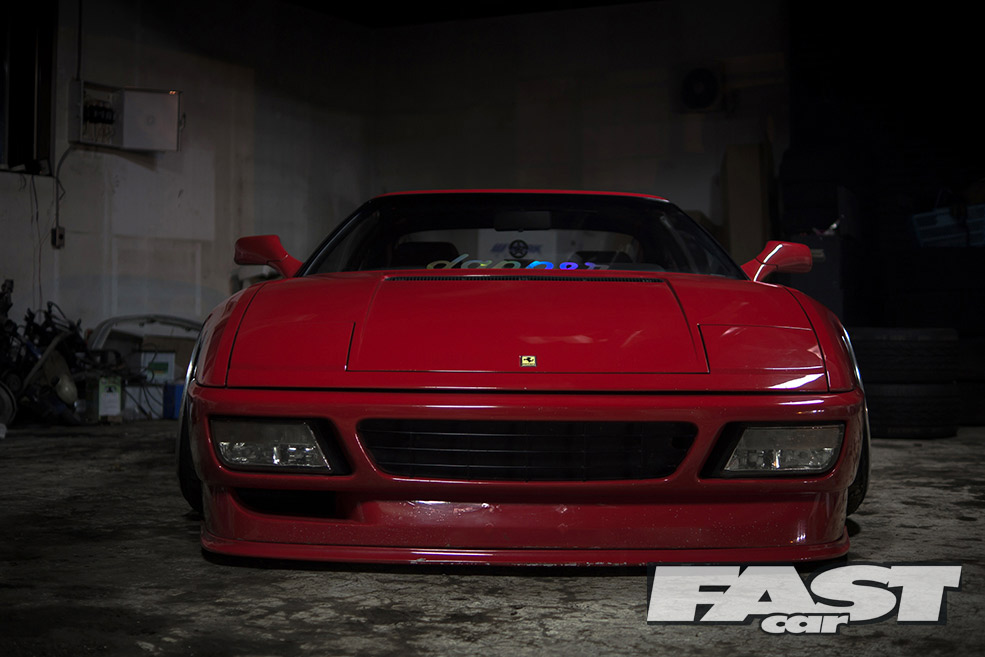 What's more crazy than the idea of hacking away at a Ferrari's fenders is the fact that no what you would call legitimate planning was ever done. The fate of the operation lay solely on the skills and experience of his friend. With masking tape and a Sharpie, the fender was prepped to be cut into multiple sections. The bottom part of the fender was first to be cut away from the rest of the fender and then split in half so you could pull each individual section. This would make it easier to cut the rest of the fender into even spaced sections.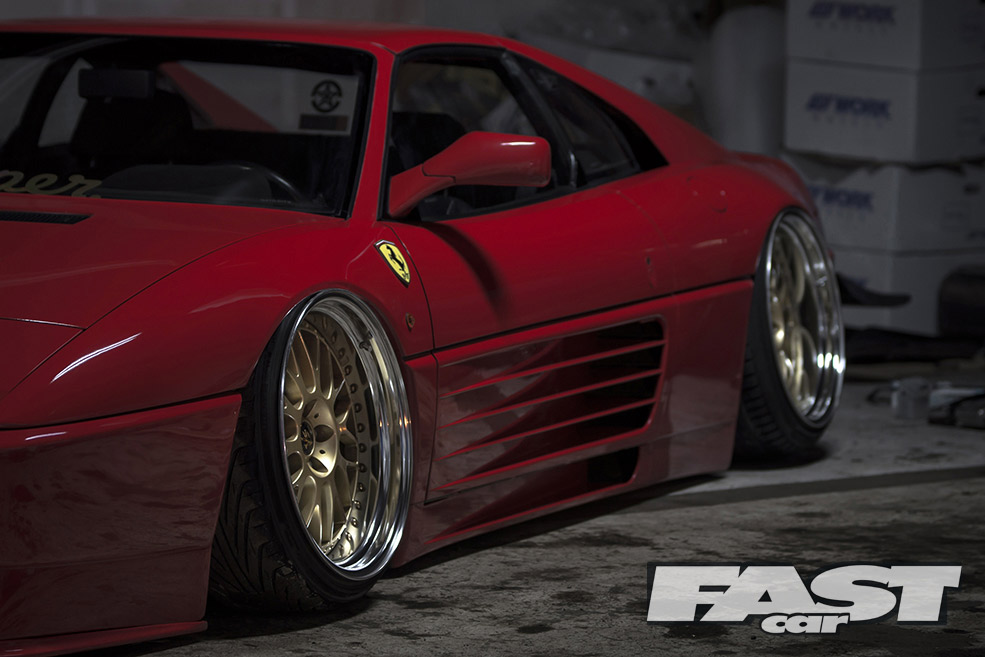 With the fender now cut to pieces, they would place the VS-XX wheels on the car to see how much they would need to stretch the fenders. Adjustments were made by beating the hell out of the fender sections till it "looked about right". "The finders are wider by about 2cm… ish" says Ginpei, laughing as he animatedly shows how they banged the fenders into place. With the fender fitting nicely around the VS-XX wheel, they moved onto the second fender, now armed with measurements and a visual cue to go off. The entire process of going from hacking the fender to completion took about five months and as reckless as it sounds, the final results are absolutely breathtaking.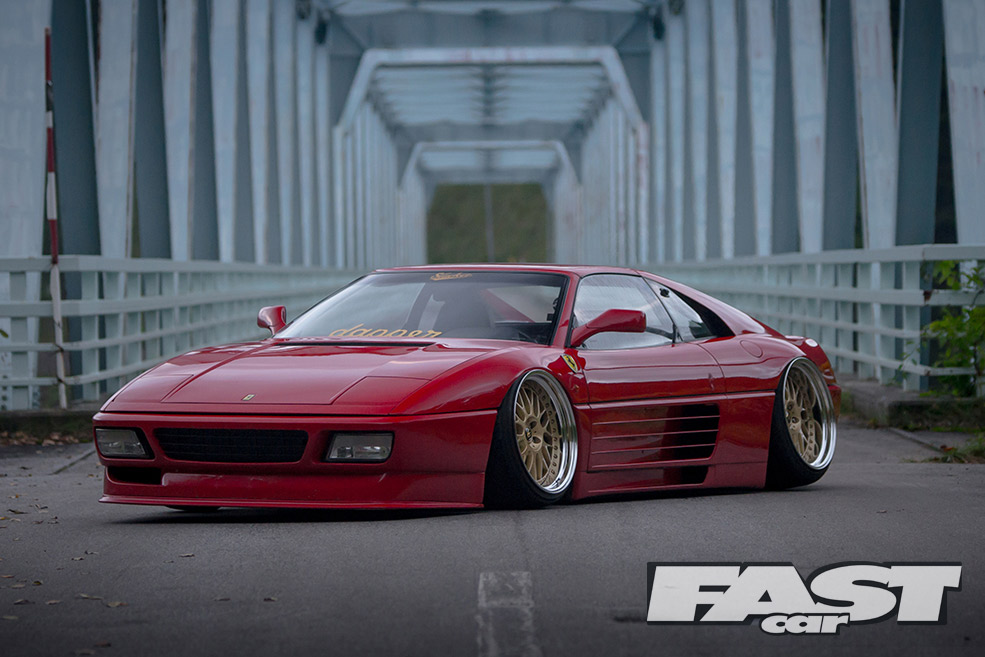 While the fenders were under the knife – or hacksaw, to be more accurate – Ginpei-San decided it was the perfect time to get rid of the JZX suspension system and fabricate something for the 348. Working with limited space, trying to fabricate an air ride system seemed out of the question. Having less components to worry about and being able to work within the limited space the 348 has, Ginpei-San decided to fabricate his own hydraulic system. He hasn't gotten around to installing an 'in car system', therefore the only way to raise and lower the car is to manually do it by touching the wires directly to an extra battery in the front.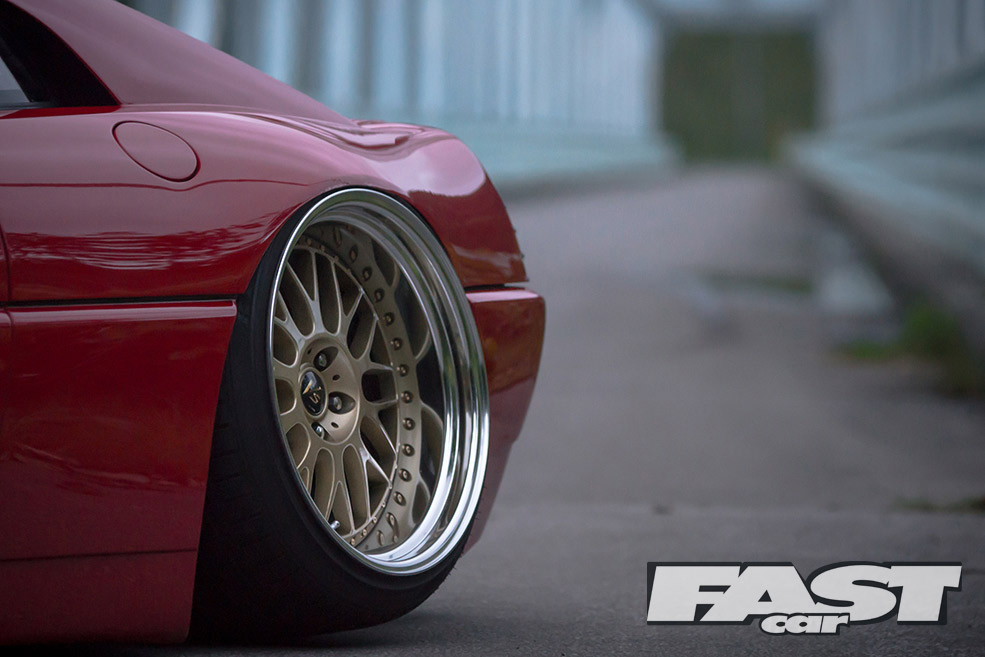 As you could imagine, it's not the most precise way of raising the car and from time to time the tyres would rub on the inner fenderwell, which would cause us to pull over to raise the car more. The 348 is low. I mean like dumb low. It's so low that when completely lowered, the subframe that protects the engine and transmission is no more than a few millimetres away from kissing the ground. When lifted to 'ride height' it still requires full attention to the road and a constant avoidance of anything that resembles a dip or bump in the road. Your reward for a lapse in attention is the unforgivable bang and scrape as the transmission and engine block smacks the pavement.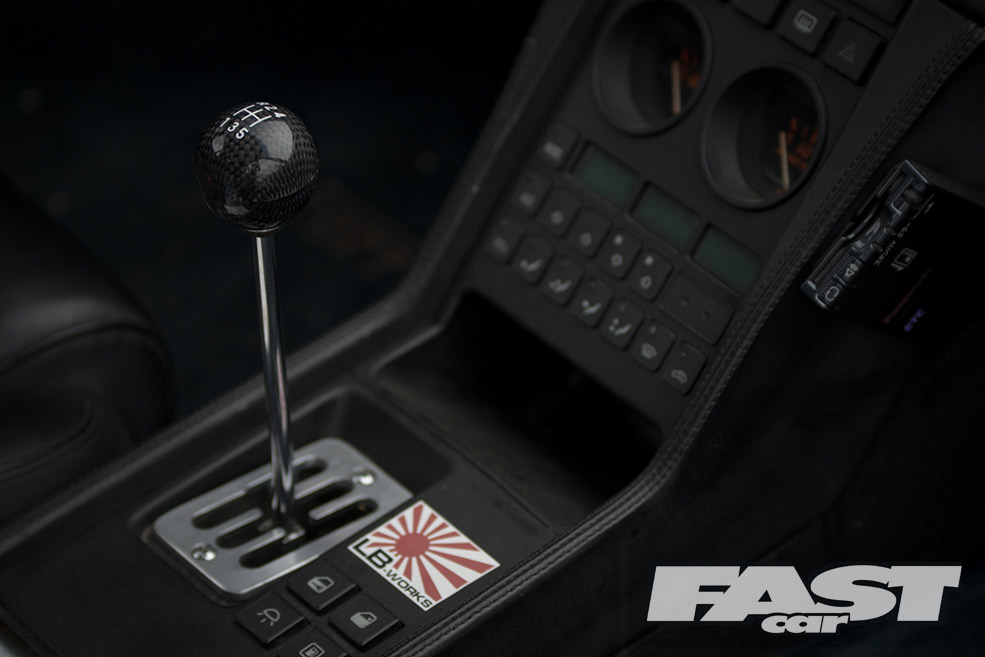 The interior remains in stock condition and is in the process of being restored. Thus an assortment of switches and wires are not in their correct place. The Nardi Classic steering wheel replaced the old, ruined stock one. The gated five-speed still shifts strong and leaves a satisfying metallic sound when shifting from first to second gear. Paired with the variety of notes the engine sings, it makes driving the 348 pure bliss.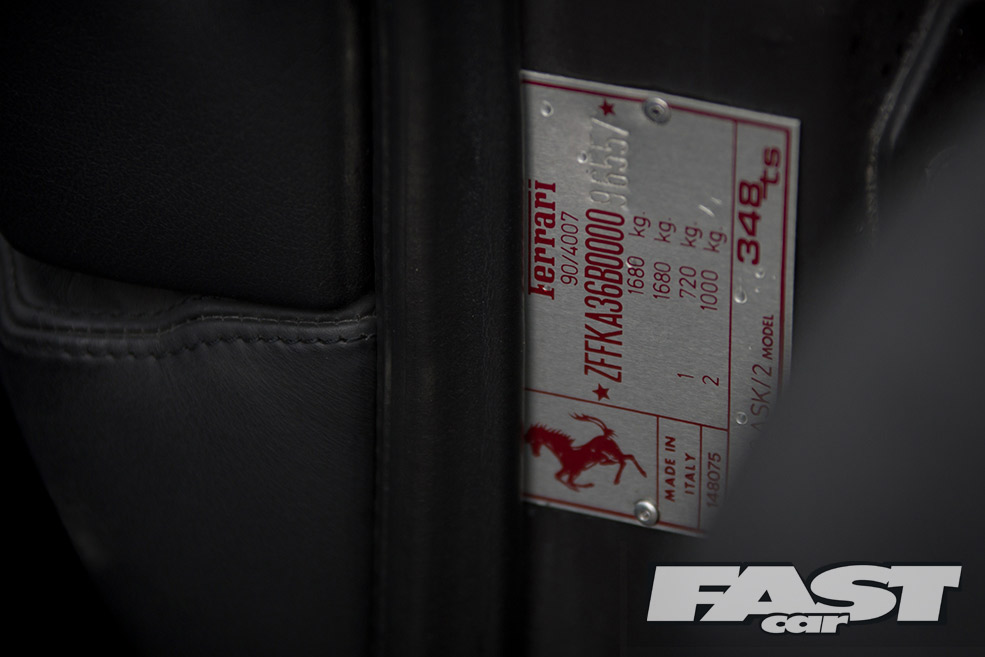 Driving around in Ginpei-San's Ferrari 348 is like being a rock star. Everywhere we go, people stop in their tracks and stare, give thumbs up, scream at us, say how cool the car is. I lose track of how many times I wave to onlookers as Ginpei-San shrieks the car up to 6,000rpm. OK, yes, the ride is awful. For long distance trips, it's hopelessly loud, even with the silencers. And no matter how many days I spend riding around in it, I could never get used to the scraping and banging.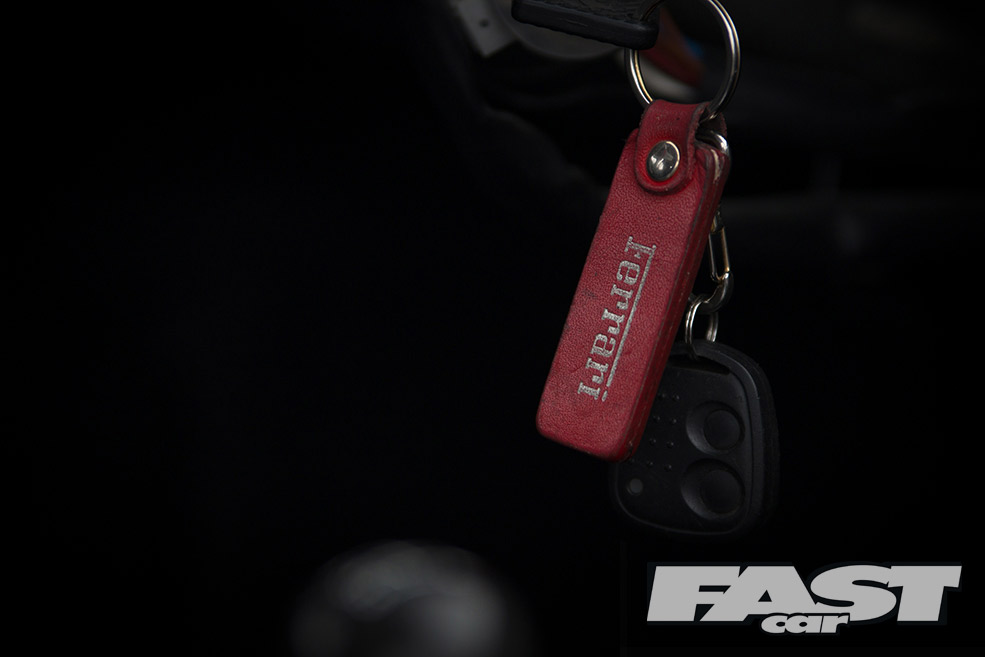 However, none of that matters. I've never had so much fun in a sports car before in my entire life and what is the point of a sports car, but to have fun? A sports car is flawed by definition in one way or another and yet it should still put a smile on your and bystanders' faces. Ginpei-San's Ferrari does all of this so perfectly well that I can't help but fall helpless in love with it.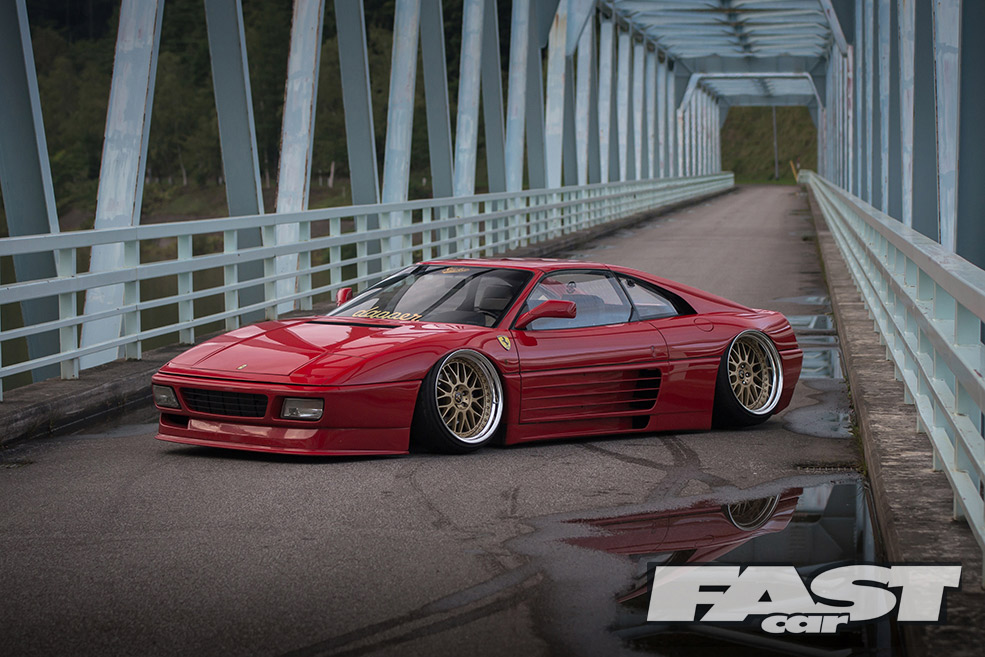 OWNER: GINPEI YAMAGUCHI
TECH SPEC 1991 FERRARi 348
ENGINE:
Ferrari 3.4-litre V8.
DRIVETRAIN:
Five-speed transverse manual gearbox.
SUSPENSION:
Slackers Haunt custom hydraulic system.
WHEELS:
VS-XX Work Wheels 10x19in (front), 12.5x19in (rear).
EXHAUST:
Slackers Haunt one-off X pipe system/silencer.
INTERIOR:
Nardi Classic steering wheel.
Words and photos Ron Celestine