Little did I know that those widened and overly-winged Porsches that I used to see at Tsukuba ten years or so ago would have become the sensation they are today. No longer relegated within the confines of Japan, Akira Nakai of RAUH-Welt Begriff has been spreading his vision on every corner of the globe. RWB is a brand in serious demand with a waiting list stretching to almost a year now.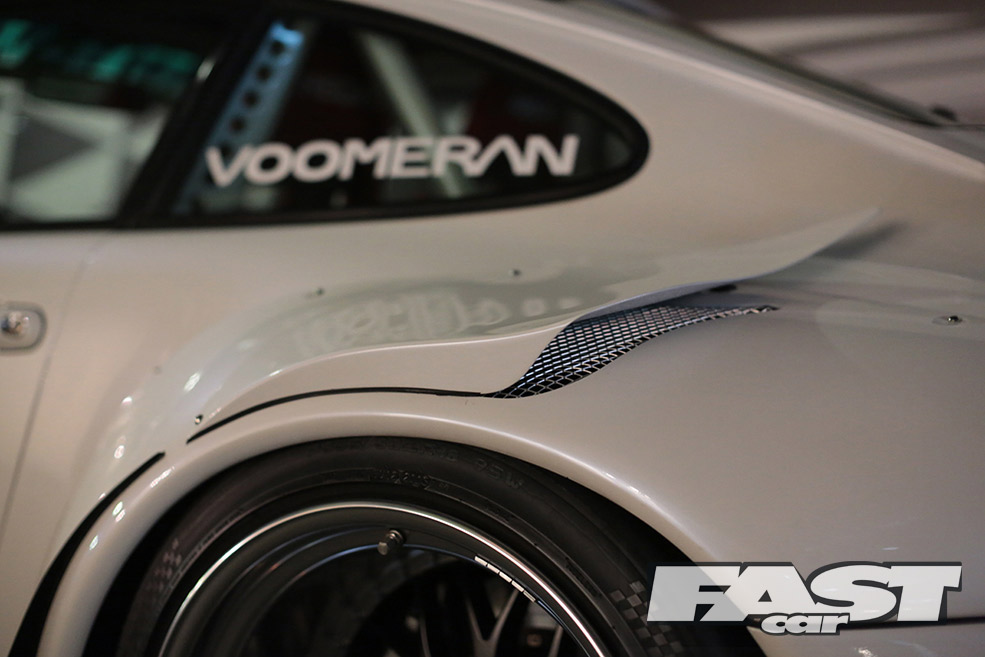 That's because each car, to be truly and authentically identified as an RWB creation, must be put together by Nakai and Nakai only. And with so much demand coming from outside Japan, domestic customers have to get in line too! Thankfully Hitoshi Hoshino got his request in with the big man with plenty of notice so that he could time the unveil of his car in time for the Tokyo Auto Salon this year.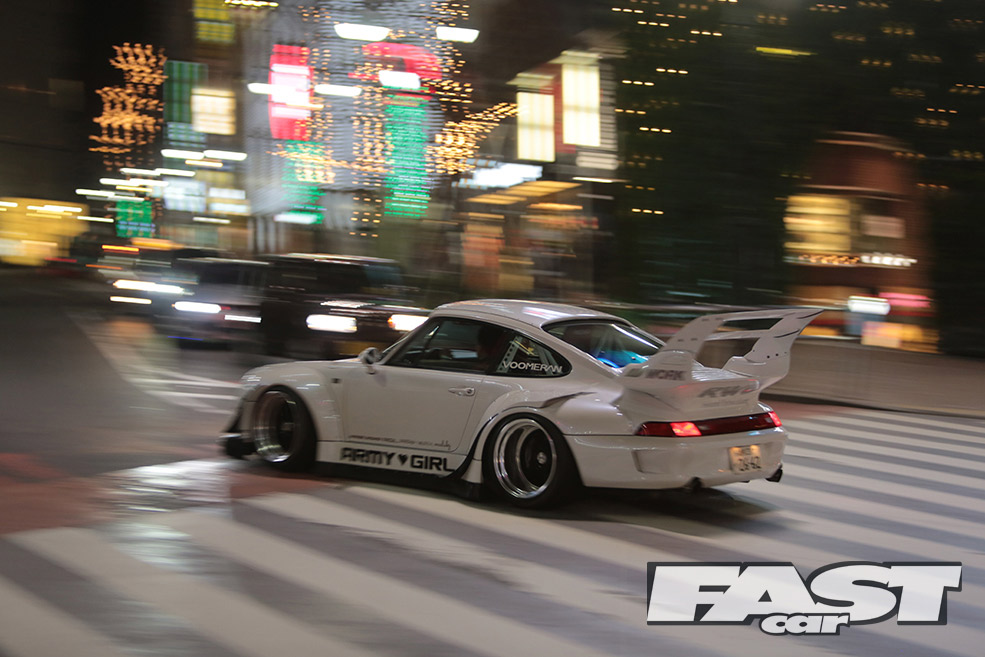 Hitoshi has spent most of his working life in the automotive scene, first at Yokohama Tire following various racing series in Japan and then looking after the aftermarket parts retail at Japan's official Ferrari dealer network. But his path wasn't purely following his passion, there was a well planned goal at the end of it all and he that period was simply there to teach him the skills that would later on be used to reach his achievement – Army Girl. Hitoshi came up with the idea to launch a clothing brand linked to the automotive lifestyle scene for the sole reason that nobody in Japan has really thought about it yet.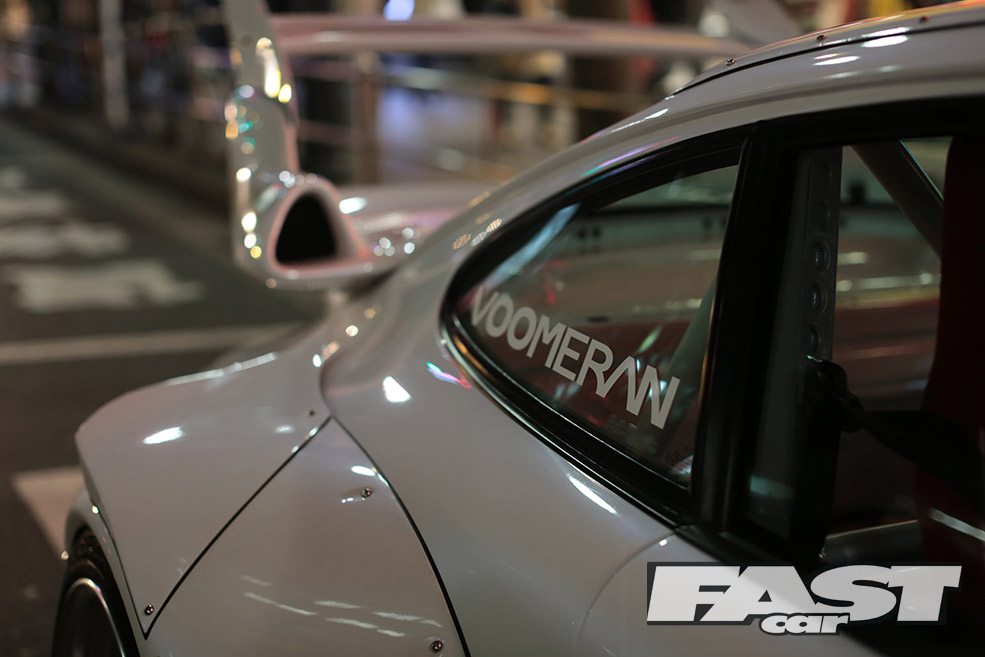 But it made total sense, he could step things up and set up his own business yet keep that passion with cars truly alive. It was a win win situation and the idea to tie it all in with Rauh Welt Begriff made sense as the clothing he designs and produces are made by following the simple concept of keeping it cool, sexy and wild which are three words that are perfectly in sync with what Nakai's brand stands for. Plus it's all made in Japan, something that Nakai liked very much.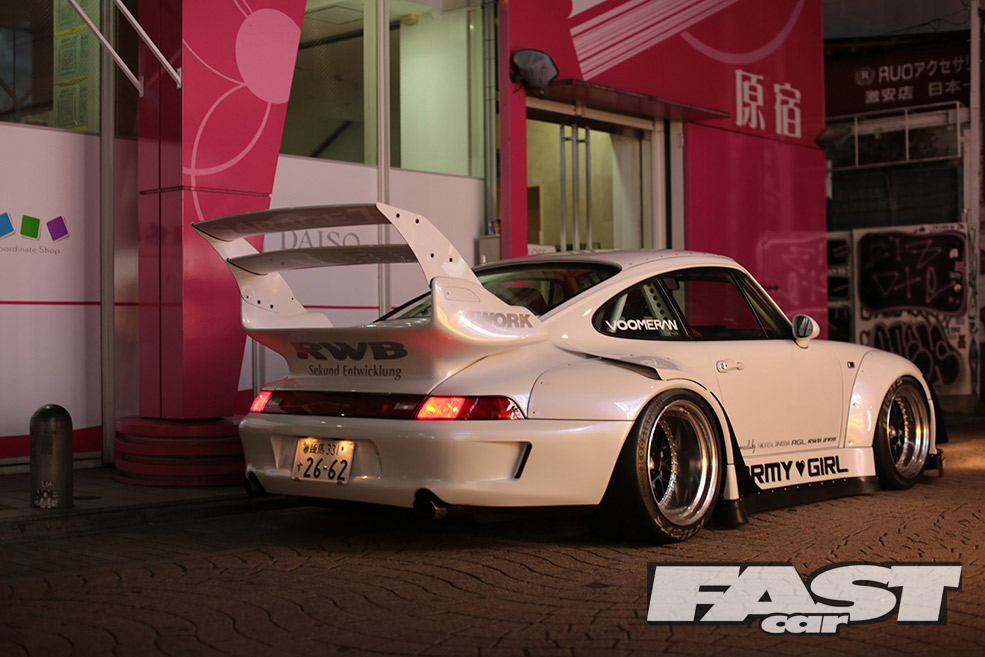 We met with Hitoshi late one night in Shibuya, right on one of the main streets that lead up to Hachiko, the famous scramble crossing. We had seen his car briefly a few months prior at the Tokyo Auto Salon, but never had the chance to really take a closer look. You know how shows are, so much to see, so little time and you end up missing the finer details of what you're there to see. But we're glad we got this chance to spend a couple of hours with this 993 Carrera 2 as it's probably one of the most polished cars that Nakai has ever put together in Japan.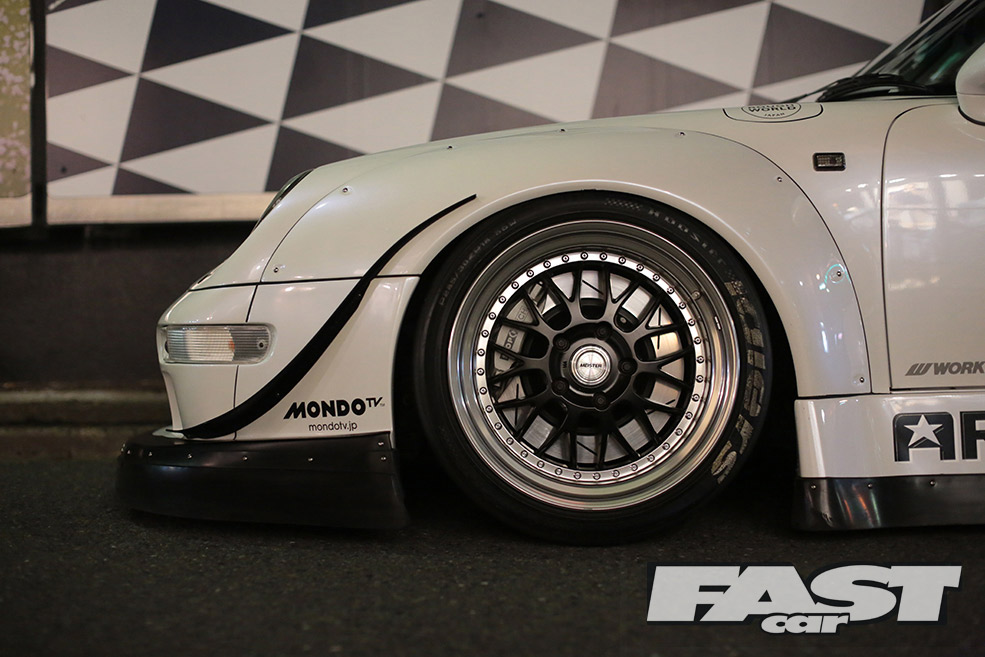 You see Hitoshi may like the whole the idea of the RWB "rough" style but in reality he likes his stuff very polished, meticulously executed and beautifully refined. One look at his car and you truly get a feel for this, right down to the paint the car is finished off in. Hitoshi took an Aston Martin pearl white paint sample to Noshima-san, who is the guy responsible for painting all of Nakai's cars in Japan, and told him that he wanted something like this.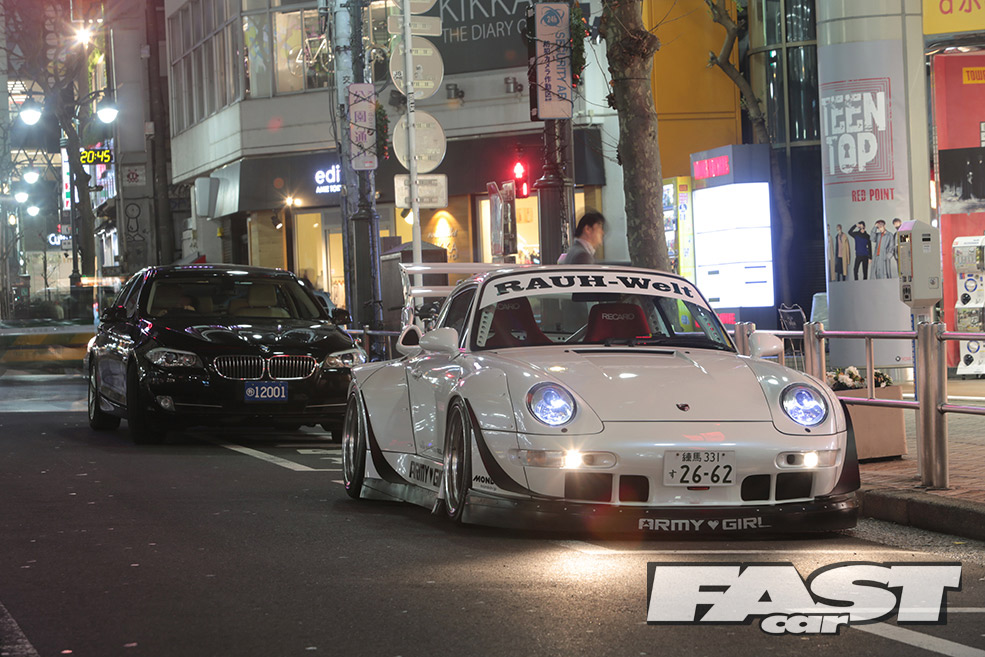 The car would mostly be driven late at night in central Tokyo after he closes up shop, so it had to shine and look the part under the city lights. Nakai thought that a simple pearl white was a tad boring for one of his creations, but Nojima came up with a little custom mix made up with a higher content of metallic blue in it that really shines through and highlights all those complex lines that make up the exterior. And those aesthetics are just as extreme as you would want them for what is a street driven car, featuring those massively wide signature fenders topped up with that GT2 inspired front and rear bumper.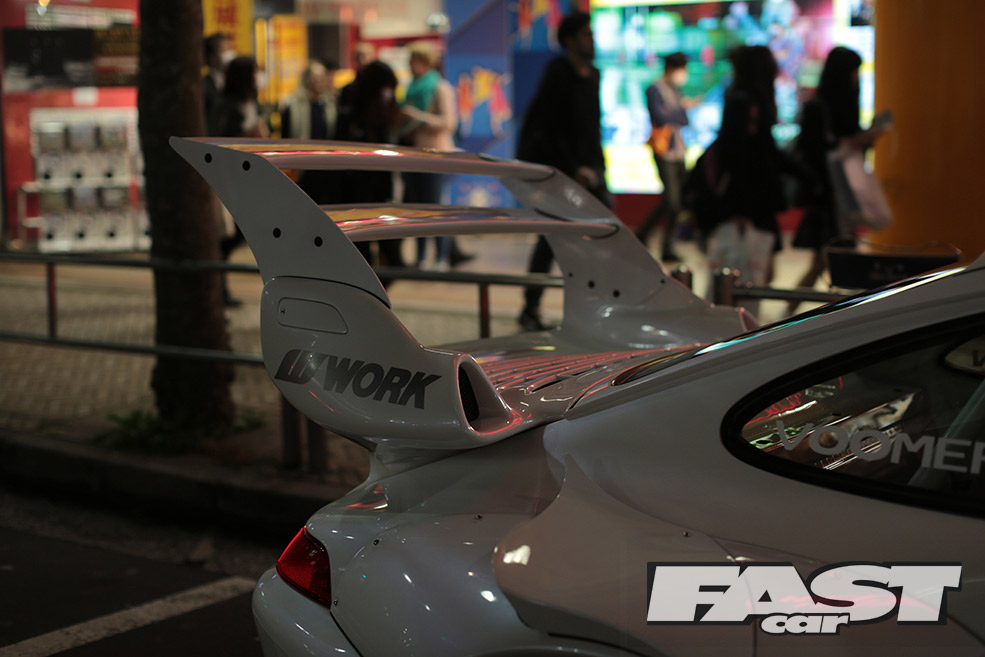 This build however was one of the most complex ones that Nakai embarked on, because Hitoshi wanted it done properly. So the 993 was first stripped down to a bare chassis and sent of to M's Machine Works, a fabrication shop that Nismo uses for its racecars. Here a custom multi-point roll cage was fabbed, welded and gusseted in place in order to both strength the ageing shell but also to offer a higher level of safety when the car occasionally hits the track.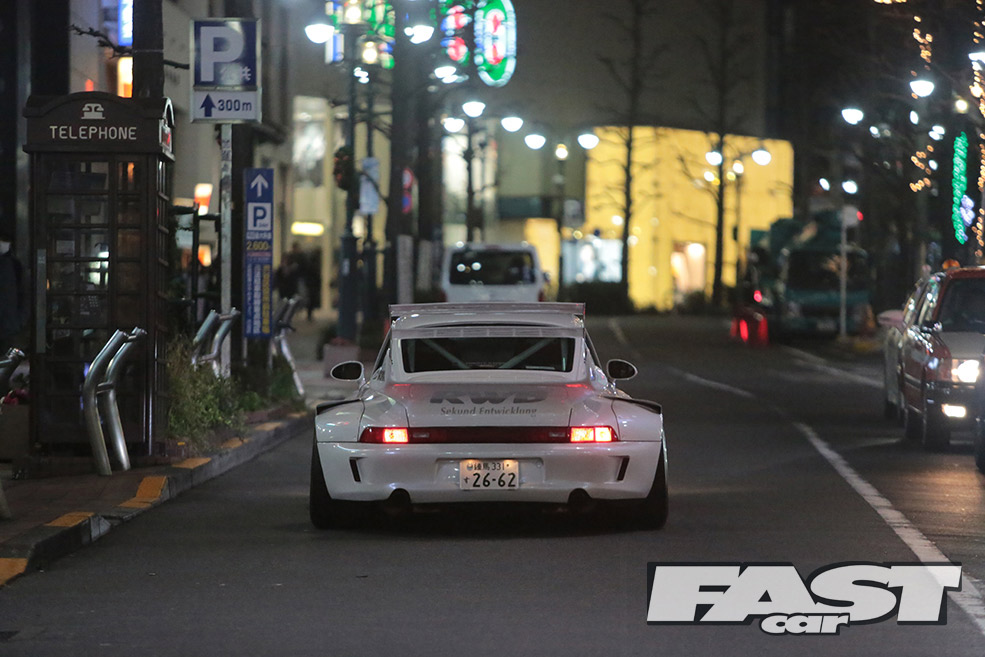 It was then shipped back to Nakai where he went at it with an electric hacksaw, cutting away the fenders and the roof. Nojima painted it inside out and then the massive jigsaw puzzle was put together. This also included rare additions like the one-off carbon fiber roof that Hitoshi requested as well as the rear fender winglets and the Rotana style rear wing.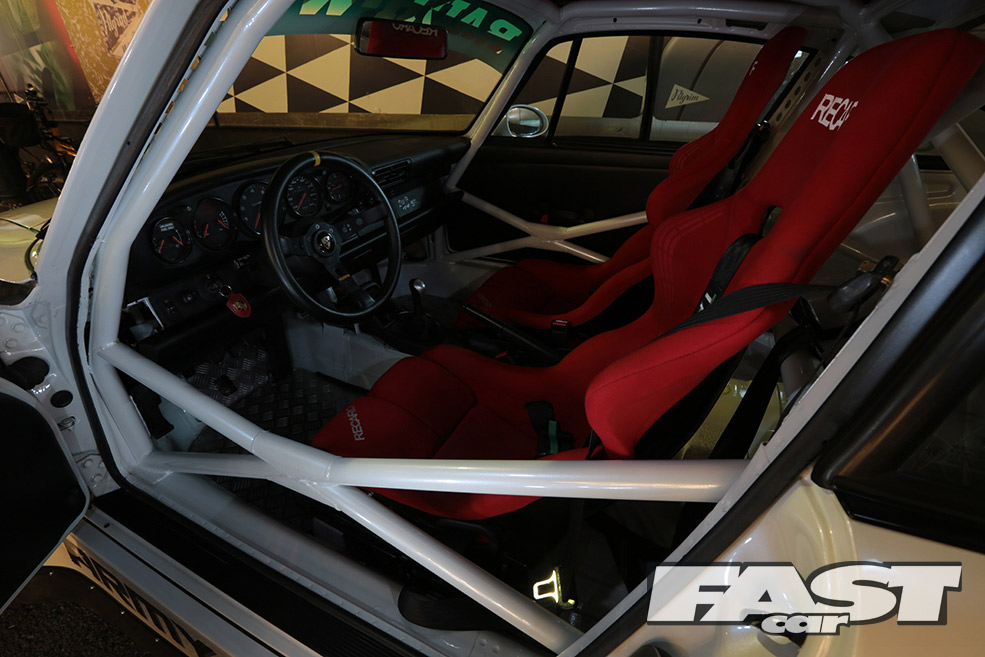 A RWB is all about stance and to nail it Nakai fitted a set of Bilstein adjustable dampers mated to Swift spring to just the right ride height before bolting on the custom painted 18-inch Work Meister M1s which measure a rather generous 11J across the front and 13J at the rear. When Hoshino arrived in front of Tower Records, our predetermined meeting spot, I understood why he asked to make sure we would do this only on a dry night. Those 3-piece Meisters are shod in Hoosier slicks, which at 285 wide at the front and 335 at the rear are exactly as dangerous as you'd imagine on a rainy night. Not to mention a tad illegal even for Japanese standards!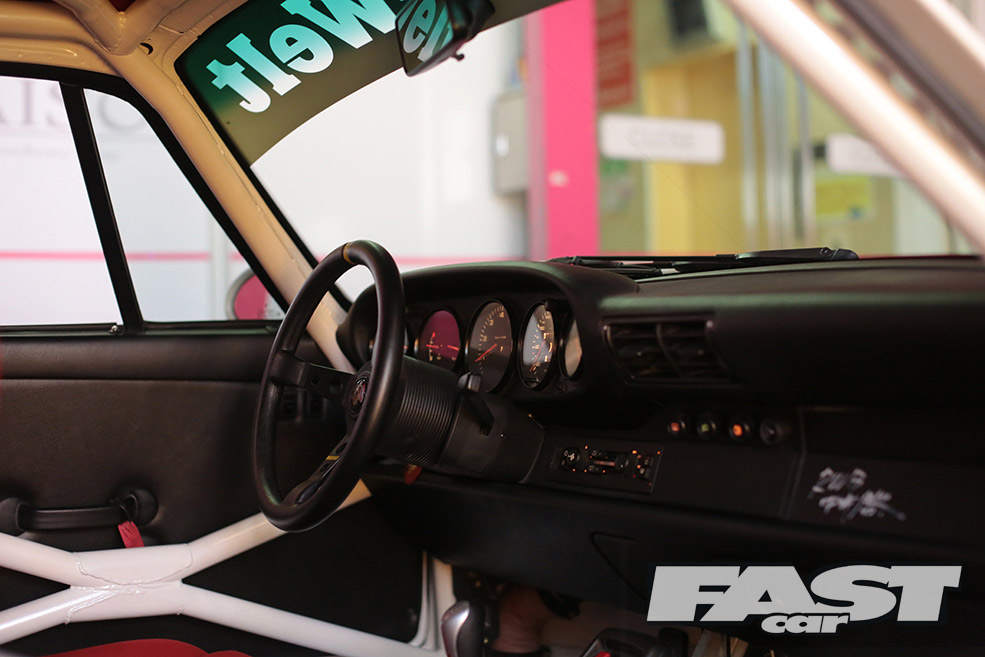 Thankfully that night the rain was nowhere to be seen so I jumped in the supportive Recaro seat and we headed down the road to Harajuku. Taking a turn off from the main street that leads down to Omotesando we ended up into some seriously tight backstreets – the heart of the Japanese fashion district. The sea of scantly dressed school girls that take over the place during the day are replaced with groups of drunk salary men late at night, stumbling out of microscopic little izakaya bars as they try to make it to the station before the last train. Miss that, and it's an expensive taxi ride back home.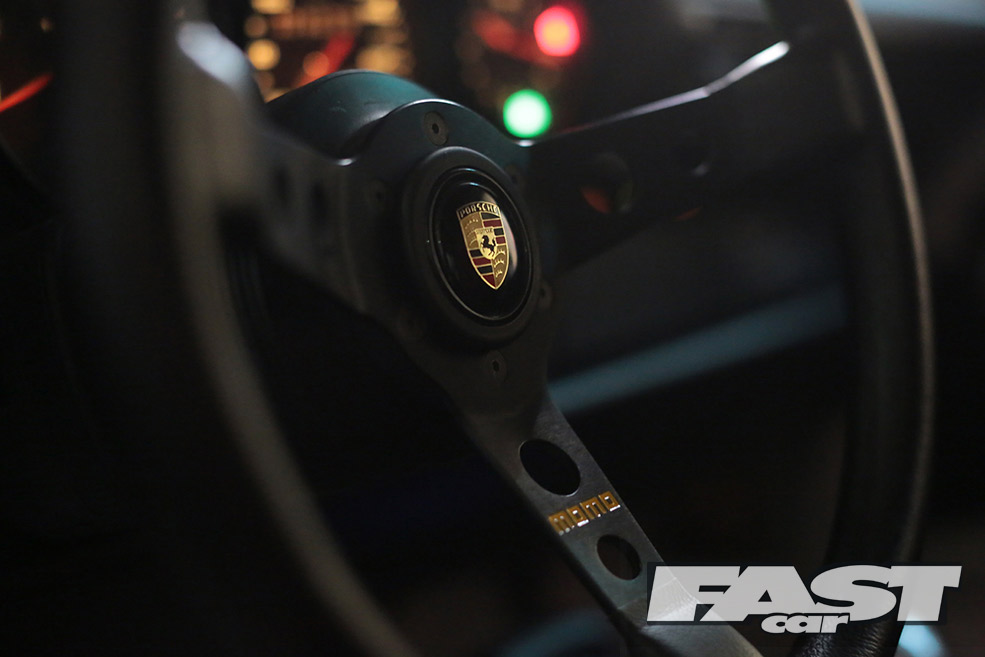 The 993 attracts a lot of attention, people point, stare and stop to take pictures. It's quite an experience riding in one of these things, you really get a first hand look at the sort of attention it generates. Slapping the name of your brand along its sills makes much sense, it's a stunningly effective promotion tool. But thankfully that's only part of it, Hitoshi regularly takes it out on the C1 and hits Tatsumi PA for night meetings enjoying that easy and fool-proof handling dynamic these high-grip 911 of Nakai's are known for.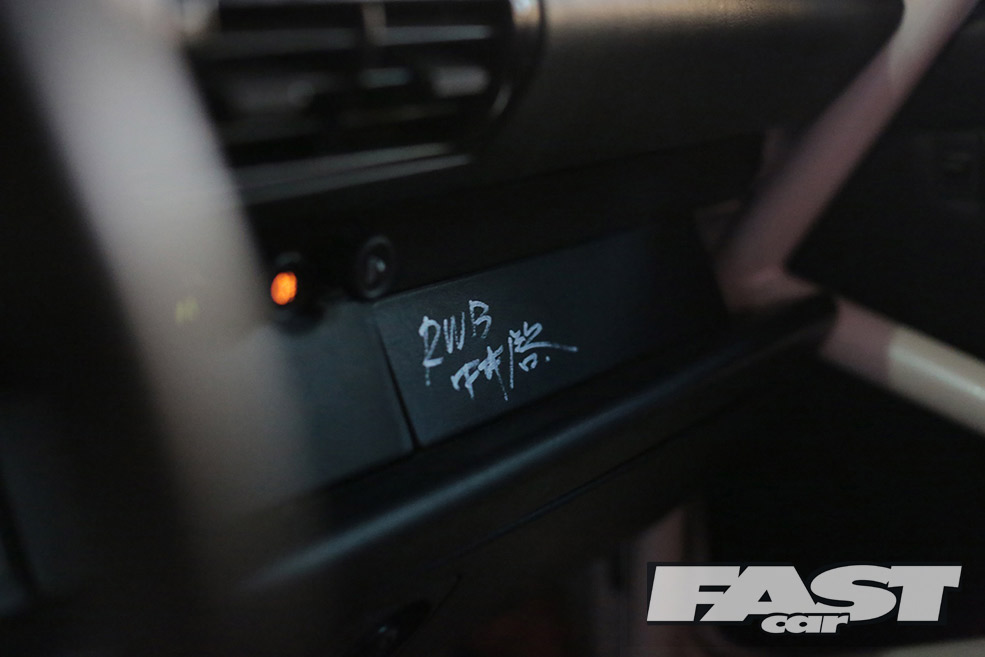 Next up for Hitoshi is the engine. He's already fitted big StopTech brakes up front as he wants to follow what Nakai has done with his 993 Rotana track car, and that's slapping a big massive turbo right next to the engine. Big power and some flames from that custom exhaust would turn Army Girl into something even more special. This is a car, that like the brand it been built to promote, will continue to evolve.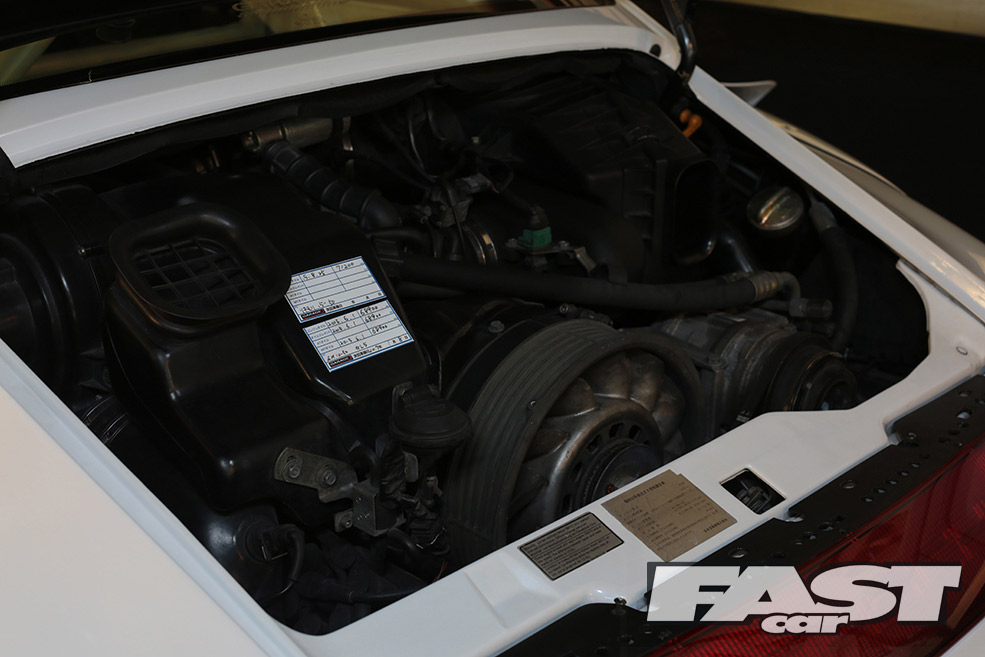 OWNER: HITOSHI HOSHINO
TECH SPEC: RWB PORSCHE 993 CARRERA 2
ENGINE:
i-code titanium exhaust system, Garage-J fully balanced and refreshed M64 engine
TRANSMISSON:
RS clutch & flywheel
SUSPENSION AND BRAKES:
Bilstein Cup dampers mated to Swift springs, StopTech ST-40 4-pot front calipers and 2-piece rotors
WHEELS AND TYRES:
Work Meister M1 3-piece wheels 11Jx18" front, 13Jx18" rear, Hoosier slicks 285/30R18 front, 335/30R18 rear
EXTERIOR:
Full RWB wide body "street" conversion, RWB original pearl white, one off RWB carbon fibre roof
INTERIOR:
M's Machine Works custom welded-in & gusseted roll cage, Recaro RS-G bucket seats, ARTI custom sound system with hidden speakers
Words and photos by Dino Dalle Carbonare