There's something particularly regal about choosing a Rolls-Royce paint shade for your drift project. And the more we pore over this majestic Rocket Bunny BMW E36 build, the more it becomes apparent that the Roller philosophy really is more than skin-deep…
Feature from Fast Car. Words: Dan Bevis. Photos: Ade Brannan.
There's an undeniable quality to the ethos of Rolls-Royce. That's a point which is barely even worth making, we all know this – a company whose sole aim throughout its history has been to make the best cars in the world has created a brand image that speaks for itself. You can see why BMW wanted a piece of that action, buying out the company in 2003 and building a fresh new factory at Goodwood to continue the legacy in style. Just twenty Rolls-Royces are built each day at Goodwood, a carefully considered figure to balance exclusivity with volume demand. Every Roller in the world is built there, with 35% going to China, 35% to the US, quite a lot to the Gulf states… and every single one is the very best that it can be. To illustrate this fact with a specific example, consider the factory's torque wrenches: there's a section of the plant called the 'marriage centre', where the drivetrain meets the bodyshell. As the vast engines and gearboxes are mated with axles on the rolling rig prior to being stuffed into a shell, the mechanics torque up all the bolts… and when they reach the sufficient amount of twist, the wrench glows orange. This signifies that it's being recorded – that specific bolt was wrenched to that particular torque on that date, at that time, by that person. It's all noted in the computer via Bluetooth. So if that bolt shakes itself loose in thirty years' time, they can find out why. Imagine that level of fastidiousness, applied to everything in the car. It's incredible.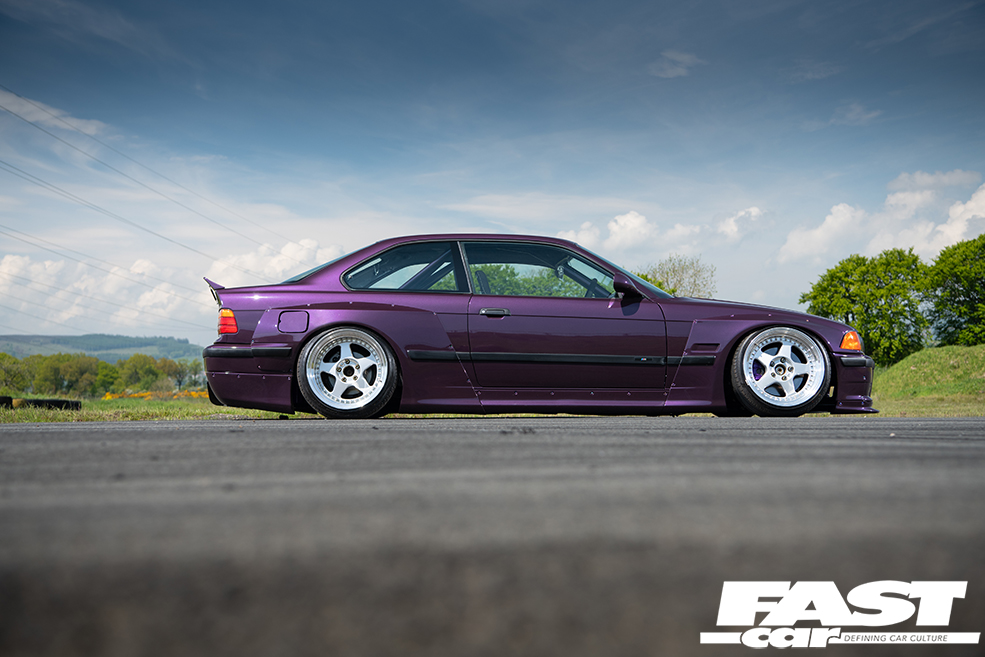 Of course, we can't all afford to drive a Rolls-Royce. With the least expensive model, the Ghost, starting at around £230k, that sort of lifestyle is well out of the reach of most people. But we don't all want to own Rolls-Royces either – they're too big to park in supermarket car parks, the running costs are eye-watering, and – while they're massively powerful and have an incredibly smooth and pillowy soft ride – they're not a huge amount of fun to throw down a twisty country lane or hoon around a racetrack in. Sure, it's nice to waft, but it's arguably preferable to feel engaged and involved.
What you're seeing before you, in an ingenious twist, is an effort to fuse Rolls-Royce sensibilities with entertaining track prowess. A car that's painstakingly detailed and beautifully constructed, but also hilarious fun to pedal around a circuit. Al Forber is the mastermind behind it, and he had a vision in mind that evolved as the project progressed: "It quickly escalated into a fusion of drift car, show car and road car," he explains, and it's clear to see that the BMW E36 is excelling in all of these fields.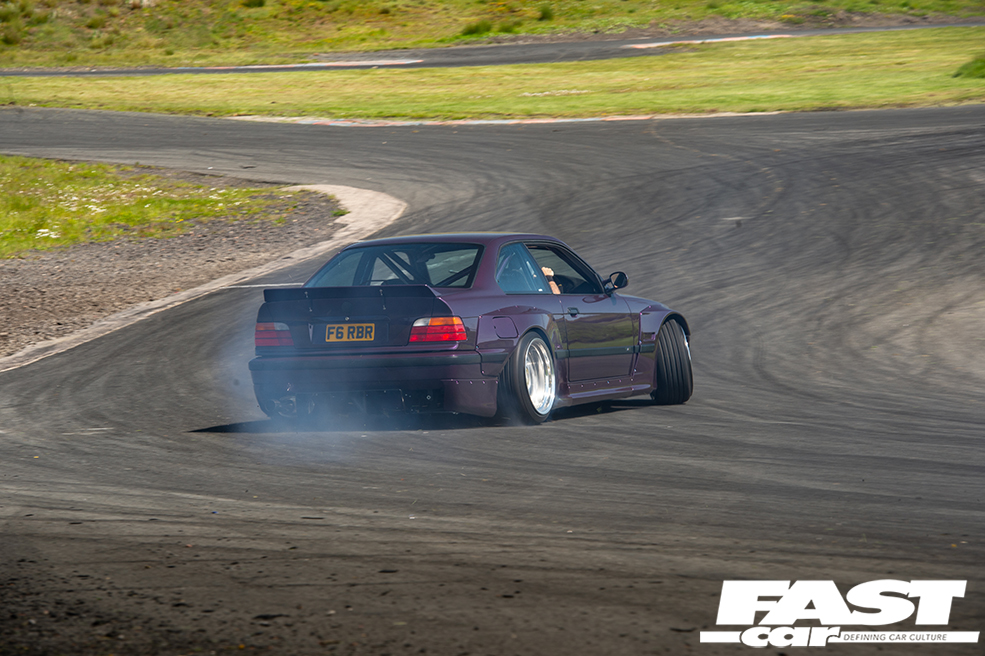 Al's name may be familiar to some, particularly given that one of his former projects – a carbon-bodied Audi RS6 – was a mag feature car too. Indeed, he's a man who knows what he likes, and what he particularly likes is high-quality cars tailored to his own tastes (which is a very Rolls-Royce mindset); in addition to that 735bhp carbon RS6, there's been another 2015 RS6 which is still on the driveway today, a 695bhp Nissan GT-R that was dripping in carbon, and an E46 M3 which was the fulfilment of a childhood dream. Sharing drive space with the RS6 today is an E36 drift car, a 2020 Range Rover Sport – and the vivid purple creation you see here before you.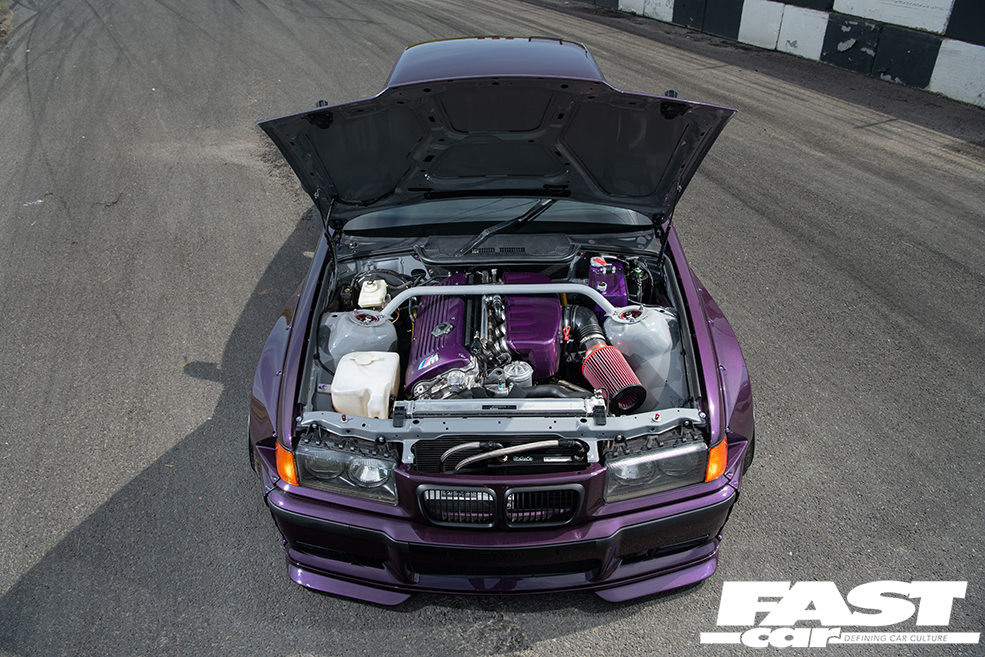 Lift the bonnet and you'll find an S54, the 3.2-litre straight-six from an E46 M3, and that spicy choice was actually the catalyst for the entire build. "I bought the S54 first," Al explains. "The plan was to just stick it in my drift car and have a decent amount of power, but instead of taking that car off the track to fit the engine, I thought I would build another one! So I started looking out for a decent example of an E36." This was back in 2016, and after a little bit of hunting he managed to track down a straight and solid 323i – totally bone-stock, and only £1,000. Inevitably the first thing Al did with this tidy commuter-spec coupe was to tear it right down to a bare shell and start to make it more appropriate for extravagant skids. And this all-or-nothing approach makes a lot of sense when you consider the broader aspect of his lifestyle and working patterns. "I spend up to eight months of the year at sea, working on boats surveying oil pipelines and the like – all away from the family," he explains. So it makes sense that in the time when he is at home (and when family commitments allow), Al goes all-in like a Tasmanian devil. "The last car I heavily modified was the GT-R," he continues. "It had all carbon bodywork, and was the first in the UK to be on air as well; it had everything done – Litchfield Stage 4, full interior retrim, lots of custom one-off carbon pieces… it's the one car I wish I'd never sold."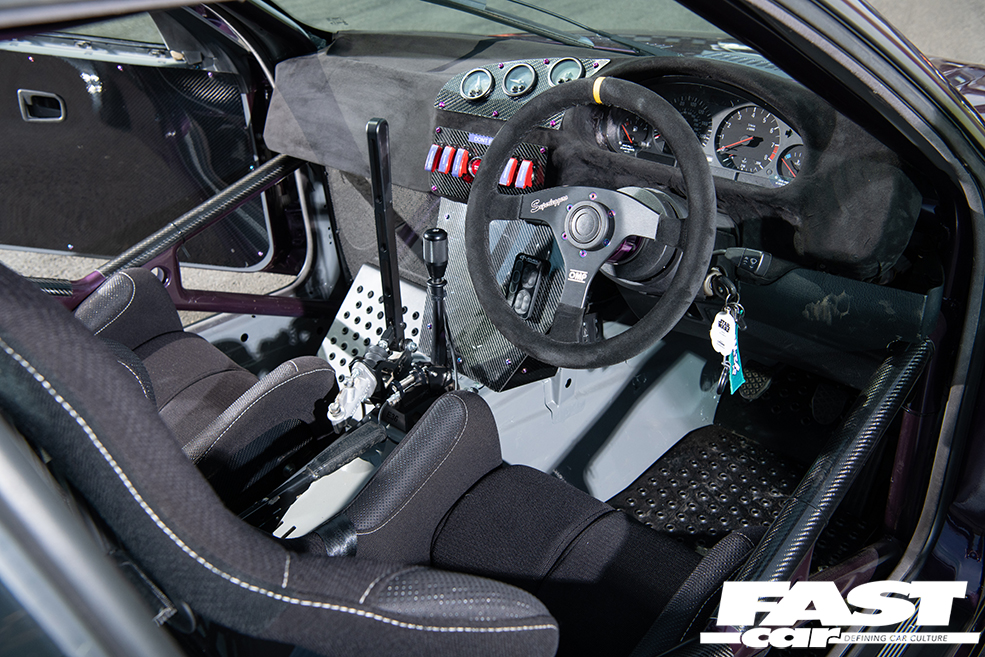 There were demons to exorcise here then, and it starts to make sense that when he embarked upon this fresh new project, using the engine from his childhood dream car, this was never going to be just another knocked-about skidder. This was always destined to be something special.
"At first, the idea was simply to put together a really well-specced drift weapon," he says. "But soon enough that evolved into this drift/show/road idea. Once I started really getting into it, I began looking at ways to make it stand out, and the replica Rocket Bunny widebody kit popped up on my radar. That was quickly ordered, and I then decided to stick a cage in and do a full track-style interior. It was a little slow-going waiting for parts and the right people for getting the cage done; of course, with the kit ordered and a long list of parts growing, I thought 'why not add air to the list?', and decided that it should be bagged because that's something you just don't do with a drift car. But why not give it a go, eh?"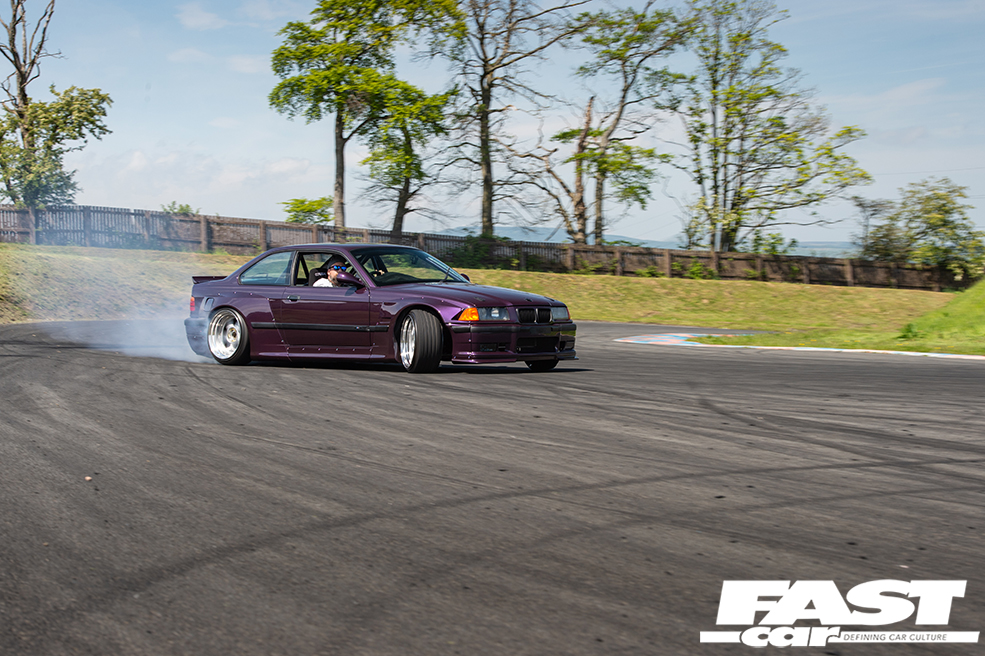 With the E46 M3 engine going into the BMW E36 shell, Al quickly realised that this wasn't going to be a straightforward swap, as every required solution and innovation seemed to involve one step forwards and two steps back. But eventually it all began coming together, and he was only too keen to augment the chassis with the right bits to really do the massive power justice.
"The steering kit is a full-on drift set up from SLR," he explains. "The car's running an M3 purple-tag rack, along with an Eibach anti-roll bar at the front. Once everything was test-fitted and set up it was time for paint, so it moved from Driftland garage down to Neil at KDKustomsUK. Everything was stripped out and work started on getting the bodykit perfect, along with finding the right wheels – I ended up with two different sets, twelve wheels in total. It was more slow-going getting the right people together to get the little jobs ticked off, but in the end we had the bodykit and everything all sorted, and it went in for paint."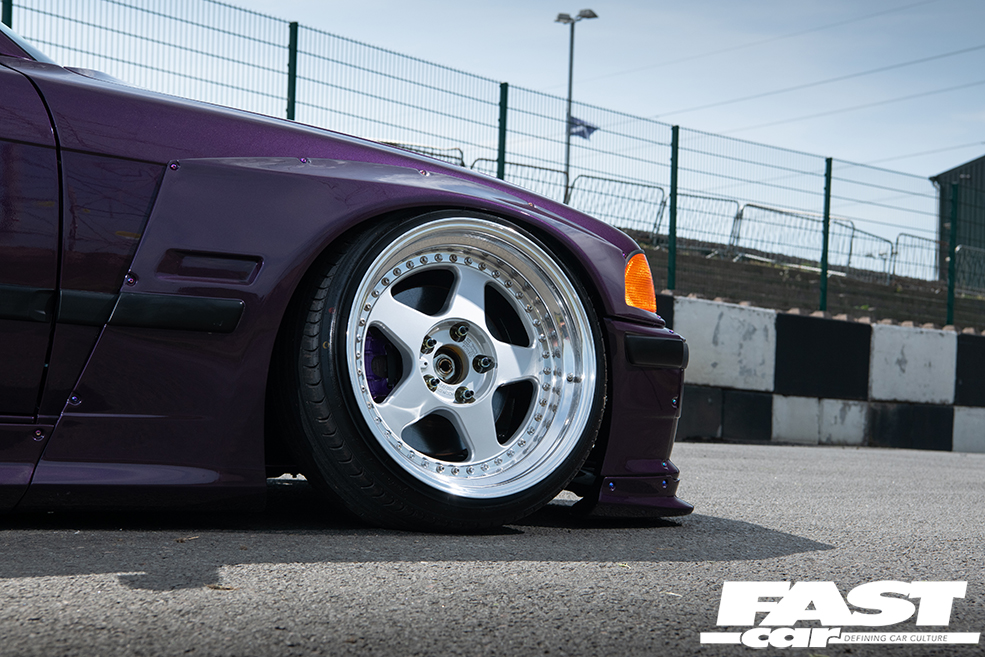 This is the area in which the inherent philosophy of quality and correctness comes to the fore, because that paint is no ordinary shade of purple: it is, in fact, Purple Silk, taken from Rolls-Royce's own palette. Tastefully offset by a Nardo Grey engine bay and highlights, the Purple Silk does a lot of heavy lifting in terms of demonstrating to passers-by just how serious a build this is. As if having a  E46-engined Rocket Bunny BMW E36 didn't do that strongly enough!
"The finished product is quite different to how I'd originally envisaged it when I bought the engine," Al laughs. "But from what I expected it to turn out like once I'd decided on the kit and all the extras, it's even better than I could imagine – Neil has absolutely smashed the little touches for me, and the paint looks amazing."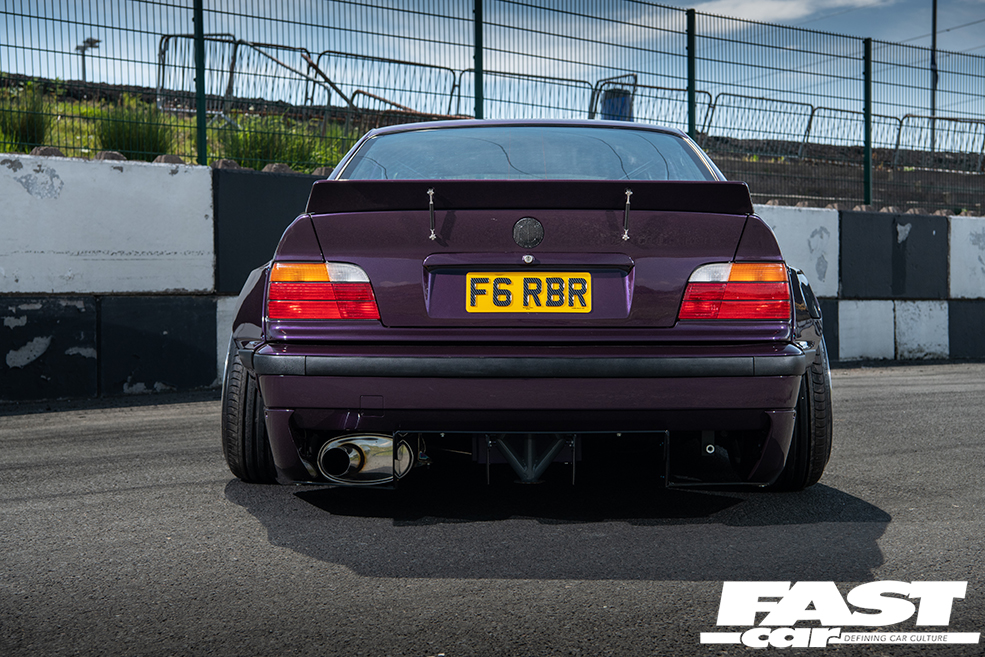 The fusion of drift car and show car can often cause a bit of artistic and conceptual tension, because it's frequently the case that enthusiasts pour so much time and investment into a project that it becomes too nice to use and abuse on track… but there are no concerns about that here. Road-legal it may be, but it's a full-on track-spec machine – and while it has a flawless and trophy-worthy finish, there's no ambiguity about what this thing was built for. "I'm really looking forward to just enjoying it," Al beams. "It's been such a long time coming. And it's all finished to such a high spec that, yes, it'll mostly be a show car, but you can be damn sure I'll be drifting it. There's more power than I'll ever need in a drift car, and I'm lucky enough to live just a few miles away from Driftland…"
Therein lies the essence of the build. You won't find anyone drifting a Wraith or a Phantom at your local circuit, but you also won't find a lot of track builds of this calibre: Al has built the Rocket Bunny BMW E36 with the spirit of Rolls-Royce running through it, and he's engineered it for full send. And that's way more exclusive than dropping two-hundred grand on a barge – in fact, this high-end BMW puts him in a class of one.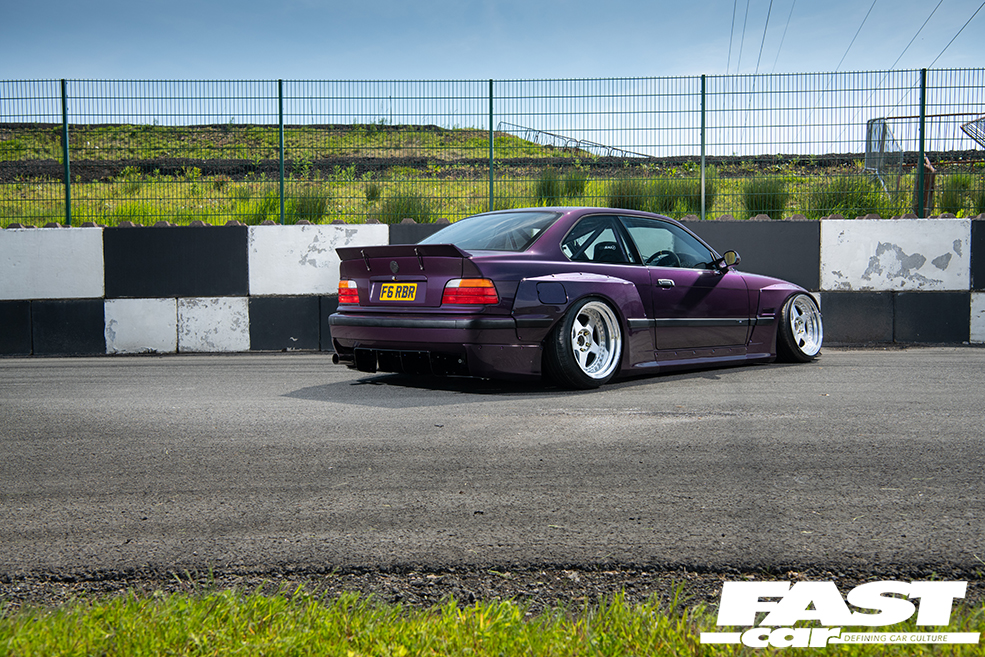 Tech Spec: Rocket Bunny BMW E36
Engine:
3.2-litre straight-six S54 (E46 M3), Radium fuel rail, Radium fuel pump, BMC air intake, Mishimoto radiator, Setrab oil cooler, Mocal oil cooler
Transmission:
Coolerworx shifter, CG Motorsport 777 clutch, welded diff
Suspension:
Air Lift Performance suspension, AccuAir e-Level management, dual Viair 444c compressors, Eibach front anti-roll bar, SLR ultra angle kit, M3 purple-tag steering kit
Brakes:
E36 M3 front brakes, stock 323i rears, IRP Drift hydraulic handbrake
Wheels:
11x18in OZ Futura wheels with 225/40/18 (f) and 225/35/18 (r) Nankang tyres
Exterior:
Rolls-Royce Purple Silk paint, replica Rocket Bunny wide-body kit with custom panel work, M3 mirrors, rear diffuser, custom jacking point, Aerocatch bonnet pins, single wiper conversion, titanium hardware throughout
Interior:
Fully stripped, Corbeau Pro Series carbon bucket seats, Takata harnesses, full rollcage, OMP Superleggero steering wheel with NRG removable boss, race footwell plates, custom carbon-fibre interior panels, Stack Pro gauges, M3 dashboard – trimmed in Alcantara, heated windscreen, titanium hardware throughout