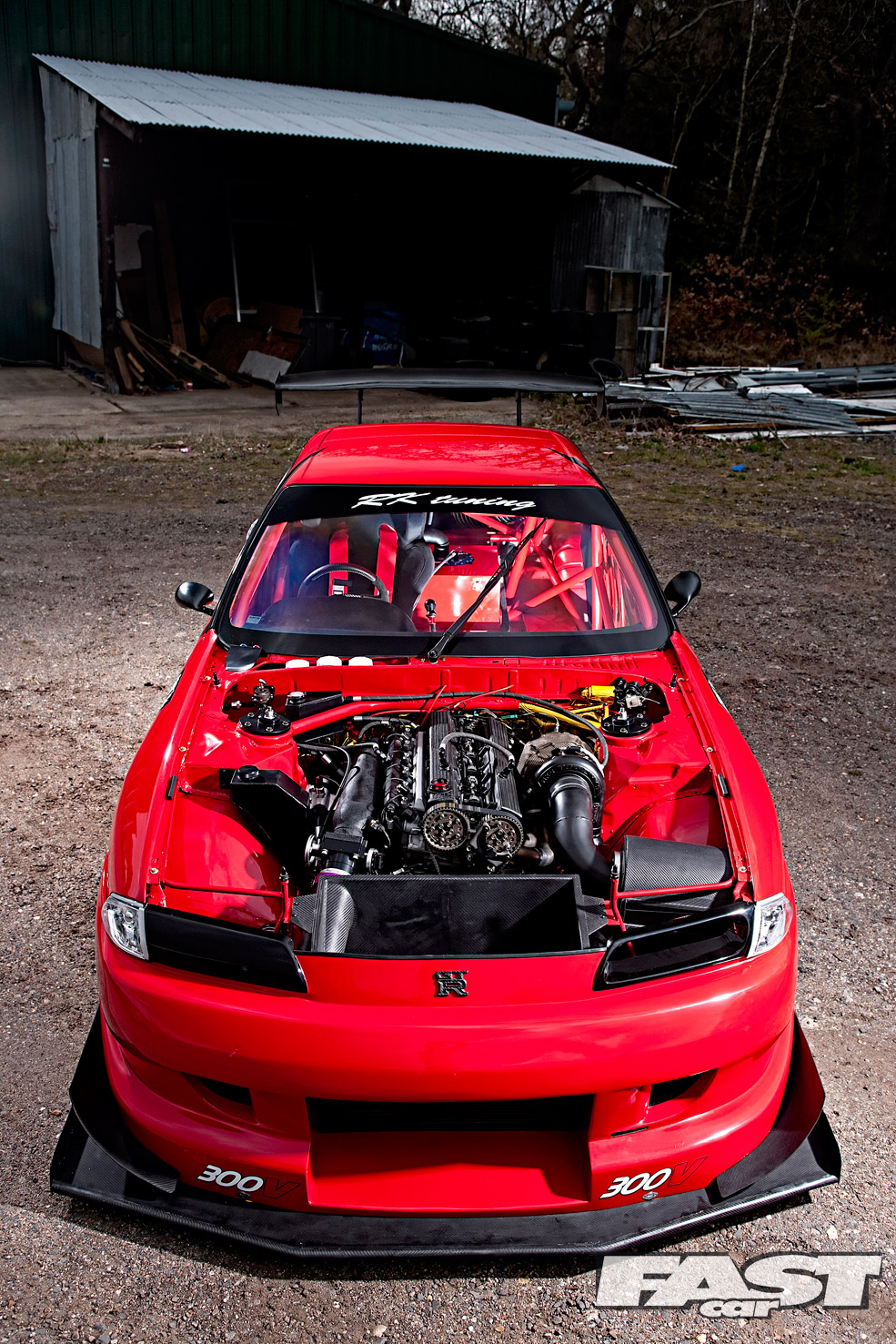 RK Tuning's tuned Nissan R32 Skyline GT-R
There's plenty of ways to have the best or fastest modified car around. Down the quarter mile, highest top speed, being the drift king, even as a show and shine winner; but nothing pushes every part of a car to its limits like being the fastest car on a race circuit.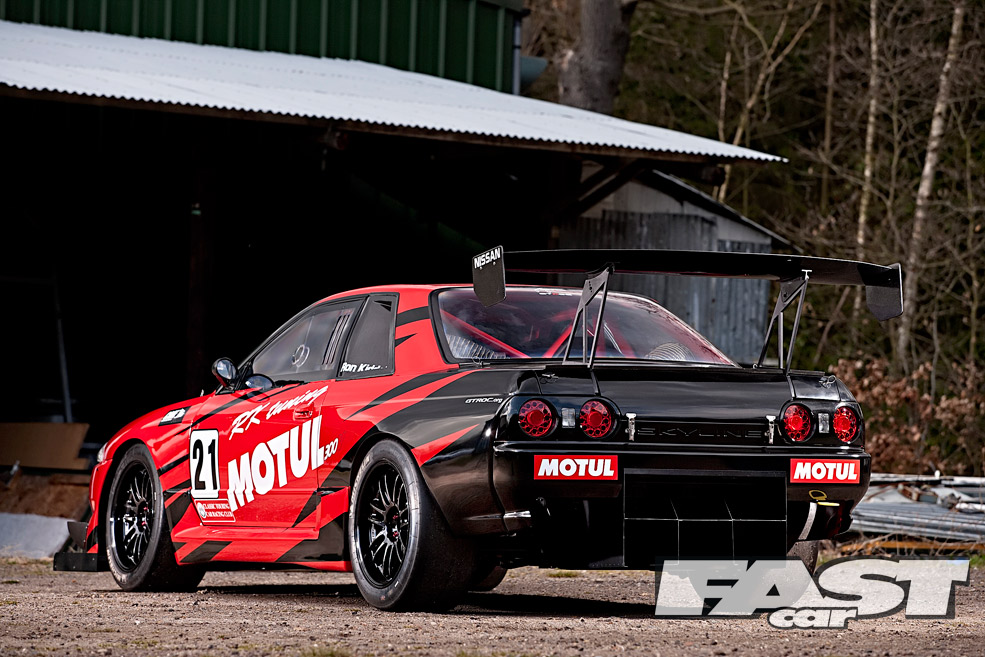 The owner of this car, Ron Kidell, also owner of Skyline tuners RK Tuning, is no stranger to seriously fast tuned R32 Skylines. He's run 9 sec quarter miles with his original 998bhp R32 road car, but as soon as he gave circuit racing a go, he was hooked.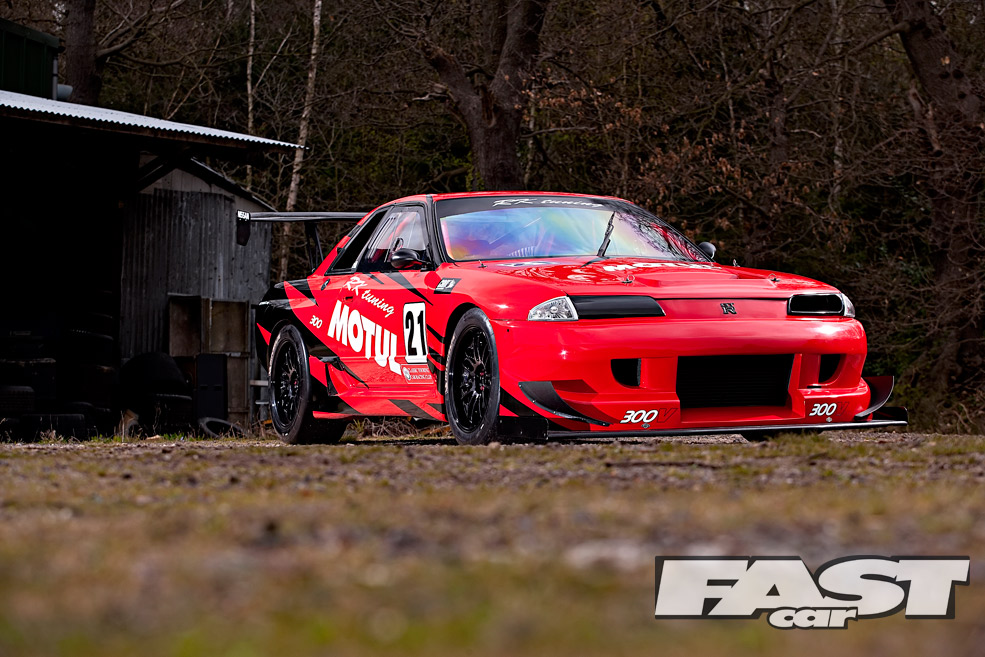 The first R32 track car Ron owned was simple but effective, even taking a few wins in the Time Attack series; despite 'only' having 550bhp. Fresh from that success things got serious, with a wide-arch R32 track monster. "That thing was seriously fast," smiled Ron. "But even Time Attack legend Tarzan Yamada wasn't as fast as me in it when he had a go!"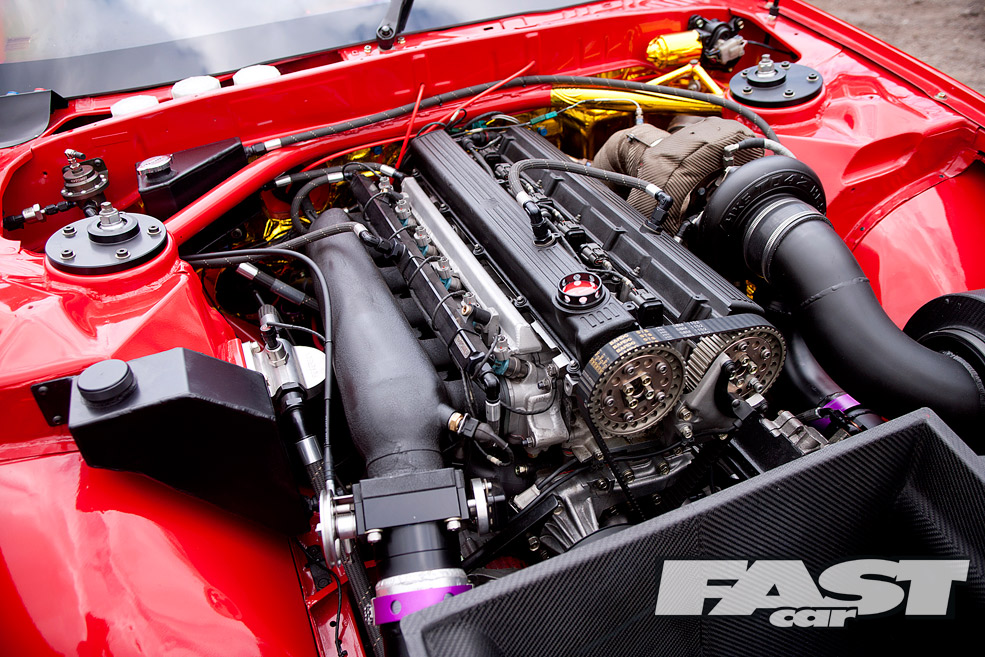 One thing still bugged Ron about Skylines: that they're still big, heavy cars. Despite the power potential, Ron knew if he built one from a bare shell, it could be better, faster and nimbler than any other Skyline GT-R on the planet. Skylines are not small cars, but with some serious weight saving Ron has managed to get his to weigh the same as a little Clio 172. Yes, it's really that light.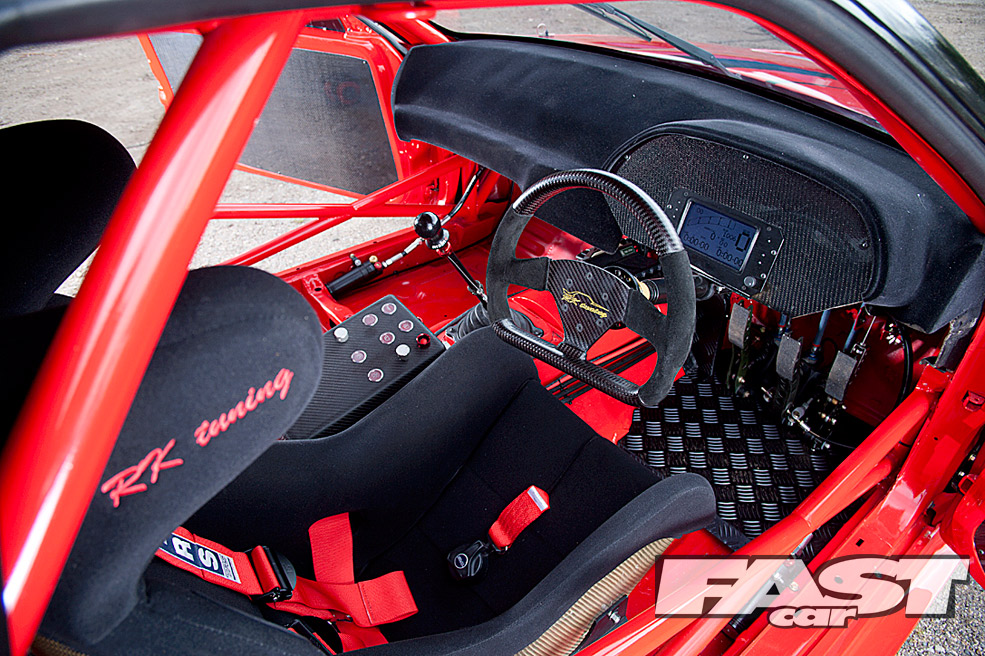 All the bolt-on panels are now made of either carbon or fibreglass, and the glass, even the front screen, has been replaced with plastic. Inside the car there's almost nothing barring the extensive roll-cage and numerous carbon goodies; even the steering wheel is carbon. Not only that, but the front and rear subframes and suspension arms have all been replaced with super light tubular versions. So it's light, but if that's all that counted he could've just bought a Clio 172. This car is more than that. A hell of a lot more.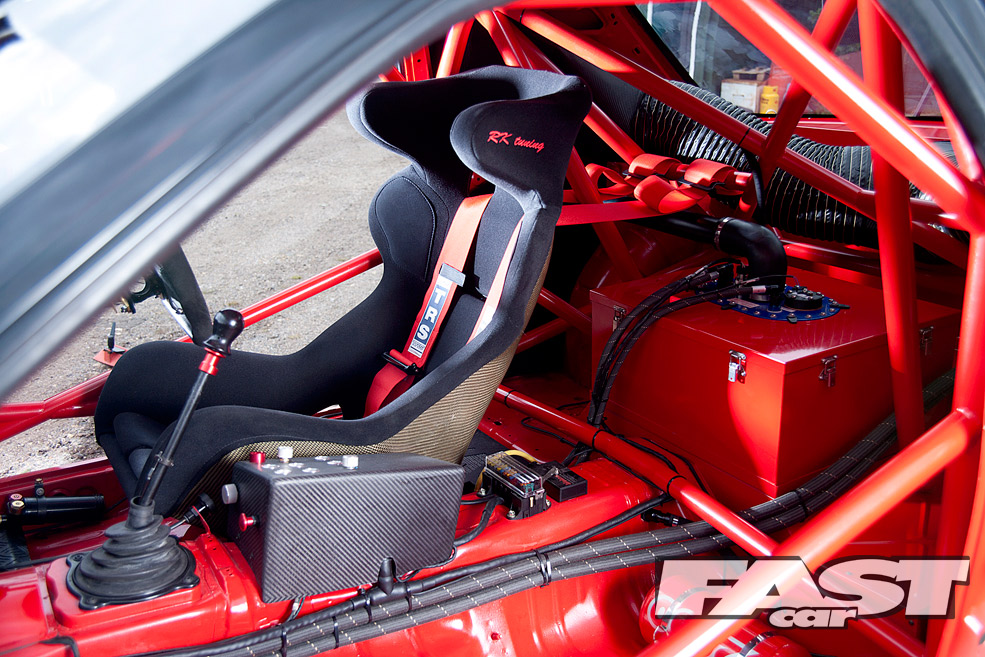 The bodywork has enough aero modifications to make an F1 car jealous; with splitters, canards, scoops, vents, ducts, Gurney flaps, diffusers and wings as far as the eye can see. And the fact they all look bloody amazing is just a by-product of their real purpose; to help produce so much downforce that this car sticks to the tarmac like a constipated whelk.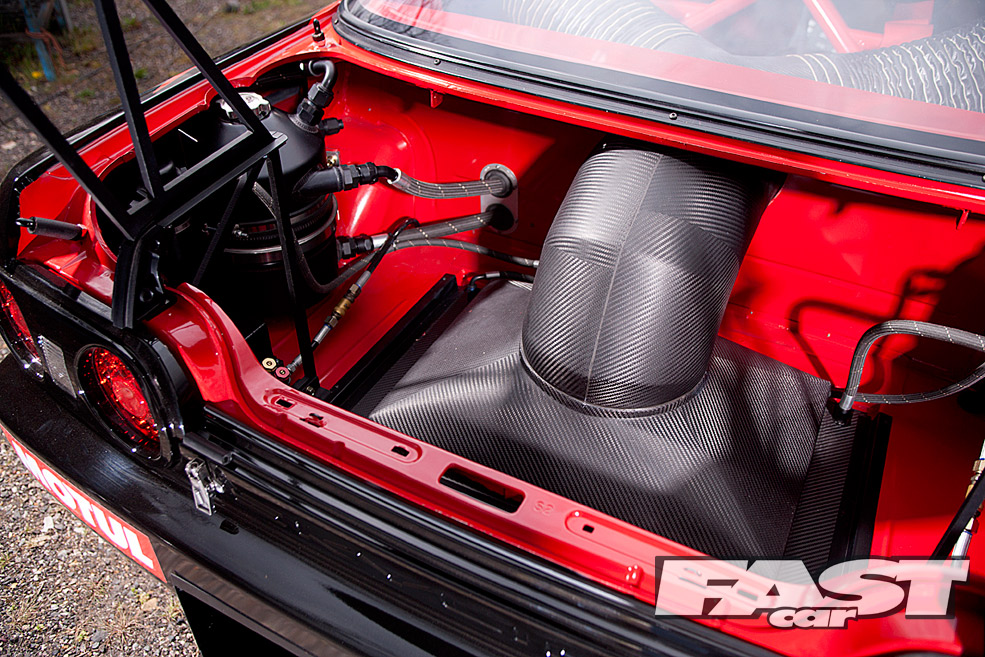 Not only that, but many of the scoops and ducts are also used to feed massive amounts of air to and from all the right places, namely the rear- mounted radiator, huge front-mount intercooler and the big single HKS turbo.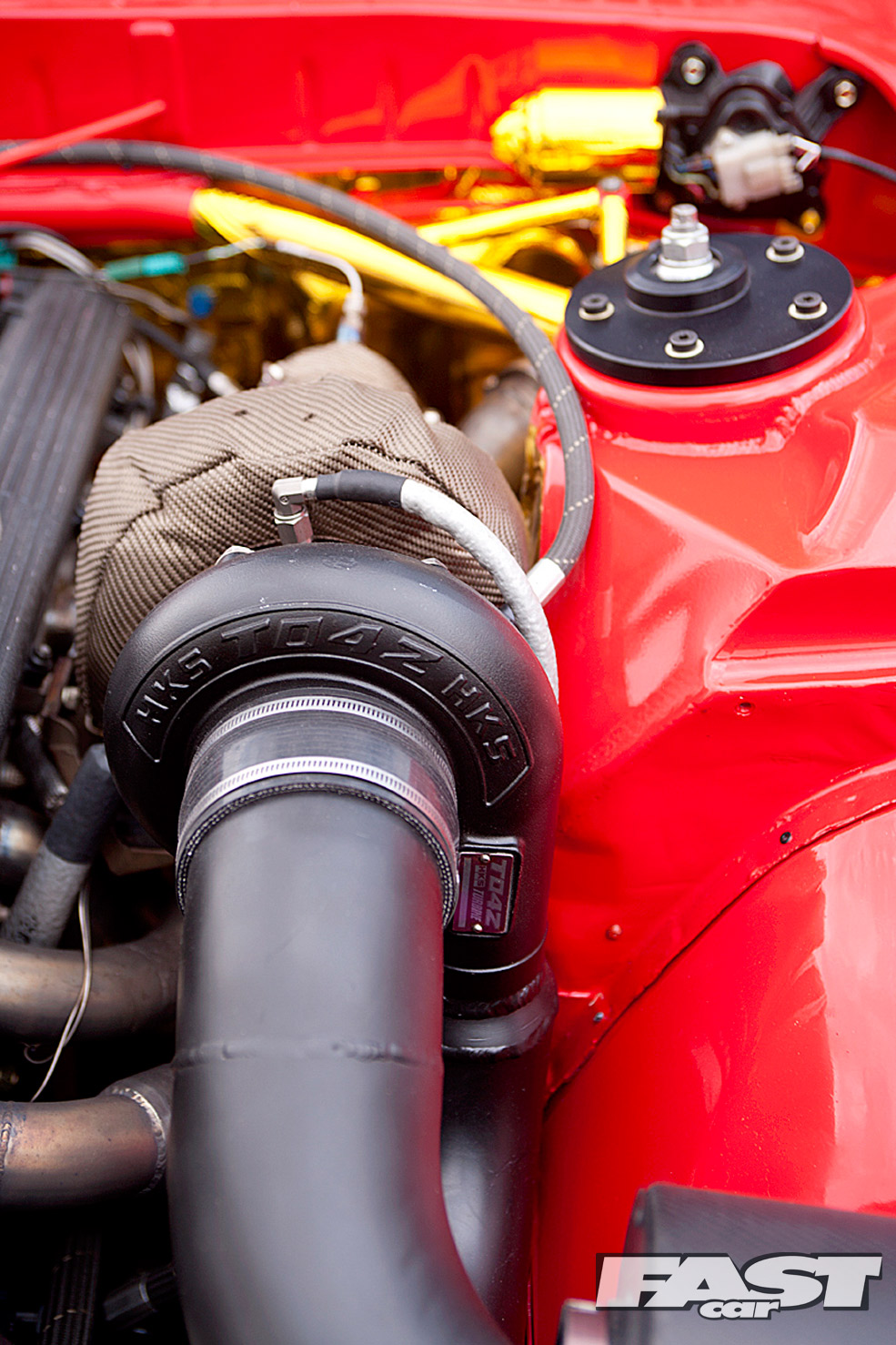 So, it's light, got more flaps and wings than a flock of pigeons, but what makes it go? Well the engine is still the legendary RB26 lump, but unlike so many that are built for all-out power, Ron has built this engine for an immediate and massive punch as soon as he touches the throttle.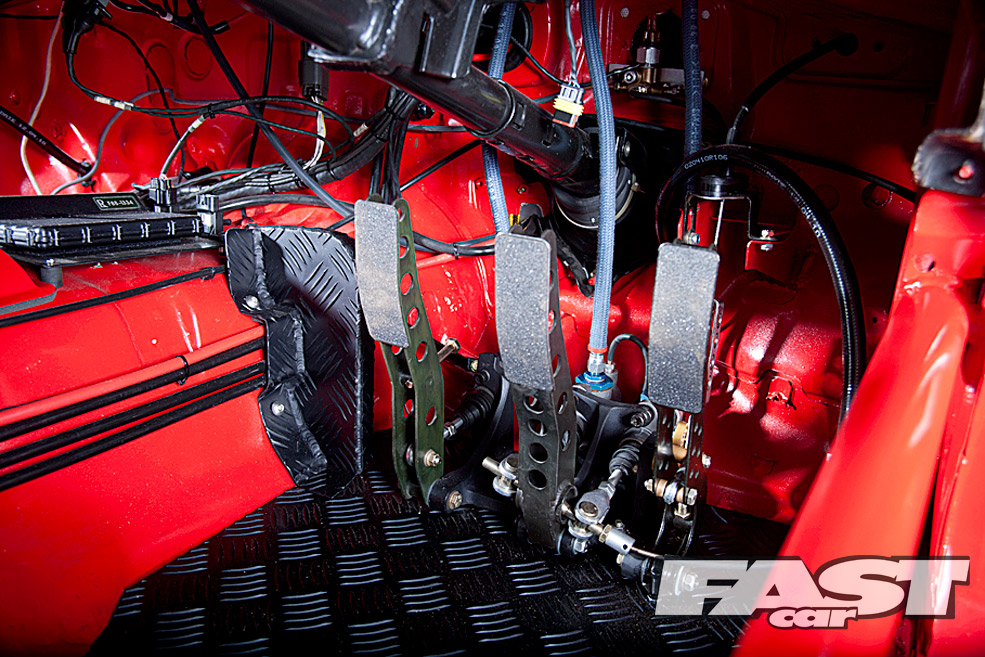 Thanks to a 3-litre OS Giken engine, modified T04Z turbo, and 30psi of boost, the engine in Ron's R32 pushes out 700bhp, a massive 650-lb/ft of torque, along with the all-important instant response. What that means is this car has such monstrous performance out of the corners that your typical laggy 1,000-plus-bhp car would be left for dead, and then wouldn't be able to catch up even on the longest of straights.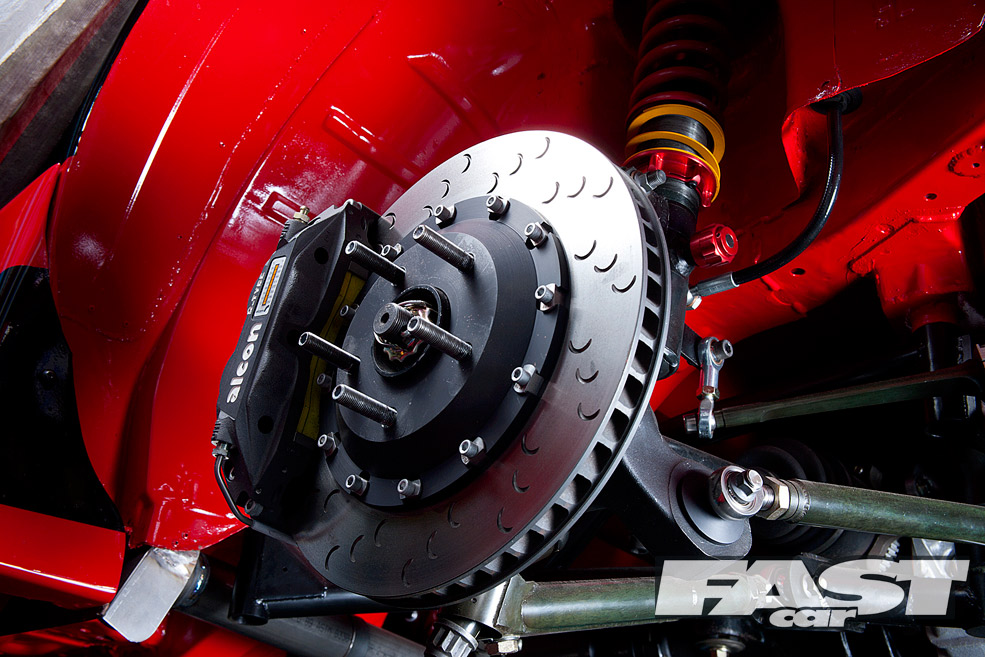 So, with lightness, downforce and a supercar destroying power, how does Ron slow down? Well, that's the job of some seriously posh Alcon calipers with 380mm (that's 15 inches!) discs, giving this car a stopping ability that most cars haven't got even when they have a brick wall to give them a helping hand.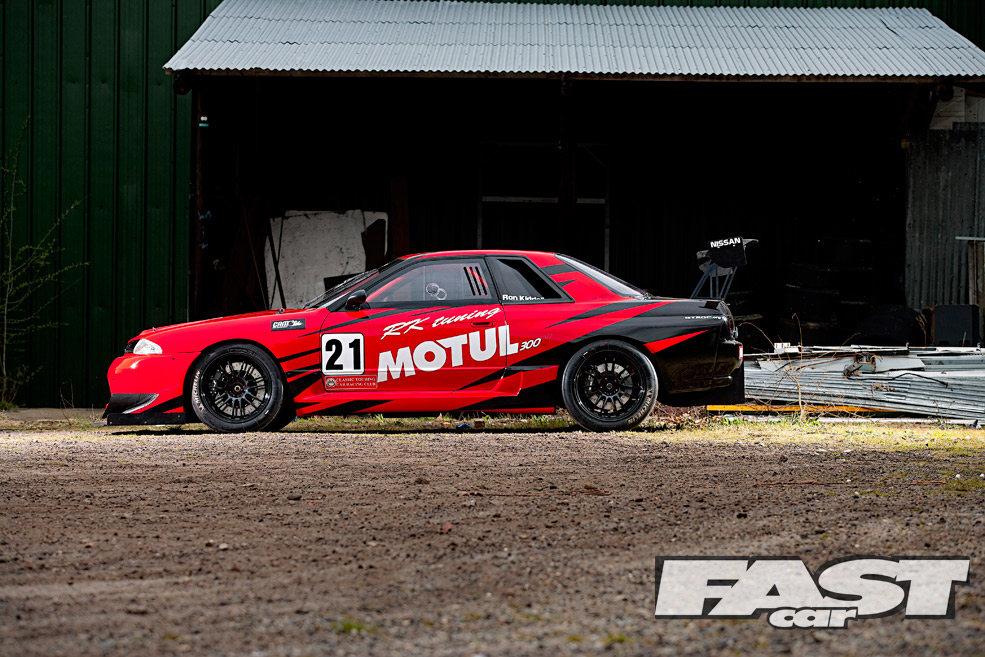 None of this awesome spec is much good on track without mechanical grip, so it's got flippin' tons of that too; it's the ultimate R32 GT-R track weapon, after all. Tyres are mega – and we mean mega – wide and power goes to all four via a heavily tweaked 4WD system coupled with a tasty six-speed sequential gearbox.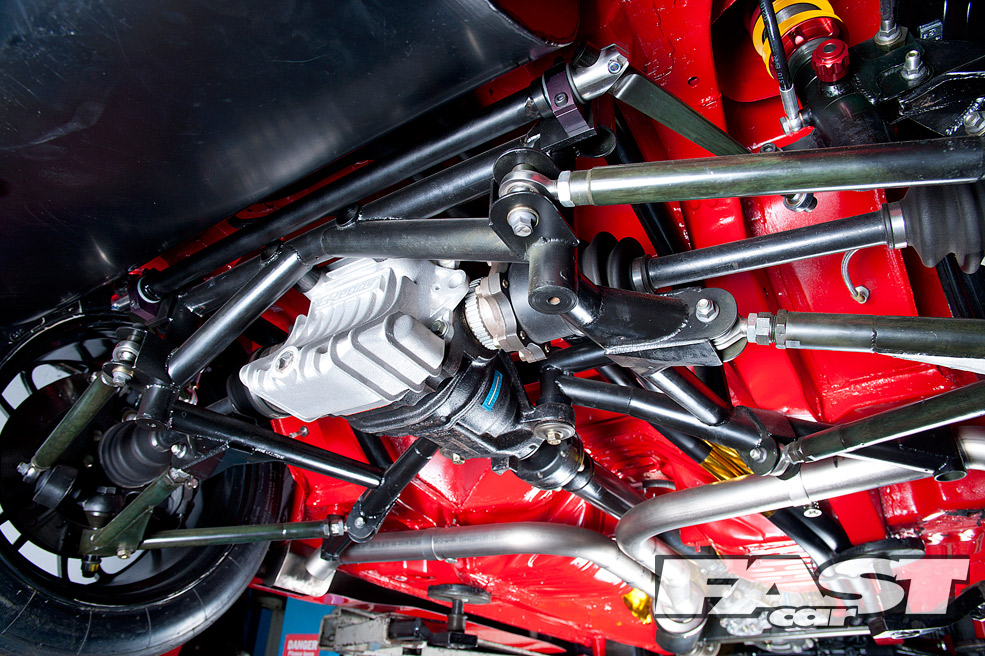 With a spec this amazing, it must be fuelled by race fuel made from high-octane Unicorn tears and running on tyres that cost as much as our whole cars, though? Surprisingly, no. Ron isn't a millionaire. He's created this car with a hell of a lot of hard work, with one eye on performance and another on getting the maximum bang per buck.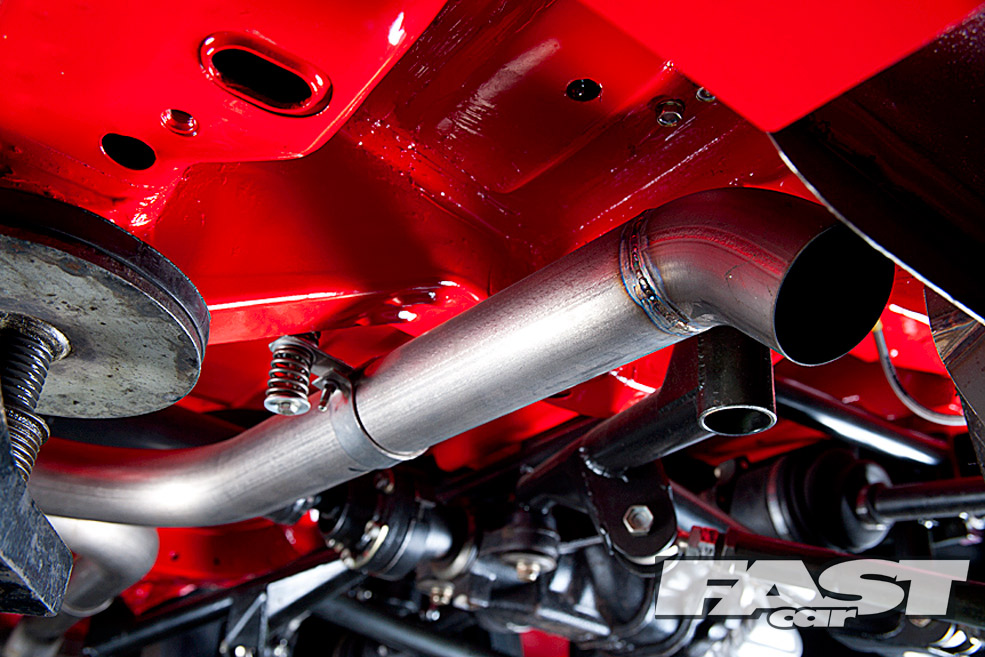 The car runs on regular Shell Optimax pump fuel, and the tyres are part worns bought from high-end race teams who discard lightly worn tyres without a second thought. "The build and development work on this car has taken me four long years, and to be honest it has a lot to live up to," says Ron. "But I've built this car to be the ultimate Skyline GT-R track car, and I can't wait to prove it".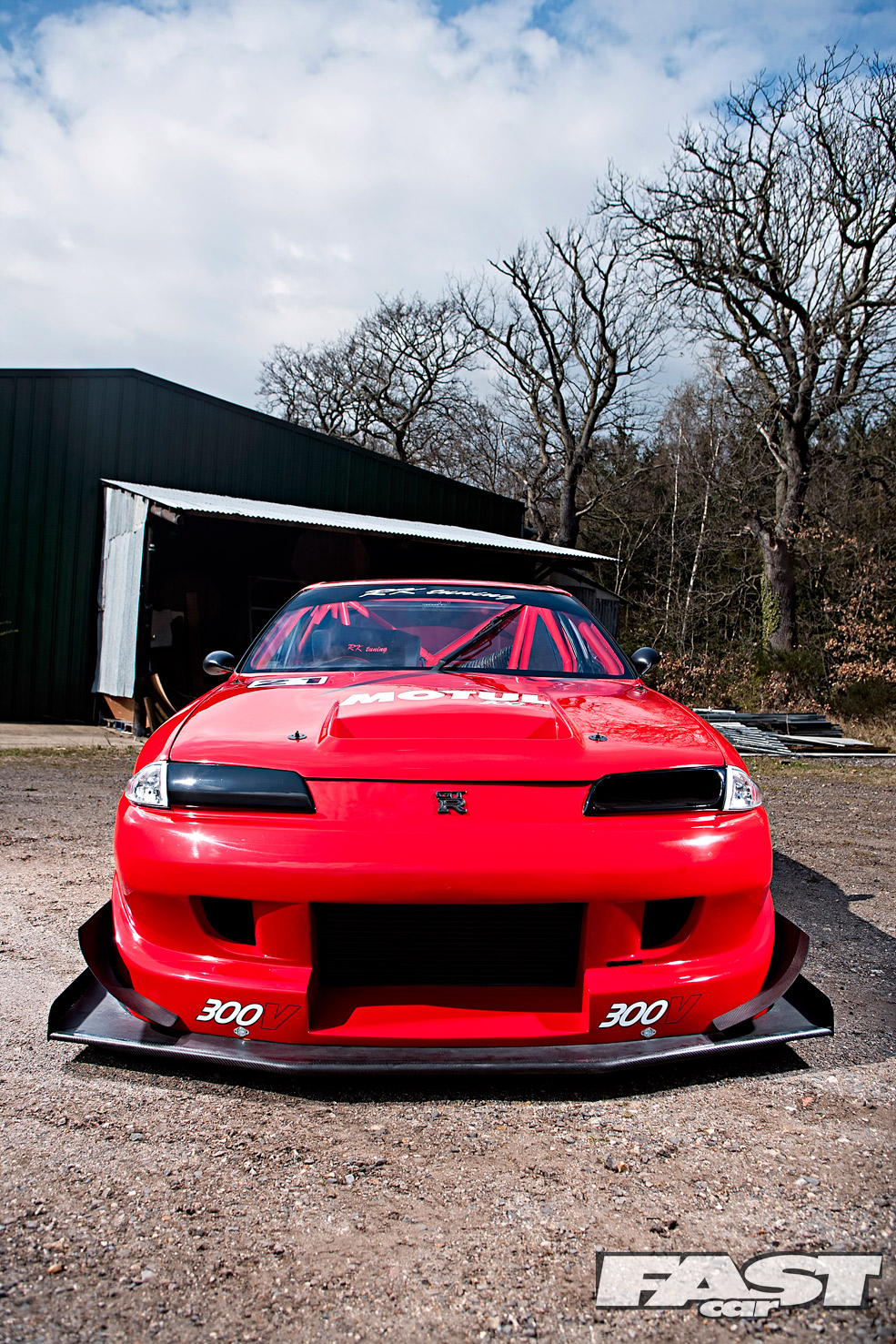 An amazing Skyline GT-R track car, built by a very modest man in his own workshop, running on pump fuel and part worn tyres. If anyone deserves to own the ultimate racer, it's this man.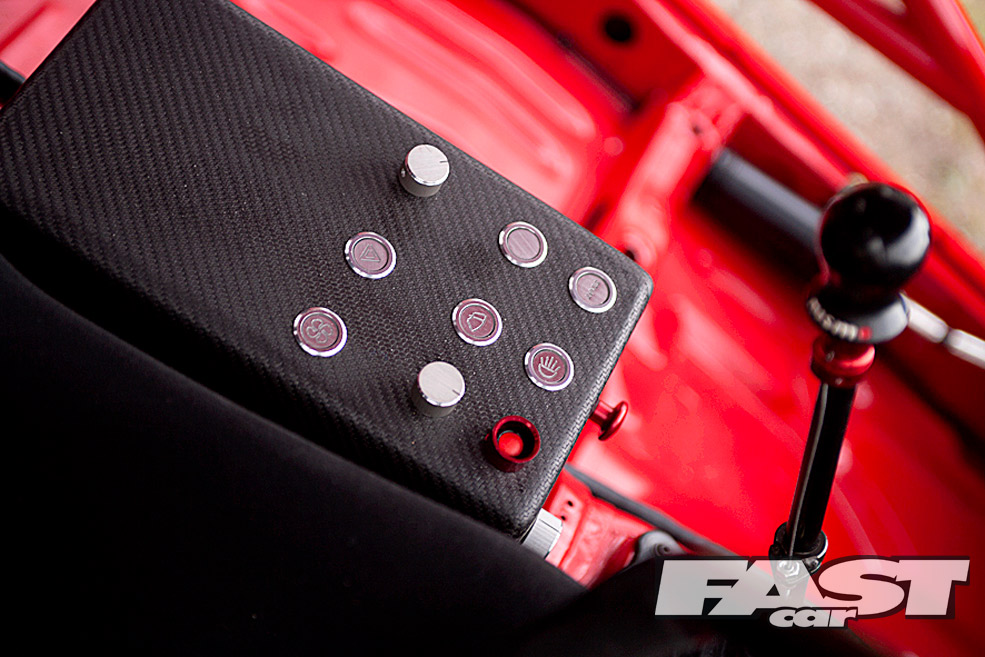 TECH SPEC
NISSAN R32 GT-R
TUNING
2.6-ltr 24V Nissan RB26 block; OS Giken RB30 engine conversion inc 25mm block spacer and cylinder liners; Farndon billet crank; OS Giken rods; 8.5:1 compression JE pistons; mildly ported cylinder head; HKS 280-degree inlet cam; Tomei 290-degree exhaust cam; head external oil drain; finned RB20 cam covers; Nismo inlet plenum; single 80mm throttle body, Titan dry sump oil system with boot mounted tank; custom stainless exhaust manifold; HKS T04Z turbo with Tial V-band turbine housing; 60mm Tial external wastegate; custom turbo-back titanium exhaust system with twin side exit tailpipes and separate wastegate screamer pipe; rear mounted radiator; custom 100mm thick front mount intercooler; custom carbon airbox with K&N cone filter; 1,000cc injectors; Tomei fuel rail and fuel pressure regulator; 45ltr fuel cell; twin Bosch 044 fuel pumps; Life Racing
F88 ECU.
TRANSMISSION
Full-time 4WD system; Holinger six-speed sequential gearbox; Carbonetic quad plate carbon clutch; ATB front diff; OS Giken plated two-way rear diff; custom uprated transfer case; electronic in-car adjustable torque split.
SUSPENSION
Custom front and rear tubular subframes, fully adjustable rose jointed suspension arms; Black Art Design coilovers; bladed adjustable anti-roll bars; HICAS removed.
BRAKES
Alcon 6-pot front calipers with 380mm front discs; Alcon 4-pot rear calipers with 340mm rear discs; Pagid RS29 race pads; servo-less brakes; race pedal box; in-car adjustable brake bias valve.
WHEELS & TYRES
10.5×18 ET12 Rays CE28 alloys with various 270 to 320 wide racing tyres.
EXTERIOR
Custom carbon front and rear bumpers, custom carbon-fibre vented bonnet, BO side skirts; fibreglass doors and boot lid; carbon rear wing and Gurney flap; carbon front splitter and canards; carbon rear diffuser; race wing mirrors, tubbed front arches; plastic windows all round; modified front and rear GT-R arches; custom headlamp air feed; carbon rear window ducts; painted in black and red Motul race livery.

INTERIOR
Seam-welded chassis; full Dave Woods custom roll-cage; Tilton pedal box; extended lightweight steering column; Reverie carbon steering wheel; GEMS digital dash; flocked carbon-fibre dashboard; carbon door cards; Recaro Pro Racer carbon bucket seat; TRS race harness; Lifeline fire extinguisher; Varley race battery.