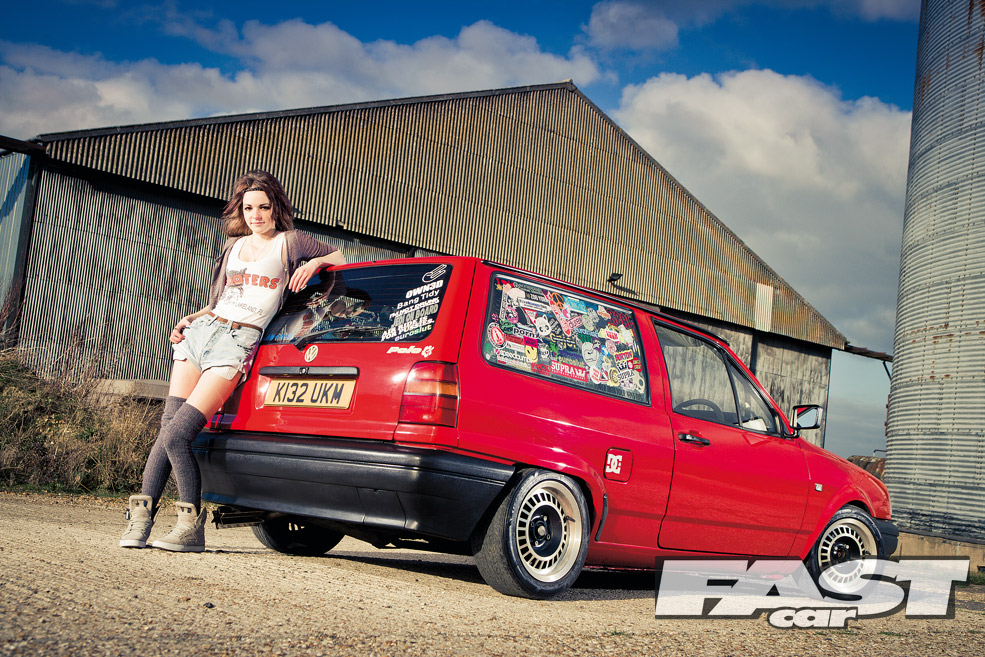 Becca O'Reilly's modified VW Polo Breadvan
To have a girl turn up to a cruise behind the wheel of a modified car is one thing, but for that car to be a corking retro Dub built on broken fingernails and grease stained skirts is, my friends, quite another.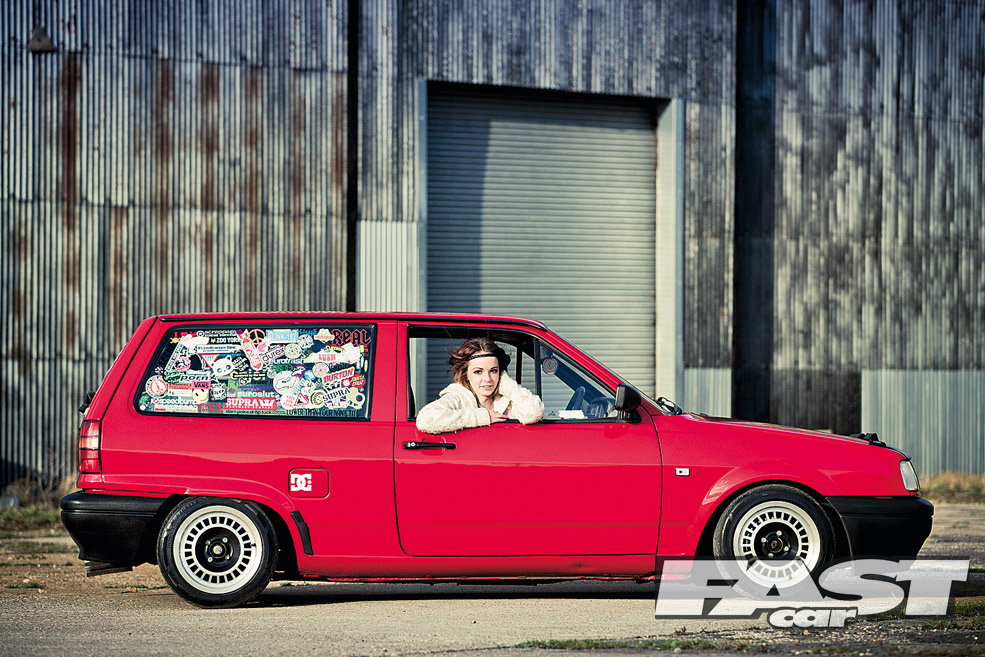 Meet Becca O'Reilly and her plucky Mk.3 Polo. We first spotted them chilling at the Essex hyper-meet in Harlow back in November, where a quick chat with FC confirmed she wasn't just a lad's tag along for the night, but a lass who is every bit into modified car culture herself.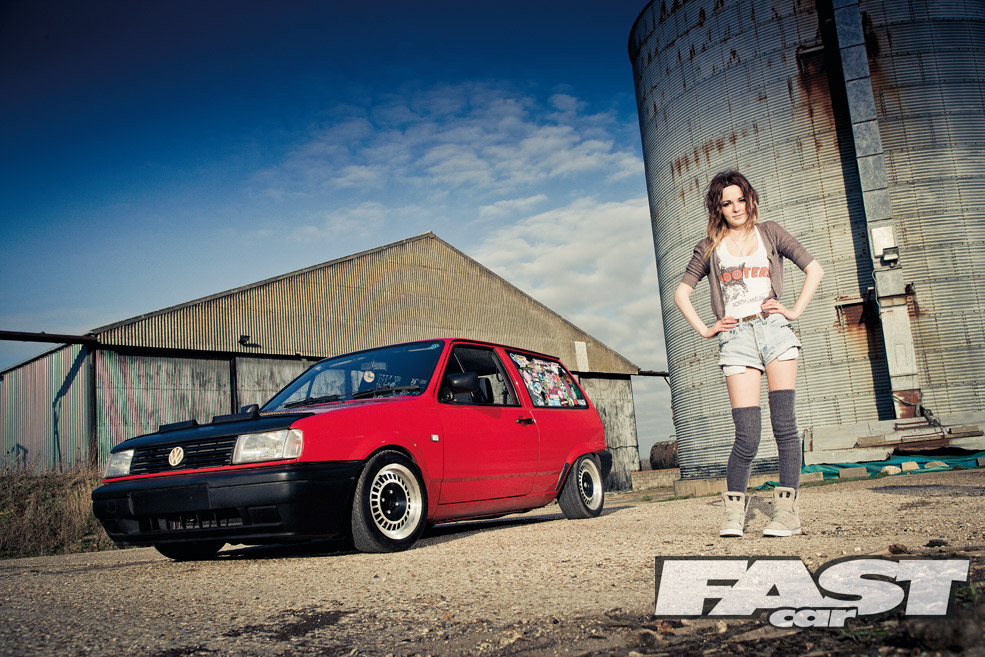 The Cambridgeshire car buffette definitely knows her onions when it comes to slammed rides too, and reckons modifying was more of a destiny than an accident. "I've always been interested in old cars, but the modifying part I guess is just me," the aspiring snapper says, "and I don't think I'd ever have something standard. I'm the same with clothes; I often buy things and then rip the pockets or put studs on stuff – I like making something reflect me."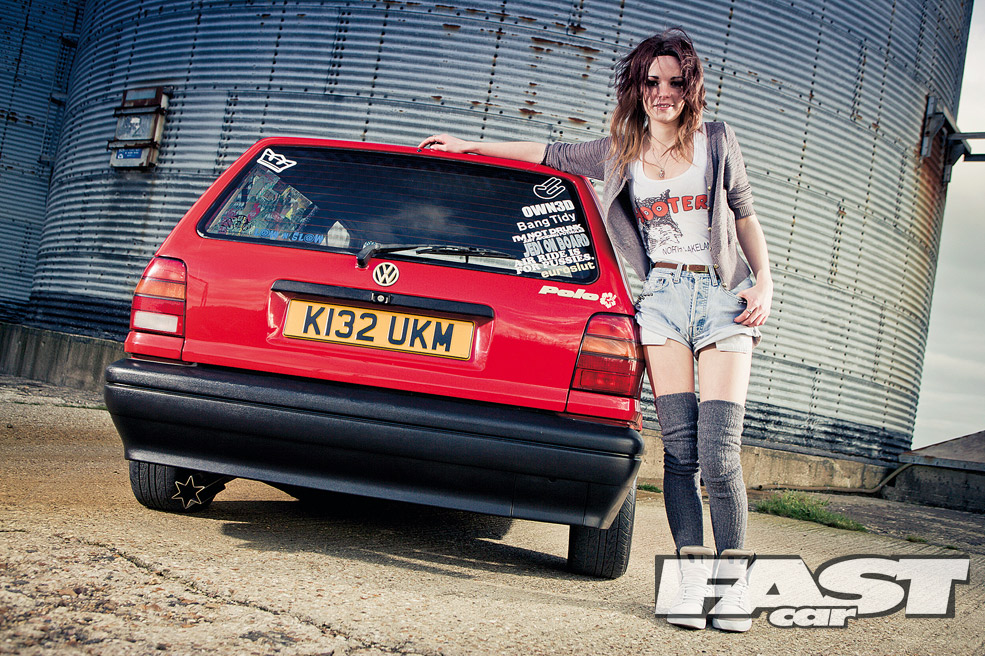 Becca's Breadvan was a carefully chosen project base, bought stock and in prime nick, as she explains: "I actually wanted a Ford Capri but insurance was just too high. I then fell in love with Polo Breadvans and preferred the facelifted Mk.3 version – I was searching for three months before I found the right car, as it had to be mint."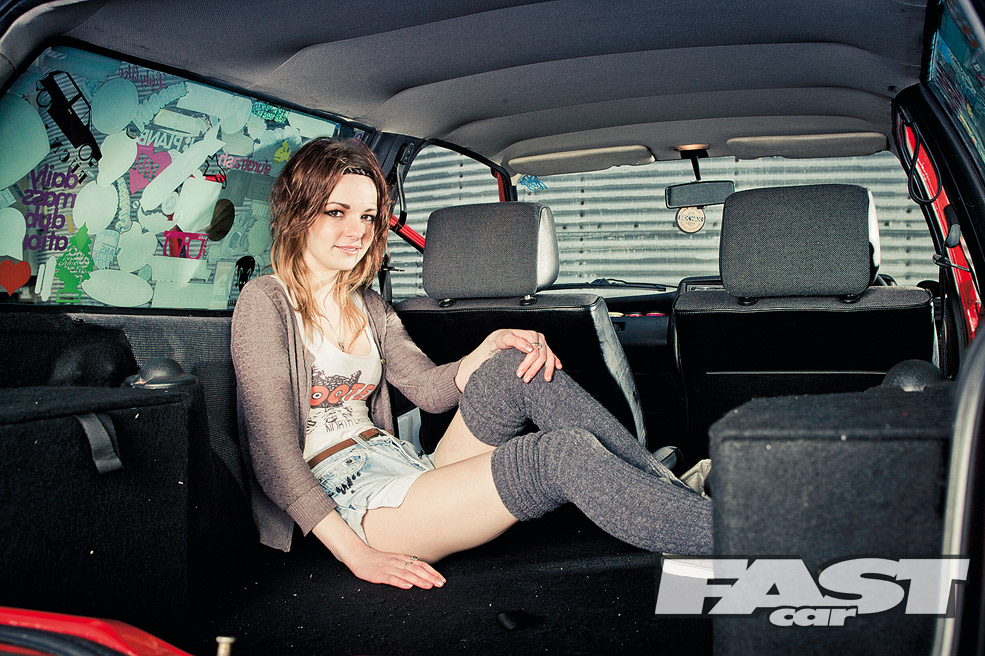 Once Becca was sure she had invested in the right metal, it was time to get down to what she loves most – modifying. The project didn't hang around and she's since treated the Polo to a healthy drop in height with flared arches, smoothed bump strips, plenty of stickers and cream detailing all thrown in to accompany those mystery wheels and full body respray in original Tornado red.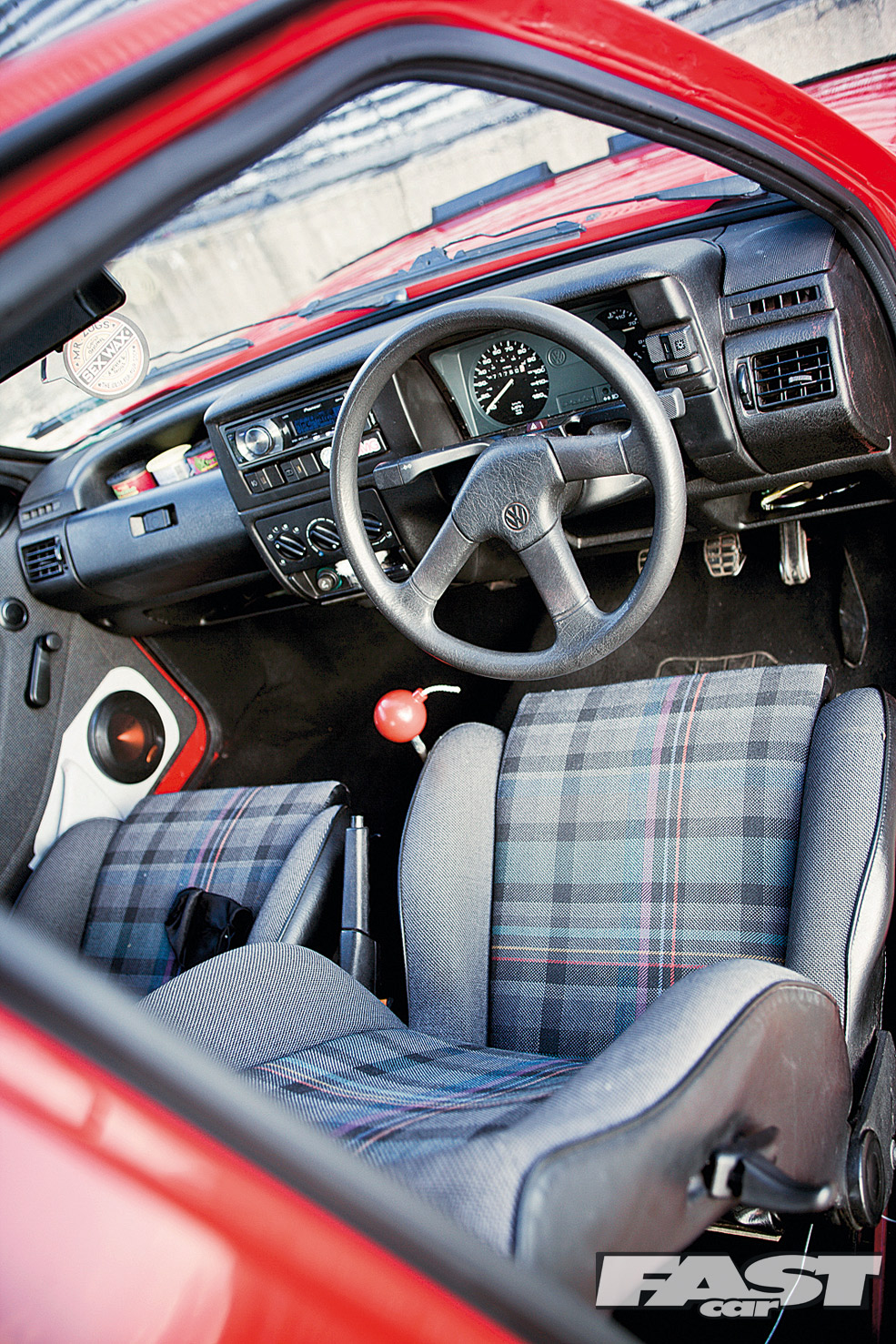 The work has continued inside, where standout upgrades include mint Scirocco GT2 seats, better spec door cards and a carpeted false floor to house Becca's audio, and cleaning products for a quick buff prior to her many meets.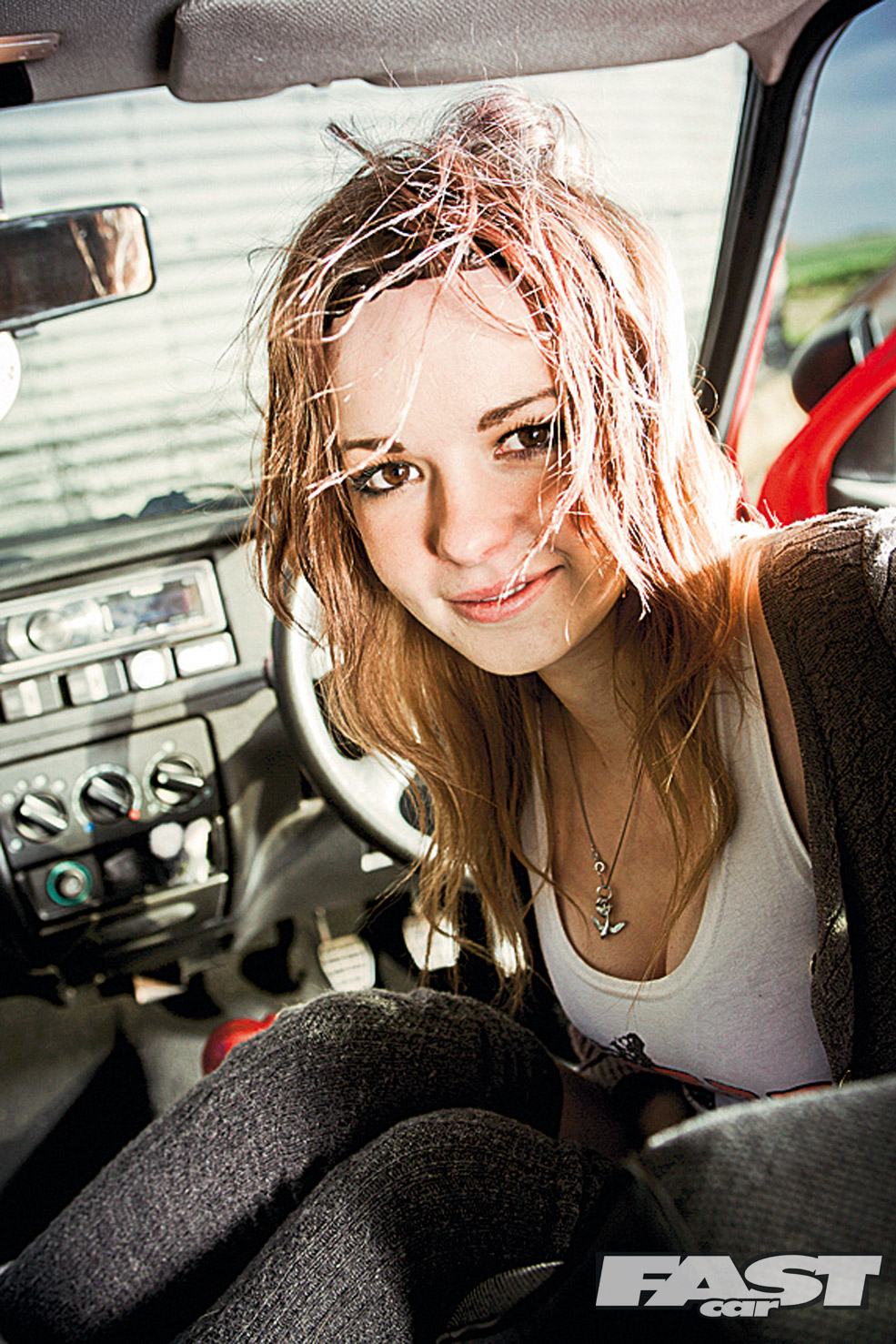 The result is a mint little Mk.3 Polo that draws applause from many a male fan, even if it puts them in the doghouse with their own missus. The 21-year-old clarifies: "Driving down the
street, lads seem to like it, but their girlfriends give me dirty looks! I'm always getting a thumbs up though, as it's a fun car that looks good."
As for future plans, our lass isn't naïve enough to believe a modified car is ever finished, and instead has big ideas, including a Polo GT lump on Honda bike carbs for the bay. That might take some serious nuts, but don't bet against it – after all, with her take on the scene, she's already proven to have bigger ones than you!
TECHSPEC
VW POLO MK.3 BREADVAN
STYLING
Clear front indicators and side repeaters; bump strips removed; flared rear arches; stickered windows; cream badges; cream rocker cover and air filter cover; bonnet bra; custom made 6-point star exhaust tip with matching cookie cutter hanging from rear view mirror; full respray in Tornado red.
CHASSIS
Lowering springs 85/70mm with new front shocks; Eibach -1.5 degrees negative camber shims on the rear; unknown wheels 6×13, 4×98, ET15.
INTERIOR
Scirocco GT2 height adjustable front seats; Polo Mk.3 GL spec door cards with shortened pockets to fit front speakers; custom bomb gear knob; rear bench removed; carpeted false floor in rear; custom sub and 6x9s housing behind suspension turret. AUDIO JL 10-inch sub and amp; Pioneer iPod connect headunit; 17cm component speakers in front; Infinity 6x9s behind seats.
TUNING
Decat exhaust.