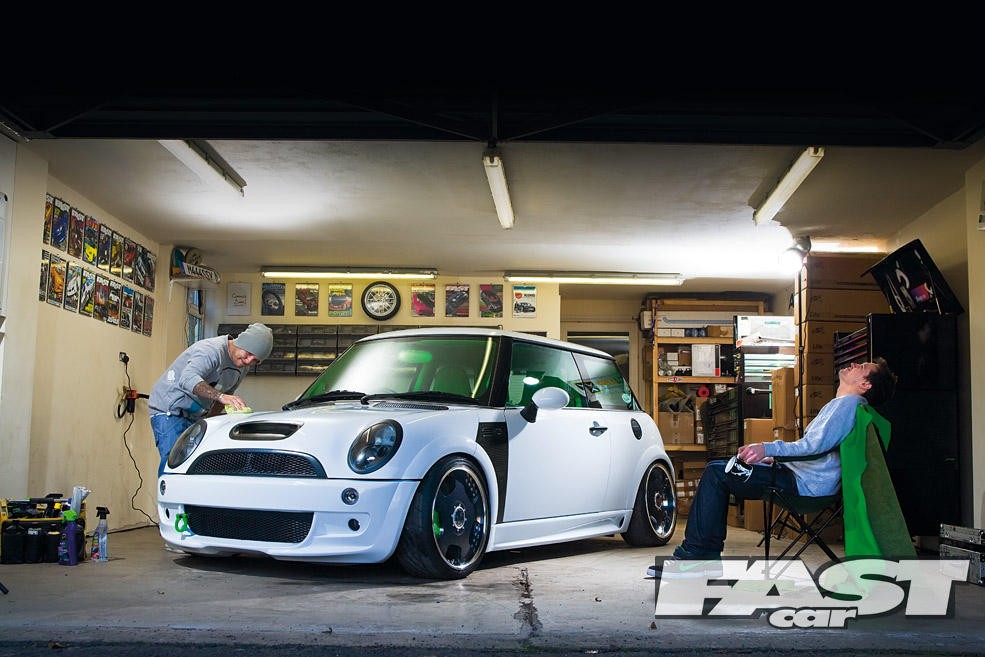 Plush Automotive's Mini Cooper S
The first thing you need to know about Luke Massy is that he's had a hand in more magazine cover cars than Nigella Lawson's had in  roast chickens. The second thing you need to know about Luke Massy is that he's always on the bloody phone!
You see, if it's not to do with work, just trying to nail the bugger down is almost impossible. Being the main man at Plush Automotive, he's a busy, busy boy and he's been so flat out for the last five years that it's nothing short of a miracle his own awesome Cooper S ever got finished at all!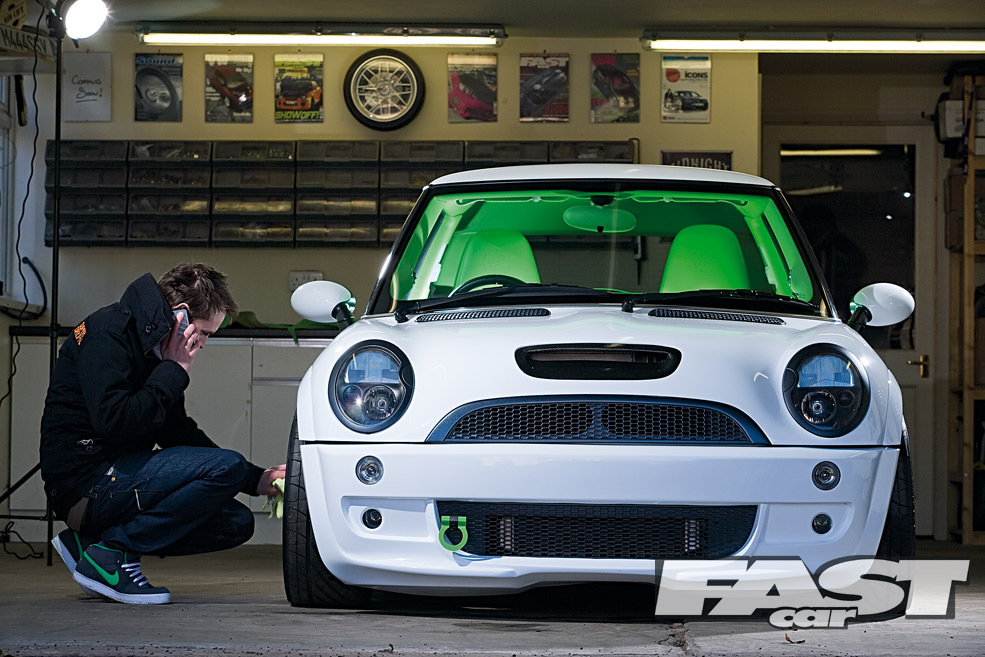 The story of this particular little motor is long and illustrious, erm… with special emphasis on the word long. In fact, we've been chasing this very car since it last hit cover in September '07!
What really turned our heads though is when it turned up in a different colour at the 2008 Mod Gods' show packed to the gills with audio gear, RS4 seats and more green skin than the Incredible Hulk's wedding tackle.
To be honest we would have shot it right there and then but Luke, in all his infinite wisdom, was having none of it. Being a consummate perfectionist he asked us to hold fire while he sorted a few 'small details' first.
So here we are, no less than four years later, with a whole new respray, install and what can only be described as a bonkers retrimmed retrim. And what's more he was still finishing the job when we turned up for the shoot, how's that for busy eh?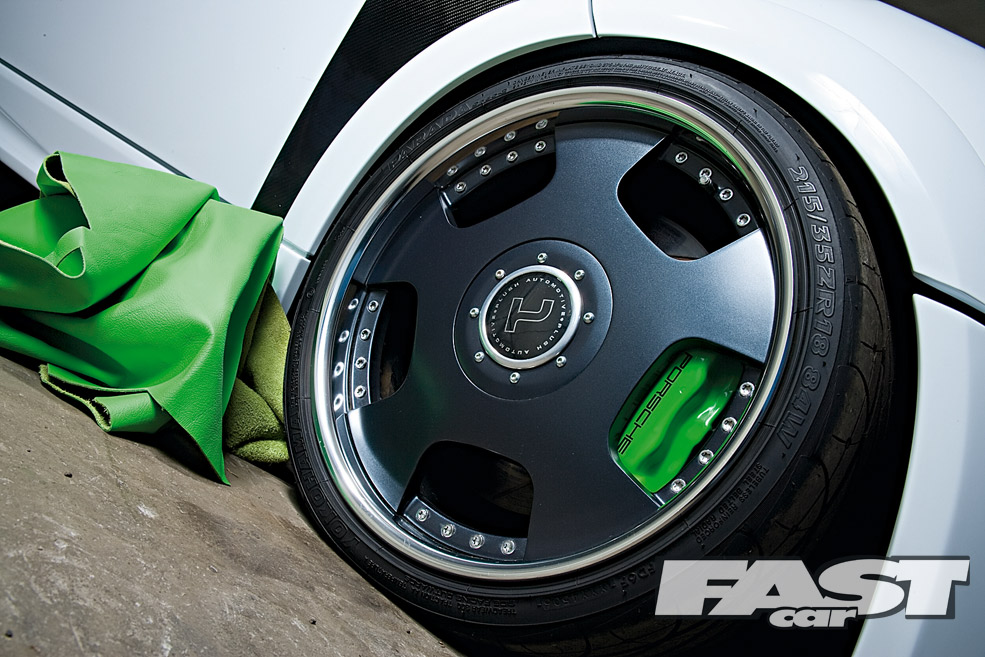 It's no secret that Luke has an eye for smooth, subtle touches and, even in its very first incarnation, this motor was sporting a shortened plate recess and smoothed bumpers. A year later when it rocked up for Mod Gods at Donny complete with a new white paint job Luke had already added de-textured plastics and a load of subtle tricks to the list.
The thing is though, that's about the time that a tiny thing called work got in the way. With Plush being busier than ever that's exactly how the Mini stayed, sitting outside the workshop, until last year when Mark and Phil (the boys that work with Luke) finally 'bullied' him into finishing it.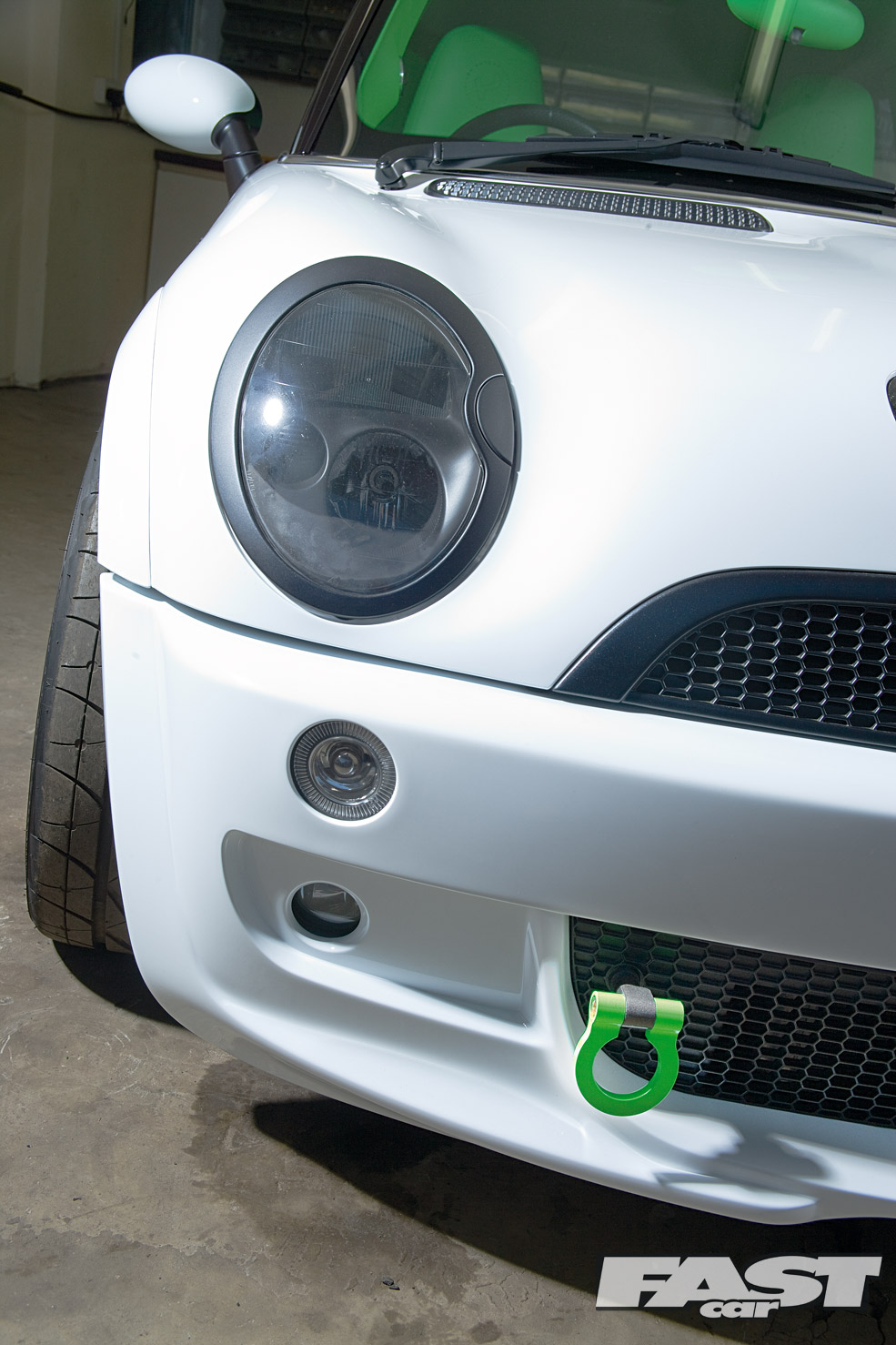 Obviously the first job was getting the base car back to near perfection so, after deciding he wasn't too happy with the original white paint, the whole lot was sent to Eclipse Motor Bodies for a thoroughly flawless lick of Audi Ibis white. What with that, a smattering of carbon on the front end and killer details like the Mk.2 TT filler cap and the whole car was a gnat's bollock short of perfect. There was just one small matter to attend to, ripping apart the rest of it and starting again.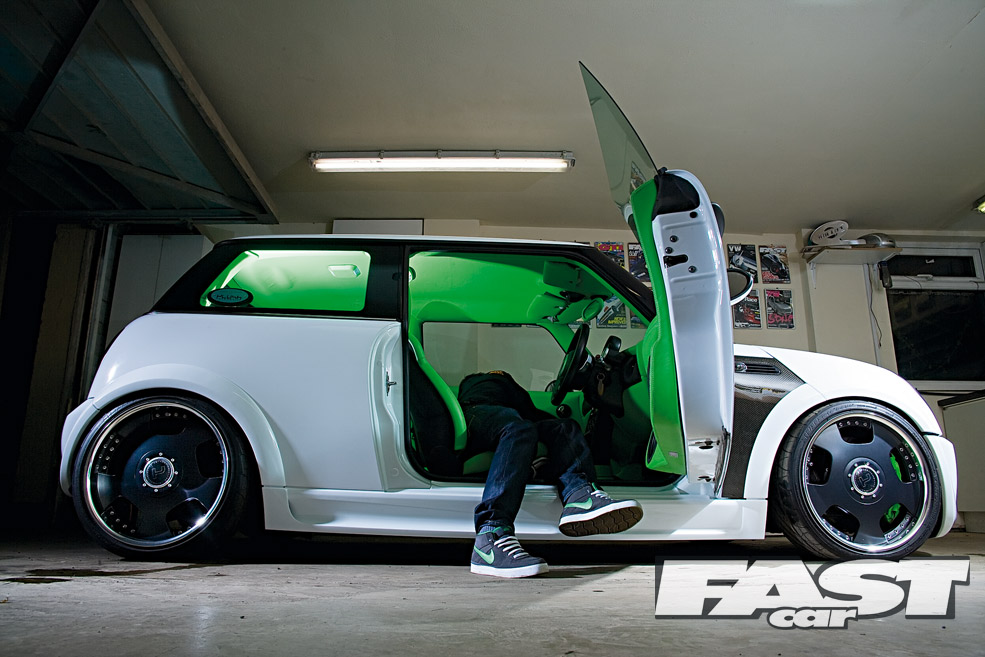 Over the past few years Luke's firm may have built a reputation as one of the pioneers of air-ride systems but the static drop, (courtesy of Eibach coilovers and a cheeky camber adjustment) was so spot on the first time round he quickly decided not to mess with it!
It's one of the few things that hasn't changed but then, when you've just bagged your 500bhp, RS4 daily driver, you really have nothing to prove in the chassis stakes. There's no denying the tasty, not to mention expensive, Altstadt split rims still look the part too but this time they come with one jaw-dropping addition – Rolls Royce Phantom centre caps.
That's right, not only has Luke gone to the trouble and potential financial ruin of tracking down a part that's not actually sold to the general public but then he's found a way of crafting them into the Altstadt centrecaps so they look like they were meant to be there from the factory. Practically it means nothing more than, when they're rolling, the Plush logos stay the right way up but it's easily one of the trickest mods on this little hatch; not to mention one of the trickest mods we've seen anywhere, ever. They certainly prove the Devil's in the details!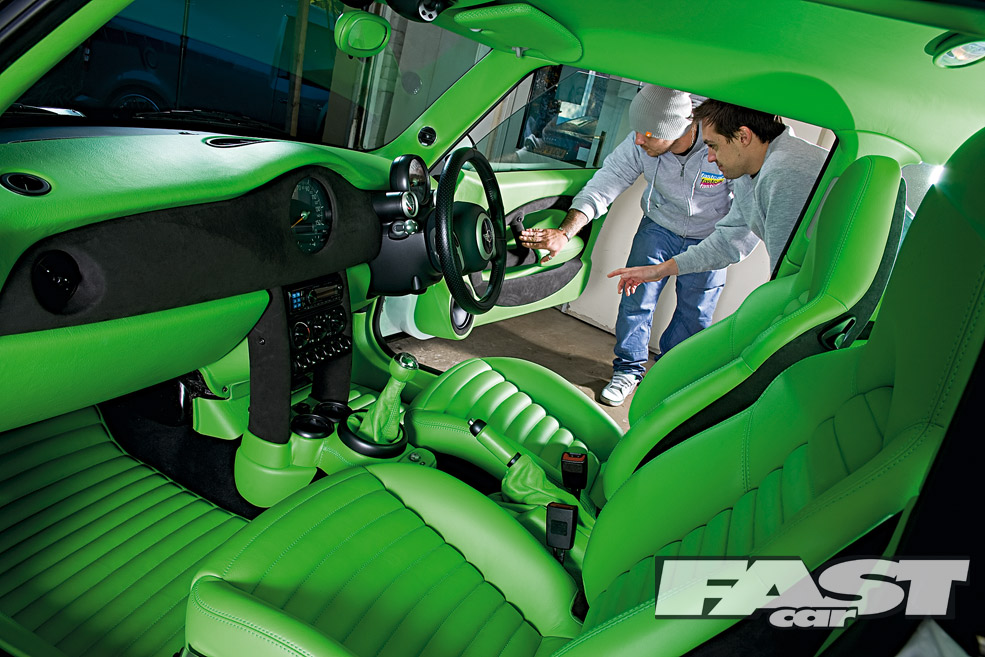 Luke started his business off the back of being one of the UK's best and most inventive audio installers and guess what? Nothing's changed! This is actually the last in the line of a number of HERTZ installs that have graced the rear of this particular little motor and, even with his famous anal attention to getting everything bob-on, he's finally happy with the quality and layout of this one… we think.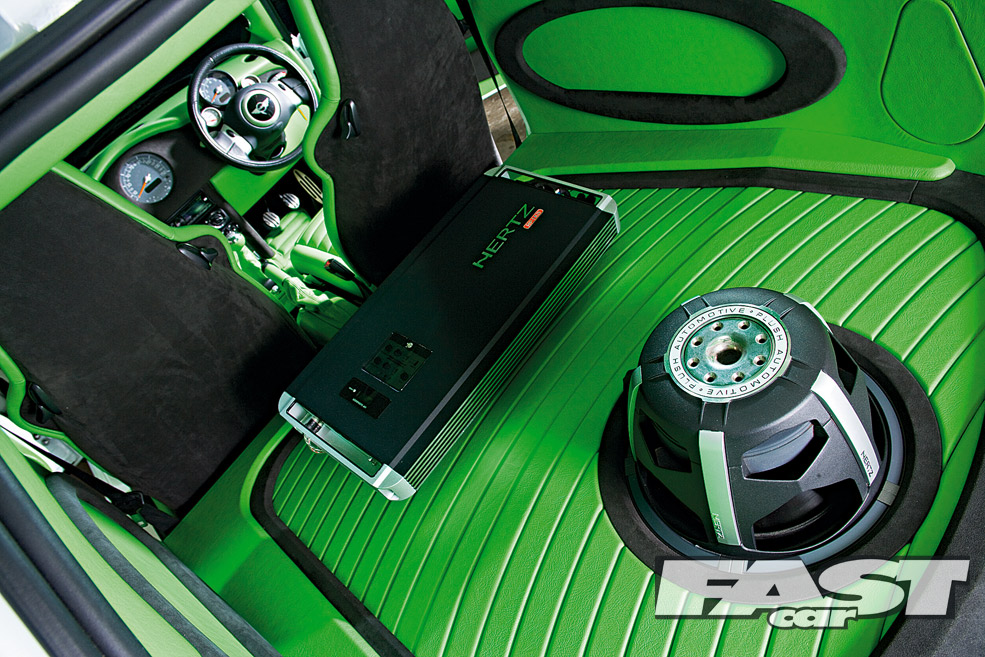 Of course, nowadays interiors are their speciality and this retina- burning, lime green masterpiece is less of a straight retrim and more a showcase of just what can be done with a little imagination and a whole lot of skill.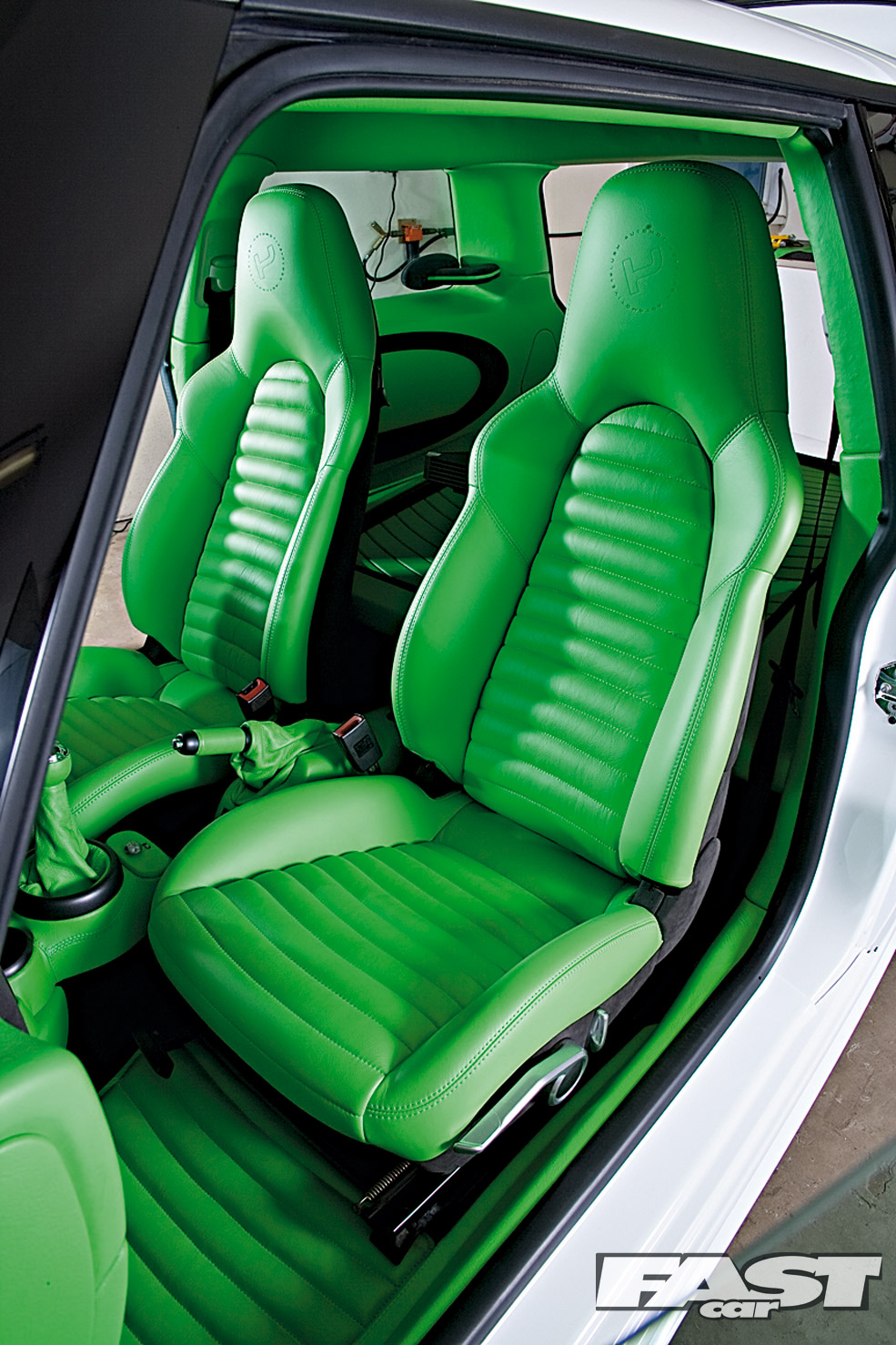 The Audi RS4 seats have long been replaced with 'better fitting' Porsche Turbo items while about eight cow hides and the odd acre of Alcantara have been sacrificed to cover every inch of the original innards and create an interior of the highest imaginable order. There's not a panel missed or stitch out of place but then, what else would you expect from the owner of a firm called Plush Automotive? Sticky-back plastic and Dorito crumbs? Nope, I thought not!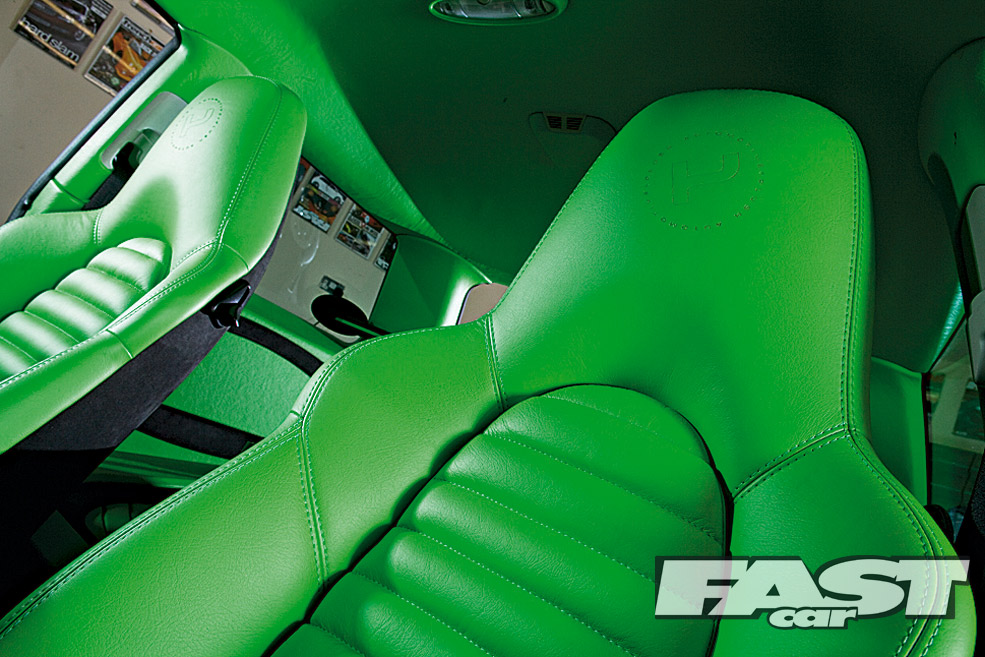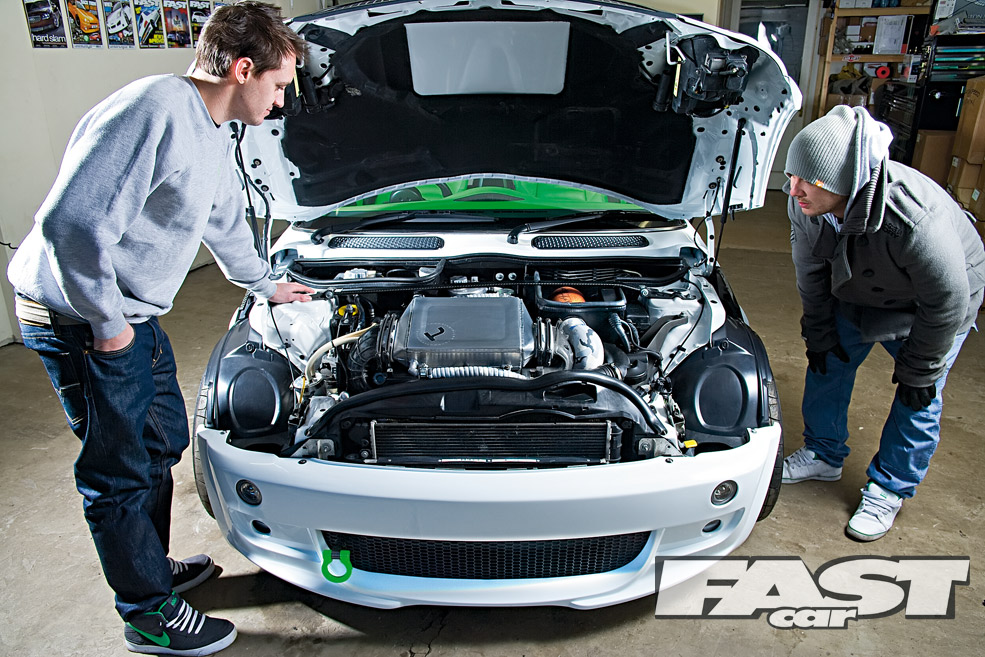 The intention was always to make this Mini a sweet everyday driver and, although the 'everyday' bit may have got lost along the way, Luke's definitely stuck to the original plan when it came to the tuning.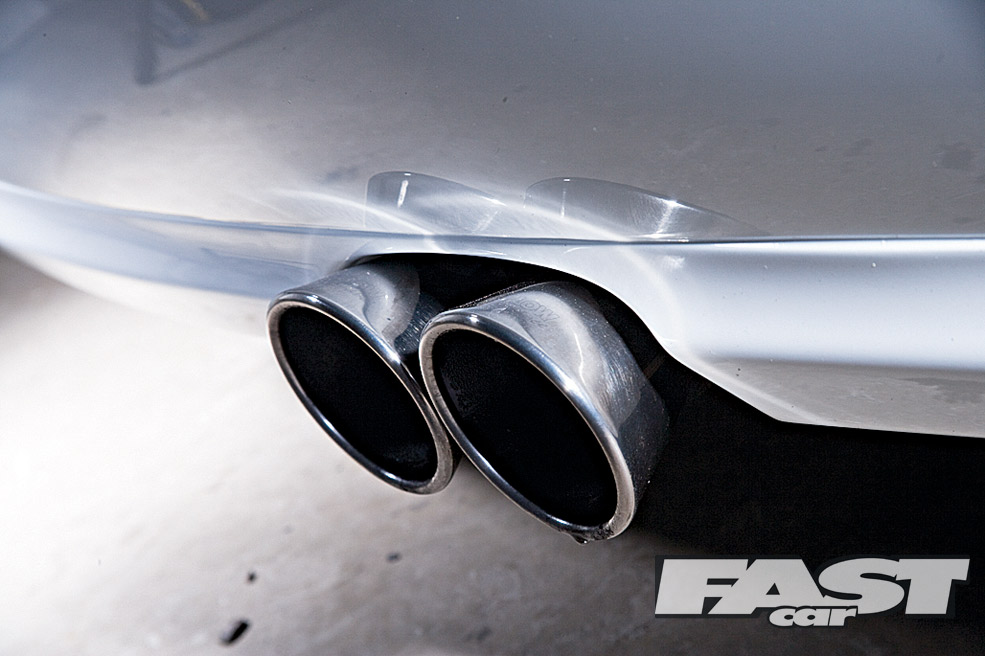 You see, it's no secret he's always hankered a spot of grunt under his right foot, did I mention his daily beater is a 500bhp RS4 (Yep – Jules)? Well, he's also managed to squeeze a not unsubstantial
240bhp out of this Cooper S making that slick 911 brake conversion up front more of a necessity than fashion statement.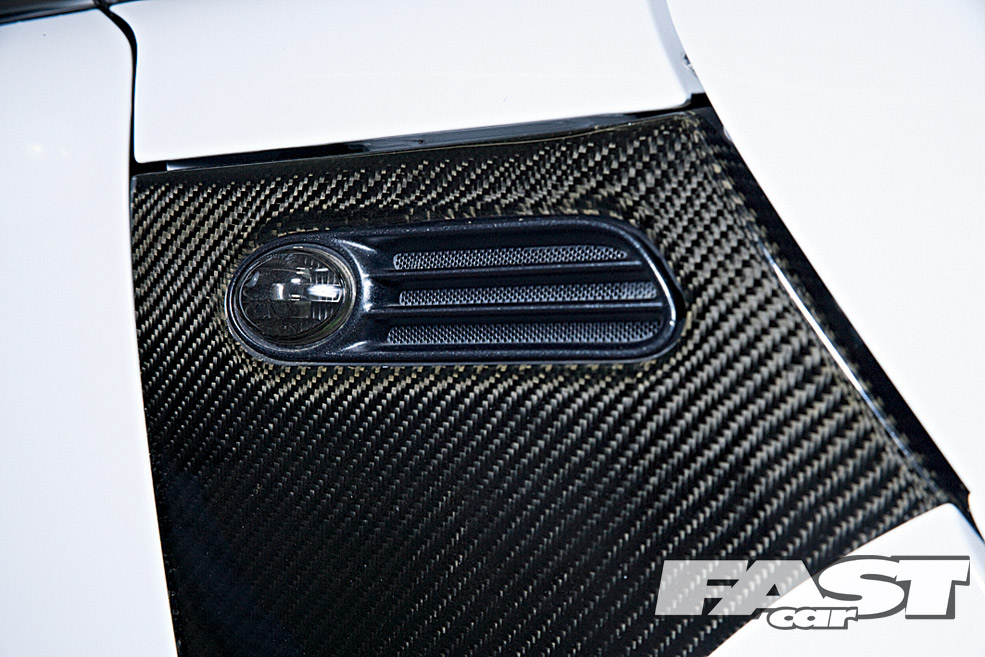 Quite obviously, there's been plenty of engine fettling under that smoothed hood but the trick details haven't evaded his eye either. A whole host of shiny Forge trinkets have found their way into the cramped bay and the icing on the cake is a super-cool GRS charge cooler.
Innovation is key here too: you may have seen white camo SamcoSport hoses before but it's worth remembering these particular ones were the very first anywhere in the world. They were custom made for this car years before they were actually available to the rest of us. So how does Luke feel having thousands of UK modders rocking a hose design based on his idea? "Imitation" as he says "is the sincerest form of flattery."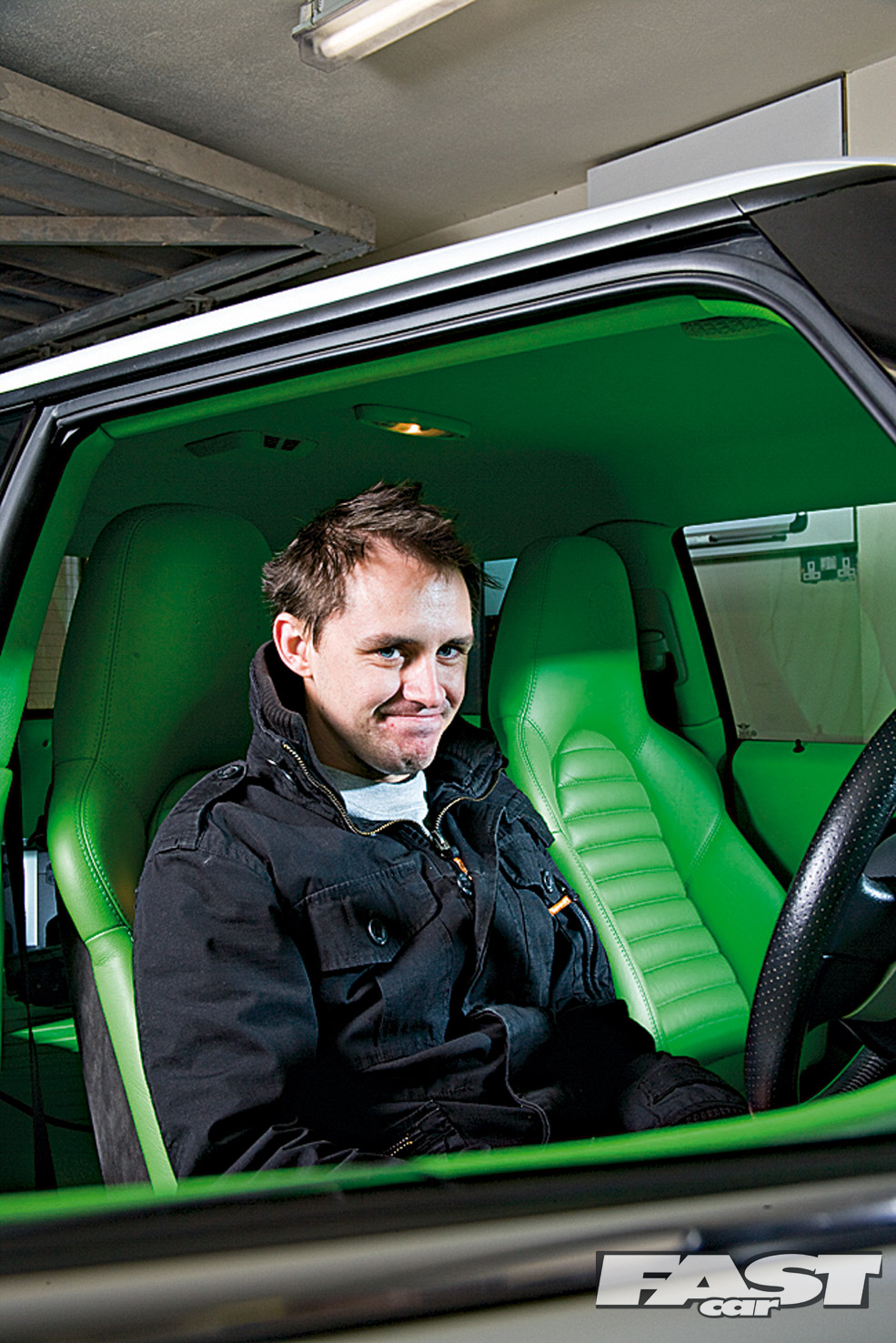 TECH SPEC MINI COOPER S

STYLING
Carbon front wings; smoked side repeaters; shaved high level brake light; smoked rear clusters; Audi TT Mk.2 filler cap; debadged and smoothed bonnet with carbon scoop; shortened number plate recess in tailgate; rear wiper removed; smooth front and rear bumpers; de-textured plastics; drivers door handle replaced with passenger handle (no lock); angel eye spotlights; aerial removed, resprayed in Audi Ibis white.
TUNING
GT Tuning 17-percent charger pulley; Alta 2-percent crank pulley tensioner limit stop; CAI and oil catch can; custom Samco hoses; GRS charge cooler; Larini manifold with 200-cell sports cat; Magnaflow catback system; uprated injectors; Denso plugs; Magnecor leads. Forge engine bay dress up kit including header tank and engine caps.
CHASSIS
8 and 8.5×18-inch Altstadt 3 piece split-rims; custom Rolls Royce Phantom centre caps customized with Plush Automotive logos; Eibach Pro Street coilovers with adjustable top mounts and rear sway bars; GT Tuning Porsche 911 Turbo brake conversion.
INTERIOR
Plush Automotive leather trim in lime green leather and charcoal Alcantara; Porsche 997 turbo front seats; smoothed dash and glove box with motorized mechanism.
AUDIO
Plush Automotive custom audio build; Alpine CDA-117Ri headunit; HERTZ Mille MLK2 front components; 12-inch sub and HP1KD sub amp; JL300/2 amp; Skinz soundproofing.