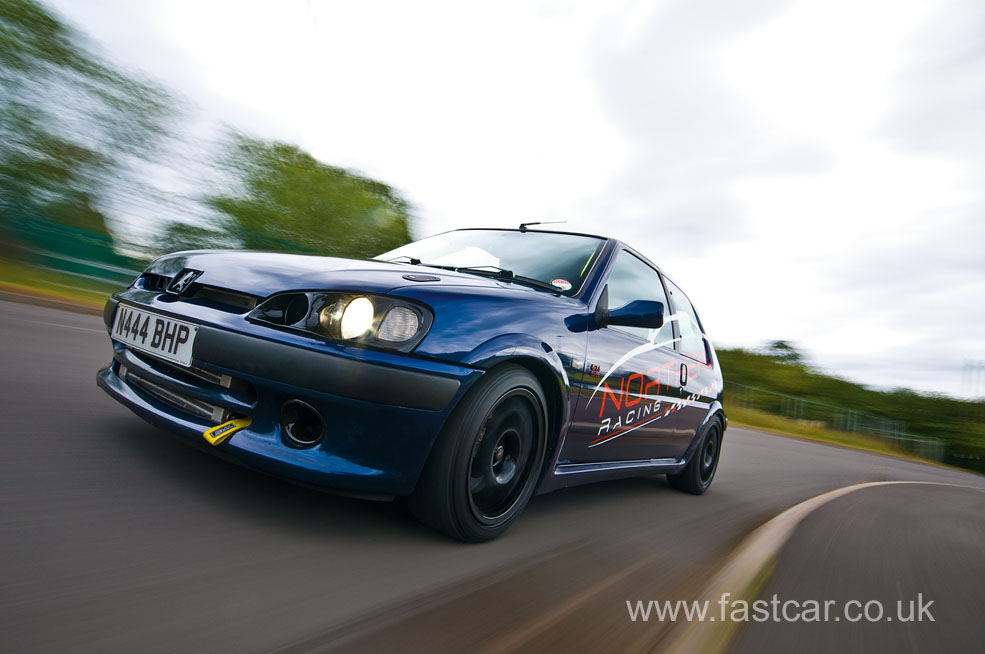 Ross Dagley-Cleworth's modified Peugeot 106 GTi Turbo
When we feature cars there's always a story. Every car comes about for different reasons, each achieved in a different way. Some people put cars together on the street with no money. Others write cheques. This brutally powerful Peugeot has been fully rebuilt by Ross Dagley-Cleworth and two of his best friends, Titch and Vinnie.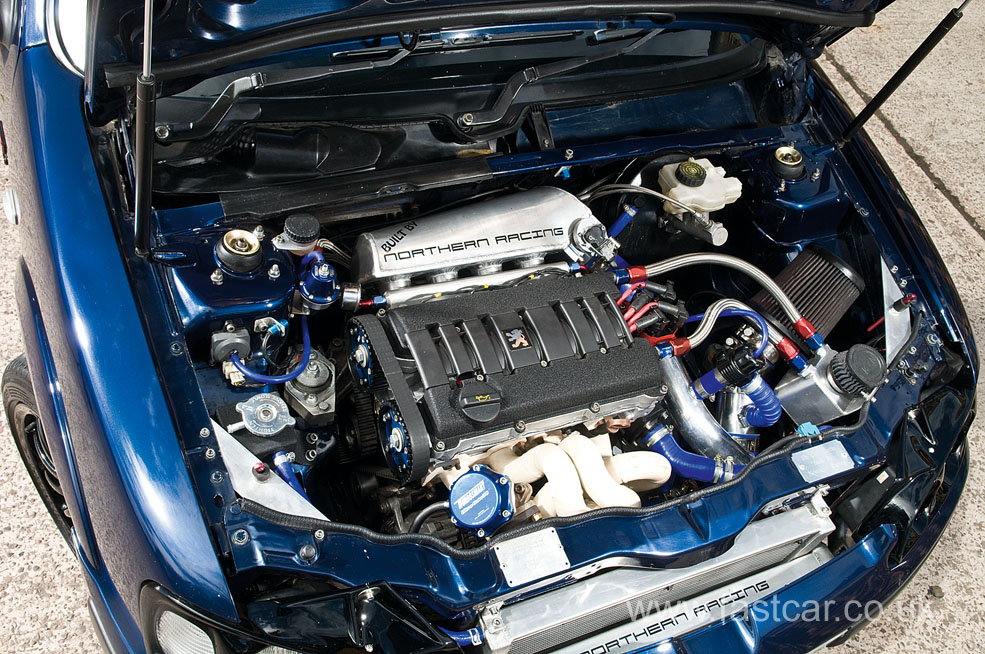 Bought brand new back in 2002, the Pug was originally a balls-out ICE car, then in 2006 Ross put it back to standard. Until last year, when the search for ultimate usable power began. "I love all things to do with motorsport," says Ross. "The car has been put together with ideas from all genres of car racing – rally, drag, circuit and drifting have all inspired me," said Ross.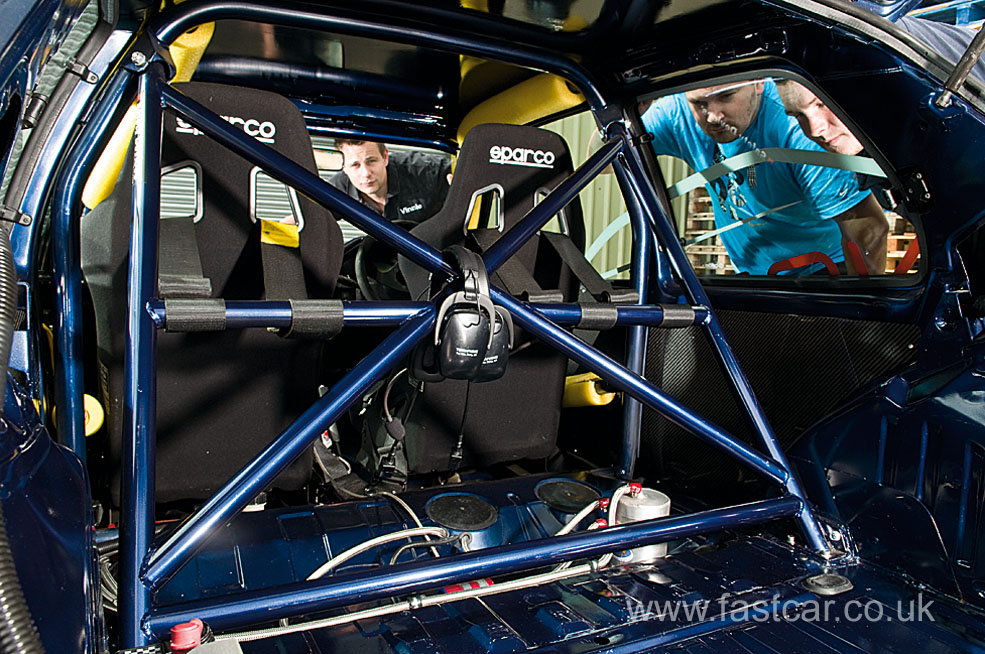 To be honest, when you consider this is a homebuild, the level of workmanship and detail is nothing short of incredible. This, Ross reckons, is testament to his mates. "I couldn't have built this car without Titch and Vinnie." The lads call themselves Northern Racing. "What started as three friends just having some fun, now sees us making parts and selling them," says Ross.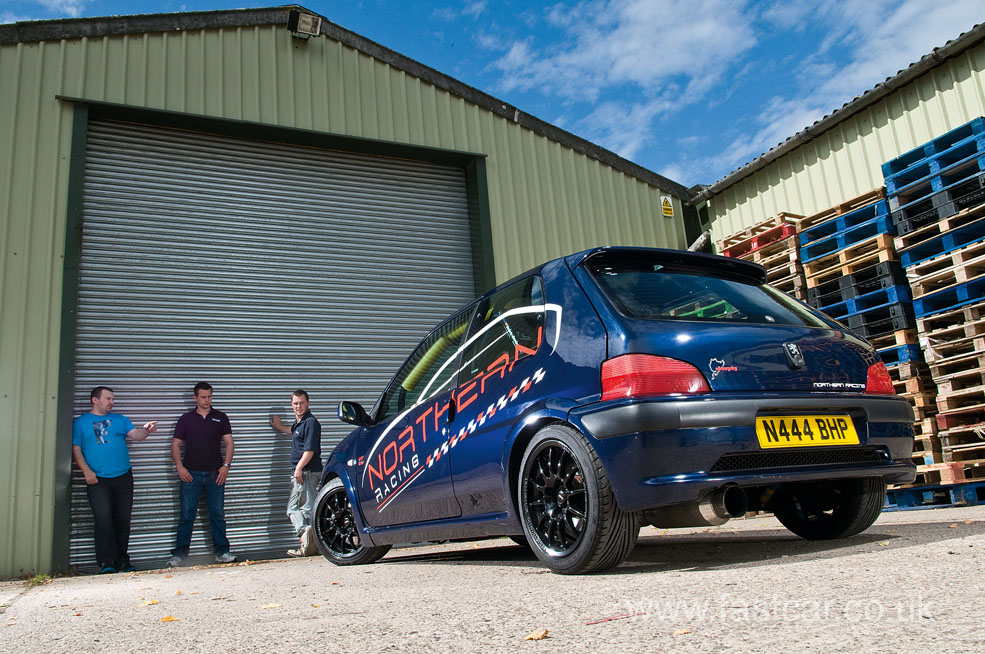 Taking a good look around the car, there's only one word to describe it: serious. From the factory this car made 120bhp. With mild tuning such as an upgraded camshafts, a tuned intake system, exhaust manifold and system and ECU tuning, the 106 GTI will make around 160bhp.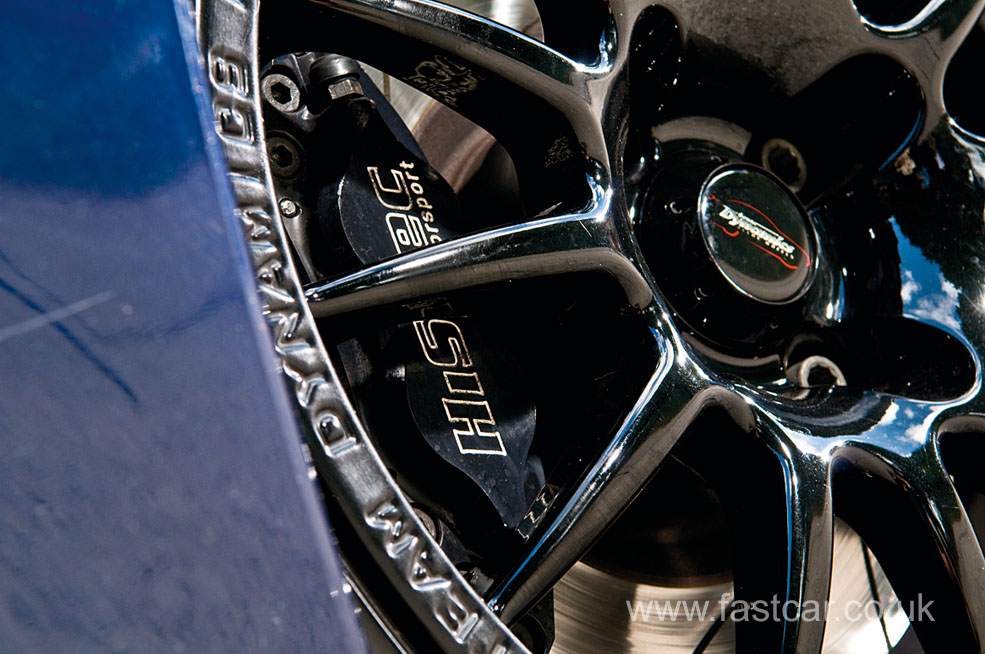 In a car that's light and agile, this makes for a lot of fun on B-roads. But Ross' Pug has more than three times the stock power. "We could have got more out of the motor, but it would have been pointless. I don't believe in going for pub figures – it's all about usable power for me," he explains.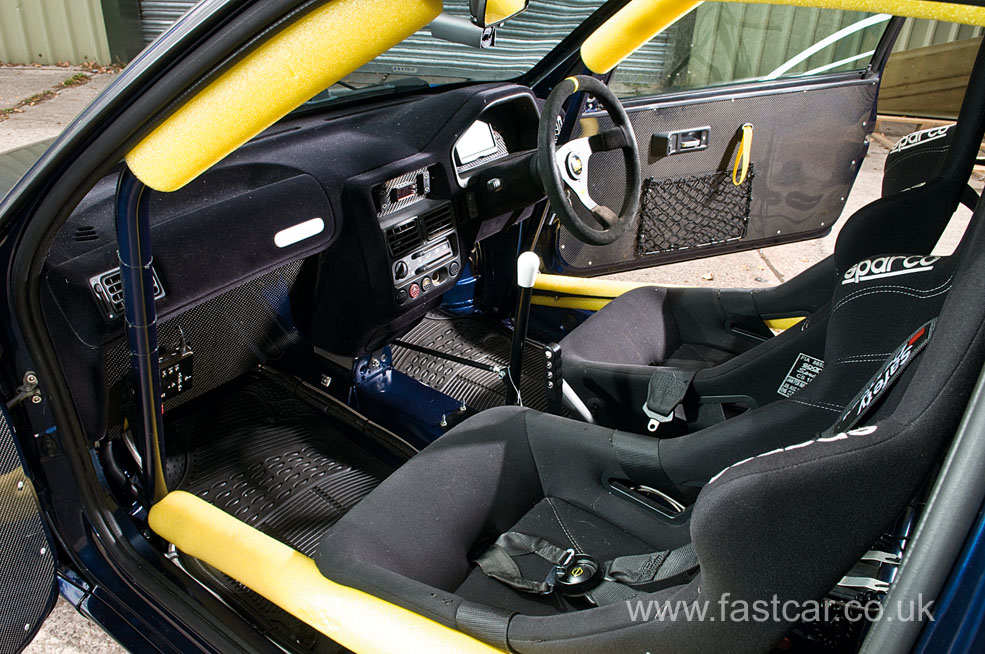 The interior is a work of minimalist art. Everything that's not required for maximum go-fast happenings has been removed. Even the wiring loom has been stripped down to the absolute minimum.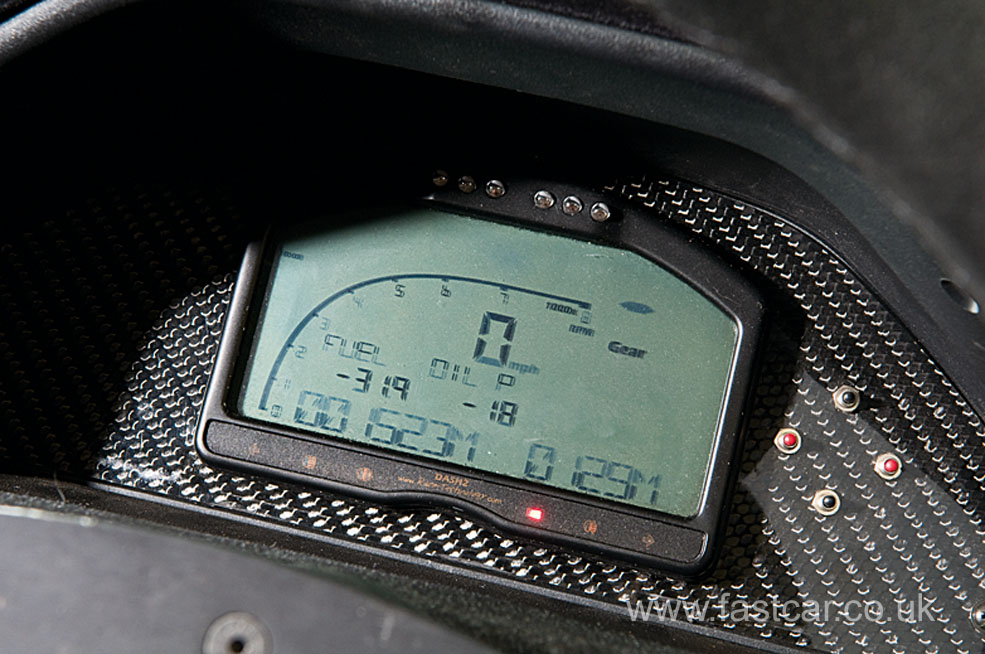 The outside of the car has also been executed perfectly. 15-inch Team Dynamics wheels, Bilstein and Eibach suspension, Hi-Spec brakes, classic looking Morette headlights and subtle de-cluttering keep things classy.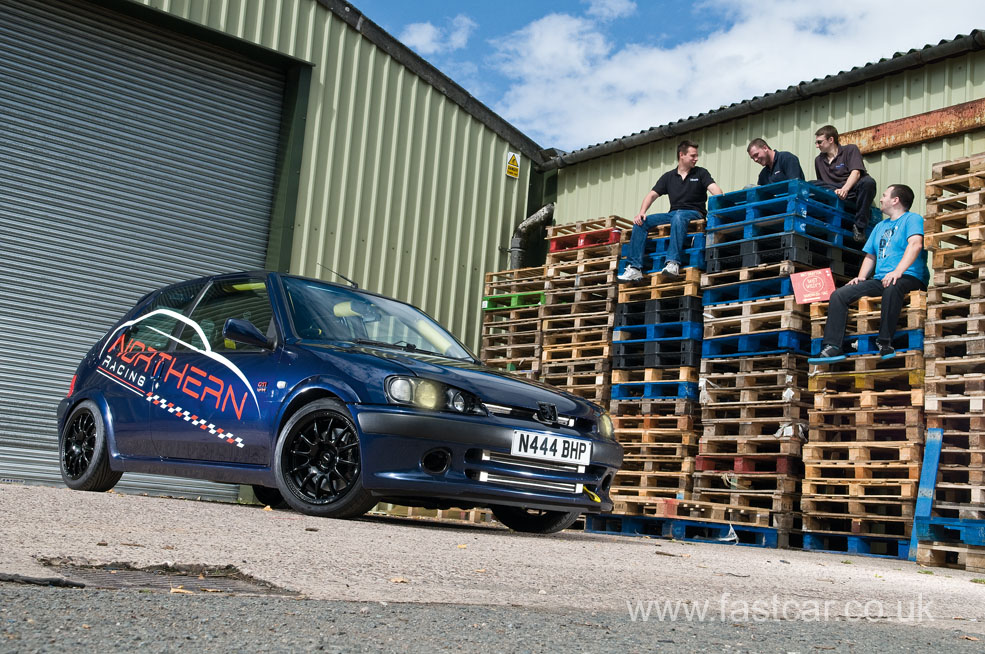 But to be honest, you'll be lucky to see much of the Pug's exterior at all. Why's that? Because with all that power Ross' Pug will now hit 160mph on the limiter in 5th gear. And it gets there mighty fast.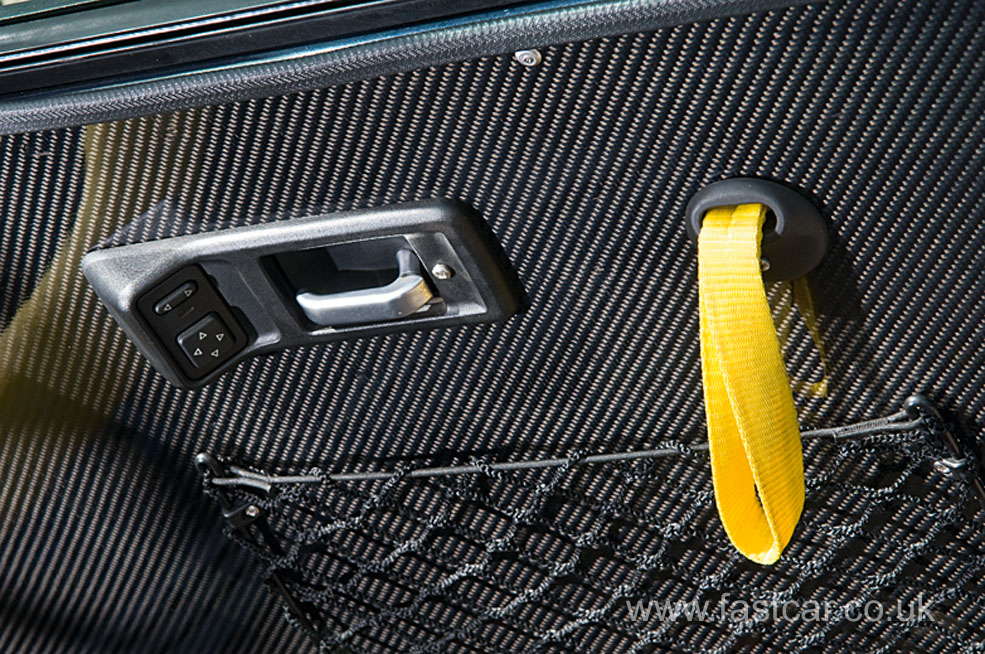 This car is a testament to 10 years of dedication, friendship and a commitment to ultimate speed.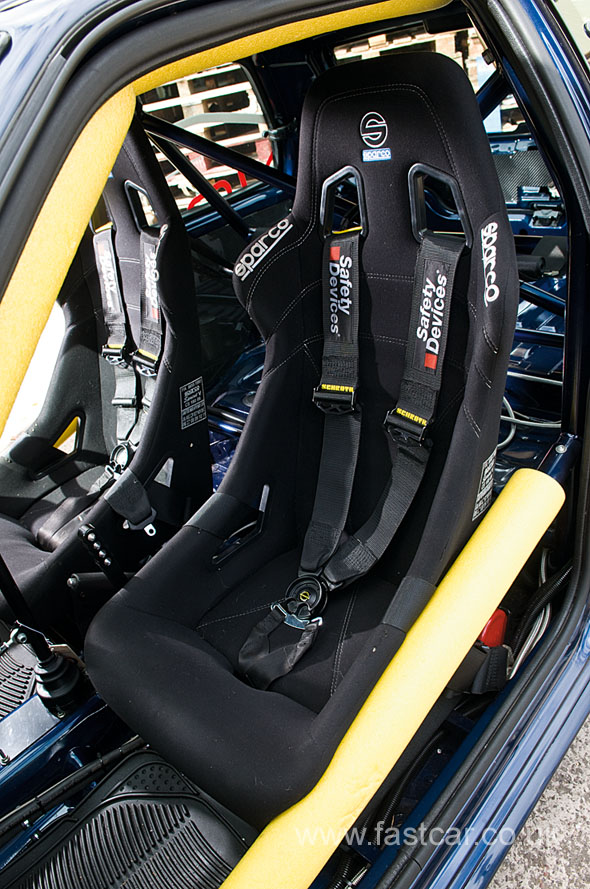 TECH SPEC PEGEOUT 106
ENGINE
1600cc C2 VTS TU5JP4S lump; DP forged pistons; PEC forged rods; ARP bolts; JNL Racing fully ported and polished big-valve ultimate-spec turbo head; Cat Cams turbo rally spec cams (11mm lift); DP-Engineering alloy inlet, with stainless TB; DP stainless blister manifold (external wastegate version); DP 2.5-inch downpipe with Zircotec coated in 'performance white'; custom hybrid Garrett GT3071 turbo; 3-bar Magneti Marelli MAP sensor; Omex 600 ECU with Omex Full Race Loom; Turbosmart external wastegate with DP screamer pipe; Turbosmart dump valve; K&N X Series air filter; Gizzmo MS-IBC boost controller; GMC alloy header tank; Pro Alloy alloy rad; Pro Alloy intercooler; Pro Alloy oil separator and braided lines; alloy boost pipe; MSD coilpack and MSD leads; Mocal 13 row oil cooler with remote oil filter; remote pressure sensor and oil take off; braided turbo oil feed with integrated filter; Aeroquip braided turbo oil feed return; Innovate LC-1 wideband controller; Bosch Lambda probe; wired to Race Technology DASH2; Turbosmart adjustable FPR (set at 4-bar); Injector Dynamics 725cc injectors; DP-Engineering alloy fuel rail; SM Engineering alloy fuel swirl pot; Bosch 044 external fuel pump and Walbro 255 in-tank fuel pump; Sytec fuel filter; BE3R gearbox conversion; with Northern Racing BE gearbox mounts; Helix single plate 6-paddle clutch; AP Racing Master cylinder and Wilwood slave cylinder; BE driveshafts and CV joints; Satch Shift quick shift; Spoox race engine mounts; 2.5-inch mandrel bent stainless exhaust; relocated engine fuse box; Lifeline plumbed in fire extinguisher; fully heat-shielded.
CHASSIS
Bilstein B8s all round; -50mm Eibach springs on front, lowered on rear to match; Hi-Spec 4-pots with 283mm discs; DS2500 pads; 23mm GTI-6 twin-port master cylinder; fully braided brake hoses throughout – ABS removed; hydraulic handbrake; Powerflex bushes; IM Axle rear beam; 15-inch Team Dynamics Pro Race 1.2s; 195/45×15 Eagle F1 tyres.
INTERIOR
Full interior re-spray in Mauritius blue; Safety Devices 12-point cage; FIA approved foam padding; flocked dash; Race Technology Dash 2 set, in carbon binnacle panel linked to Omex 600 for live monitoring; full time HD camera system mounted to rear view mirror; seat rails welded in; Sparco bucket seats; Schroth 6-point harness; relocated PAS pump; all wiring from engine bay relocated to custom setup behind carbon dash panel in passenger foot well; Lifeline 2.5-litre plumbed in fire extinguisher system behind passenger seat; Streamline Carbon rear quarter panels; stereo boot blank; and rear blanks; Performance Trim front door cards with Porsche door pulls and TRS map pockets; window switches relocated to stereo blank; Gizzmo boost controller located in stereo blank; OMP WRC suede 310mm wheel with OMP boss; two-way Terratrip intercom with headsets and radio/mobile phone interface; battery (Varley red top 25) relocated to boot with alloy cage; full custom interior wiring loom; Clifford Concept 470 with total closure.
STYLING
Full engine bay respray; Morette headlights with passenger inner light removed for direct cold air feed; Rallye bumper vents for direct cold air feed to oil cooler; rear wiper deleted and de-badged; 6k HIDs; under-body fully under-sealed; vehicle livery in Northern Racing trim.