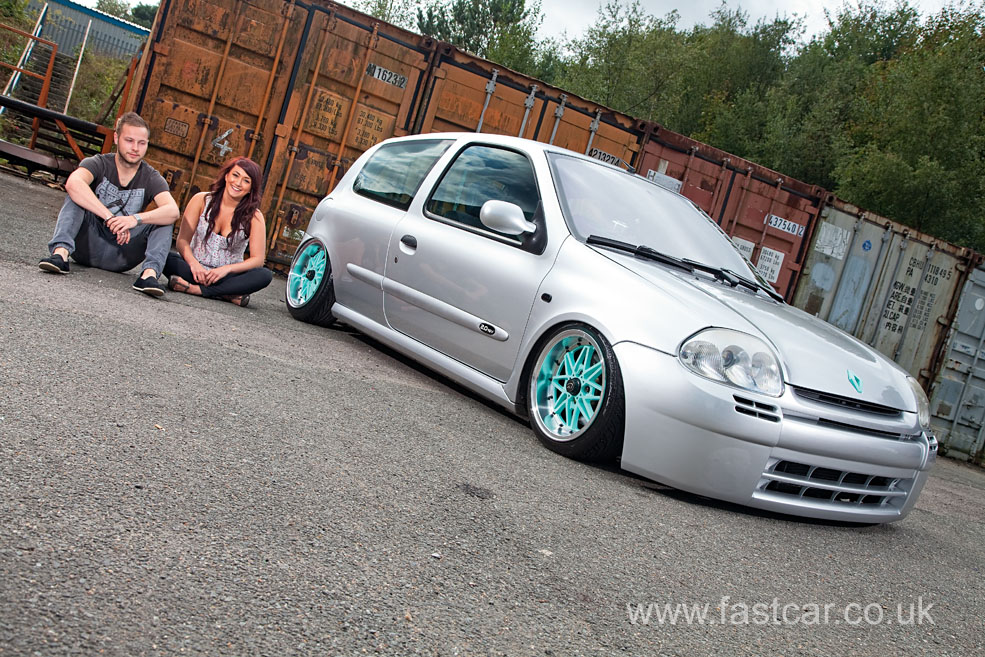 Luke Ward's modified Renault Clio 172
It takes a brave man to snap up a car that's suffered from cambelt failure. Especially when the car in question is renowned for being as nippy, agile and fun as a squirrel on disco biscuits. A car that no matter who's owned it before has undoubtedly been given a good seeing to on a regular basis.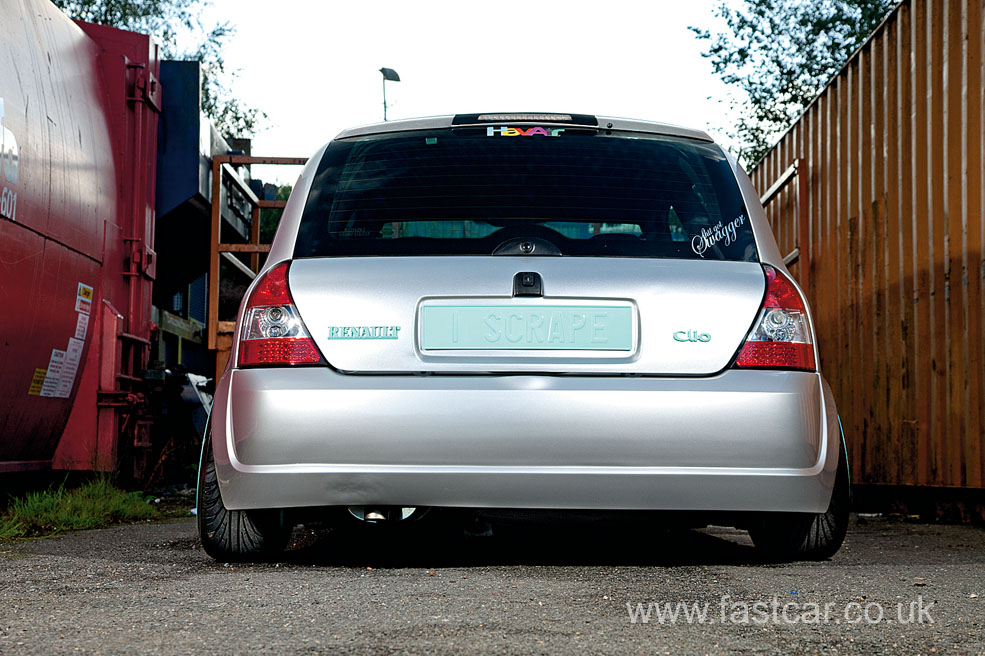 So, when 24-year-old Luke Ward spotted this early -2000 plate 172, at a breakers yard near him, he just had to find out the reason it was about to be weighed in. "Valves had met pistons in pretty much the most catastrophic way and rather than foot the bill the insurance company had decided not to pay out," says Luke.
With second-hand prices for such a capable hot hatch currently at crazy levels, compared to equivalent Type Rs and GTis (it's not unusual to find 53-plates with 70k going for around £2,500-£3,000), understandably the owner's insurance company decided it'd be easier to write it off than foot the costly engine rebuild.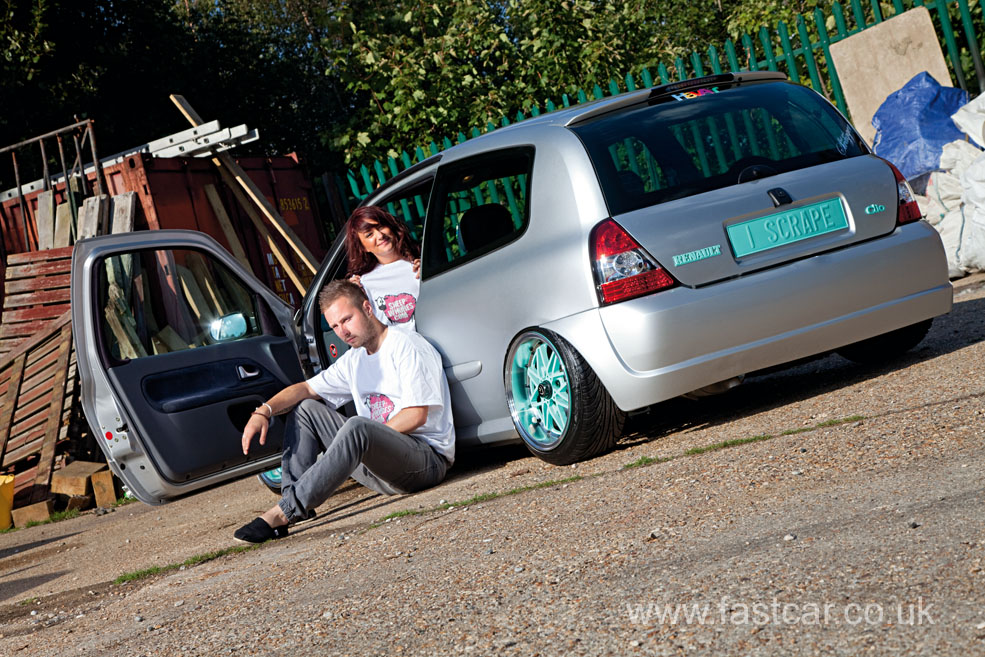 "I got in there and snapped it up for a great price," reveals the canny Kent lad. "The plan, well at the start at least, was to get it running right and then sell it on at a profit."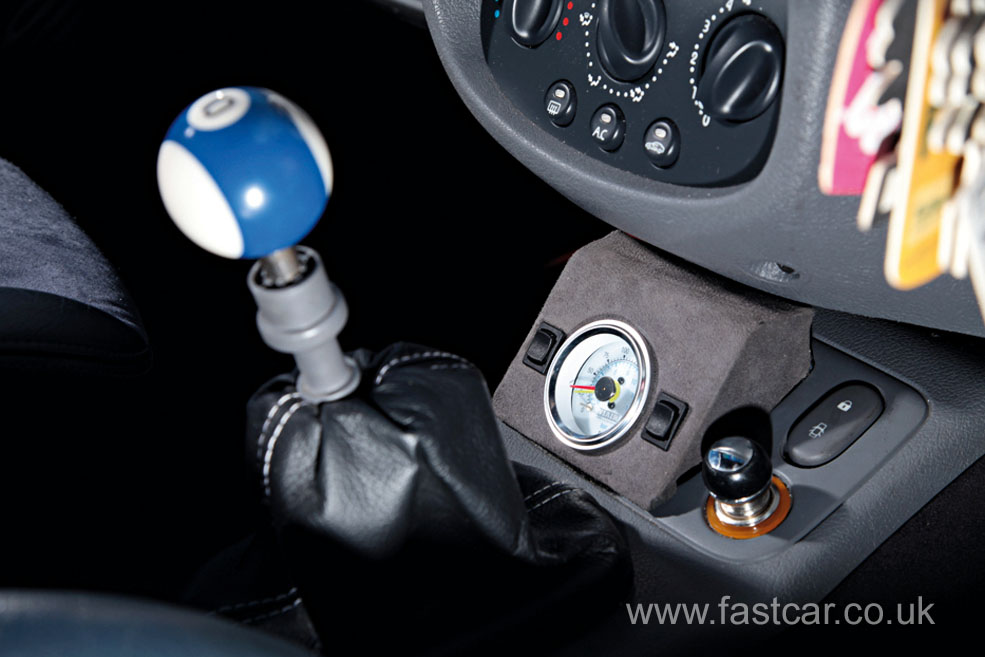 A local garage helped Luke out with the engine rebuild, a job that needed a monster shopping list, including new pistons, valve springs, auxiliary belt, injectors, head bolts, head gasket, cambelt, inlet and exhaust valves, timing belt and a new radiator before the car was back on the road.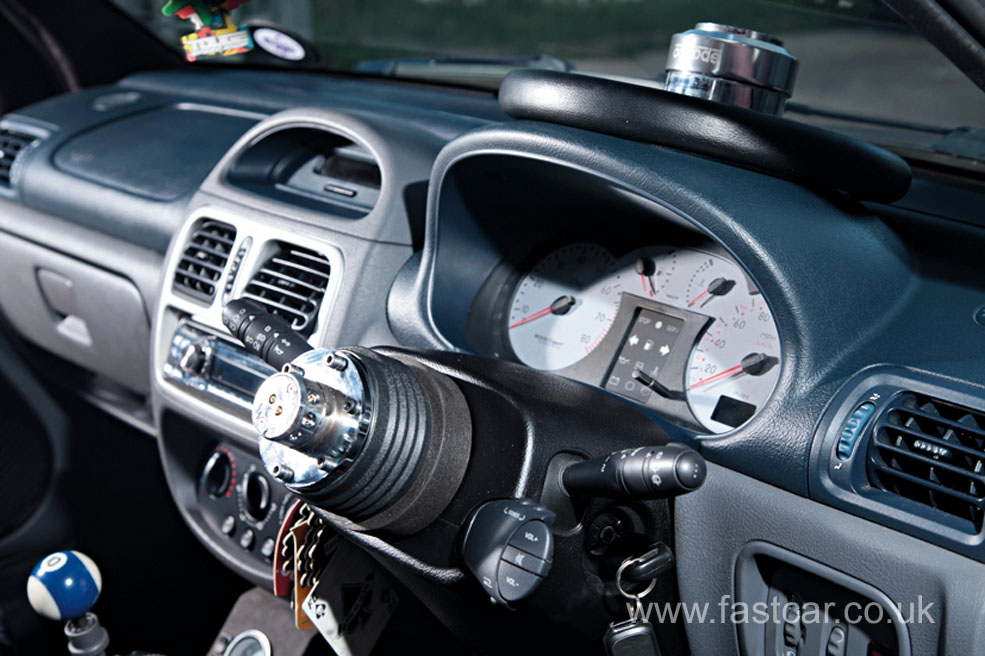 Unfortunately Luke's plan to move it on at a profit had one downfall: the driver.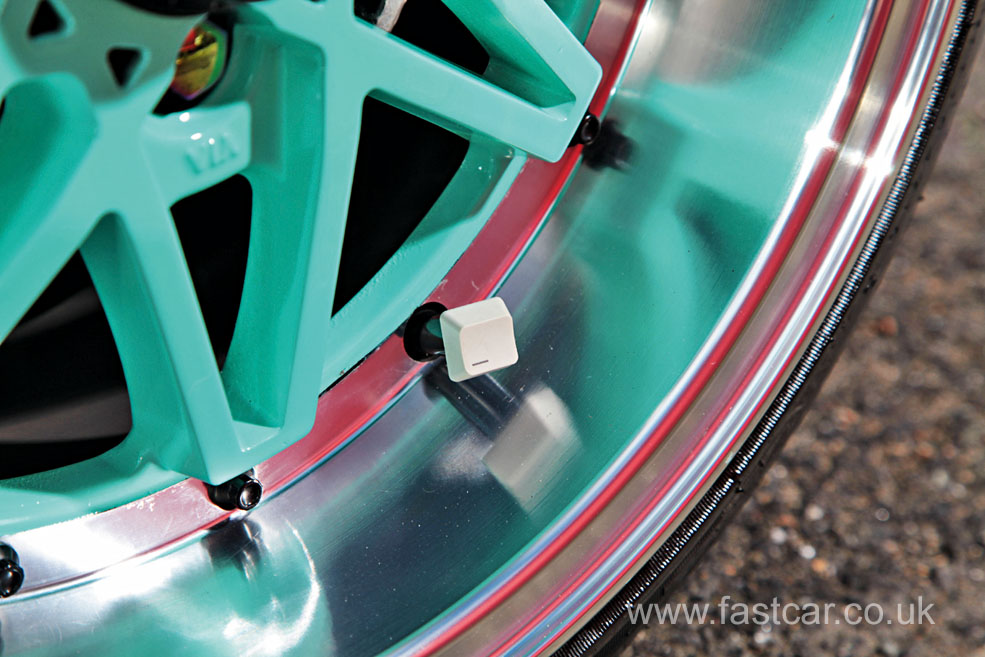 He fell head over heels in love with the speed and that electrifying chassis. So a plan was hatched to get it ready for the track. With everything in the back end consigned to the bin and the stock set of OZ F1 rims painted Satin Black he was happy to roll around until attending TRAX a couple of years back.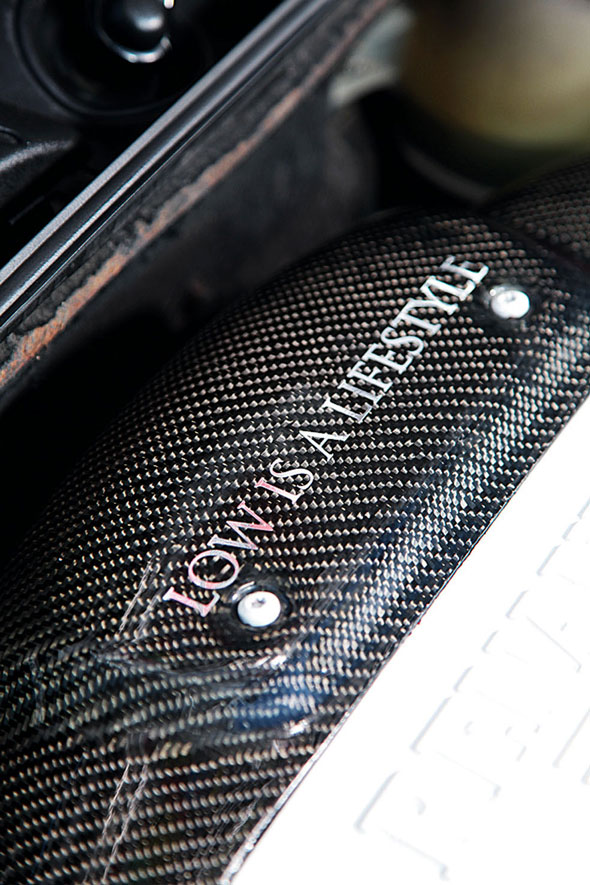 Luke told us: "Every Clio there looked like mine. Who wants a car that looks the same as the one parked next to you? I like to put my personality into a car, truly make it an extension of myself."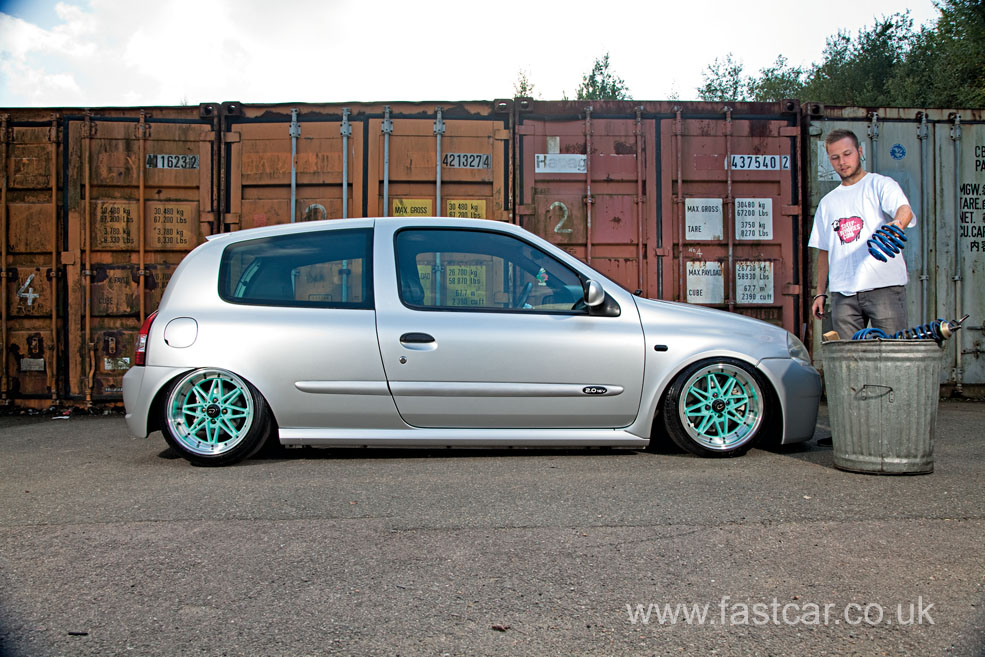 FK Highsport coilies followed shortly there after with a set of spangly new Cades Eros wheels before his attention switched to detailing the bay, with a dash of white paint on the BMC CDA carbon induction kit and inlet manifold.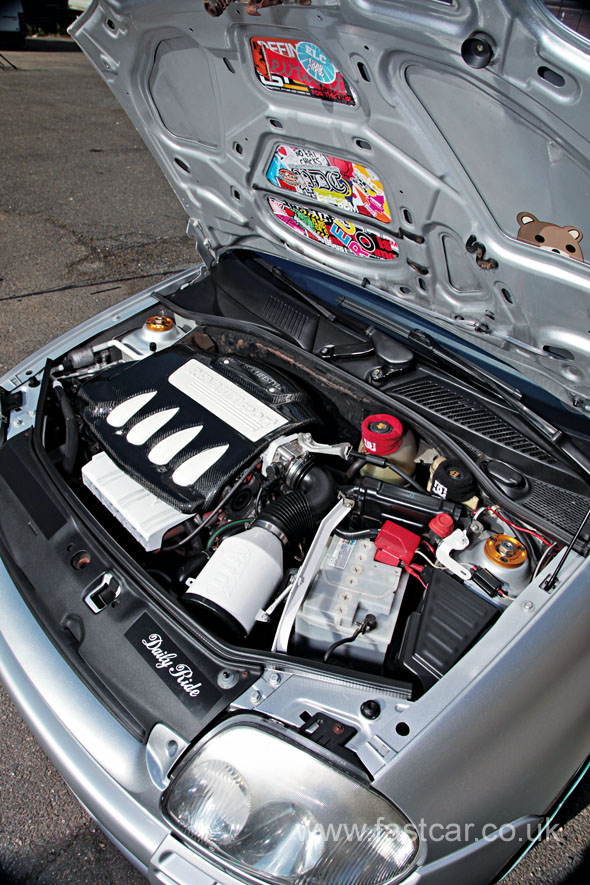 That carbon-fibre rocker keeps things looking neat, while a K-Tec Racing exhaust system, with a down turned TDI-style tailpipe and a K-Tec remap, freed up a few extra horsepower.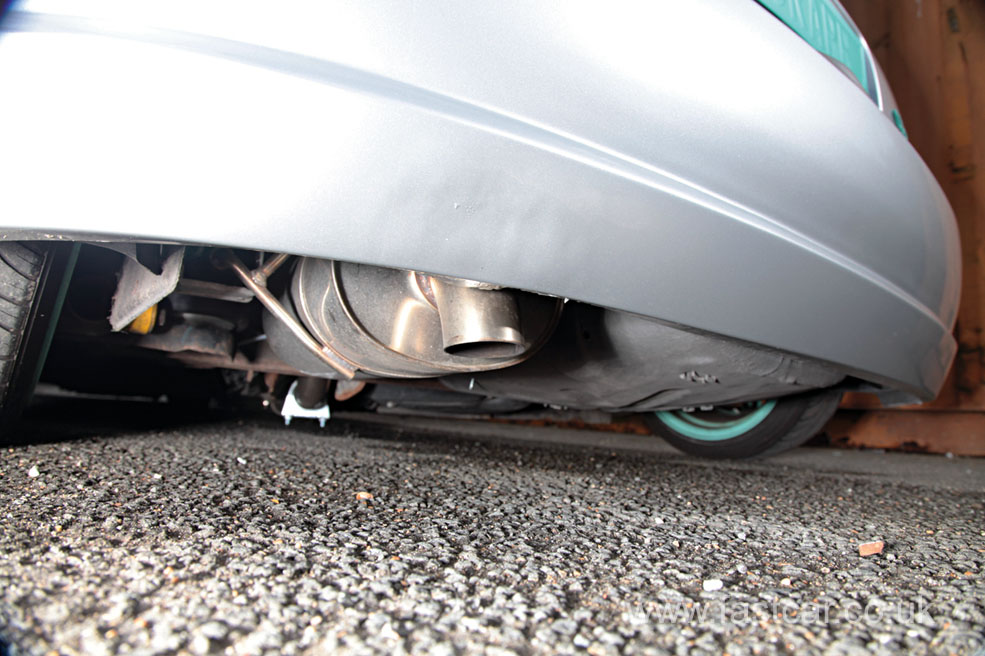 Similar love has been spent inside, Luke tarting up the interior with some black Alcantara here and there and a neat but very effective audio install, which is based around the recently installed HavAir 4 valve, solenoid air ride kit. "The coil-overs were great, but things got too impractical with bottoming out and beaching everywhere, after winding them all the way down," laughs Luke.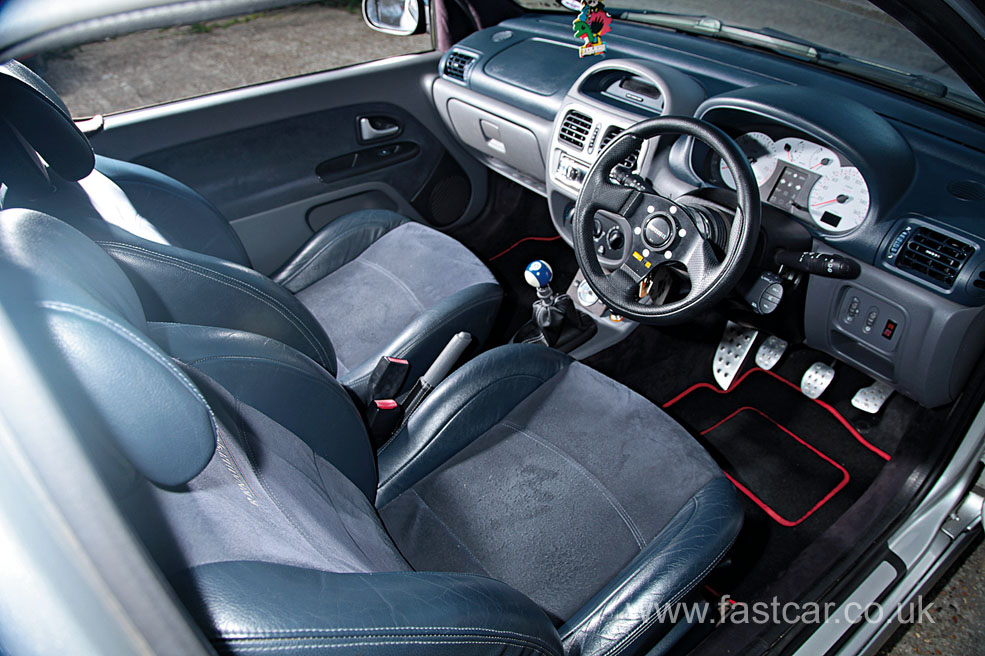 And when his detailing-obsessed better half, Lauren, started going to shows with him her funbags ultimately made the airbag an easy choice. "She was in danger of going home with black eyes every time we went out. The air ride made most sense because of her shirt potatoes," revealed the cheeky scamp.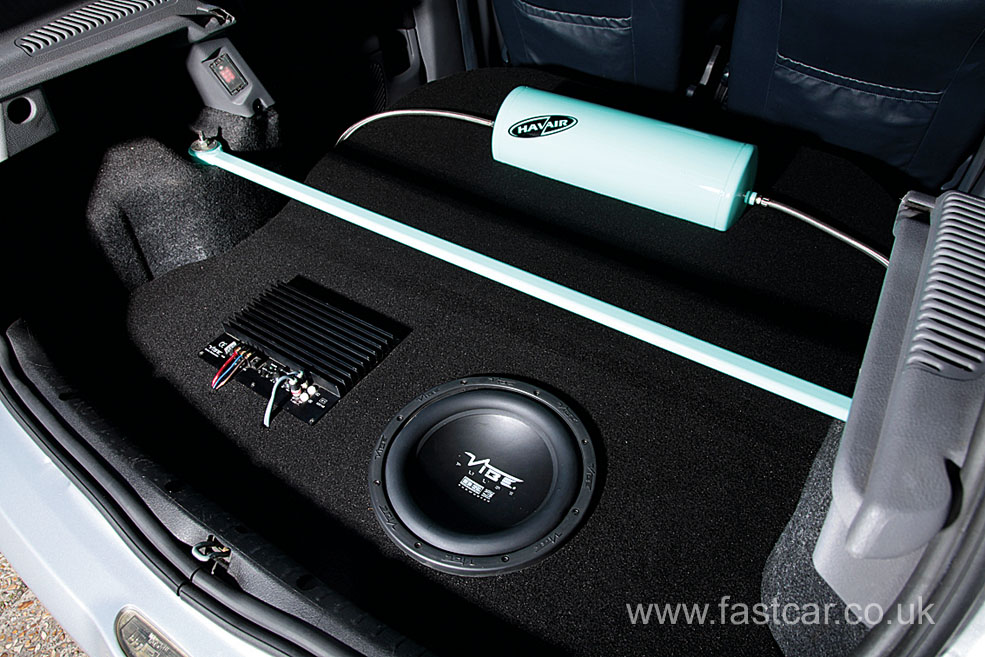 Combined with yet another set of rims, this time 8×15 Axis OG wrapped in Nankang 185/45 rubber, they tuck perfectly out back thanks to flared and rolled arches and custom made four-degree camber shims.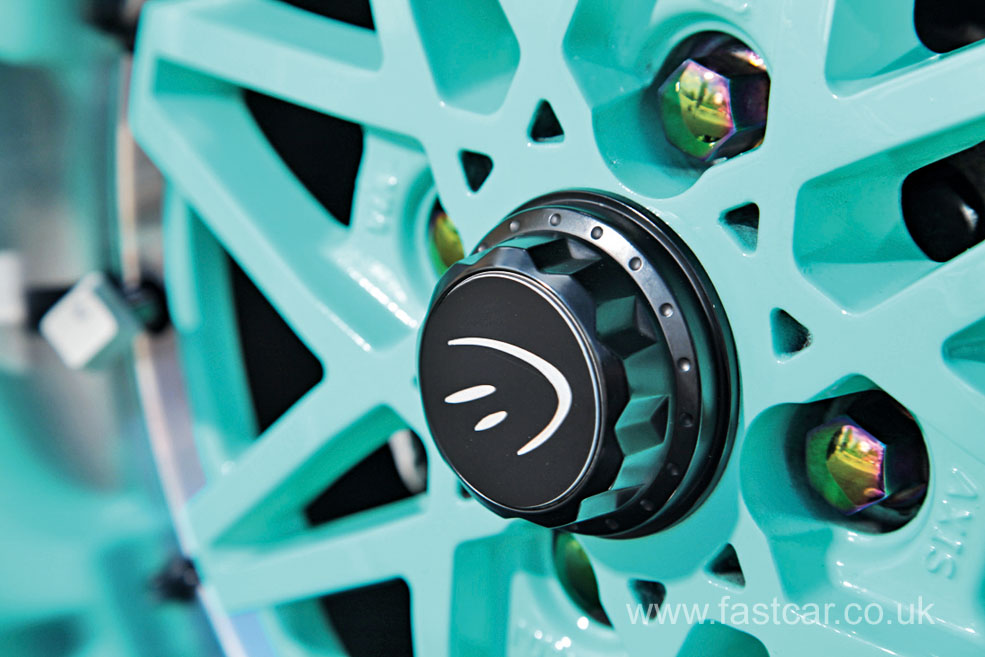 Rounded off with some Tiffany Blue detailing on the wheels and the Renault badges along with a smoothed front bumper and a Phase Mk.2 rear bumper, this is one Clio that Papa and Nicole would prefer on the road rather than in the crusher.