Most people's first cars are pretty forgettable, but Jez Bonner isn't most people. His constantly-evolving Mk4 Escort show-stopper has been one of the hottest modified Escorts on the scene for longer than we care to remember.
Feature from Fast Ford. Words: Joe Partridge. Photos: Daniel Pullen.
Think back to your first car. Perhaps – if you're anything like us – it was a rusty old hatchback, picked up for a few hundred quid and thrashed to death before heading to the scrapyard a few months later. Or maybe it was something new on finance, a frugal runabout with a food-blender under the bonnet and a black box inside.
Either way, the two key facts about most people's first cars are that they're a bit rubbish, and they don't stick around for long.
Jez Bonner is a little different from the norm. This Escort was his first car, and it's stuck with him through thick and thin; he bought it when he was 17, way back in 1995, for the princely sum of £3000. Quite a lot for a base-model Escort at the time, although the financial aspect has become increasingly irrelevant over the last quarter-century.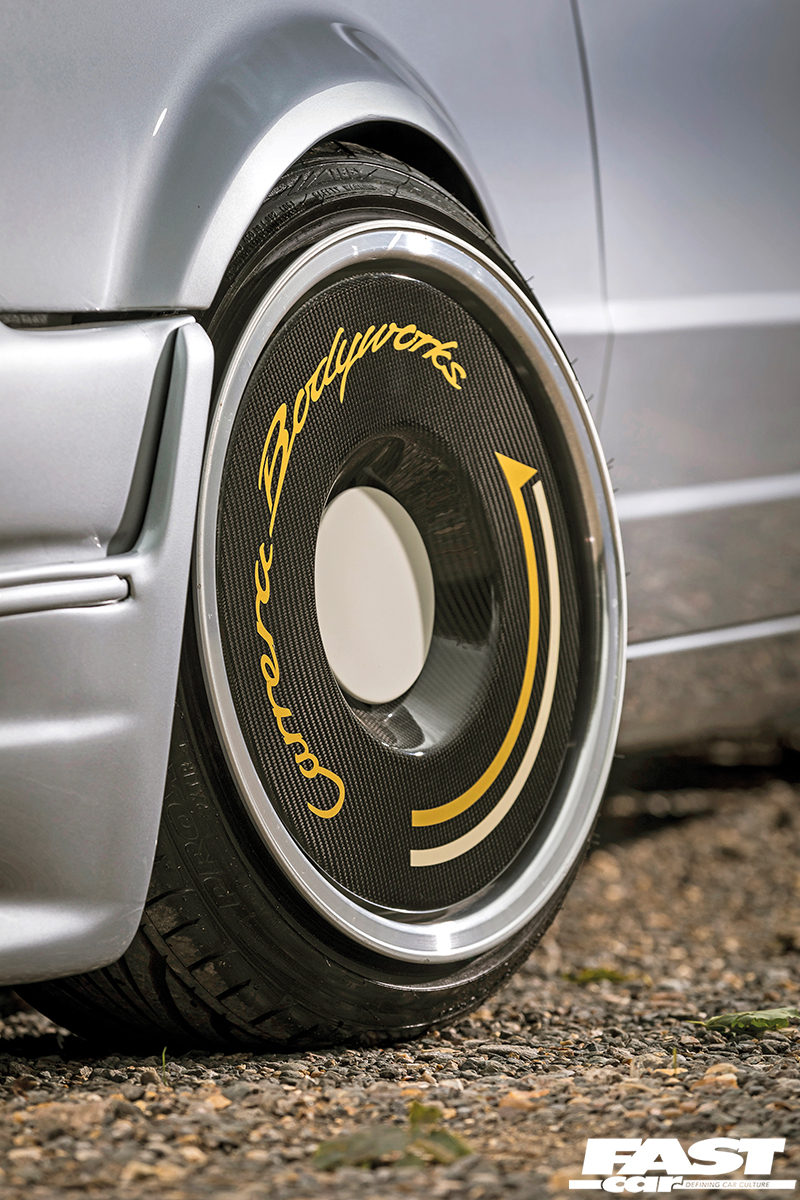 The Escort has been gradually evolving throughout those many years – and it's fair to say that Jez never envisaged things going quite this far when he strolled into the dealership as a fresh-faced first-timer back in the Britpop era.
He laughs, "Obviously I wanted an RS Turbo, but at that age there was no way that was going to happen. This car looked like a good deal – a one-owner 1.3 Bonus with 46,000 miles on the clock. It was only six years old when I bought it."
What's particularly impressive – and we're pretty sure we've never heard anyone say this before – is that Jez has never seen his car dirty. It was freshly polished and gleaming when he bought it, and it's been a cherished project ever since. How many other Ford Escorts have never seen mud or rain since 1995? It can't be many…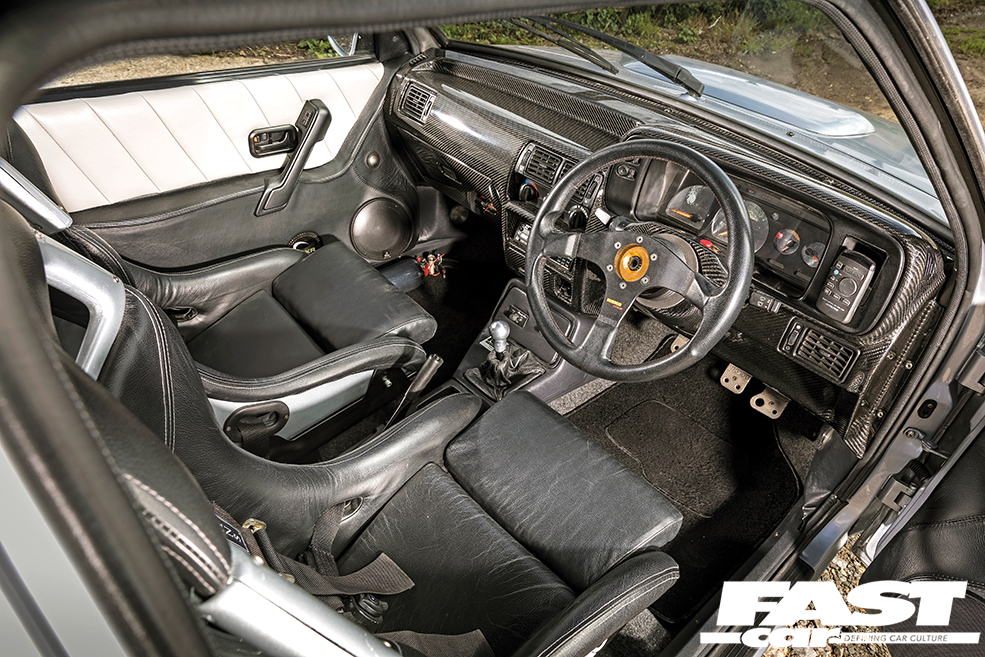 A lot of readers will undoubtedly be familiar with this car, as it's been on the show circuit for many years, and Jez's work will also be well-known to modding aficionados – as the boss-man at Carrera Bodyworks, he's had a hand in more show cars than we've had KFCs. And we've had a lot of KFCs.
Remember Carl Taylor's RS Turbo from a few issues ago? That was Jez's work, taking inspiration from his own lengthy Escort build and refracting it through the Players prism. The car you're seeing here, resplendent in Porsche Polar Silver paint, is the genesis of it all.
Jez says, "I reckon kids these days don't have so much of a hands-on approach to modifying as we did back in the day. You see a lot of financed projects on financed air and financed wheels; we used to be pulling bits off broken cars in scrapyards, grabbing XR3 spoilers to put on our base-model Escorts. I guess it makes a difference if they have parents who are into cars; that inspires a bit of passion."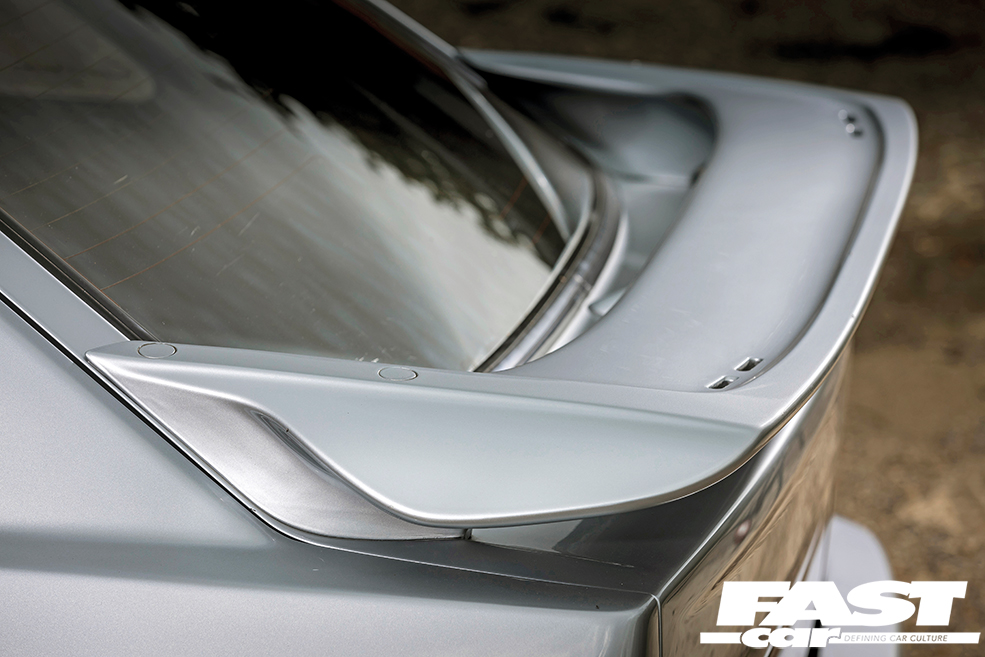 It's true. More often than not, we hear feature car owners' enthusiasm for cars passed down through the generations, and Jez is well positioned to do just the same; with a handful of kids of his own, he's doing his very best to grow older disgracefully.
His behaviour's been pretty rowdy from the start, to be fair. It didn't take long for Jez to swap in a shoutier engine, as soon as the insurance man allowed. And because he always likes to do things a little differently, he didn't go for the RS Turbo swap that everyone else was doing – he decided to bolt in a Zetec, which was a very new idea back then.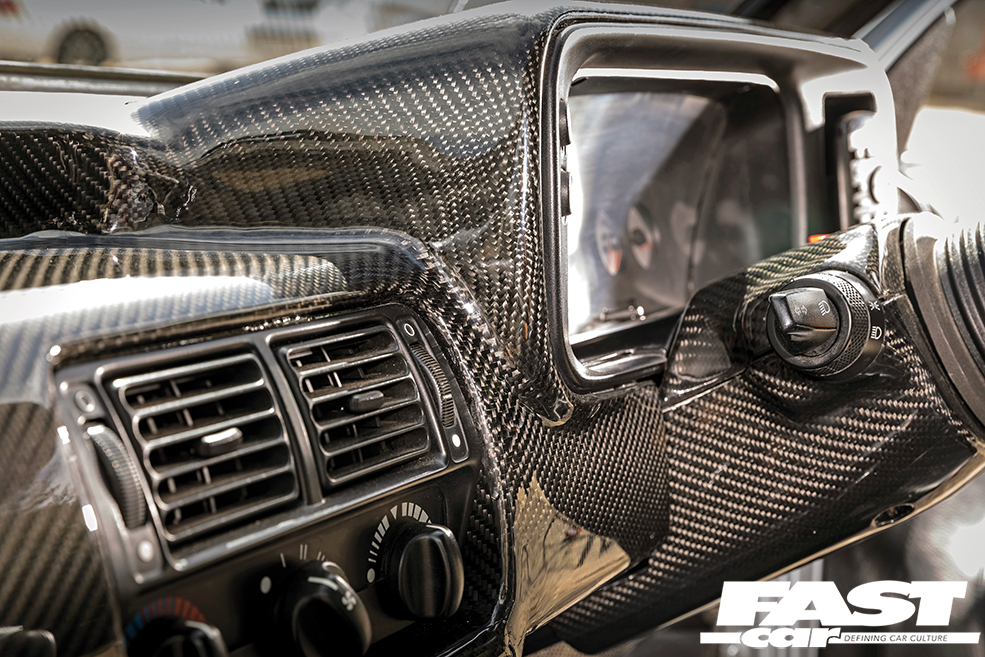 Zetecs were current-model engines in the showroom line-up, so it certainly wasn't a cheap way of doing things. And to make it more fun, it wasn't a stock Zetec. No, in 1998 Jez went to the race-motor builders at Dunnell Engines and ordered a fresh 2.0-litre unit, built up from a crate motor with their own cams, the head ported and polished the old-school way,  and twin Weber carbs.
The howling fury of it all (measured at 219bhp at the flywheel) is channelled through an RS Turbo gearbox with a Quaife straight-cut gear set inside.
Jez says, "It's a mental little engine. The power delivery is savage, and it's like a VTEC motor – between 5000 and 7500rpm it just barks, and with the straight-cut gears whining and the induction roar, it really does sound like a race car."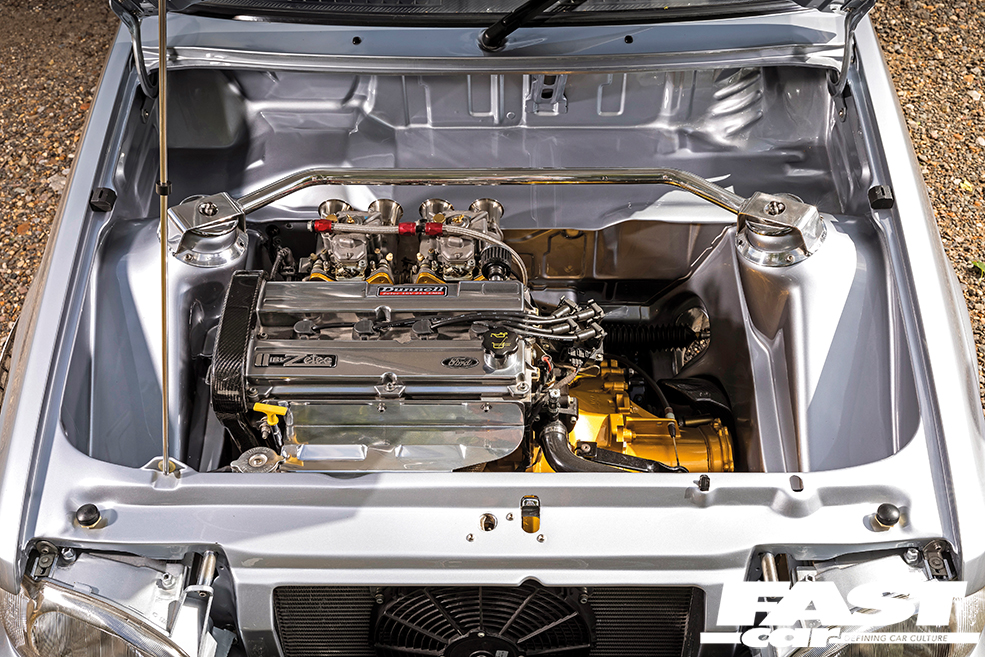 It's a formidable driver's car, although Jez readily admits it's actually more of an ornament. The engine's done about 150 miles in the last decade, which is basically nothing considering how long it's been in there.
But this build really has a higher purpose: "The enjoyment for me is in trying out new things with the car," Jez reasons. More art piece than automobile, perhaps, although it's nice to know that it can be a pretty bloody devastating road-racer when it needs to be.
That's very much the culture it grew up in, of course; cast your mind back to the sort of cars we were featuring in the late-1990s and early -'00s: there were a lot of headlight swaps and smoothing and that sort of business. The idea of swapping Mk6 headlights onto a Mk4 Escort seems pretty out-there even today, but it's worth remembering that when Jez did this, the Mk6 was still a new car. The guys at the local Ford dealer's parts department certainly cocked an eyebrow.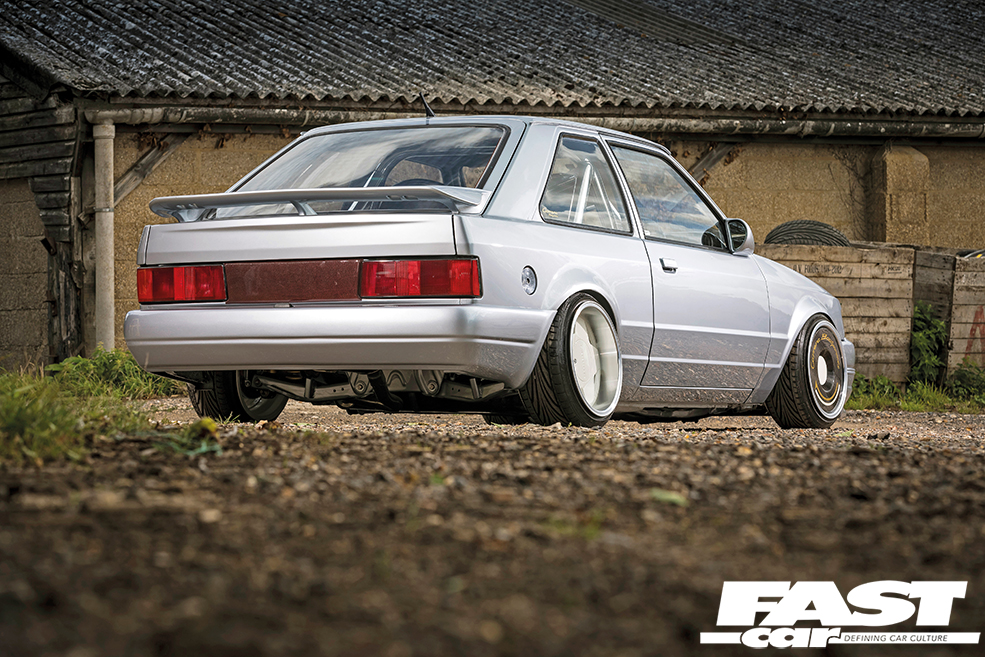 He recalls, "Headlight swaps were such a big deal back then, and this was the newest upgrade available. It took a surprising amount of work to get them in there – the inside of the bonnet had to be sliced and have a new bit from a Mk6 bonnet stitched in, there was extensive work to the bumper and wings…
"It's stood the test of time though, hasn't it? I had considered swapping a Mk4 nose back on now that these cars are getting so desirable, but the general consensus on social media was that the way the car looks now is part of its character."
A key part of Jez's approach with this build was that, while he's fundamentally a Ford man, he's always been far more influenced by the Euro VAG scene, particularly that of the late Nineties when there was such a keenness for cleanness in Belgium and Germany.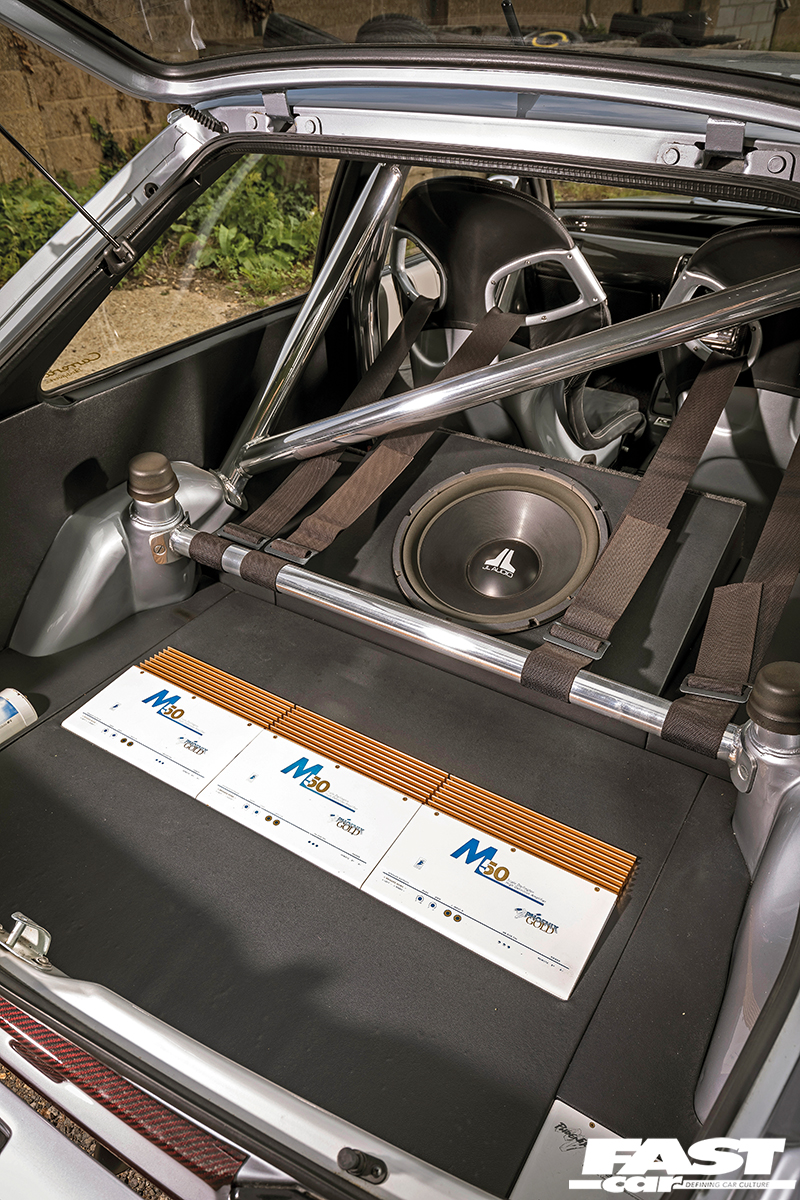 This Escort wears those influences on its sleeve – peer underneath and you'll see that the flawless underside features a carbon-skinned fuel tank, among various other treats. It's the sort of car that you'd put mirrors under at a show so that people can understand its holistic nature.
This project has been dictated from day one by the idea of doing something a little different from the established pattern that's often found in the Ford scene. And while Mk4 Escorts are becoming increasingly collectible and valuable these days, Jez has owned this one for long enough to earn the right to do whatever the hell he likes with it.
It's full of stories, he knows absolutely everything about it, it's uniquely his. A partner for life, in fact – he'd never get rid of it, because what on Earth could possibly replace it?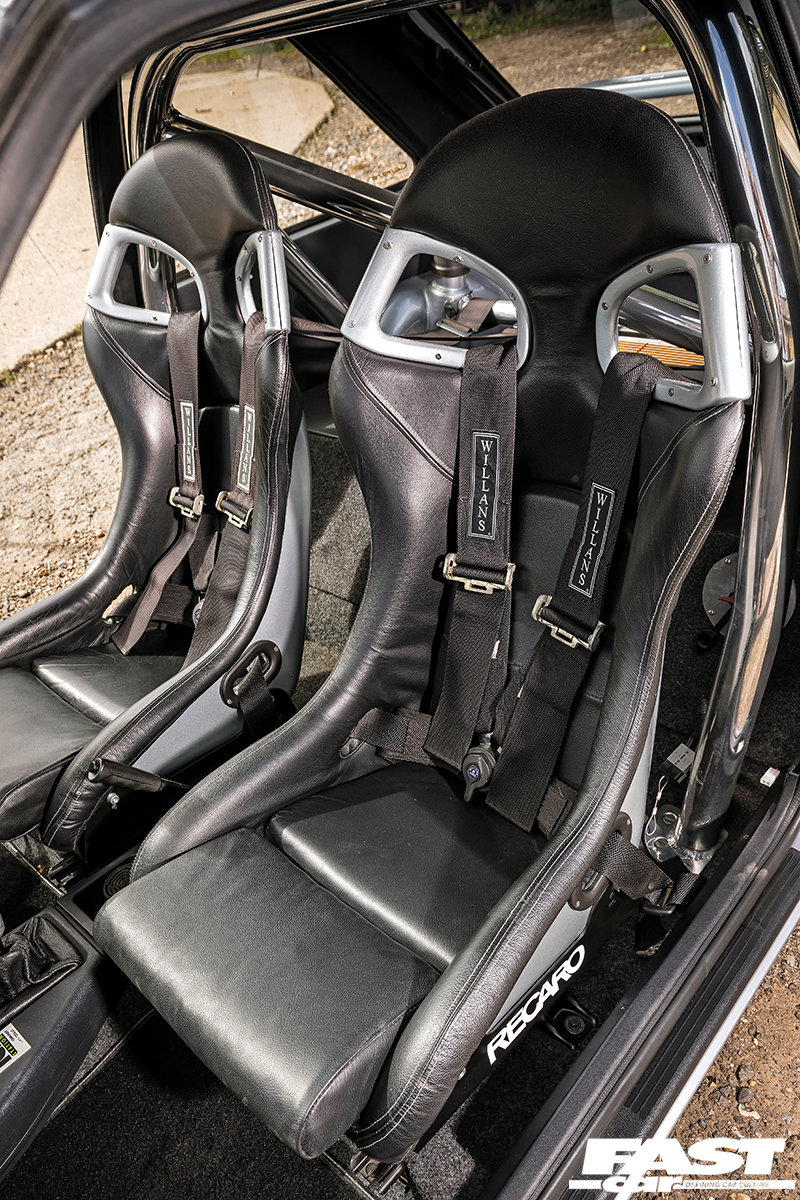 We have to give a final nod to the Porsche influence. The bread-and-butter of Carrera Bodyworks sees all manner of desirable 911s and the like being lovingly attended to in the workshop and paint booth (the name is a big clue, if you hadn't put two-and-two together), and it's a loving salute to this everyday craftsmanship that sees the spectre of Stuttgart rippling through the tight little Escort.
The Porsche Polar Silver paint, the 911 GT3 seats, the stripped-out functionality coupled with sumptuous appointments, the hardcore road-racer underpinnings…
If Porsche built an RS Clubsport version of the Mk4 Escort, this'd be it. And with Jez's passion, flair and creativity, it's just going to keep getting better. As first cars go, this one's pretty hard to beat.
Tech Spec: Modified Mk4 Escort
Engine:
1989cc Zetec (silver top) built by Dunnell Engines, Dunnell custom-spec cams, ported and polished head, competition valve springs, ARP rod bolts, twin Weber 45 DCOE carbs, shaved and smoothed engine bay
Power:
219bhp
Transmission:
RS Turbo B5 gearbox with factory-fit viscous limited-slip differential, Quaife straight-cut gear set
Suspension:
Avo adjustable coilovers, front strut brace
Wheels & Tyres:
9x16in Borbet Type A wheels with Porsche Riviera Blue centres and custom carbon fibre turbofans by Carbon Delight, with stretched 195/40×16 Toyo tyres
Exterior:
Porsche Polar Silver paint, front end modified for Mk6 Escort headlights, fully smoothed and delocked, custom flared wheelarches, DTM mirrors, custom bonnet vent, bee-sting aerial, single wiper, carbon-skinned fuel tank
Interior:
Custom carbon fibre dash by Carbon Delight, carbon steering column, carbon mirror, Porsche 911 GT3 seats, Willans harnesses, Les Hicks roll cage, Momo steering wheel, custom leather trim, custom door cards and audio install, Alpine head unit, JL Audio speakers and subwoofer, Phoenix Gold amps in boot floor