Nick Wealleans put a V8 in his Lexus IS200 for one reason: to do massive god damn noisy burnouts!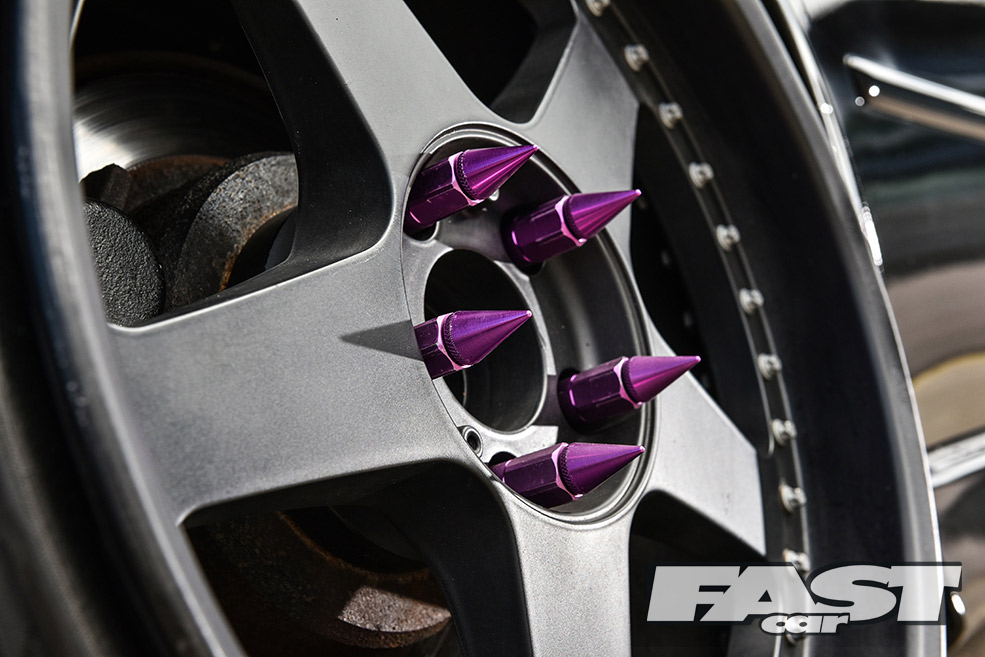 It's one of the best reasons we've ever heard for an engine swap. Twenty three year-old window fitter Nick Wealleans from Cardiff just wants to destroy tyres and make noise. There's something so refreshing about the way he doesn't want to build a car to win races or trophies. He just wants to make a car fun, for himself and sod everyone else's idea of what a car should be.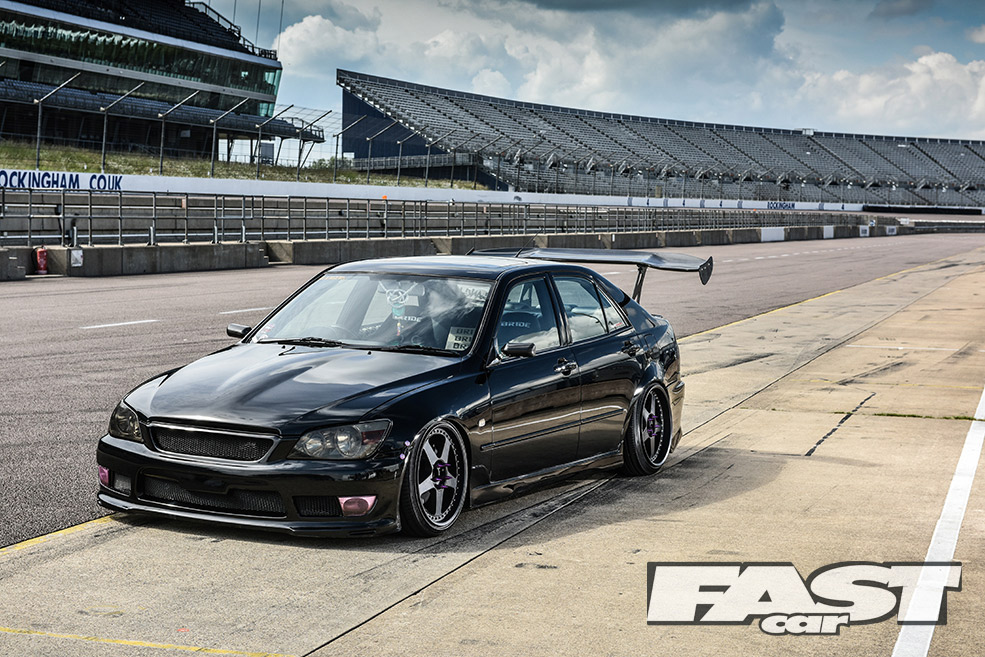 "To be honest with you," begins Nick in a thick Welsh accent, "I'm not really sure how I've managed it. I built the car myself with the help of a few friends, in a unit we rent together. I've got no formal mechanical training but I saw another guy starting the swap online, thought it was a good idea and wondered if I could get mine finished and on the road before his – which I did."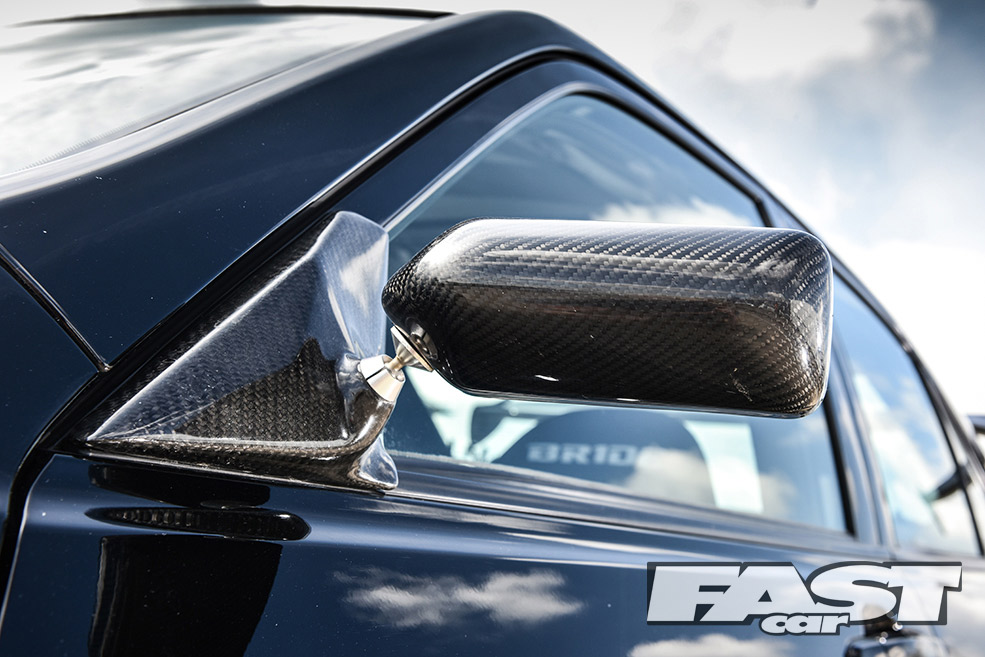 Four months is all it took for Nick to turf out the pathetic 153bhp 2.0-litre straight-six 1G-FE engine, shoehorn in a 290bhp 4.0-litre V8 1UZ-FE engine from an LS400, mate it to the original 6-speed IS200 gearbox and get all the electrics working. And two months of that was spent waiting for parts to arrive from Ireland.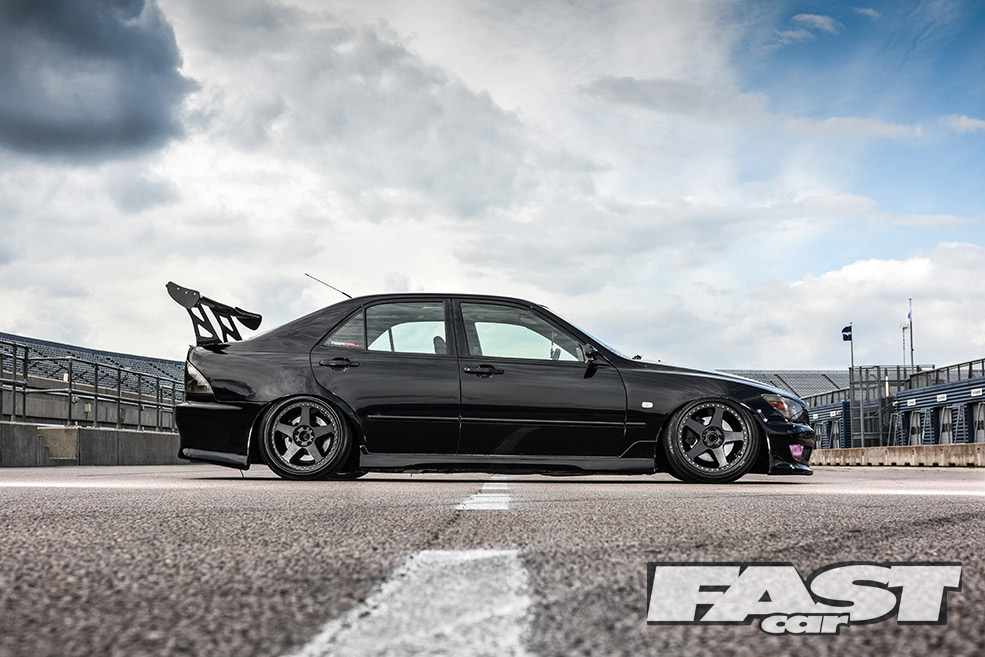 "I bought the car four years ago and I started modifying it on the drive home from buying it! I'd only had cheap Ebay coilovers on my previous cars so decided to treat myself to some Meister R Zeta CRD coilovers. I've set them up myself after getting some pointers from Jerrick Lo, the guy behind Meister R. I didn't realize I was speaking to the main man at the time, but he was so helpful and the car rides really well, despite being low enough to destroy a subframe and a fuel tank since I've had it. I refuse to raise it though. If it's not scraping, it's not low enough."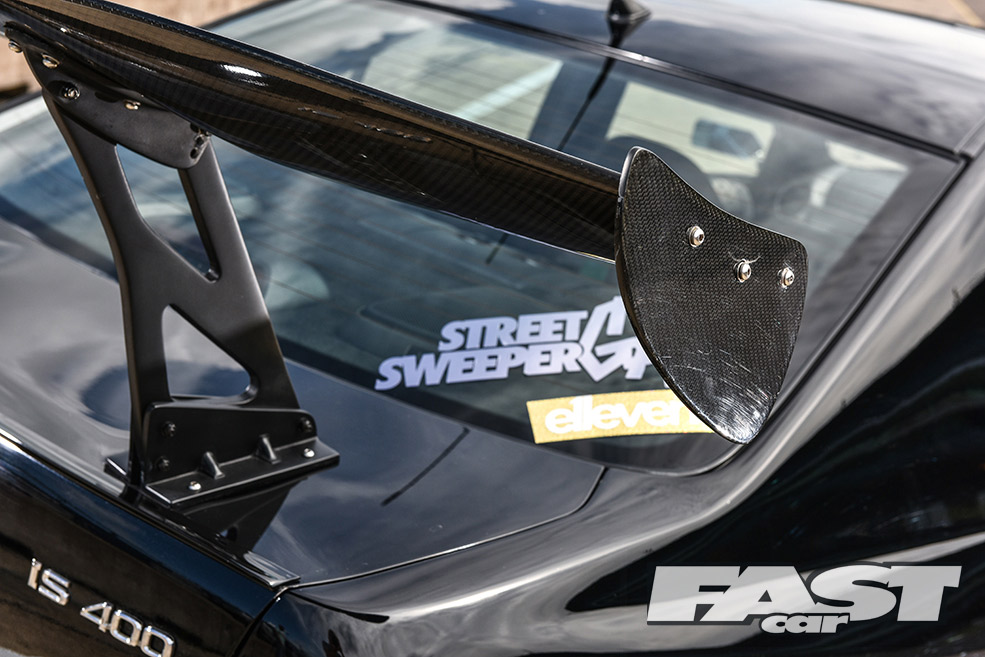 He's not kidding either. It's so low and Nick drives it hard, this is his second TTE front bumper. The first got ripped off driving over a cattle grid. The second one gets resprayed every fortnight by his mate Jason because it scrapes everywhere. "It must be about four inches thicker than it used to be," laughs Nick. The car gets detailed on a regular basis too. "I drive it hard but I want it to look good too. My mate Aaron Brooks at Scene Clean Valeting does the hard work. Black is a pain in the arse to keep scratch and swirl free, but when it's done properly there's no better colour in my eyes."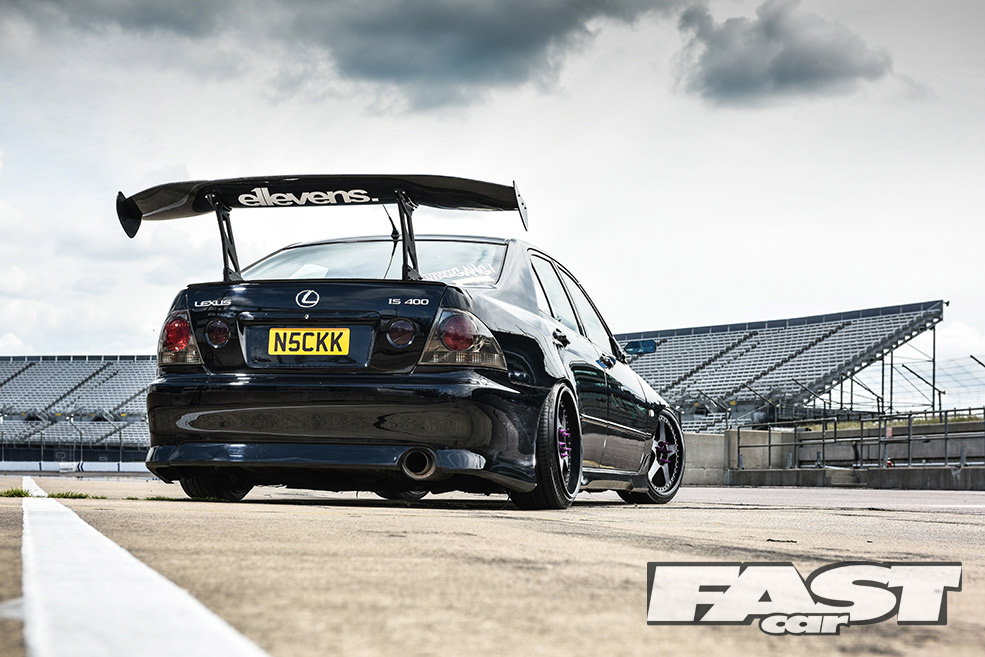 Nick sourced the rest of the TRD bodykit through a Facebook group and added the huge Japspeed rear wing for a laugh. "My mates and I are bringing neons back," he chuckles, "I've got purple ones underneath the car and my mate has red. It's funny because we drive around like it's the Fast and the Furious all over again and we get a lot of hate. Thing is, we've had several people who have given us stick in public later message us on Facebook and ask where we got them from!"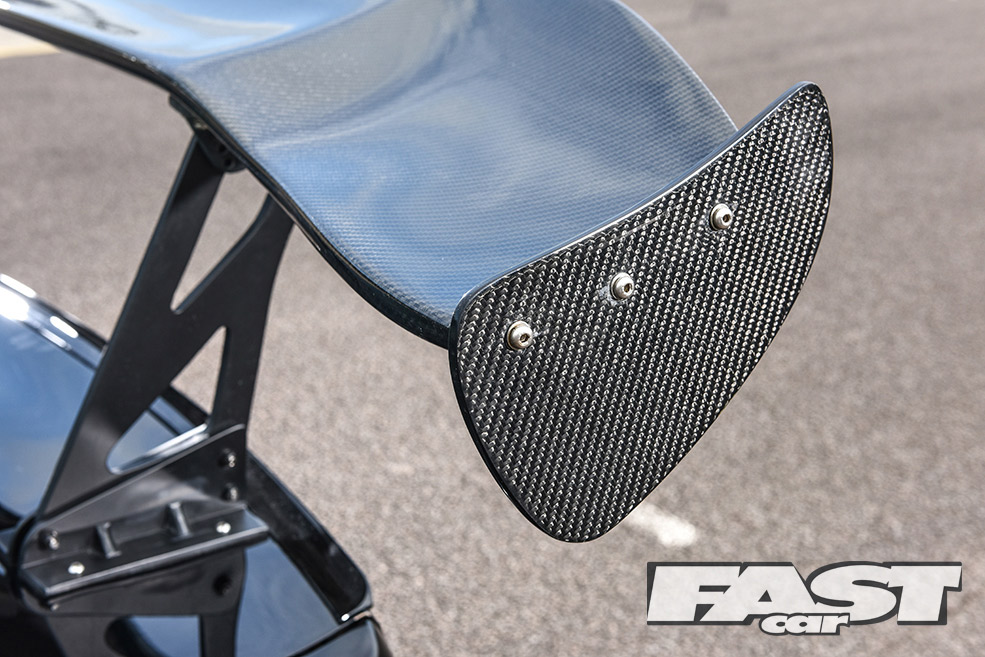 Nick's wheels are an unusual choice too. He originally bought a set of 9.5×18 ET12 Rota GTRs that had wide 265/35x18s on them, he was so keen to get them on that car that he ended up using a breaker bar to roll the arches and whatever else he could find. So there went his mint, one-owner 60k mile car. Did he care? Not really. He eventually swapped to these rare VeilSide wheels made by SSR. He's stripped and refurbished them himself, and he wants to go wider. The problem is that no-one seems to make wider dishes for them. So if you know anyone who does, drop us a line and we'll pass Nick their details.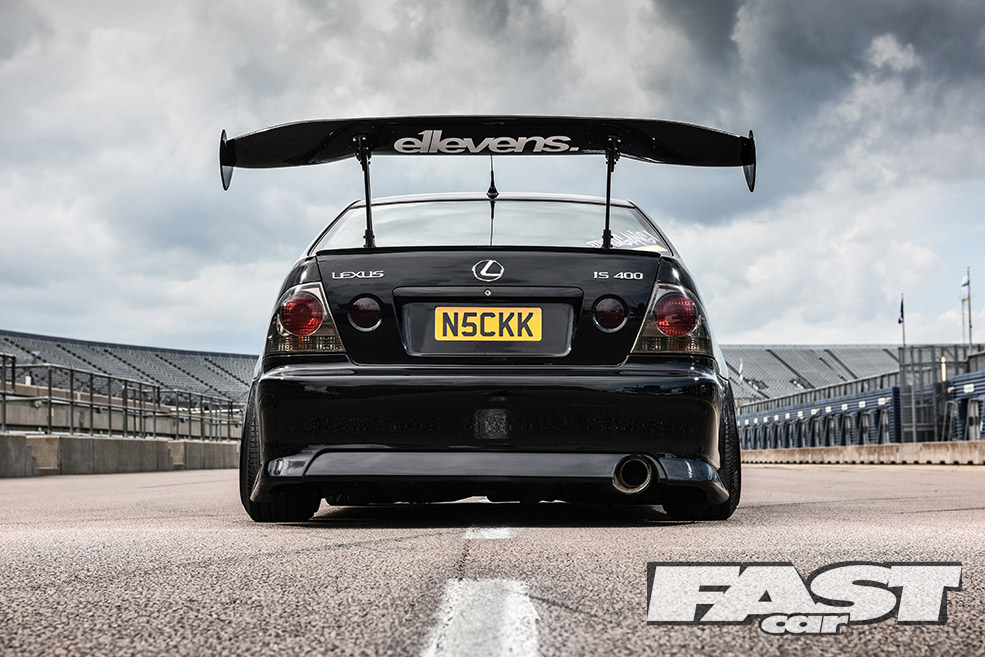 Make your car for you and drive it hard, that's Nick's outlook on car life. He admits the build wasn't always easy but was worth it in the end. "I was going straight from work to the unit after work and would be there until the early hours of the morning. I liked the standard car a lot but that 2.0-litre straight-six engine is gutless. It lets the whole car down. I did consider going 1JZ but that's expensive. Then I started thinking about the 1UZ-FE V8. I liked the engine but they came with auto 'boxes and the common thing is to use a 5-speed BMW gearbox, but I didn't want to sit on the motorway buzzin' the engine."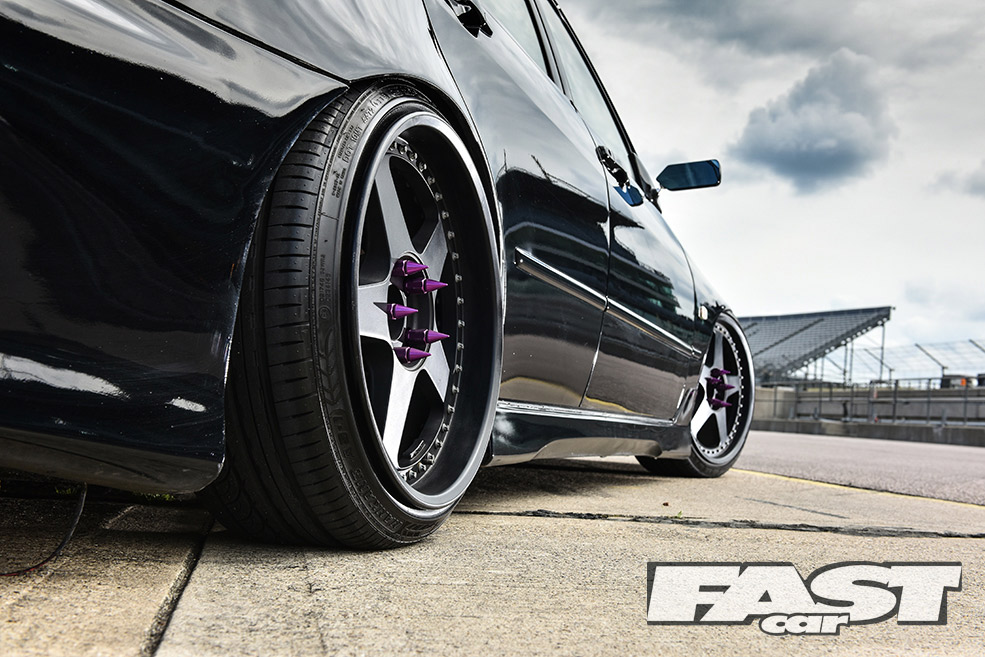 Eventually he found Dave Barrett in Ireland. Dave runs a company called LexiBreak and between them, they worked out a way for Nick to keep the original IS200 6-speed J160 gearbox. Nick explains: "Dave machined the gearbox housing and supplied custom engine mounts for the 4.0-litre V8. The clutch and flywheel came from an SW20 Toyota MR2 Turbo, which luckily has the same size flywheel as the 1UZ. Dave re-drilled the flywheel to elongate the bolt-holes slightly, so that everything lined up properly. I went for an IS300 LSD because it's stronger and also because it's got a shorter 4.1 final-drive ratio compared to the 3.9 on IS200 diff, so it accelerates a bit quicker."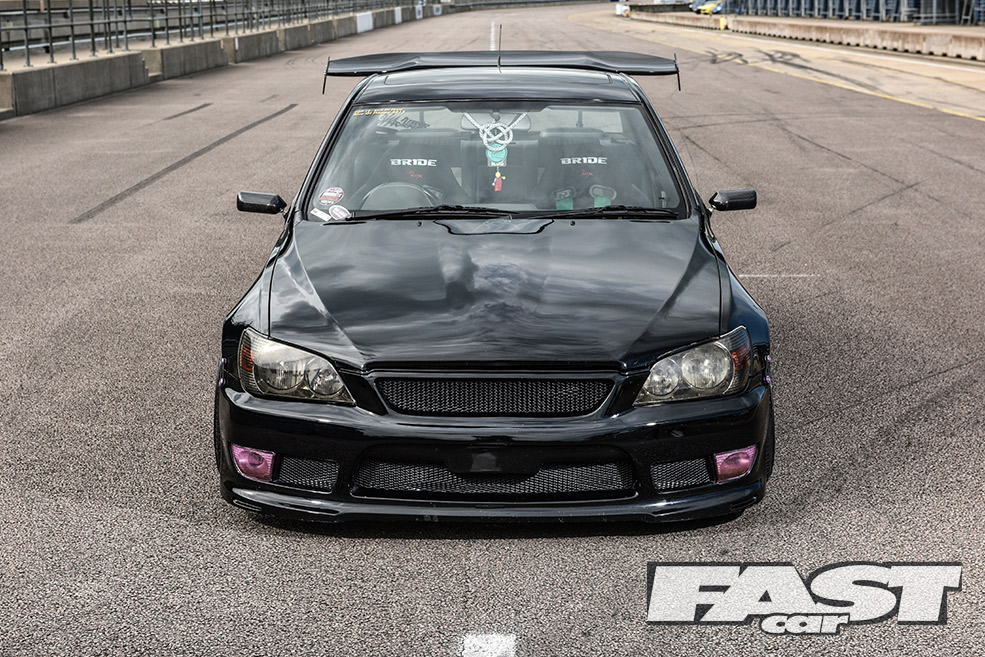 He continues: "When it came to the wiring, I was worried. I'd tried to remove the LS400 loom as carefully as I could, but any wiring is tricky. To be honest, the new engine sat next to the car for almost two weeks because I knew once I removed the IS200 engine there would be no going back. I was also putting photos of the build on the Lexus IS200 Facebook group at the time, which was lucky because off the back of that I had a local guy called Vince contact me offering to do the wiring loom. I dropped it off with him Friday night and it was ready to collect on Sunday evening, all for just £120. I thought it was money well spent 'cos it saved me a headache, although I still had to fit it myself and connect everything up."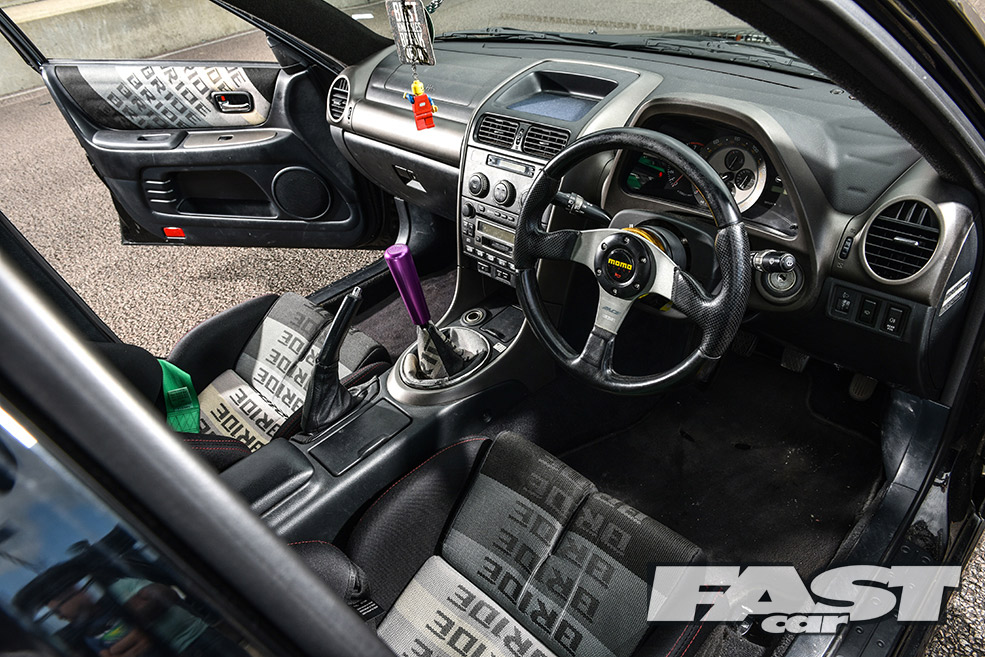 There were loads of fitment issues to deal with too. Nick says the engine went in and out at least ten times while he tried to make it look OEM. He mated the rear half of the original propshaft to the front half of an Altezza shaft that usually hangs off the back of a BEAMS 3S-GE 4-cylinder engine, so was pretty much the perfect length for the V8. He had trouble getting the driver's-side exhaust manifold to clear the steering rack, a common problem with these kind of swaps. Thankfully he used his special mechanic skills to fix the problem. By heating up the manifold and "smacking it with a bloody huge hammer."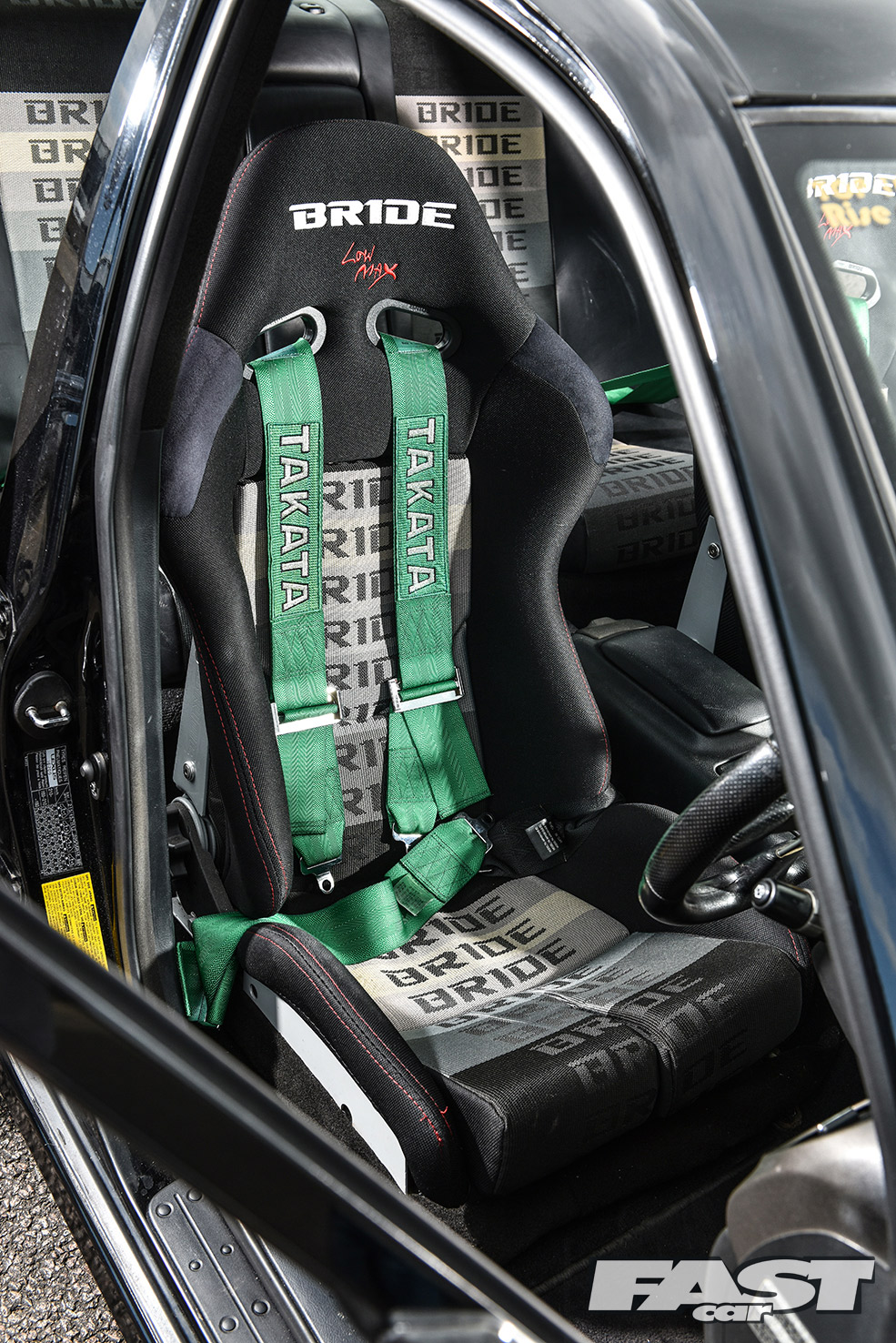 Nick remembers: "By the end of the build, my mates were literally feeding me pizza while I was fitting pipework. I was obsessed, too focused on the car to eat. I started the build in December and was booked in for the Fast Car stand at Japfest on the 24th of April. I stayed up all night to get it done and drove straight to the show. I was so tired when I got there that I was speaking to someone about the car and forgot that I'd put a V8 in it! It was insane."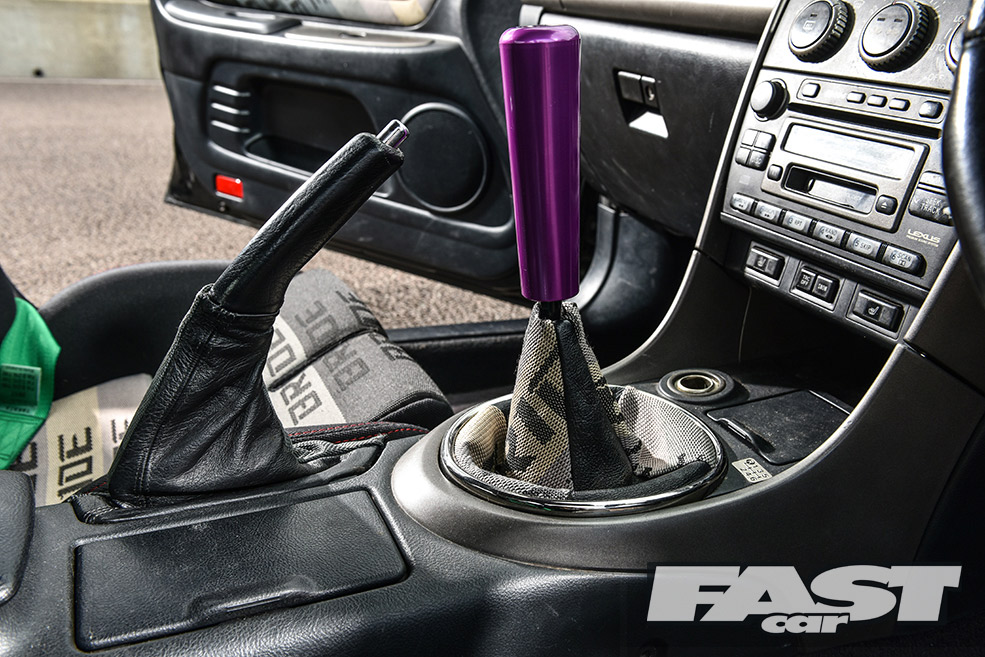 That wasn't the end of Nick's show stardom either. He got an invite to 100% Tuning in Holland from Harry Veth. He also recently got asked to attend the GR8 International Car Show in Belgium. He says: "It was a fairly big event and I love going to European shows, so I drove the car there and came back with an award for Top 3 in show. The car has also won a Top 10 award at Rise of Stance in Belgium. They love the car in Belgium for some reason?"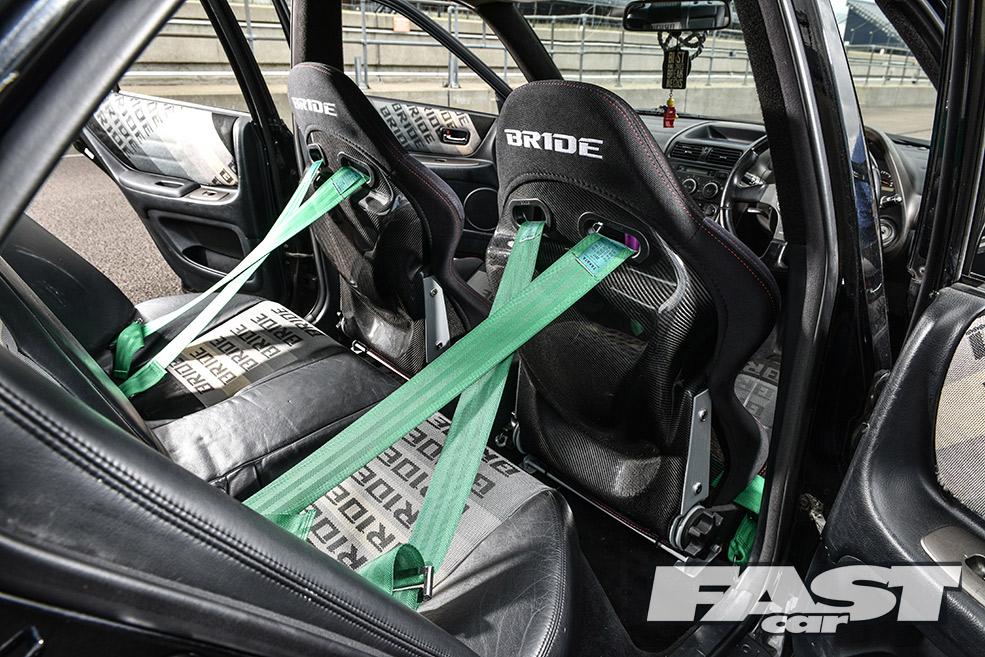 For all the bonkers stuff he's done in the car since, it's that first drive in the early hours of the morning before the car was really finished, that stays in Nick's head: "The engine was in, wired-up and had fuel but it didn't have an exhaust. I decided to start it anyway and it nearly deafened me. I couldn't resist taking it for a quick spin. The noise was too loud but it sounded perfect. It had just been raining too and the first time I feathered in a bit of throttle, the back-end stepped out and I just couldn't stop smiling. I parked up and just looked at it for a good five or ten minutes. I was a bit emotional to be honest. I kept thinking "I've done that – I wasn't expecting it to work, to be honest."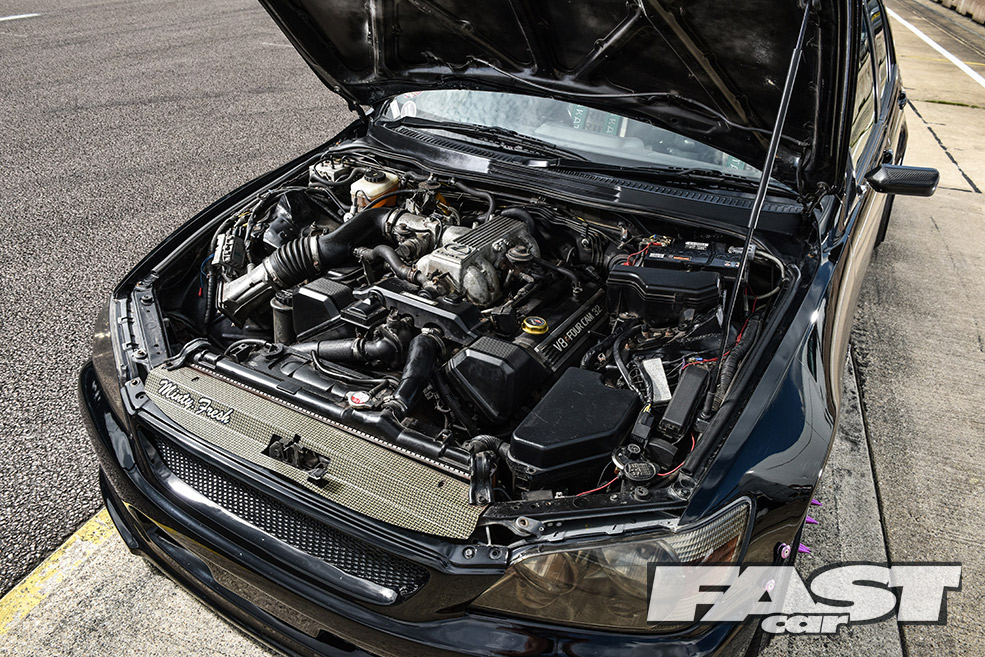 That's the satisfaction you get from building a car you want. Ignore what's popular or what your mate is telling you to get. Build a car that works for you, because the first time you drive it you'll get that same indescribable feeling that Nick felt.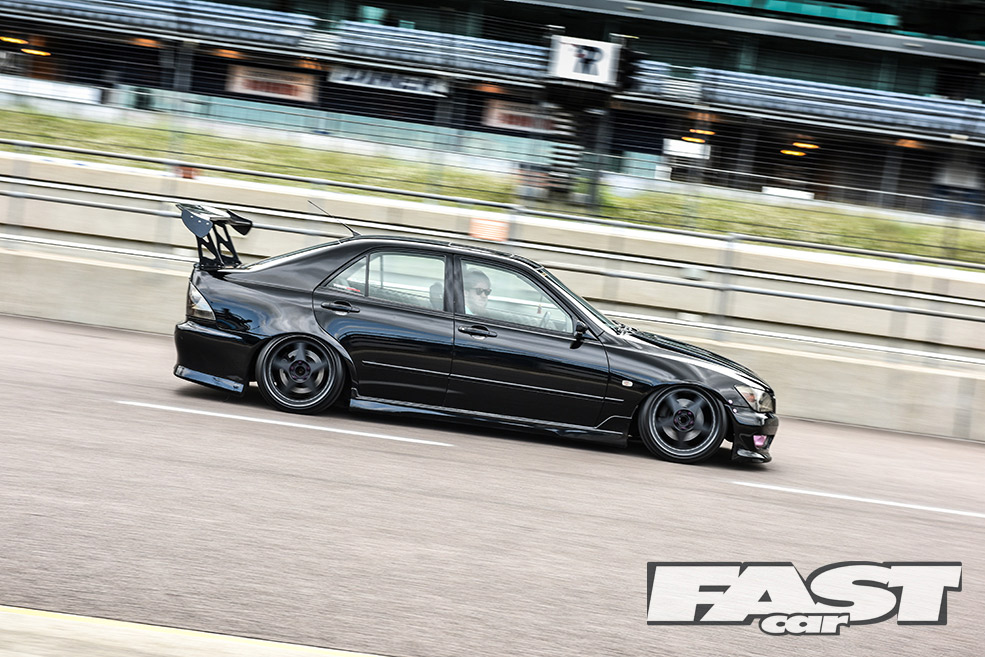 OWNER: Nick Wealleans
TECH SPEC: LEXUS IS200
STYLING:
TRD bodykit, TTE front bumper, Craft Square carbon door mirrors, purple LED underbody lighting.
TUNING:
4.0-litre V8 1UZ-FE engine from a Lexus LS400, custom straight-pipe 2.25in Prospeed exhaust, IS200 6-speed 'box, IS300 4.1 LSD, Exedy Stage 2 clutch, modified SW20 MR2 Turbo lightened flywheel.
CHASSIS:
8.5×18 ET20 (front), 9.5×18 ET10 (rear) SSR VeilSide Andrew Racing wheels by SSR, 205/40×18 Nankang NS2R rubber, MeisterR Zeta CRD coilovers, 30mm RCA adjusters, quick-steer knuckles, LS400 4 pot front brake calipers and discs with custom adapters to fit IS200 hubs.
INTERIOR:
Bride Low-Max carbon fibre recliners, rear seats retrimmed to match, Takata harnesses, MOMO steering wheel with snap-off boss, Kode gearknob.
THANKS:
Dave Barrett at LexiBreak, Aaron Brooks at Scene Clean Valeting, Ian at Sew-Good upholstery, Jay James, Jay Dyas, Craig Mason, Jock, Foot, Jason Begley, Tom Williams and everyone at Team Osaka HQ, my girlfriend Leiisha Bowles, Vince, and Terry at A470 Tyres.