With some carefully researched upgrades, Leadfoot Racing have turned Phil Sullivan's modified Integra Type R DC5 into a 400bhp fast road and track day weapon…
Everyone gets into Japanese cars for different reasons, but essentially, we're all in it because we're passionate about messing about with cool cars. From stanced retro cool, to aero-clad Time Attack monsters – there really is something for everyone. For Phil Sullivan, owner of this mighty DC5 turbo, it's all about performance.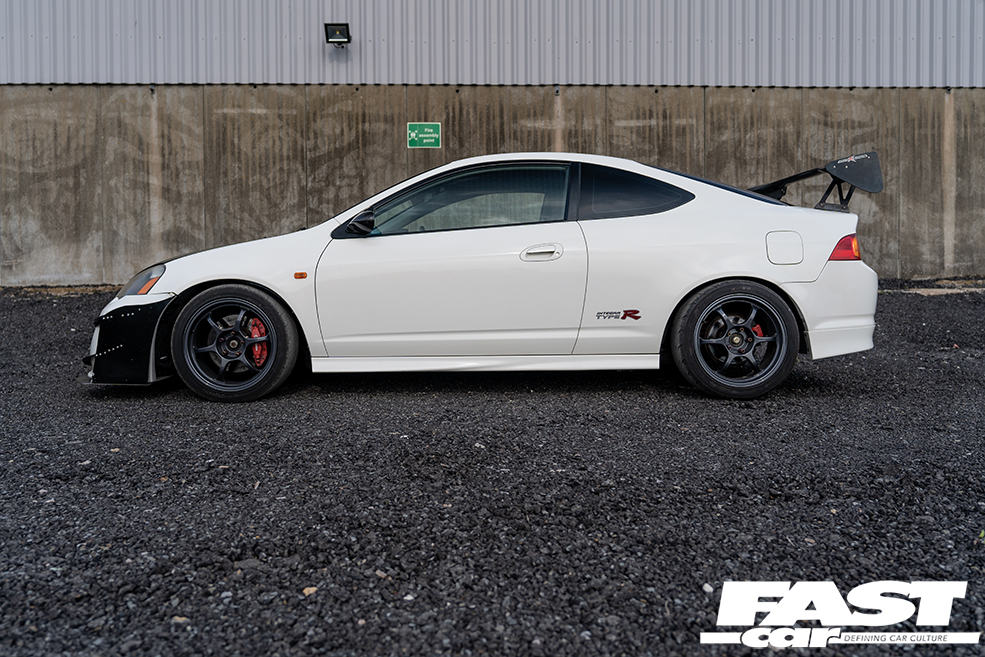 "I had a stanced 350Z, which was featured in Banzai a few years ago," he recalls. "It was a nice car and looked great, but my tastes changed. The next step was an Evo running around 400bhp. "
The rally-bred super-saloon provided plenty of thrills and was tuned to produce even more fun on road and track, but Phil soon craved something different.
"I saw a few DC5s on track at Japfest and they seemed to be quicker than many of the more powerful cars like my Evo." Smaller, lighter and more nimble, the fierce front-drivers left an impression on Phil.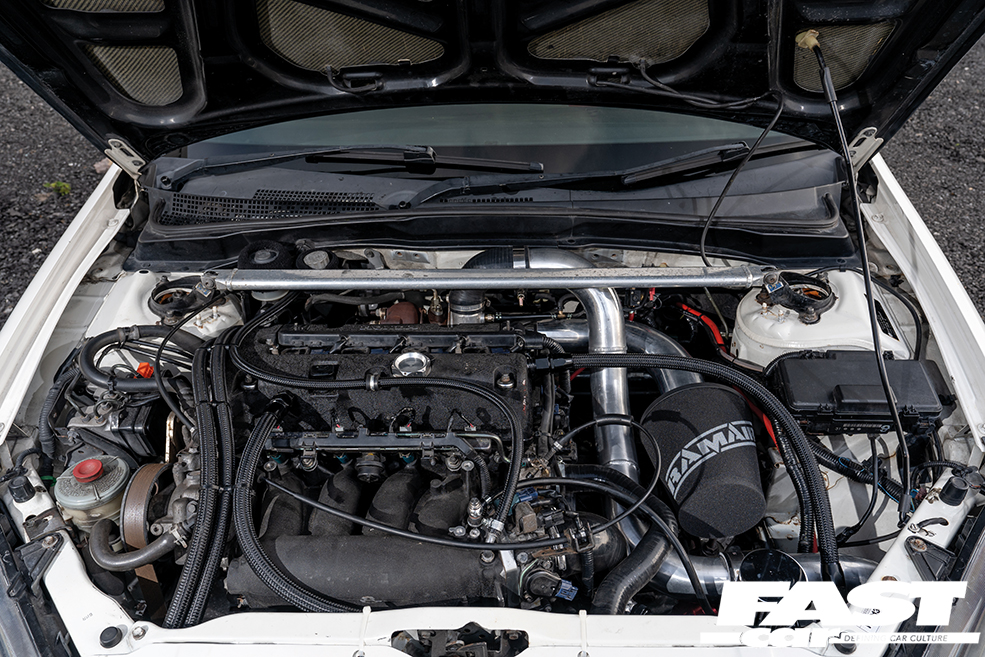 "After Japfest, I found a guy local to me that had a DC5 for sale and I offered him a swap with my Evo. He agreed and the rest is history," says Phil. "I kept it NA for a year and did the intake, headers and exhaust, plus a remap to bring it all together, ending up with maybe 30-40bhp extra." Having used the 'Teg hard on track too, Phil got to really know the car.
The Type-R already had a few upgrades, including strut braces, an induction kit, carbon-Kevlar bonnet and a large rear wing and would make a perfect project.
"I drove it like that on road and track for a good while and really enjoyed it," says Phil. Then he made the decision to take a trip to the Nürburgring and that's when things moved up a gear.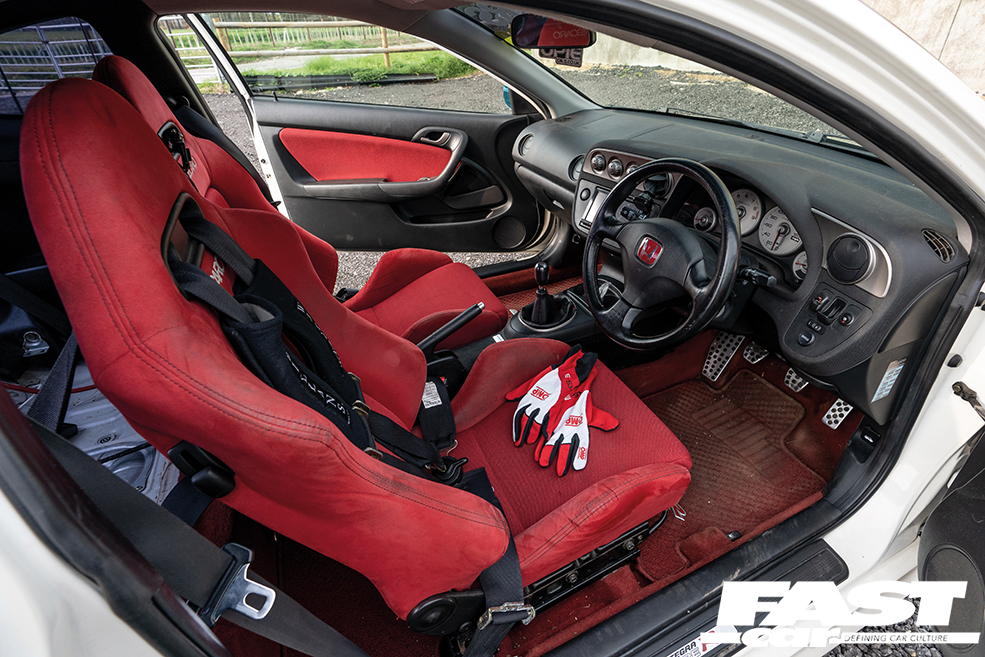 "The 'Ring is a Mecca for carnuts and for my first time I set myself the target of a sub-10-minute lap." Having achieved a creditable 9min 30sec, Phil decided now was the time to really go for it.
"I started researching turbo kits and spent a lot of time on internet forums and websites. I didn't just want to go to a tuner and hand over £10k for a full build," he says. Not that there's anything wrong with that, he just wanted to go about things his own way and use a local company.
"Through my research I realised that, because I wasn't going to be running huge boost levels, there was no need for a fancy manifold or fuel system." Phil spent the next 12 months gathering a selection of hand-picked parts for his turbo build. "They were all used, but I went for reputable brands, not cheap parts," he explains. Having heard good things about Leadfoot Racing, Phil met up with Ed and Chris to explain what he wanted.
The custom fabrication and turbo specialists looked at ways to maximise performance of this Jap coupe, while retaining the cast manifold. The end result is a 400bhp screamer that should take performance of the fierce front driver to the next level. And I'm about to get a first-hand demonstration…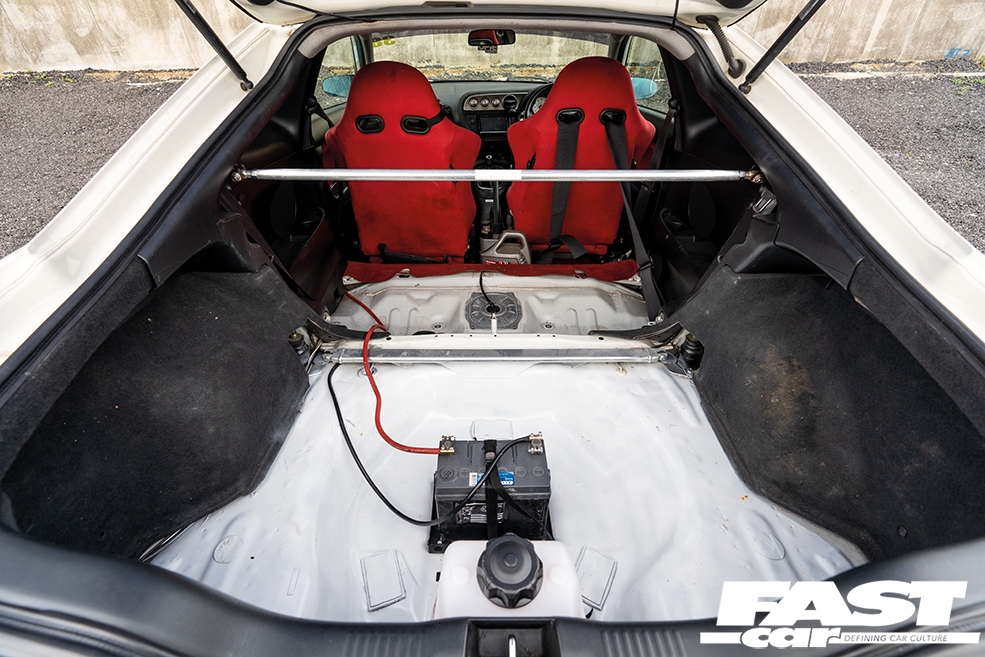 We're pootling along in second, when Ed, looks across with a big grin, before planting his right foot. There's a snarl from the K20 motor, as the Garrett hybrid turbo spools up and at 3500rpm all hell breaks loose. Ed wrestles with the wheel as the torque steer kicks in, but when it hooks up – we're flying. Then he snatches third, which is when things really get lively.
The acceleration is brutal – proper old skool pin you back in the seat stuff! On this private road, we're quickly hitting 120mph, then hard on the brakes to do it again. The performance is savage, intensified by the stripped out interior and ultra firm suspension, but it's the noise that really gets you.
The sound from the engine is incredible – every time Ed nails the throttle, there's a shrill metallic "braaaap", which just gets louder and angrier until he changes up. Then it starts again. This thing is a real assault on the senses – you can feel, hear, taste and even smell it – I can only imagine how much fun it will be at the 'Ring.
"Since I got it back from Leadfoot Racing, I've been using it as a weekend toy (and for the  occasional school run!) and getting used to the power," says Phil. "Boost is limited in first and second, but it's still scary; it needs wider rubber next to help get the power down."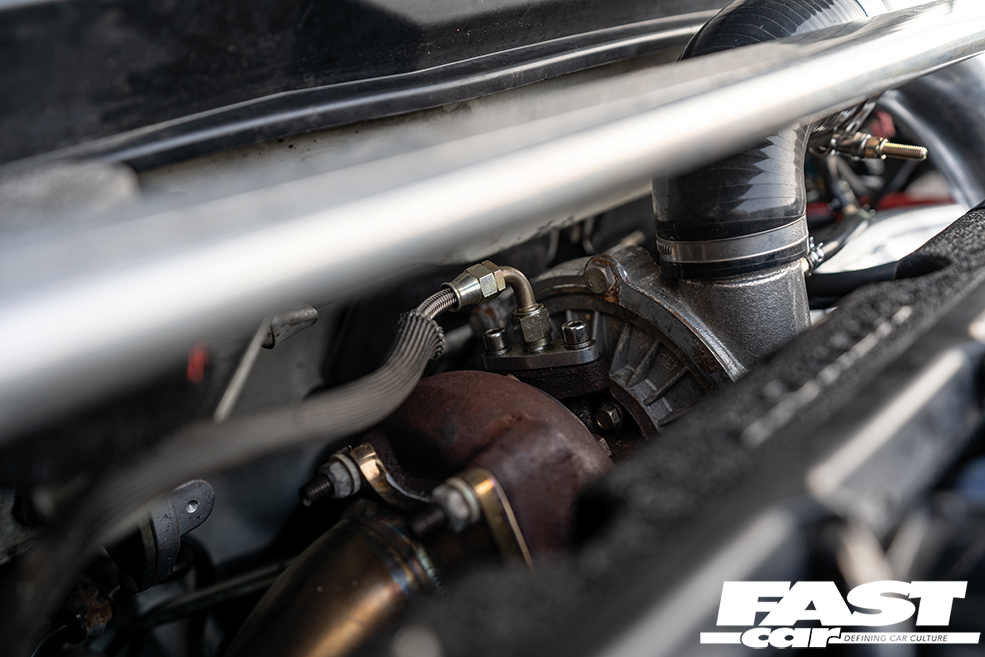 Open the cool carbon-Kevlar bonnet and you'll find a tidy looking K20A engine. The 2.0-litre unit originally pumped out a healthy 220bhp, but with the addition of the Garrett hybrid turbo alongside supporting mods, this one now makes a potent 400bhp. But it isn't about the peak figures. "I wanted this to give a linear drivable performance," says Phil. "I wanted to retain the character of the VTEC, so that it kept going and didn't drop off like many turbo cars do." The mapping was taken care of by Jessie Halford and Phil couldn't be happier with his work.
The bay is dominated by a large Ramair cone filter which makes a lovely induction snort when you rev the eager VTEC unit. It also helps maximise airflow, which on a tuned engine like this pays huge dividends. The smart looking alloy pipework was fabricated by Leadfoot Racing and not only provides optimum airflow, but also features superb welds. To keep this hard charging 'Teg cool on track, Leadfoot Racing installed a large front mount intercooler and oil cooler.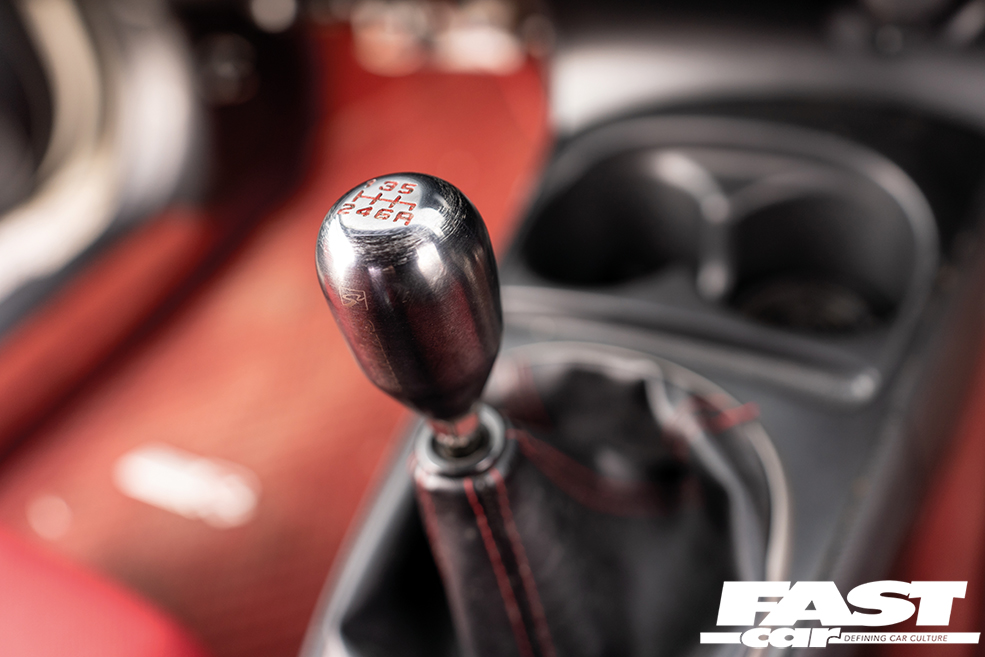 The track focus is clear to see from the exterior. Up front there's a Mugen front bumper, which has been joined by some aggressive looking canards ("Thanks to my buddy Lee at Payne's Fabrication," says Phil). The wheels, shod in grippy Yokohama rubber sit nicely in the arches, but the stance and ride hight has been dictated by dynamics rather than aesthetics. The Ohlns coilovers are very firm and pretty unforgiving on the rutted B-roads we've just encountered, but on track they come into their own. A full complement of poly bushes removes any further semblance of give, in an effort to make this chassis as sharp and communicative as possible.
Inside, you'll find the usual DC5 Recaros finished in red, which do a fantastic job of keeping your butt in place when things get hairy, while also remaining comfortable. It's definitely a case of if it ain't broke, don't fix it. The stock leather covered Mono wheel is also present and correct as is the lovely, weighty gearknob. The perfectly formed alloy knob is matched to that rifle bolt shift action that feels so right as you swap cogs. On the face of it, this DC5 cabin looks quite ordinary, until that is you spot the clues; a pair of ultra tacky driving gloves and a tyre pressure gauge.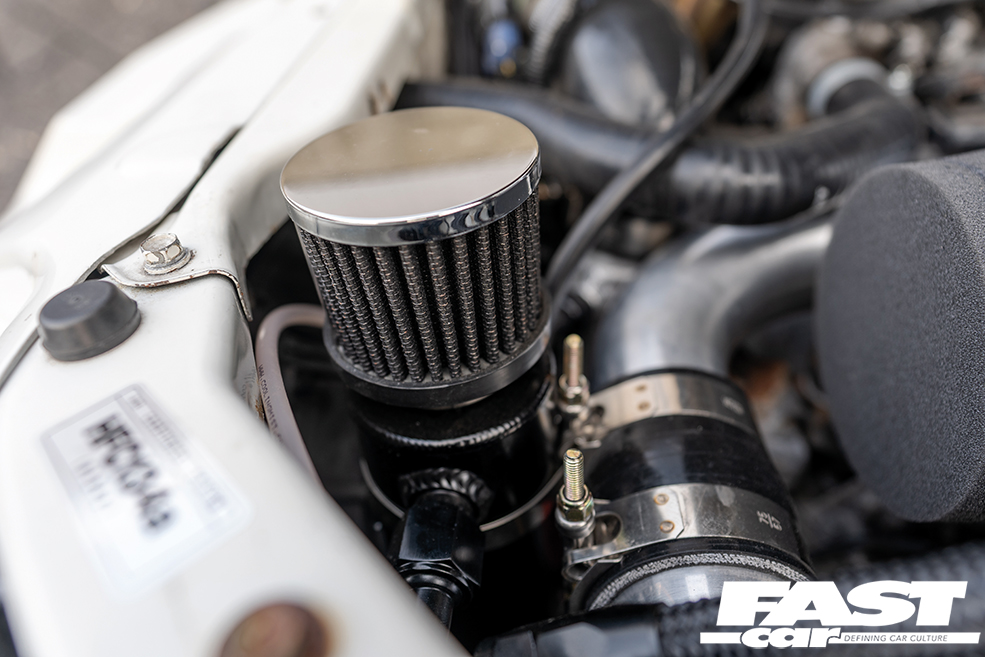 Peek your head behind the seats and you'll find a whole lot of nothing. The rear seats and all trim has been removed in a bid to save weight and in its place you find a relocated battery and the Coolingmist water meth system.
The rear end is dominated by the large wing, which does provide downforce, but also looks the part combined with the aggressive front of this 'Teg. Passers by are left in no doubt that this thing has been designed for hardcore use. The keen eyed may notice the tow eye to the rear as well as the downswept tailpipe – which funnels at least some of that thunderous noise under the car. "It will need silencing for track," admits Phil, "but I want to enjoy the sound of it on the road for now."
It's clear there's a lot more to come from this hard charging DC5, including that first trip back to the ring later this year, but in the meantime, Phil is going to enjoy his new toy. And rightly so.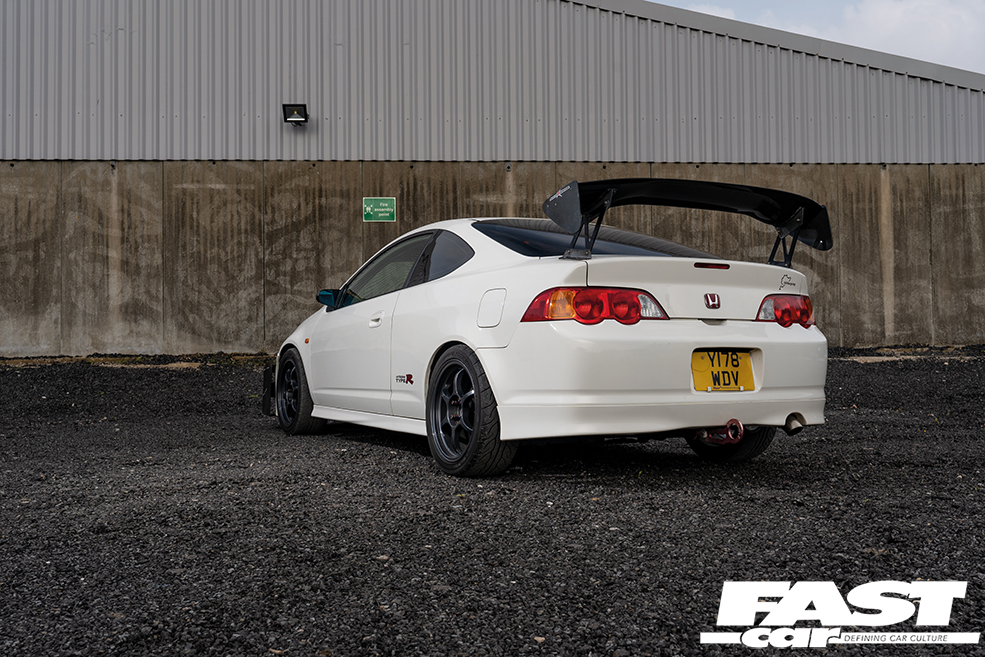 Tech Spec: Modified Integra Type R DC5
Engine:
2.0-litre K20A i-VTEC engine, cast log manifold, RBC inlet, Ramair cone filter, Leadfoot Racing intercooler, Leadfoot Racing custom 3-inch exhaust with downswept tailpipe, Garrett T3/4 hybrid turbo, oil cooler and catch can, Deatchwerks 850cc injectors, Walbro 255 pump, Hondata k100 mapped by J.Cal, polybush engine/gearbox mounts, Koyo radiator, J's racing sump/gearbox drains
Power:
400bhp and 270 lb/ft
Transmission:
6-speed manual, factory LSD, Competition stage 4 clutch, Tegiwa short shift with K-Tuned pillowball
Brakes:
Brembos with M-Tec discs and PBS pads
Suspension:
Ohlins coilovers, Hardrace steering arms/track rod ends, Buddyclub roll centre adjuster, front and rear adjustable camber bolts, fender braces, Spoon front and rear braces, rear tie bar
Wheels and tyres:
6-spoke 7.5x17inch ET23 Advan RG1 alloys with 215/45x17in Yokohama AD08R tyres
Interior:
Full Type-R spec including red Recaro seats, Momo leather steering wheel, Willans driver's harness, Skunk2 billet alloy gearknob, rear stripped out, Coolingmist water methanol injection set-up, battery relocated
Exterior:
Varis carbon-Kevlar bonnet, Mugen front bumper, custom splitter and canards by Paynes Fabrication, M&M Honda carbon rear wing, Spoon carbon mirrors, Datum1 tow eye
Thanks:
"Ed and Chris at Leadfoot Racing for the turbo installation www.leadfootracing.co.uk, Jessie at J.Cal for the mapping, Lee at Payne's Fabrication for the canards."
Feature taken from Banzai magazine. Words and photos: Davy Lewis