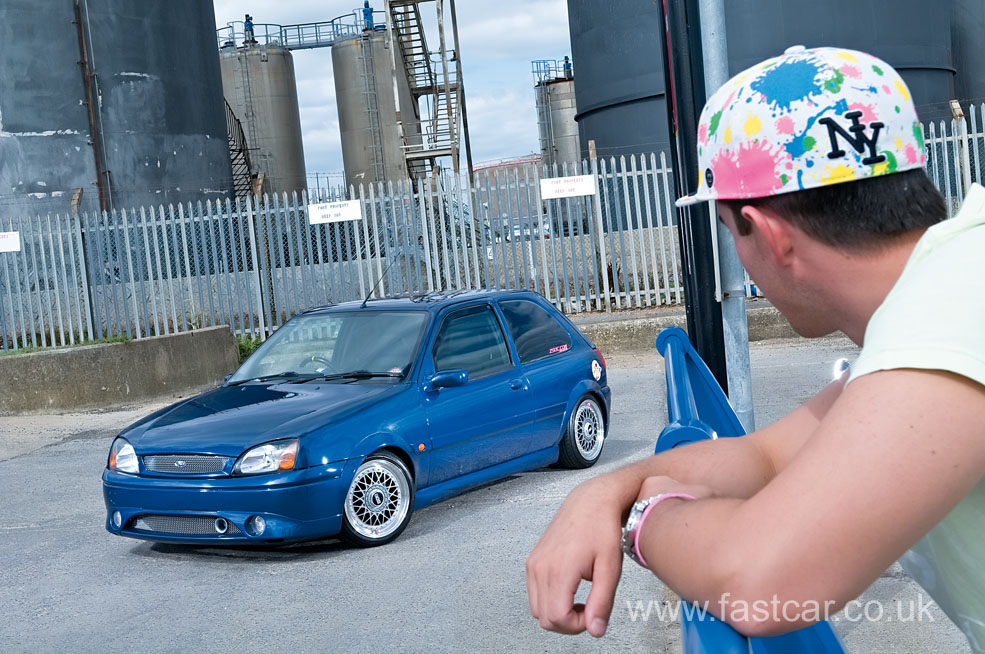 Ross Nicholson's modified Ford Fiesta Zetec S
Remember when you were 16? Our G can't. But, for the rest of us, it was the most important year of our lives, and I'm not talking about passing your GCSEs or legally being able to tuck your winkle into a lady. Nope, it was the year where you counted down the days until you could get on the road and get your hands on your first ride.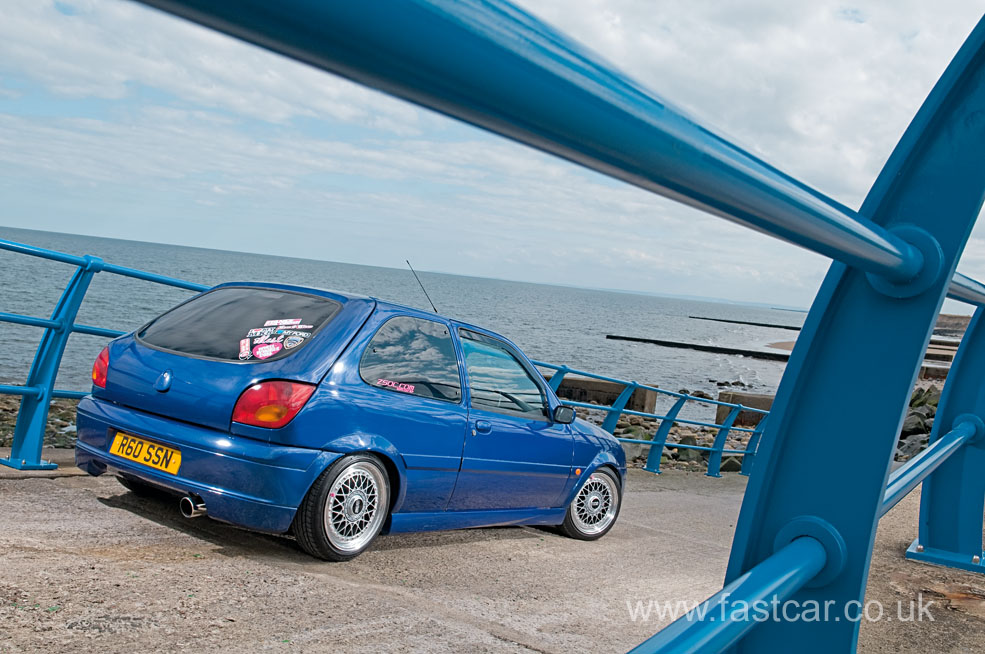 The problem we all faced though was getting a car that was cool. Ross Nicholson knew exactly what he wanted: "I couldn't afford a Cossie or anything like that," he says. "But I also didn't want to end up with my mum's old shopping car." So he settled on a Mk.5 Fiesta Zetec S, which, thanks to its revvy little 1.6 engine and 105bhp, has enough power to show up his peers in a drag race, but is also cheap enough to insure.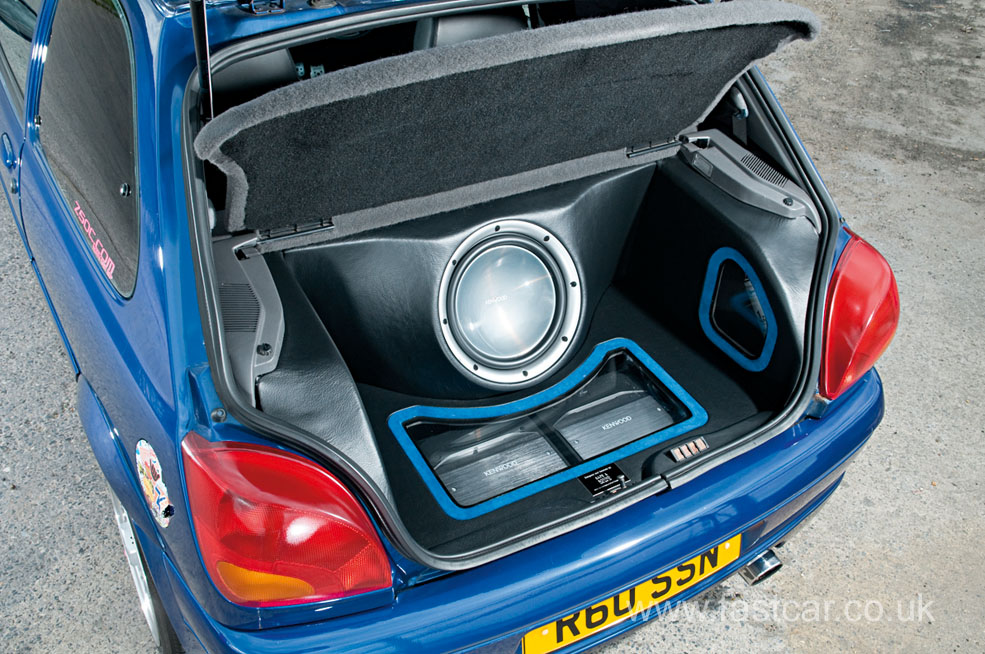 So despite the fact he was only 16, Ross went hunting to catch himself a good Zetec S. But it was Ross' mum who spotted this one for sale, just three streets away from their house. After a quick chat and few checks Ross found he had a set of keys in his hands.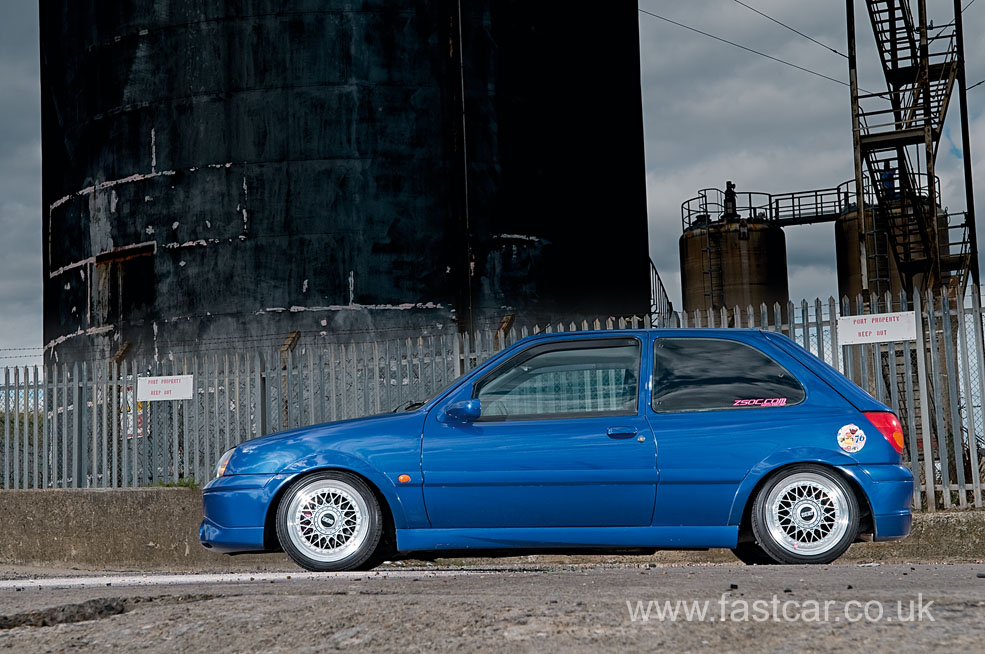 Rather than just letting it sit on the drive until he turned 17, Ross decided to utilise the time by tinkering with it. He started with a bit of colour-coding, window tints, a set of lowering springs and powdercoating the standard wheels white. When he finally got behind the wheel he loved it. Compared to his mates' cars, "it felt like a rocket ship".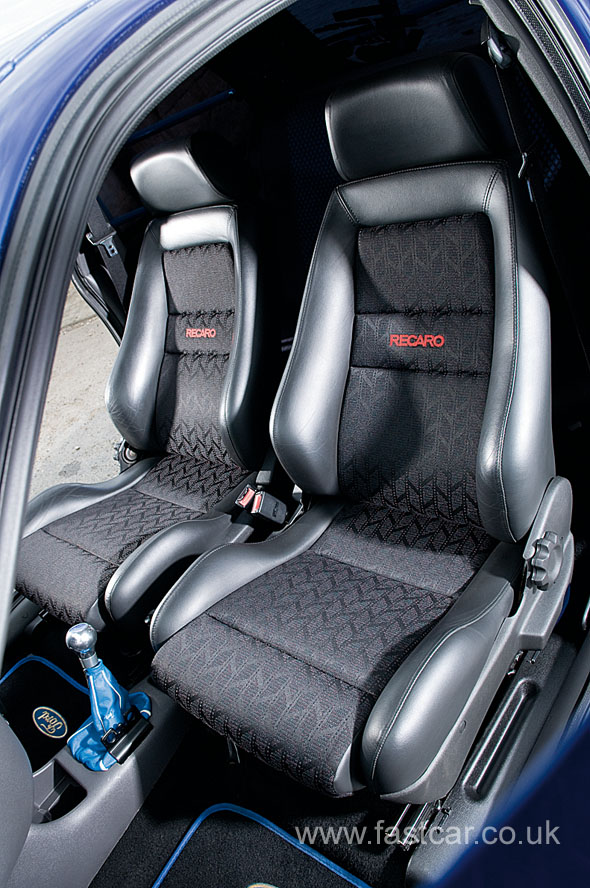 The car remained as it was for about six months, but when he signed up to the ZSOC.com forum and got chatting to like-minded peeps he was quickly persuaded that a K&N induction kit and full Milltek exhaust were needed. Then more power. So Ross made the call to Shawspeed. It soon ended up being a full-on rebuild, with new pistons, new valves and some of Shawspeed's SS4 cams. With the car remapped it's kicking out between 140-150 bhp.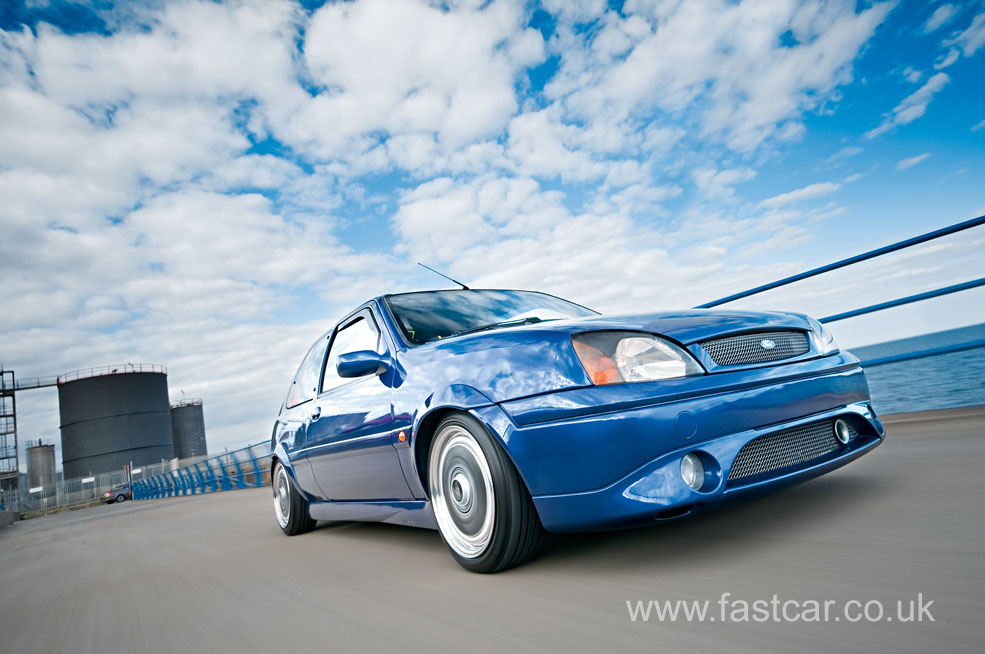 Those gorgeous BBS split rims were a Christmas present from his mum and dad. To get the wheels looking right, Ross decided a set of AP coilovers were needed, along with Turismo arches. So the car was sent off to the bodyshop for more smoothing, flushing and the fitting of those arches.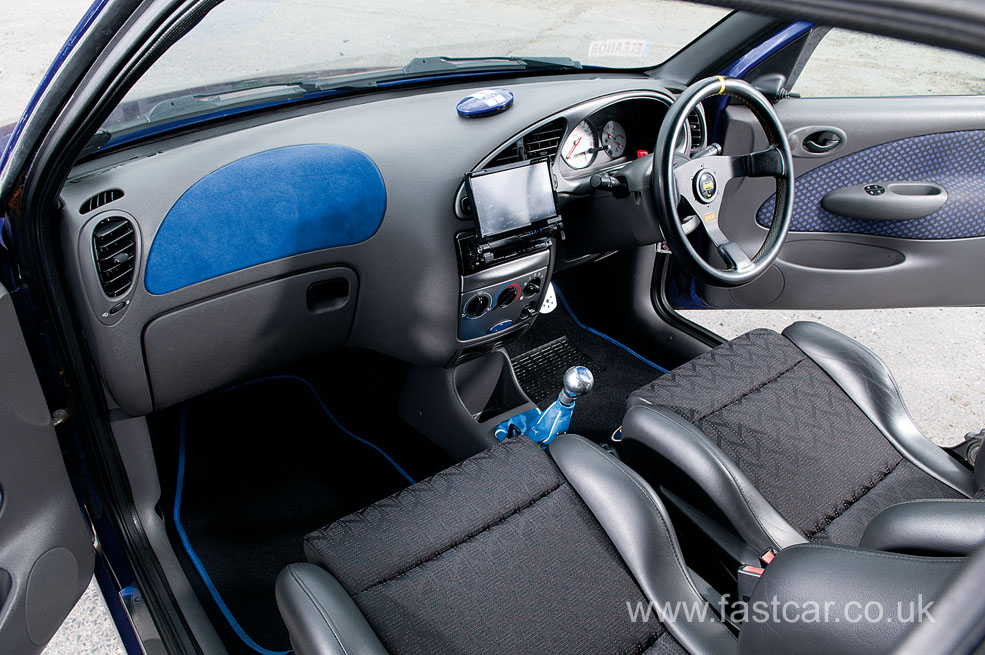 The last area to sort was the interior and he sourced a set of Rover 800 half leather Recaro seats, modified the subframes and bolted 'em in. The deep dish steering wheel was the last thing to go in and it complements the interior nicely.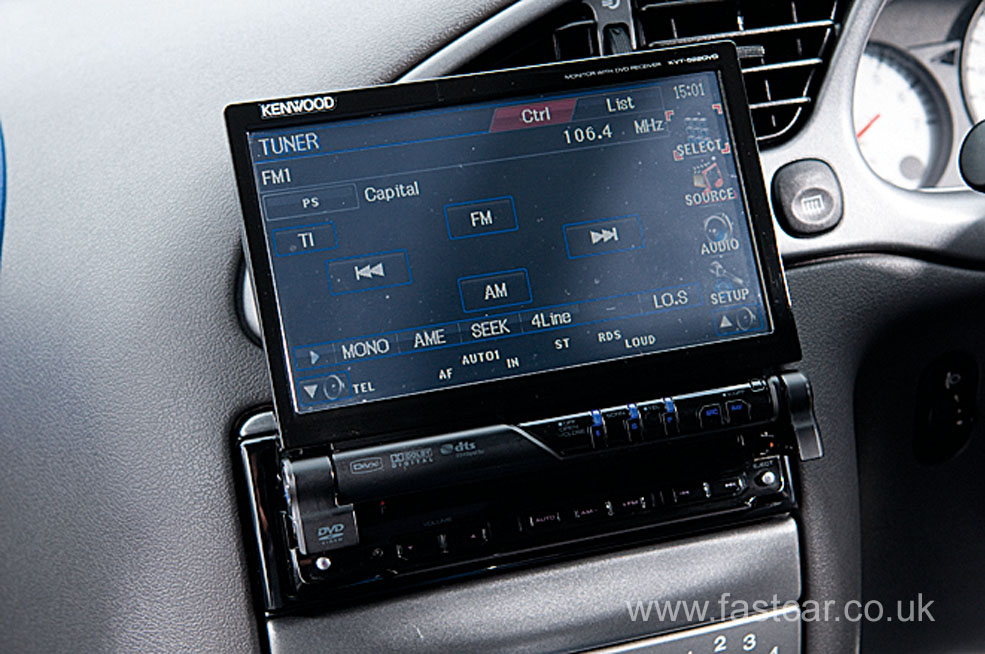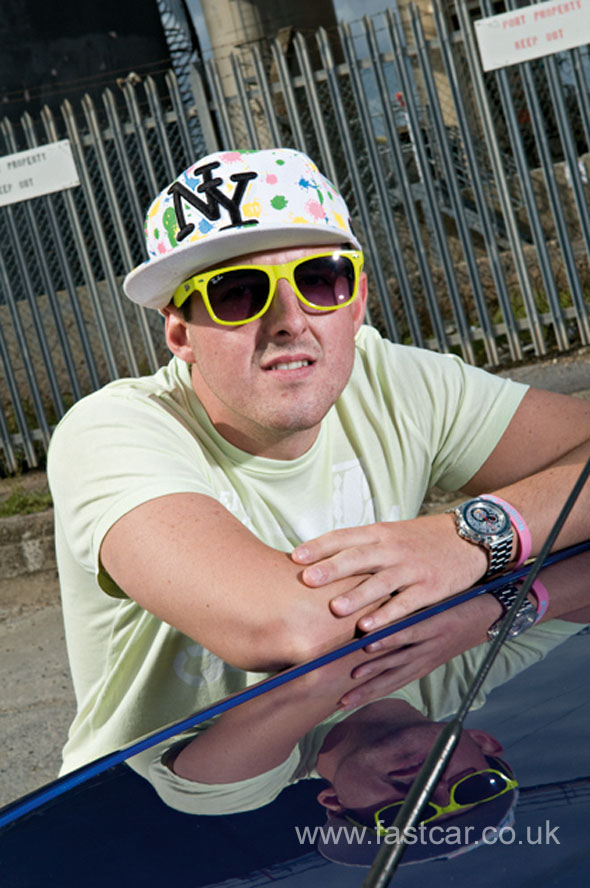 FIESTA ZETEC S TECH SPEC
ENGINE
1600cc 16v Zetec SE; Shawspeed pistons, rings, valves, stem seals, head gasket, Shawspeed SS4 camshafts from blank; Milltek Evo 4-2-1 manifold; Milltek decat pipe; Milltek cat-back with inward rolled 3.5-inch tip; K&N 57i induction kit with direct cold air feed; est 150bhp; 115 lb/ft; mapped by MSD with rev limit set at 7,050rpm.
CHASSIS
Factory Zetec S callipers with Black Diamond drilled and grooved vented discs and Mintex pads; Mintex rear shoes; fully adjustable AP coil-overs; E-Tech front upper strut brace; 20.5mm rear axle spacers; full geometry set-up including caster, camber, and tracking levels all set correctly; BBS RM004 6.5×15-inch split rims with ET38 offset; polished lips and spoke face and Nimbus grey inner spokes; 165/50×15 Bridgestone Potenza stretched tyres.
STYLING
Fully colour-coded body, including bumper strips, door handles, roof rails and mirror base plates; smoothed front bumper with off-body number plate bracket; de-badged and de-wipered bootlid with smoothed and colourcoded handle and rear spoiler removed; tinted windows; smoked front headlights; Euro rear light clusters; legal pressed metal plates with private reg; upper and lower mesh grilles powdercoated nimbus grey with DMB gel overlay; fully colour-coded Turismo arches; sticker-bombed rear window; Team Heko wind deflectors.
INTERIOR
Rover 800 Recaro half leather seats with custom subframes; OMP deep dish steering wheel; Richbrook shifter and leather gaiter.
AUDIO
Custom boot build; Kenwood 7-inch screen, mids and tweeters, 6x9s; amps and subwoofer; PS2.