Out of the box, the F90 M5 is already an incredible machine, but with a 1000hp modified engine on board, it turns into something truly awe-inspiring.
Feature from Performance BMW. Words: Elizabeth de Latour. Photos: Dom Ginn.
The F90 M5 is not a car we've seen a whole lot of here in PBMW, and that's not too surprising. It's a seriously expensive car at over £100k new, and used ones aren't exactly accessible to most of us, and if you then want to mod it, you're going to have some pretty deep pockets. Or course, it goes without saying that if you could, then you absolutely would; Stan Petreikis did, and he's built himself an absolute monster.
While Stan's motoring passion may not have always been with BM, he has always been a proper petrolhead. Growing up in Lithuania, indulging his passion for cars was something of a challenge, to say the least, and knowing that it's even more understandable why he's built himself such a beast of a BM. "Back home, second-hand Cat S-repaired imports from Germany sold privately without MOT, warranty or any other basics is what you would normally settle for if you were lucky enough to have saved $2000-$3000," explains Stan. "Driving anything but a Lada or Moskvich would make you feel like Manny Khoshbin taking his Hermes Pagani Huayra for a spin," he laughs. For Stan, it was his dad's Mazda 626 GLX 2.0 that made him feel special every time he took it for a night drive, but it was the BMs that beat him at the traffic light Grands Prix that he had his eye on and a manual E30 was his dream machine back then. Stan's first car, purchased with his own money, was a 1992 Mercedes Benz 190E 2.3 in Signal Red, and it ended up saving his life after a bad crash on an icy road thanks to being so damn solid. "My parents were convinced that having suffered a back injury followed by surgery and months of rehabilitation, I would not be keen on anything fast again. But they were wrong," grins Stan. "I got myself a Subaru Impreza 2.0. It was nothing like a WRX, never mind a WRX STi, but having spent all of my savings, I wanted it at least to look like one. This is when my first modification ideas materialised in bright yellow can-sprayed brake calipers and custom alloy wheels. Since that moment, I became obsessed with it. I can confirm: tuning is an addiction," he laughs, and we're with him there.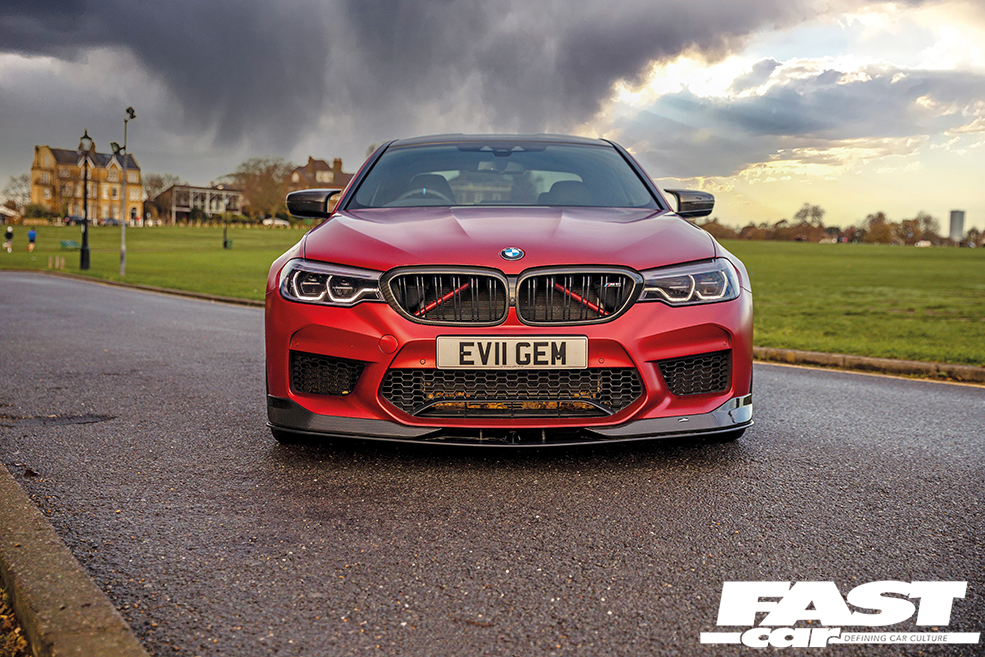 The next big chapter in Stan's motoring life began when he moved to the UK, and things changed drastically for him, for the better. "I realised I didn't need to spend half of my monthly earnings on petrol as I did before in Lithuania. I could afford to buy and drive my first petrol-thirsty BMW, an E90 335i. This purchase cemented my passion for BMWs," he smiles. "It was a fast, reliable, rubber-hungry daily driver, which offered endless opportunities for custom mods. Almost immediately, I flashed the ECU with a Stage 1 tune, fitted an aFe air intake and lowering springs, to name just a few mods. As soon as I could afford my first true M car, I bought an E93 M3 Convertible," grins Stan and this didn't stay stock for long, gaining coilovers, a custom Brembo BBK and, most importantly, an ESS supercharger kit. "I did over 70k miles in five years and enjoyed every moment behind the wheel, but having 650hp all at the rear wheels meant that even 295 Pirelli Trofeo R tyres were struggling with traction on a sunny day," he says. "I remember one day I was at Santa Pod Raceway queuing for another quarter-mile joy ride, chatting to Imran from Evolve about his car, and he mentioned the same traction issues which I was having in my M3. He already knew a new 4WD M5 was due soon, so he was very enthusiastic about it and as soon as I got back home that day, I Googled the F90 M5…" and that brings us neatly to the car you see here.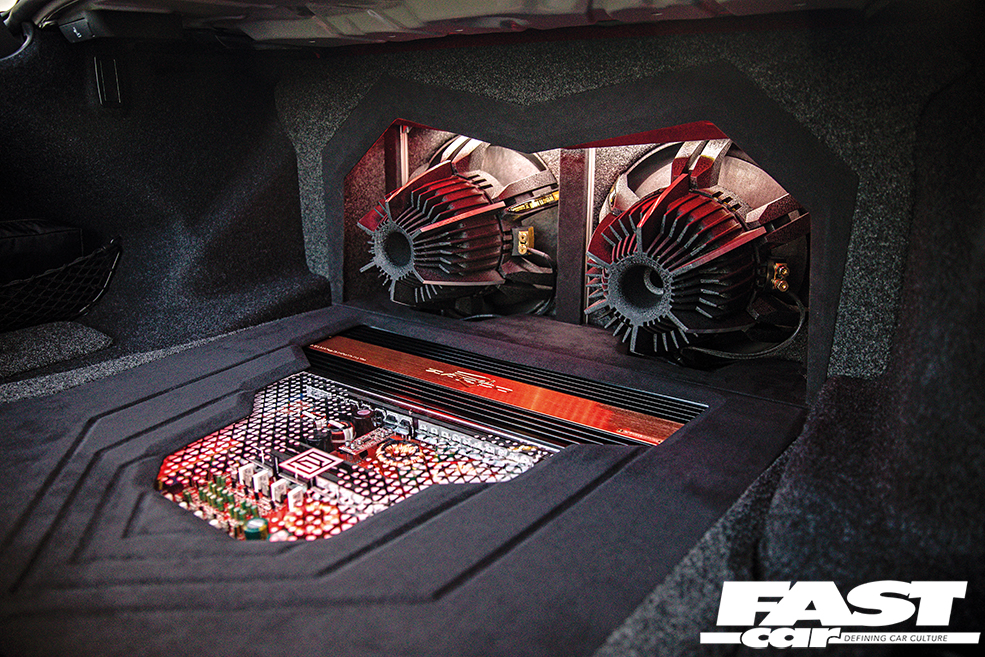 "I wanted to get an F90 for almost two years before I actually bought one. The main point of having a 4WD M car was to finally get all this Bavarian power under control. But the prices of new F90s were completely out of my reach, and I had to wait. Finally, last year, I spotted an Approved Used example with low mileage, under 15,000 on the clock. It was reasonably priced, and after making several phone calls one day later the papers were signed, and the car had its new owner," smiles Stan, His younger self, tearing around the streets of his home town in his dad's Mazda, could surely never have imagined something like this ever becoming a reality.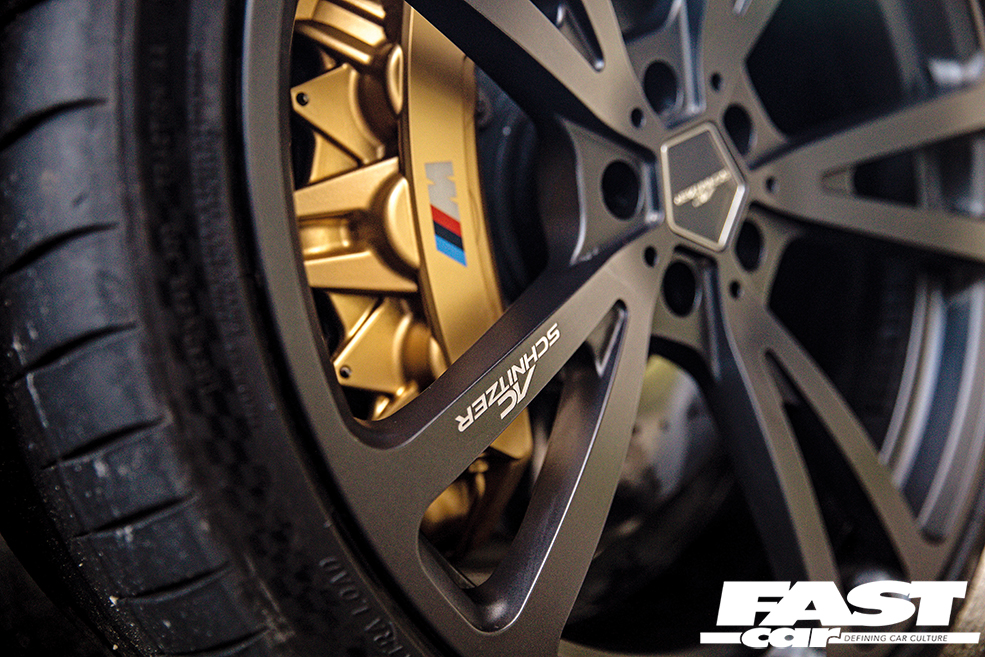 Now, this should have been the end of the story; "I had no plans whatsoever. I actually thought I will not do anything as it was already the car of my dreams," Stan says with a smile. But, in his own words, modding is an addiction, and that meant it wasn't long before he started to get some ideas creeping into his head because while the F90 M5 may have been his dream machine, that didn't mean it was perfect…
"The only bit I didn't like too much was its Alpine white colour," Stan explains. "And having decided on the wrap colour, somehow an AC Schnitzer carbon kit and wheels came into the equation," he adds with a laugh. "Oh, I completely forgot to mention their exhaust too. Having watched several YouTube videos, the sound of the AC Schnitzer full exhaust seemed to be low and aggressive. With matching carbon tips to complement the BMW performance diffuser, boot lip, front carbon grilles and mirror caps it was a must. As I was about to finalise the order, Enrico from ACS in Germany reminded me of their lowering springs, which then got added to the shopping basket," he chuckles. " A few months later, a carbon-ceramic brake kit was installed, and a few weeks later came the GruppeM carbon air intake."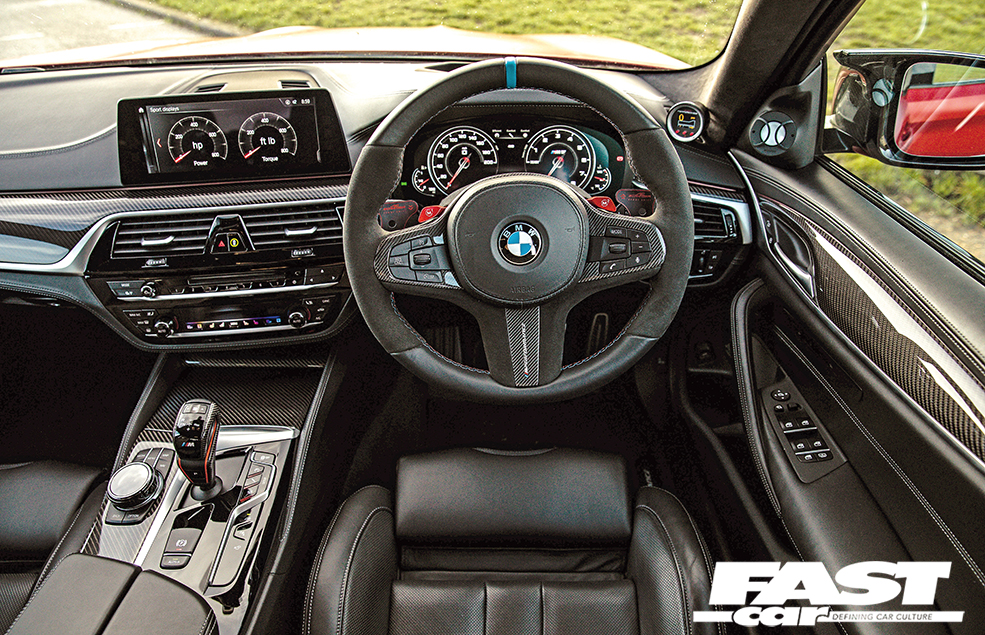 For a man with no plans, Stan has certainly put together an awesome-looking M5. The wrap is called Vampire Red, and it's stunning, a rich matt red which is a bold choice for a big car like the F90 but it works so well. It really accentuates the car's lines, and the light picks out all the details far better than it ever would have done when it was Alpine white. As for the carbon additions, well, you can never go wrong with carbon, and while subtle, the ACS kit adds just the right amount of visual drama. "I was always a huge fan of ACS and finally had a car worthy of its body kit," explains Stan. "I didn't like the rear wing spoiler, as to my taste it was too aggressive and made the car look, if one can say that, a bit 'kitsch'. So I decided to get a BMW M Performance rear boot lip spoiler instead, along with mirror caps and a front grille," he says, and all these different elements work together perfectly. The front splitter is certainly not shy and really fills out the M5's front bumper, while the massive nostrils look all the better for being finished in carbon. The mirrors and side blades enhance the car's flanks, while at the rear, the aggressive diffuser and sculpted spoiler really ramp up the aggression. Meanwhile, the massive quad tips that emerge from the modified F90 M5's rear bumper ensure you're left in no doubt that this car means business.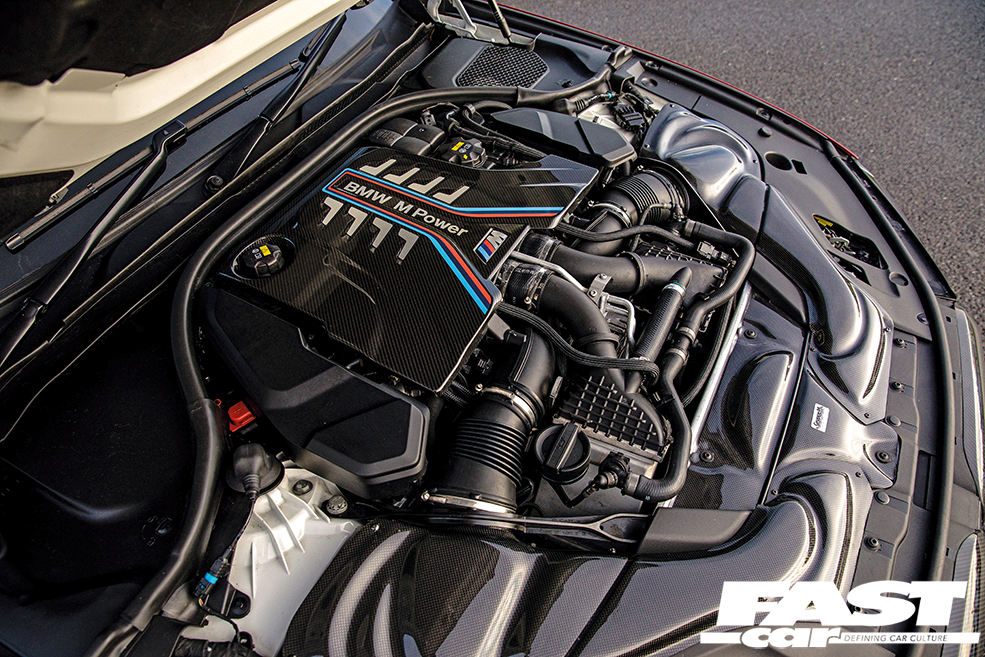 Despite only running on a set of lowering springs, Stan's M5 looks fantastic; the drop they deliver is seriously impressive, and they have got this F90 sitting just right, while the arches are filled to perfection by those 21" AC Schnitzer AC3 Flowforming wheels finished in anthracite. "I did consider other wheels from Vorsteiner and Hamann," says Stan, "but it made more sense to go for ACS wheels as all the body kit was also from ACS. I did really like the anthracite look of them to match all that beautiful carbon," he adds, and the style and shade really suit the F90's design.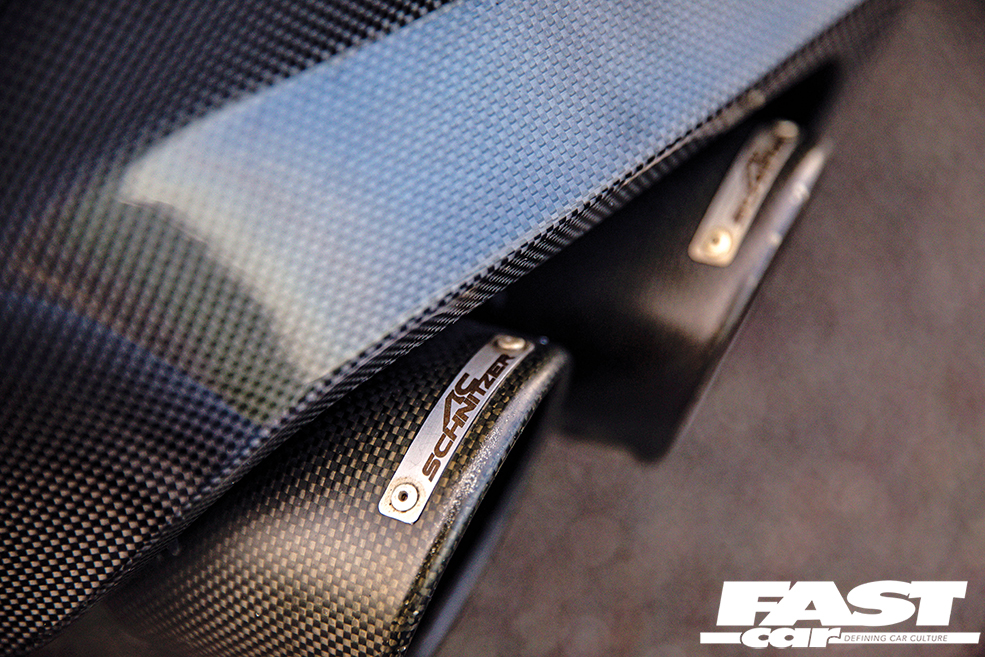 There's no missing the gold calipers of the massive carbon-ceramic brake kit clearly visible through the spokes, and while they might seem like an extravagant expense, for Stan, they're one of his favourite mods on the whole build. "This is probably one of the top three mods for me. Having driven the modified F90 M5 for a month, I could tell the future of the stock brakes was not bright at all," he says. "I started to feel barely noticeable steering wheel vibrations while braking. The stock steel discs overheat and in combination with standing water on countryside lanes, that means only one thing – deformation and vibration. I had it on my E93, and any new steel rotor lasted me two to three months max before I started to feel it through the steering. With carbon brakes, it's a completely different story, and the harder you brake the better they become. It's very encouraging," he smiles, and capable brakes are necessary when you see find out what's going on under the bonnet.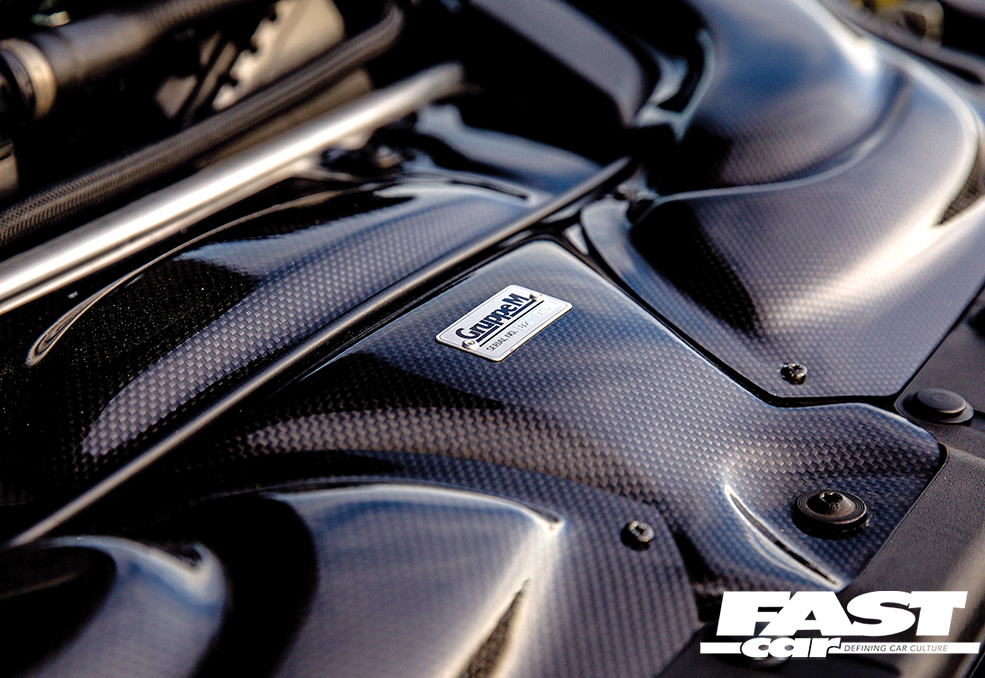 "One evening, I was on my phone browsing online for advice on how to upgrade the turbos, as this was the next mod on the to-do list when I came across Texas-based tuning company RK Autowerks," Stan tells us. "It had awesome reviews, and I instantly asked about turbo upgrade options. After a quick exchange of emails, I was already on WhatsApp talking to company founder Raza about a forged build engine capable of 1000hp+. Completely coincidentally, he mentioned that he actually knew Imran from Evolve for many years and that they already had plans for building two engines, and if I was interested, he would consider building a third one! I immediately agreed, and a few months, later Raza flew from the US to build three M5 engines in under two weeks. I dropped the car off on Friday, and by Thursday the following week it was all ready, and then I just had to wait another week for the installation of a meth kit after Raza flew home."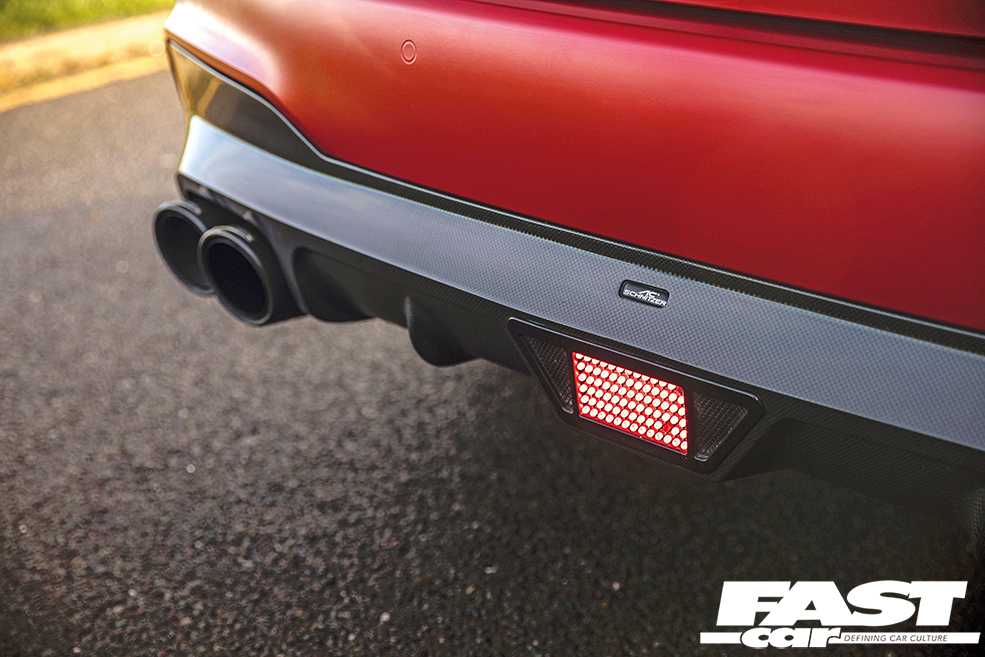 That puts into perspective the scale of this build, and the engine spec is simply monstrous: there are Carrillo Rods with CARR bolts, CP pistons, a micro-polished crank with balanced rotating assembly, RK-spec rod bearings, all-new gaskets, seals, stretch bolts, a rebuilt oil pump, RK Autowerks bolt-on GTX3076R turbos in stock S63TU4 housings, plus that Snow Performance methanol injection setup and it's all finished off with a custom Utku tune. While Stan hasn't had his car on the dyno just yet, all the M5s running RK's built engines have hit at least 1000hp, meaning this is just an insane machine, and the performance is simply off the scale – hats off to Stan for taking his modified F90 M5 all the way and then a little bit further…
The last part of the car that we've got to talk about is the interior. Stan has added the usual elements like a BMW M Performance steering wheel, AC Schnitzer paddle shifters and some sexy custom carbon fibre interior panels, but what we weren't expecting was the absolutely astonishing audio setup that he has had fitted, and it's nothing short of spectacular.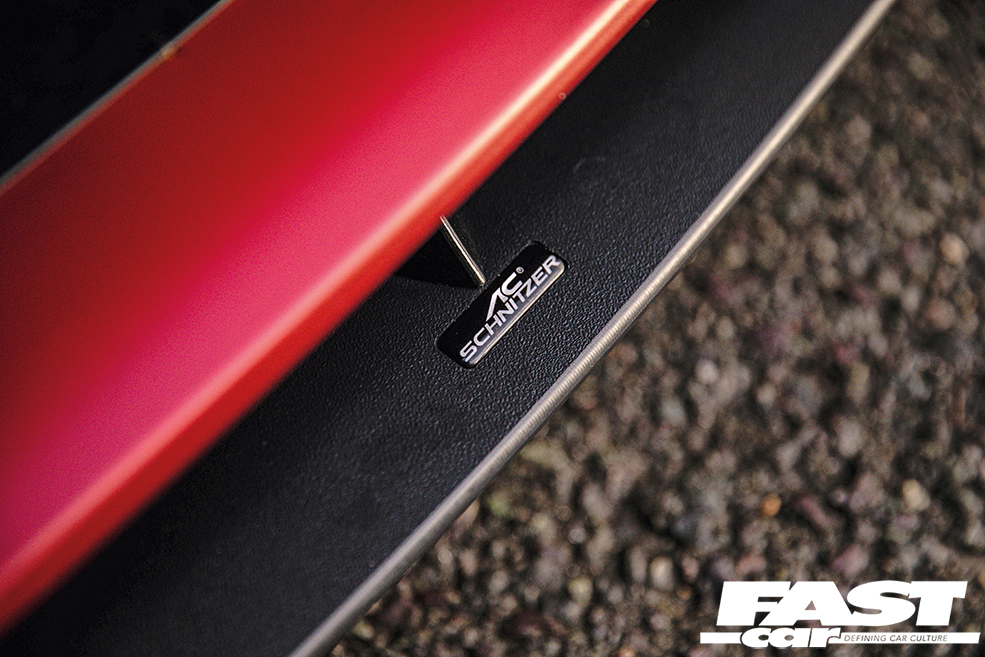 "The sound is absolutely insane, and I'm not talking about the brutality of it, its musicality," enthuses Stan. "The components used were the top pick, but what I would like to mention above all is the quality of the installation itself. It took three full weeks for Peter from Pssound to do it, and probably over two months of discussion before that between us to refine all the details. The amp rack and the baffle for the two 15" JBL GTX subwoofers were made of 20x40mm aluminium, super rigid, yet lightweight. The rest of the setup is as follows: Accuton Automotive C30AM tweeters in custom sails, C100AM mid-ranges in OEM locations, HK mid-bass in the OEM locations plus rear fill, two 15" JBL GTX subs in the boot IB, Helix SDMI25 OEM HU integration, Zapco HDSP-V Z16 DSP+HD BT, Z-150.6 AP amp for front three-ways, ST-2X SQ for rear fill, and Zapco ST2000XMii for the subs, Stinger wiring and Silent Coat wiring. From A to Z the project was completed professionally and with the utmost consideration for my requests and desires. Well done, Peter!" grins Stan, and it's clear that he's a serious audiophile and seriously enamoured with this amazing sound setup.
This modified F90 M5 is an absolutely incredible build; Stan has turned his attention to every aspect of this car and has gone all-out at every stage and every step. It looks good, it sounds good on the outside and the inside, and it has enough power to absolutely obliterate anything out on the road, all while remaining comfortable and refined. It's the ultimate expression of a car that has such a dual personality, it's like a heavyweight boxer wearing the finest tailored suit imaginable – there's a sense of style and elegance, but there's also this barely contained muscle that could burst forth at any moment. It's simply awesome.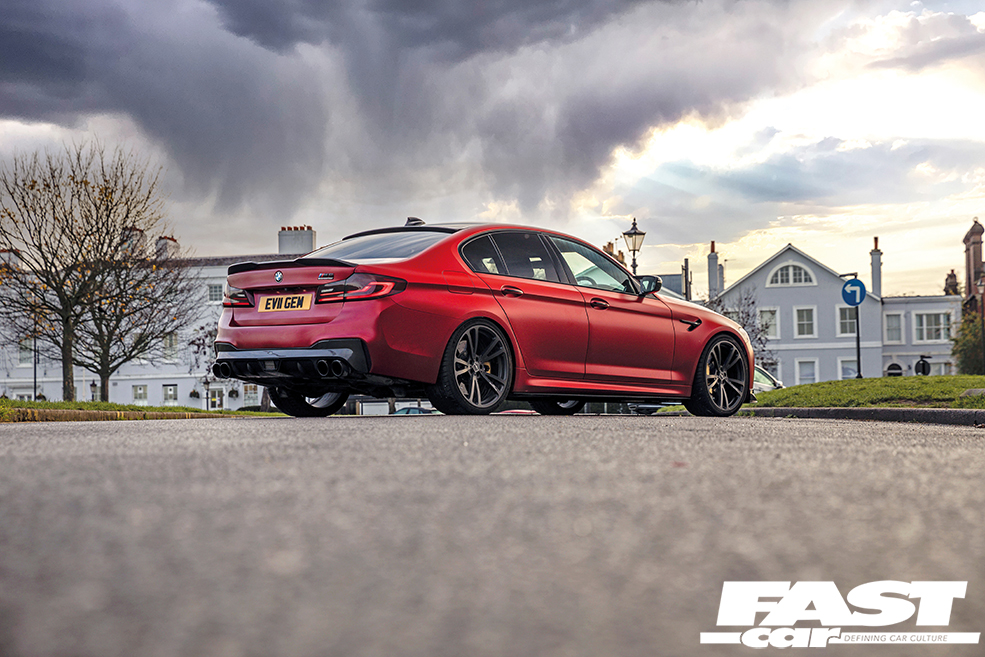 Unsurprisingly, Stan doesn't have a whole lot more planned for this build… "I'm thinking about a carbon hood. Not sure about the look, but it would be interesting to see how it turns out…" he muses. In fact, he went and got one not long after our shoot, and you can see it in our cover pic – it turned out great is the answer. As for what could possibly follow the M5, that thought hasn't even crossed Stan's mind yet; "I think the best philosophy is to enjoy the current one and not to think too much about what I will pick next. There are new, different options coming out all the time, but to make me want to change from BMW something would have to surprise me," he says. We really like his philosophy: he's built himself an incredible car that ticks every box imaginable, and enjoying it is the only thing we'd have on our mind, too.
Tech Spec: Modified F90 M5
Engine & Transmission:
4.4-litre twin-turbo V8 S63B44T4, RK Autowerks forged engine with Carrillo Rods with CARR bolts, CP pistons, micro-polished crank with balanced rotating assembly, RK-spec rod bearings, all new consumables (gaskets, seals, stretch bolts, etc.), rebuilt oil pump, RK Autowerks bolt-on GTX3076R turbos in Stock S63TU4 housings, GruppeM carbon fibre air intakes, full AC Schnitzer exhaust with carbon fibre tips, Snow Performance water-methanol injection, custom Utku tune. ZF eight-speed automatic gearbox
Power:
1000+hp
Chassis:
9×21" ET14 (front) and 10×21" ET24 (rear) AC Schnitzer AC3 Flowforming wheels in anthracite with 275/30 (front) and 285/30 (rear) Michelin Pilot Sport 4 S tyres, AC Schnitzer lowering springs, BMW carbon-ceramic brakes
Exterior:
Vampire Red wrap by EuroTint, AC Schnitzer carbon front spoiler elements with M technology, carbon rear diffuser with brake light, rear roof spoiler and side blades, BMW M Performance carbon fibre grilles, side air vents, mirror caps and boot lip spoiler
Interior:
BMW M Performance steering wheel, AC Schnitzer paddle shifters, custom carbon fibre interior panels, custom audio system comprising Accuton Automotive C30AM tweeters in custom sails, C100AM mid-ranges in OEM locations, HK mid-bass in the OEM locations plus rear fill, two 15" JBL GTX subs in boot IB, Helix SDMI25 OEM HU integration, Zapco HDSP-V Z16 DSP+HD BT, Zapco Z-150.6 AP amp for front three-ways, Zapco ST-2X SQ for rear fill, Zapco ST2000XMii for the subs, and Stinger wiring and Silent Coat wiring