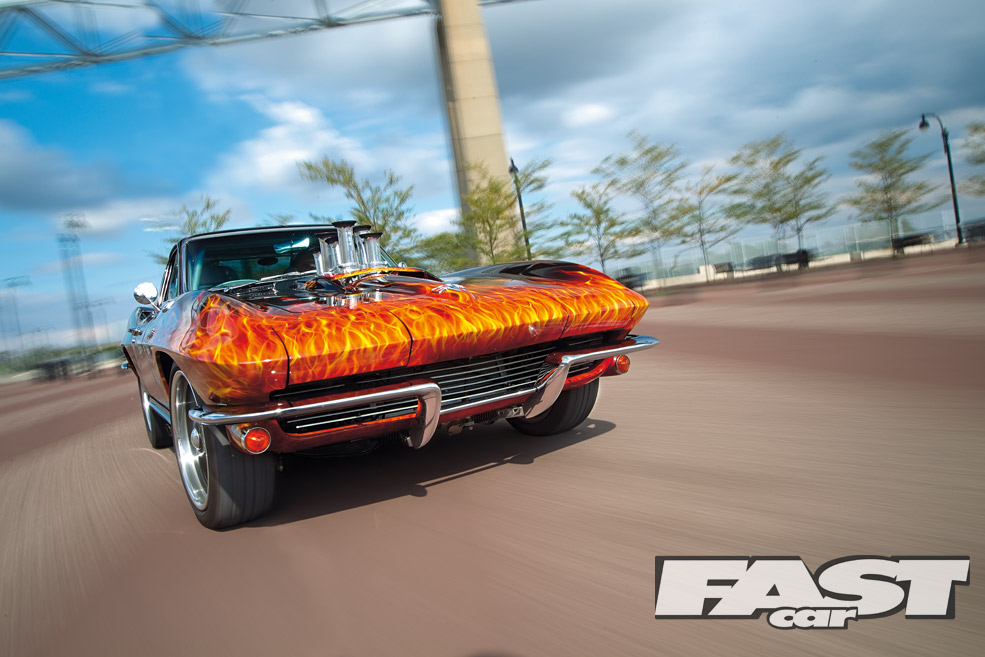 Gino Irvello's 1964 Corvette Stingray
After finding a decent 1964 Stingray shell, Gino parted with $30,000 and set about modifying it. That's a lot of stripper singles to shell out for a shagged out bare shell, but decent early cars are hard to come by and even a dog fetches big money.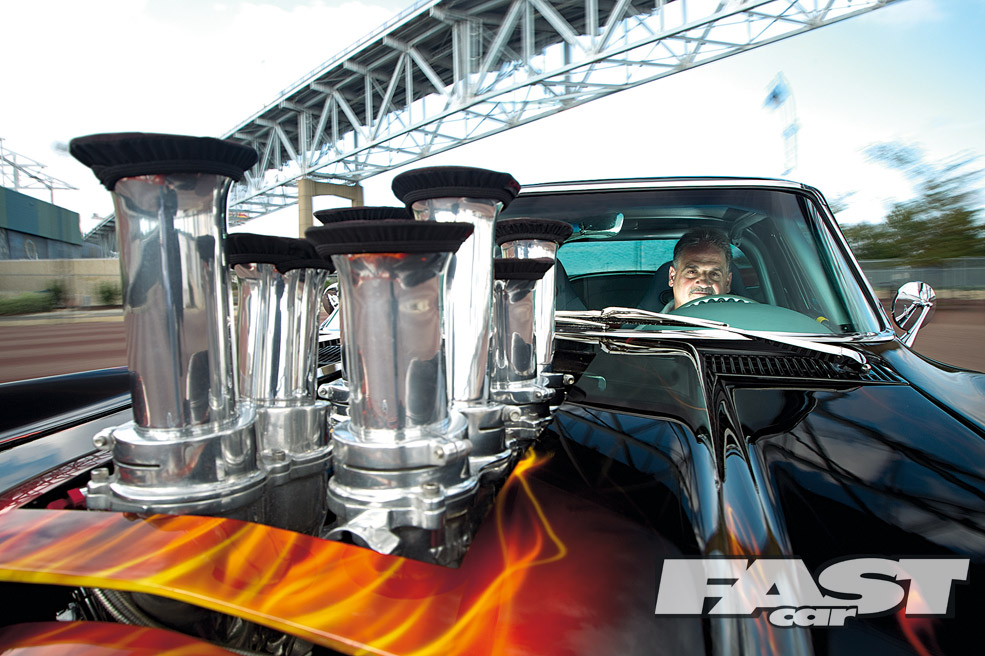 The transformation began immediately, the shell and chassis was dropped off at a body shop and new stock front suspension was fitted. The rear end was hogged out to make way for the enormous custom made Boyd Coddington rims and the insane 20-inch Mickey Thompson drag radials.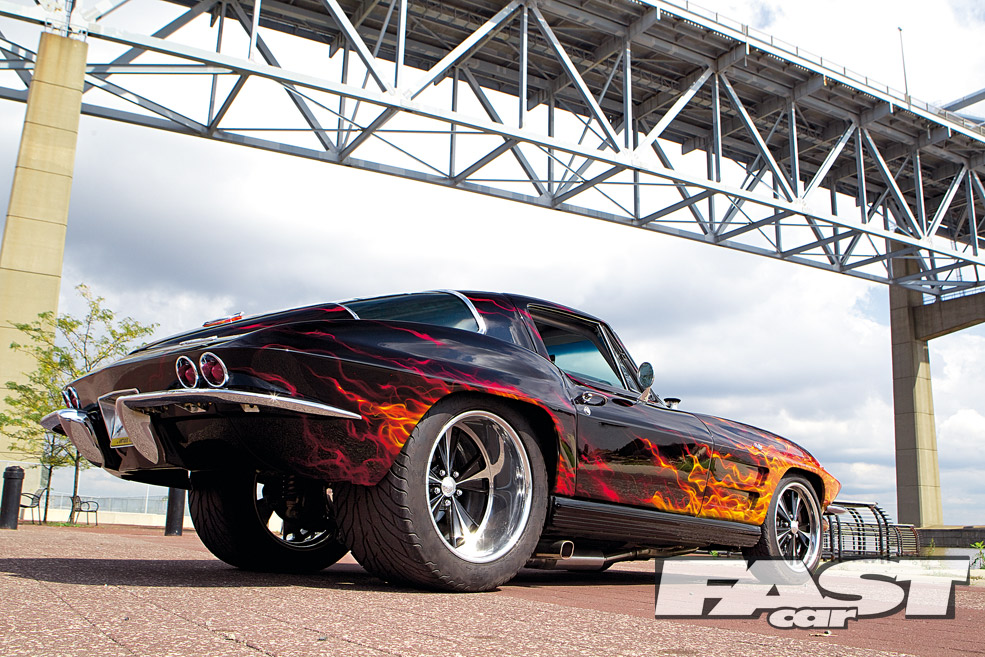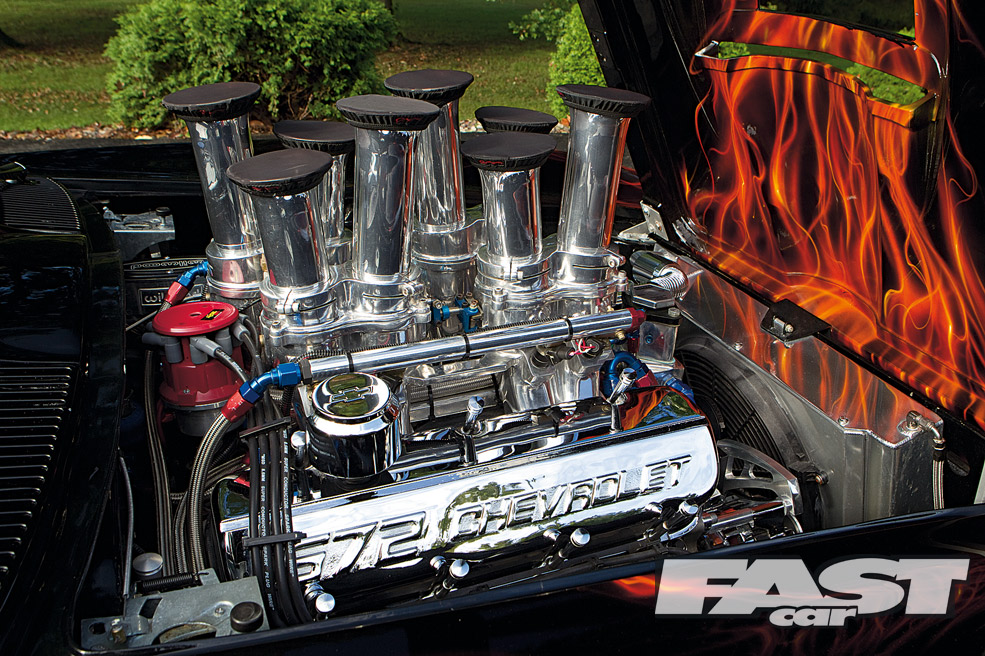 Once it was a rolling chassis, it was time to go for a big block. Gino doesn't do things by halves and nothing but the biggest engine GM puts out will do. A 572-cubic inch GM Performance Parts crate lump was ordered. This gigantic block in stock formation with a four barrel carb puts out 620hp.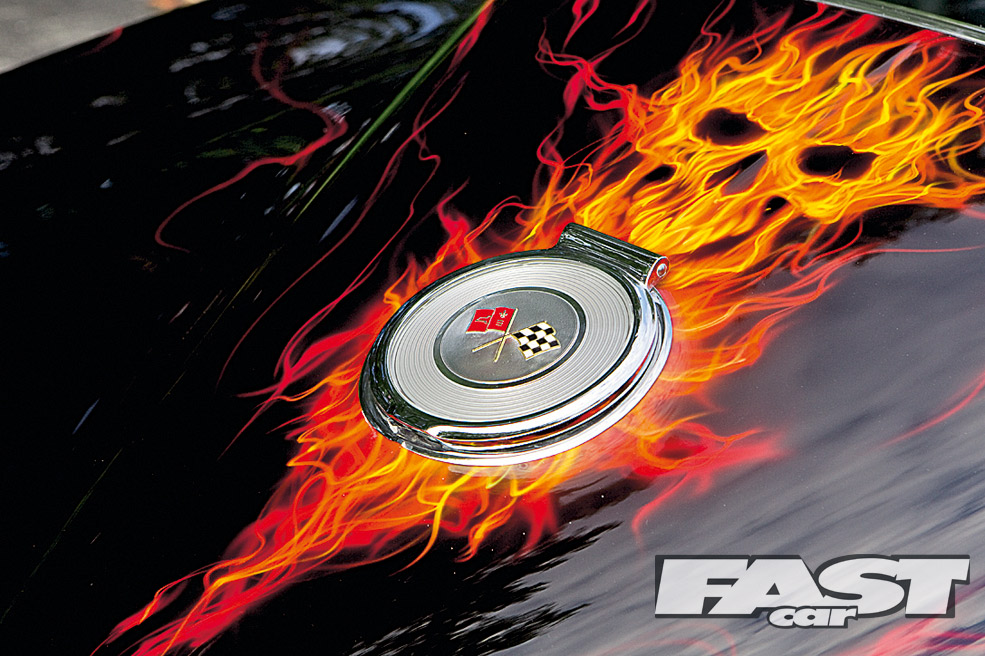 That would be enough for most people but Gino wanted to go balls out and fit a blower, but after doing some research it turned out that the massive leap in horsepower would twist the chassis like a corkscrew. So he shelved the blower and called up Kinslers the fuel injection specialists and ordered a Dragon Claw fuel system. He then had custom manifolds and exhausts made. Once he'd got all the bits he set about shoe- horning this monster engine into the fibreglass body.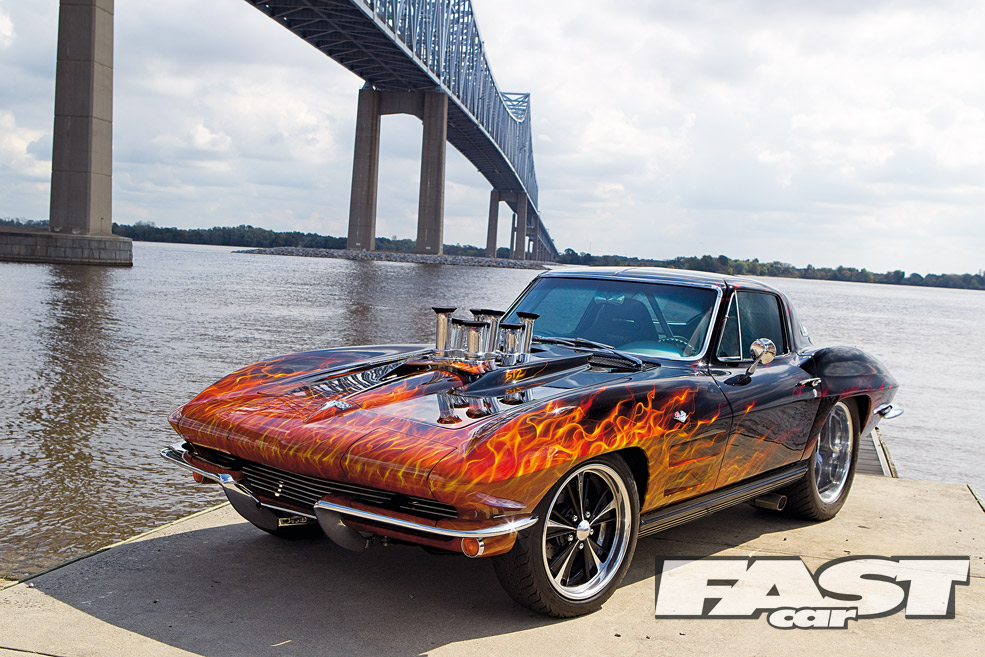 It was time to put some paint on the 48–year old dried out fibreglass shell, the body was painstakingly prepared and painted in a black basecoat at Gino's shop, then Killer Creations in Philly were commissioned to airbrush the fire effect. After the clear coat it was time for final assembly, Gino's fave part.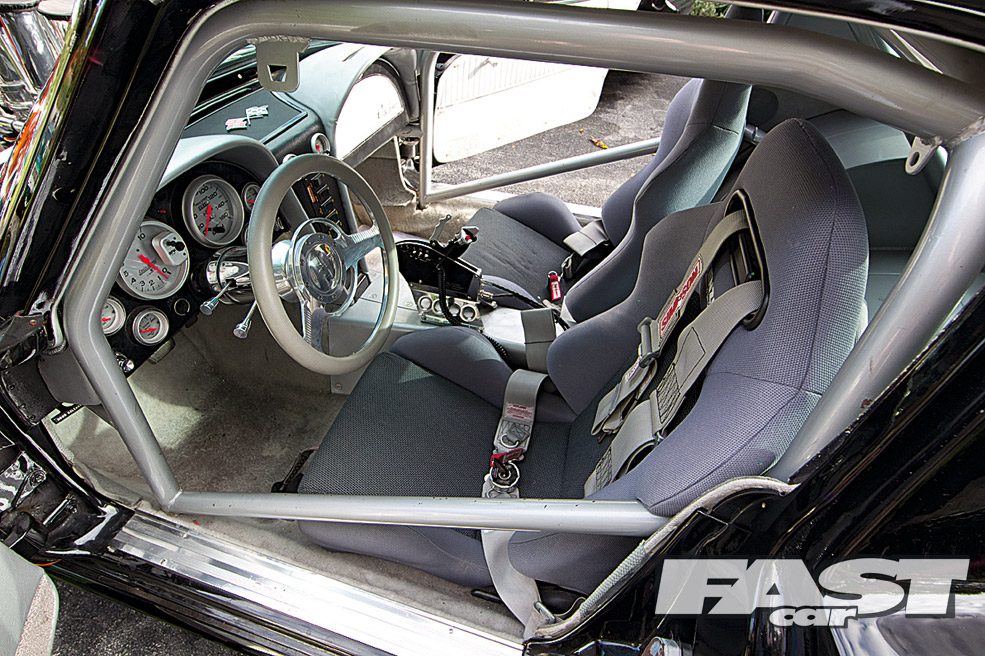 The interior didn't escape mods and first off a roll–cage was fitted along with some sports seats and harnesses. The original dash was kept but fitted with an array of Autometer gauges and aftermarket switches. One thing missing is a total lack of ICE, but when you've got a V8 breathing through exposed intakes, custom manifolds and side pipes on full chat, is there really much point?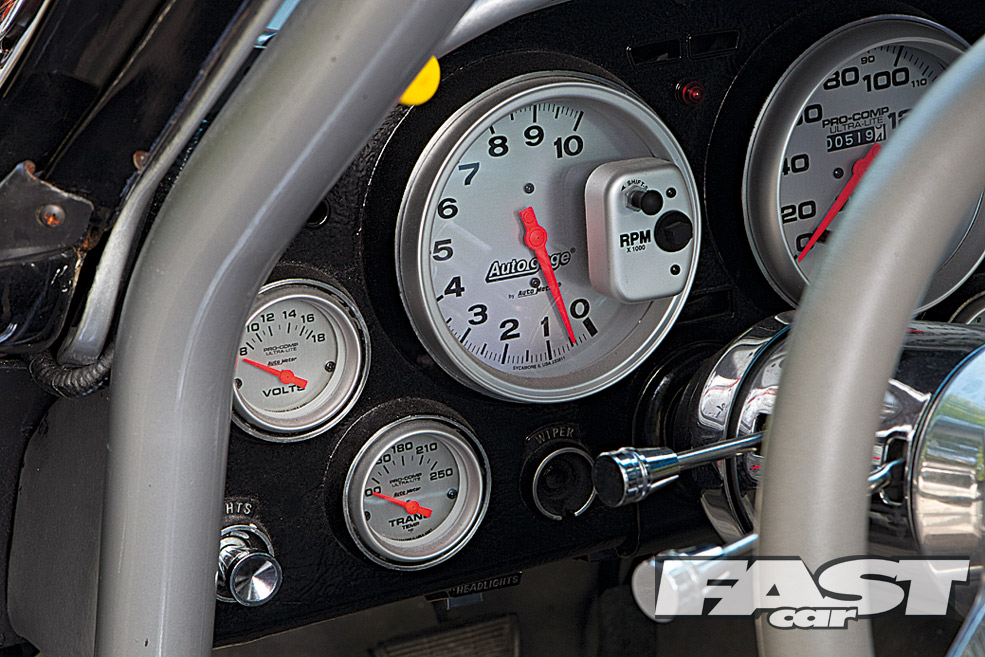 While I was marvelling at the engine, I asked him why he builds these cars and he responded: "It keeps me out the casinos." Top work!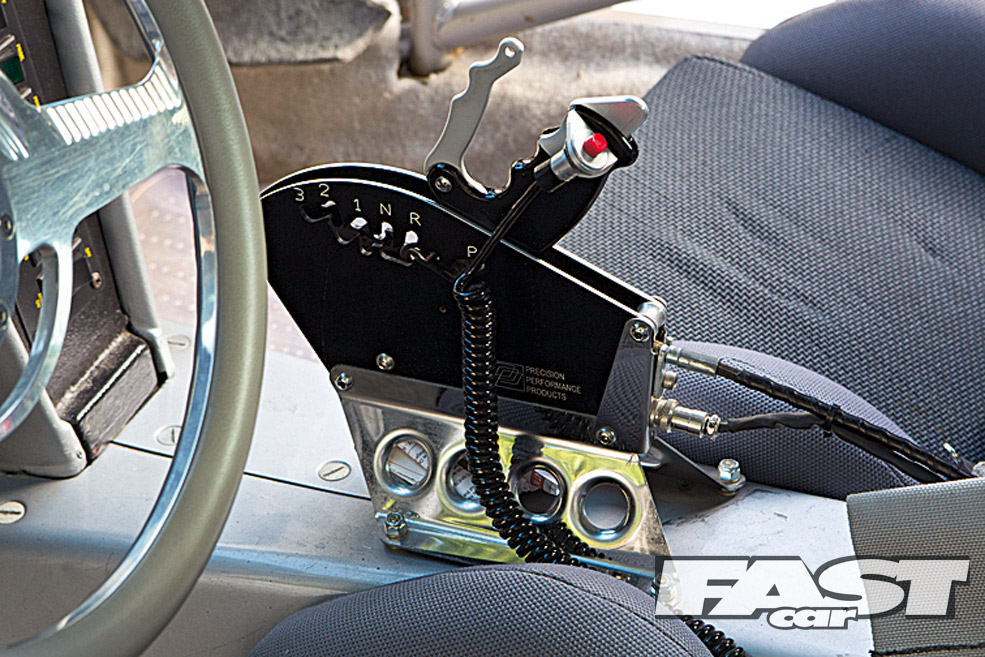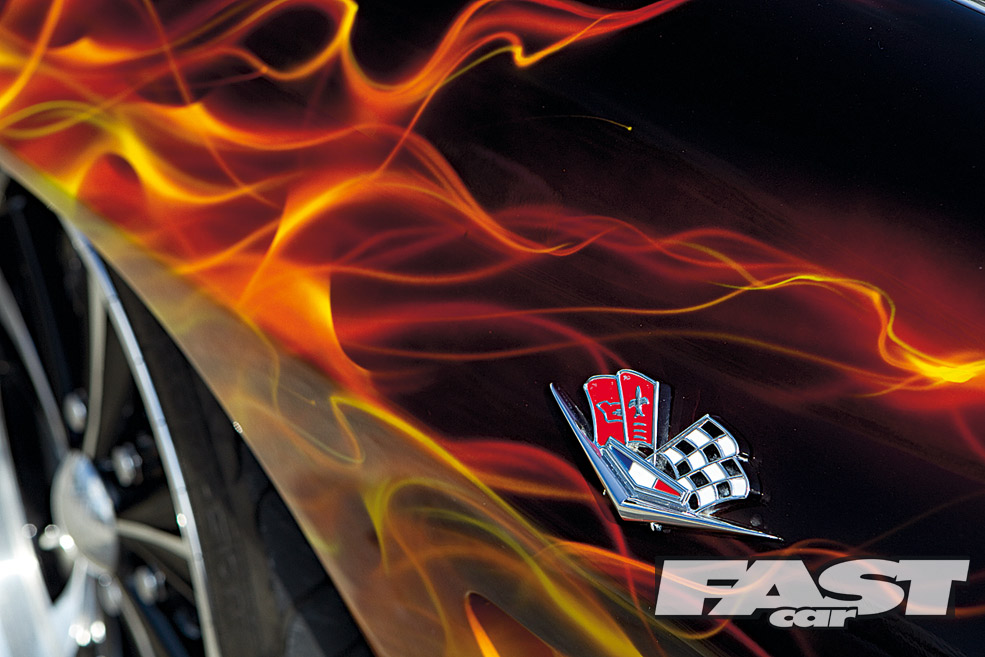 TECH SPEC

1964 CORVETTE STING RAY

TUNING
General Motors 572 cubic inch, big block V8. GMPP Rectangular-port cast aluminium head; GMPP forged steel, 4375-inch stroke crankshaft; GMPP forged steel and shot peered rods; GMPP forged aluminium pistons; GMPP roller-style aluminium, 1.7:1 ration rocker arms; GMPP Hydraulic roller camshafts; 2.25/1.88-valves; Kinsler Dragon Claw intake cast aluminium manifold; Kinsler Dragon Claw fuel injection; Barry Grant 280 fuel pump; custom-fabricated exhaust headers and pipes by Kings Chassis Shop; ATI Turbo 400 transmission with Precision Performance shifter; 116 octane fuel; Accel DFI Gen 77063 ignition system.
CHASSIS
Custom fabricated four link rear suspension; rear Dana 60 with 4.56 gears; Wilwood front and rear disc brakes; Boyd Coddington 18-inch front and 20-inch rear alloys; Mickey Thompson radials.
INTERIOR

Autometer guages; 6-point roll-cage; Budnik steering wheel; Tenzo Racing sports seats with harnesses.
EXTERIOR
Full restoration with Killer Creations airbrushed fire paint job.