Lincoln Whiddett may be only 12 years old, but his Mk1 MX-5 drift car is one of the coolest MX-5s on the scene. This bridge-ported drift weapon represents the ultimate father-and-son lockdown bonding experience.
Feature from Fast Car. Words: Dan Bevis. Photos: Graeme Murray
It's a story we hear time and time again from feature car owners, that their motoring influences have filtered down directly from their parents or guardians. It's such a common origin tale, we've waxed lyrical for years about how the cars our folks were interested in so often inform those that we drive today. A psychologist might argue that, for many, this represents an impassioned yearning to return to the carefree innocence of youth, buying the car that your mum had when you were a nipper so that you can be, in part, a child once more. But sometimes it's not that deep; sometimes it's just an excuse for a bit of good old family bonding. Father-and-son teams who rebuild old wrecks they happen across on eBay, girls taking on their grandmas' bone-stock old shopping runabouts and turning them into flame-spitting retro track monsters, we see this happening all over the scene. It's all about – as Dom Torretto would say – family. That innocent and unassuming little word represents so much to so many, in an infinite number of ways; fans of EastEnders will see it as a word with a lot of vowels, 'faaaaaaamily,' that means giving your cousins an alibi when they've done over a bookie's or set fire to a pub. Family Fortunes offers a more light-hearted outlook, relying on one another's ability to recall simple facts about everyday life under the intense pressure of studio lighting. And then there's Sly and the Family Stone, demonstrating that there's no brotherhood quite like that of dropping psychedelic mischief to a backing track of funky bass licks. You can choose your friends, as the old saying goes, but you can't choose your family. They're yours whether you like it or not, so you might as well have a few adventures together.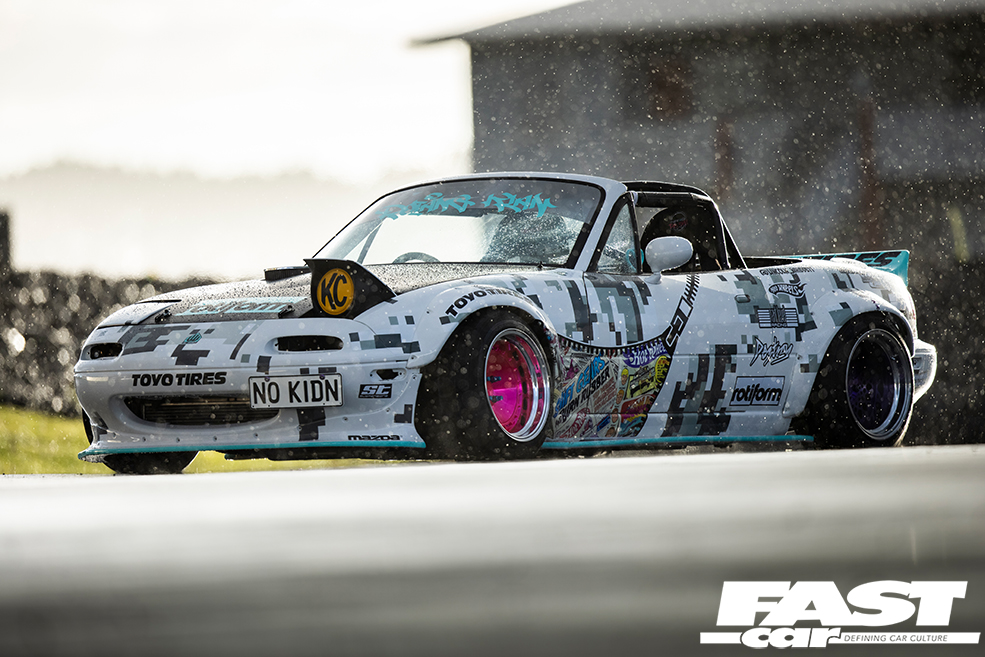 What we're seeing here, however, is taking things to a frankly silly extreme. You see, the owner of this rambunctious little Mk1 MX-5 drift car, Lincoln Whiddett, is just 12 years old. Astonishing, no? For most of us, our first cars were cheap and slightly knackered shopper-spec hatchbacks rather than bespoke-built drift cars, and it's not exactly commonplace to own such a thing at an age when you can barely see over the bar at your local hostelry, let alone even trying to blag an illicit pint. But the story here, as you'd probably guessed, is far from ordinary. Some of you will have spotted the surname and had a lightbulb illuminate in your brain – yes, Lincoln is the son of Mad Mike Whiddett. And for those of you who are unfamiliar with the name, let's just say that Mad Mike is a living legend in the arena of tyre-slaying.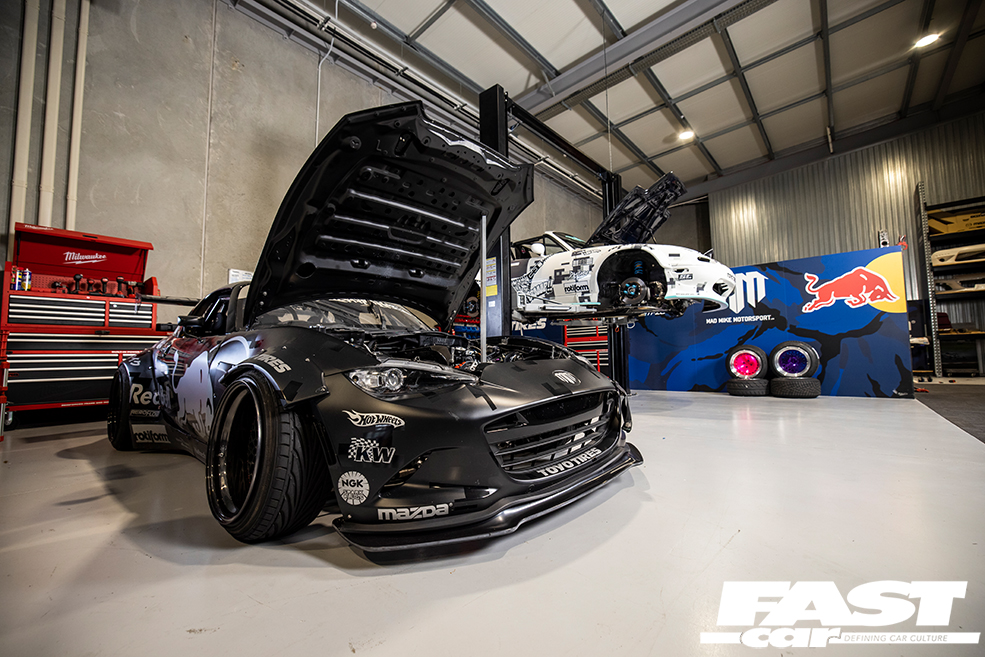 Born in New Zealand, Mike's been doing risky things with petrol since he was six-years old, and for some time he's been an officially sponsored drift competitor under the Red Bull umbrella. His recent past of bespoke motorsport builds is mightily impressive, with a particular fan favourite being MADBUL, a 26B-engined quad-rotor FD RX-7 (basically two 13B rotaries nailed together and cranked up to eleven) which ultimately evolved to run an old-school RX-3 nose. There was also BADBUL, an RX-8 packing a triple-rotor 20B, RADBUL, which was an NC MX-5 again boasting a hardcore 26B, and RUMBUL, a Mazda B2000 stadium truck with a nat-asp 13B. You may well have noted a pattern here, with Mazdas being a firm favourite and Wankel rotary engines the favoured weapon of choice… although let's not omit the surprising existence of NIMBUL, the Liberty Walk-kitted Lamborghini Huracán drift car. But of course.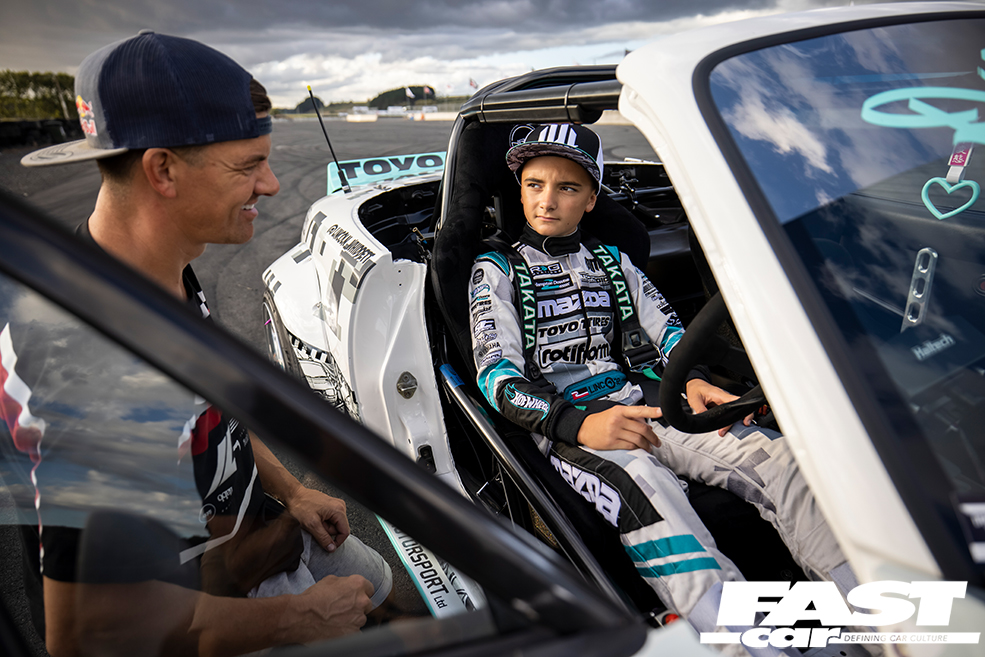 In short, it's fair to say that Mad Mike is a man who knows what he likes, has the skills to deploy his eye-watering machinery, and is no stranger to uncompromising one-off builds with howling rotary engines. The apple evidently doesn't fall far from the tree either, as Lincoln is very much following in his old man's wheel tracks with this astonishing roadster. It all came about because of the Covid-19 pandemic; Mike's bread-and-butter comes from travelling the world to compete in drift series, attend shows for demos, and generally indulge in paid gigs destroying tyres. But with travel in and out of New Zealand curtailed in 2020, he found himself with some pretty large gaps in his schedule. This seemed like the perfect opportunity for some real bonding time with his young son, and between them they started thinking about building him his first drift car. Now, obviously this has always been in Lincoln's blood; he's grown up seeing his dad's legendary driving prowess both on screen and first-hand, and from a teeny-tiny age he was driving about in an imported remote control sit-and-ride Cadillac Escalade. As he transitions towards his teen years, daddy Mike wanted Lincoln to learn some real motoring chops, and a drift car seemed the logical choice. Initially the plan was simple – build something lightweight and racy, and throw a rotary in it because that's the way they do things. The scope of the project at that point was pretty modest, but as was probably inevitable, the father-and-son team got more than a little carried away.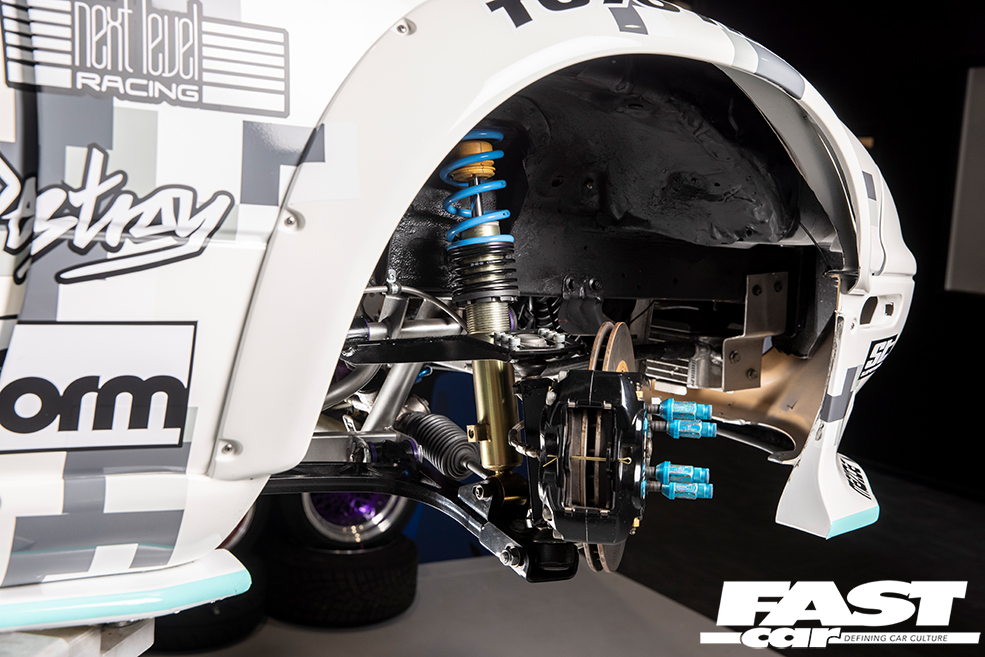 Lincoln's social media following is partly to blame, as it only took one innocuous post saying that he was going to build a Mk1 MX-5 drift car to get all the big-name brands coming a-knocking – Rotiform, Rocket Bunny, ST Suspension, Toyo, they all wanted to be involved, and the project just spiralled from there. The design and concept is really special too. Naturally Lincoln has taken inspiration from Mike's various builds, but the ethos is very much his own; he was instrumental in designing the wheels and the bodykit, so the finished product – named NO KIDN – is uniquely of his own style.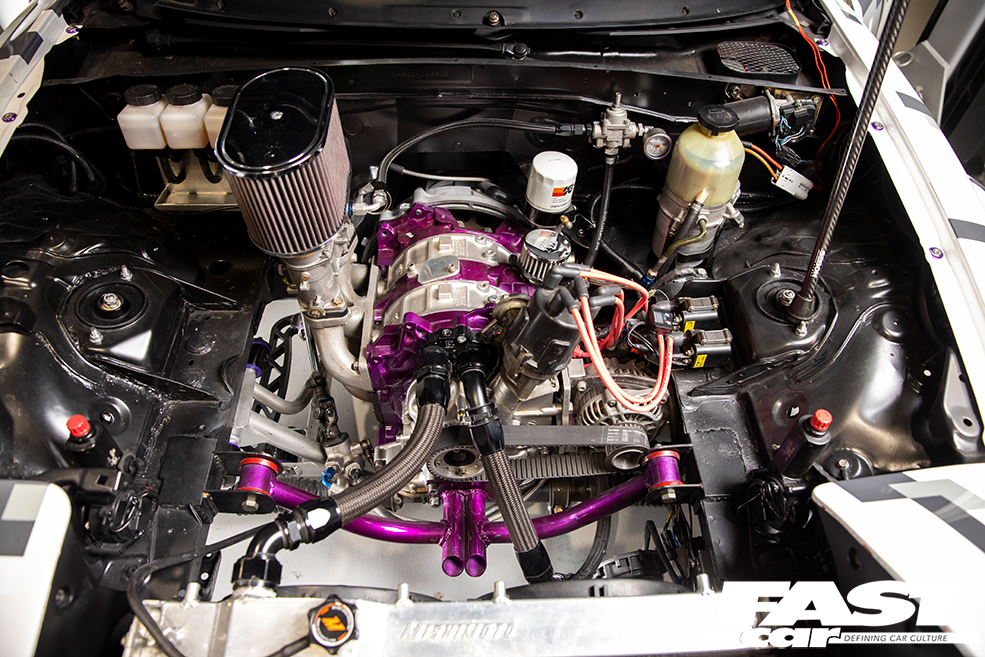 Under the bonnet, we find a sweet spot of power levels; around 180bhp may not sound massive in the realm of tuned rotaries, but it's a hell of a lot to chuck about when you're learning the ropes, particularly in a car as light as this. In addition, this is no ordinary 12A Wankel – it's been bridge-ported, which basically involves opening out the standard ports and then adding an additional eyebrow port above; this will have your peak power arriving somewhere around 8,000rpm while making that characteristic BRAP-BRAP-BRAP sound. Pretty tasty stuff. And for the transmission, Lincoln was able to cherry-pick the best bits from around the garage – the FD RX-7 5-speed manual from MADBUL, the Exedy clutch and flywheel from ICEBUL, and the Winters quick-change diff from BADBUL. Don't go thinking this is in any way a beginner's car, this thing is damn serious. With ST coilovers, massive Wilwood brakes and a pedal box and bias adjuster, along with a hydro handbrake and fresh stiff bushes, the chassis is tough as hell – and it's impossible not to love those one-of-one Rotiform wheels that Lincoln helped to design, in an aggressive square setup of 10x15in and packing some seriously chunky rubber.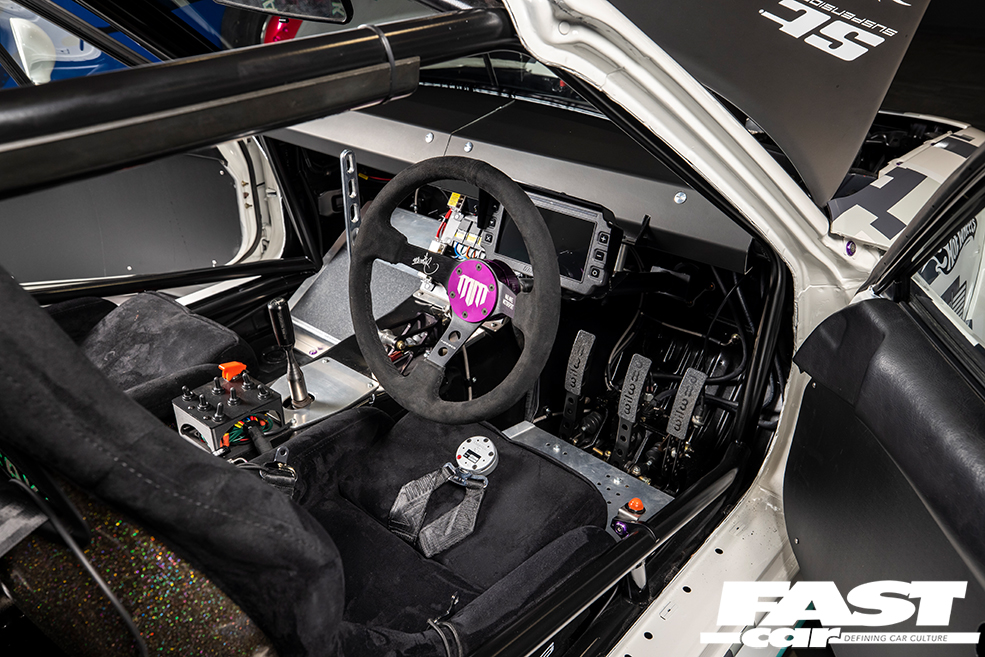 The gold flake rainbow glitter makes a strong statement for the interior, slathering the shells of the custom NRG buckets with disco flair, and it's all proper competition-spec in here: we're talking homologated rollcage, Takata harnesses, 3D-printed switch box, Harris Race Radios kit, the works. It's all wrapped up in a glorious Lincoln-enhanced interpretation of the iconic Rocket Bunny vibe: seam-busting arches, perky ducktail, aero skirts, all working together with an awesome livery that takes inspiration from the busy drift graphics of yore and refracting them through a modern digital filter. It's got Mad Mike's DNA running through it, but this car is pure Lincoln Whiddett, and with the glittering driving career he undoubtedly has ahead of him, you'll be able to look back over these pages in future years and say: yes, you heard it here first.
Lincoln may be half-a-decade or so shy of being able to buy his old man a pint to say thanks for the inspiration, but the respect is clear. This is more than just father-and-son bonding, this is petrolhead DNA in action.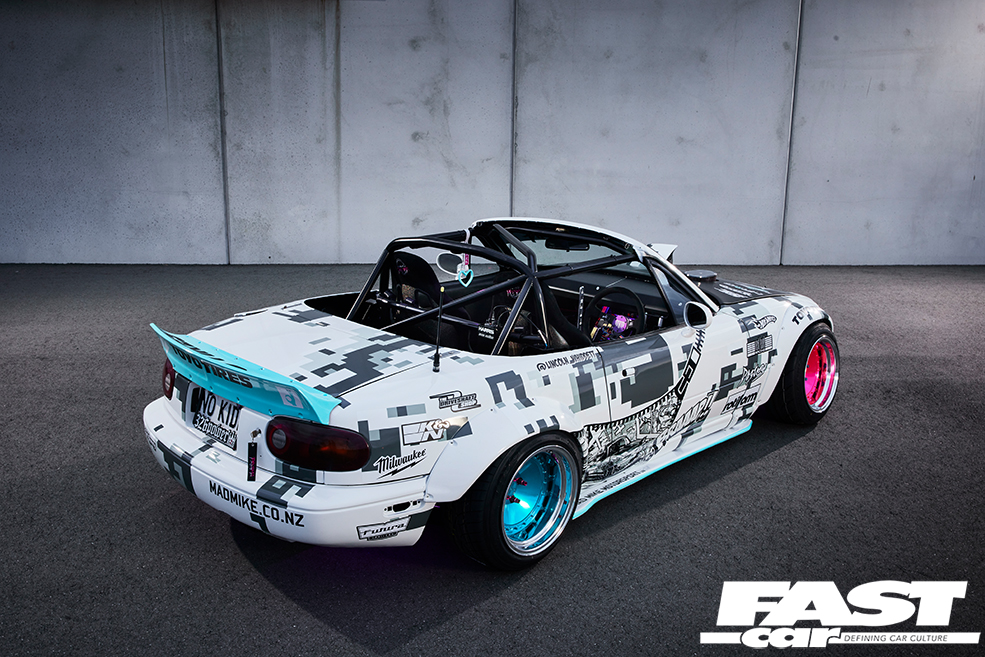 Tech Spec: Mk1 MX-5 Drift Car
Engine:
12A Wankel rotary, bridge-ported, 48mm Weber IDA carburettor, twin 2.5in exhaust system, Carter fuel pump, Aeroflow braided lines and fittings, alloy radiator, electric water pump, fully stripped factory loom and complete re-wire, K&N filters, NGK plugs, electric power steering
Transmission:
FD RX-7 5-speed manual (from MADBUL), Exedy carbon triple clutch (from ICEBUL), Exedy flywheel (from ICEBUL), Winters quick-change differential (from BADBUL), Driveshaft Shop axles and prop
Suspension:
ST Suspension coilovers, Destroy or Die / MM arms and knuckles, tubbed firewall, anti-roll bars deleted, Destroy or Die Purple bushes throughout
Brakes:
Wilwood Dynapro front calipers, twin Wilwood Dynalite rear calipers, V8roadsters billet hats, ASD hydraulic handbrake, rear bias adjuster, custom braided lines throughout, Wilwood cylinders and bottles
Wheels & Tyres:
Custom 10x15in Rotiform SCR wheels, 195/50/15 Toyo R888R tyres (front), 205/50/15 Toyo R1-R tyres (rear)
Exterior:
GT Refinishers Fridge White, MM digital camo and graphics in Avery wrap film, Rocket Bunny widebody kit, Rocket Bunny ducktail, RGB strobe light kit, KC HiLites with winky-eye
Interior:
Custom NRG gold flake rainbow glitter-backed FIA seats, Takata harnesses, custom NRG 'Deal Whidd-ett' steering wheel with quick-release, custom SMC 3D-printed switch box, SMC wiring panels, SMC alloy battery bracket kit, alloy folded dash, Harris Race Radios kit, custom doorcards, SMC homologated rollcage, Wilwood floor-mounted pedal box