The 2020 Tokyo Auto Salon had its doors blown off by the outrageous Silhouette Works Liberty Walk ER34. This stunning creation takes the company right back to its old-school tuner roots…
Feature taken from Banzai magazine. Words: Dan Bevis. Photos: Liberty Walk.
There's a pleasing circularity to the thinking behind this car. Inspired by and paying tribute to a 1980s race series, which in turn influenced a culture of extreme modification of road cars, ultimately turning full-circle and resulting in what you see before you: a retro tribute to its own roots – at once gloriously old-school, and incredibly cutting-edge.
The genesis of all this may require a little unpicking, so let's start back in 1979. A Super Silhouette Formula was conceived in Japan; a race series conforming to the FIA's Group 5 regulations, whereby the scope of modifications was so hilariously broad that all bets were off – as long as the car in question's body shape vaguely resembled that of its road-going counterpart (hence 'silhouette'), teams had free rein when it came to suspension, brakes, aero, the lot. Provided that the engine used the same block as its showroom siblings, any form of mods would be allowed. This race series proved popular and it ran until 1983 in Japan, with the Fuji Speedway as its spiritual home. And for a lot of gnarly race fans from back in the day, the archetypal icon of the Super Silhouette Formula was Masahiro Hasemi's KDR30 Skyline. This car campaigned in the 1982 and '83 seasons, its iconic red-over-black Tomica livery slathered over a super-aggressive body that transformed the 'Iron Mask' Skyline from road weapon to track hero. This was an incredible machine – what looked like an R30 RS-Turbo with a cartoonishly wide and low bodykit hid the guts of a formula racer; it had 16-inch wheels at the front and 19-inch ones at the rear, and under the bonnet was an L20ZB engine – a 2.0-litre four-cylinder, fitted with a twin-cam head and a TD05 turbo and then cranked up to an insane 570bhp. The KDR30 took a couple of race wins in 1982, and five more in 1983, winning countless hearts in the process.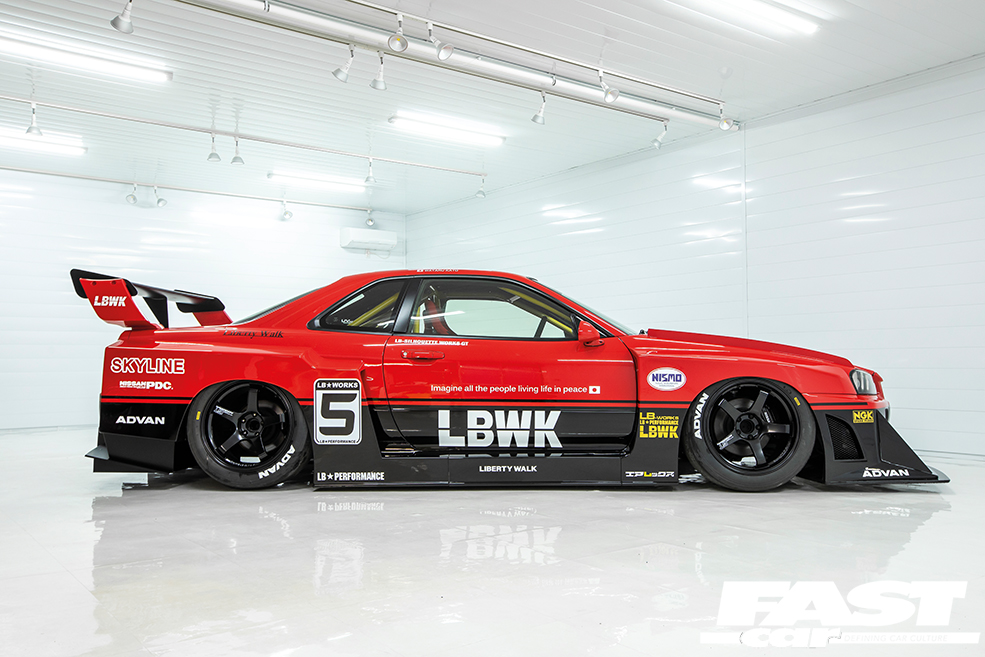 Its influence stretched way beyond the racetrack too. It is certainly no secret that the fledgling bosozoku and gurachan movements in the 1980s were heavily influenced by these outrageous Group 5 race cars; the extraordinary jutting splitters and spoilers we've come to know and love on the most out-there boso builds take their cues directly from the Super Silhouette Formula. Indeed, it's this uncompromising street style that was instrumental in the development and gestation of tuner brands like Liberty Walk. This company's irrepressible founder, Wataru Kato, is a true innovator. He's the kind of man who'll buy a Ferrari F40, then buy another one so that he can modify it; nothing is taboo in the world of Liberty Walk – if it's cool, it's cool, and no car is untouchable. This unerring and ineffable passion is fed by the performance cars and racers of the 1970s and '80s, the cars that first sparked his passion for modding and tuning. If you take a look at the Liberty Walk website today, you'll see their latest widebody offerings for the likes of the Lamborghini Aventador, Nissan GT-R, Toyota GT86, BMW i8, Ferrari 458… fast modern cars amped up to brutal extremes. But Kato-san always wears his influence on his sleeve, always keep his roots front-of-mind. So when it came time to develop a show-stopper for the 2020 Tokyo Auto Salon, he decided to take things back… way, way back.
LB-ER34
What's particularly ingenious about the Liberty Walk ER34 is that it fuses the classic and the modern (or, at least, modern-classic) in fine style. Kato-san is no stranger to applying the Liberty Walk mojo to bona fide classics – thoughts of his kaido racer Fairlady and Kenmeri GT-R still keep us up at night – but here the idea was to take the ethos of the original KDR30 and apply it to a more modern ER34 Skyline. Pretty cool, eh?
Now, you'll notice that we're talking about an ER34 Skyline here rather than an R34; without getting too bogged down in the minutiae of model codes, the baseline here is that he didn't want to cut up an R34 GT-R for this project. And while many people may assume that 'ER34' automatically means 'four-door', that's not always the case: in this instance, we're talking about a two-door GT-T – the model that encapsulated much of the spirit of the GT-R, but toned down slightly with a single-turbo RB25 and a RWD layout. The body transformation really is quite remarkable too – much like the KDR30 had to look a bit like the R30s in the showrooms, so Kato-san's fresh creation is still recognisably an R34-gen model… it's just several orders of magnitude more insane. The colossal box arches house 11×18-inch Yokohama Advan Racing GT wheels on Advan slicks, with custom hub extenders to get them sitting out even further. The front spoiler is frankly ludicrous; obviously there would be no way to register this car for the road in Japan anyway, but if there was one sole element that'd kibosh the idea it's this aggressive ankle-slicer. Even more deranged stuff is happening round the back – those squared off arch extensions are joined by a towering spoiler, and the bulk of the view is dominated by an enormous custom diffuser. The Group 5 DNA is strong with this one, it's dripping retro race menace from every pore. And of course it's all been slathered in that iconic Tomica red-and-black livery, here sneakily updated to replace the principal sponsor logos with Liberty Walk's own.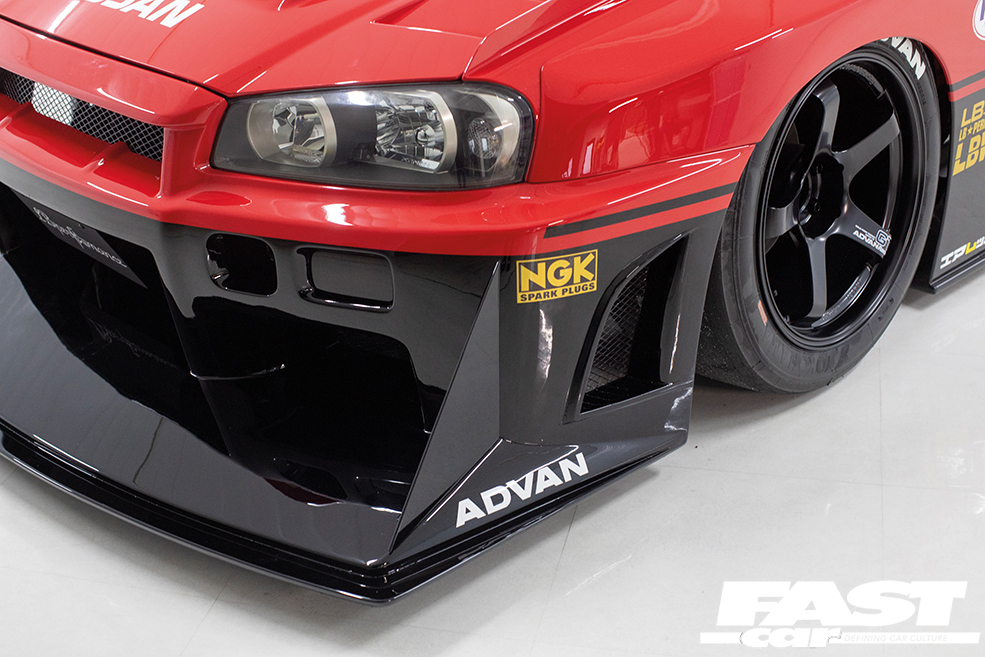 Owing to the complexity of fitting the comprehensive body makeover, this Silhouette Works isn't something that the company will be selling to customers. It may be possible to commission Liberty Walk to build one for you if you have a Skyline for them to chop up, but there's no indication that this concept will really be anything more than a one-off… which is entirely correct, when you consider the point of the car. Kato-san didn't envisage a unit-shifter here, this isn't a revenue-generation project. No, this is a respectful tribute to the origins of his own automotive passion, reworked to reflect the modern reality of where these dreams have taken him. And there's no more vivid element of the car to demonstrate this than what greets you when you open the bonnet. There isn't an RB under there, like most people would probably expect. In fact, you're looking at an L28. This is the one feature that really knocked everyone for six at the Tokyo Auto Salon. You see, the L Series is legendary in classic Nissan/Datsun tuning circles. That iconic Tomica KDR30 ran a four-pot L20, while the L28 was a straight-six that could be found in models such as the 280ZX Turbo, Laurel, Cedric, Gloria, and even the DOME Zero concept. Furthermore, L Series engines became iconic in Japanese motorsport and back-street tuning, and it's this culture Kato-san sought to emulate. He's got form here, as his celebrated Kenmeri build runs a hot L28 and, much like that car, this one is no ordinary 2.8-litre six. It's been stroked out to 3.1-litres, and treated to hot cams and a ported and polished head, while fuelling is taken care of by a trio of 50mm twin-choke Solex carbs. The induction noise is something else, although it's beautifully and sonorously eclipsed by the barks and yelps crackling from the custom side-exit exhaust system. These are noises hitherto never heard coming from a 1990s Skyline.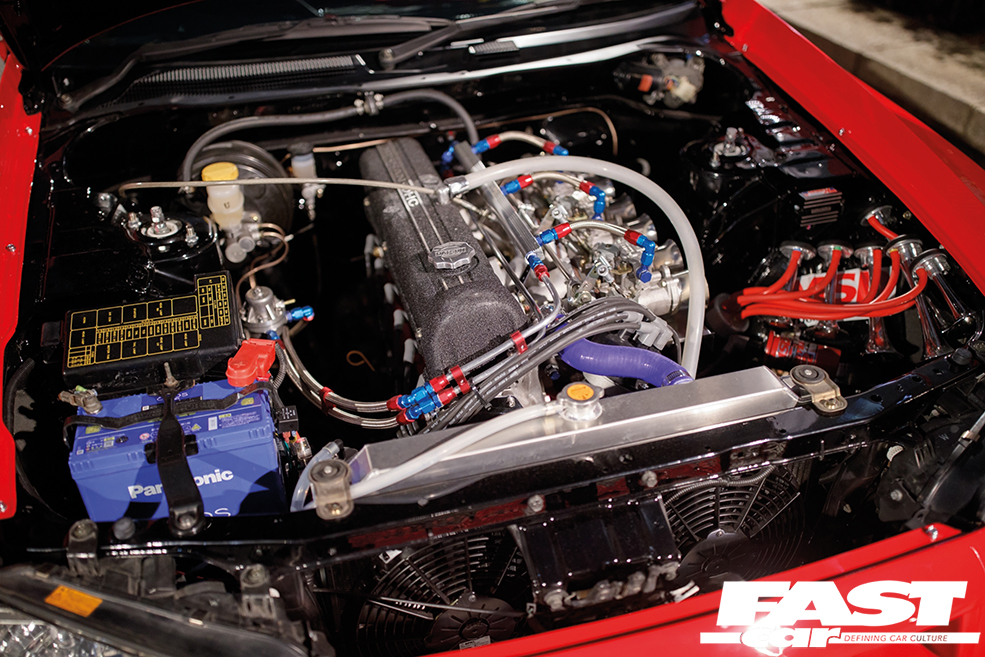 There are myriad nods to the underground tuning scene, as you'd hope from a man so deeply entrenched within it for so many years. The Vitaloni wing mirrors are a cheeky addition, something you'd more usually find on full-bore bosozoku builds (or, indeed, Lamborghini Miuras), and the boso theme continues with the addition of a set of tuneful air horns. They play the Mickey Mouse theme, because screw convention, and screw anybody who questions it. All of which adds to the car's mystique: it's half tuner special, half race car. Look inside and you'll find that it's been fully stripped and painted gloss black, the eerie inky void treated to a splash of colour thanks to the lipstick-red Bride seats and citrus-hued Cusco rollcage. And when Kato-san flicks the switch and the suspension airs out, there's a beautiful juxtaposition between the killer stance as the body kisses the asphalt, and the out-and-out racer details – the aero fins that run along the top of the wings, the extravagantly vented bonnet, that almighty rear spoiler, it's all such a riot of detail.
The word is that Liberty Walk will be developing this skewed logic into a whole line-up of Silhouette Works designs: R35 GT-Rs, Ferrari 458s, Lamborghini Huracáns, cars that are generations too new to have ever graced a Group 5 grid, but with fresh Liberty Walk bodykits which sidestep the traditional overt bolt-on aesthetic for a smoother, more aerodynamic and more race-influenced vibe. But however far that train of thought travels, the gatekeeper of it all is this: the LB-ER34. A car that keenly demonstrates how influences run full-circle. It's a modern-era Liberty Walk build that can't take its loving eyes off the past. If it were possible for Wataru Kato to be reincarnated as a car, it would be this one… which makes it all the more pleasing that it stole the show at TAS – Kato-san may have set out to build a crowd-pleaser, but at heart he was building this car for himself. A fond tribute to his roots, and a reminder for every one of us of where all this tuning mayhem started.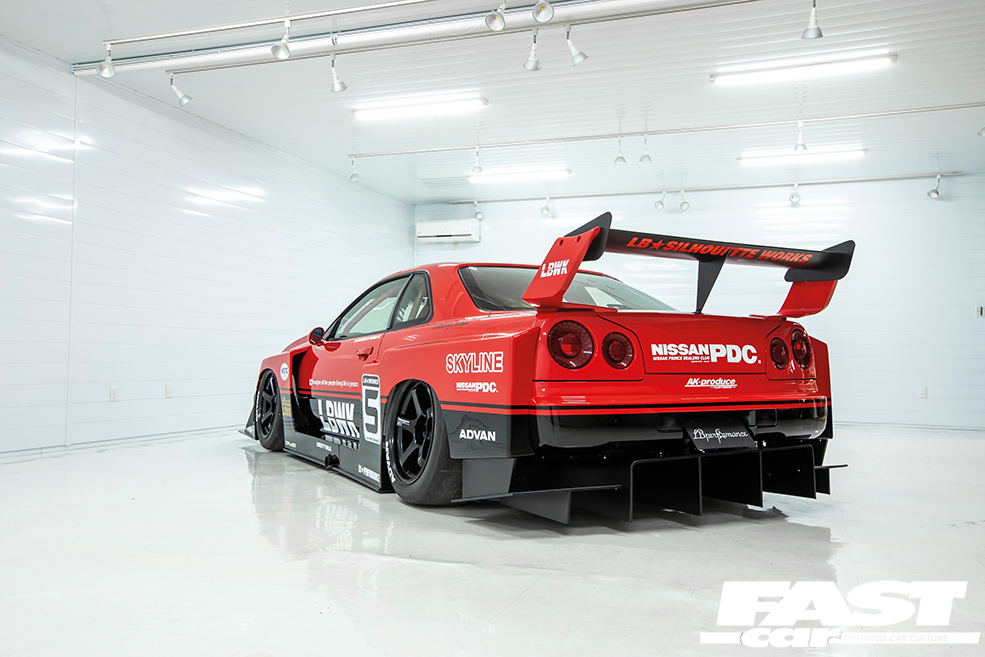 Tech Spec: Liberty walk ER34
Engine:
2.8-litre L28 straight-six – stroked to 3.1-litres, ported and polished head, high-lift cams, triple twin-choke 50mm Solex carbs, stock exhaust manifold into custom unsilenced side-exit system
Chassis:
11×18-inch Yokohama Advan Racing GT wheels, custom hub extenders, Advan slicks, custom air suspension
Interior:
Stripped and painted gloss black, Cusco bolt-in rollcage, Bride Low Max seats, Momo deep-dish steering wheel, custom centre gauge cluster
Exterior:
Custom Liberty Walk Silhouette Works bodykit, diffuser, spoilers and fins, retro tribute KDR30 Tomica/Liberty Walk livery, Vitaloni mirrors, bosozoku air horns