If you went to all the trouble of building a Group A E30 M3 recreation it'd be no surprise if you then decided it was too good just to use on the track, which is why this incredible Warsteiner-liveried beast is not only fully prepped for racing but also fully road legal.
Feature first appeared in Performance BMW magazine. Words: Elizabeth de Latour. Photos: Lewis Bennett
We can think of few more iconic racing machines than the E30 M3 – for starters, those lucky enough to own the road-going version are driving around in something that's barely any different to the race car as BMW developed the motorsport machine first, and then adapted it for the road, meaning it's as close to a racing car for the road as you can hope to get. The racing incarnation of the M3, meanwhile, had an incredibly long and illustrious career that spanned everything from rallying to DTM and its numerous famous – and eye-catching – liveries have ensured that it remains a part of BMW culture and in the collective memory of all BMW enthusiasts for all time. When it comes to understanding the various motorsport group definitions under which the M3 raced, it can get a bit confusing but arguably the most prolific of those – and the one we're interested in today – is Group A. The Group A regulations were introduced in 1982 and remained in use until 1994 and covered cars competing in racing and rallying, both of which were disciplines in which the E30 M3 appeared. A Group A E30 M3, then, is something pretty special so imagine how special it would be to actually own one – Steve Basstoe doesn't have to use his imagination, because this is his Group A E30 M3.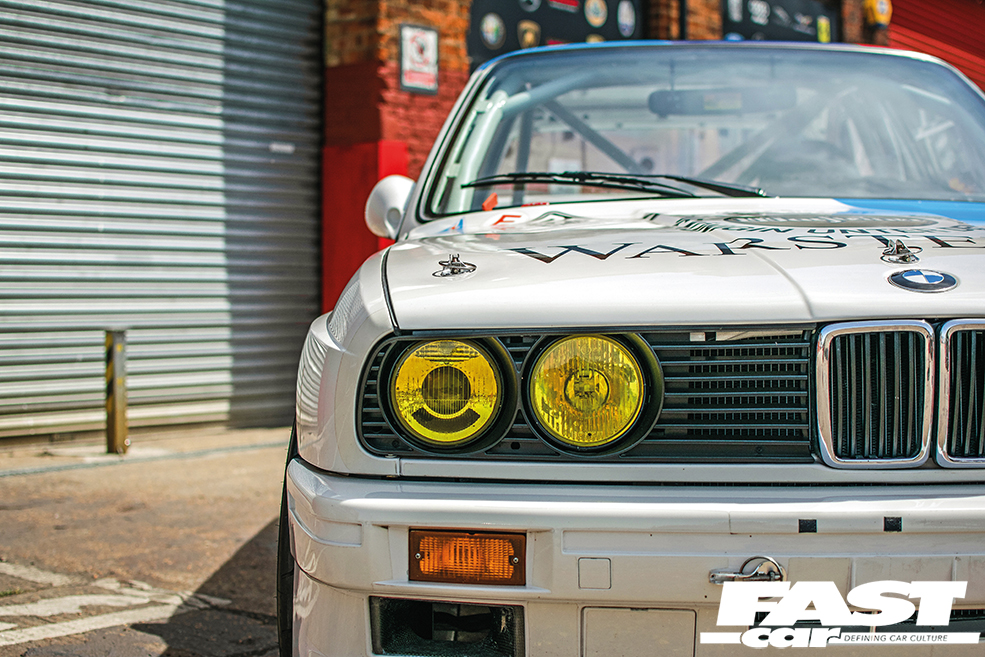 Steve is likely a little older than many of you reading this and grew up around cars, which fostered his love for all things automotive from a young age and gave him a taste for Bavaria's finest in the process. "I have been interested in BMWs for as long as I can remember," he begins as we chat. "Growing up in my dad's car breakers, BMWs were almost exotica during the 1970s and following their success on the race track just made them all the more special," he grins. "The incarnation of the E30 M3 in 1986 as a homologation special and its dominance in touring car racing culminating in it being the most successful touring car of all time – I had to have one!" he exclaims but obviously, he didn't jump straight into race car ownership and there have been several cars – and BMs – along the way. Steve kicked off his motoring career with a 1974 Mk1 Ford Escort 1300 Sport, which he proceeded to heavily modify, while his first BMW experience was, unsurprisingly perhaps, an E30. "It was a black 1985 E30 318i, with fog lights and a sunroof. It was the perfect base for a 325i Sport lookalike, so I immediately sourced and fitted a 325i Sport interior, body kit, suspension and wheels. It was a sheep in wolf's clothing, but I could afford to insure it," he grins, which is always a bonus, and he currently also owns an E46 M3 CSL as well as David Smiterham's Production BMW racer (also road legal), but what we're really interested in is the car you're looking at right here.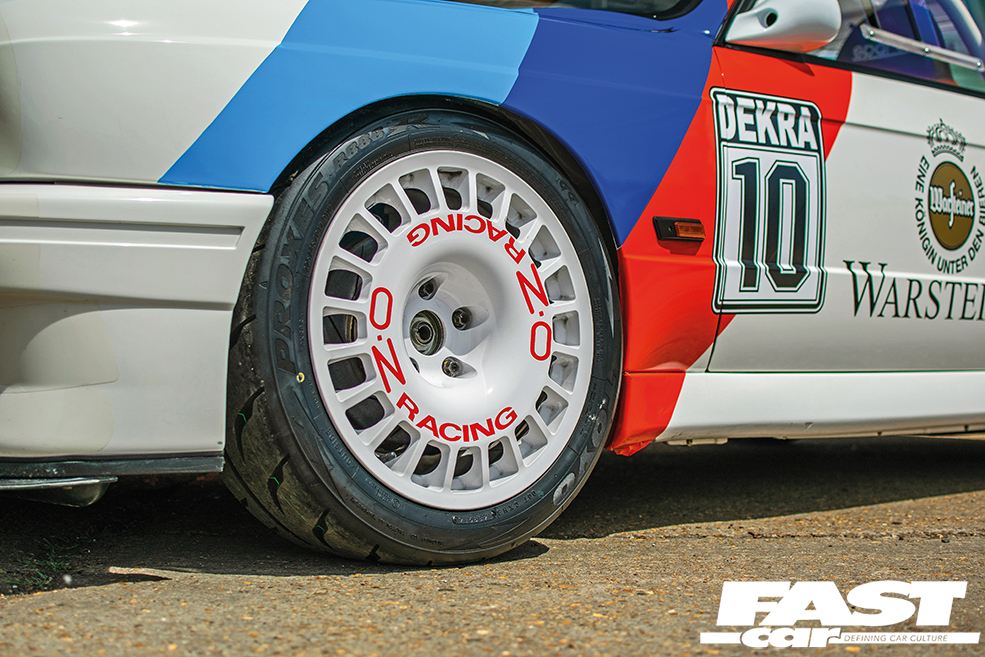 This might not be one of the original Group A racers but that doesn't really matter because seeing as its a full ground-up recreation built from a bare shell it is, for all intents and purposes, the same and, best of all, you can use this one out on the road. The car was built by Chris Lowe, a Master Mechanic for BMW GB and now BMW Australia who has been involved with numerous performance BMW builds as both a consultant and engineer, and this E30 M3 was the last car he built in the UK before moving to Oz.
For this build one of the last E30 M3s produced was chosen, stripped down to a bare shell and fully rotisserie restored before the transformation could begin. The biggest difference between a build like this and your average PBMW feature car is that when you're recreating a racer it's all about sticking to the original specs and making sure it ticks all the boxes in terms of both appearance and equipment and this is absolutely a no-expense-spared project. The draw of this car was irresistible; "The car had been the subject of a complete nut and bolt build and covered a mere 50 miles since completion," says Steve but he had no intention of tucking this M3 away to look at from time to time – it had been built to be driven and that's exactly what he was planning to do. "My intentions were to use it as a track car and then do a race series in, which it is already compliant for," he says and nothing makes us happier than a car being used exactly for what it was designed for.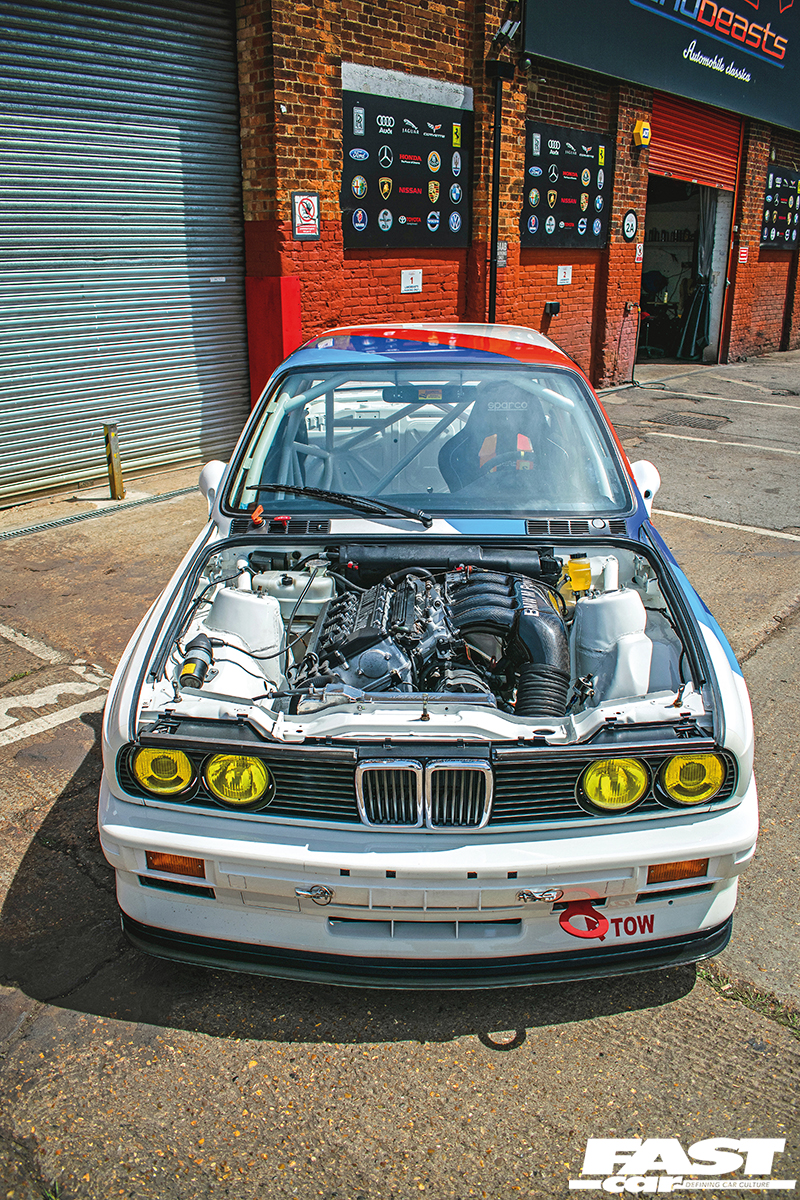 First of all, this car looks the absolute business, resplendent in its Warsteiner livery and it is every inch the full-on racing machine. The shell was media blasted back to bare metal, fully seam welded then resprayed in its original Alpine white III, before the Group A roll-cage was fitted, which incorporates front and rear suspension mounting points and the diff. The car wears Sport Evo wings, a thinner slat front grille and the drag-reducing bonnet gap rubber strips, the front and rear bumpers along with the boot lid are made from ABS plastic, and then you've got the Group A elements, the carbon front splitter, carbon cold air intakes for the brakes, carbon door mirrors, the driver's one incorporating an air intake to cool the person at the wheel, a single-wiper conversion and a rear spoiler with adjustable Gurney flap. Other additions include the FIA-approved towing eye, the Armourfend that has been applied to areas vulnerable to stone chips, and the Bosch high-output headlights.
The interior follows function over form but still manages to look extremely sexy by virtue of being filled with nothing but the best motorsport components and finished to an extremely high standard. There's a Ramsport heated front screen, a flocked dash incorporating a Group A instrument panel with corresponding 8000rpm tacho, gauges for the engine, gearbox and differential oil temperature, engine water temperature and engine oil pressure along with a fuel gauge. There's a Spa digital speedo, a Sparco Pro 2000 FIA-approved seat with a Sabelt six-point harness, an OMP Corsica 330mm suede steering wheel, and a Longacre wide-angle rear-view mirror. Meanwhile, an FIA-approved foam-filled fuel cell is mounted in the spare wheel well and connected to a rear-mounted aero filler cap with a fast-fill alloy tube and there's also a Facet competition fuel pump from Merlin Motorsport. It's exactly as hardcore as you'd expect, but it's been executed with absolute attention to detail.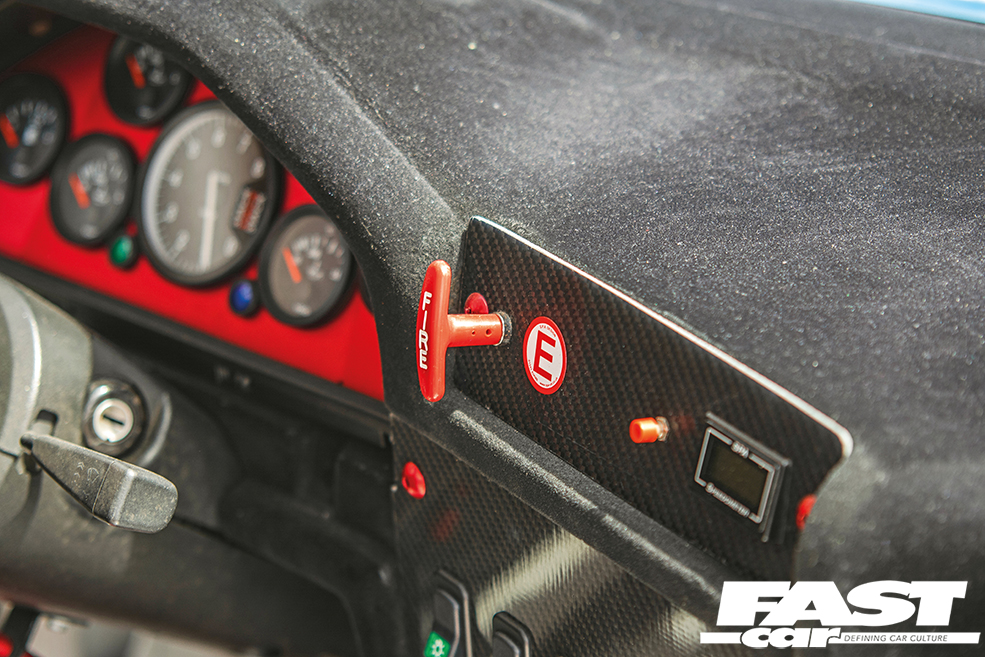 Undoubtedly one of the most exciting areas of any performance-orientated car, especially a race car, is the engine and here, of course, it is something very special. Sitting in the engine bay of this E30 M3 is, naturally, an S14 but as that massive carbon air box lets you know, this one is rather far removed from stock. The engine has been fully rebuilt and features a Sport Evo flywheel, 48mm throttle bodies and exhaust manifold, a custom stainless race exhaust, along with that aforementioned DTM carbon intake with 18cm primaries and carbon snorkel. The stock viscous cooling fan has been replaced with a Spal electric fan, there's an uprated Mishimoto alloy radiator, the block has been re-honed and fitted with JE pistons, Schrick 284/276 cams, there are Siemens Deka 630cc injectors and there's an Emerald K6 ECU with twin map switching. In addition to all of that, it's also equipped with a larger oil cooler and a baffled sump among other upgrades and the result in one serious S14 making some serious power, along with an epic soundtrack. Naturally, such an engine requires a suitably sturdy transmission to go with it and to be able to cope with the rigours of racing so here the gearbox has been fully rebuilt with a new gear cluster, new bearing and seals, there's a Group A selector and alloy gear stick, Group N mounts and a Group A oil sensor. There's also a C3 competition clutch, a balanced propshaft with a new coupling and new mounts, and the diff features a 4.27 final drive with a 25% lock-up inside a finned case for improved cooling.
Finally, we have to talk about the chassis because it's such an important part of a race car and there's a mix of seriously high-quality components on board here. Up front sits a powder coated crossmember, Vorshlag fully adjustable race camber/caster plates, Leda fully adjustable shortened front struts, 2.5" coilover spring perches, Zone Motorsport eccentric rear wishbone racing bushes, Sport Evo aluminium front wishbones, and the power steering has been replaced with a manual quick rack. At the rear you'll find a powder coated subframe, GAZ fully adjustable shortened rear shocks, there are Eibach springs front and rear, H&R anti-roll bars and Powerflex bushes, which all makes for a seriously hardcore chassis setup that's perfectly suited for the track and allows for endless adjustment and fine-tuning.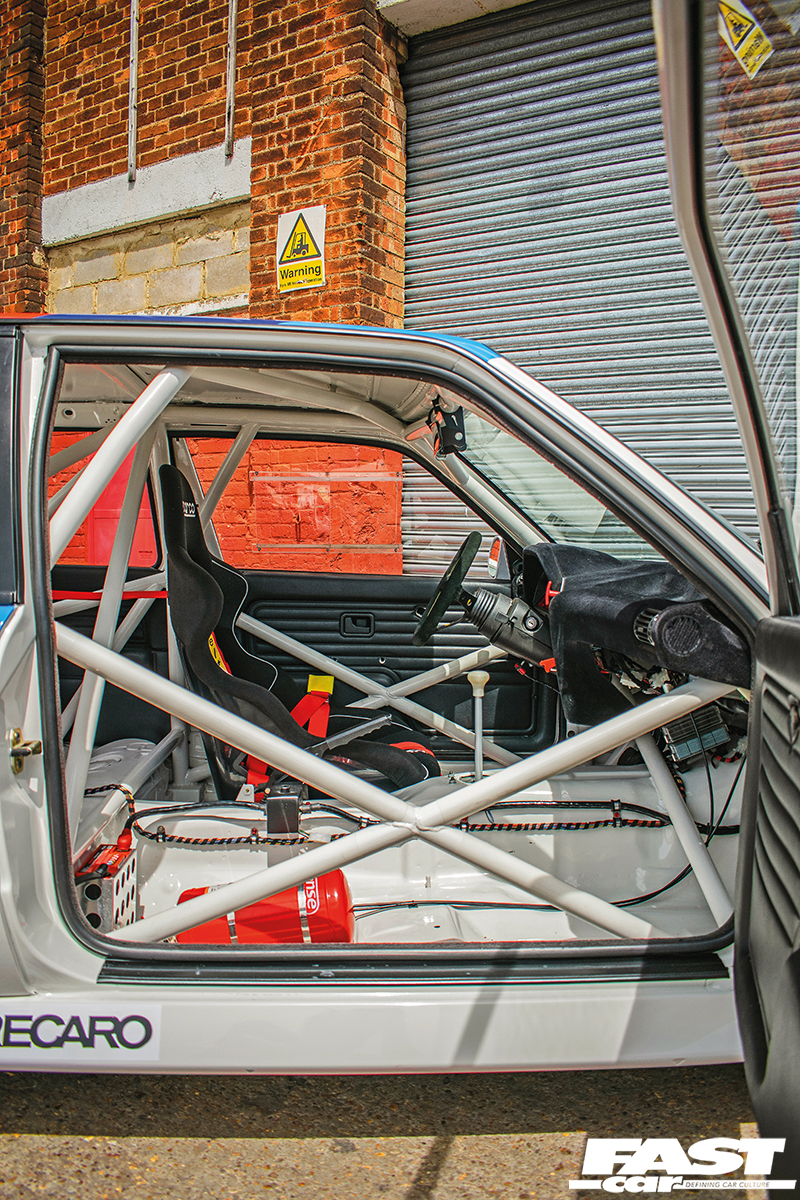 The brakes, meanwhile, use four-pot Brembo calipers up front, vented discs with aluminium bell housings while at the rear sit Moseley Motorsport-supplied calipers and discs and there are braided hoses all-round, delivering serious stopping power lap after lap. Finally, we come to the wheels and that's one area where there's always a bit more flexibility, especially with this being a road-legal build, so Steve explored his options fully. "I always wanted period-correct wheels and considered many options including BBS RSs but finally opted for these wheels after the manufacturer agreed to build them in the size and offset I wanted," he explains, that being Compomotive and the wheels being the company's TH design, with these 17s wrapped in Toyo R888R rubber and they are the perfect choice for this motorsport build and suit the E30 so well.
This is an achingly cool machine in every way – it's a Warsteiner-liveried road-legal Group A E30 M3 recreation, how does it get any better than that? The work that has gone into this build is incredible, it's period-perfect in every way that matters but even better where it counts as it's equipped with more modern equipment that means it's as finely honed an E30 M3 track machine as you could hope to find. Not one corner has been cut anywhere on this build, but then again it wouldn't have been because when you're building a genuine racing machine everything has to be nothing but the absolute best. Steve is one very lucky guy to be able to grab the keys and take it for a spin whenever he's in the mood, whether that be on the road or track, and we can only imagine the sort of reaction this car gets out in public. As far as E30 M3s go, it doesn't get much better than this.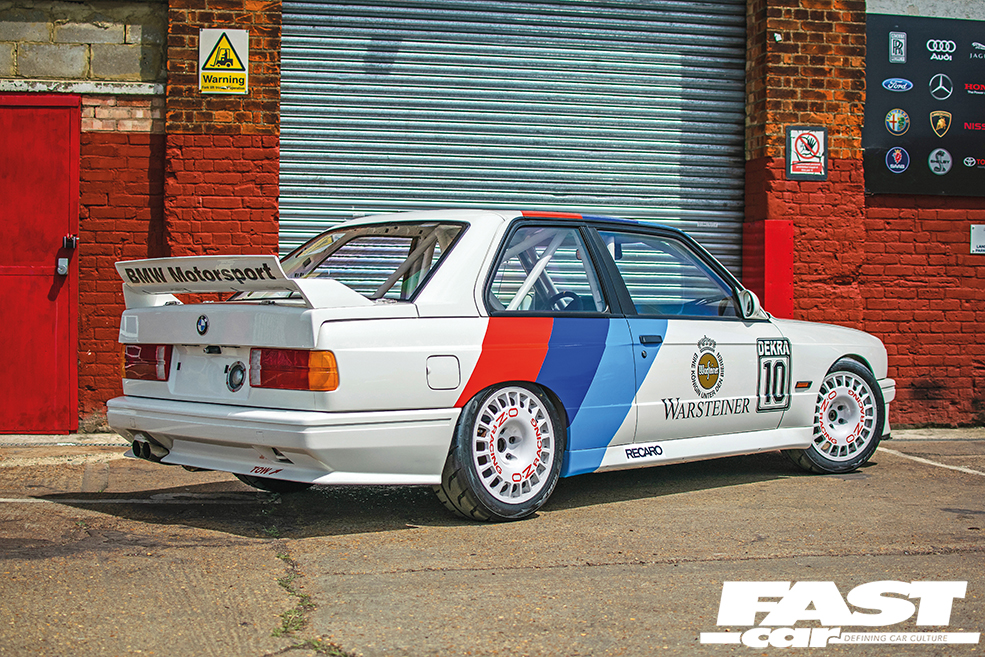 Tech Spec: Group A E30 M3
Engine:
2.3-litre four-cylinder S14B23, Group N engine mounts, Sport Evo 48mm throttle bodies, exhaust manifold and flywheel, DTM carbon fibre intake with 18cm primaries and carbon fibre snorkel, re-honed and balanced block, JE racing pistons, Schrick 284/276 cams, Siemens Deka 630cc injectors, Group A gasket set, Spal electric fan, Mishimoto alloy radiator, larger oil cooler, baffled sump, modified crankcase ventilation, custom twin stainless race exhaust with crossover and cat delete, Emerald K6 ECU with twin map switching
Transmission:
Getrag 265 five-speed manual gearbox, fully rebuilt, C3 competition clutch and slave cylinder, Group A selector and alloy gear stick, Group N transmission mounts, Group A oil sensor, balanced propshaft, fully rebuilt diff with 4.27 final drive ratio and 25% lock-up, finned differential case, gearbox oil temperature sensor
Chassis:
8×17" (front and rear) Compomotive TH wheels with 225/45 (front and rear) Toyo R888R tyres, powder coated front crossmember, Vorshlag fully adjustable race camber/caster plates, 2.5" coil-over spring perch with single-row race bearings, Leda fully adjustable shortened front struts, Eibach 2.5×7" 500lb coil springs, Eibach 2.5" 40lb helper springs, Zone Motorsport eccentric rear wishbone racing bushes, H&R anti-roll bar with race mount, Sport Evo aluminium front wishbones, Powerflex bushes, power steering deleted and replaced with manual quick rack, powder coated rear subframe, GAZ fully adjustable shortened rear shocks, Eibach 2.5×10" 250lb coil springs, Eibach 2.5" 40lb helper springs, H&R anti-roll bar, alloy race mounts and Powerflex bushes, Brembo four-pot calipers and vented discs with aluminium bell housings (front), Moseley Motorsport-supplied callipers and discs (rear), braided hoses
Exterior:
Shell media blasted to bare metal, fully seam welded, painted original Alpine white III, Warsteiner livery, Sport Evo arches, thin-slat front grille and bonnet rubber seals, fibreglass bonnet with twin pin quick release, ABS front bumper with twin pin quick release, Group A carbon fibre front splitter, cold air intakes for brakes, door mirrors (driver's side feeding cold air to driver) and single-wiper conversion, Bosch high-output headlights and main beam, FIA-approved towing eye, engine cutout, plumbed-in fire extinguisher switch, ABS rear bumper and boot lid with twin pin quick release, Group A rear spoiler with adjustable Gurney flap, Armourfend on stone chip-vulnerable areas
Interior:
Group A roll-cage incorporating front and rear suspension mounting points and differential, Ramsport heated windscreen, custom-built lightweight loom, Perspex windows with slider kit on driver's door, flocked dash, Group A instrument panel with 8000rpm tacho, engine oil temperature, gearbox oil temperature, differential oil temperature, engine water temperature, engine oil pressure and fuel gauges, plumbed-in fire extinguisher switch, ignition switch, push-start, Spa digital speedometer, Group A gear selector, Fire Sense 5kg plumbed-in fire extinguisher for both driver and engine bay, Odyssey Extreme Racing 25 battery and aluminium mounting bracket, FIA battery isolator, Sparco Pro 2000 FIA-approved seat with steel side mounts, Sabelt six-point 2" harness and stress plates, OMP Corsica 330mm suede steering wheel and alloy hub, Longacre wide-angle race rear-view mirror, original door cards and rear panels, FIA-approved foam-filled fuel cell in spare wheel well with rollover valve, Group A rear-mounted aero filler cap with fast-fill alloy tube, Facet competition fuel pump with alloy filter bracket and swirl pot