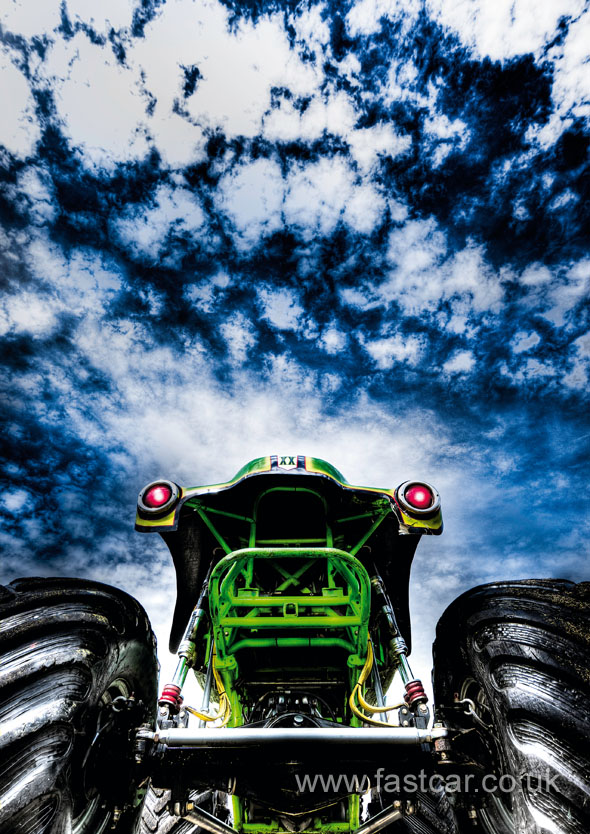 In the world of monster trucks there are none more popular, and none more famous than Dennis Anderson's Grave Digger.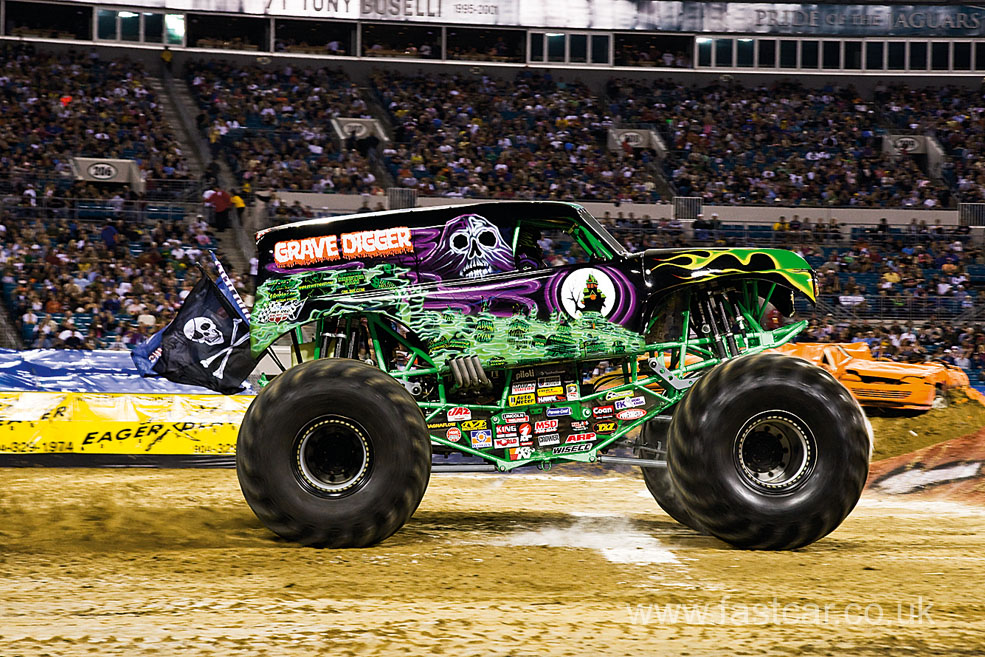 Being Monster Jam's headliner, legend has it the iconic 1950 Chevy panel van with its evil red headlights has been crushing cars and wowing crowds worldwide for over 25 years – but there's actually more to the story than you might think.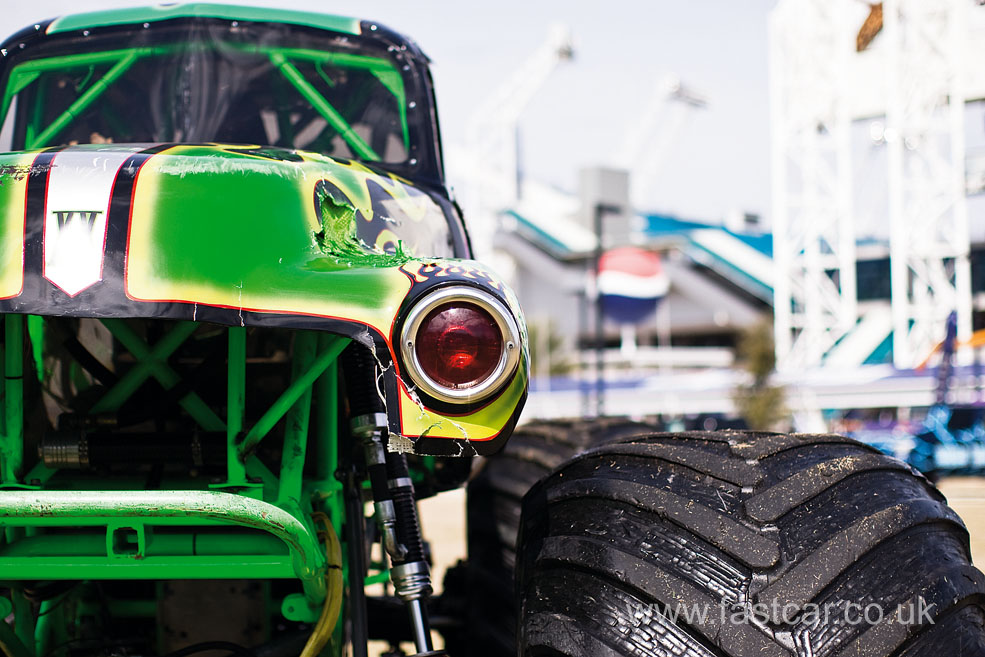 You see, the first truck to bare the name was a far cry from the race-bred machine you see today. A mud racer cobbled together in Dennis' garage entirely from salvaged parts it was actually a red '52 Ford pickup he designed to battle against better-funded race teams back in 1981.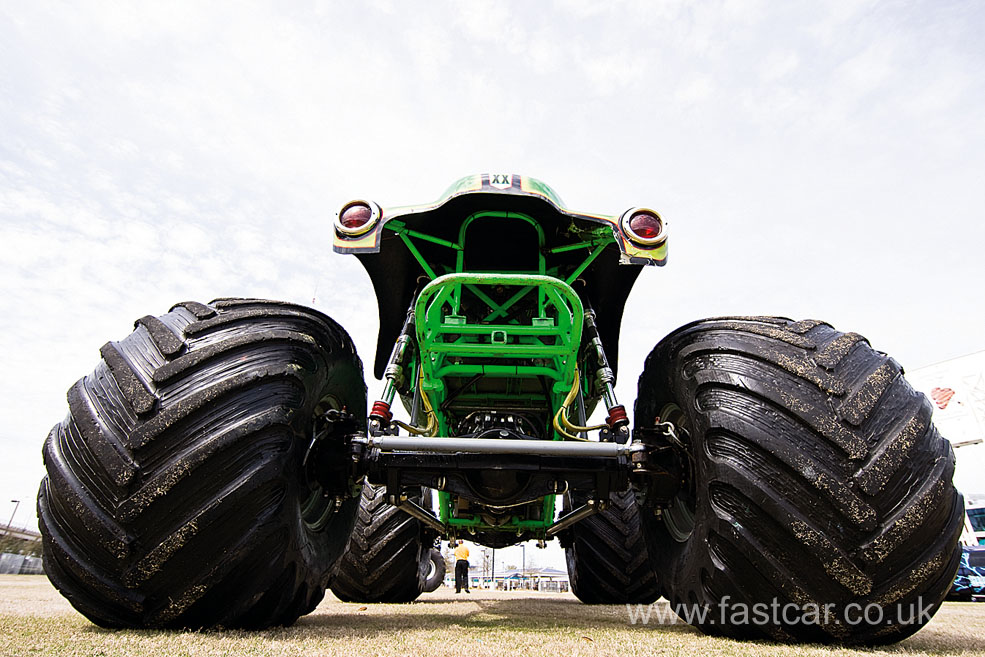 The story goes he barked, "I'll take this scrap and dig you a grave" at another driver and the name Grave Digger was born. In fact, over the years, there have been more than 20 different versions in between. Many have been retired or rebuilt to run under another banner but, with Dennis' unique 'all or nothing' driving style far more were smashed straight into oblivion.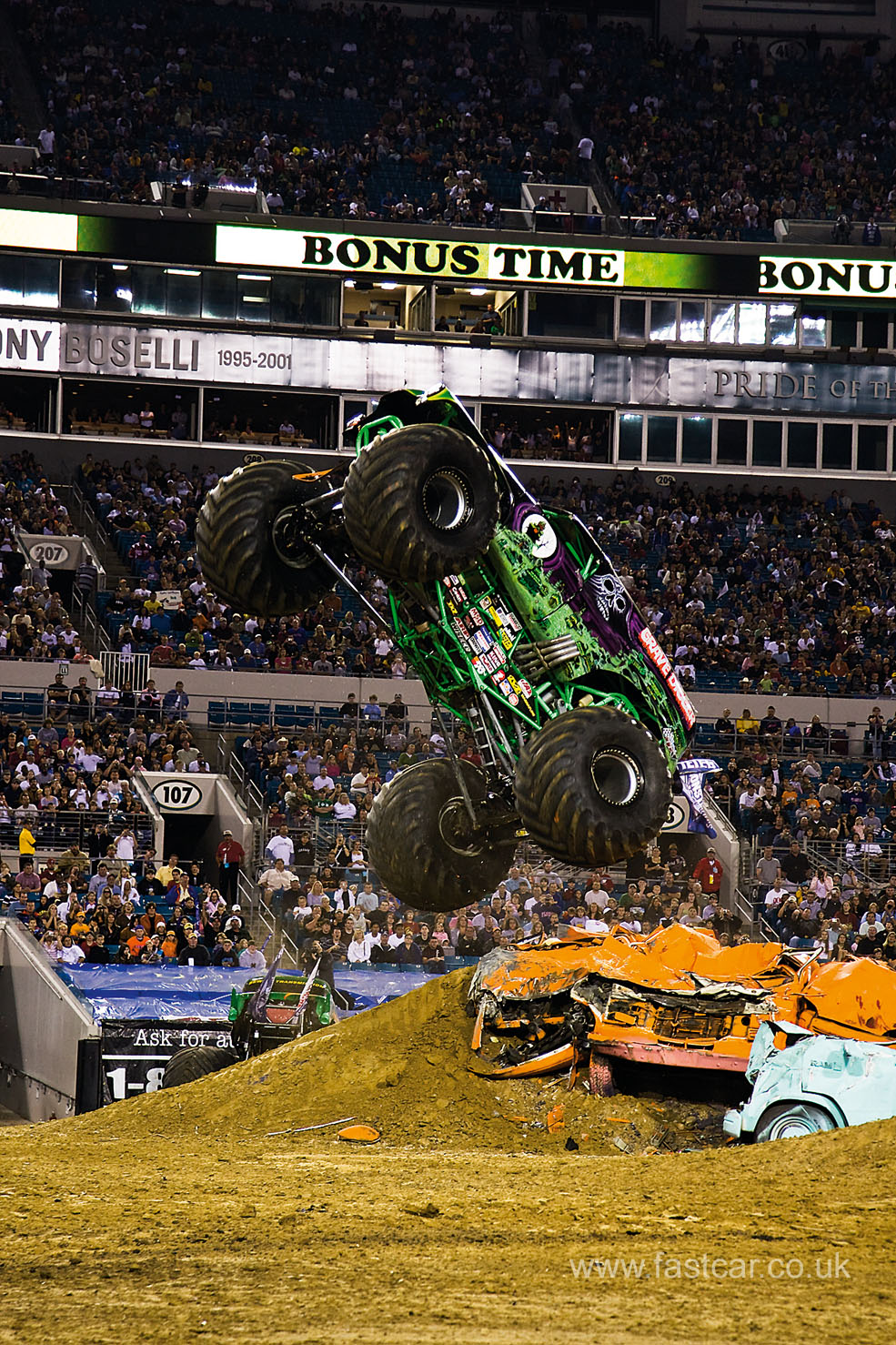 Since the 90's though the Digger as we know it has hit its highest popularity and raced in over 70 events every year. And while that sounds impossible, there's a pretty simple explanation for it – there's seven near-identical Grave Digger trucks running at any one time.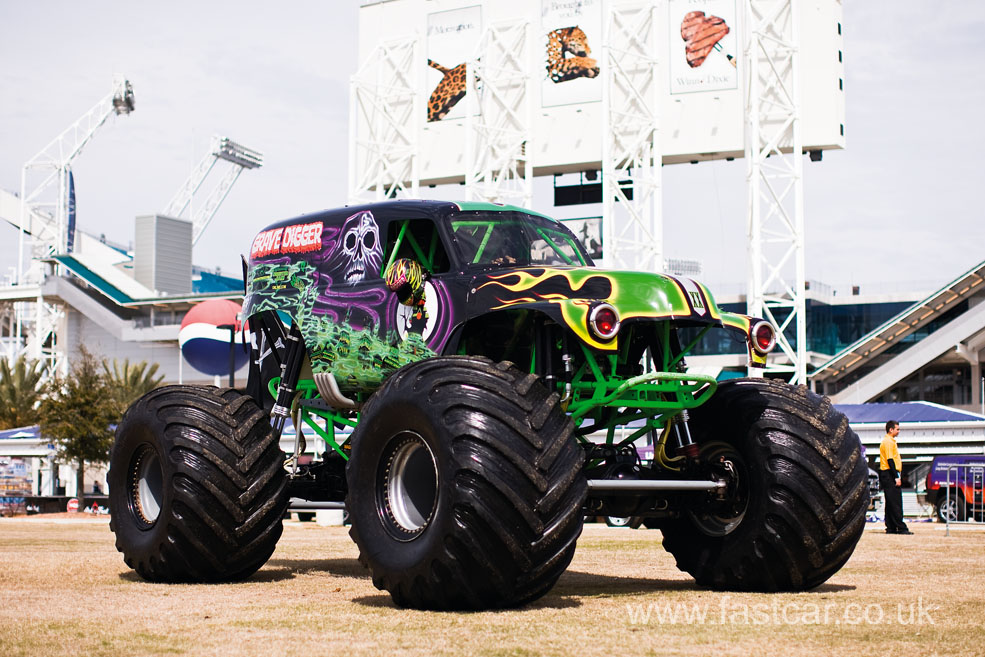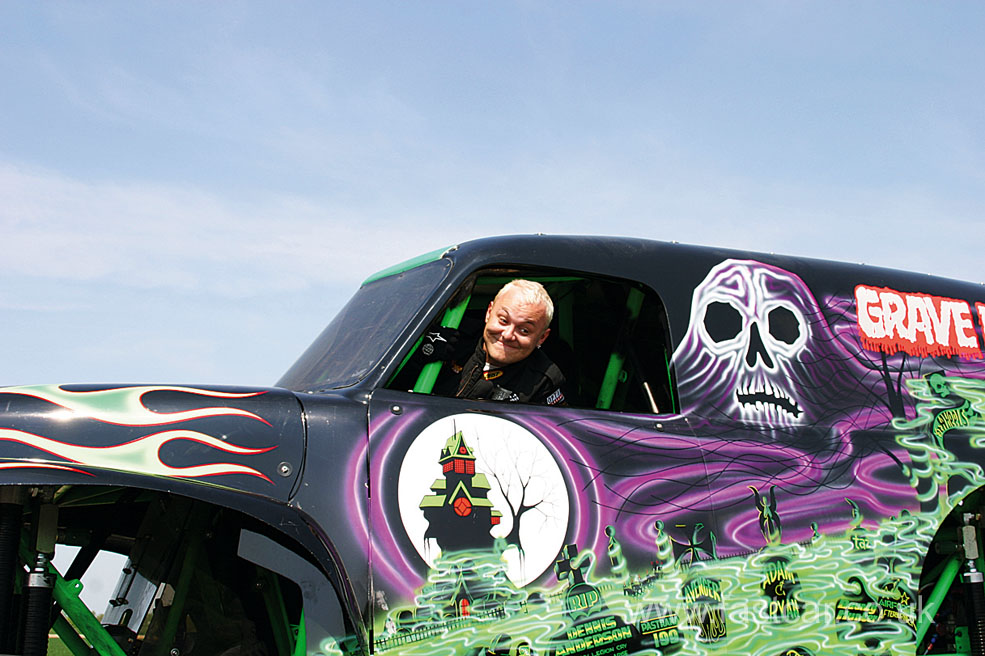 ENGINE
If you're going to make a 4-ton truck jump distances of 200 feet you'd better make sure it's kicking out some real power… you'll be wanting an 8.8-litre, supercharged, NHRA methanol drag lump then eh? Obviously it's not great on the juice but that doesn't really matter when you're rocking 1500bhp!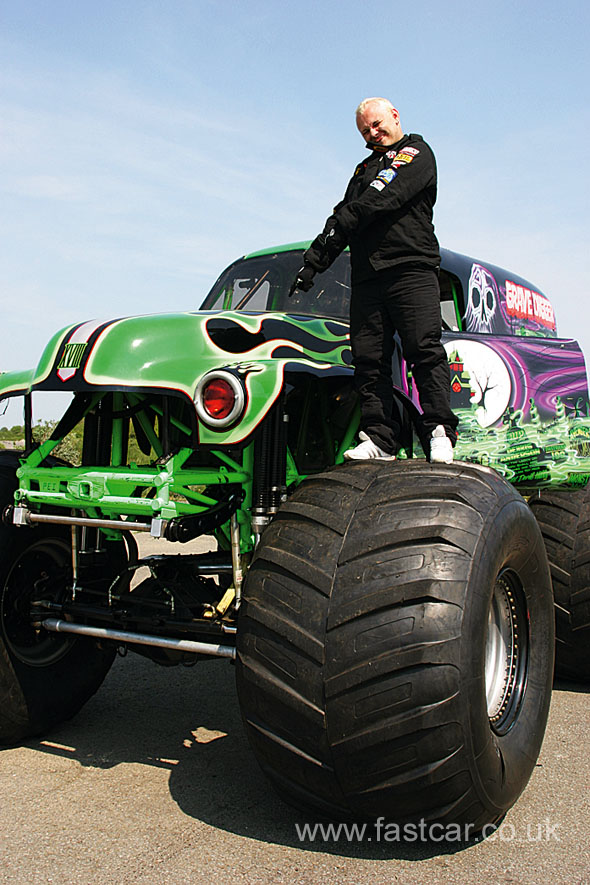 BODY
At one time in the past Grave Digger also sported a blue and silver Ford panel truck body and it wasn't until 1986, (when it was converted from mud racer to full spec car crusher) that the famous green flamed, graveyard paint job made an appearance. The 1950 Chevy shell of Grave Digger II, which is now regarded as the definitive body style, came about in 1989. Like all modern monster trucks, (and its Digger brothers) Dennis' Grave Digger 20 has a custom airbrushed hi-impact fibreglass replica body. This initially costs around 30-grand for the first mould and another 7k each time they're smashed beyond repair… which is just about every weekend.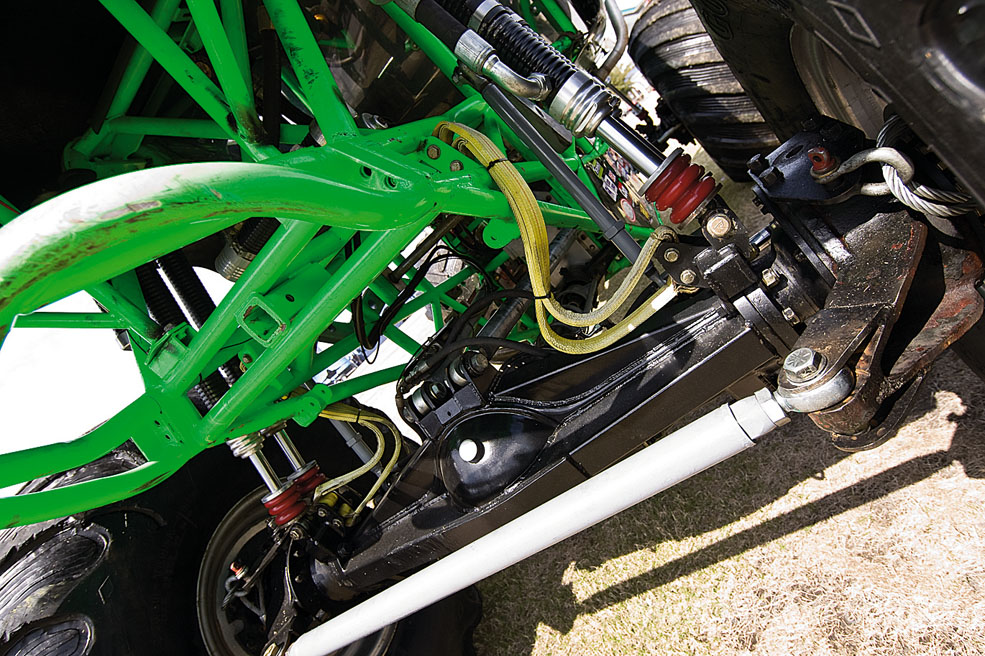 CHASSIS
While the first Digger was little more than a high-power road truck on tractor tyres, the legend has evolved into a whole team of purpose built, 4- link, super advanced racers integrating a constantly developing hardcore chassis and those all-important, driver safety cells. As for those mental wheels, each 66-inch high tyre takes 50-hours to hand cut and costs around 2- grand a pop. Funny enough they aren't available at Kwik Fit either!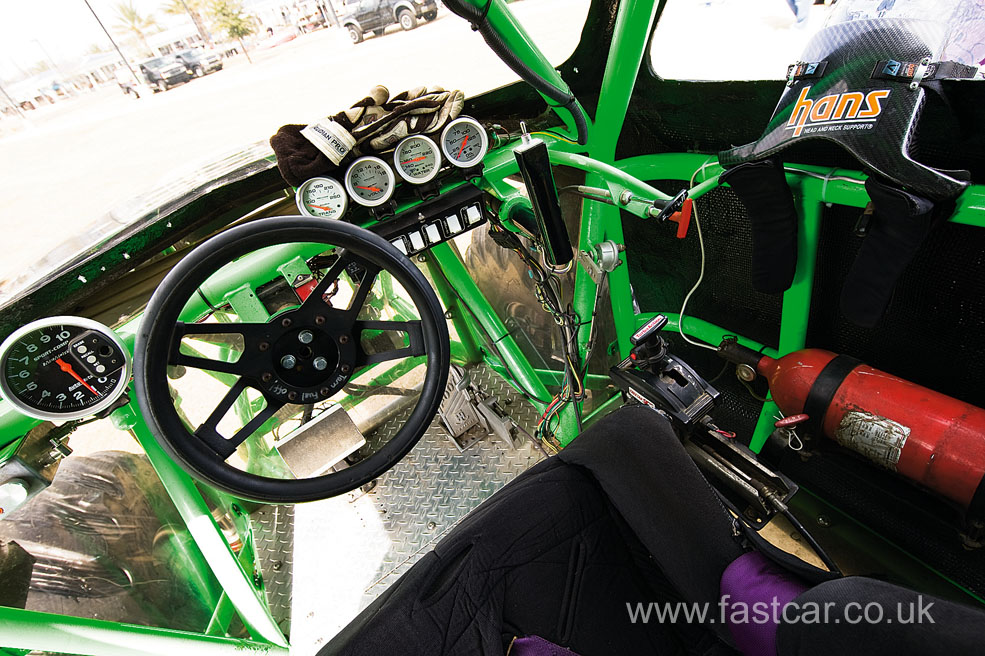 FAST SPEC – GRAVE DIGGER 20
1950 Chevrolet Panel van replica fibreglass body shell with painted and airbrushed 'Digger' livery; 8.8 litre supercharged Chevy big block NHRA methanol dragster engine producing 1500-bhp; purpose built 4 link tubular chassis with integrated driver safety cell and nitrogen shocks (26-inches of travel); central driving position with independent front and rear wheel steering; 66-inch hand cut 'Terra' tyres; 30-grand a pop!