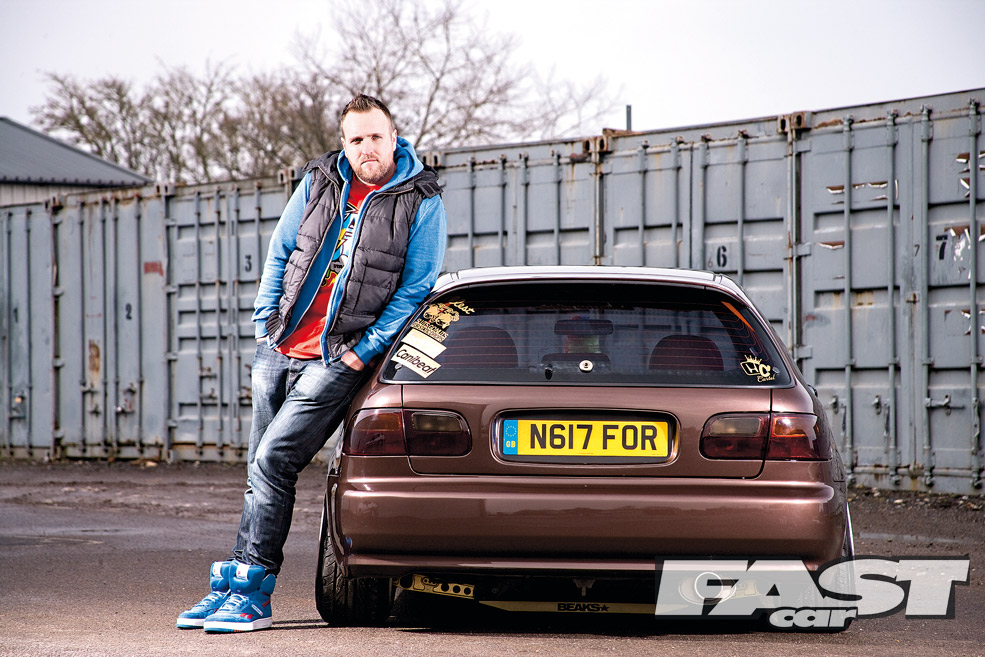 Glenn Rowswell's stanced Honda Civic EG
Sensible is a seriously crap word. I mean, just say it out loud, it's rubbish, a word reserved for school teachers, parents and boring people who feel the need to worry about the most mundane shite. There's absolutely no fun in sensible and there never will be.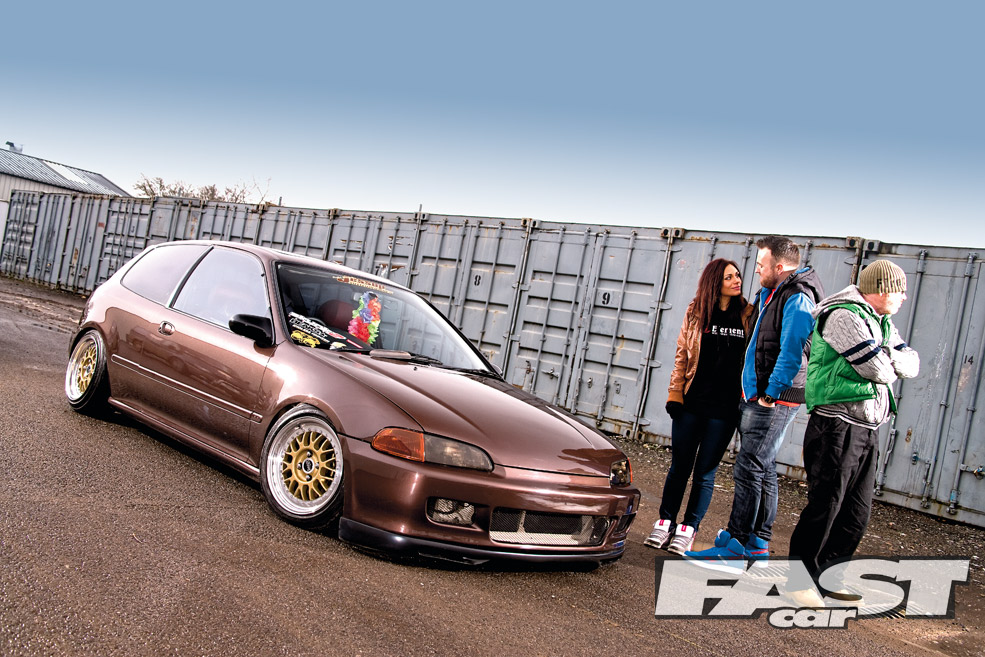 Here at FC though we don't do sensible and arguably the biggest instigator of any kind of messed-up behaviour is our very own internet guru Mr Glenda Rowswell. Now, it's not just his 'eye-catching' clobber, tendency to say dude (a lot – Jules), or the entire Shockwaves product range in his hair. What makes our illustrious Web Editor far from sensible isn't even his perfect California cruiser. It's simply the fact that he's built it right here in the UK.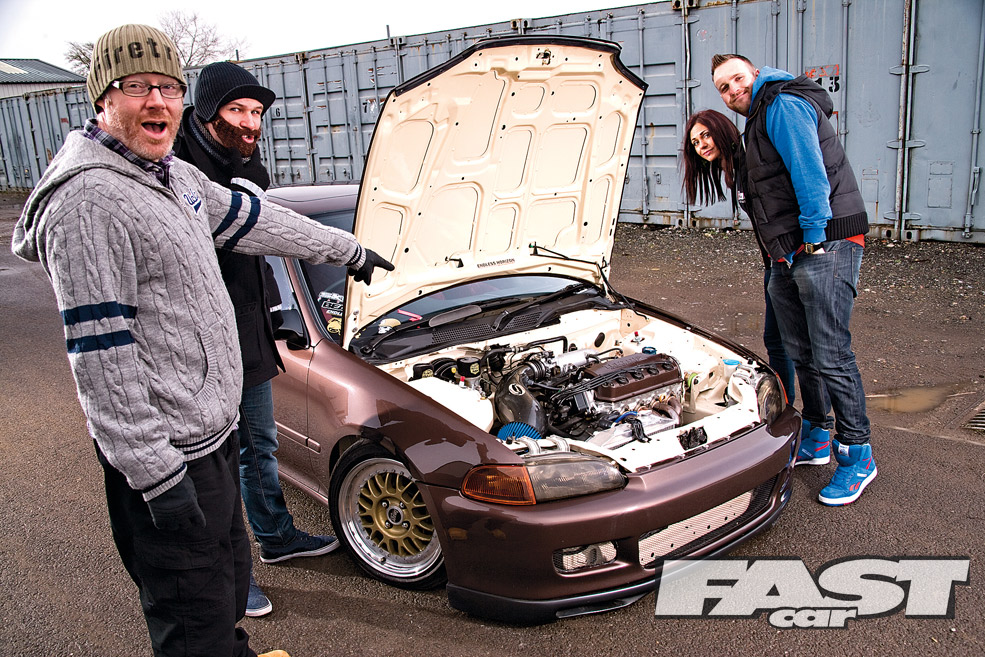 On paper it's just bonkers. A super-plush, ridiculously cambered and seriously slammed EG Civic owned by a bloke who lives in a city centre. You'd be more comfortable drifting to work saddleless on the back of a three-legged camel, and yes, we told him that from the start. Did he listen? Oh no. But two years later, seeing the finished article on the street, it all makes perfect sense. Just looking at it makes functionality seem, I don't know, pretty overrated. And that, my friends, is the whole point.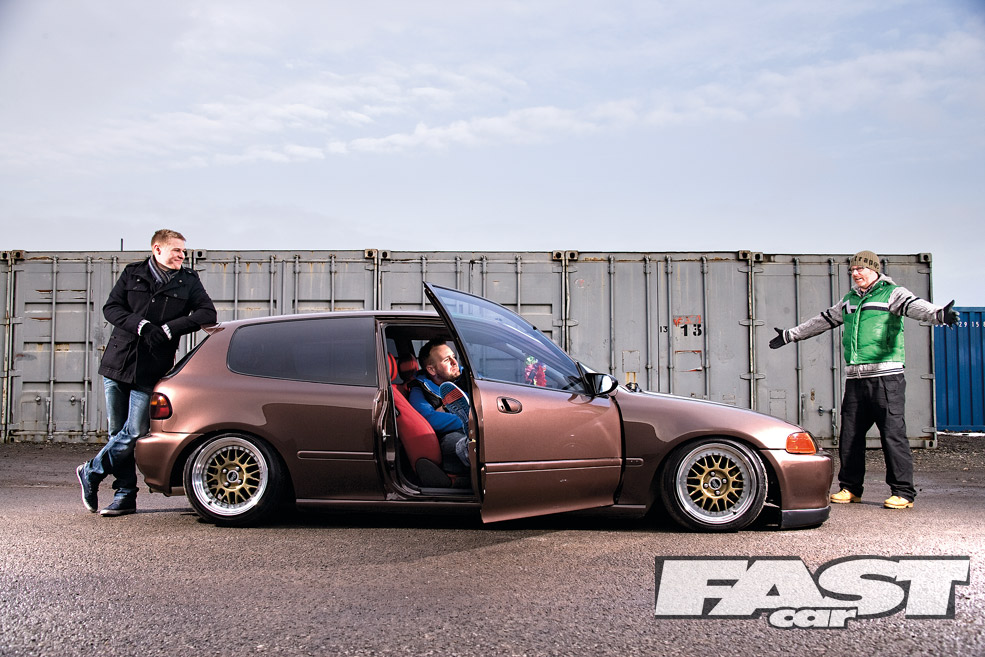 If nothing else, Glenn's Civic begs the question: why should little things like power steering, ABS or getting over speed bumps stand in the way of perfection? After all, if practicality was the issue, maybe something a little bigger than an EG Civic would have been a better choice in the first place. At seven-feet-nine, our Glenn's not exactly compact… and his size 22 high-tops are of equally legendary status.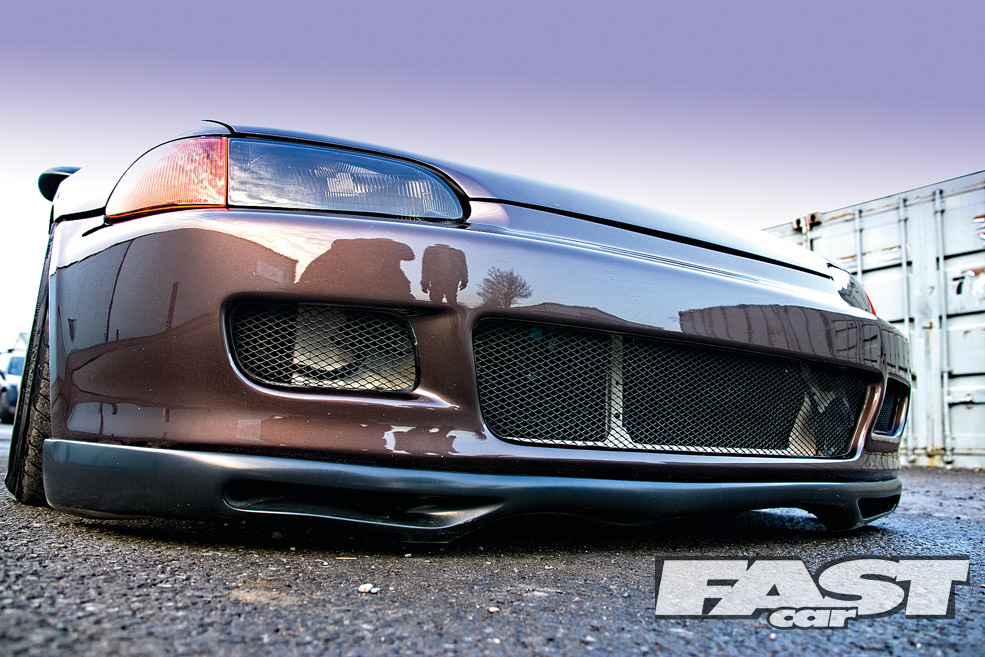 It's about finding perfection no matter the environment – concepts like comfort and ease of use are little more than irrelevant details.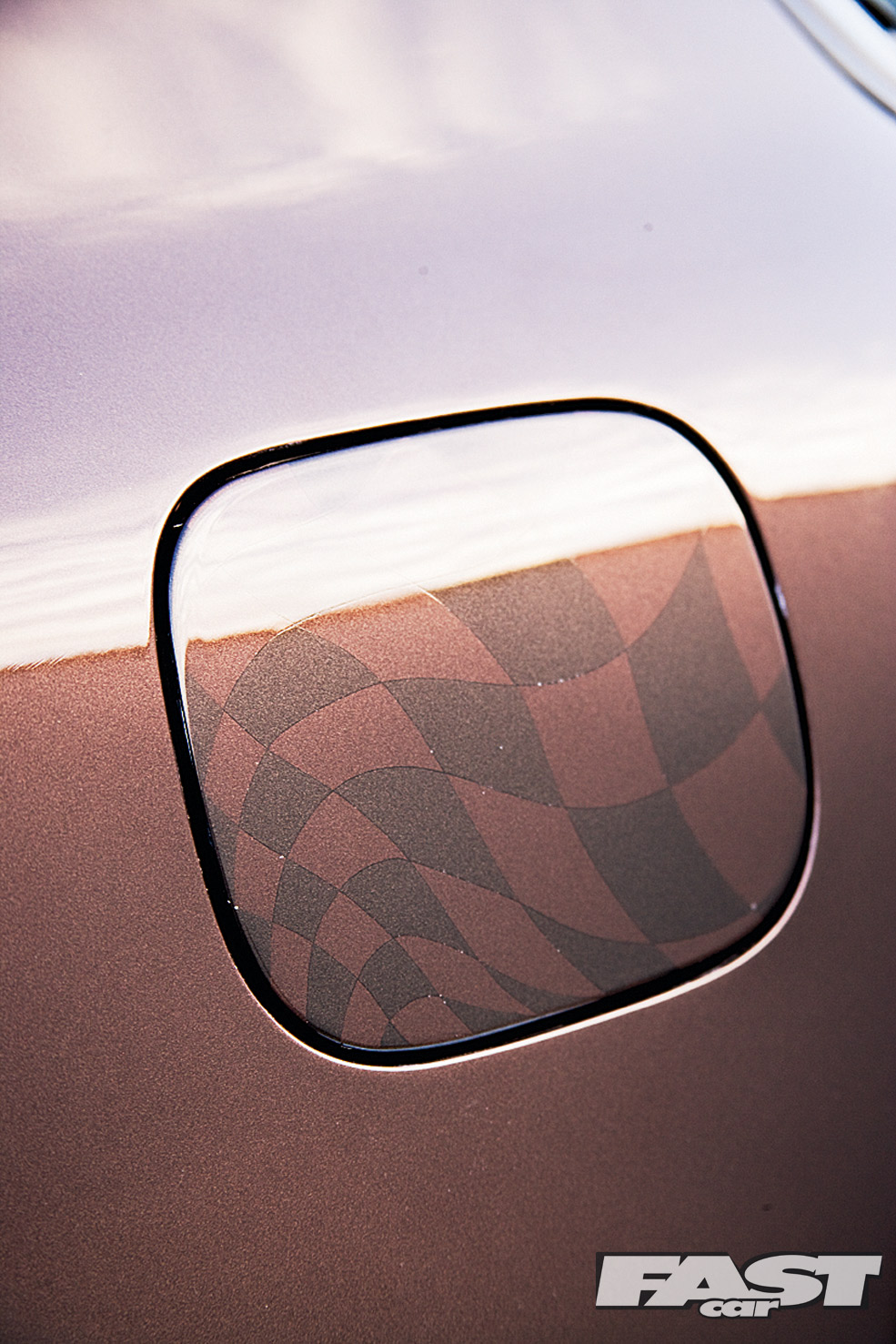 It's a super-cool, no compromise, Cali-style motor that was built for that dream of donning his shades and cruising the coast, on super-smooth roads, underneath the blazing sun. It's just ironic that it's actually minus three degrees, snowing and we're in a storage yard just outside Shepton Mallet.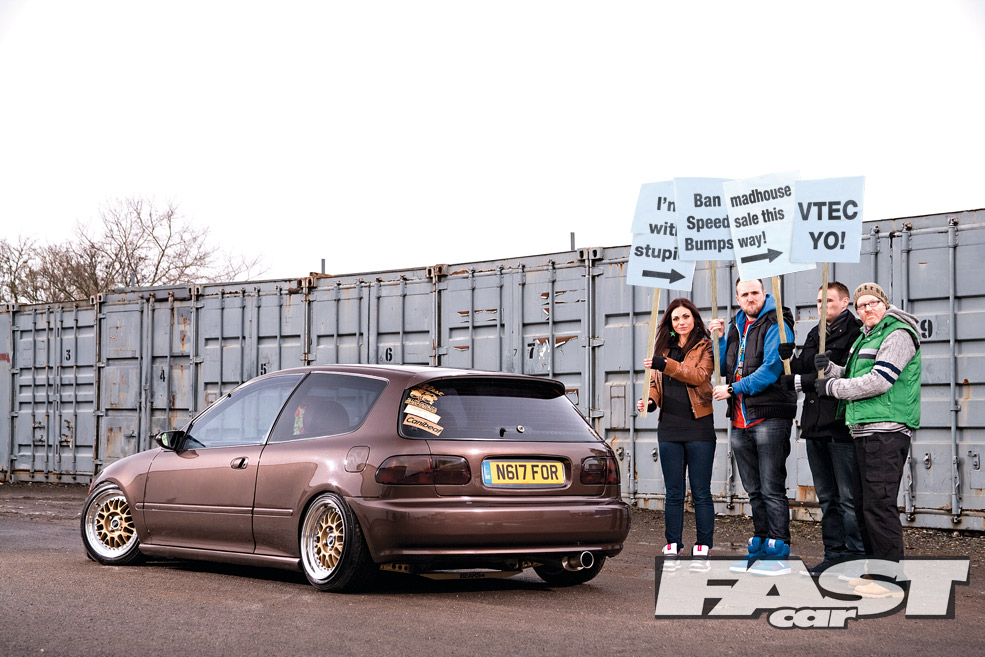 It's uncustomary but, due to the fact that this whole motor is built around the idea of impeccable chassis geometry, it's only prudent we delve into that first. It's fair to say, Glenn's taken a distinctly American approach, not only sourcing parts from Skunk2 and Beaks in California, but drawing inspiration from websites like Hellaflush and Canibeat.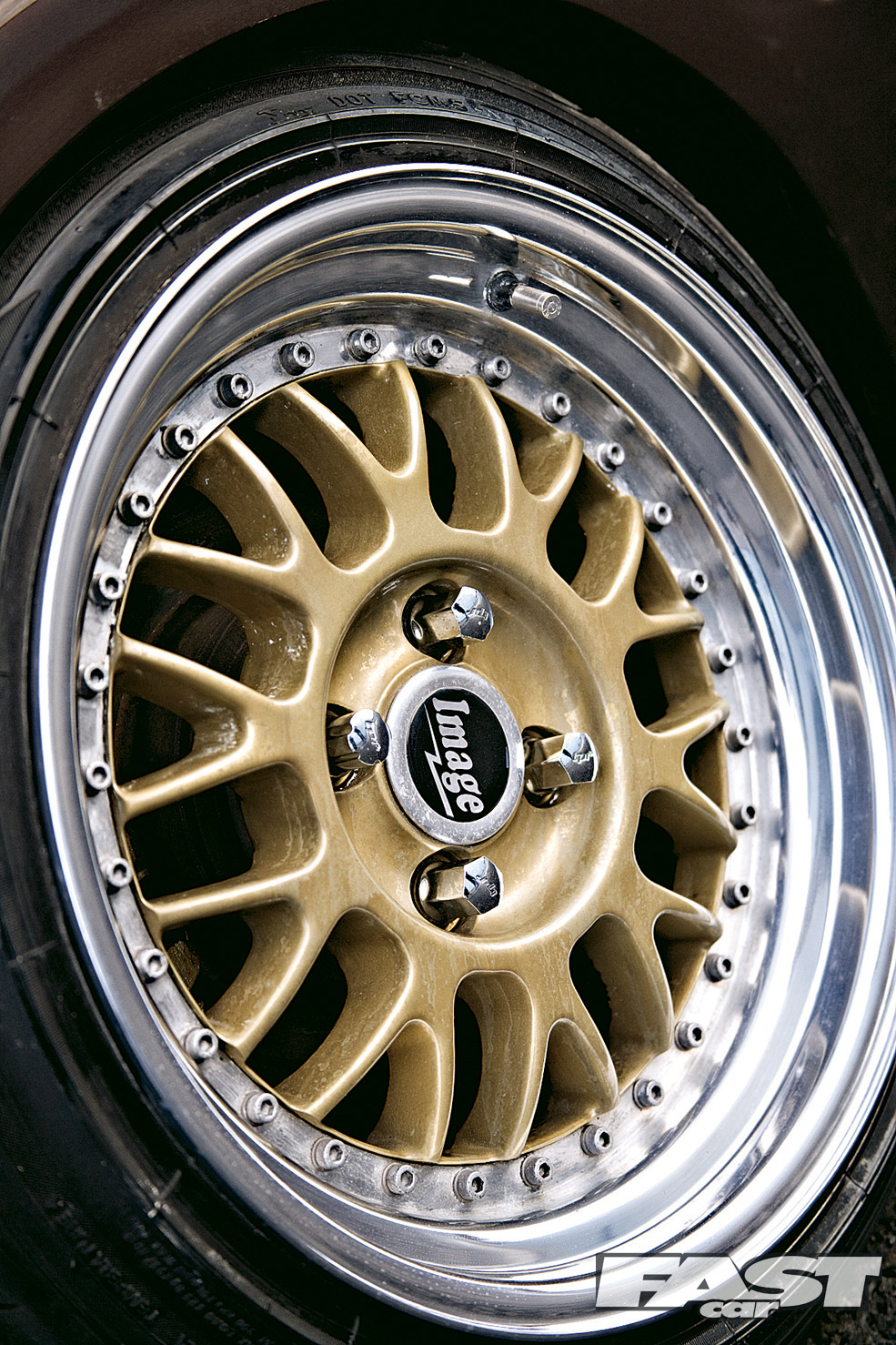 While our roads don't make this setup the easiest to live with, if he's not driving round decapitating ants and ripping up cat's eyes it wouldn't work. There was no way this Civic would ever be anything other than stupidly low! Still, he's no stranger to the world of Hondas and, as this is his second EG, is well versed in the art of setting up the infinitely tweakable chassis. It's taken some head-scratching, loads of high-end parts and even two-sets of coilovers, but the result is astounding. Especially with the whole lot perfectly dumped over those custom-made, three-piece splits.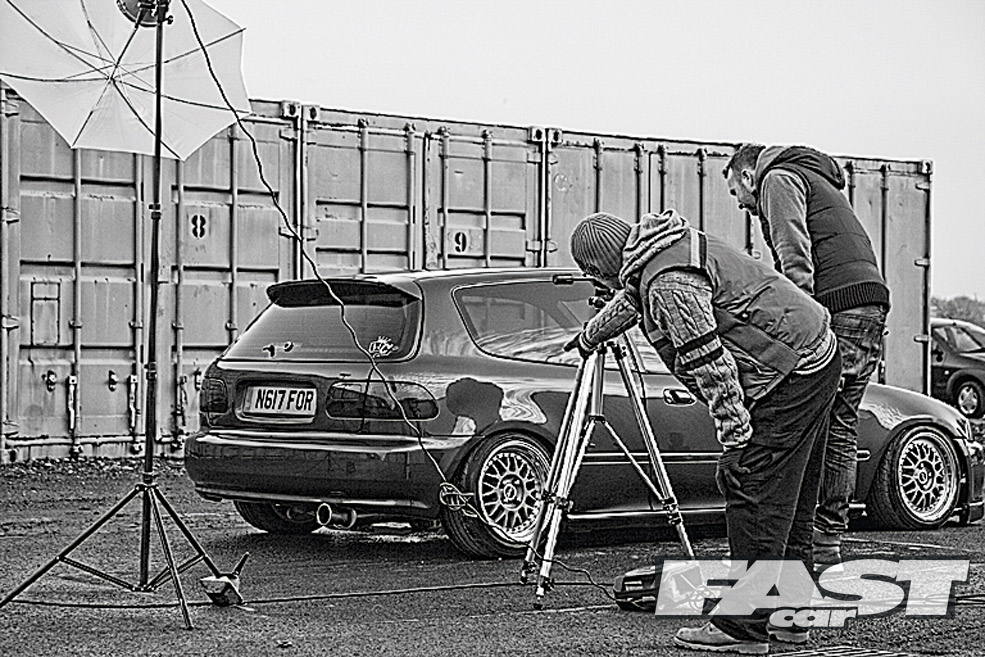 To understand the way this motor looks you need to understand that Glenn is a professional internet surfer who lives in a world not measured in miles but in nanoseconds along fibre optic cables. For him the Civics cruising the beaches of southern California are no further away than the Tesco at the end of his street. So, it's pretty understandable why his inspiration from this project came from some of the planet's most serious Hondas.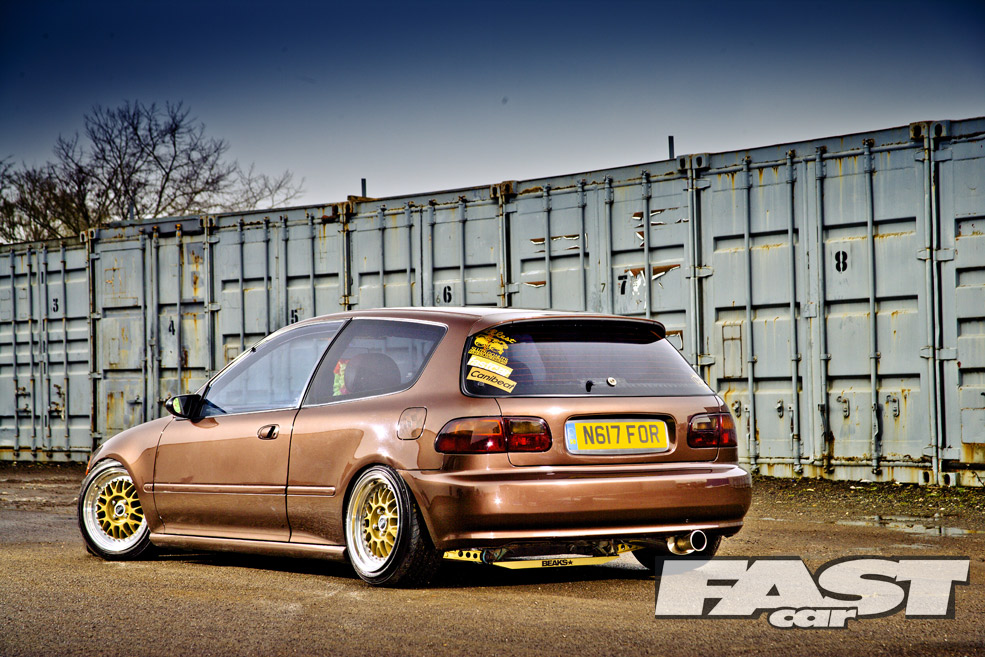 Quite obviously, all the online research has translated directly into smooth, subtle and unashamedly cool styling. With the help of Rob at Jessop Motor Bodies, he's removed 'imperfections' like the front plate recess, aerial and locks and hit the lot with lashings of a colour you wouldn't particularly associate with the man himself – dark brown.
So why a hue you'd never, ever find in his lairy T-shirt collection? Well, according to Glenn it's all about creating a sort of restrained elegance, something you may find cruising the coolest parts of the US. Of course, it's still totally impractical and a bugger to clean but engine bay painted in apparently that's okay because it comes out nicely in the sun. Handy for at least three days a year in the UK then – the nutter!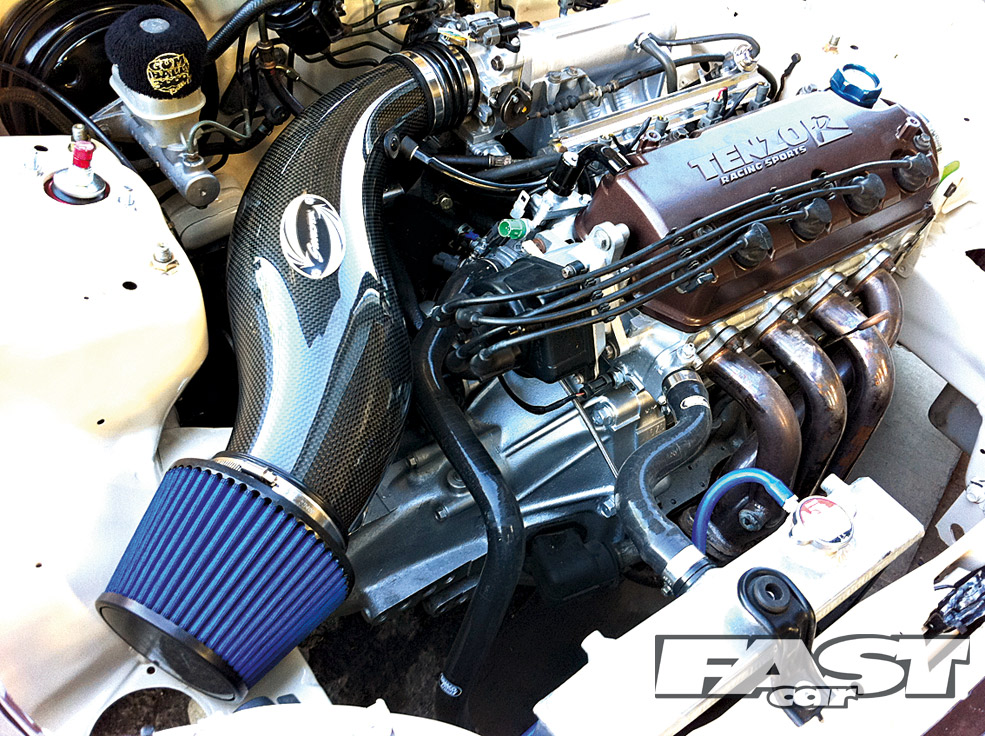 This car's always been more about presence than speed and that's because, being so low, hitting full throttle anywhere than the flattest of roads is a ridiculous concept. Of course, that hasn't stopped Glenn fettling his D-series lump with some of the finest bolt-on tuning but, it has to be said, the piece de la resistance is when you take the engine bay as a whole.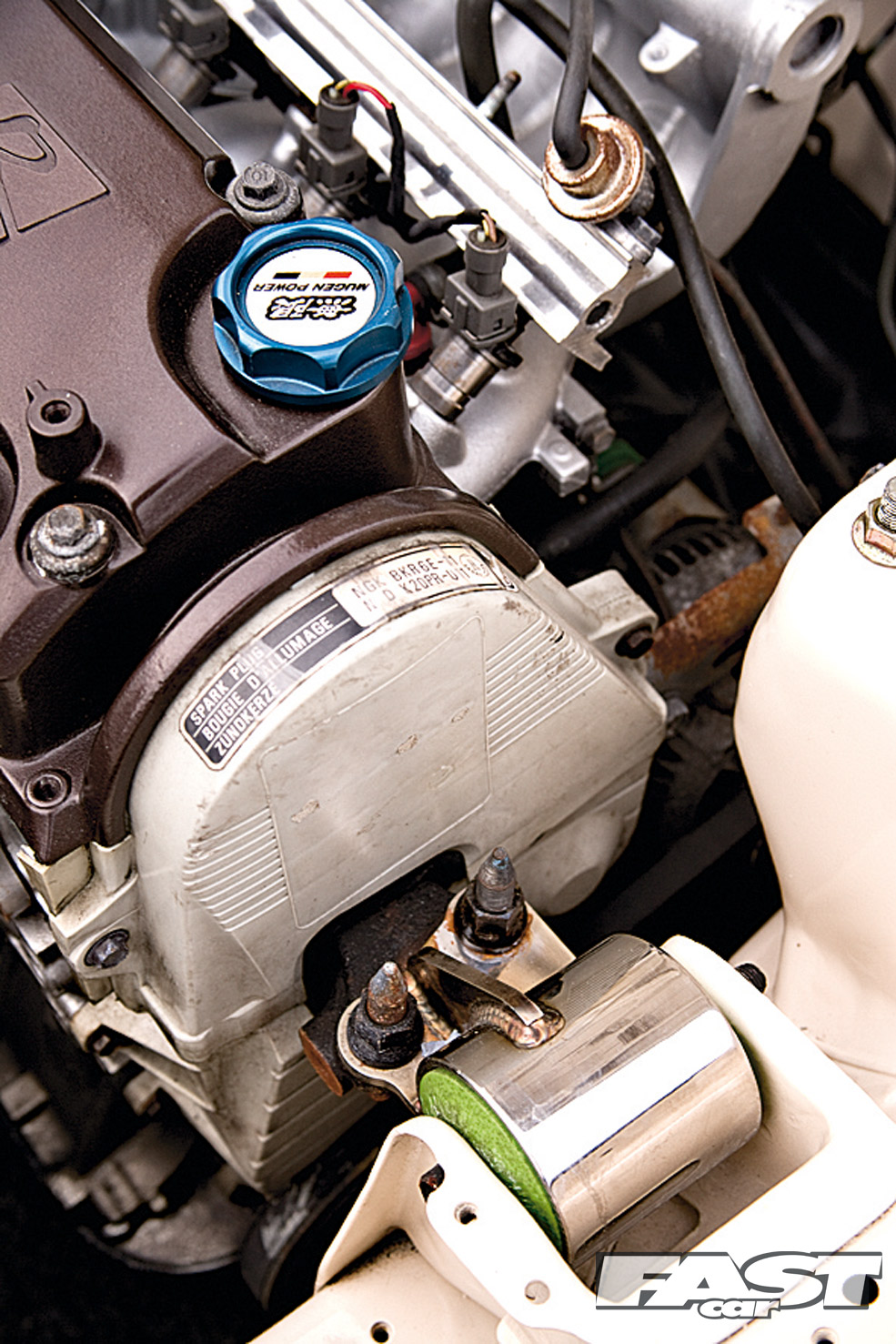 Again this one's all about looking good and practicality went out of the window. On a trip to Endless Horizons the engine was removed and, after the bay was painted cream, perfectly reinstalled with a full-on, you might say severe, tuck.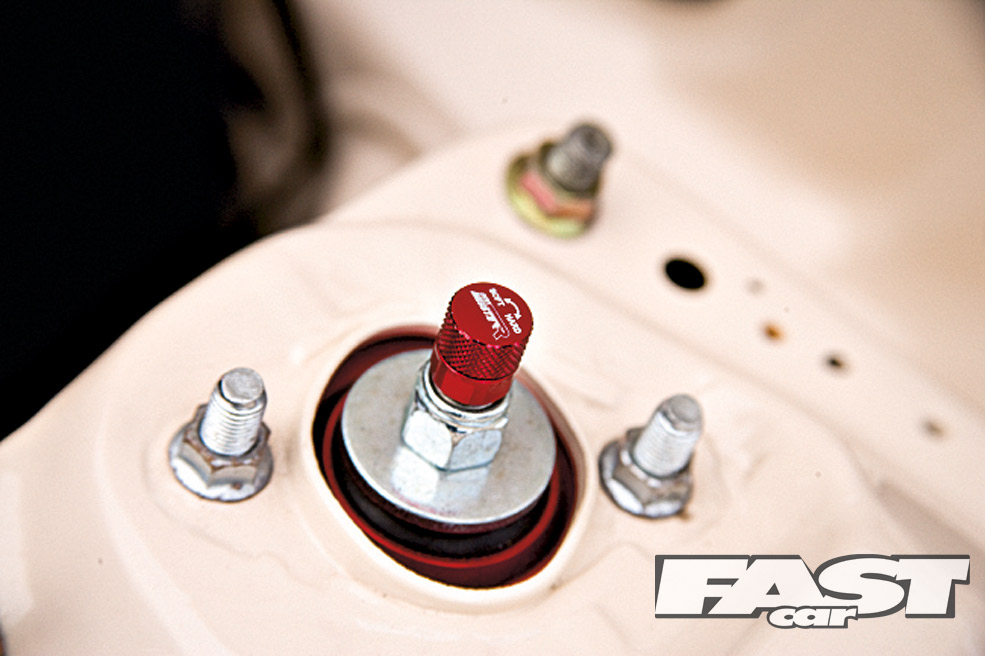 When I say full on, I mean it too. If someone said to you that your engine would look better without the power steering and ABS you'd laugh right? For Glenn it took about three seconds before they were in the bin. The same goes for hiding the fusebox behind the dash but it's this kind of dedication to the cause that counts for a lot. Is it sensible? Definitely not. Is it awe- some? Well, just take a gander!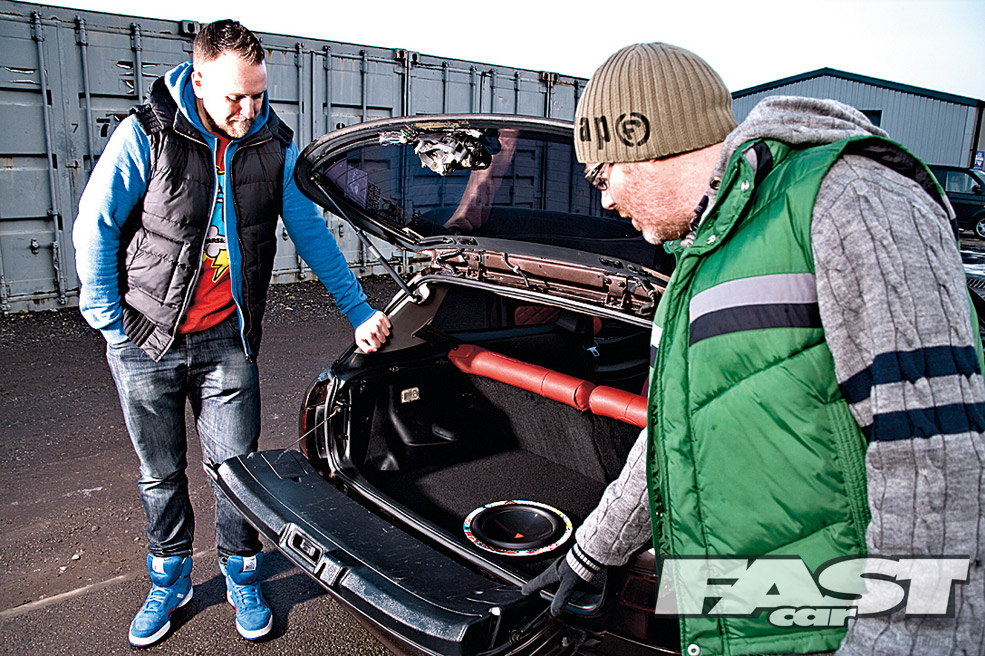 Inside is an equally nice place to be. A spot of plushness was always the plan but, after much deliberation, Glenn went down the unusual OEM route of choosing the seats from a Rover 200. There was method to his madness though: both cars share the same ancestry so he thought, on that basis, they would be simple to fit; they weren't.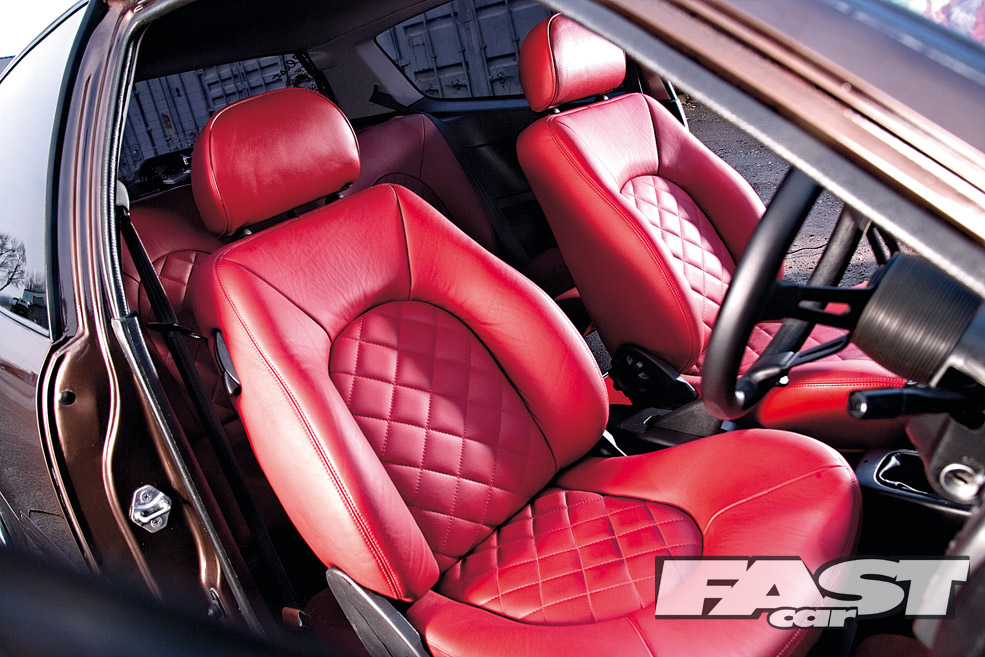 After plenty of shouting, chopping and general scraping of knuckles he got them bolted in, right before stripping the whole lot out and sending it to d:class automotive for a super-swanky retrim. With a few trick details from the likes of SFS and Momo, the interior was sorted and his attention turned to the audio.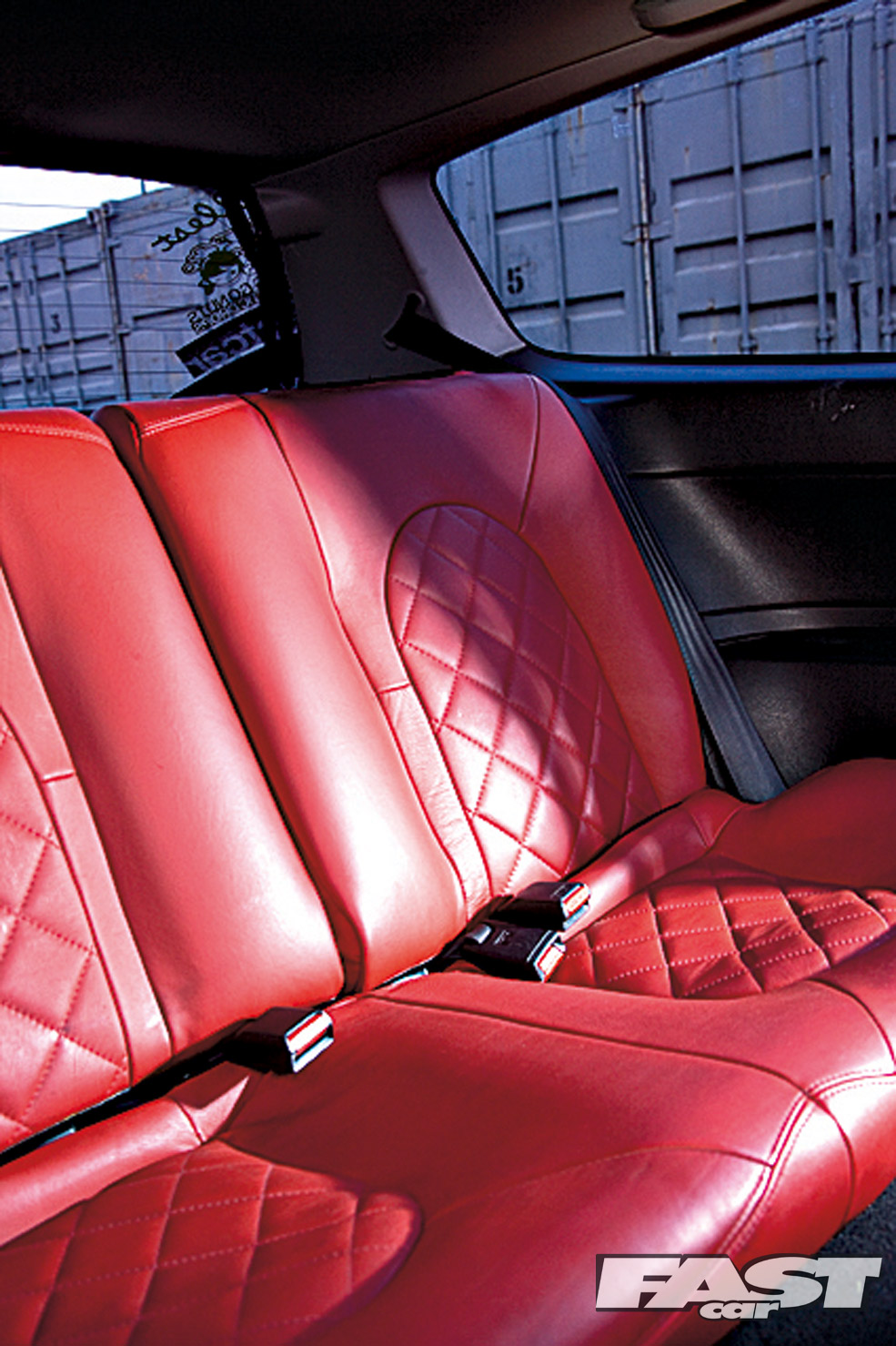 Now, if you're expecting 47 subs and roof-mounted batteries, or something as equally outlandish as the rest of the car you'd be wrong. In fact, the discrete system is possibly the only practical part of the whole build, a bastion of functionality and a relatively simple setup. It goes to show just how seriously Glenn takes his music. But then, the Cheeky Girls have that effect on most of us.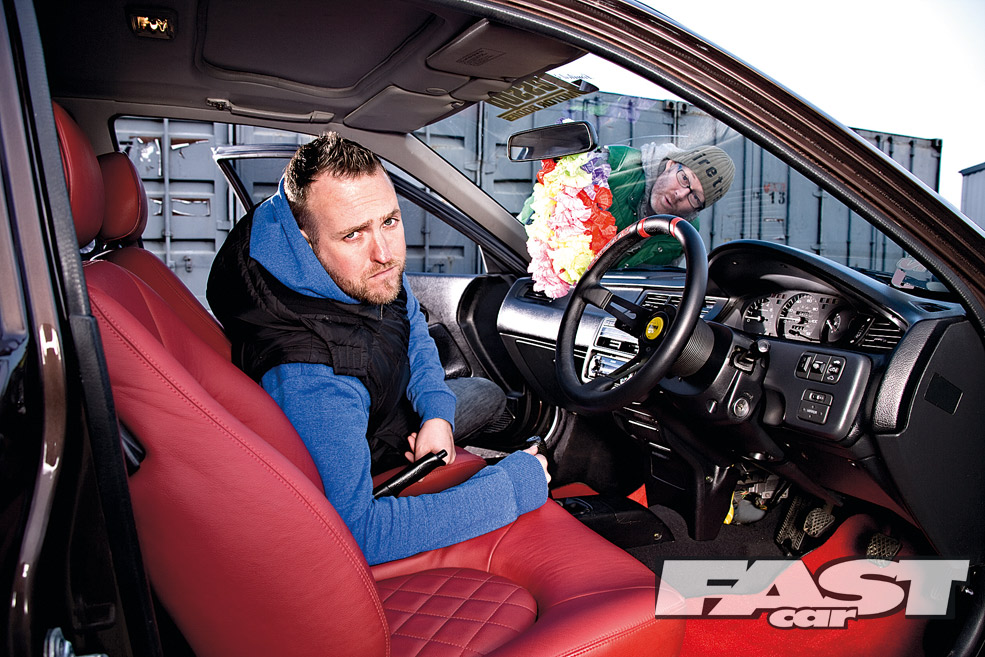 TECH SPEC – Honda Civic EG
Styling
Lesonal Paints Mercedes metallic brown paint, cream slam panel and inner wheel arches, chequer flag petrol cap, side repeaters removed and replaced with bump strip inserted LED lights, debadged bonnet, debadged and delocked tailgate, tinted headlights, smoothed and filled plate recess, fog lights and bumper slates removed and meshed, removed rear wiper, rolled and pulled wheel arches, ariel removed and smoothed, Ultra Auto Virtual Daylight Xenon Headlight Conversion, Performance Parts Warehouse PUD WW Style front lip, tinted amber indicators, Spoon style mirrors, car prepped and detailed with Dodo Juice products.
Engine/Tuning
Endless Horizon Motorsport smoothed and wire tucked engine bay painted in cream, relocated fuse box, removed ABS, removed power steering, 4-2-1 Japspeed Honda Civic D-Series SOHC SS Tubular Manifold, Welsh Coast Customs Powerflow de-cat exhaust system with N1 Spec style backbox, Samco coolant hoses, Speed Culture aluminium radiator, Drop Engineering D-Series engine mounts, polished fuel rail, Sanspeed 'Whale's Penis' air intake, Gumball 3000 reservoir socks (well sweatbands but same thing), Mugen oil cap, matt silver painted block and gear box, brown Tenzo R rocker cover.
Chassis
Image Custom Wheels BPS three-piece splits, 8×15-inch (fronts)
9×16-inch (rears), Yokohama S.drive AS01 195/45R15 78W tyres, Meister-R Zeta-S SuperLow coilovers, Skunk2 gold anodised lower control arms, Eibach Pro Alignment Rear Camber Kit and Front Caster/Camber Kit, Beaks Lower Tie Bar, H&R hub centric spacers, TPi lock-in wheel nuts, Hamerite ghetto gold painted brake callipers, grooved and grilled discs.
Interior
d:class Automotive modified and re-trimmed Rover 200 BRM front reclining seats, Rover 200 BRM rear bench modified from 70/30 split to 50/50 split, modified Rover 200 BRM door card inserts, modified Rover 200 sub frames, SFS Performance carbon fibre Civic EG speaker grilles and interior door handle inserts, EG black dash, carbon fibre gear knob, N1 wheel boss, Momo 'drift' deep dish steering wheel, Carmats4u thick pile red car mats, false boot floor.
Audio
Fusion CA-IP500 headunit, Kenwood 12-inch sub and amp, Kicker speakers, Relocated Performance Batteries Alphaline MF battery.