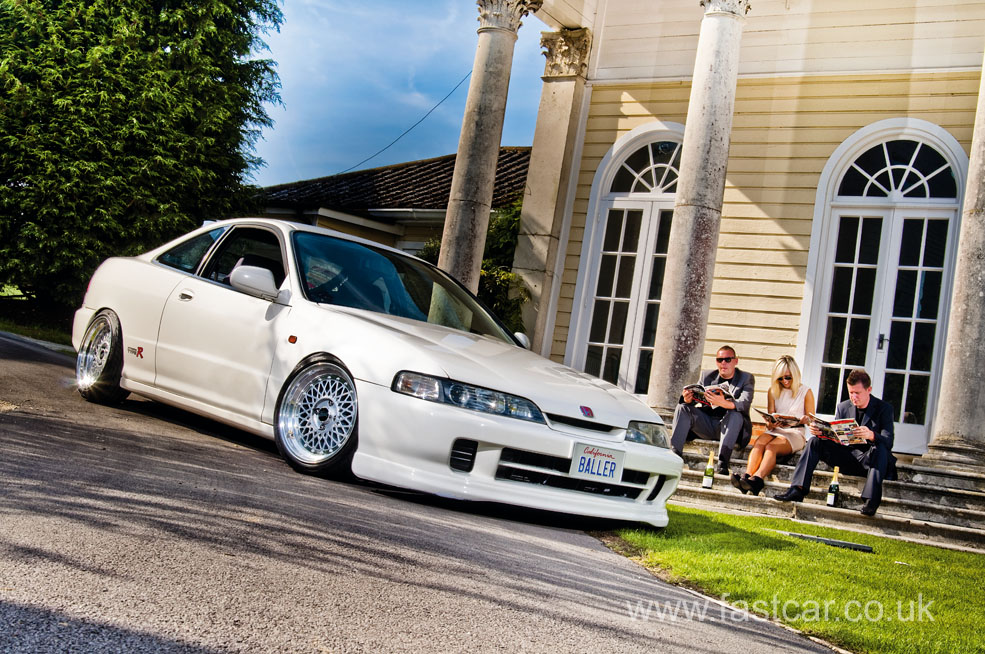 Peter Fyson's modified Honda Integra DC2
To take what's widely considered to be one of the best handling cars on the market and give it the Hellaflush treatment, you'd have to have balls the size of coconuts or be madder than a bag of otters. We think Peter Fyson is a bit of both!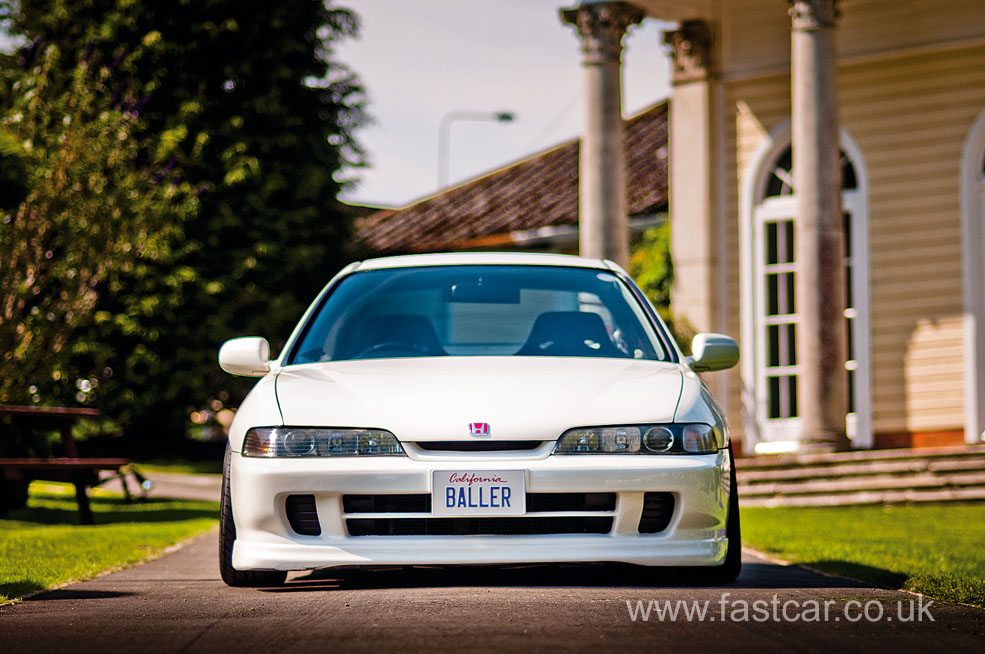 As soon as his Dad bought him a 1.4 Civic EJ he was hooked on Hondas. Cut him in half and he would bleed VTEC all over your carpet! After owning a handful of Civics Peter finally got his mitts on this, his second Integra and his latest Honda of choice. "Loads of people were doing Civics but no one had gone the stanced route on a 'Teggy," Peter points out.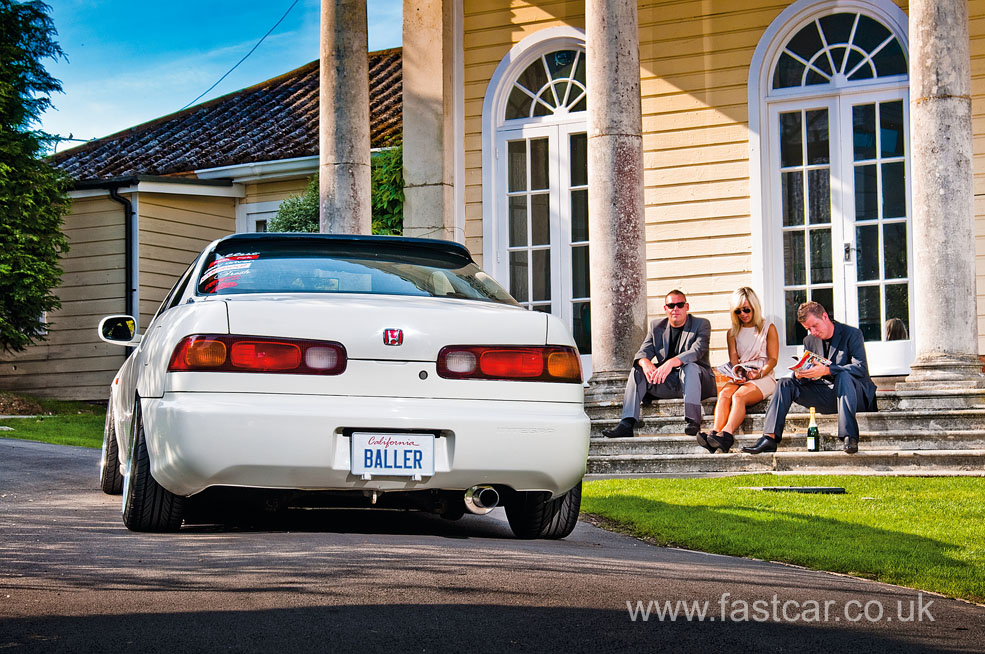 The car was already lightly modified by the previous owner but Peter wanted to do his own thing. The Integra was stripped of its Mugen exhaust, Bilstein suspension and ROTA Slipstream rims so Peter could get stuck in with his own plans.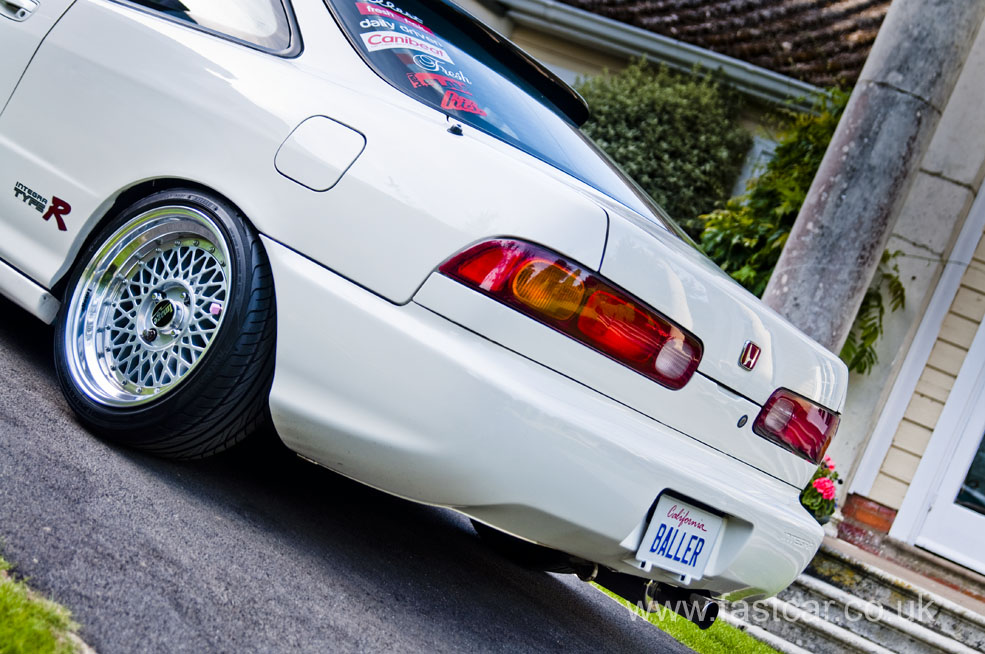 After selling the parts he didn't want he had enough wedge to start picking up new mods. A set of BC Racing coilovers were fitted along with a new set of rims which Peter had lashed up in bright pink paint. Any bloke brave enough to roll about on pink rims should expect a ribbing from his mates, but Peter stood his ground and it's this attitude that's kept the project solid.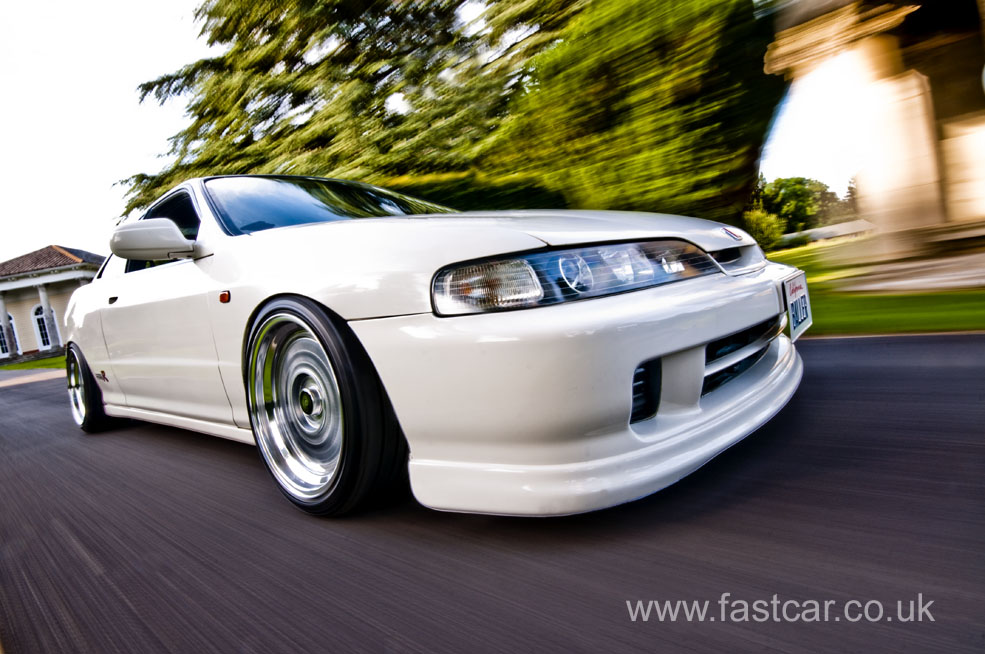 Peter is the sort of bloke who would rather keep his hands clean so when it came to the dirty work he called upon his mates. Styling-wise things have been kept clean and simple. The standard spoiler has been dropped in favour of a smoothed boot lid, which for a small mod has created a big impact. Custom show plates and a scattering of stickers finish off the exterior.
Peter's mates have been busy under the fiberglass bonnet fitting the genitalia from a large mammal! The comically nicknamed Tegiwa 'whale's penis' induction kit has been combined with a Spoon B-Pipe and N1 exhaust system allowing the Integra to breathe freely and release a few more ponies, as well as giving it that signature VTEC scream.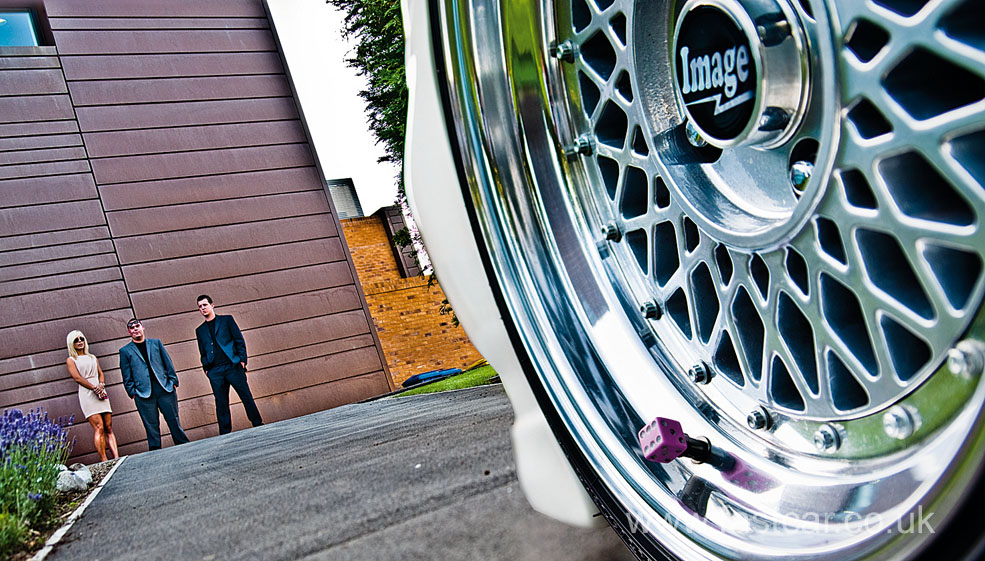 It had been a while since Peter had annoyed a few forum members so a wheel swap was on the cards. Off came the pink rims and in their place sit a much more respectable set of Image three-piece wheels. With 8×16-inch up front and 8.5×16-inch on the rear, the Teggy's arches needed to be pulled to incorporate the wheels.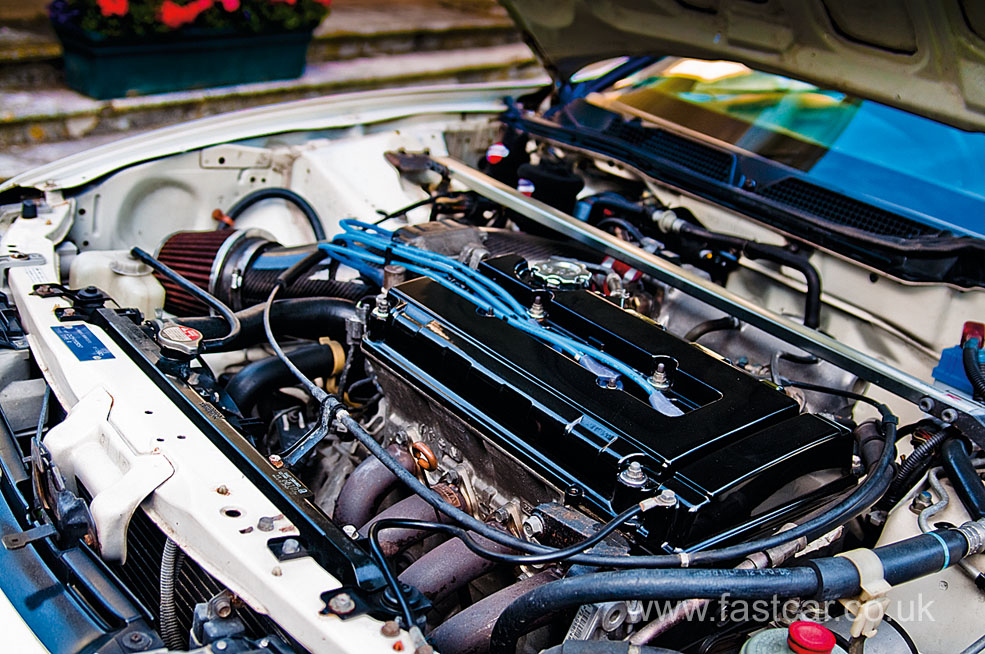 D2 camber arms have finished off that all-important stance and put a few knickers in a twist. "Some people say I have ruined a driver's car, but the fact is it's my car and if I want to rock camber and roll about on stretched tyres then I will!"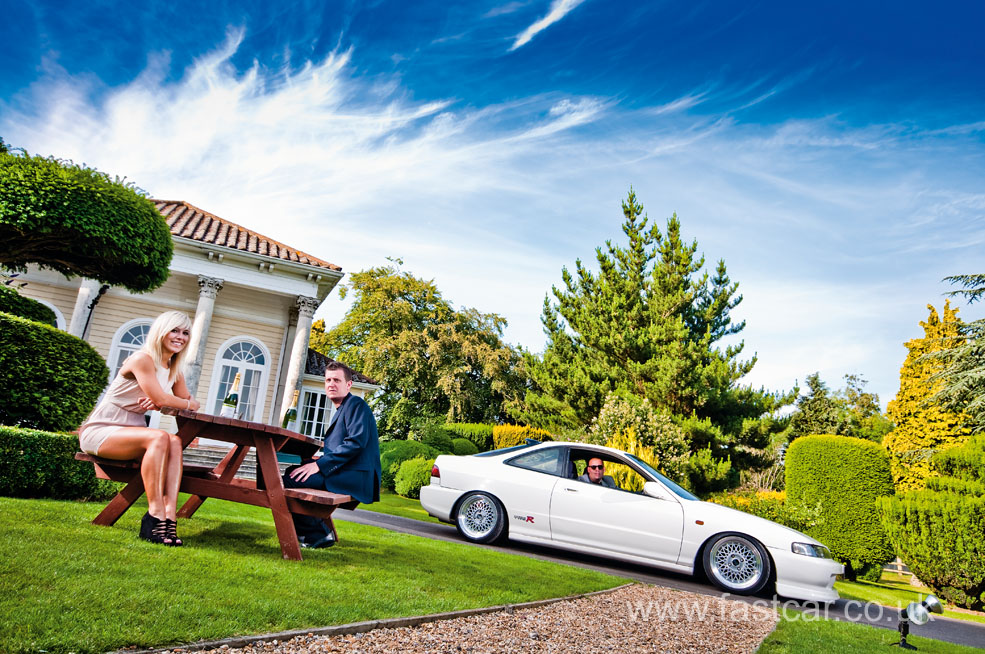 Absolutely. Modifying is all about doing your thing and not worrying about what others think. Some of the best cars are built this way and Peter's Integra is a prime example. We salute you, man with whale penis in bay!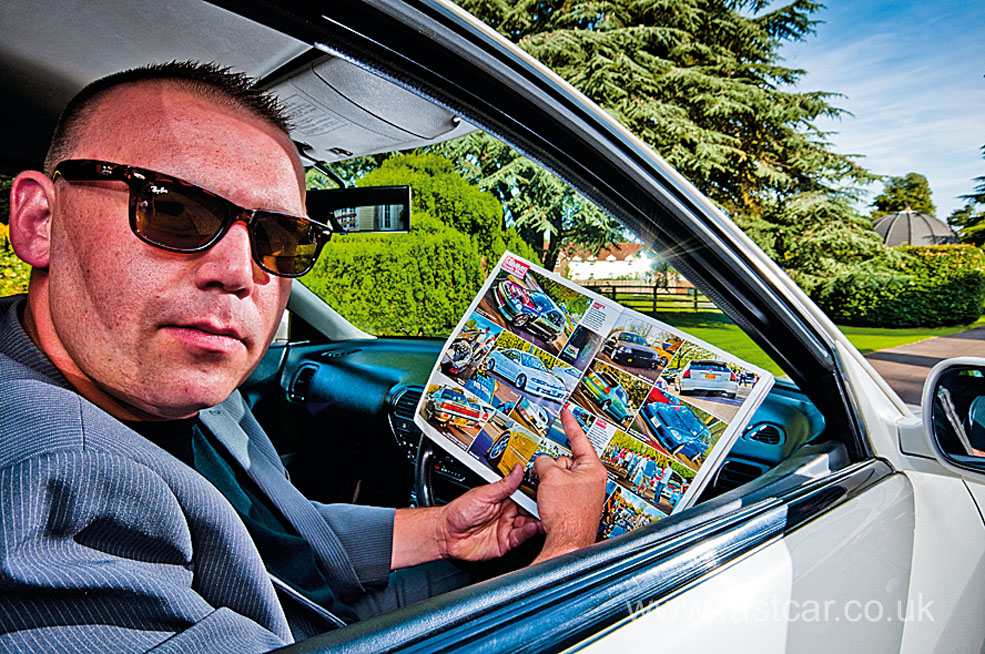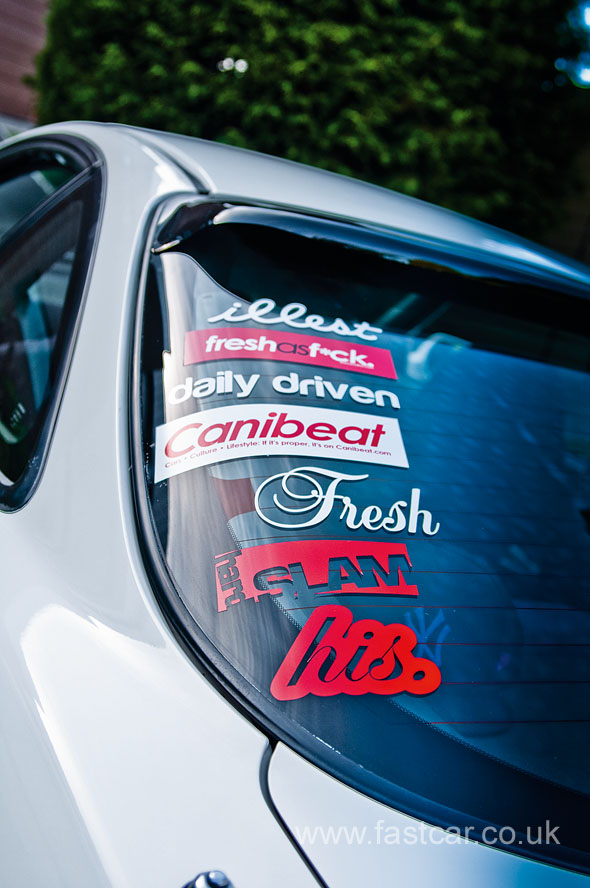 TECH SPEC HONDA INTEGRA
TUNING
Tegiwa 'whale's penis' induction kit, de-cat; NGK leads; shaved rocker cover in gloss black; Password JDM socks; Mugen manifold; Spoon B-pipe, N1 exhaust system; F1 racing clutch.
CHASSIS
Image BBM three-piece splits 8×16-inch ET15 (fronts), 8.5×16-inch ET15 (rears); 195/40×16 Yokohama S-drive tyres; BC racing coilovers; front upper strut brace; rear upper, lower strut brace; D2 rear camber arms
STYLING
Spoiler removed and holes smoothed; Tegiwa rear visor; custom 'BALLER' show plates; rolled and pulled arches; fibreglass bonnet; JDM stickers.
INTERIOR
Black Type-R Recaro seats; MOMO Type-R steering wheel; short shifter; Domo kun teddy charm; Broadway race-spec rear mirror.