Welcome to this week's FC Throwback, where we take a look back at some of our favourite previous feature cars. This week it's Dan Roache's Audi TT from way back in 2014…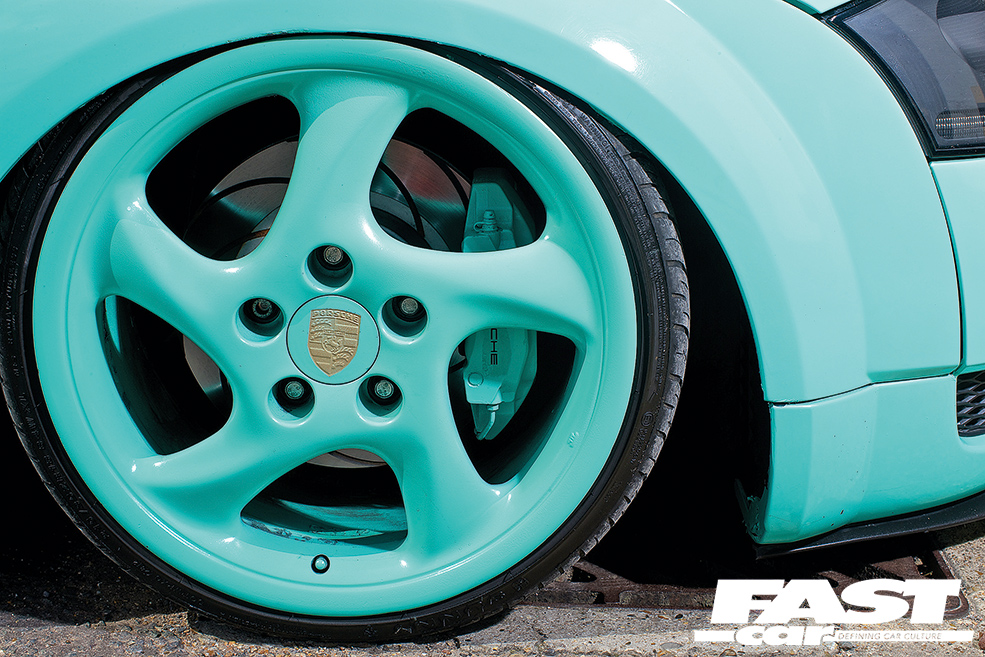 When you've got a dad who's as bang into modified motors as you are, you know you've got to pull something special outta the bag to keep up! Having grown up in a world surrounded with fully loaded motors, modifying has practically been written into Dan Roache's DNA and it shows. From an early age his Dad, Lex, used to take young Danny boy down to the local Southend Cruise. As you can imagine as soon as Dan was old enough to drive he got himself a fresh new motor and began his own adventure.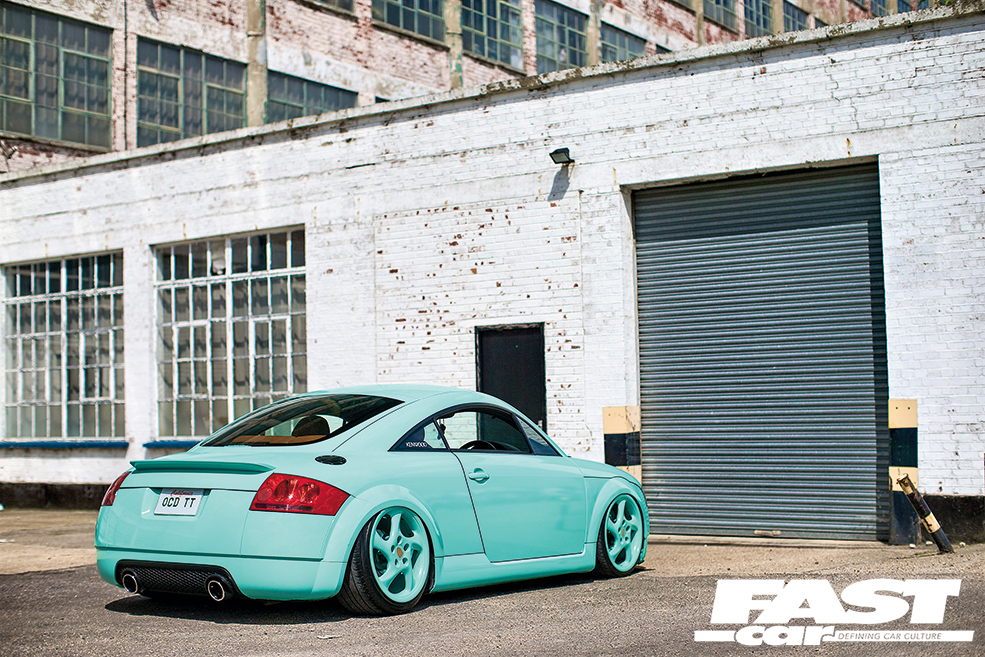 At only 16-years-old Dan bagged himself his first car, and his first Fast Car feature. A VW Polo dropped hard over a set of low-rider style rims that caused a bit of a stir amongst the Euro crowd, but we loved it! A handful of cars followed until Dan finally got himself the MK1 TT that you see here.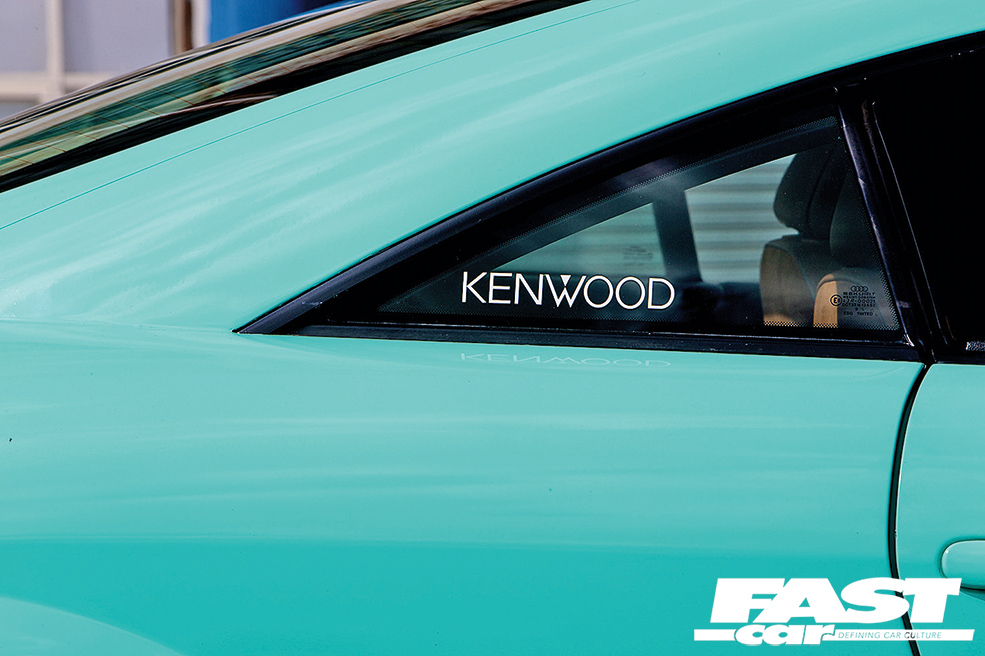 Getting the TT suitably dropped is a full Air Lift air-suspension kit complete with V2 management, the choice of champions! On top of that the Audi has also had a chassis notch and a few modifications to the subframe allowing the car to really deck out. Dan has always done most of the work on his cars himself and the TT is no exception. When it came to the exterior he's not been shy with the smoothing. The front plate recess has disappeared along with the washer jets, grille surround, side repeaters and boot badges. Even the wing mirrors are gone, say whaaat!?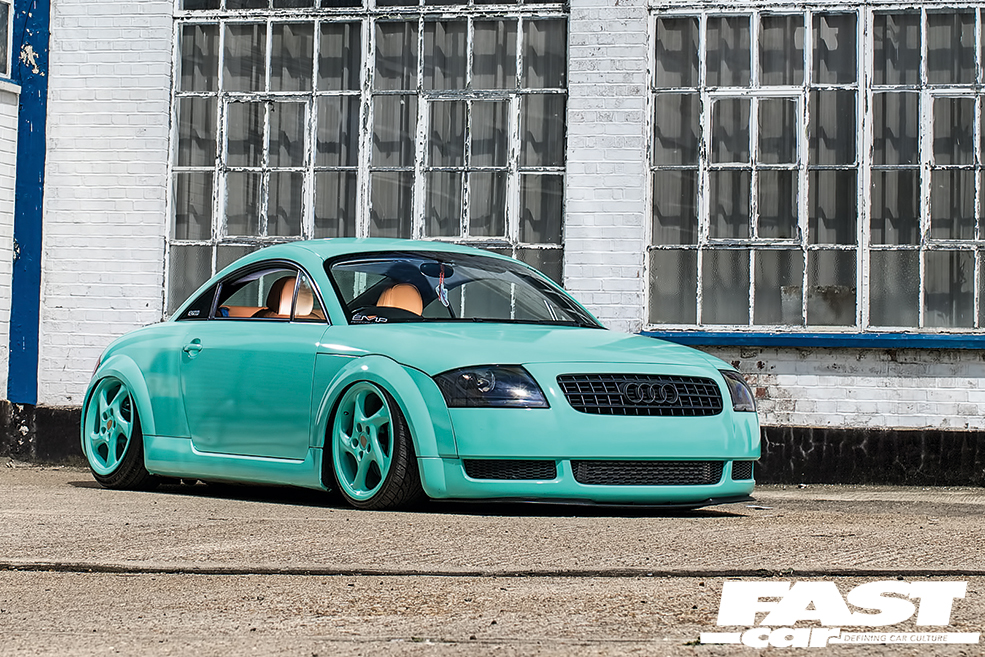 The plate recess on the back has been shortened to take a US spec plate which has given the arse end a much neater look. The car was then handed over to the lads at Essex Vehicle Wraps who have covered it from front to back in a mint green vinyl which looks good enough to lick! To finish it off a set of 8.5x18in Porsche 'Twist' wheels were painted mint green to match the body and fitted up to the car. The Porsche goodies don't end there though. A set of Boxster front 4-pot brakes replace the standard TT parts and have been combined with grooved brake discs for some extra stopping power.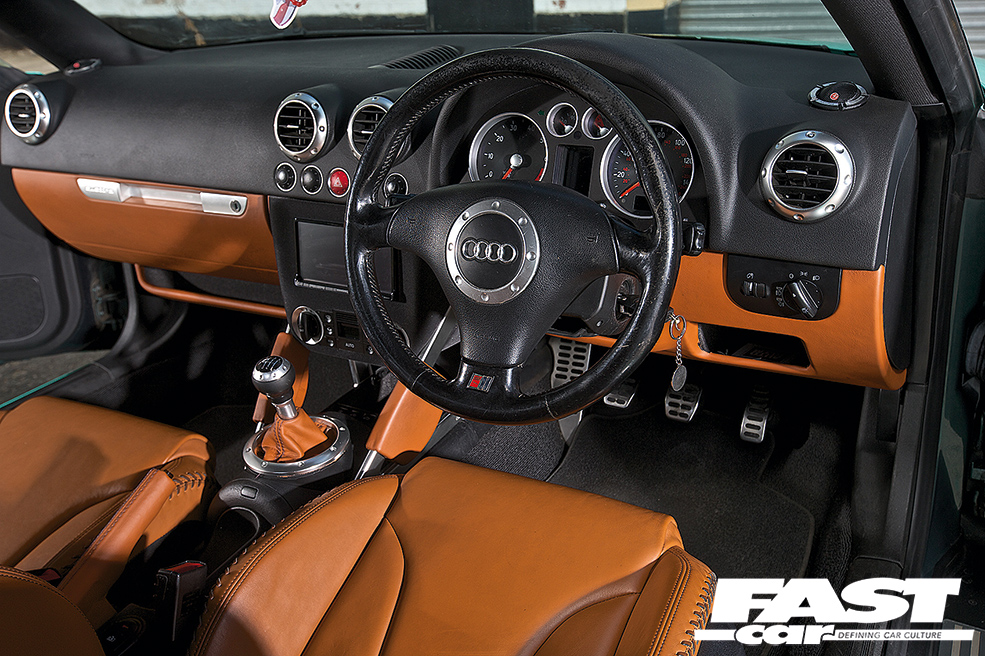 Talking of power, this motor has plenty of it thanks to a Toyo Sports large front mount intercooler, EMP performance turbo back exhaust and a Stage 1 remap, the result? A healthy 275bhp, nice!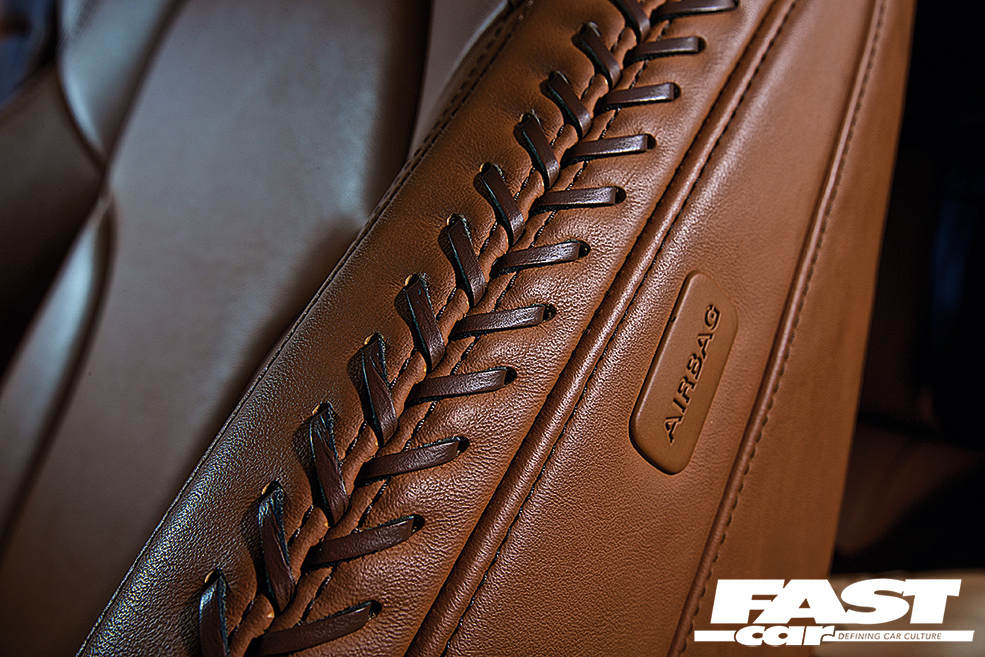 The interior doesn't disappoint either. Dan has binned off the standard Mk1 seats and fitted a set of Mk2 tan leather 'baseball' stitched seats instead. Audi supply these seats as standard, but to take things further Dan got in contact with Lawrence from LG Trimming. Laurence has trimmed the rear bench, door cards, knee protectors and a load of other goodies to match the front seats. The boot is pretty special too. The floor has been finished in charcoal Alcantara with tan diamond stitching.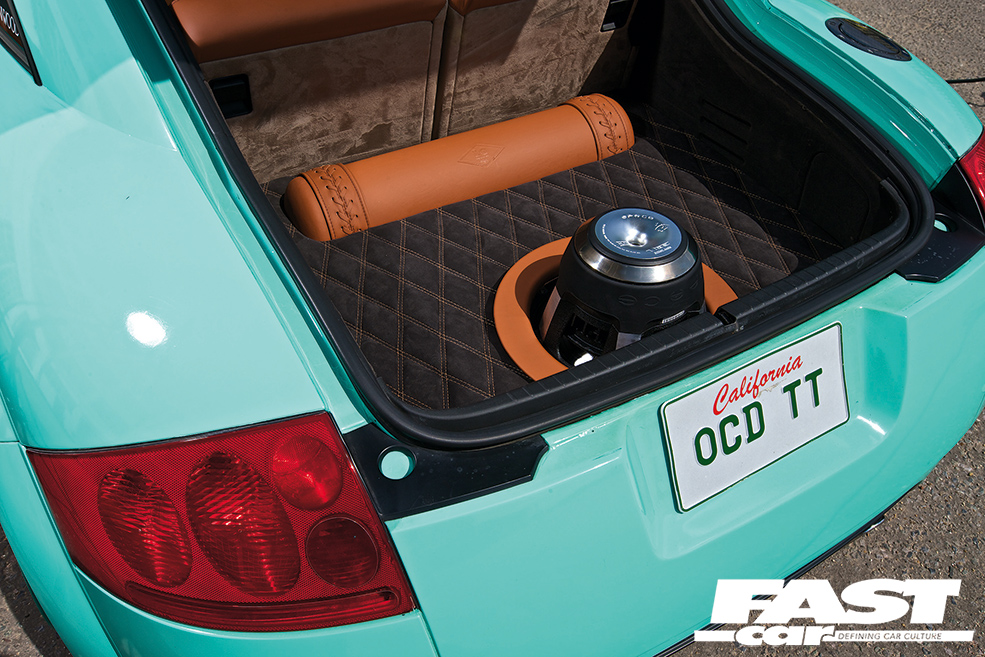 The airtank has also been trimmed with the same tan and baseball stitching as the rest of the interior and sunk into the boot along with an inverted VIBE Space 12in sub. Sorting out the rest of the tunes is a full VIBE set up consisting of 6.5in Black Death front and rear components and a 5-channel amp. The brains behind the bass is an ultra-smart Kenwood double-DIN that comes with built in sat nav, iPhone connectivity and loads of other cool features.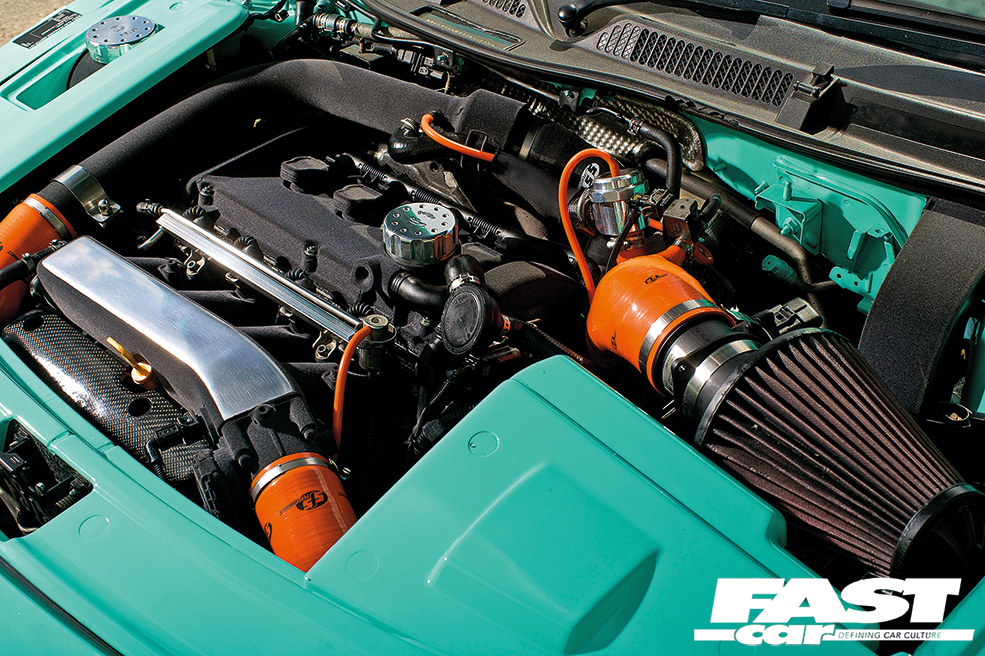 Dan has built himself a top drawer TT that's more than capable of sitting next to his Dad's Mini with the pride it deserves. Son of Lex, we salute you!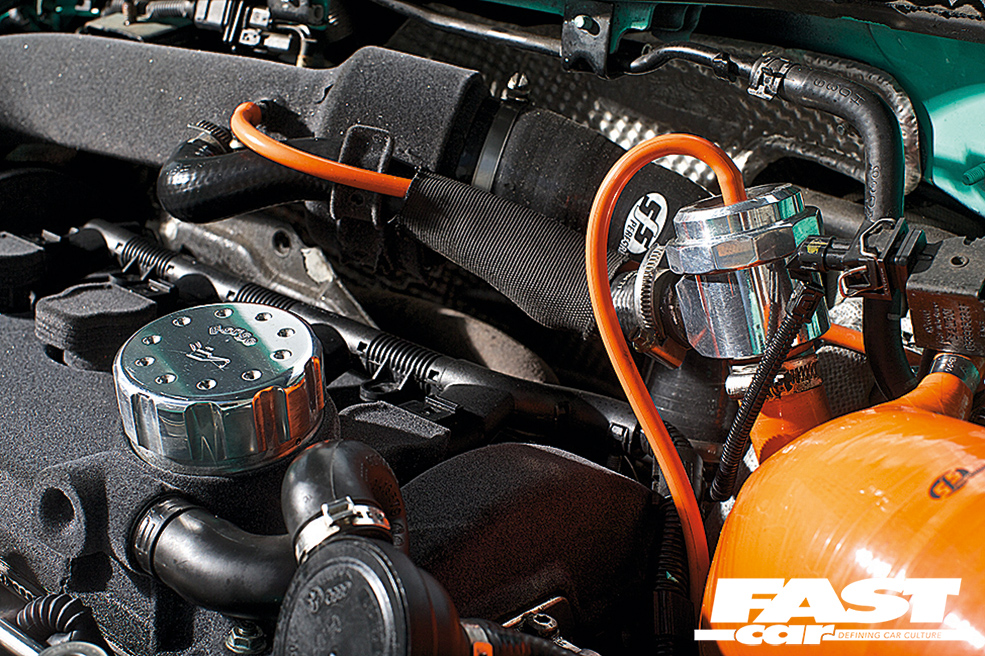 Tech Spec Audi TT
Styling
Wrapped mint green, smoothed plate recess, washer jets, grille, wing mirrors, wings, boot, rear bumper, US size rear plate recess, delocked handles, V6 front grilles and rear exhaust valance, clear indicators, red rear lights, carbon fibre petrol cap; LCR front bumper splitter
Chassis
8.5x18in Porsche Twist rims, Air Lift XL air-bags, V2 management system, twin Viair 380 compressors, 5 gallon skinny tank; Porsche Boxster front 4-pot brake conversion, grooved brake discs all round, chassis notch; subframe mods
Interior
Tan leather Audi TT Mk2 seats, baseball stitched rear bench, under dash, doorcards, gear and handbrake gaiters, knee protectors, air-tank and sub ring, boot install floor re-trimmed in charcoal Alcantara with tan cross-stitching; flocked custom made centre console to accommodate double-DIN headunit
Audio
Kenwood DNX7230DAB double-DIN headunit; VIBE 6.5in Black Death front components, 6.5in rear components, 5-channel amp, Space 12in sub
Tuning
EMP performance 3in turbo back stainless mandrel bent exhaust system, stainless mandrel bent FMIC pipework; Toyo Sports large FMIC; SFS orange boost hoses, 3in TIP intake pipe, orange vac lines, G-werks Stage 1 remap, S2000 K&N air filter, Forge polished oil and water caps, 007p DV, 1.8 20v non turbo smooth rocker cover, 2.0l TFSI coil pack conduit, N294 valve removed, carbon canister removed, throttle body blocked off, wire-tucked fuel rail, polished fuel rail, charge pipe, inlet manifold, rocker cover, coil packs, coolant bottle, wiring harness cover all flocked in grey sparkle, carbon manifold cover
Thanks
My Dad, My missus Paige, Matt at Essex vehicle wraps, Lawrence at LG Trimming, Dave and the EMP crew, Kenwood, Mark at VIBE, Ray at AbsoFlockinLutely, SFS
Words Nick Turner photography Dom Romney