The F10 M5 is a frankly astonishing piece of machinery. Biblically quick, perfectly poised, opulently equipped. But what if the F10 was turned up to 11…?
Some cars are so good, they don't need modifying. Perfect and unimpeachable in factory form, every now and then a manufacturer gets it completely right from the off and creates something magnificent, perfect, beyond any possibility of enhancement. At least, that's what someone with no imagination might tell you. The fact of the matter is that nothing's perfect, there are always compromises and broadened tolerances and legislation to be pinned to; in addition, technology keeps advancing, so something that'd score a full five stars at launch may get downgraded to four stars or fewer as newer models come out. Whatever the reasoning, there's no such thing as a perfect standard car.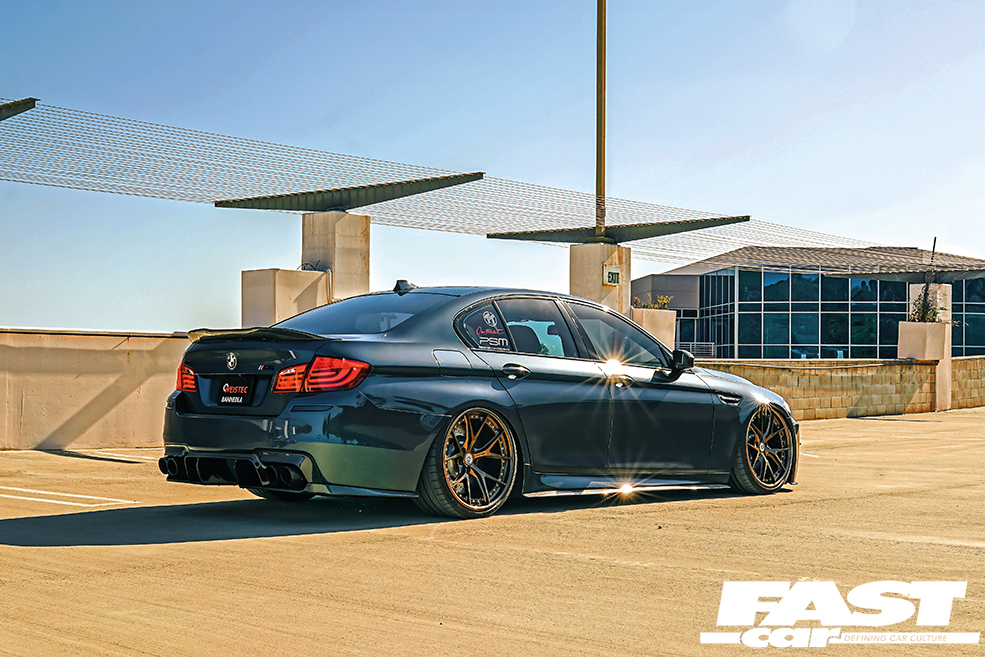 "Funny story about purchasing this BMW," grins Justin Yun, owner of the rather brutal F10 M5 we have in front of the lens today, "I told my wife that because it's an M5 I wouldn't have to do anything to it… But the modding bug bit me hard and there was really no stopping it; through social media I was able to meet a lot of great people in the car community, and it became a hobby of mine once again." Justin's got strong form in this game, with a history of tuning Japanese imports, but it's BMWs that have always been closest to his heart. Justin first arrived in the USA at the age of six when his family emigrated and one of the first things they did after arriving on American soil was to buy an E28 535i as the family car, and it's safe to say that this set a precedent for much that followed. "Because of that car, BMWs have always been special to me," he explains. "They're very nostalgic, there's a lot of memories there. That 535i was super-reliable, and it was also the first car I drove when I got my licence."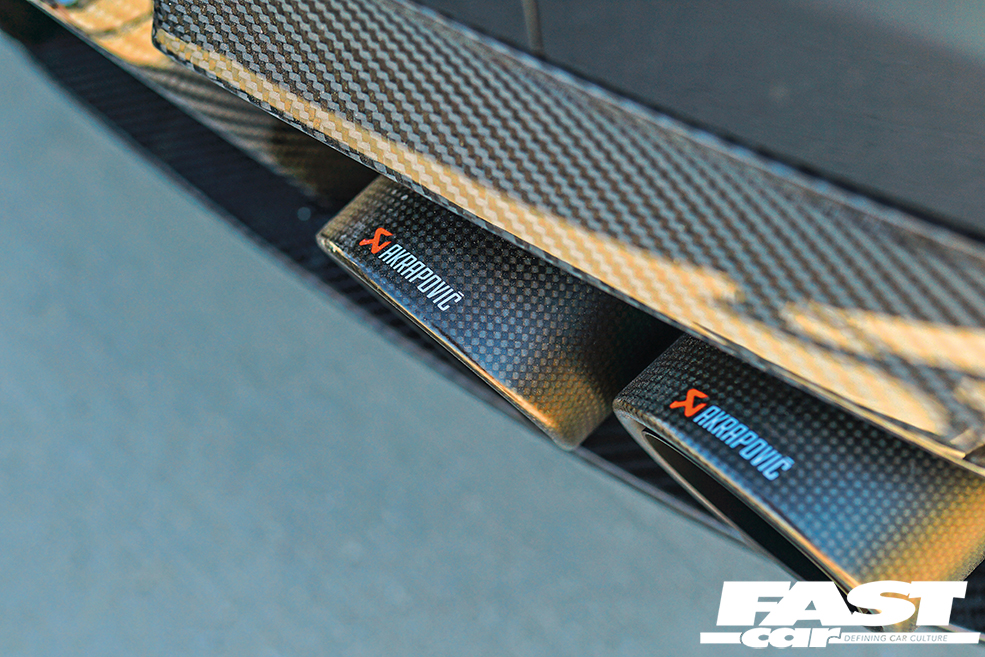 Justin's own first car wasn't a Beemer though; largely driven by cost, his debut steer was a 2000 Honda Civic Si, and it was this car that really got him into the tuning scene. A few basic mods to the suspension, exhaust, intake and cams dipped a toe in the water, and with enthusiasm blossoming, that Civic was replaced by a 1991 Civic – with this one he went the whole nine yards, with a forged B18C engine swap and all manner of performance tuning.
So the fundamentals were strong: Justin loved BMWs like family, and knew his way around a fast-road modification or two – so when the time came to buy his first BMW, it was bound to be a good one. And with the acquisition of an F10 M5, we can confidently say that there are few stronger entries into our world than this. It may not be a perfect car in factory-standard form, but it's pretty darned close. "I remember when I first saw the F10 M5 when it came out, and it was love at first sight," he reminisces, slightly misty-eyed. "I always loved the M5s, but this one just looked the best to me. I was actually in the market to get a 7 Series, but I had an opportunity to buy this M5 and I jumped on it! It was my dream car at the time and as soon as I had the opportunity, I took it. I always loved sedans and with having a family it was more practical – so I could justify it! It was the best of both worlds for me, I can take my family in it but I can also have fun."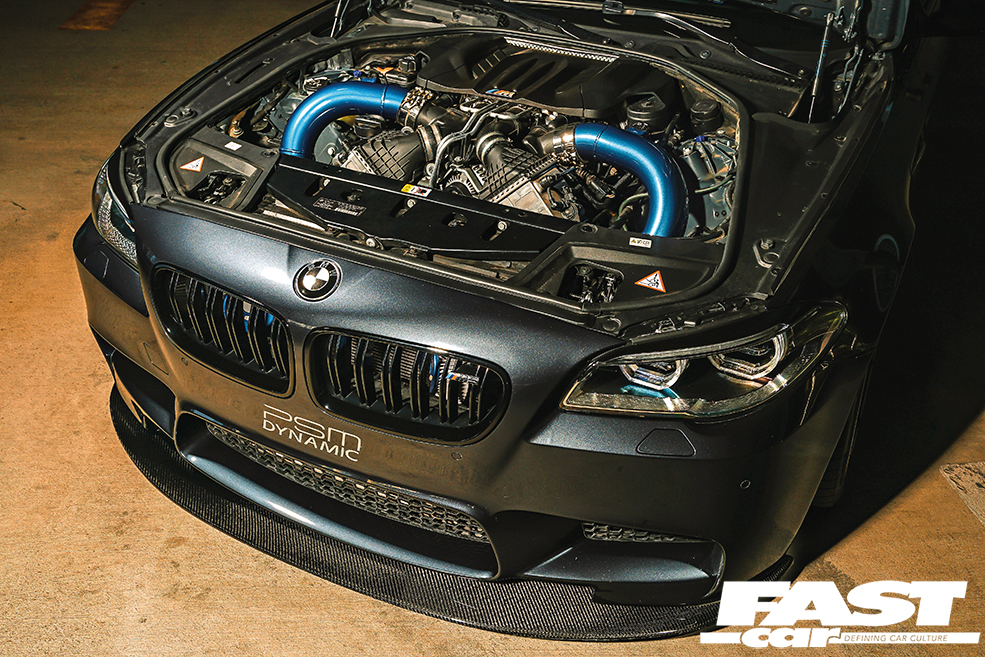 The M5 was found in a dealership in Los Angeles – two years old at the time, in great condition with low mileage. It just kept making itself easier and easier to rationalise. And, as you might well imagine, that promise of 'Because it's an M5 I wouldn't have to do anything to it' rapidly evaporated like the obvious lie it is. "I started with the basics," Justin smiles. "H&R springs, RKP carbon fibre front spoiler, and some other small cosmetic changes. Then came the wheels… I've wanted HRE wheels for a very long time, and when I saw the HRE S101s it was love at first sight. After that I just had to get them, there was never a question of any other options there." The S101 really is a beautiful design, tasteful and classic with just a hint of new-wave edginess. Justin's opted for a staggered setup of 21s – 9.5"-wide at the front, and a girthsome 11" out back, all wrapped up in high-performance Michelin Pilot Sport 4 rubber for a massive and sure-footed contact patch. An Akrapovic exhaust system soon joined the party, which makes a hella crazy noise with that potent V8, any muting properties of the forced induction brushed aside by the colossal pipes. An MSR Performance intake further accelerated the noise levels, while also throwing in around 20-30 extra horsepower, at which point Justin then began to focus on the exterior aesthetics – a fresh Vorsteiner carbon fibre front spoiler, RW Carbon boot spoiler, Umnitza LCI headlights, before going all-in with the full carbon fibre aero kit from PSM Dynamic, which was developed for this very car. It comprises the front spoiler, side skirts, boot spoiler and three-piece rear diffuser, all of which pulls off the impressive magic trick of looking OE to the casual observer, but radically transformed to those in the know. Justin will also be adding XPEL's paint protection film to his M5 to keep that sparkling Singapore grey bodywork looking its best.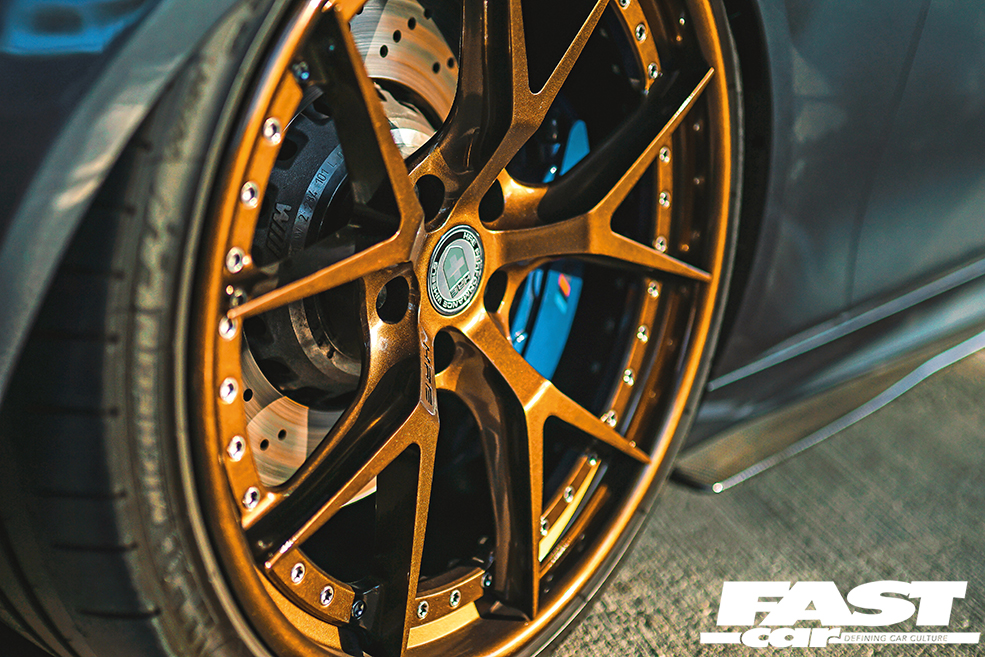 Now, it would be hard to argue that the M5 is lacking in power, but more is more, right? Remember the amps in Spinal Tap? That's a solid life lesson right there. Of course you want to turn it up to eleven – it's one louder, isn't it? So Justin roped in the good guys at Weistec to dial in their revered ECU calibration, which provides huge percentage gains even to a stock motor; it's in the ballpark of 50hp extra at peak, with thickened-up torque throughout – which is pretty much a no-brainer for F10 ownership. The next step on from this is Weistec's W.3 turbos, an epic upgrade that delivers 800whp, which work hand-in-hand with the firm's impressive water-methanol injection system – something that drastically reduces intake temps and, yes, adds even more power, and it's joined by an SSP Performance Spec-R clutch. These things just snowball, don't they? Yet all the while the M5 retains its assassin-in-a-sober-suit demeanour, cunningly hiding the fact that its arsenal of upgraded weaponry could bloody the nose of any supercar that tries it on at the lights.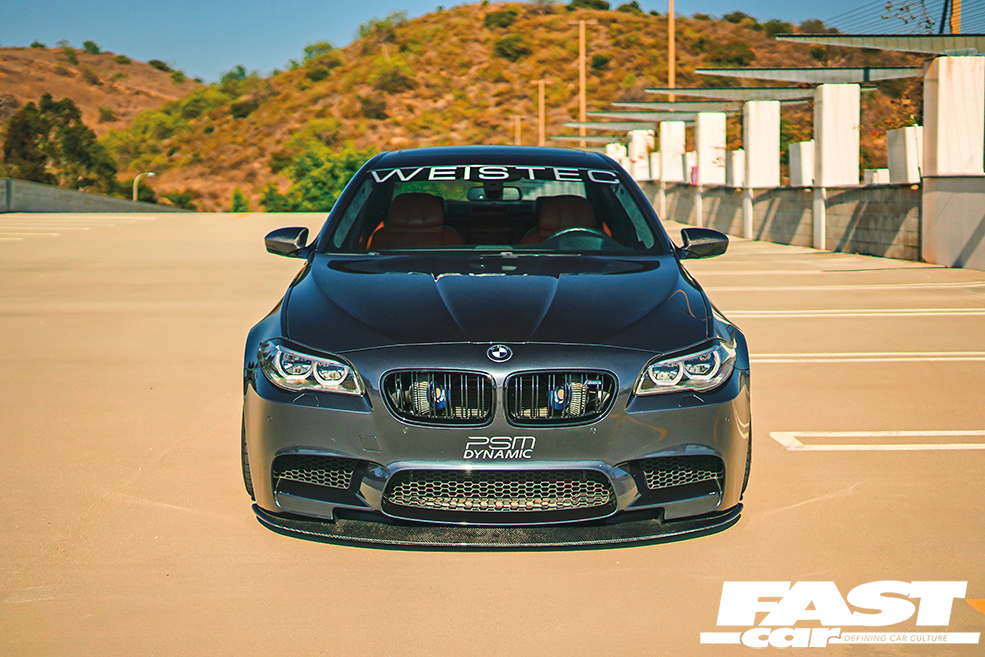 You may well have deduced from the stance that this M5 isn't running H&R springs any more. In fact, Justin's opted for a full Air Lift Performance setup with D2 struts. "I went with this so I can slam it when parked, because it looks great, and raise it while driving the bad streets of LA and protect my kit as much as I can," he reasons. "Performance has been great too! Really, I love everything I've done to the car – hey, I wouldn't have done it if I didn't – and I guess if I had to choose a favourite part, I'd have to go with the PSM Dynamic aero kit… and the engine mods by Weistec! The simple reason is I'm the first to have both for the F10 M5, and there's just something special about that." There certainly is. While some may argue that the M5 doesn't need modifying, 'need' is an entirely subjective concept and the end result here proves that what you want gets you much better results and is a hell of a lot more fun, anyway. With massive power and intimidating looks, this F10 M5 really has been turned up to 11, and it's all the better for it.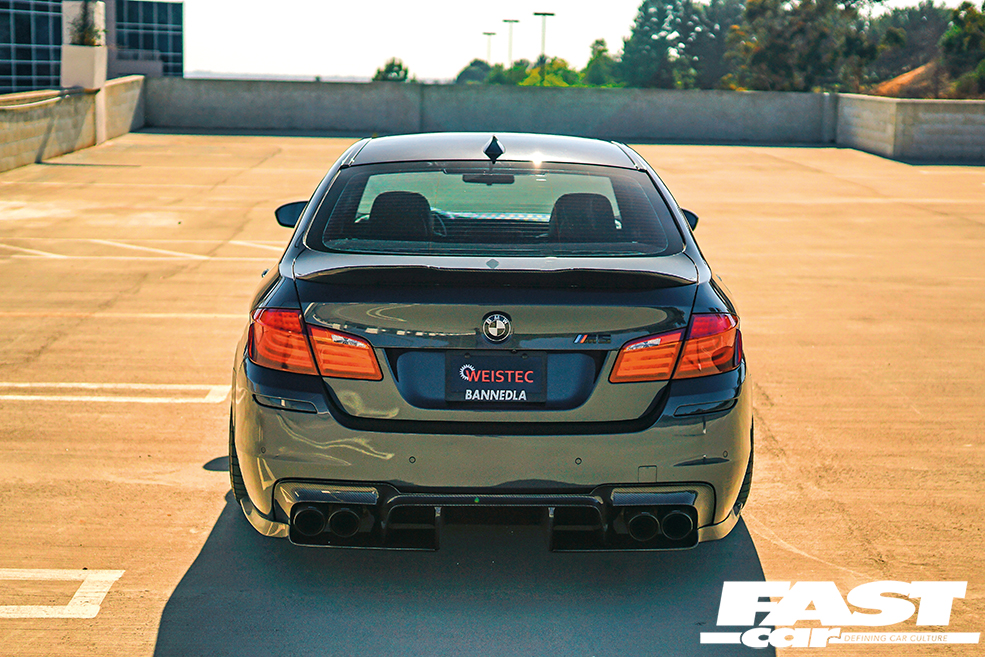 Tech Spec: Modified BMW F10 M5
Engine and Transmission
4.4-litre twin-turbo V8 S63B44T0, Weistec W.3 turbos, Weistec water-methanol injection, Weistec ECU calibration, Akrapovic exhaust system, MSR intake. M DCT seven-speed gearbox, SSP Performance Spec-R 16-plate clutch
Chassis
9.5×21" (front) and 11×21" (rear) HRE S101 wheels with 265/30 (front) and 305/25 (rear) Michelin Pilot Sport 4 tyres, Air Lift Performance air-ride setup with D2 struts
Exterior
PSM Dynamic full carbon fibre aero kit comprising front spoiler, side skirts, boot spoiler and three-piece rear diffuser, carbon mirror caps, Umnitza LCI headlights
Interior
Sakhir orange leather
Thanks
Mo & Perry at PSM Dynamic, Sean Rad at Weistec, Thuysi & Andy at Outcast Garage, George at MSR, Kris at SSP Performance, my Tuner Theory team, Michelin, XPEL, HRE Wheels, my garage mod day squad – Scott, James, Andrew, Tony, & Tim, & most importantly, my wife
Feature taken from Performance BMW. Words: Dan Bevis. Photos: Brian McGee