Only when you get underneath Adam Hawkesworth's handsome Martini Escort Cosworth  and notice a distinct lack of front driveshafts will you truly realise just how passionate he is in making this 530bhp weekend toy as hilariously terrifying as possible…
It has probably been the single longest-standing debate in motoring history, and all these years later, there's still no definitive answer as to which wheels should power a car to make it as good as it possibly can be.
And whilst machines powered by the front or even all four wheels often put brilliant cases together for the title – being able to effortlessly demolish circuit's lap times when mated to the correct powertrain and chassis setups – it's undeniably cars that get their grunt from behind that most often crop up when the buzzwords 'fun' and 'rewarding' are thrown into the equation.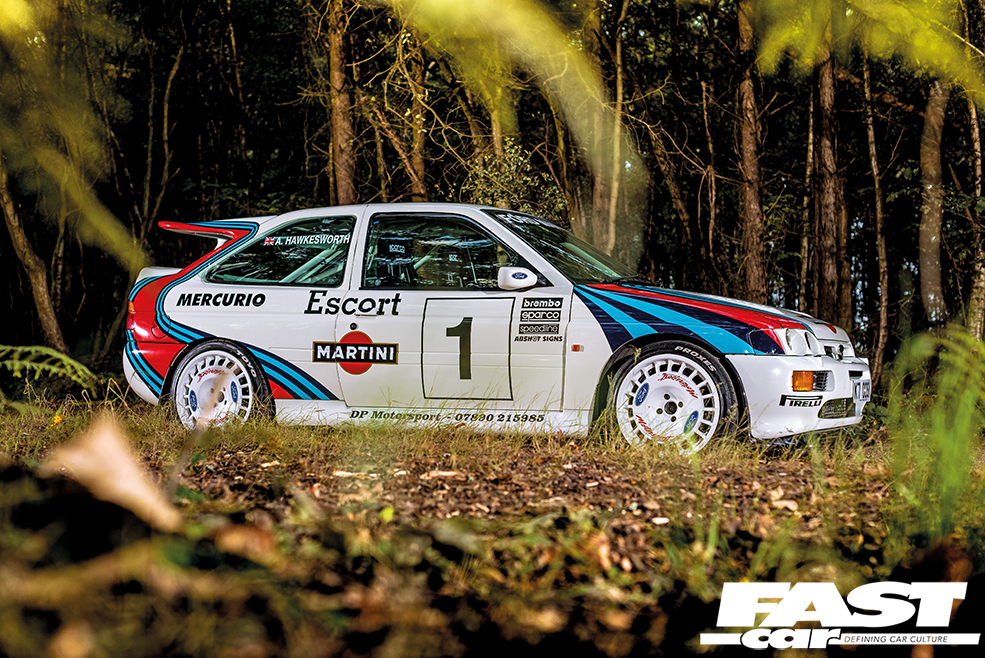 One car nut who's proud to sit firmly in this latter RWD camp is BMW/MINI technician and full-time Ford tinkerer Adam here; something it doesn't take us all too long to figure out upon meeting him. "I've owned over 50 classic rear-wheel-drive Fords in my time… far too many to list!" he grins as we ask him to explain the path that led to this frantic Escort you see here.
Despite this sea of exciting Ford machinery coming and going throughout his early life, Adam just couldn't unstick one particular model from the back of his mind that he hoped he'd one day be lucky enough to own: the mighty 4WD Escort Cosworth that's won the hearts of so many car fans across the world over the years.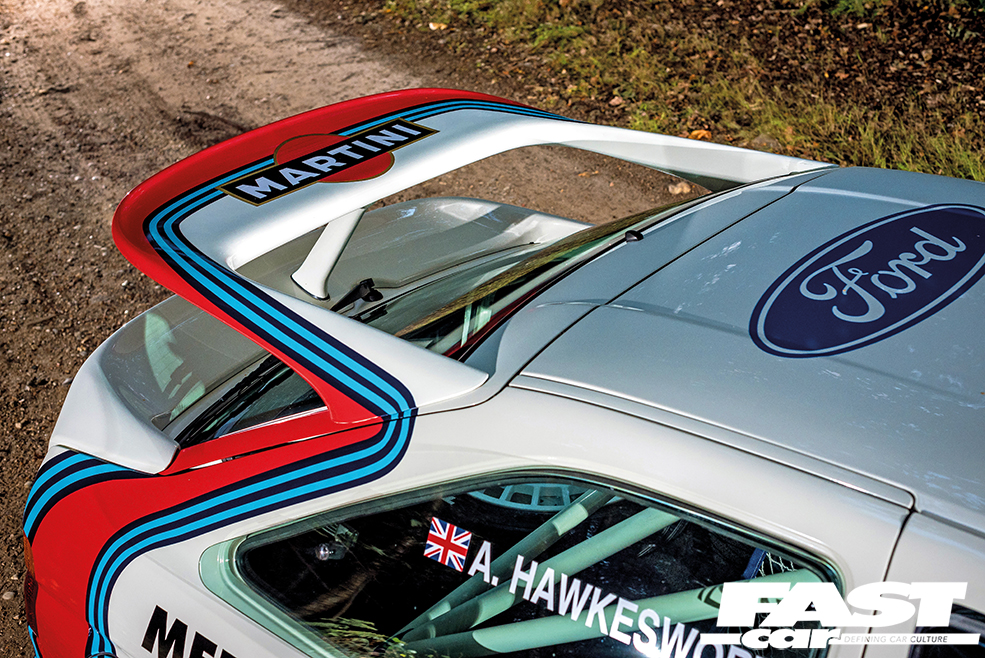 Eventually making his dreams come true by being in the position to snap up this stunning Diamond White example around 12 years ago, this was far from where the fairytale ended, as you've probably guessed by now. You see, although he now had his hands on what he classed as nigh-on automotive perfection, there was still a fundamental problem in the form of his new acquisition proudly sporting a four-wheel-drive setup – something he was willing to do all it took to fix…
"I love a car that's lairy and unpredictable," Adam doesn't beat around the bush as he gets to the root of what it is about RWD vehicles he loves so much. And with the Escort's older sibling – the Sierra Cosworth – often seen sporting such a layout alongside that familiar YB engine to huge successes, he knew his plan to ultimately remove drive from the front wheels was likely to supply him with all sorts of pure, demanding fun, whilst removing a considerable amount of weight in the process, to boot.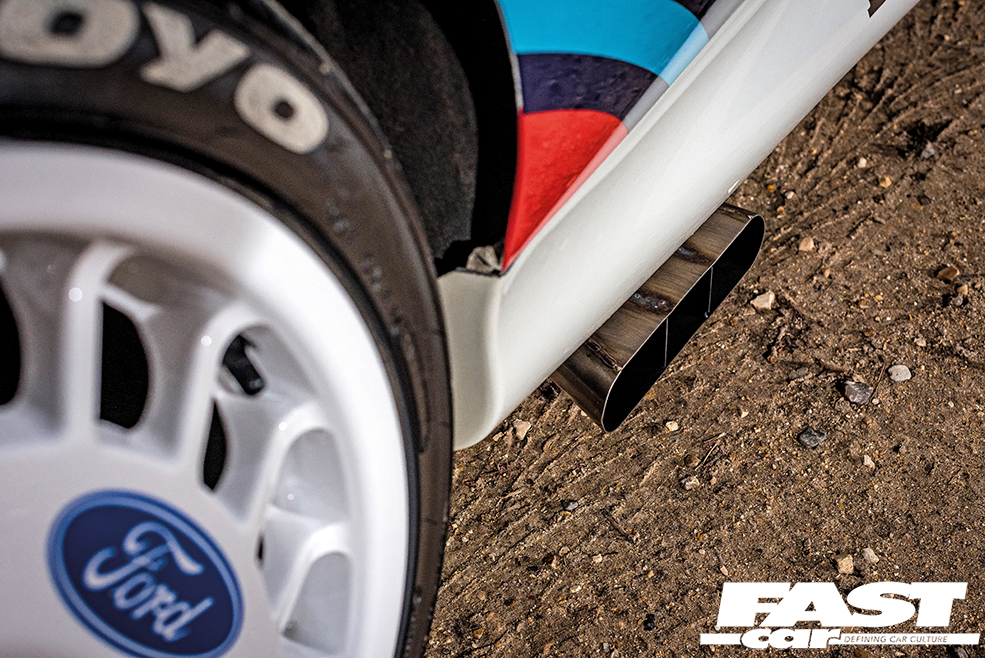 It's why you could soon find Adam jacking his thoroughbred three-door up on his driveway and boldly going where very few EsCos owners before him had gone. Out came the front running gear, with the rear diff replaced with a sturdier 7.5in LSD affair originally seen in the 2WD Cosworth models; the job topped off with a trick adjustable six-degree rear beam conversion to give him the ultimate control over just how playful the rear end would become.
But Adam wasn't quite finished there. In fact, the best part of the following decade has been spent transforming his Cossie further to bring it ever-closer to the ultimate in fast-road/track day specs, with each mod only supporting his initial decision to convert the car to rear-wheel-drive in the first place.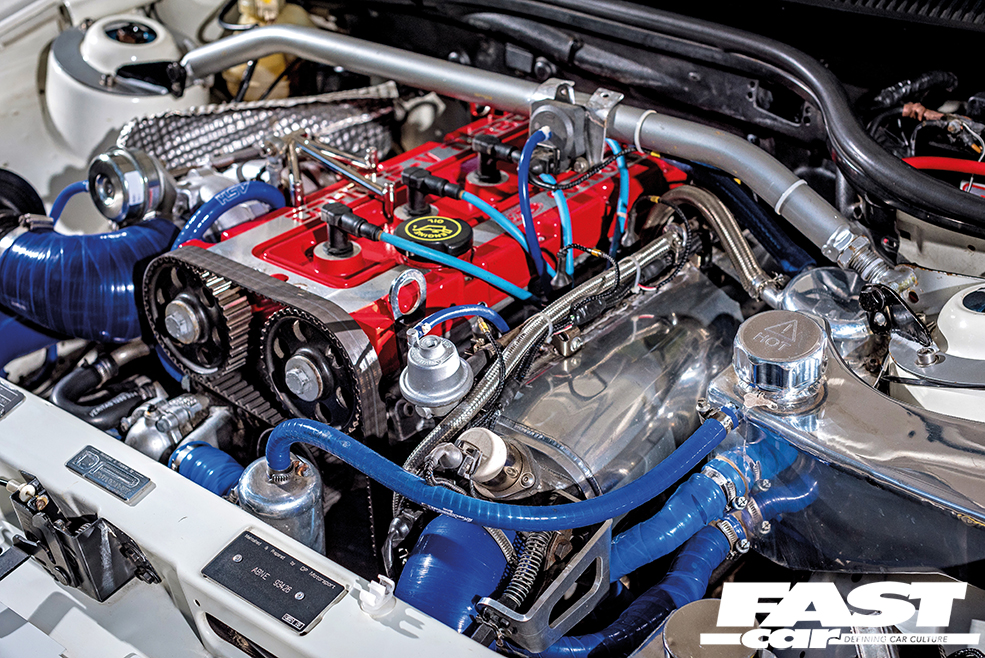 Under the bonnet, the boosted YB lump has been thoroughly updated, comprehensively re-worked by Dave Pritchard at DP Motorsport to now safely support around 530bhp on a reserved map setting. This has been achieved with oversized Ford Motorsport pistons in the block, as well as BD14 cams and Vernier pulleys in the head, all of which support the substantial GT3076R roller-bearing 'charger that now so effortlessly supplies the boost. With plenty of other motorsport-inspired ancillaries also making an appearance (such as that wonderfully outrageous Group A side-exit exhaust system and trick fuelling setup), the car's since made several pilgrimages over to PJ Motorsport to get its Level 8 ECU fettled to perfection.
Helping to transmit the power to that aforementioned rear diff is a dog engagement-style version of the car's factory H-pattern five-speed gearbox from Quaife; a no-nonsense unit with open gear faces that provides super-fast, aggressive shifts every time. Helping Adam to keep the car in check, a brace of chassis enhancements like GAZ coilovers and huge anti-roll bars do their best in keeping the car in the right direction.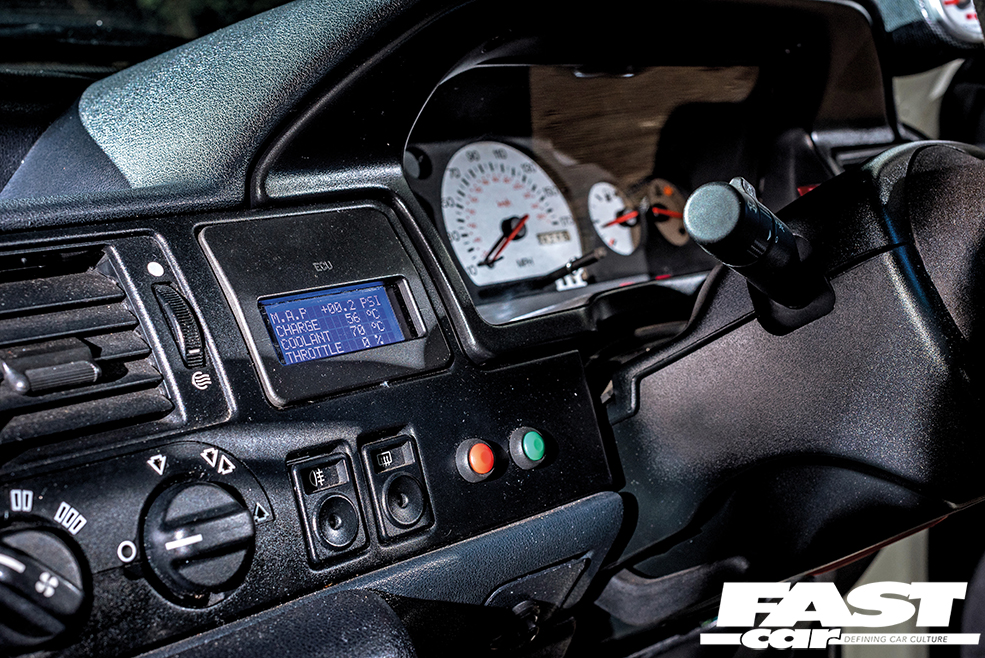 That uncompromised motorsport vibe continues into the styling, with the iconic Martini livery seen on those infamous rally EsCos beasts throughout the mid-nineties ensuring the car now unsurprisingly snaps necks whenever it's taken out of the garage. The interior is a satisfyingly functional and brutal workspace, with the comprehensive cage and hugging seats dominating the otherwise bare metal-filled cabin.
"It's absolutely scary!" Adam is quick to respond when asked how the thing is to drive nowadays. "It weighs very little and has 530bhp going through the rear wheels, which equates to it being twitchy under acceleration at most speeds… just how I like it!" Also boasting anti-lag and launch control until recently (when he decided these features were too mad for even him to live with), it might surprise you to hear that Adam proudly ran this animal as his daily driver until just a couple of years ago, the car now instead only seeing the light of day when he needs to take some anger at the weekend or fancies attending a local event or track day.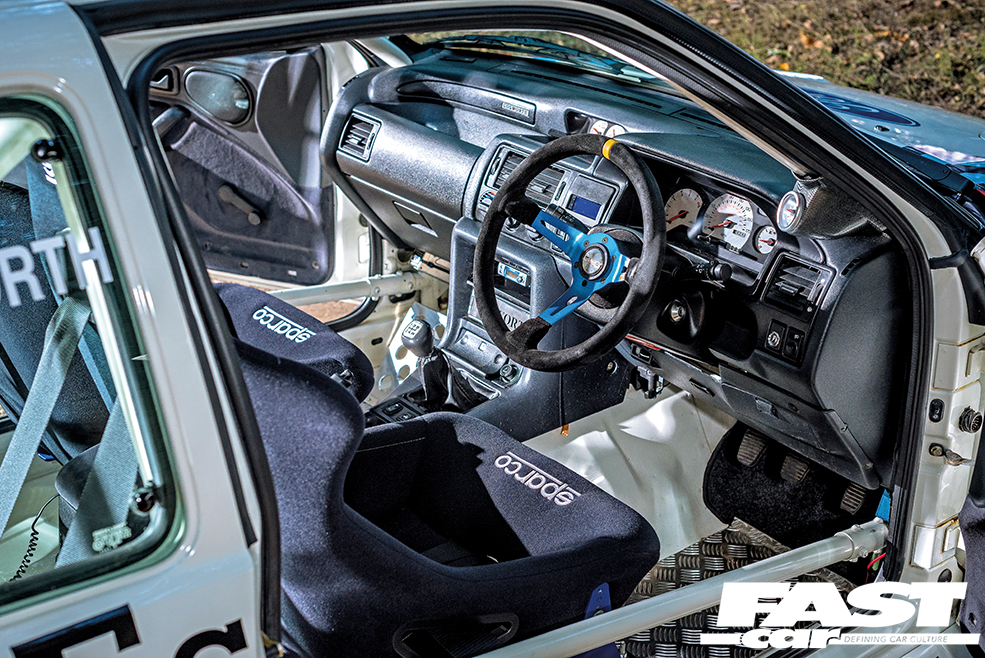 "There have been a lot of ups and downs along the way, including a cambelt tensioner letting go at 90mph and bending all 16 valves, but when I get it out and see people drooling over it and taking pictures, it makes me so proud to own it," Adam tells us with a glimmer in his eye. And as for future plans? "You'll probably catch me somewhere going sideways in it…" We don't doubt it for a second!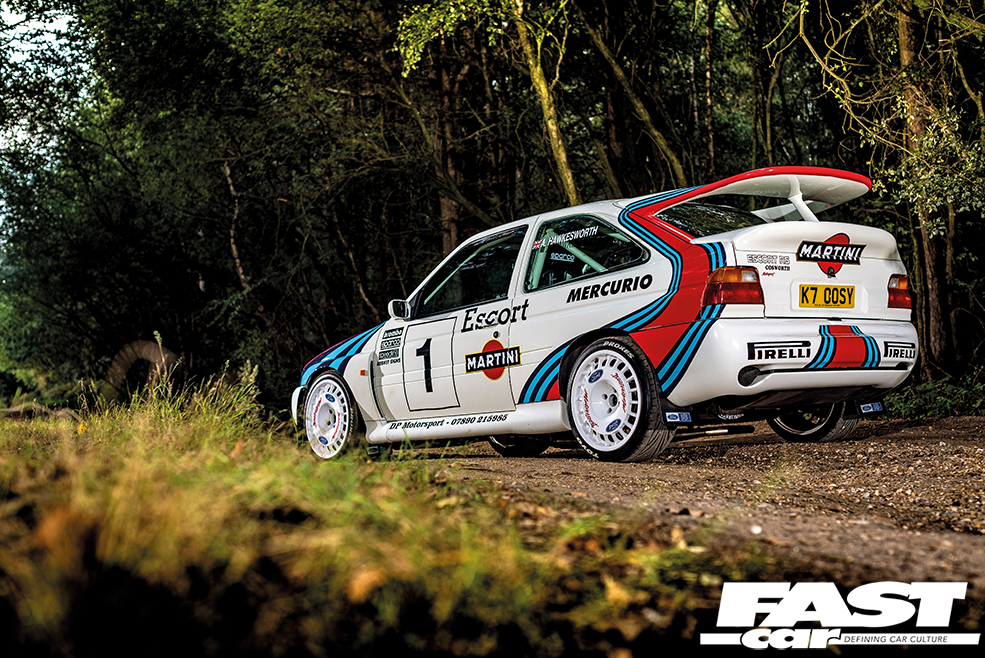 Tech Spec: Martini Escort Cosworth
Engine:
DP Motorsport-built 2.0-litre 16v YB Cosworth engine, re-built block (comprising factory virgin crankshaft, Ford Motorsport oversized pistons with big valve cut-outs, factory con rods and new liners), re-worked head (comprising BD14 inlet camshaft, adjustable Vernier pulleys, Group A breather system and factory valves with new guides), Garrett GT3076R roller-bearing turbocharger, 100mm Airtec intercooler, straight-through 3in Group A stainless steel side-exit exhaust system, AS inlet manifold with factory throttle body, black 800cc fuel injectors, high-pressure in-tank fuel pump, Group A coil, high-pressure oil pump, braided engine wiring loom, Level 8 ECU with PJ Motorsport custom map, GReddy boost controller with Stage 2 boost
Power:
530bhp @ 2.2bar of boost
Transmission:
Quaife five-speed dog-engagement H-pattern gearbox, 7.5in rear limited-slip differential (RWD conversion)
Suspension:
GAZ Gold coilovers, 6-degree fully adjustable rear beam, big front anti-roll bar conversion, adjustable front lower TCA arms
Brakes:
Wilwood big brake conversion with four-pot calipers (front), braided brake lines (all-round)
Wheels & Tyres:
18in Compomotive TH motorsport rally wheels, 225/40/18 Toyo Proxes T1-R tyres
Exterior:
Diaond White exterior with full Martini livery, Morette headlights, black deeper lower front splitter
Interior:
Partially stripped interior, full FIA roll cage, Sparco Sprint fixed-back bucket seats with Sabelt harnesses, rear cargo net, intercom system, factory dashboard with SECS digital ECU monitor, MOMO steering wheel
Feature taken from Fast Ford magazine. Words: Sam Preston. Photos: AS Design