By taking inspiration from the USA and fusing it with ultra-exclusive Japanese Tamon Design body-styling, Honda tuning fan Rob Reid has created what could well be the World's greatest boosted S2000…
Feature from Fast Car. Words & Photos: Dan Sherwood.
When it comes to finding inspiration for your modified car, creative ideas can come from almost anywhere if you look hard enough. However, for fans of Japanese performance cars, there are two distinct camps that often seem to provide the greatest influence: the USA and Japan. Both countries have their own unique style of build; the US tending to focus on the showier side of things and Japan preferring to keep things functional. You can generally tell which side of the world a car is from these basic trends alone. But as brilliant as each of these respective styles undoubtedly is, it's by combining the two that you can create something even more awe-inspiring and unique, as hardcore Honda head Rob Reid found out…
'I've been a Honda fan for years,' laughs 39-year-old Rob when we meet him and his stunning S2000 in a deserted pit garage at Rockingham Motor Speedway. 'All my previous cars have been Civics, including two Civic Jordans, an EG6 and an EK9. I'd love to build an NSXR with twin turbo's one day, but for now I'm happy with the S2000.'
Rob acquired the two-seat drop top in 2010, which at the time was a bone stock 2001 model in excellent condition with just 33k miles on the clock.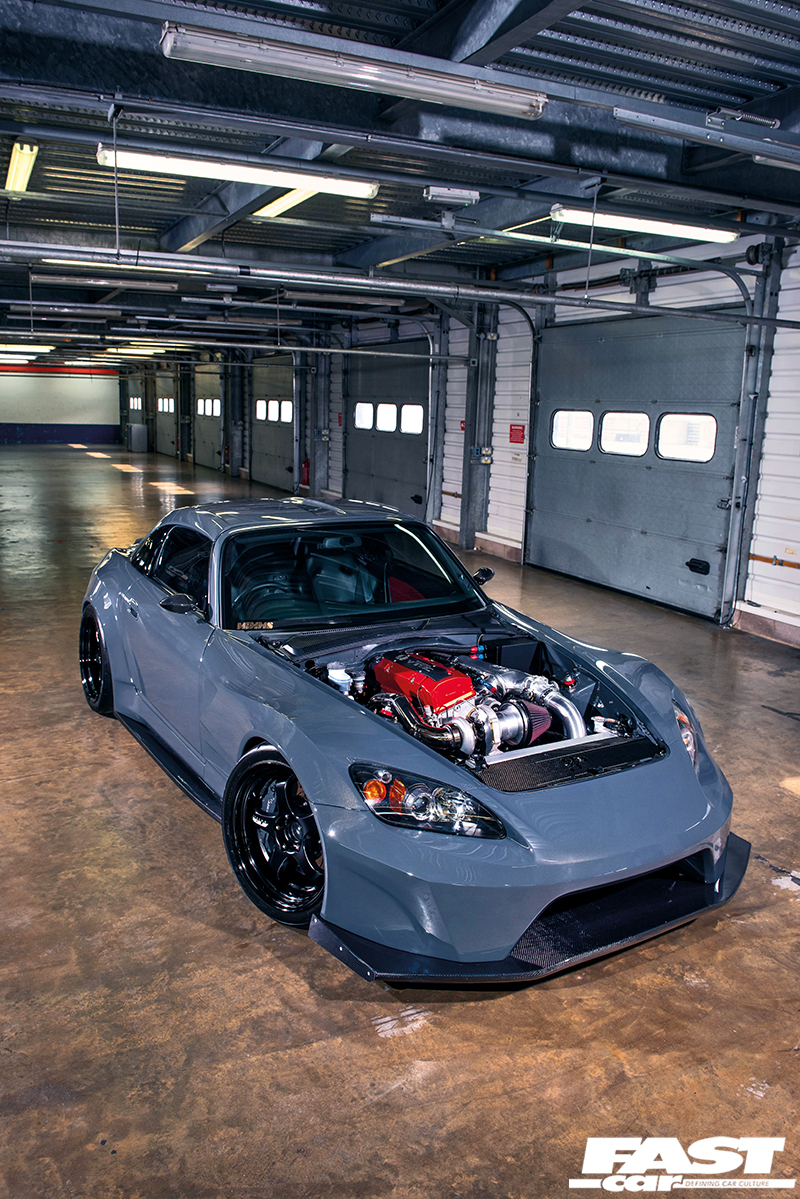 'I fancied a change from owning Civics and the S2000 seemed to fit the bill perfectly,' he explains. 'Packing around 235bhp as standard from its 2.0-litre F20C VTEC engines, I knew it was a very capable car straight out of the box, and that it could look even better with a few simple mods. Little did I know at the time, but things weren't going to stay simple for very long!'
As a self confessed perfectionist, Rob is no stranger to exhaustive research and has put in many hours on websites and forums looking into the myriad tuning options available for each of his unique builds.
'Over the years I've followed many of the high-end projects being built over in the States,' says Rob. 'It was often the simple things that grabbed my attention; the way they did things, how they would select various components and agonise over every small detail. It was a world away from what most people were doing here in the UK.'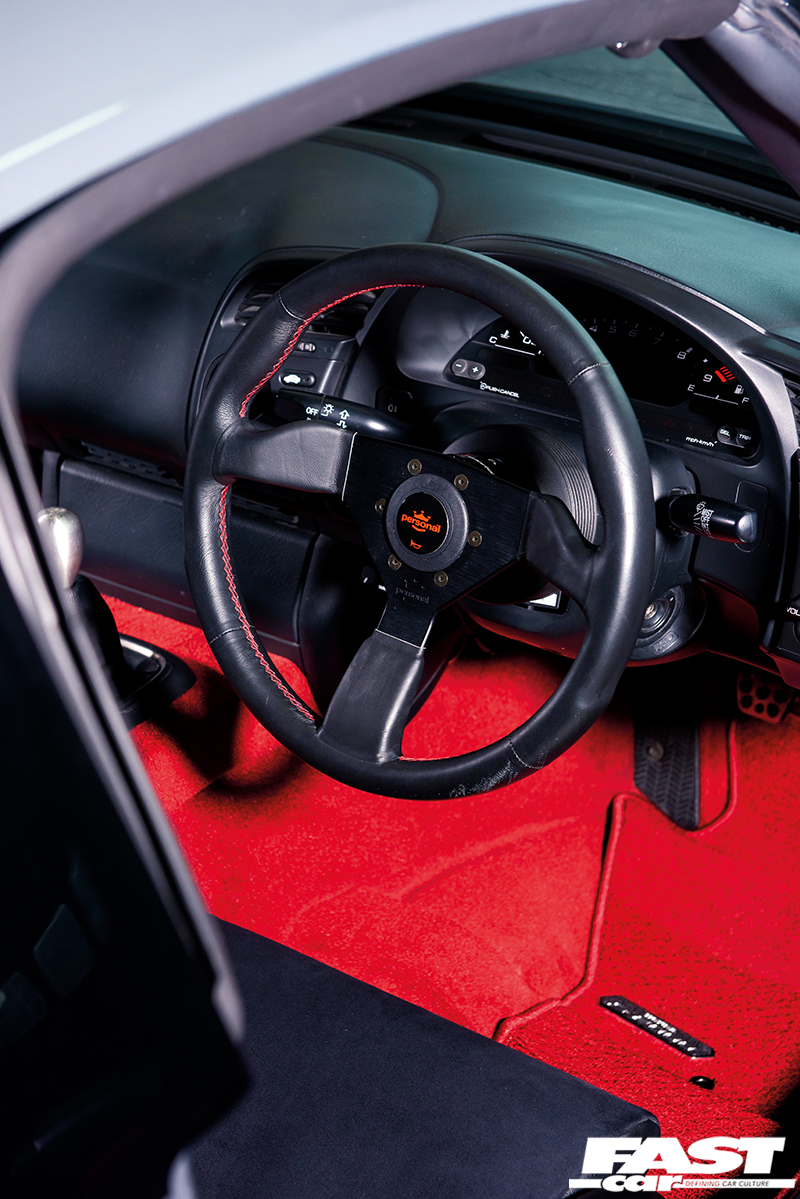 The internet has a lot to answer for, but it's also broken down a lot of barriers and Rob soon found himself conversing directly with some of the biggest names in the US scene.
'After talking through various possibilities, I started to form a wish list of parts that I wanted for the build,' recalls Rob. 'So over the coming months I used my newfound US-connections to source and ship a number of crucial and often custom parts directly from the US.'
One of the biggest names to lend Rob a hand was Alex Soto of Sheepey inc. fame.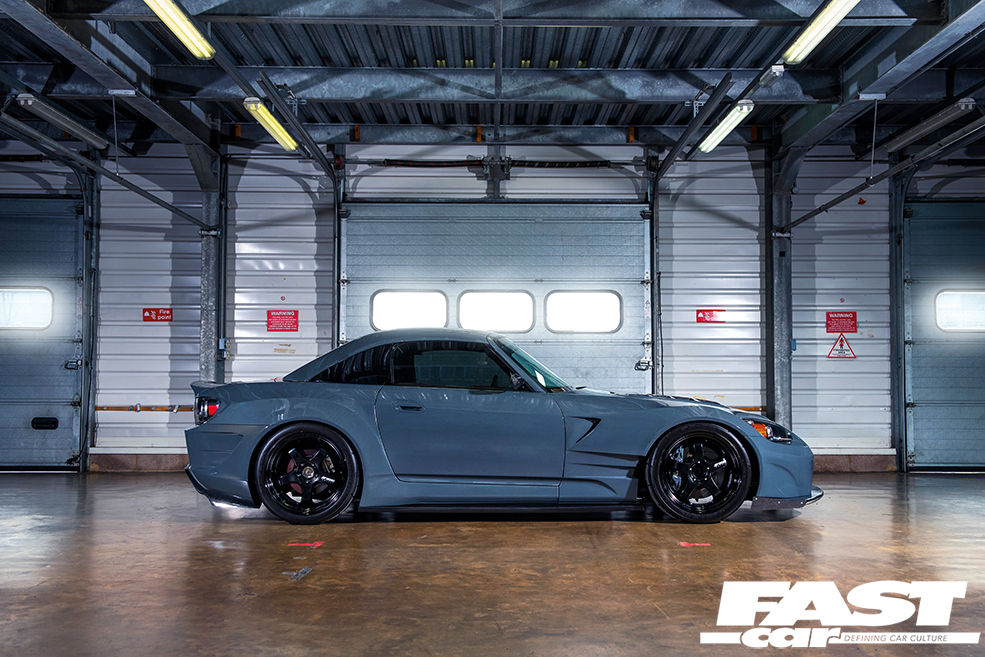 'Alex was a huge inspiration to me, having himself had numerous cover car builds over in the States,' Rob says. 'Also, being based in California, he was able to liaise with a number of Honda specialists in the area on my behalf, which only enhanced the whole project with their added knowledge.'
With input from his new US friends, Rob formed a very specific vision of what his ultimate S2000 would be and just six months after purchasing the car, he took it off the road and, along with his equally car mad dad, stripped the hot Honda to a bare shell before sending it off to the bodyshop to have the engine bay, underside and inner arches painted in Lamborghini Telesto Grigio pearl grey.
'I wanted a stealth bomber look to the car, rather than anything too loud and lairy,' he explains. 'The idea was to focus on quality, kind of like a factory special edition rather than something overly shouty and brash.'
And while the shell was away at the bodyshop, Rob started the arduous task of planning and acquiring the necessary parts for the rest of the build in order to try and complete the car's transformation from mild to wild in one big hit.'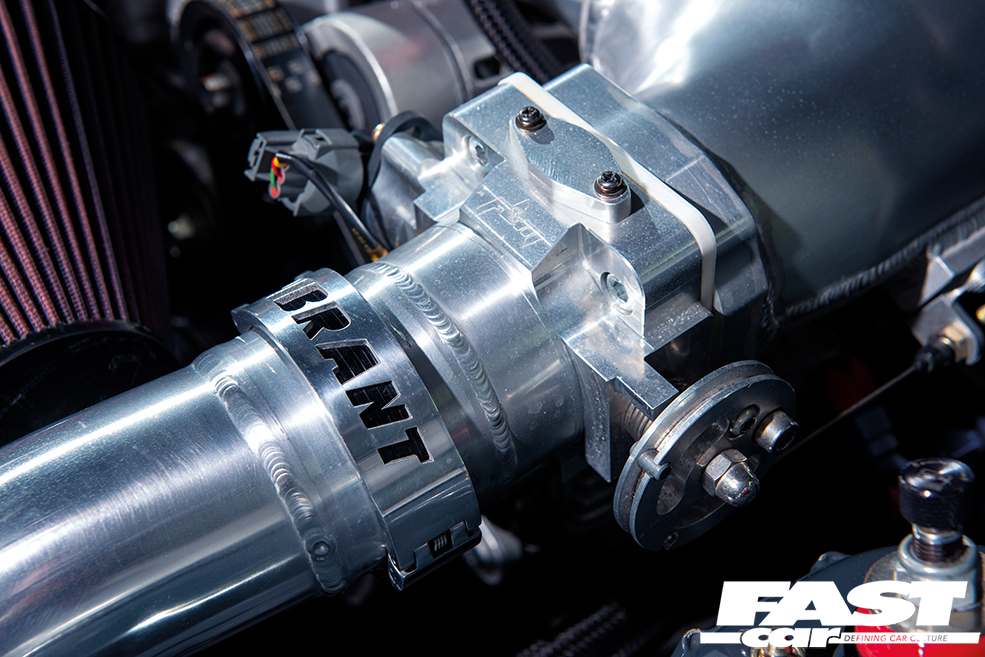 Starting with the engine, Rob knew the high-revving F20C motor is a strong unit utilising both fibre reinforced metal cylinder liners, plus forged pistons within its lightweight aluminium block, making it a perfect candidate for forced induction.
'At the time there were very few turbo kits on the market for the S2000 and none really fitted the vision I had for the car,' says the meticulous modifier. 'Luckily Alex hooked me up with Jesse Brozyna of JDL Auto Design in Phoenix, Arizona, who, after a lengthy discussion, fabricated me a custom turbo kit utilising a V-banded Precision 6262 turbo and a matching 46mm wastegate.'
Complete with a super rare intake from Arizona Forced Induction (AFI), Rob was super happy with how the engine modifications were shaping up.
'I knew the bottom end was capable, but the head would be the sticking point once it was turbocharged,' he explains. 'So my dad and I rebuild the head with Bisimoto turbo spec components including Ferrea Inconel valves – to take the increased heat from the forced induction – dual Supertech valve springs with titanium retainers and turbo-specific Webcams turbo camshafts.'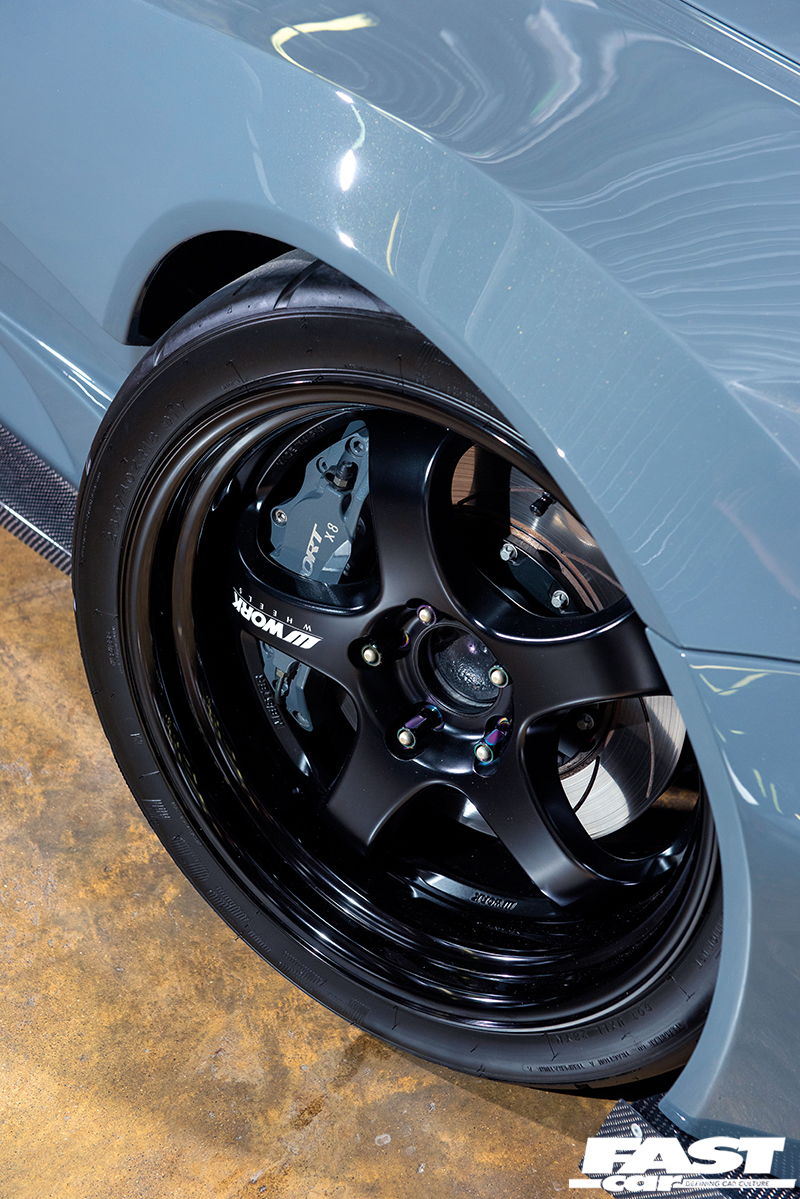 Combined with the turbo kit and exhaust system, Rob bought a large front-mount intercooler and an uprated fuelling system incorporating an Inline pro fuel rail with ID1000cc injectors, twin Bosch 044 fuel pumps and a custom boot-mounted fuel cell – the engine build was starting to get serious!
'Getting the engine to look right was just as important as the power it made, so we stripped everything down and cleaned and repainted everything, building it all back up with brand new bolts,' Rob says, highlighting the extreme lengths that are necessary in order to achieve such jaw-dropping results. 'I also had Ryan Basseri of Rywire in California build a custom mil-spec engine harness which connects up to a AEM V2 standalone ECU with a full complement of engine sensors.'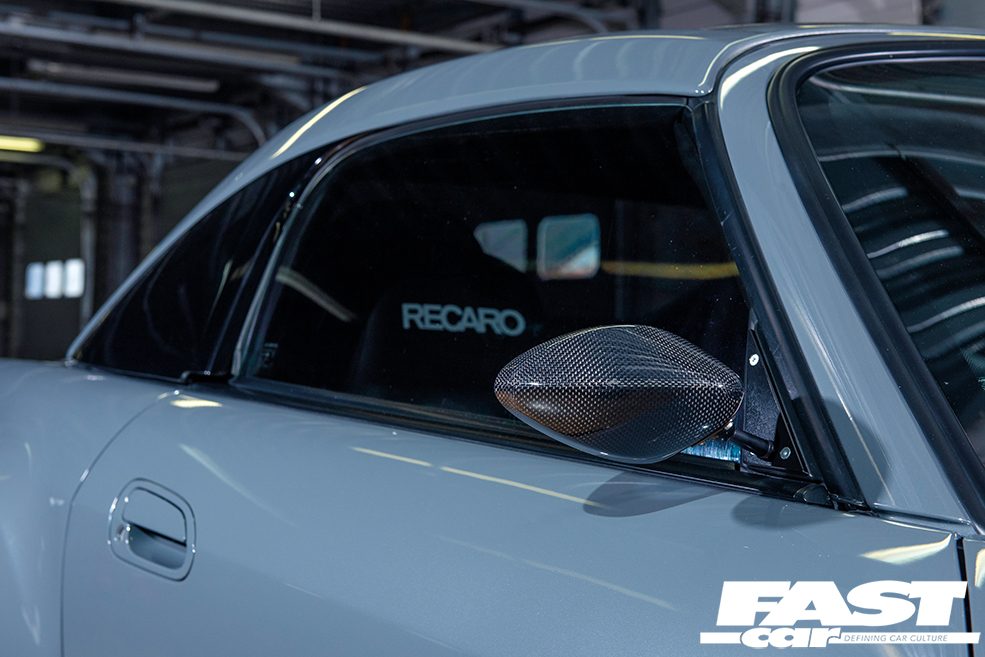 This not only allowed Rob to wire tuck the motor to give it that award–winning look, but also ensured the motor could be monitored at all times to aid the tuning so they could extract maximum performance while still retaining maximum reliability.
But it wasn't just the engine that was getting a refresh, as Rob was also making sure the suspension and engine mounting components were similarly spotless by stripping, shot blasting and powder coating them before re-fitting them with new Powerflex bushes.
'Once we got the call from the bodyshop that the chassis painting was complete, my dad and I went over there and fitted up a load of new and refreshed parts to make it a rolling chassis again,' says Rob. 'This included adding a new set of Skunk 2 ProC coilovers and Hardrace adjustable upper camber arms at both the front and rear.'
With the shell now mobile, the father and son duo soon got the car back home where they could fit the newly built engine and ancillaries.
'With much of the engine already assembled, it was just a case of dropping it in and plumbing and wiring it all up,' Rob explains. 'And with both my dad and I working flat out on it at this point, it didn't take long to get it up and running.'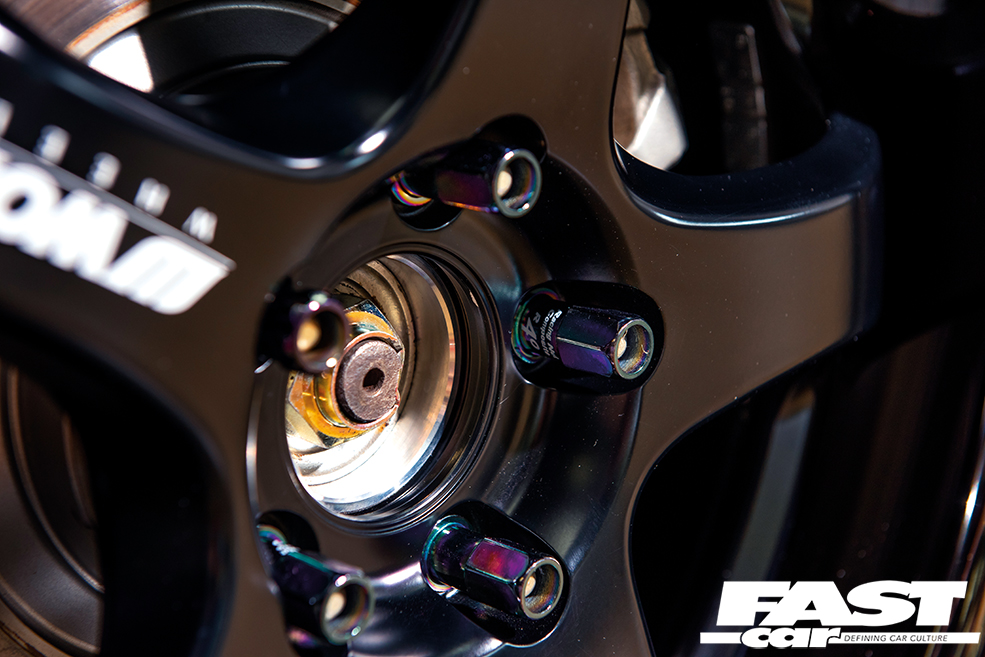 The American influence of the engine is clear to see, with its immaculate presentation and exquisite attention to detail, it's no wonder it has won more than its fair share of awards, but having such perfection at the heart of the build, meant that it would need an exterior design that was equally on point to maintain such stratospheric standards.
'The stock S2000 body can only accommodate wheels with a fairly moderate width and offset without going widebody,' Rob says. 'But it was crucial to my build that the car feature an aggressive set of wheels that had a concave spoke and lip detail, so a widebody or custom arch work of some sort was always going to be necessary.'
Initially custom metal arches were considered to widen the stock lines of the car, but after speaking with various bodyshops, Rob wasn't convinced that they could nail his exacting vision, so the search for a suitable widebody kit was on.
'Many of the widebody kits I looked into, such as those from J's Racing, Amuse and APR were way too aggressive-looking and track inspired,' Rob remembers. 'It was actually around the time that Kei Miura's GT86 Rocket Bunny kit was becoming popular, so I emailed him to talk about a possible collaboration for an S2000 kit. Although he immediately showed interest and mentioned he had wanted to do an S2000 kit for a while, it was only this year that the kit became a reality. Which as it turns out, I don't actually like, anyway.'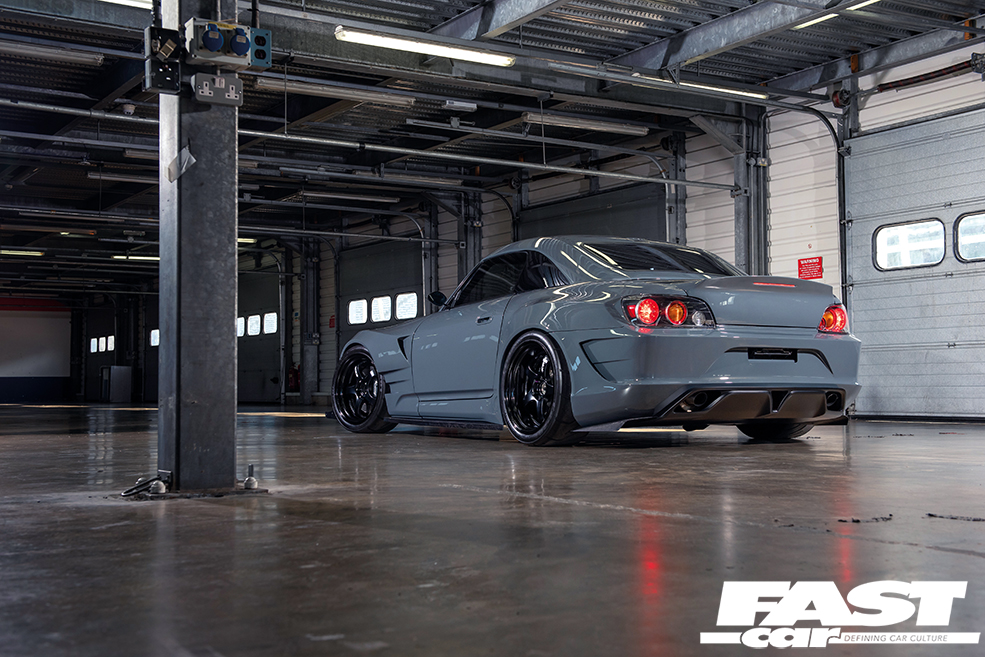 So the search continued, and by this time the rest of the car was pretty much complete, so Rob was running out of options. But it was then, just by chance on an image search, that he came across a stunning-looking widebody S2000…
'It was a car from a small Japanese styling house called Tamon Design,' he says. 'The car in the picture was actually Tamon-san's own personal track version of his kit. He did two variants at the time, one for track and one for street. I wasn't a fan of the street version, but the track one was aggressive enough without being too much, so I decided to get in touch over email expressing an interest and showing him how the build was progressing. To my surprise he responded very quickly and wanted the car to wear his kit, he was excited to be involved in what he thought was going to be a fantastic final product.'
With the kit on its way from Japan to the UK, Rob's next task was to find a good bodyshop to not only fit the 'bolt on' bodykit, but also finish it off by smoothing it into the original lines of the car.
'I'm not a big fan of the 'bolt-on' look and wanted it to look like it came out of the factory that way,' Rob explains, casting an eye down the futuristic lines and sharp creases of the beautifully designed kit. 'I'd been recommended Davlyns bodyshop in Melton, so I paid them a visit and they filled me with confidence that they could work the fibreglass kit expertly into the OEM metalwork body using the right products and techniques. They didn't fail me, and the end result, painted in Lambo grey with a Mugen carbon-fibre hardtop and bonnet, plus a set of M's Racing teardrop style mirrors, simply blew me away.'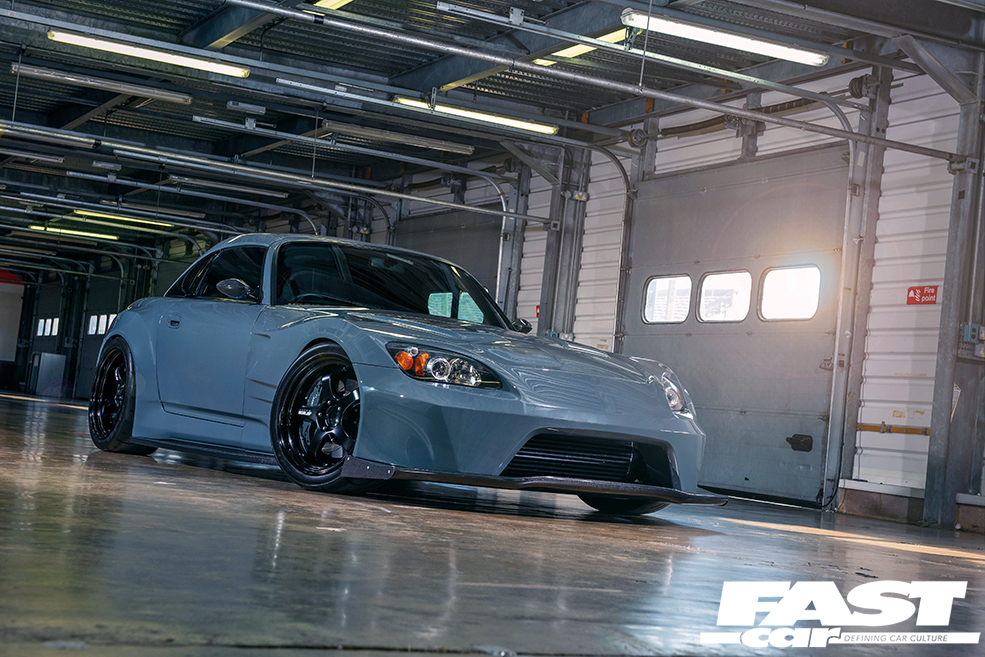 So not only is Rob's car now wearing one of the rarest kits available for the S2000, but also with the perfectly executed smoothing, it's now a complete one off!
'The kit's wider arches also meant that I could run the wheels I wanted too,' says Rob, pointing out the 18in Work S1R split rim wheels with black anodised barrels and satin black centres. 'They are in a staggered fitment with a 9j front and 10j rear, retaining the factory one inch stagger from the factory.'
And wearing sticky 265-section Federal FZ-201 tyres at the rear, the extra girth also helps Rob put down the 570bhp that now lurks under his right foot.
'Now it's complete the car is a brutal thing to drive,' Rob grins. 'There's no creature comforts such as heating, air con or ABS, or even a radio. It's a car that's built to drive fast and look good, and that's exactly what it does.'
And we're certainly not going to argue with that. Rob Reid is a man who has taken his tuning inspiration from his friends in the West and fused them seamlessly with the finest stylings of the Far East to create a car that, while influenced by both, has become an entity far greater than anything hailing from either side of the world's tuning powerhouses. Which is something that he should be extremely proud of.
Tech Spec: Boosted Honda S2000
Engine:
2.0-litre, 4-cyl, 16v F20C, stock bottom end, head skimmed and built with Bisimoto turbo spec components including Ferrea Inconel valves, titanium retainers, dual Supertech valve springs and turbo-specific Webcams turbo camshafts, full custom turbo kit and exhaust system, 750bhp capable front mount intercooler, 3in boost pipes with Vibrant clamps, K&N air filter with 3-6in spun aluminium velocity stack welded to the 6262 Precision turbo, Hel AN-style plumbing and hoses, Inline pro fuel rail, Weldon fuel pressure regulator, twin Bosch 044 fuel pumps and fuel filter, custom boot-mounted fuel cell, ID1000cc injectors, Vibratechnics engine mounts, custom radiator, all components cleaned and repainted with new bolts used throughout, custom Rywire mil-spec engine harness, AEM V2 ECU, AEM sensors EGT, oil pressure/temp
Performance:
Dyno proven 570bhp and 360 lbft of torque, 0-60mph in 3.0-secs, 1160kg
Transmission:
OEM rear wheel drive with stock six-speed manual gearbox and upgraded Quaife LSD
Suspension:
Skunk 2 ProC coilovers, suspension and subframes stripped, shot blasted and powdercoated, Powerflex bushes, Mugen front compliance bush, Hardrace adjustable upper camber arms front and rear
Brakes:
KSport big brake kit with 8-pot calipers powdercoated body colour (front), AP Dixcel discs and pads (rear), HEL braided brake lines
Wheels & Tyres:
9x18in ET+18 (front) 10x18in ET+8 (rear) Work S1R split rim wheels with black anodised barrels and satin black centres, 235/40/18 (front), 265/35/18 (rear) Federal FZ-201 tyres, Fourty Four Titanium wheel nuts
Exterior:
Full Tamon Design 12–piece aero spec race kit comprising, bumpers, diffusers, sideskirts, wide arch extensions and wings and fully smoothed into body and painted in Lamborghini Grigio Telesto, Mugen carbon-fibre hardtop and bonnet, M's Racing teardrop style mirrors
Interior:
Recaro Pole Position ABE seats in leather and suede, Personal Neo Grinta 350mm steering wheel and Works Bell Rapfix II quick release steering boss and extension